My recipe for plum cheesecake is tasty and rustic looking. You will want to make it as soon as you have ripe plums because as I'd mentioned it's delicious and because it's rustic it doesn't have to look perfect!
Take a look at our Raspberry Cheesecake Bars for another cheesecake recipe featuring summer fruit.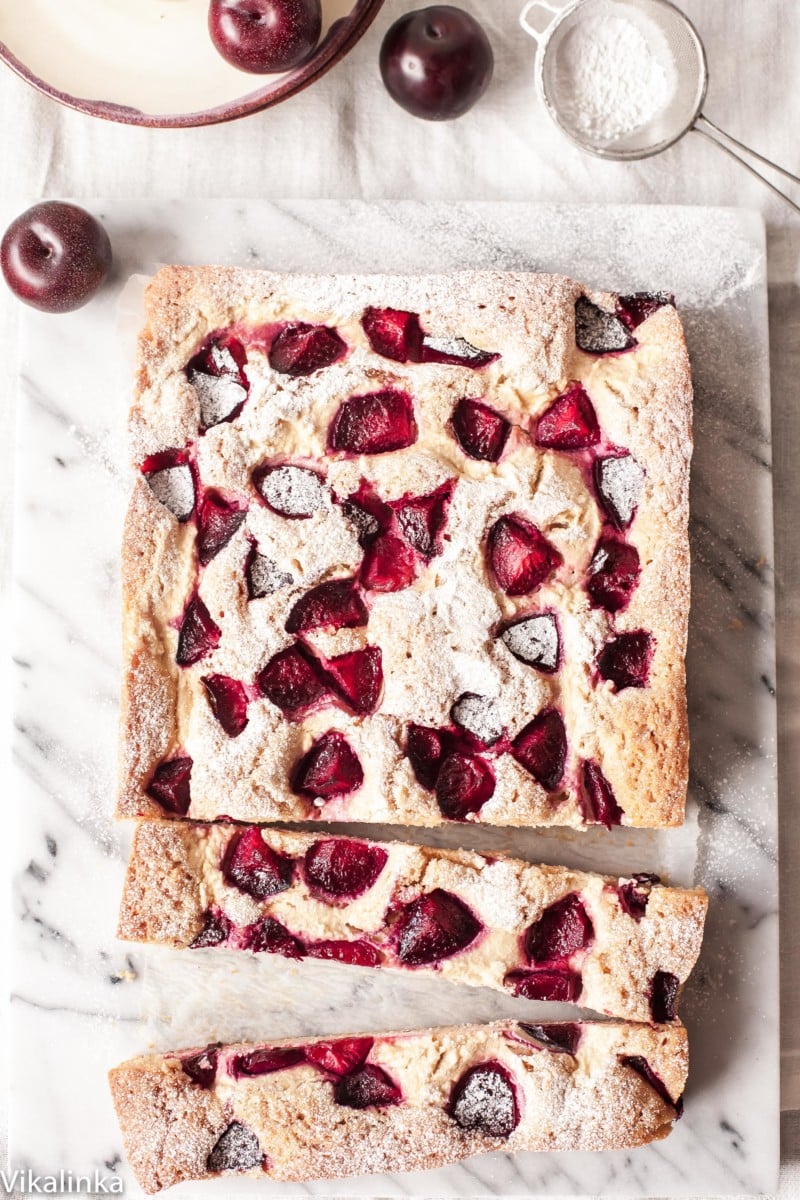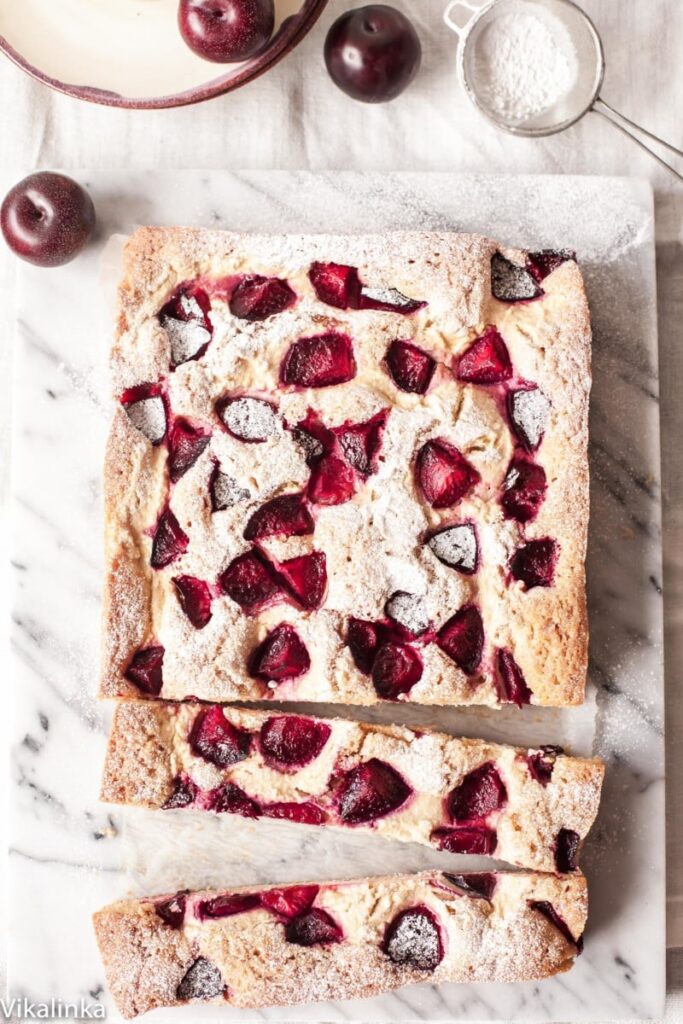 Not sure how you feel about breakfast but it is most certainly my favourite meal of the day. I must confess it comes from guilt vs. no guilt attitude.
You see by the time dinner rolls around I end up recalling everything I've eaten that day and dinner is often comprised of attempts to eat healthy and failure to do so.
Breakfast is another matter entirely, you start the day fresh so anything is a fair game. Please ignore this if you a healthy eater type, which I am as well…mostly… but I do indulge in naughty nibbles now and then.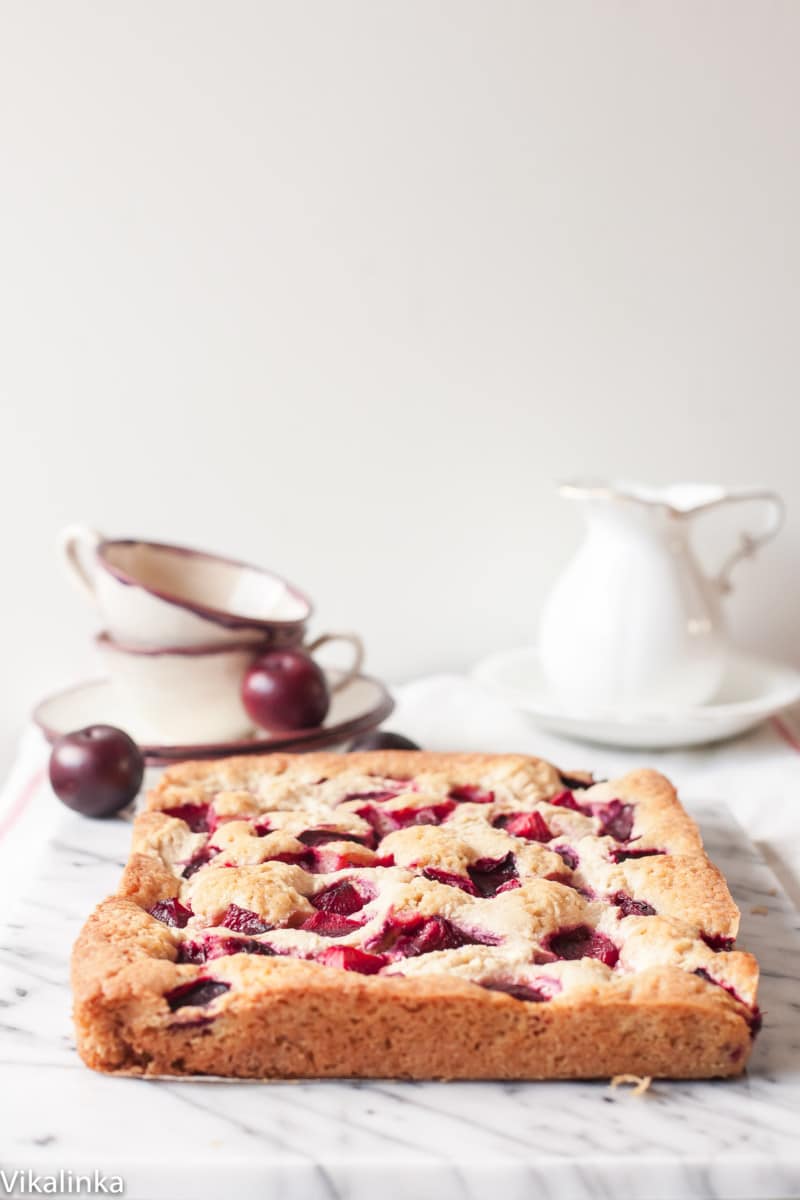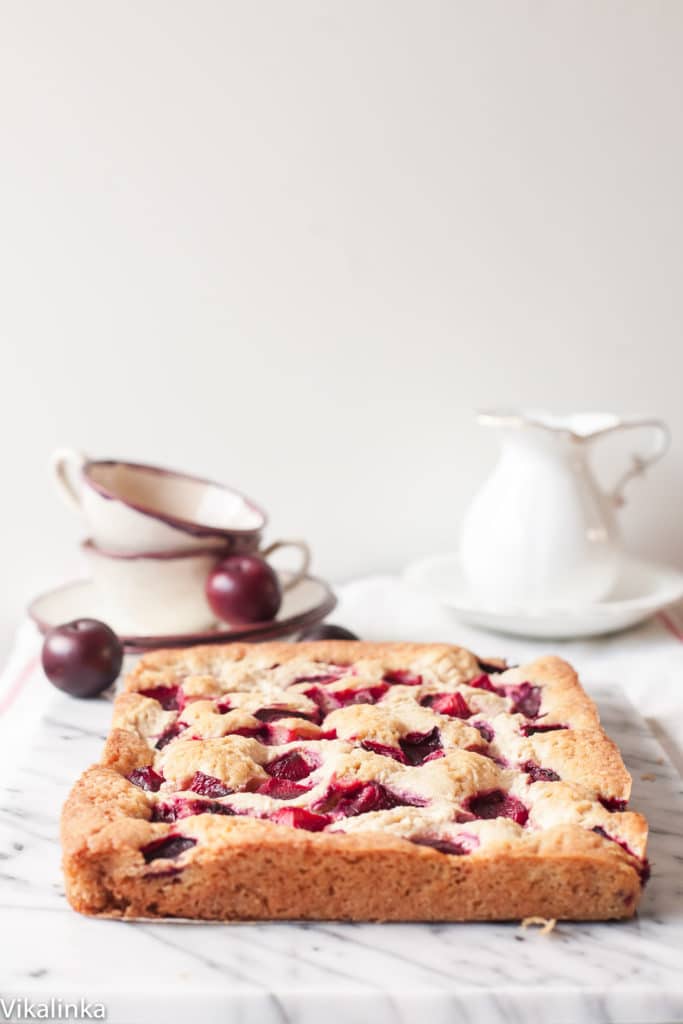 Now this plum cheesecake cake. Why am I going on and on about breakfast?
Well it's because I have eaten it for breakfast and at tea time every day for almost a week. Little bites of sponge cake, luscious plums and cheesecake can make someone's day turn around in a jiffy and it's a wonderful thing.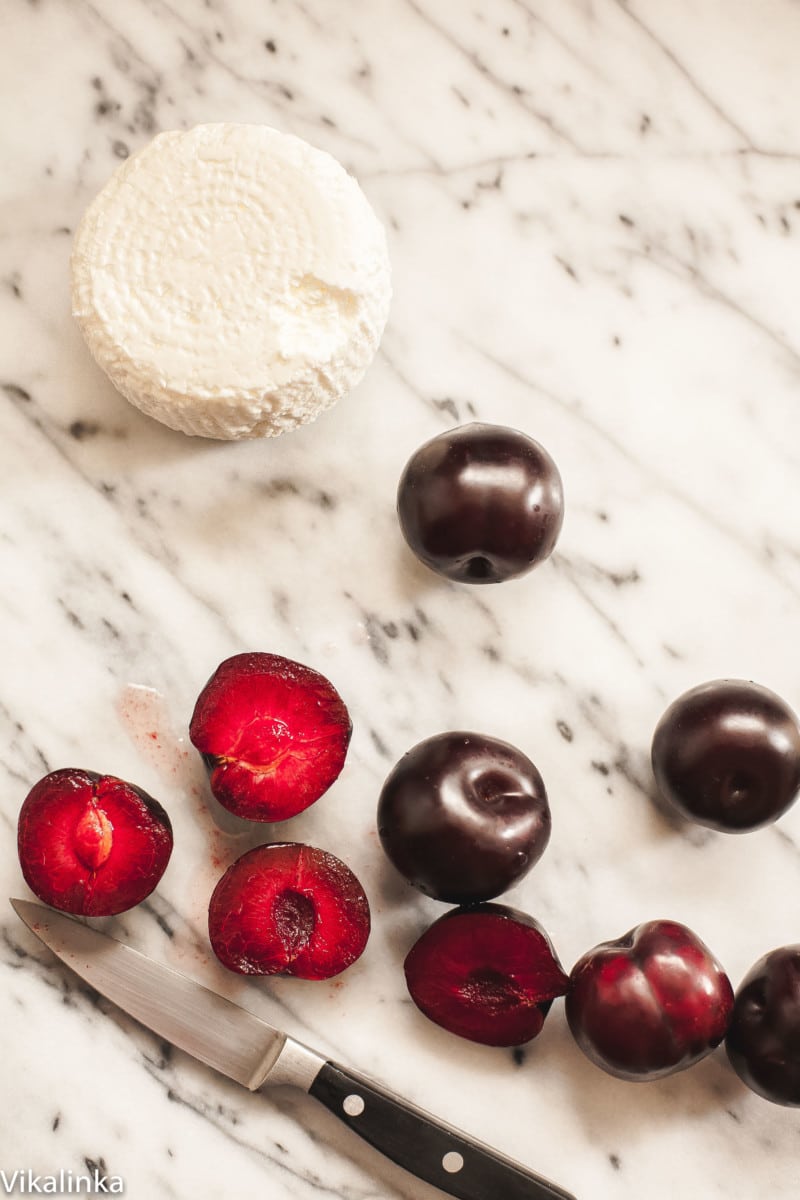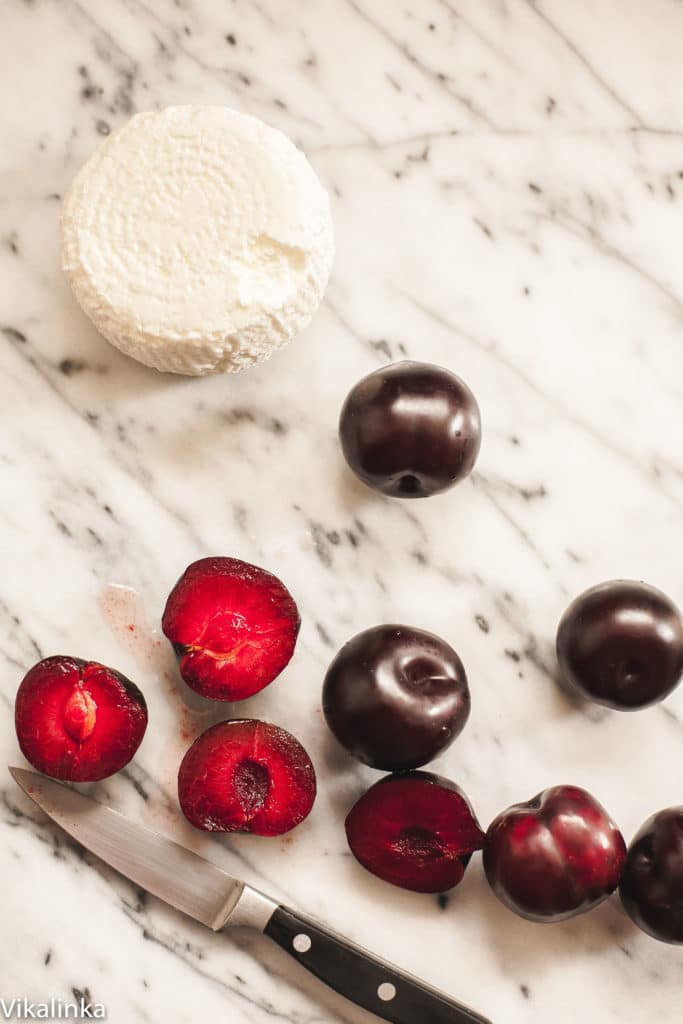 The recipe was adapted from here. I have used Russian farmer's cheese Tvorog in place of cream cheese to make it more rustic and familiar, I've also replaced white sugar with demerara sugar, which is brown unrefined sugar with natural caramel tones.
I've also flavoured it with almond because plums are meant to be friends with almonds, don't you agree?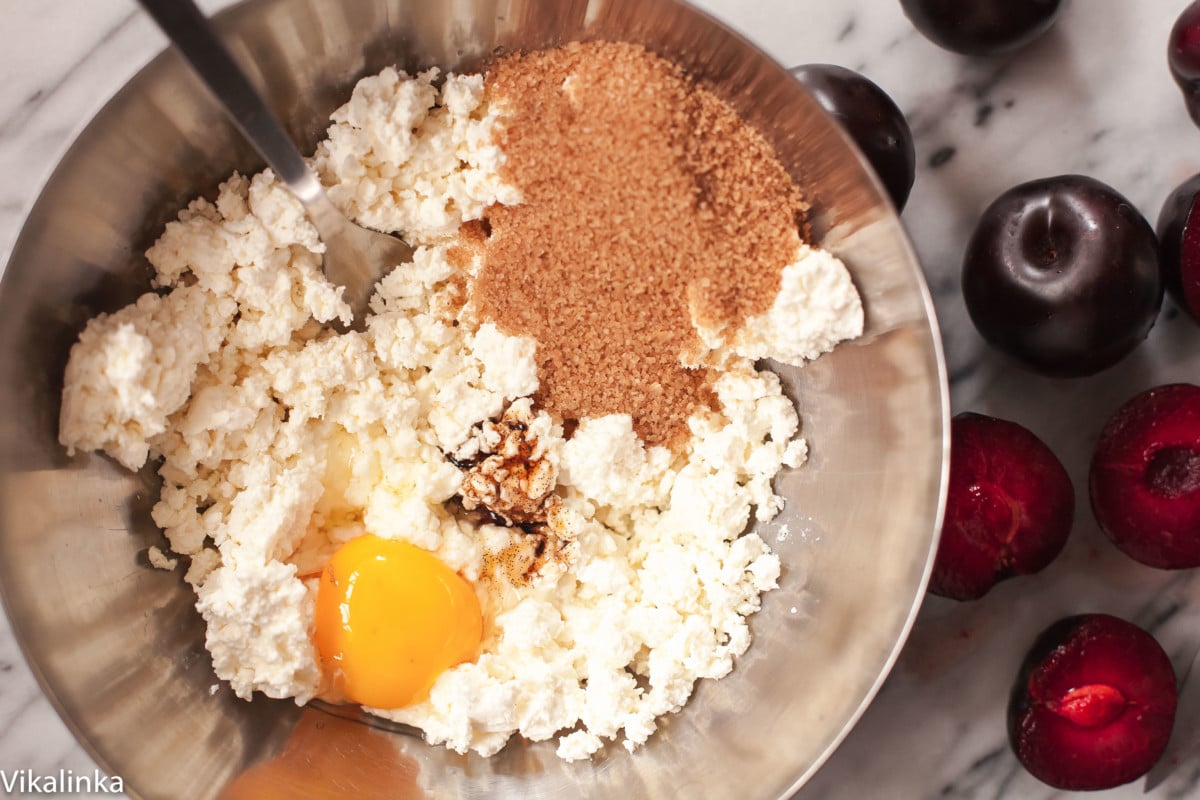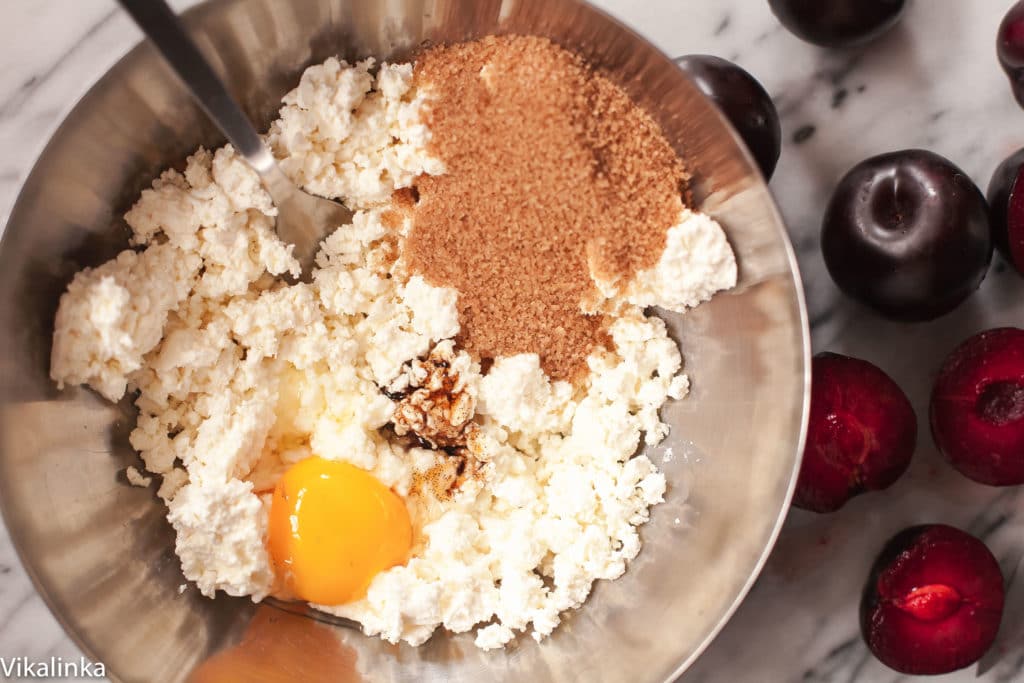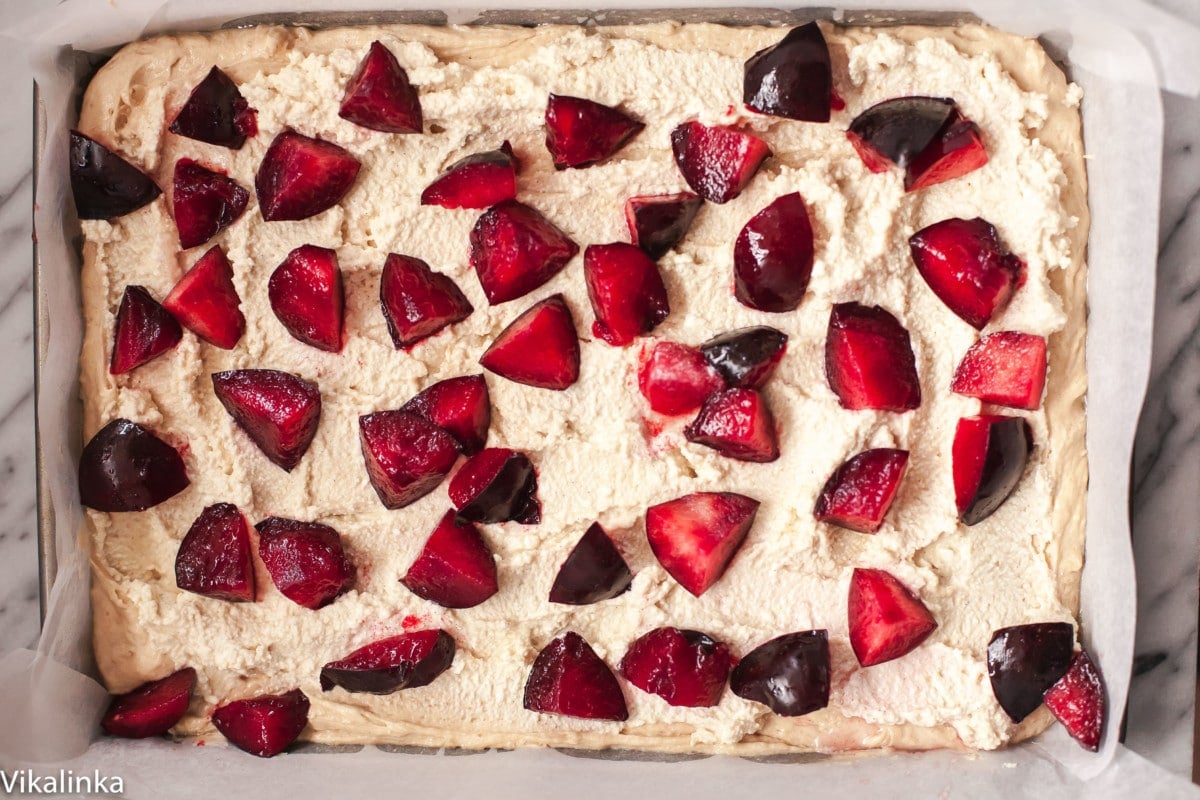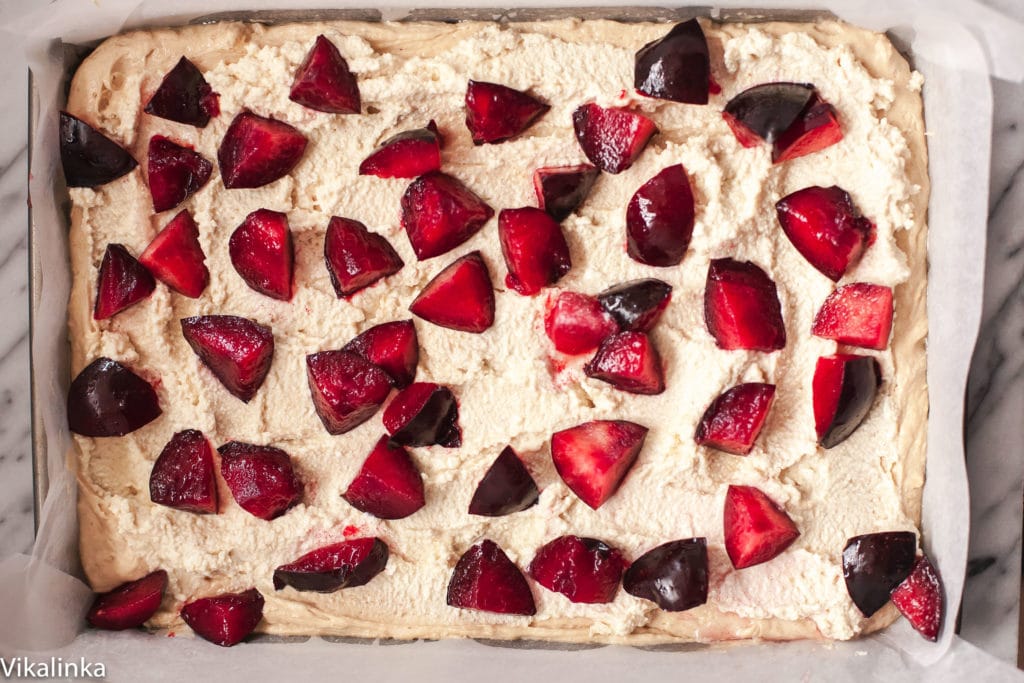 This plum cheesecake is very simple to make but the end result is nothing short of divine, it's like summer on a tray. Juicy gorgeous plums, soft and buttery sponge, rich and almondy cheese filling, all of you make me so happy!
It's time to pull out some baking tools and start playing with sugar and flour friends because 4 o'clock is right around the corner!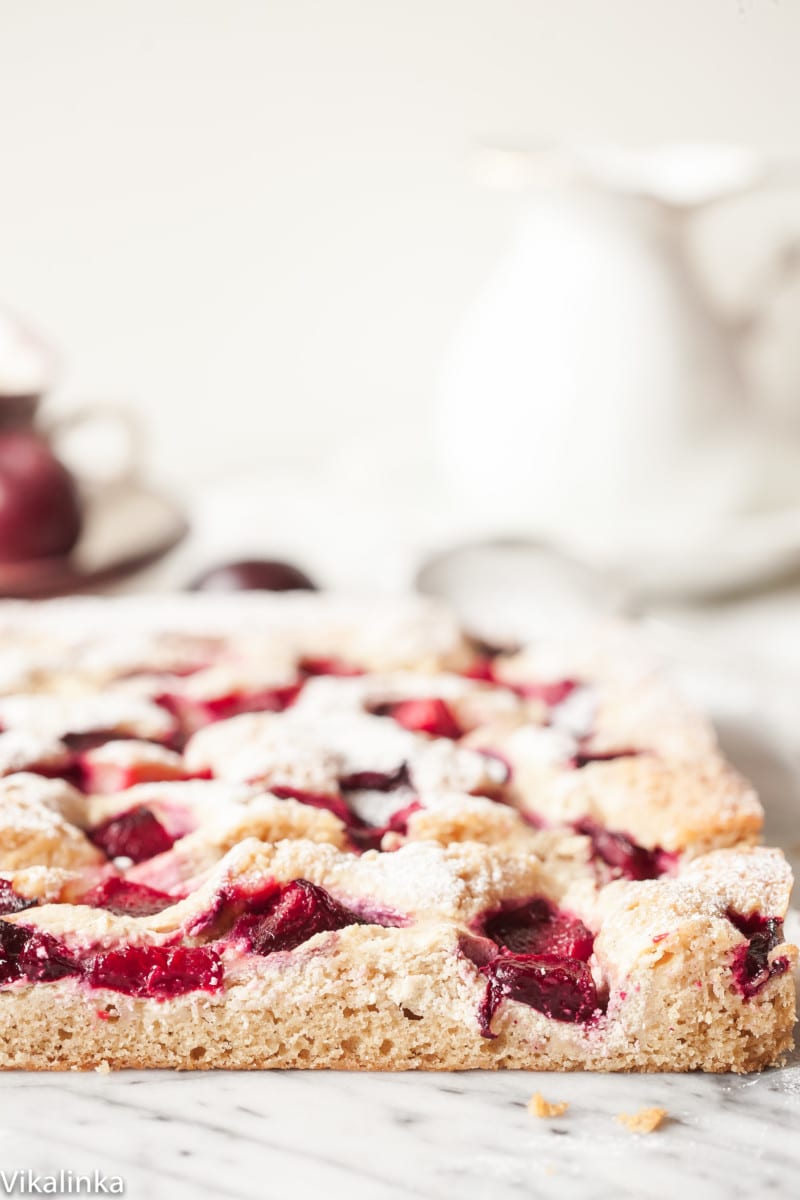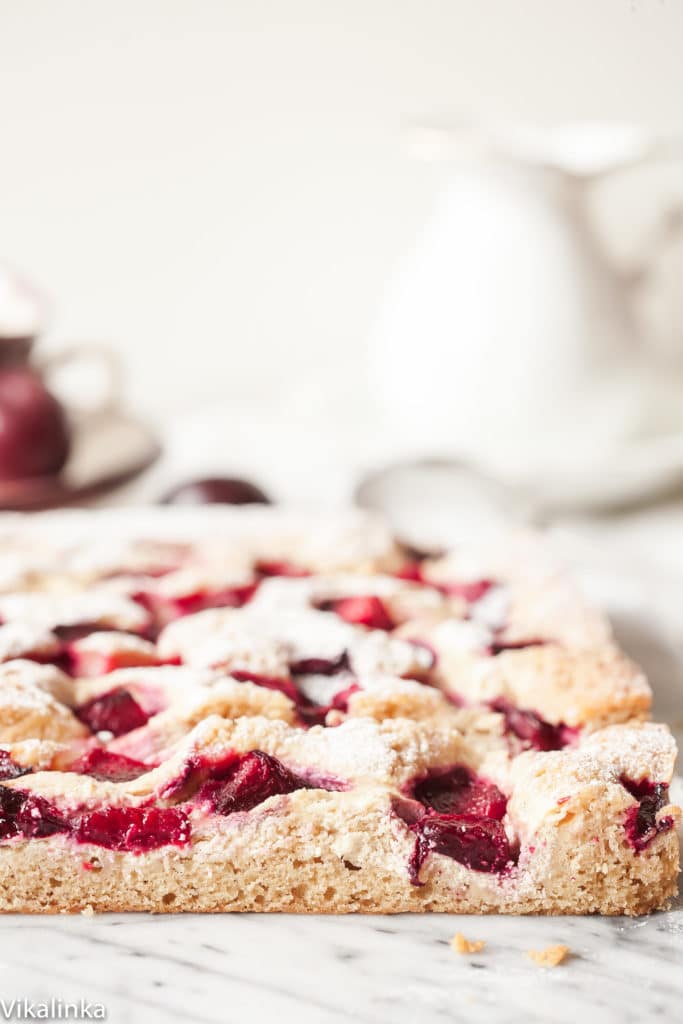 More Cheesecake Recipesfor You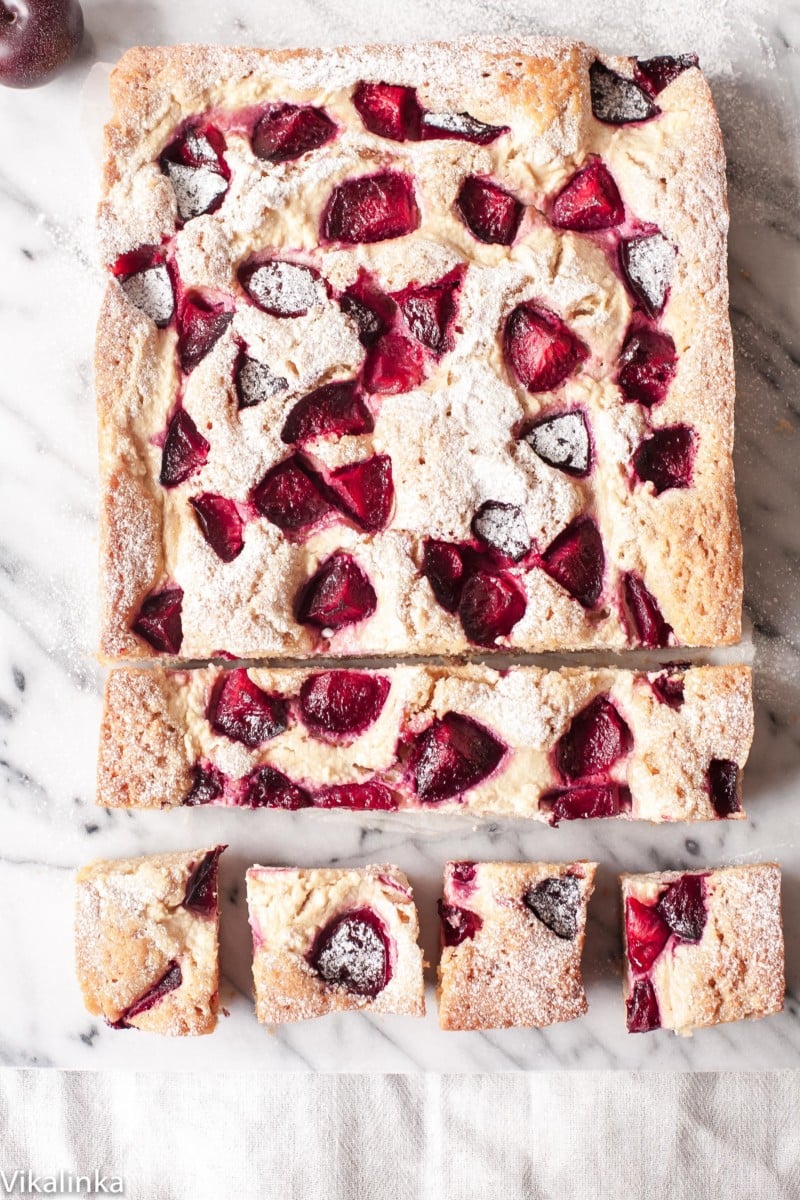 Ingredients
For the cheese filling
275

g/1 ⅓ cup farmer's cheese or ricotta cheese

1

egg

3

tbs

demerara sugar

1

tsp

almond extract

1

tsp

vanilla extract
For the sponge
3

eggs

175

g/ ⅔ cup butter

softened

175

g/1 cup demerara sugar

200

g/ 1 ⅓ cups flour

2 ¼

tsp

baking powder

1

tsp

vanilla extract

8

plums

pitted and quartered
Instructions
Preheat oven to 180C/350F. Grease and line a 28cm X 18cm (11"X 7") rectangular pan with parchment paper, making sure paper is coming up higher than the sides of the pan. You can use a 9" round pan if you can't find a suitable rectangular one.

For the cheese filling, fix farmer's cheese with an egg, sugar, almond and vanilla extract, push it through a fine sieve to smooth it out a bit, the cheese mixture will remain slightly grainy, set aside.

For the sponge, in a mixing bowl combine eggs, butter, sugar, sifted flour, baking powder and vanilla extract and beat for 2 minutes until well combined. The batter should be light in consistency.

On a lined baking sheet spread the batter and then spoon the cheese mixture on top of it, then carefully swirl the cheese mixture with a knife.

Scatter plums all over the cake.

Bake in the oven for 45 minutes or until the cake tester comes out clean.

Cool and cut in squares. Serve dusted with powdered sugar if desired.
Nutrition Facts
Rustic Plum Cheesecake
Amount Per Serving
Calories 373
Calories from Fat 162
% Daily Value*
Fat 18g28%
Cholesterol 75mg25%
Sodium 302mg13%
Potassium 235mg7%
Carbohydrates 43g14%
Protein 8g16%
Vitamin A 903IU18%
Vitamin C 5mg6%
Calcium 63mg6%
Iron 1mg6%
* Percent Daily Values are based on a 2000 calorie diet.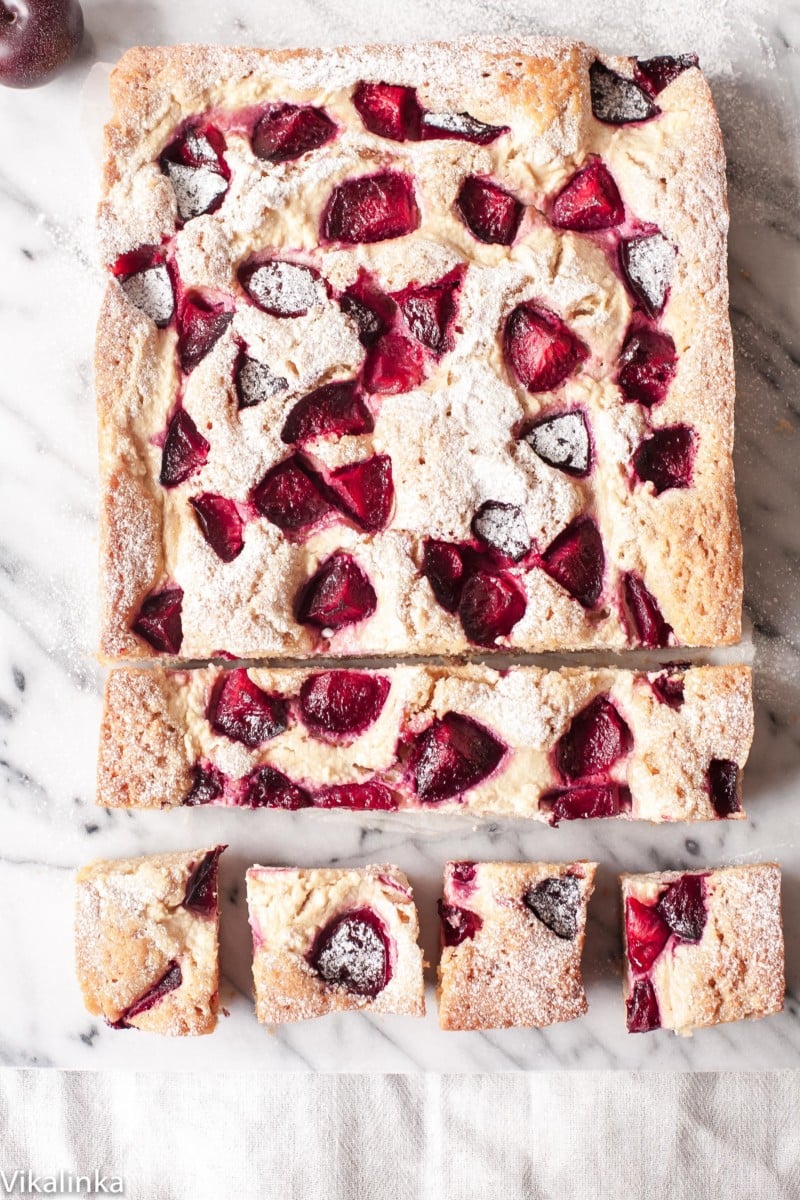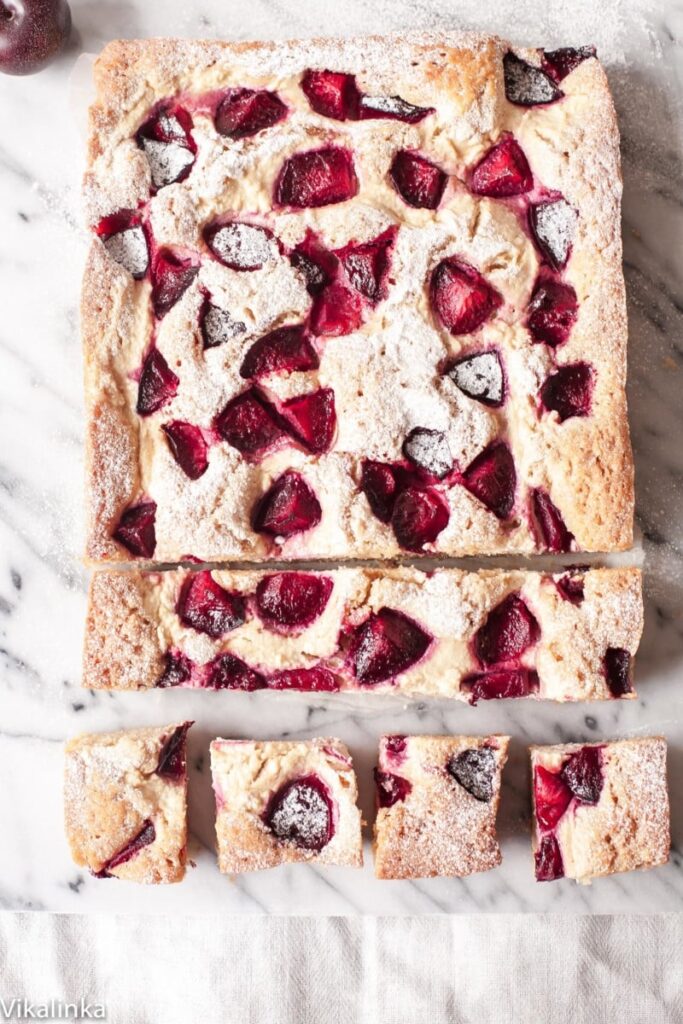 Here are more brilliant ideas for baking with seasonal fruit!
Spiced Plum Upside-down Cake from Supergolden Bakes.
Nectarine and Marzipan Galette from Domestic Gothess.
Peach, Raspberry and Amaretto Crumble Cake from Cygnet Kitchen.
Raspberry Almond Blondies from Tutti Dolci
Cherry Upside-down Cake from Natasha's Kitchen
Cheers,
~Julia xx