My recipe for plum cheesecake is tasty and rustic looking. You will want to make it as soon as you have ripe plums because as I'd mentioned it's delicious and because it's rustic it doesn't have to look perfect!
Take a look at our Raspberry Cheesecake Bars for another cheesecake recipe featuring summer fruit.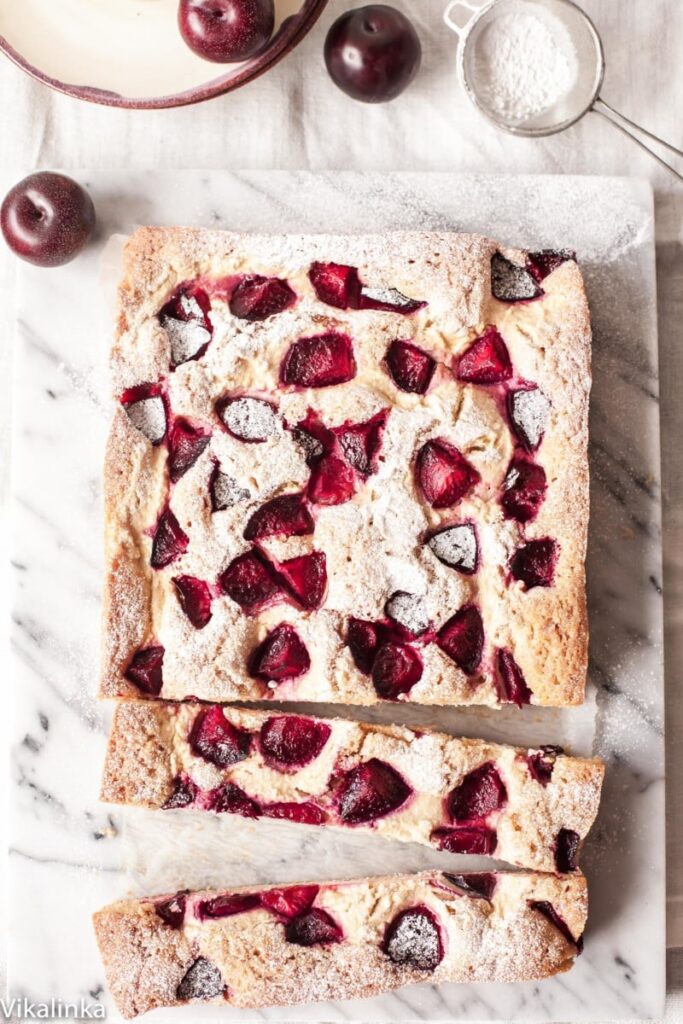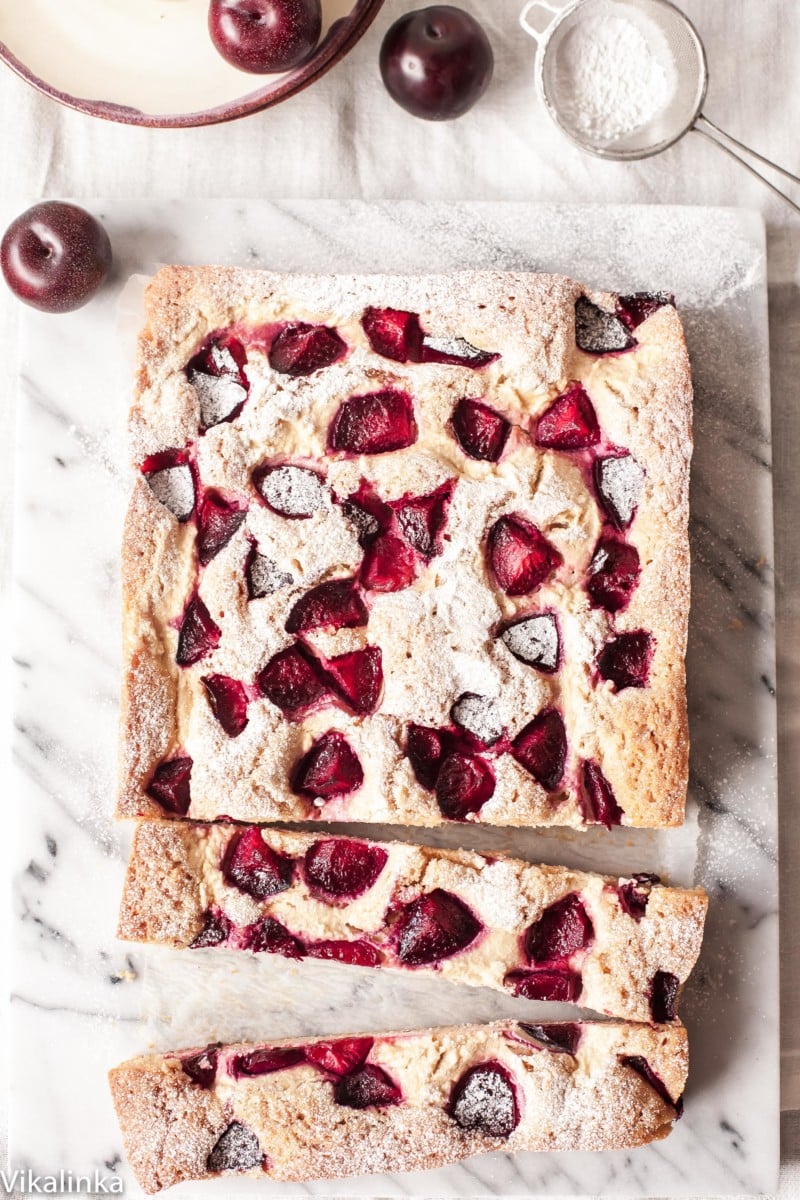 Although we usually start thinking about eating a slice of cake later in the day I think we are missing out. Why can't cake be an all day treat, including breakfast?
I say that the morning is an opportunity to get the day off on the right foot. To me this means the occasional indulgence like this Rustic Plum Cheesecake.
Eat it for breakfast, with your afternoon tea or post-dinner dessert. You'll never regret this tasty treat at any point of the day!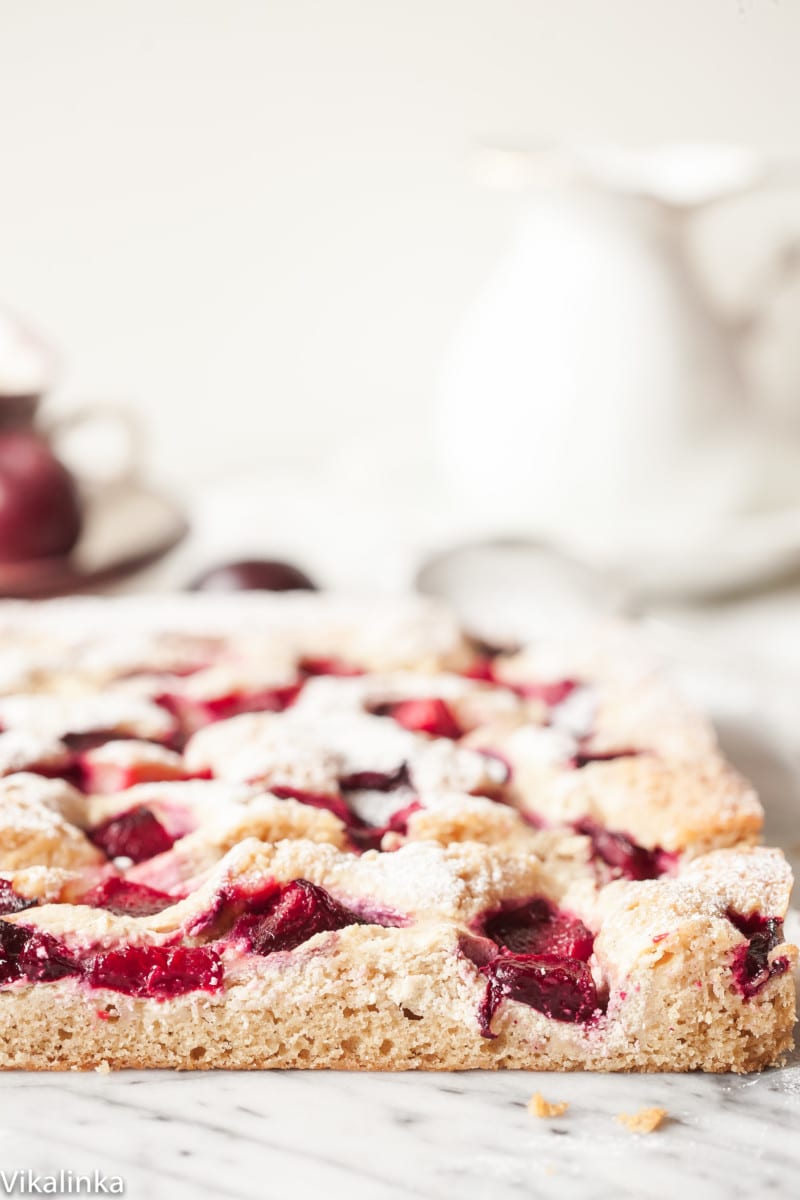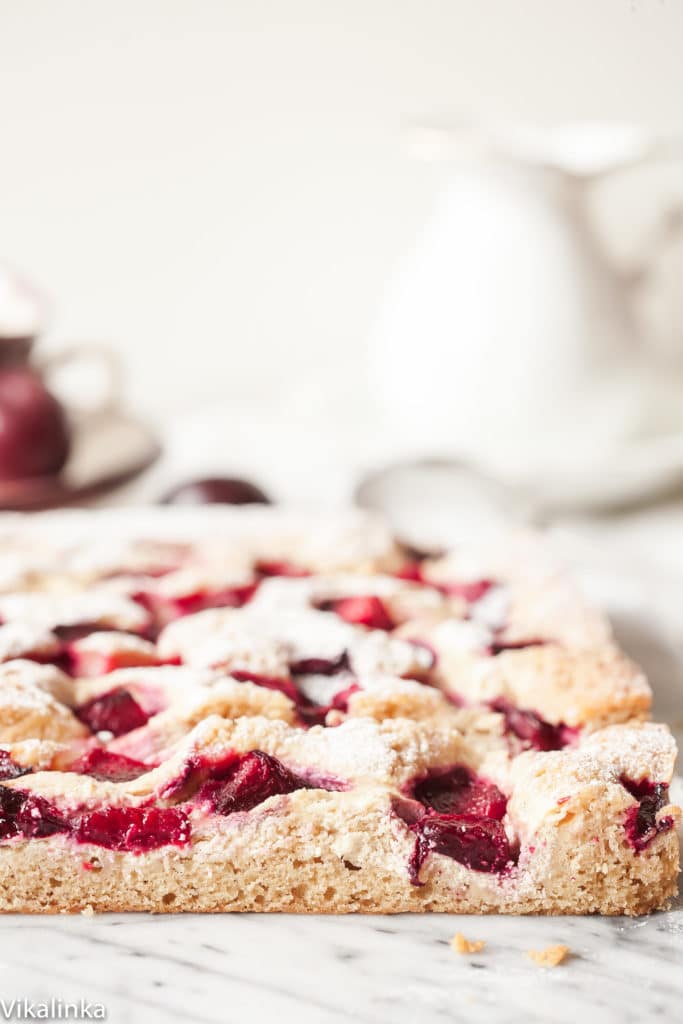 Rustic plum cheesecake
I adapted this recipe from the Waitrose. I decided to use Russian farmer's cheese Tvorog in place of cream cheese to make it more rustic and familiar.
I've replaced white sugar with demerara sugar, which is brown unrefined sugar with natural caramel tones. I also decided to use almond extract because plums are meant to be friends with almonds!
I love this recipe because it is the opposite of fussy. This cheesecake is supposed to be rustic so it is fine if it looks a little rough around the edges.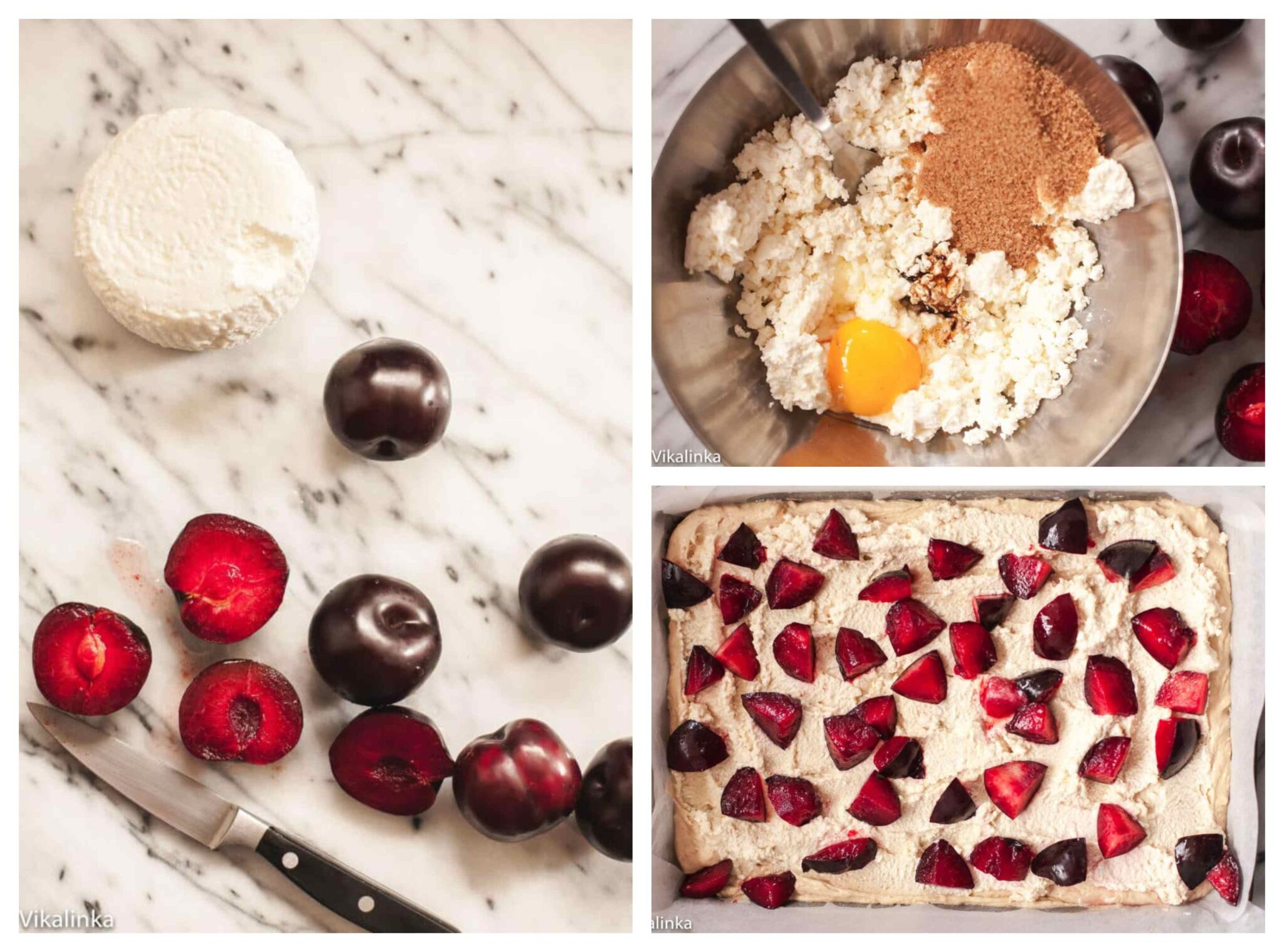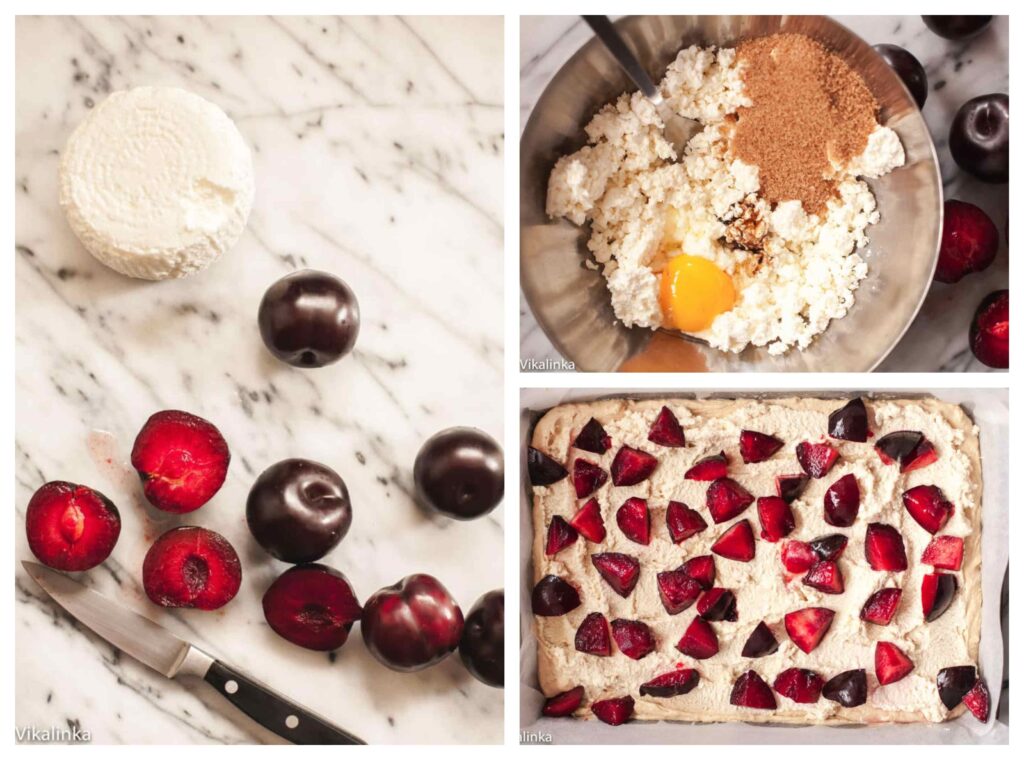 The cheesecake has two main layers, with the cheese layer and cake layer mixed separately. Make sure to run the cheese layer through a sieve to get the right consistency.
Once mixed and ready to go, add the cake layer to a pan first and then spread the cheese layer on top with a spoon. Do this gently to avoid mixing the cheese into the cake batter.
Now add the plum quarters to the top of the cake and place it in the preheated oven. When it is all done you can top with icing sugar to achieve a beautiful frosted look.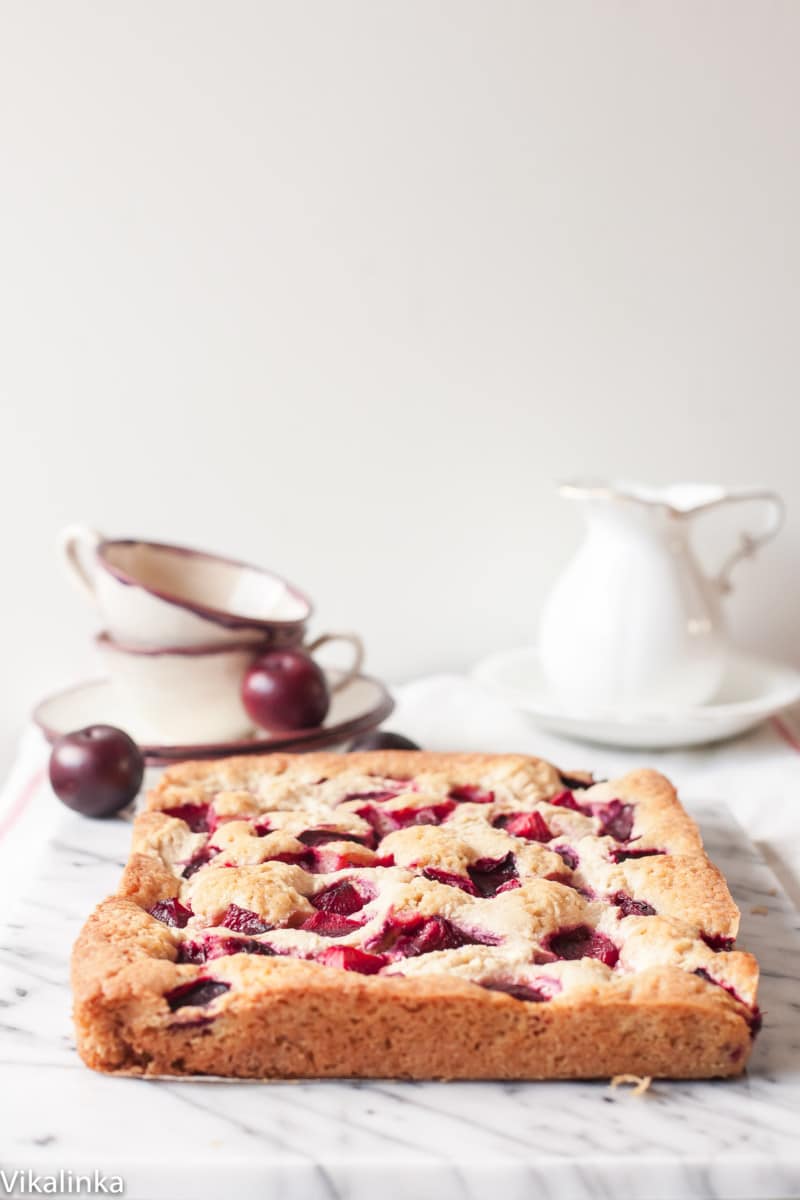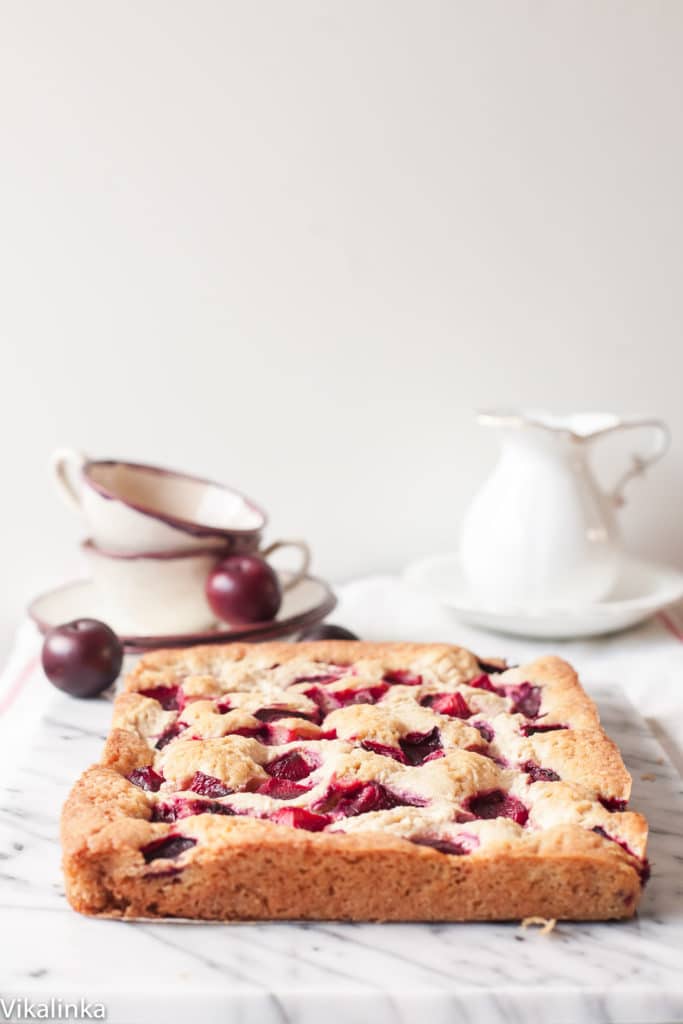 Recipe tips
Your can replace the plums with other fruit including apricots, nectarines, cherries and peaches.
Vanilla extract can be used in place of almond extract. Double the amount used to compensate for the variation in strength of flavours.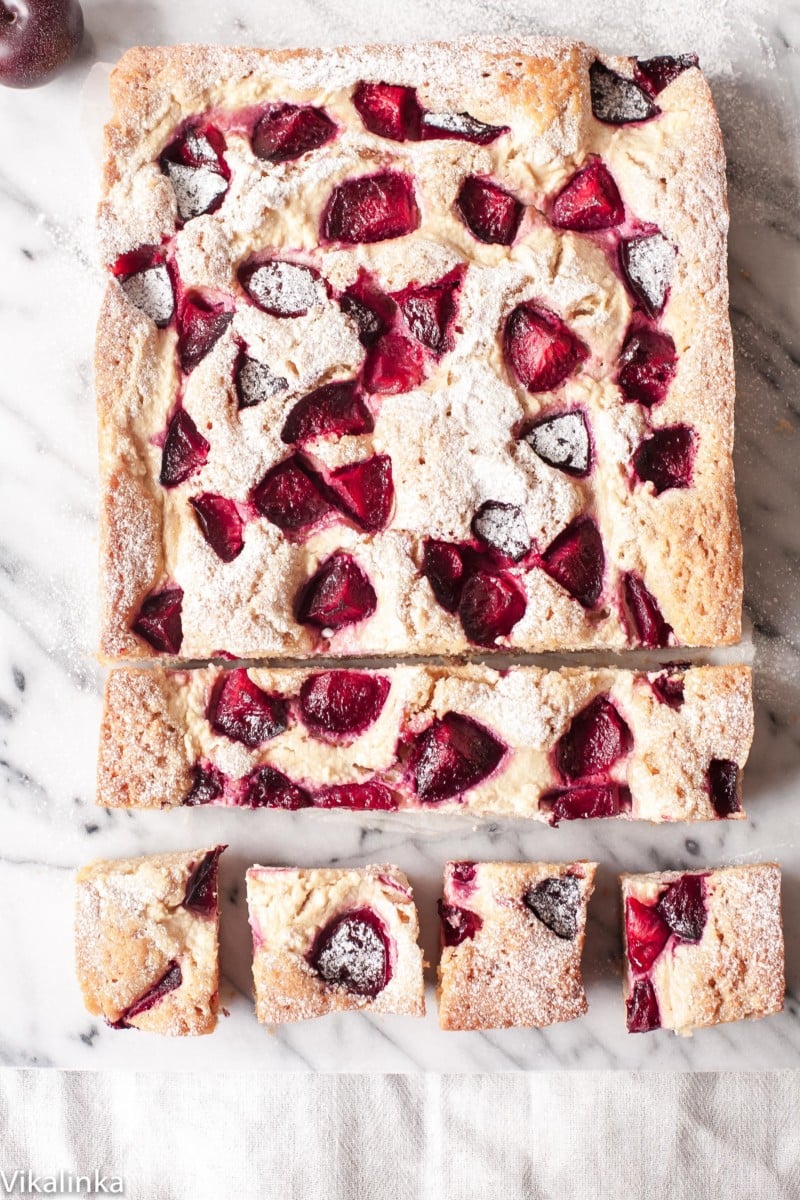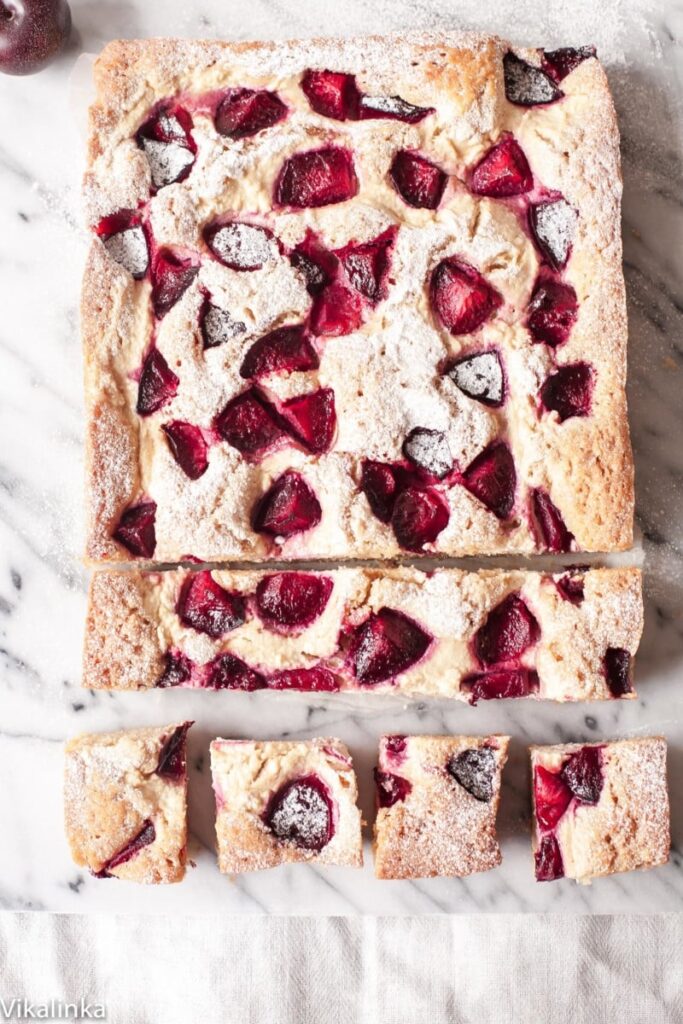 More Cheesecake Recipes for You
I have lots more cake recipes to try in my cake category. Here is a selection of cheesecake recipes you will love:
Or if you are looking for another way to use up plums try this Spiced Plum Upside-down Cake from Supergolden Bakes!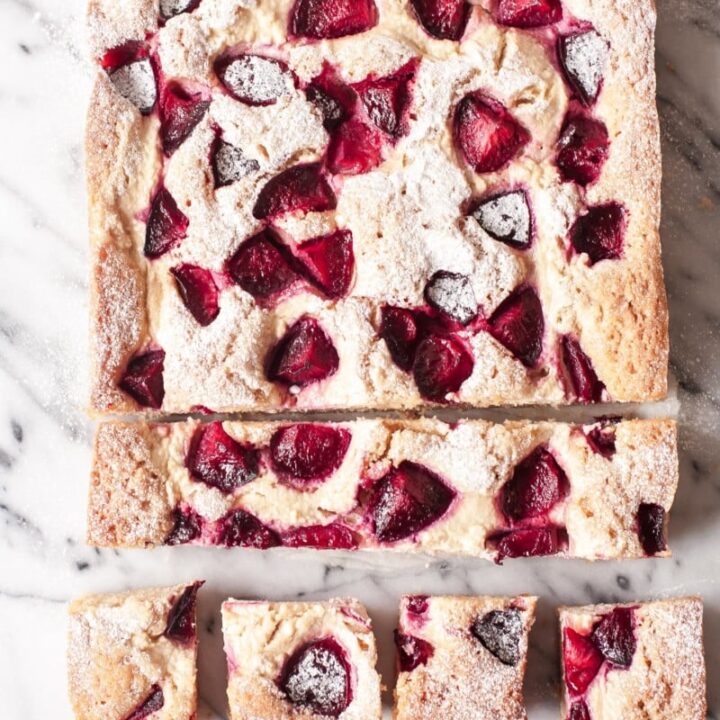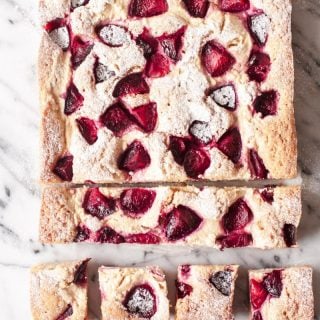 Rustic Plum Cheesecake
Makes 20 small squares
Ingredients
For the cheese filling
275

g/1 ⅓ cup farmer's cheese or ricotta cheese

1

egg

3

tbs

demerara sugar

1

tsp

almond extract

1

tsp

vanilla extract
For the sponge
3

eggs

175

g/ ⅔ cup butter

softened

175

g/1 cup demerara sugar

200

g/ 1 ⅓ cups flour

2 ¼

tsp

baking powder

1

tsp

vanilla extract

8

plums

pitted and quartered
Instructions
Preheat oven to 180C/350F. Grease and line a 28cm X 18cm (11″X 7″) rectangular pan with parchment paper, making sure paper is coming up higher than the sides of the pan. You can use a 9″ round pan if you can't find a suitable rectangular one.

For the cheese filling, fix farmer's cheese with an egg, sugar, almond and vanilla extract, push it through a fine sieve to smooth it out a bit, the cheese mixture will remain slightly grainy, set aside.

For the sponge, in a mixing bowl combine eggs, butter, sugar, sifted flour, baking powder and vanilla extract and beat for 2 minutes until well combined. The batter should be light in consistency.

On a lined baking sheet spread the batter and then spoon the cheese mixture on top of it, then carefully swirl the cheese mixture with a knife.

Scatter plums all over the cake.

Bake in the oven for 45 minutes or until the cake tester comes out clean.

Cool and cut in squares. Serve dusted with powdered sugar if desired.
Nutrition
Calories:
373
kcal
Carbohydrates:
43
g
Protein:
8
g
Fat:
18
g
Saturated Fat:
5
g
Trans Fat:
1
g
Cholesterol:
75
mg
Sodium:
302
mg
Potassium:
235
mg
Fiber:
1
g
Sugar:
26
g
Vitamin A:
903
IU
Vitamin C:
5
mg
Calcium:
63
mg
Iron:
1
mg