This lemon cheesecake, topped with lemon curd and whipped cream rosettes, is as luxurious as it is delicious. Learn the secrets to the fluffiest interior and a crack-free top below!
If you are a cheesecake lover but not a fan of baking, try our easy No Bake Cheesecake.
Nothing says spring more than lemon flavoured desserts and this lemon curd cheesecake is proof. Airy and fluffy in texture, infused with the bright citrus notes, this treat is both light and refreshing.
If you have never made a cheesecake, the whole affair might be a bit intimidating but fear not. I will guide you through the whole process.
In the end, you will bake a cheesecake with a glossy crack-free top and a rich yet delicate interior.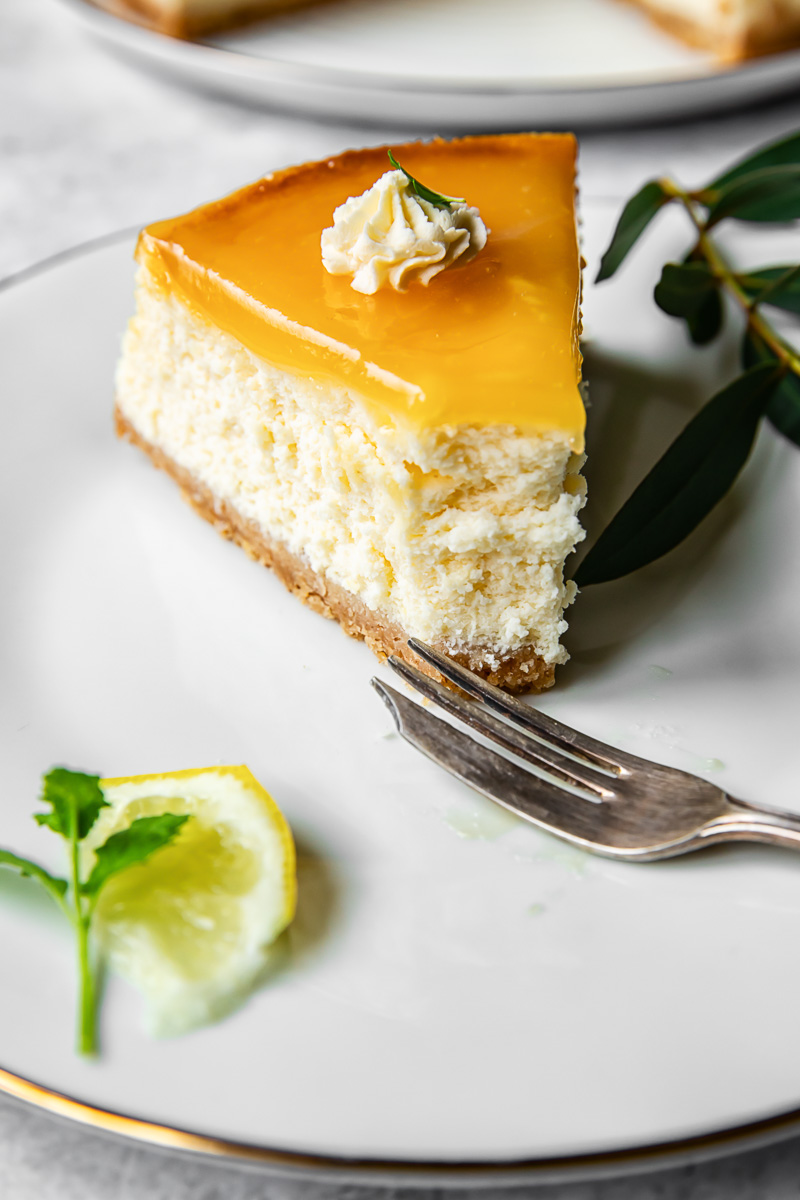 Lemon Cheesecake Recipe
I firmly associate Easter dessert table with a cheesecake of sorts. It comes from my childhood traditions. And although I don't follow all of them religiously I often re-invent and modernise traditional recipes.
This lemon cheesecake is a riff off the classic sweet cheese Paskha, a staple treat of my childhood. Although I was inspired by the Paskha cheesecake, I departed from the traditional method quite a bit.
I baked my cheesecake instead of serving it raw and I topped it with the most delicious lemon curd to intensify the flavour. You can make your own curd or buy a ready-made variety like I did.
And if you are feeling adventurous, try using rhubarb curd instead. Lemon and rhubarb go well together! By the way, you can make your own lemon curd using the same recipe by simply replacing fresh rhubarb juice with lemon juice.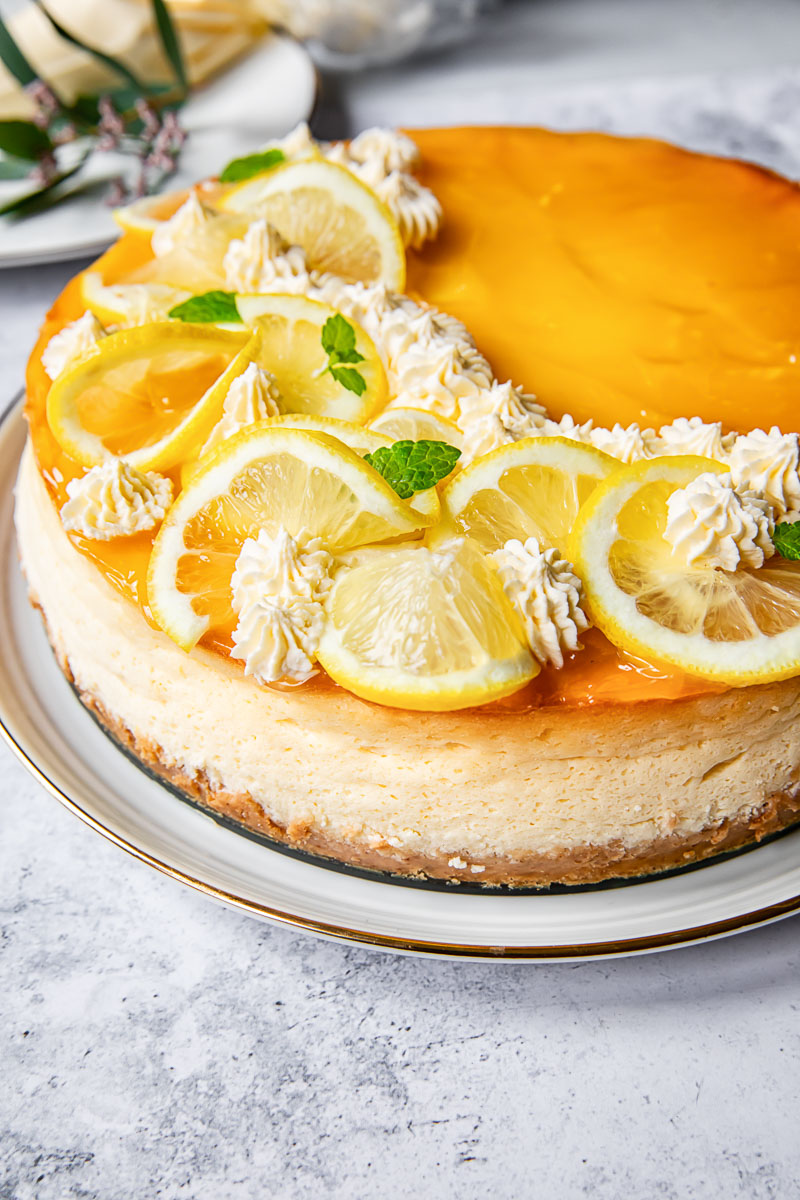 Before I get into the specifics of the recipe, I would lime to mention 2 main things, which set this cheesecake recipe apart from others.
First of all, this cheesecake is baked using the bain marie method aka water bath. The springform pan is placed into a large roasting pan filled with 1 inch of water.
This technique helps to evenly distribute heat when cooking delicate foods like cheesecakes and custards. I find it produces much lighter texture in cheesecakes as it infuses them with additional moisture, which also helps with preventing cracks.
Secondly, I recommend separating egg yolks from the egg whites, whipping the egg whites and then gently folding them into the cheese mixture. Even though this creates an extra step in the recipe making, it improves the texture of the cheesecake by tenfold.
The cheesecake comes out so airy and delicate, it's pure magic!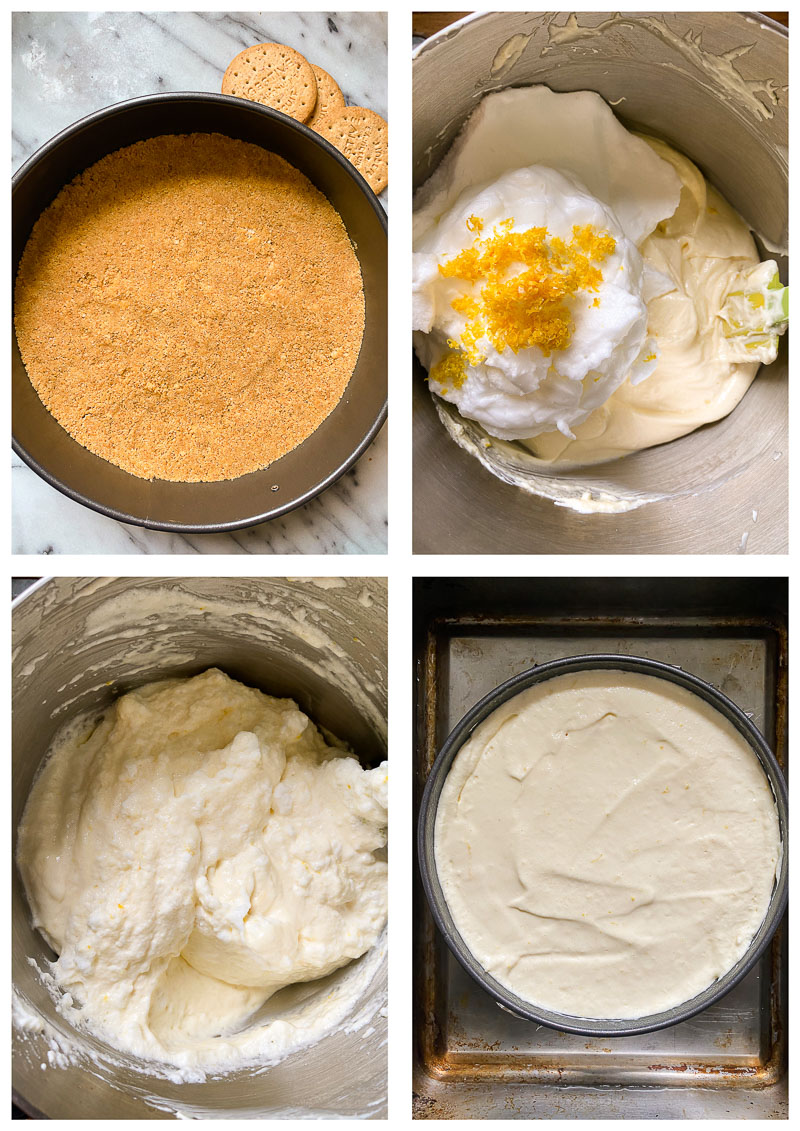 Top Recipe Tips
Always pre-bake the crust in the oven for 10 minutes at 160C/325F and cool before spreading the cheese mixture on top. This is how you avoid a soggy bottom.
Use fresh lemon juice and lemon zest. Lemon zest is what gives your cheesecake that vibrant lemon flavour, which cannot be achieved by adding the juice alone.
Do separate the egg yolks from the egg whites and whip the egg whites till soft peaks form, then fold into the cheese mixture with a spatula.
For best results use full fat cream cheese. I recommend using Philadelphia brand.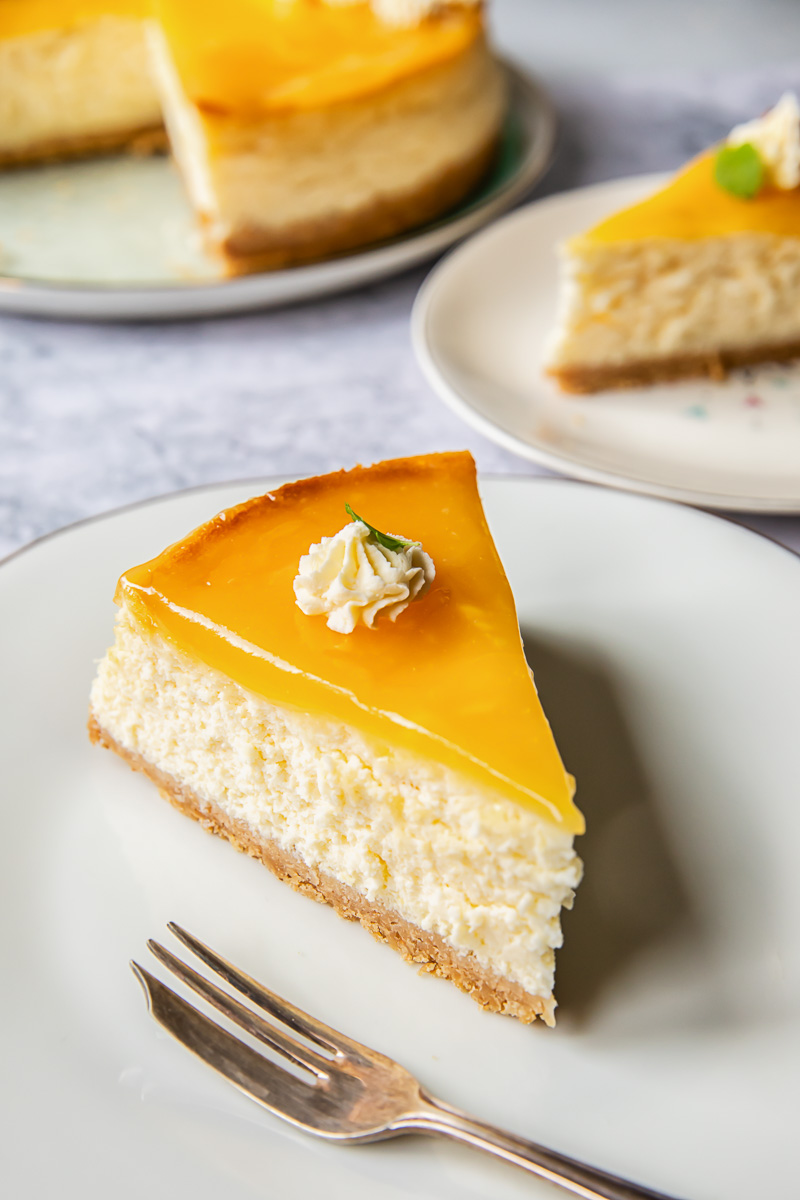 Use bain marie method described above to improve the texture of your cheesecake. No more dry and crumbly cheesecake for you!
Once the cheesecake is cooked, turn the oven off but keep the cheesecake in the oven for 20 minutes, then open the oven door and leave it ajar for about an hour with the cheesecake inside. Gradual cooling of the cheesecake in the oven dramatically reduces the cracks. Drastic change in temperature is what causes them.
Once the cheesecake is at room temperature, cover the pan with plastic wrap and chill in a refrigerator overnight.
Before serving spread the lemon curd over the cheesecake and pipe whipped cream rosettes if desired.
If the lemon curd is too stiff for spreading, warm it up in a microwave for 20-30 seconds, then mix with a wire whisk until smooth and spreadable.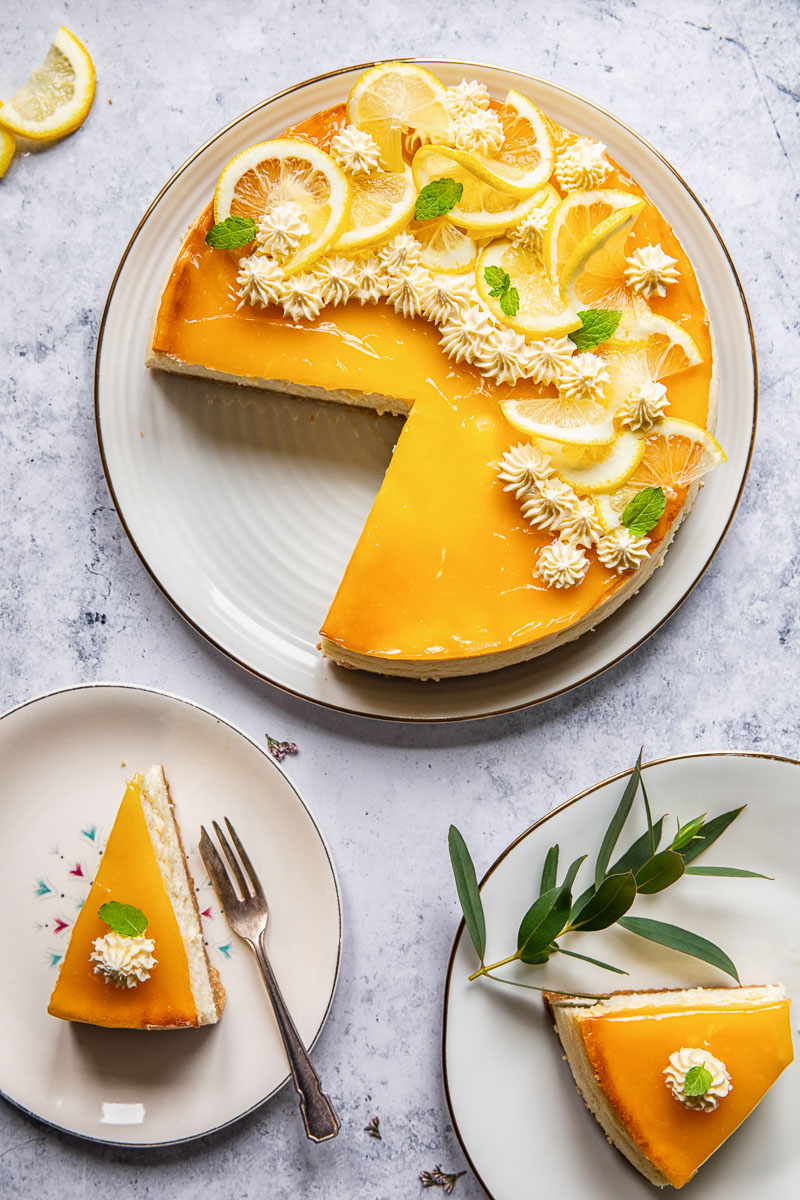 More Cheesecake Recipes to Try: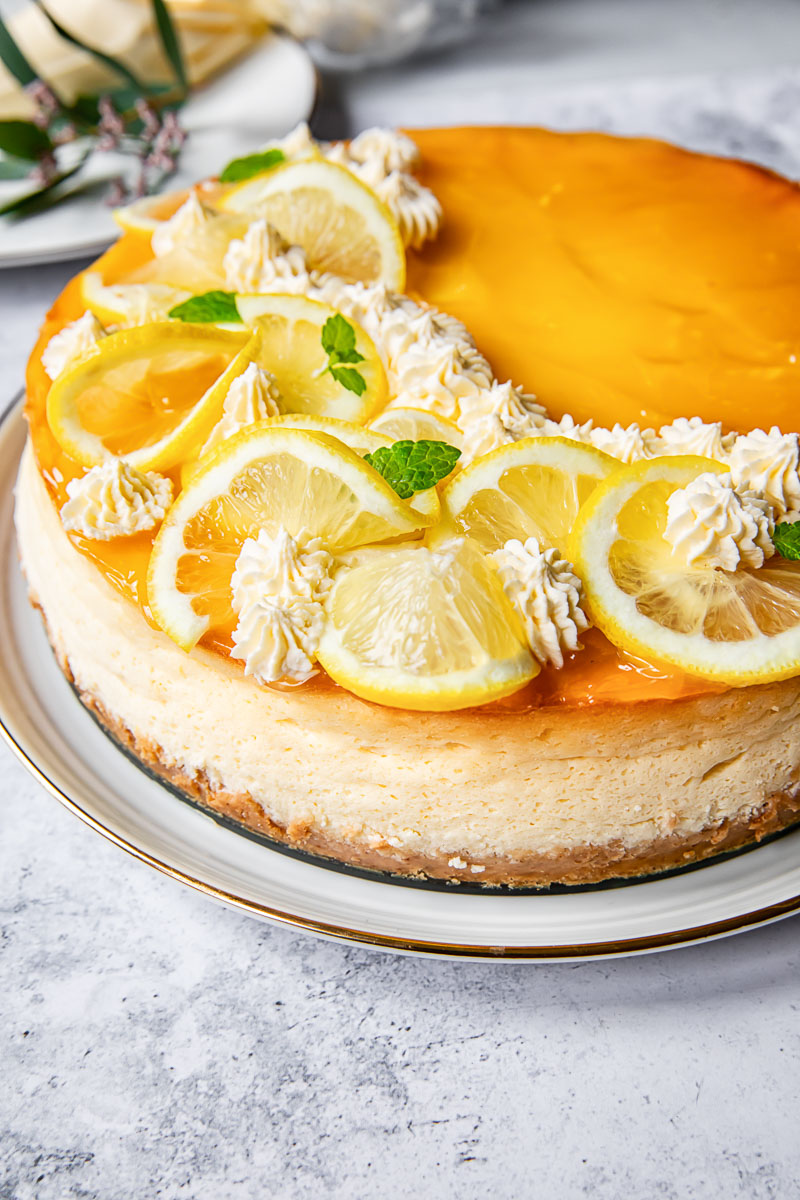 Ingredients
200g/1 ¾ cup

digestive biscuits (UK)/graham crackers (US)

crushed

80g/1/4 cup

butter

melted

750g/24oz

cream cheese such as Philadelphia

full fat

3

large eggs

200g/1 cup

white granulated sugar

3

tbsp

semolina or all purpose flour

1

lemon

juice and zest

1

tbsp

vanilla
For the topping
250ml/1 cup

lemon curd

250ml/1 cup

double/whipping cream

4

tbsp

icing sugar

4-5

mint leaves for decoration

optional

5-6

lemon slices for decoration
Instructions
Preheat your oven to 160 C/325F. Zest and juice the lemon and set aside. Crush the digestive biscuits or graham crackers, then mix the crumbs with the melted butter. Line the bottom of a 21cm/9 inch springform pan with the crumb mixture, press in with a spoon and bake in the preheated oven for 10 minutes, set aside and cool.

Separate the egg yolks from the egg whites. Mix cream cheese, egg yolks, sugar, semolina or flour, lemon juice and vanilla with an electric mixer until well blended. In a separate bowl whip egg whites until soft peaks form and gently fold them into the cheese mixture together with lemon zest.

Pour the mixture into your springform pan, then wrap the bottom of your springform pan with a layer of aluminium foil to prevent water getting in. Set it inside a larger roasting pan filled with 1 inch of water.

Bake at 320 F/160C for 60-65 minutes until the edges are lightly browned and the centre is nearly set. Turn the heat off and leave it in the oven for additional 20-30 minutes. Then open the door of your oven and allow the oven come to room temperature with the cheesecake inside to prevent the top from cracking.( If your cheesecake still cracks, don't worry, you will cover it with the lemon curd later.) Cool the cheesecake completely in the refrigerator overnight.
To Decorate
The following day take the cheesecake out of the fridge, run a knife along the sides of the springform pan to release the cheesecake, then take it out of the pan. Make sure the lemon curd is spreadable consistency. If it's too stiff, put it in a microwave for 20-30 seconds, then whisk with a wire whisk.

Slice the lemon very thinly. Whip the double or whipping cream with icing sugar until stiff peaks form, then load it up in a piping bag fitted with your favourite tip. Spread the lemon curd on the surface of the cheesecake, then pipe the rosettes and decorate with lemon slices and fresh mint leaves.
Nutrition Facts
Lemon Curd Cheesecake
Amount Per Serving
Calories 583
Calories from Fat 351
% Daily Value*
Fat 39g60%
Cholesterol 153mg51%
Sodium 414mg18%
Potassium 161mg5%
Carbohydrates 52g17%
Protein 8g16%
Vitamin A 1374IU27%
Vitamin C 5mg6%
Calcium 90mg9%
Iron 1mg6%
* Percent Daily Values are based on a 2000 calorie diet.