Because your holiday table needs this strawberry meringue cheesecake! This no bake recipe is perfect if you are not a baker but love your sweet treats.
For another no bake cheesecake, take a look at our Blood Orange Cheesecake.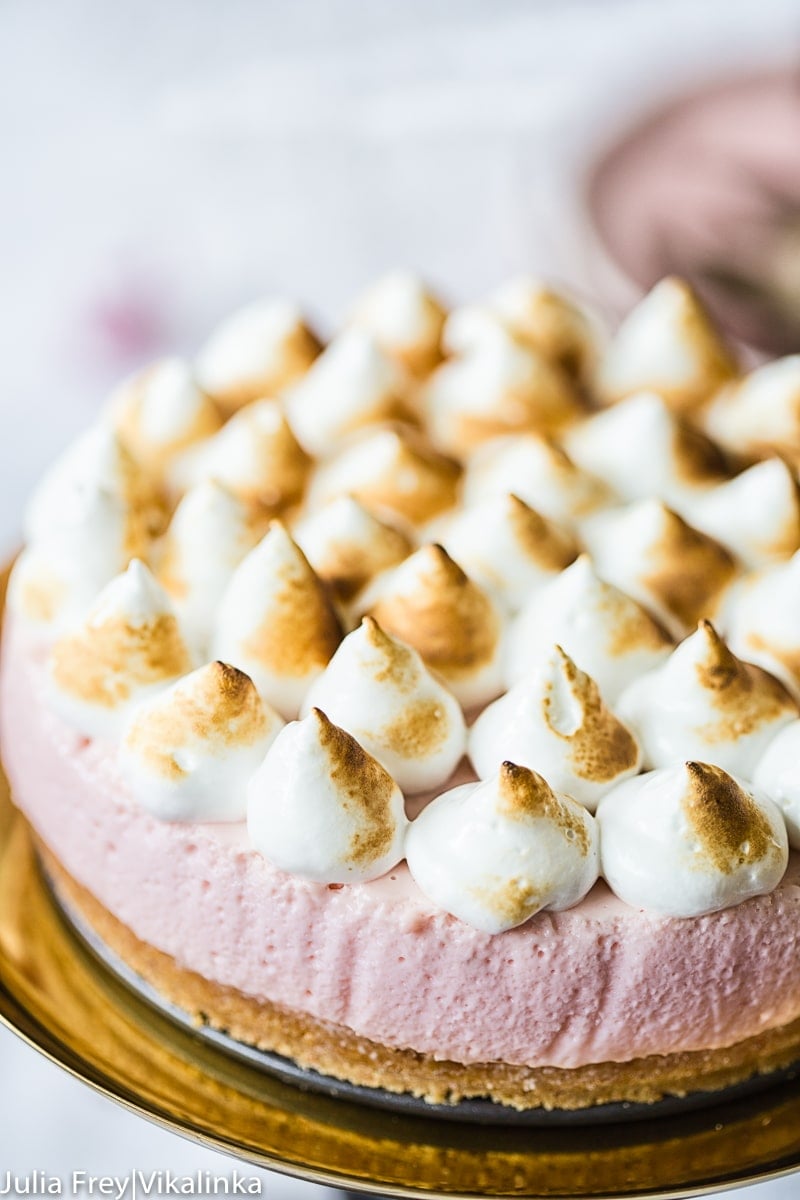 Whenever spring comes around, I get in the mood for a dessert that will fit the season. That means something delicate and light that won't keep me stuck in the kitchen for two long.
This strawberry meringue cheesecake is a favourite dessert in my house and the embodiment of spring and summer. Light, delicate, fragrant and amazingly delicious!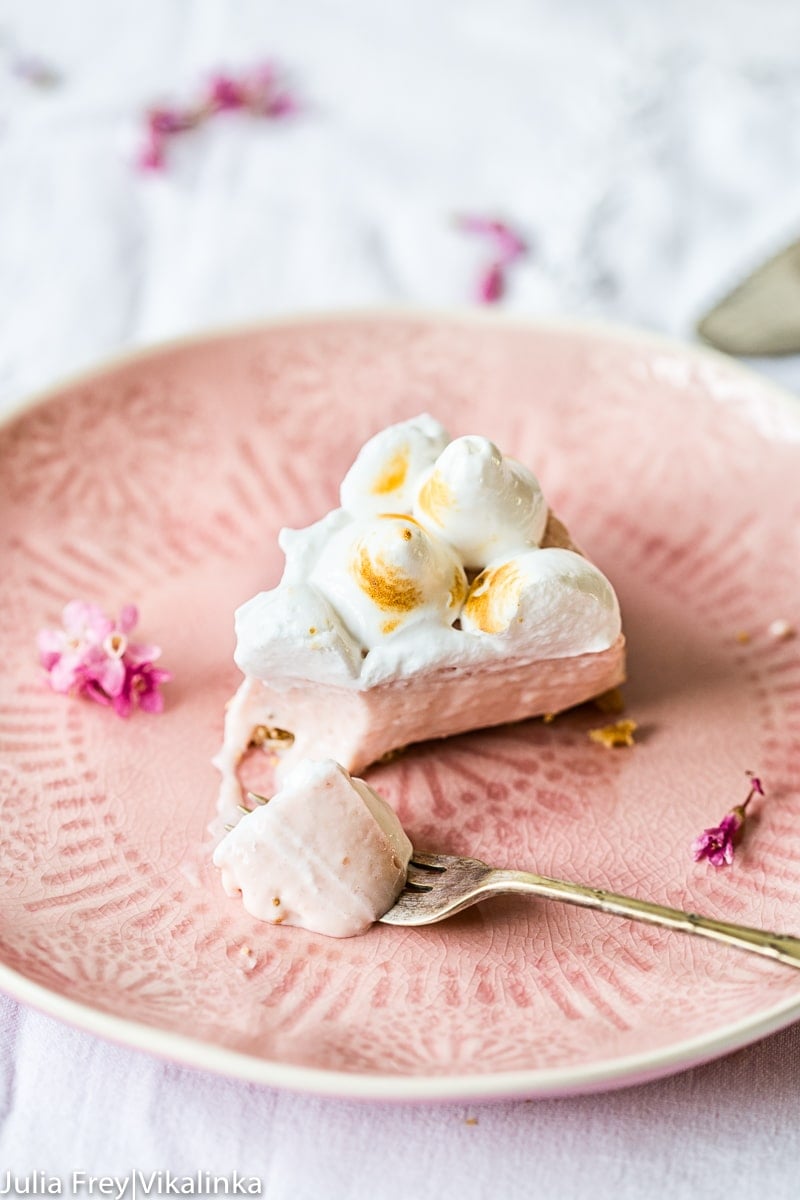 It's also a simple recipe that won't keep you tied to the kitchen all day. With no baking required, you can assemble the cake and let it finish in the refrigerator, ready to enjoy later!
And because it uses fresh strawberries, it has a wonderful fruity flavour that takes is perfect for the season.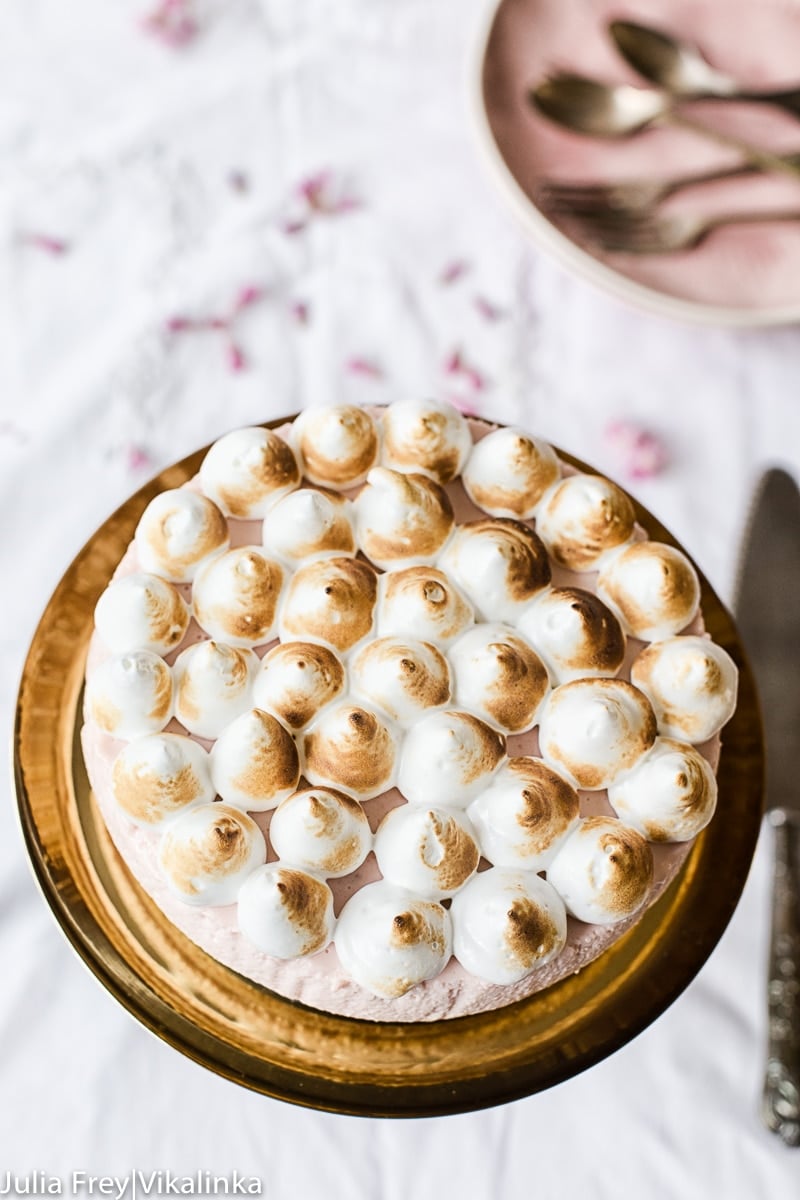 No-Bake Cheesecake
When the weather is this lovely all we want to do is to mix something up and stick it in the fridge to set. This strawberry meringue cheesecake is exactly that.
No baking required, not even the base! How great is that, especially when the end result look this gorgeous!! If you are excited about no-bake cheesecakes, by this Blood Orange No-Bake Cheesecake!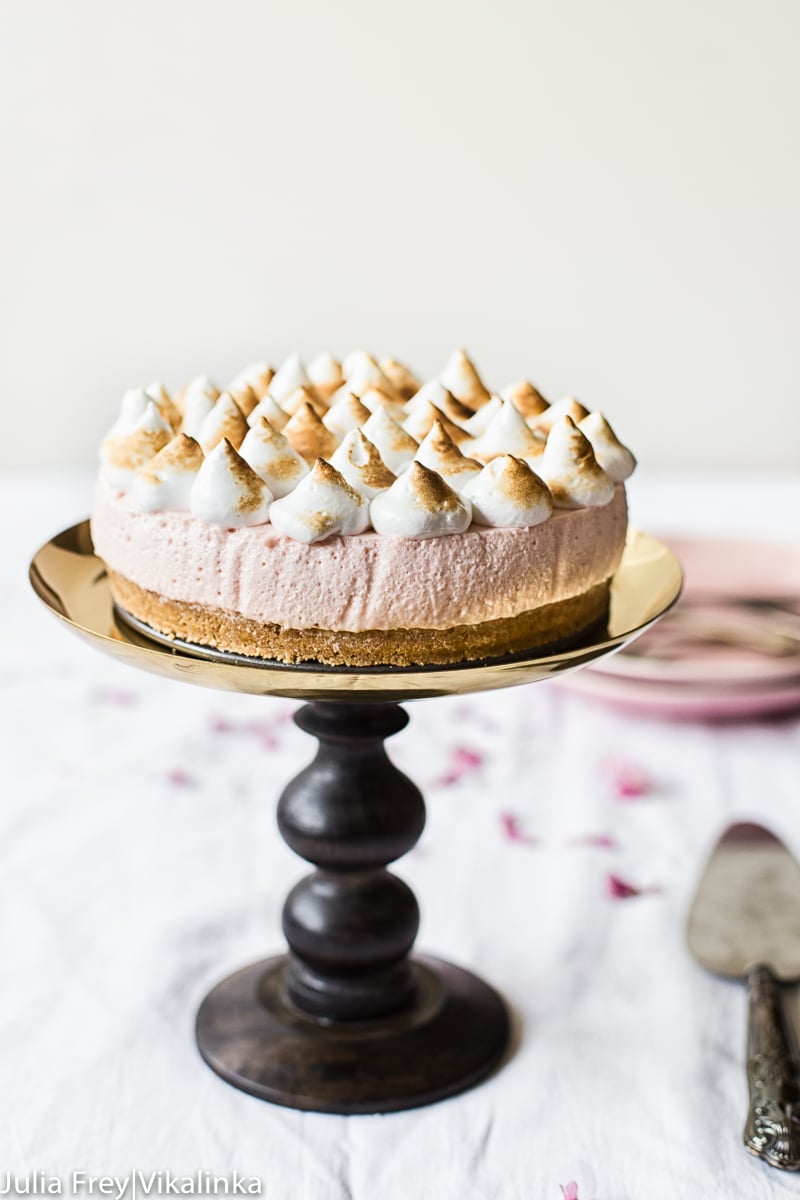 This no-bake strawberry cheesecake has a texture of the most delicate strawberry mousse, and is made with full-fat soft cheese. It is slightly less tangy than Philadelphia cream cheese, which also could be used for this recipe.
It is set with gelatine leaves, although you could also use gelatine powder. I added a full cup of processed fresh strawberries in the mix, and because it is made with real strawberries, it tastes like STRAWBERRIES.
When developing this recipe I experimented with freezing one of the cakes as well. It produced a gorgeous frozen dessert in the style of an Italian semifreddo.
And because it is set with gelatine it doesn't turn into a creamy mush when it thaws, it still holds its shape! I took the first frozen version to our friends' house for dinner and we all absolutely loved it!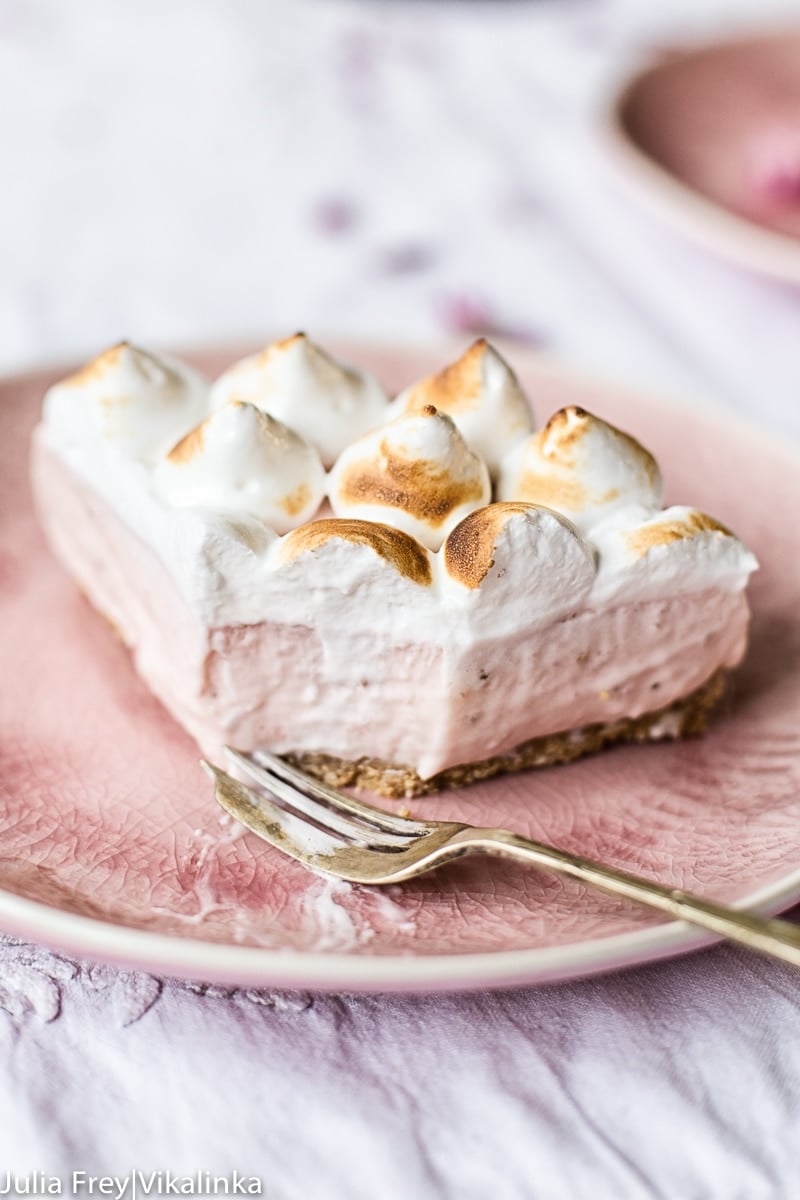 Meringue Topping
The only real "fancy" thing I allowed myself when creating this cheesecake is the meringue topping. It's actually really easy to make but you do need a blowtorch since we can't really put this delicate mousse-like cake in the oven.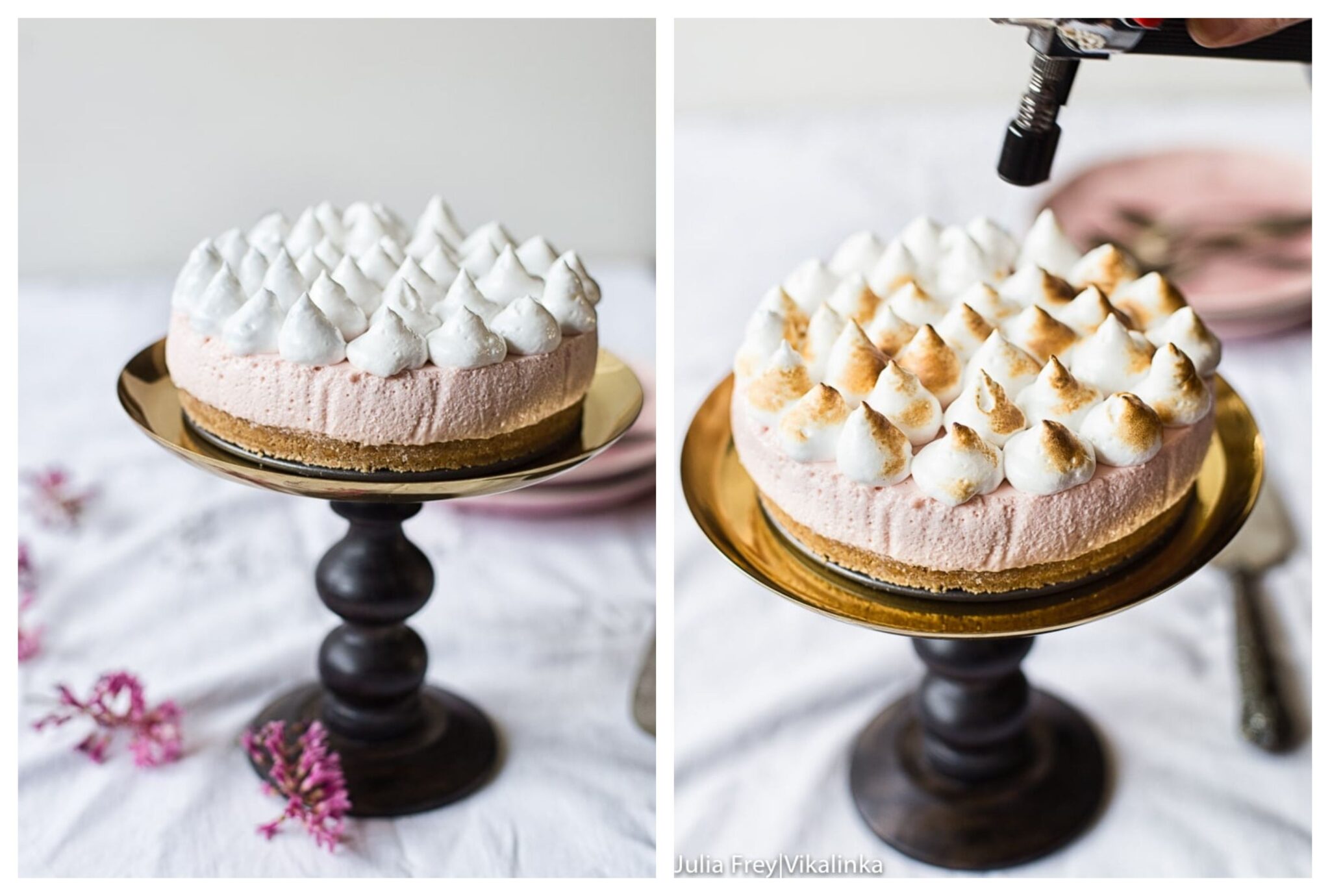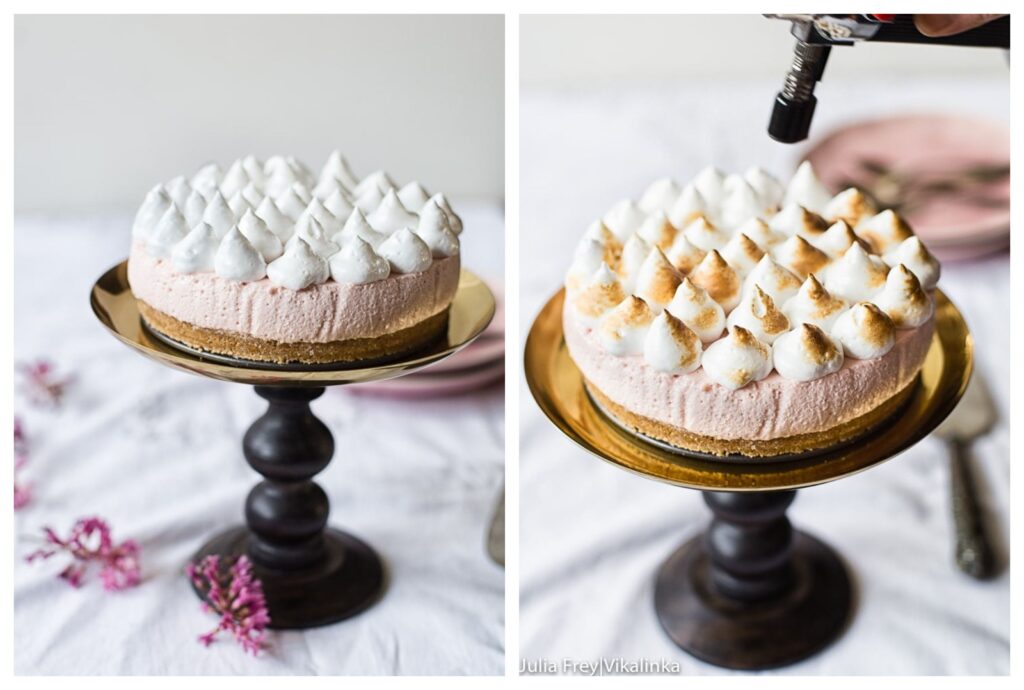 If you do not own a blowtorch, you can easily top this cheesecake with whipped cream!
But if you have a blowtorch, then you will have great fun with the meringue layer. It's incredible to watch your snowy white meringue peaks turning golden and smell the burnt sugar. Confectionery bliss!!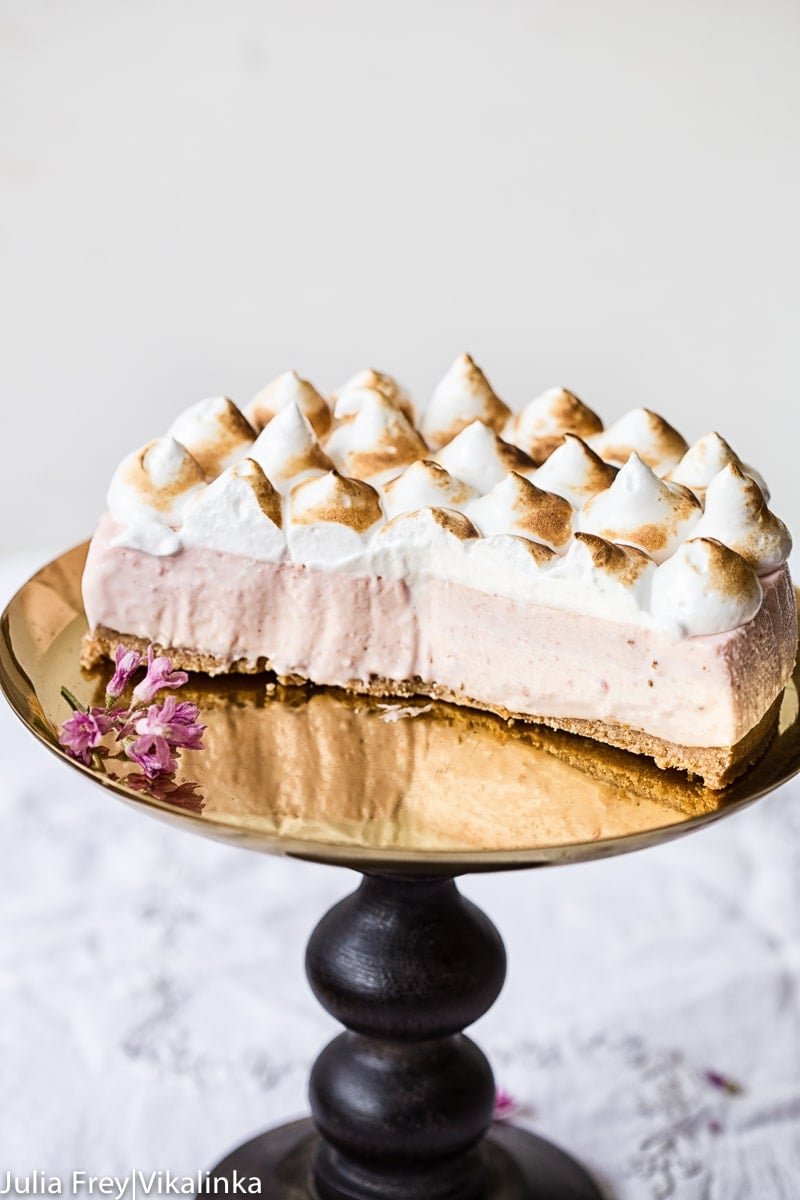 More Cheesecake Recipes
Take a peek at our selection of dessert recipes or try one of these fantastic desserts: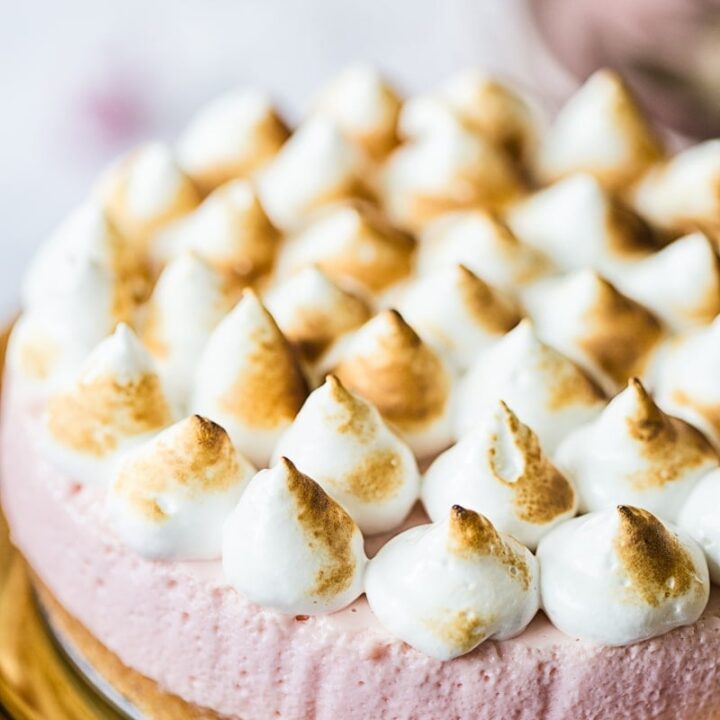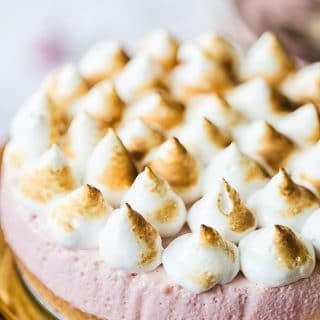 Strawberry Meringue Cheesecake (No Bake)
A lighter than a cloud strawberry meringue cheesecake.
Print
Pin
Rate
Ingredients
For the base
200

g/2 cups digestive biscuits/graham crackers

100

g/1/2 cup butter
For the strawberry cheesecake
4

sheets/2 tsp gelatine

300

ml/1 ¼ cups double cream/heavy cream

divided

400

g/14oz full fat soft cheese/cream cheese

200

g/1 cup sugar

400

g/1 cup strawberries

processed in a food processor

1

tsp

vanilla
For the meringue
4

egg whites

240

g/1 cup +2 tbsp caster sugar
Instructions
In a medium bowl crush digestives or graham crackers or process them in a food processor and mix the crumbs with melted butter.

Line the bottom of a 9-inch spring form pan with the buttery crumbs and press in with a measuring cup or a large spoon. Put in the refrigerator until ready to use.

Soak the gelatine leaves in a cup of cold water for 5 minutes. Skip this step if using gelatine powder. Heat half of the cream in a microwave, then squeeze out excess water from gelatine leaves and add them to the hot cream, they will dissolve immediately. Set aside to cool.

In a large bowl whip soft cheese or cream cheese if using with sugar, vanilla and processed strawberries until well blended, then pour in the cream and gelatine mixture and whip for a minute longer to combine well.

In another bowl beat remaining cream until soft peaks form, do not overwhip. The cream shouldn't be stiff. Fold the whipped cream in the strawberry cheese mixture with a spatula until well combined.

Line the sides of the spring form pan with a strip of parchment paper for easy release. Pour in the strawberry cheesecake mixture in the spring form pan and put in the refrigerator for at least 4 hours or better overnight.

Before serving make the meringue. Beat egg whites in a very clean, grease-free bowl with caster sugar until the mixture is tripled in volume and the sugar is completely dissolved. Take a small amount of meringue and rub it between your fingers, the texture should be smooth and you shouldn't detect any sugar granules. Another test is to turn the bowl with the meringue upside down. If the meringue is made correctly, it will remain in the bowl.

Take the strawberry cheesecake out of the fridge and unmold it, then carefully pull the parchment paper strips away from the side of the cheesecake. (You can always smooth the sides with a palette knife if they are less than perfect.)

You can either pipe the meringue from a pastry bag using a round tip or pile it on free style. Then brown the top with a blowtorch holding it a few centimetres away from the meringue.

Alternatively you can skip the meringue topping and decorating your strawberry cheesecake with whipping cream.
Nutrition
Calories:
738
kcal
|
Carbohydrates:
81
g
|
Protein:
8
g
|
Fat:
44
g
|
Saturated Fat:
21
g
|
Polyunsaturated Fat:
4
g
|
Monounsaturated Fat:
14
g
|
Cholesterol:
106
mg
|
Sodium:
485
mg
|
Potassium:
249
mg
|
Fiber:
2
g
|
Sugar:
65
g
|
Vitamin A:
1676
IU
|
Vitamin C:
30
mg
|
Calcium:
107
mg
|
Iron:
1
mg