You can bake your own wedding cake and decorate it, especially if you use this simple naked cake technique!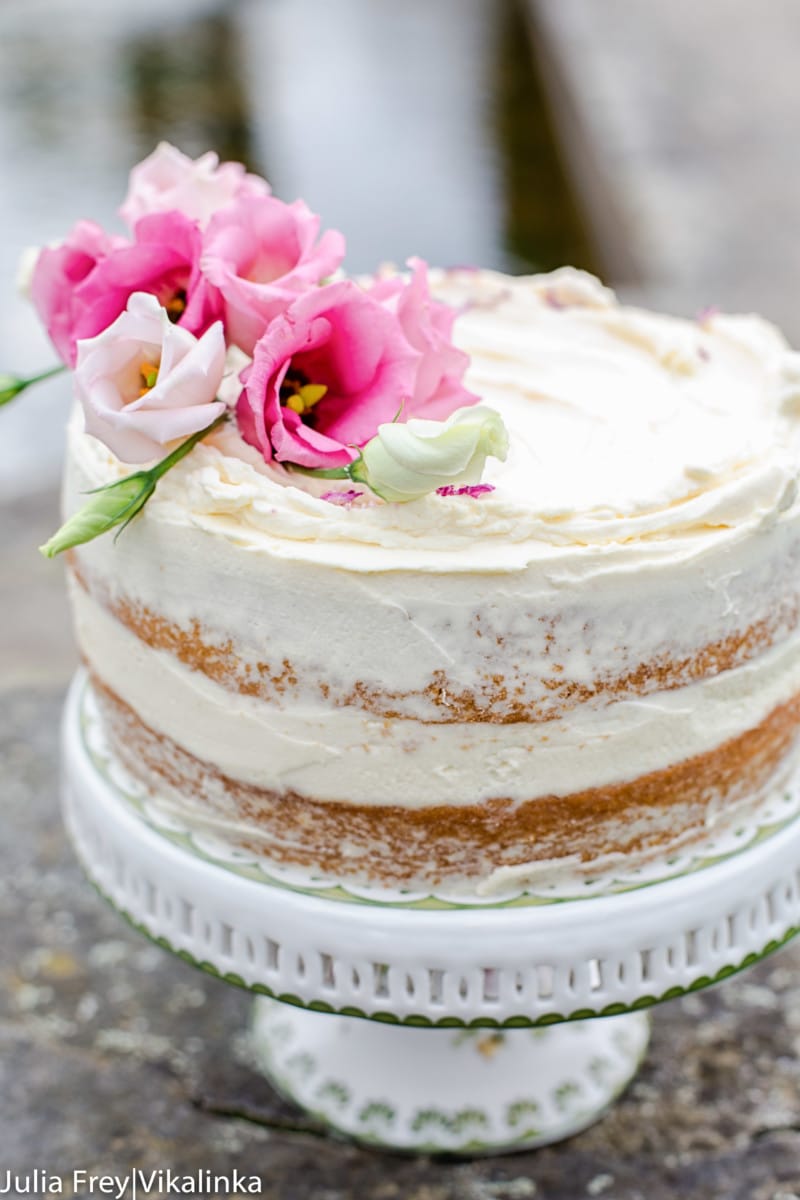 If you asked me seven years ago what I would be doing now, in no way I would answer teaching English full time in London while running a side business because 7 years ago I was a stay-at-home mom in a small town on the West Coast of Canada.
Life can take unexpected turns; one day you can be visiting Italy and England as tourists and a year later you'd be moving there with all your belongings, or one day you are admiring an incredibly talented photographer and then a few years later you are doing a joint shoot with her.
Life is full of little surprises like that, you just have to believe it!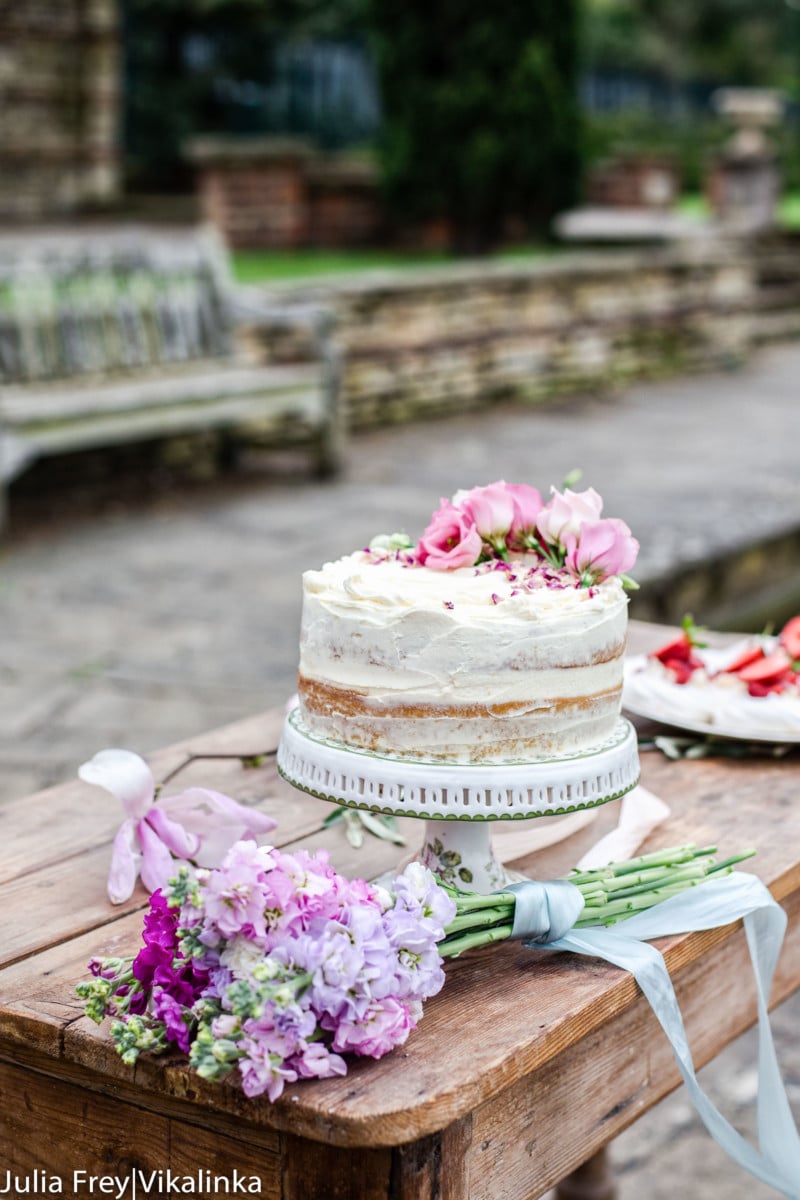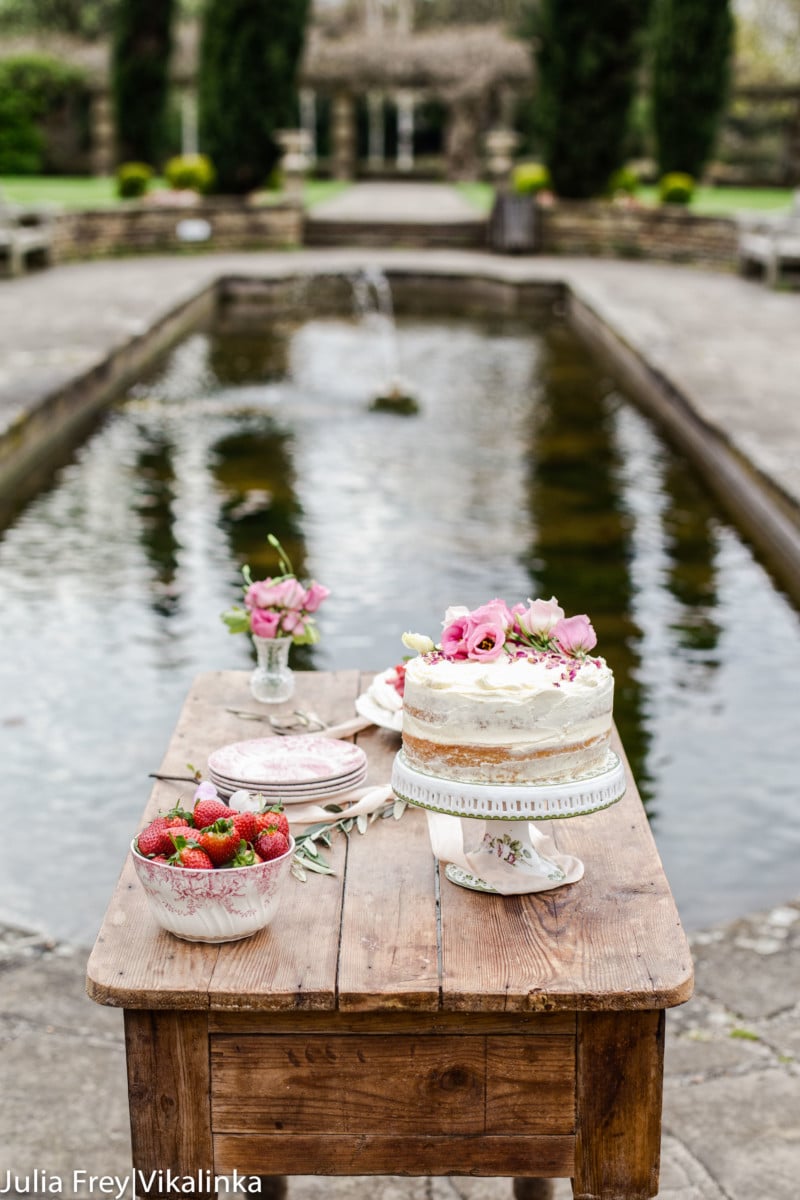 This wedding shoot came together quickly and unexpectedly. I've been a fan of my friend Lisa, the wedding photographer behind a hugely successful Vancouver-based Ophelia Photography for years.
She took numerous photos of us as a couple and as a family over the years but we've never worked together until now, which is crazy because she shoots weddings, I shoot cakes; it's a match made in heaven, never mind that she lives in Vancouver and I live in London, an ocean between us but nothing can stay in the way of true passion.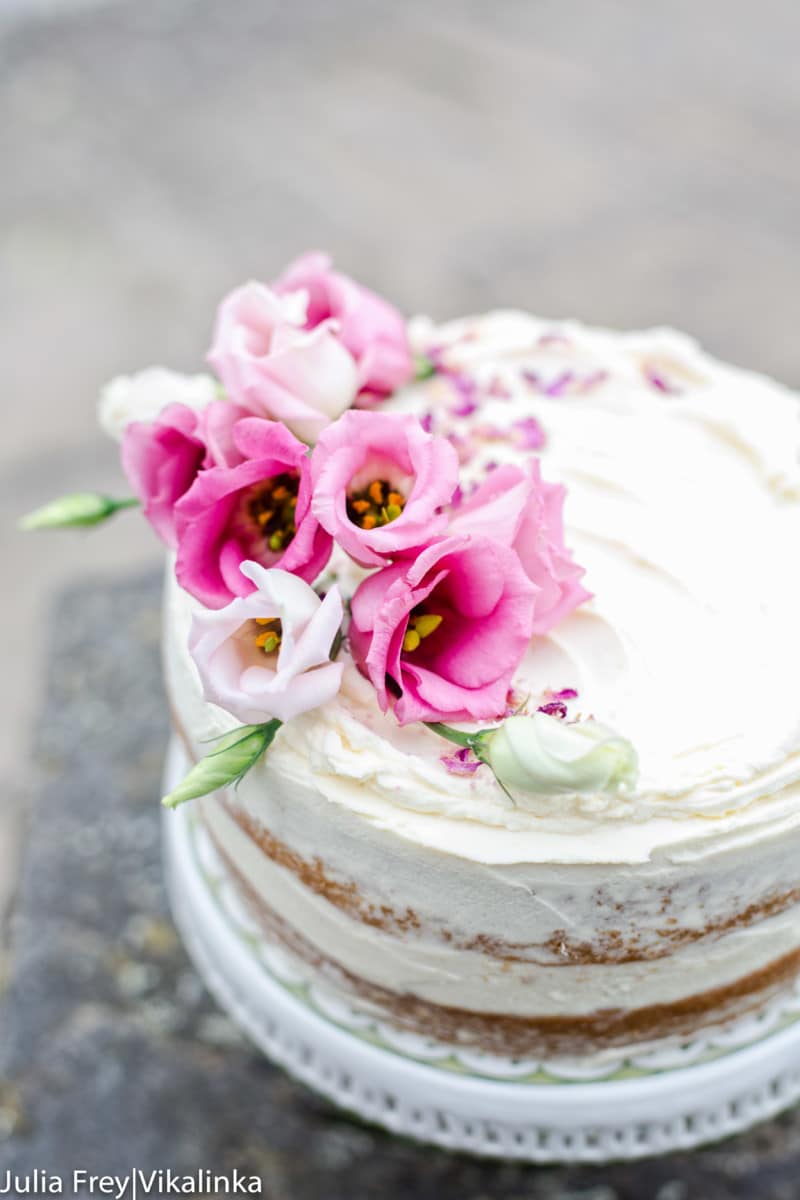 The cake I made is something I come to over and over again when I need a no-fail cake. The sponge is light and fluffy with an intense vanilla flavour and the frosting is made of a mix of mascarpone and heavy cream, the fruit inclusion is variable.
I used strawberries for this one but you can use whatever is in season like Victoria Sponge Cake with Blackberry Compote.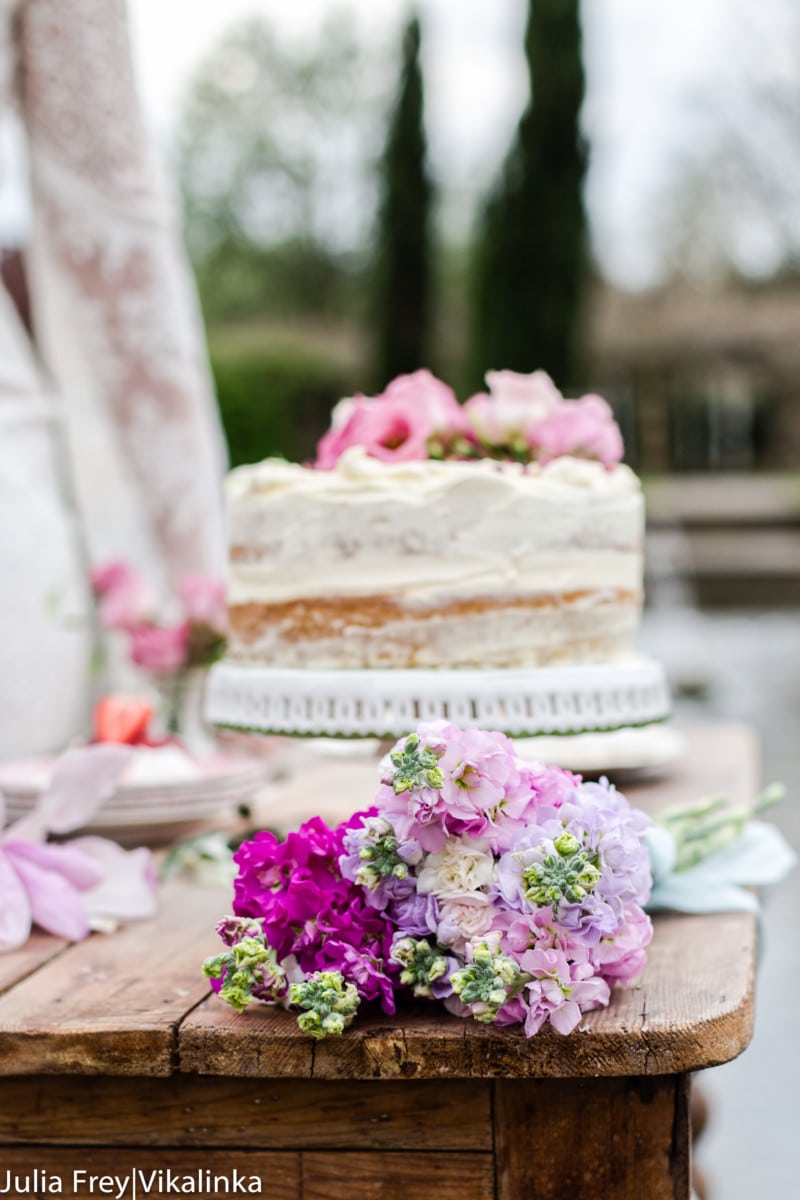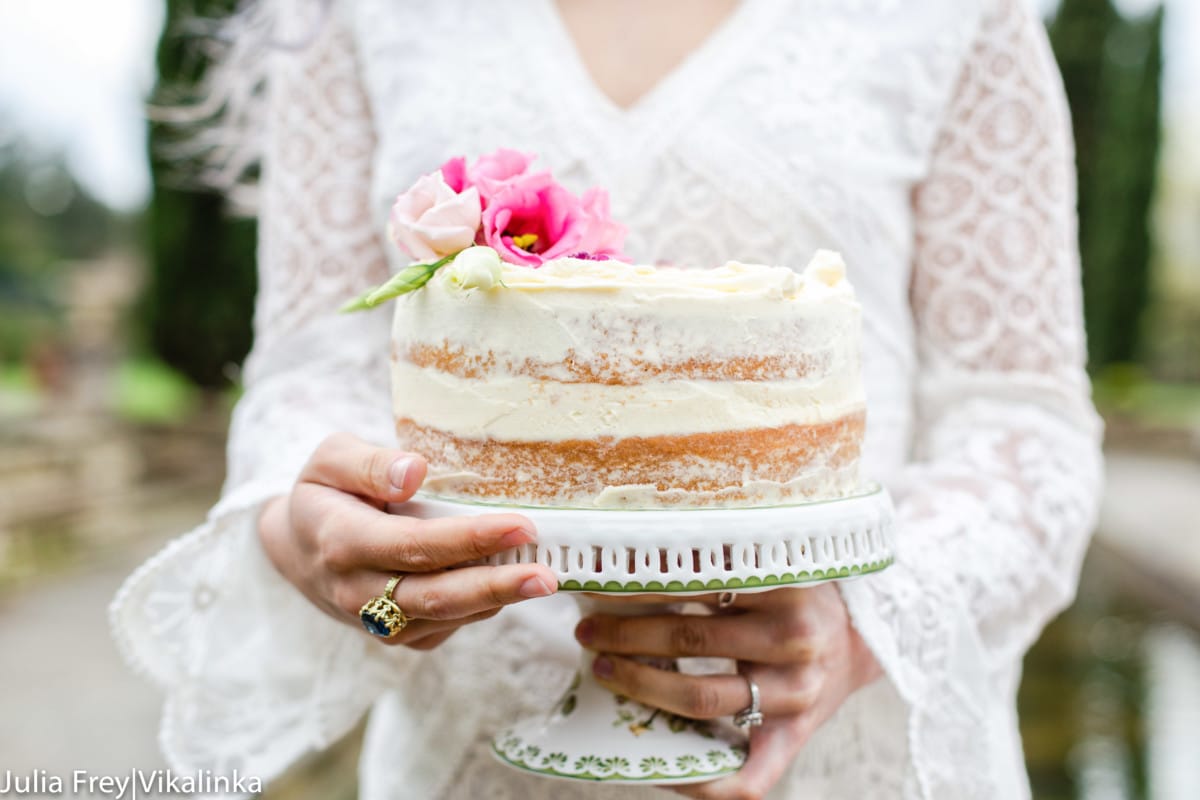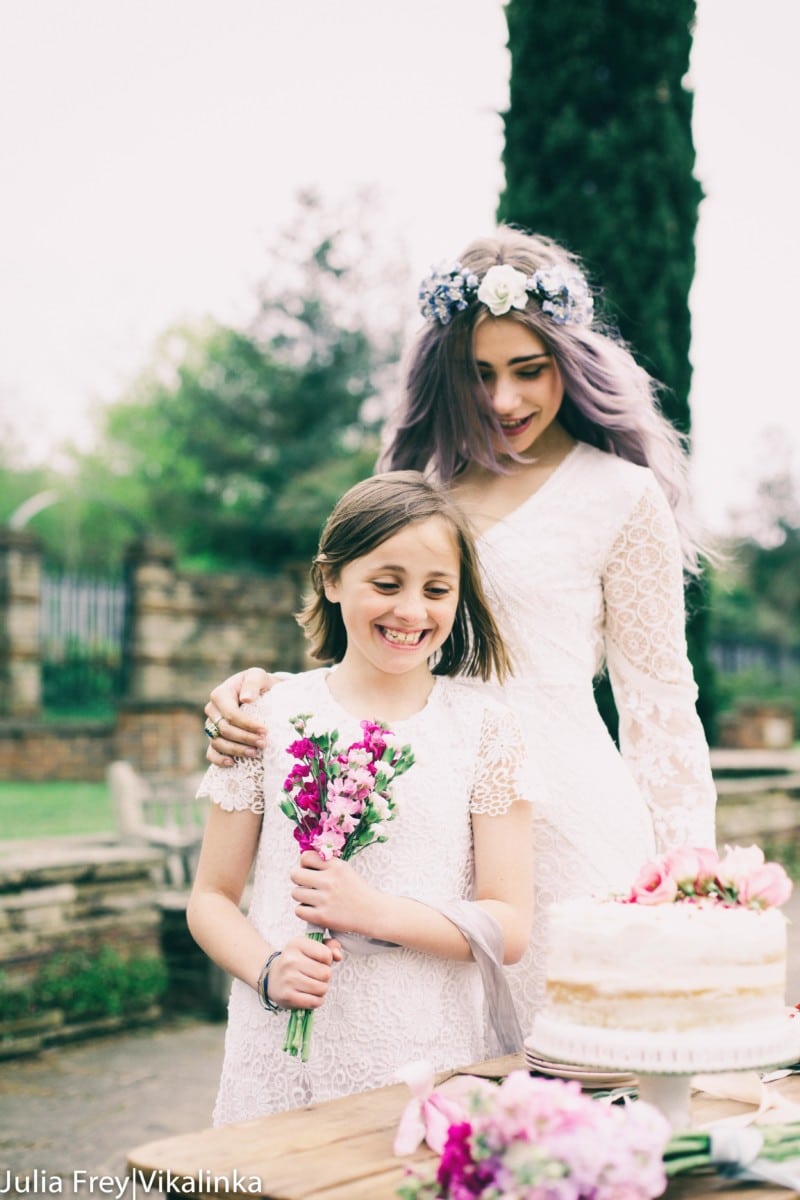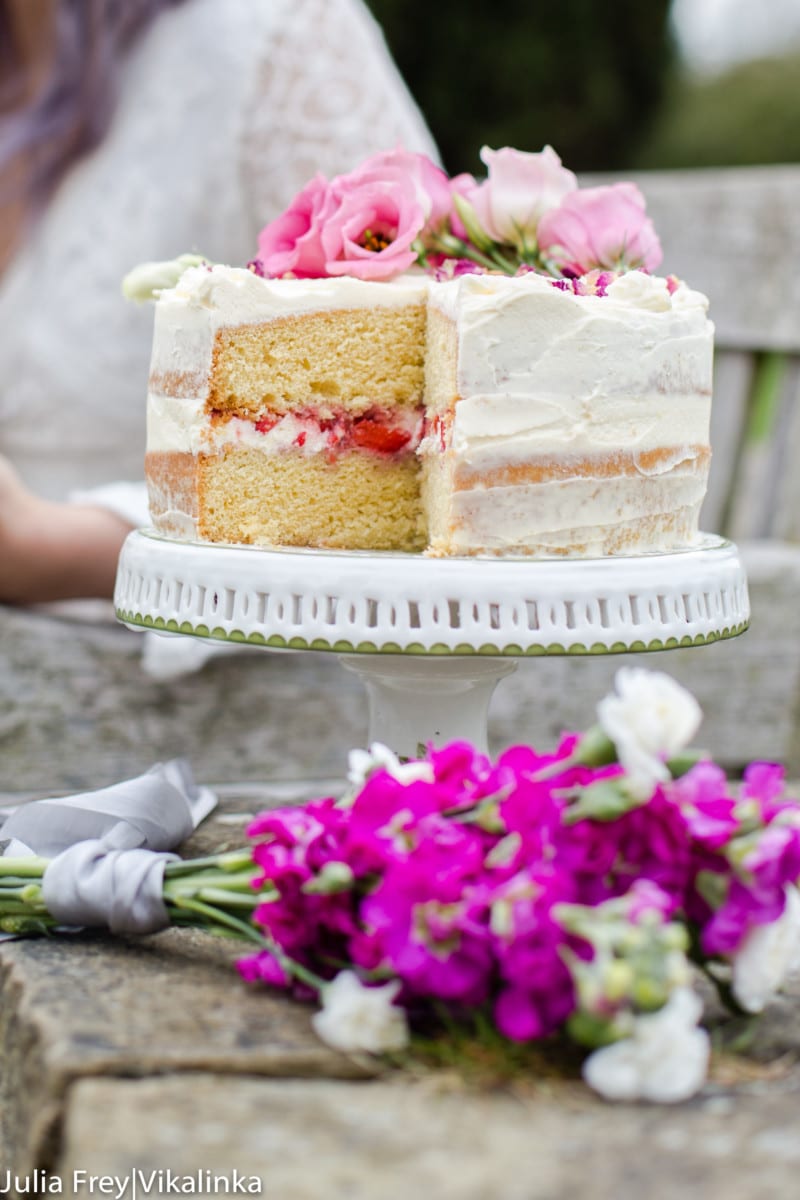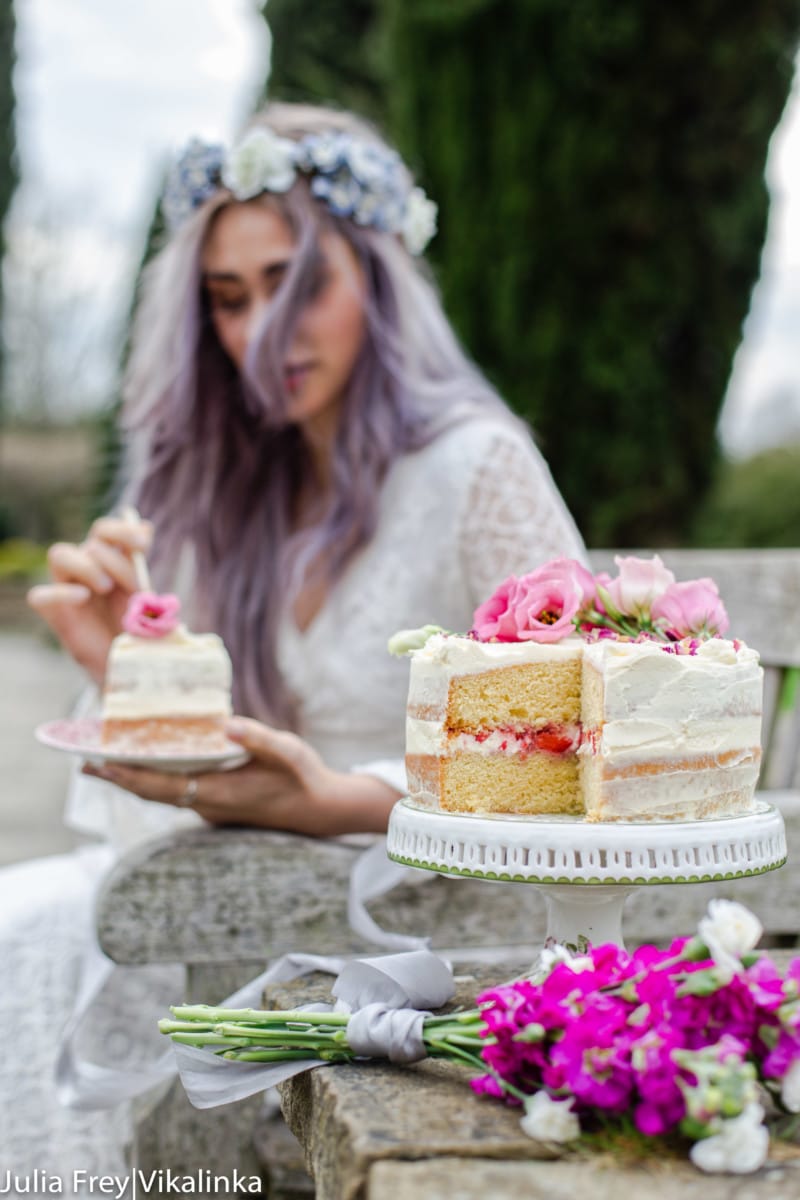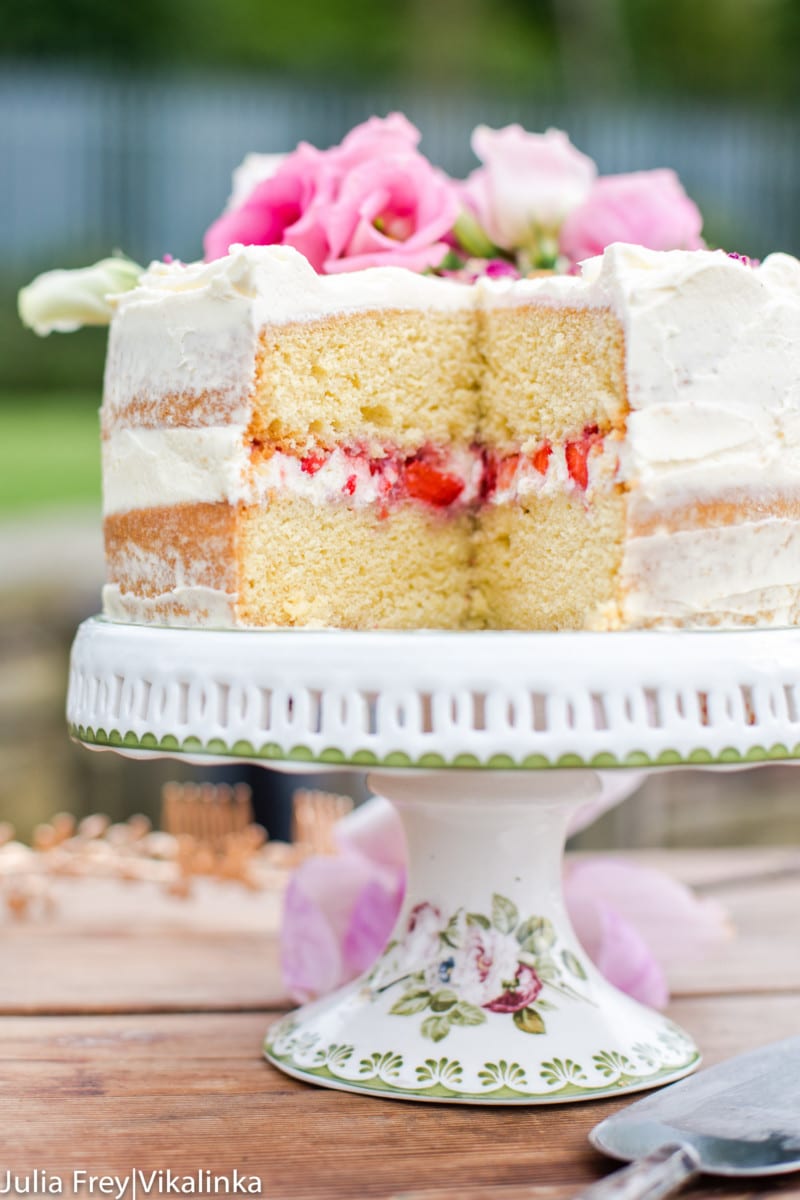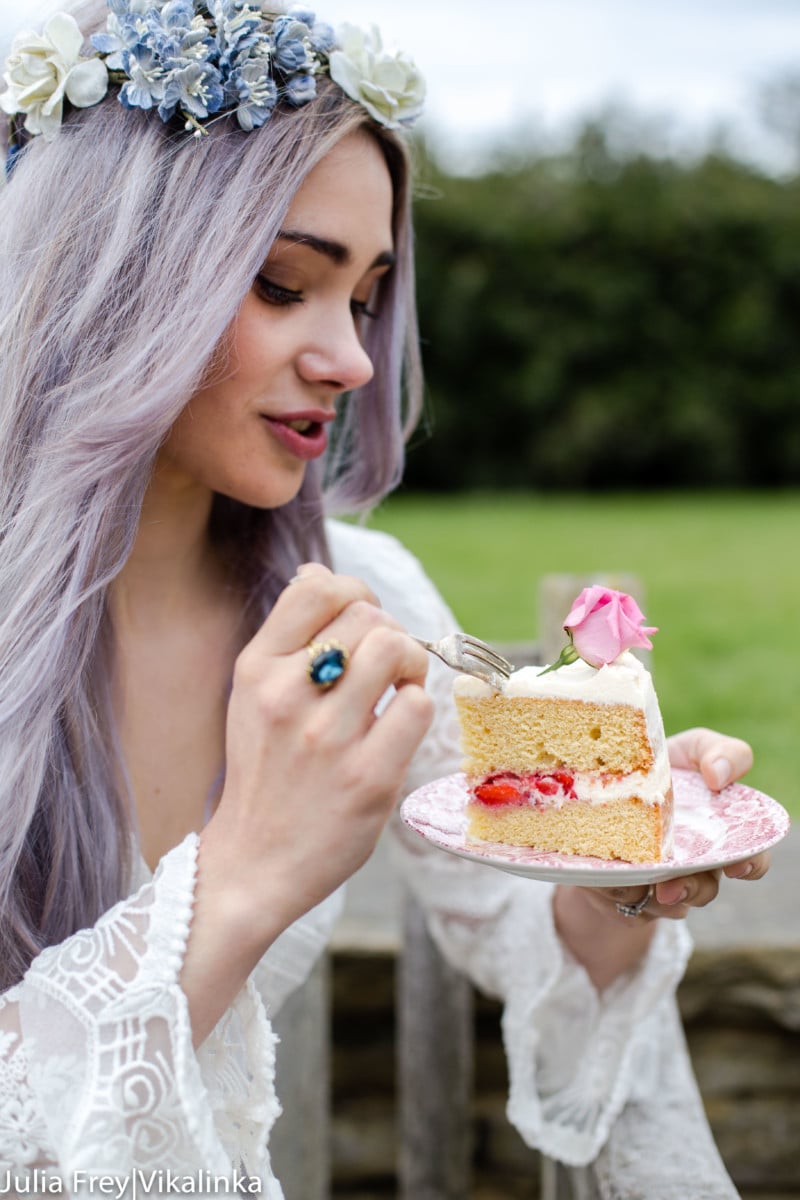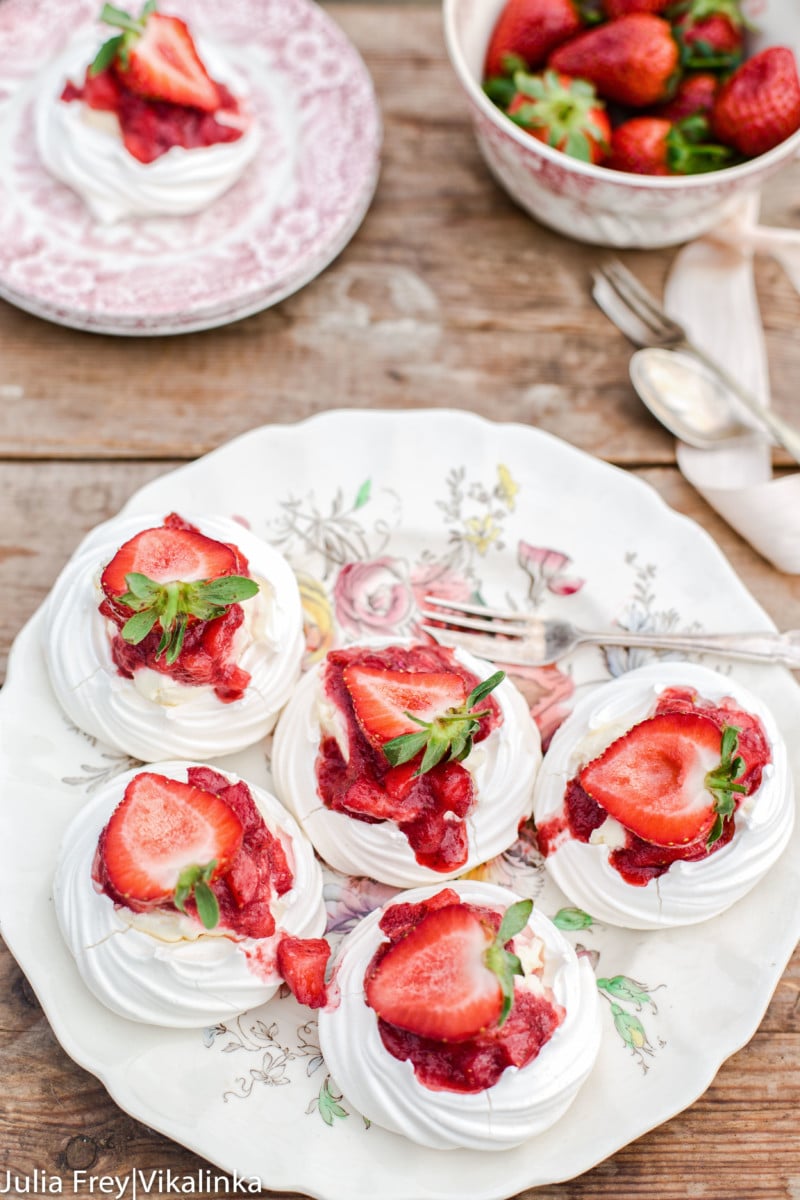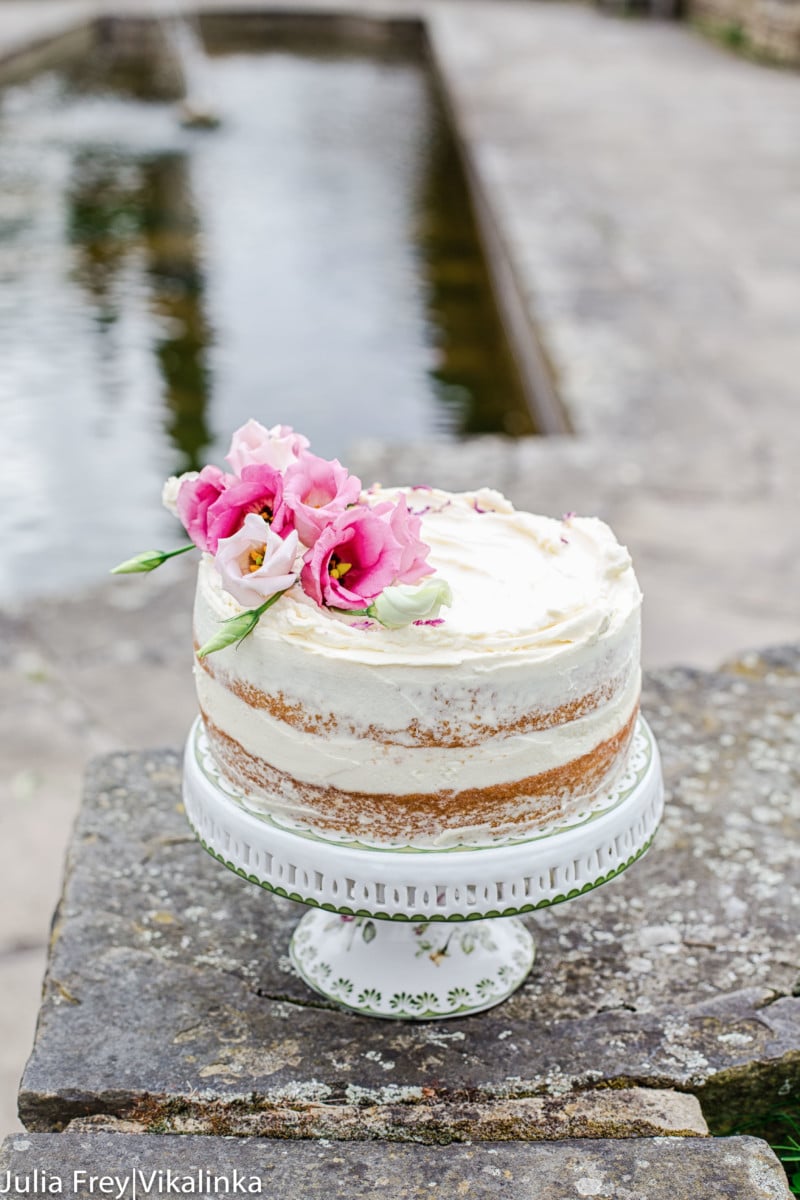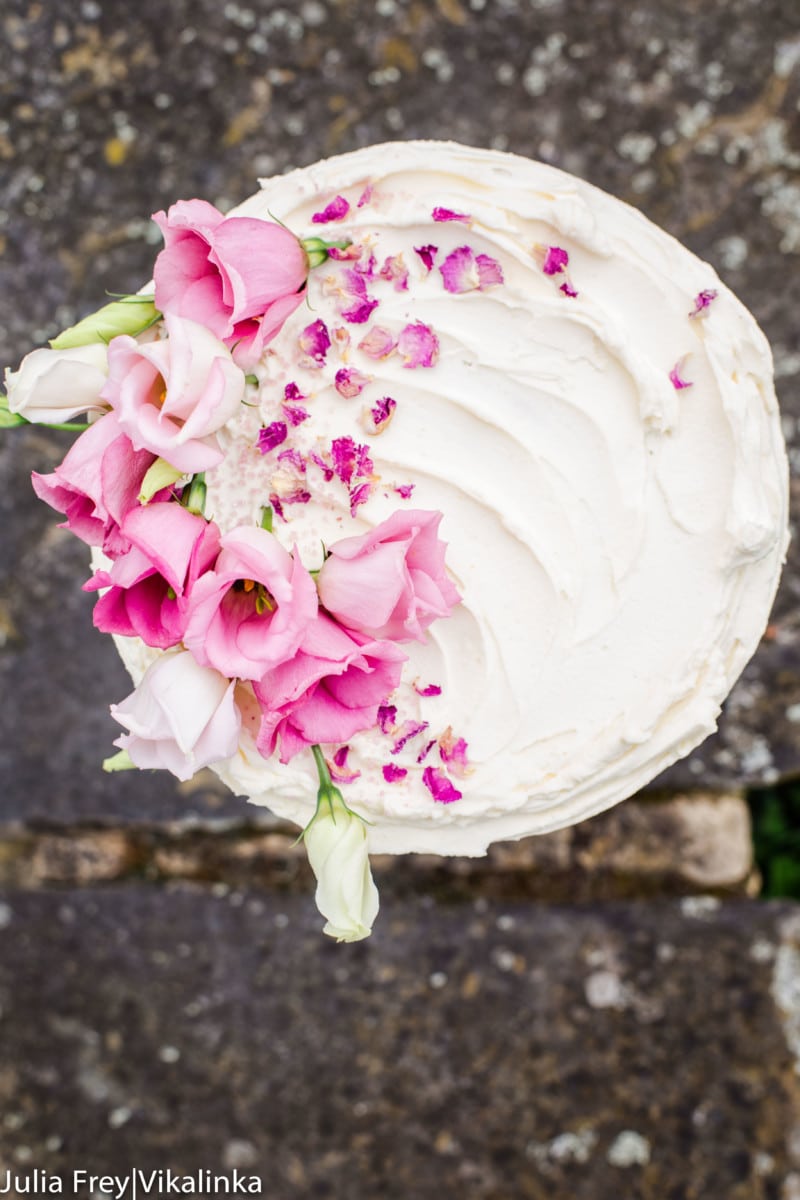 A lot of you have made this naked cake already and I am so happy about that! However I WANT to see your photos of this gorgeous cake! So if you make this cake, share the photos and tag @vikalinka in your instagram shots!! Are you following me on Instagram?
If not, let's be friends!!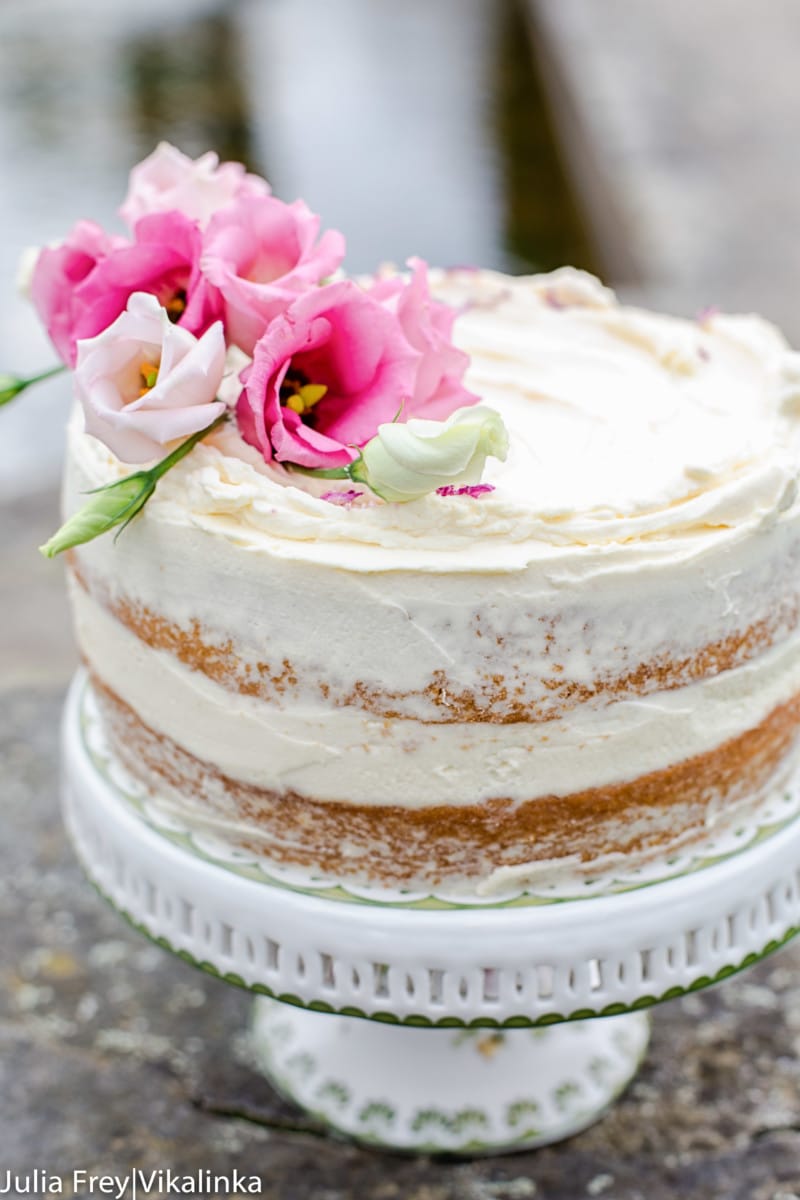 Ingredients
For the cake
• 250 g/ 1 cup butter

softened and unsalted

• 250 g/1⅓ cup caster sugar

• 4 eggs

large

• 1 tsp vanilla bean paste or extract

• 250 g/1¾ cup flour

• 2½ tsp baking powder

• ½ tsp baking soda

• ½ tsp salt

• zest of 1 lemon
For the mascarpone cream
• 250 ml/ 1 cup mascarpone

chilled

• ¼ cup icing sugar

• 175 ml/ ¾ cup double cream

• 1 tsp vanilla bean paste
For the crashed strawberries
• 2 cups strawberries

quartered

• ½ cup sugar

Organic flowers

dried rose petals and pink sprinkles for decoration
Instructions
For the cake
Preheat the oven to 180C/350 C, grease two 8"/20cm round cake pans and line with parchment paper, set aside.

In the bowl of a stand mixer cream softened butter with sugar until light and fluffy.

Start adding eggs one by one, whipping until well combined after each addition for about a minute.

Add vanilla bean paste and lemon zest.

Combine sifted flour, baking soda and powder and salt in a separate bowl.

Add the dry ingredients to the wet ingredients and mix well, stopping the mixer and scraping sides and the bottom of the bowl.

Divide the batter between two pans. Weigh them to get exactly the same cake in size.

Bake in the oven for 30-35 minutes or until cake tester comes out clean.

Remove from the oven and set on a wire rack to cool for 20 minutes, then remove from the pan and cool completely.
For the mascarpone cream
Whip chilled mascarpone with icing sugar and vanilla bean paste for 1-2 minutes until well combined.

Then add double/whipping cream and whip for 2 more minutes until stiff.
For the crushed strawberries
In a small bowl mix 1 cup of quartered strawberries with ½ cup of sugar and crush them gently with a fork until they resemble a rough, juicy mash, add the remaining cup of strawberries for more texture and mix.
Cake assembly
To assemble the cake spread ¼ of mascarpone cream on top of the bottom layer of the cake. Dab the crushed strawberries all over, they shouldn't cover the entire cake, then add more mascarpone cream directly on top of strawberries and level everything with a cake spatula. Cover with the second cake layer.

Cover the entire cake with the remaining mascarpone cream, making pretty swirls on the top of the cake, and then using an offset spatula scrape the mascarpone cream of the sides off the cake to reveal the sponge, thus creating the "naked cake" effect. Decorate the top with organic flowers, rose petals, sprinkles etc.