You can bake your own wedding cake and decorate it, especially if you use this simple naked cake technique!
For another stylish cake, try this Earl Grey Meringue Cake!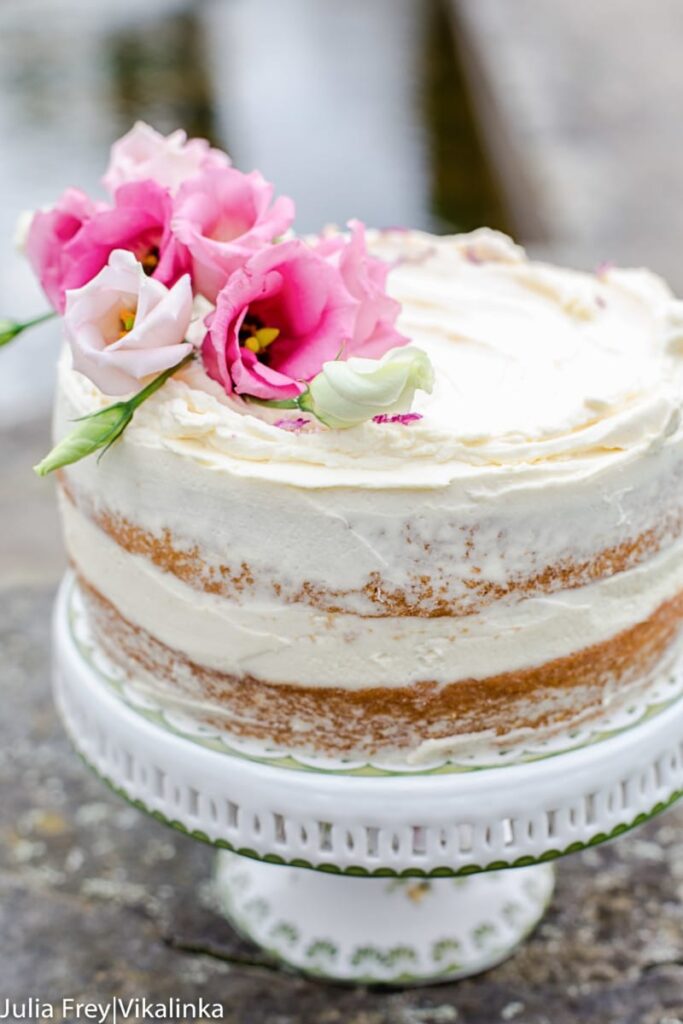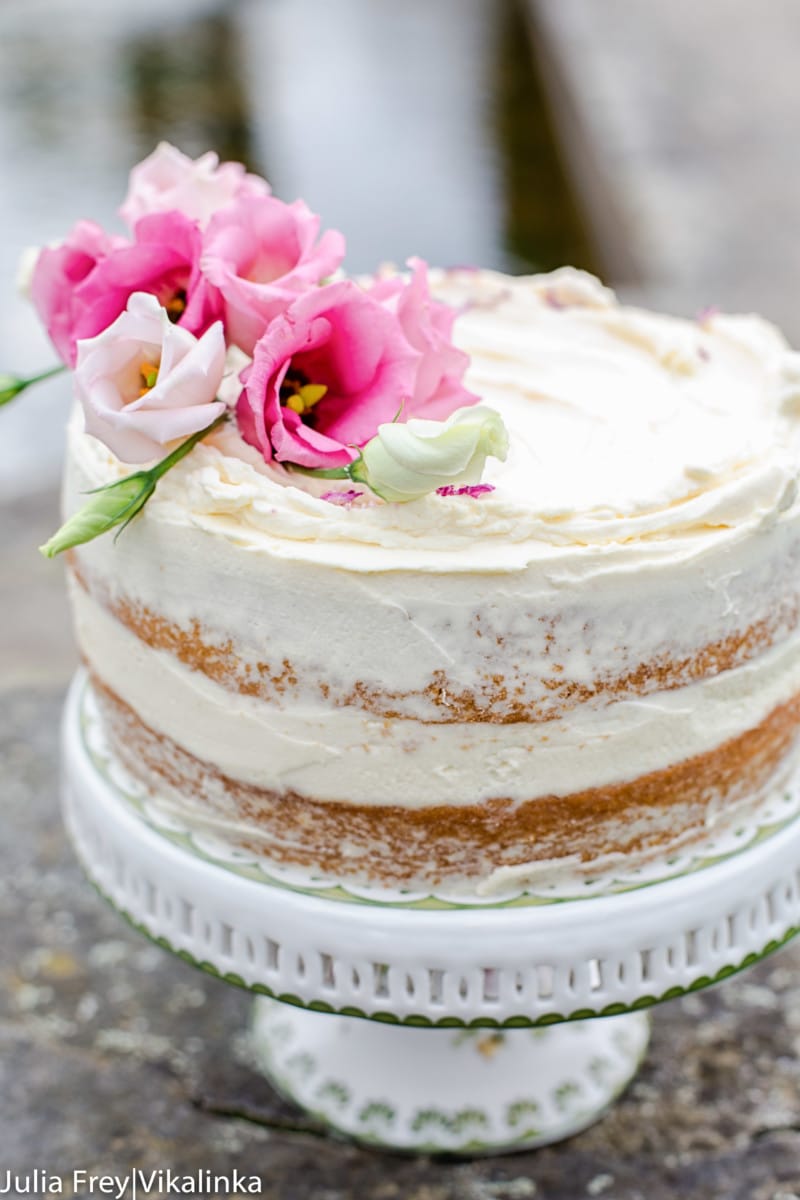 It is a known fact that the best tasting cake is a beautiful cake. And to me, it's hard to top just how beautiful a naked cake can be!
These cakes have a gorgeous rustic charm that still manages to stun. Although they have famously become fashionable at weddings, there's no reason why they can't be enjoyed at any time of the year!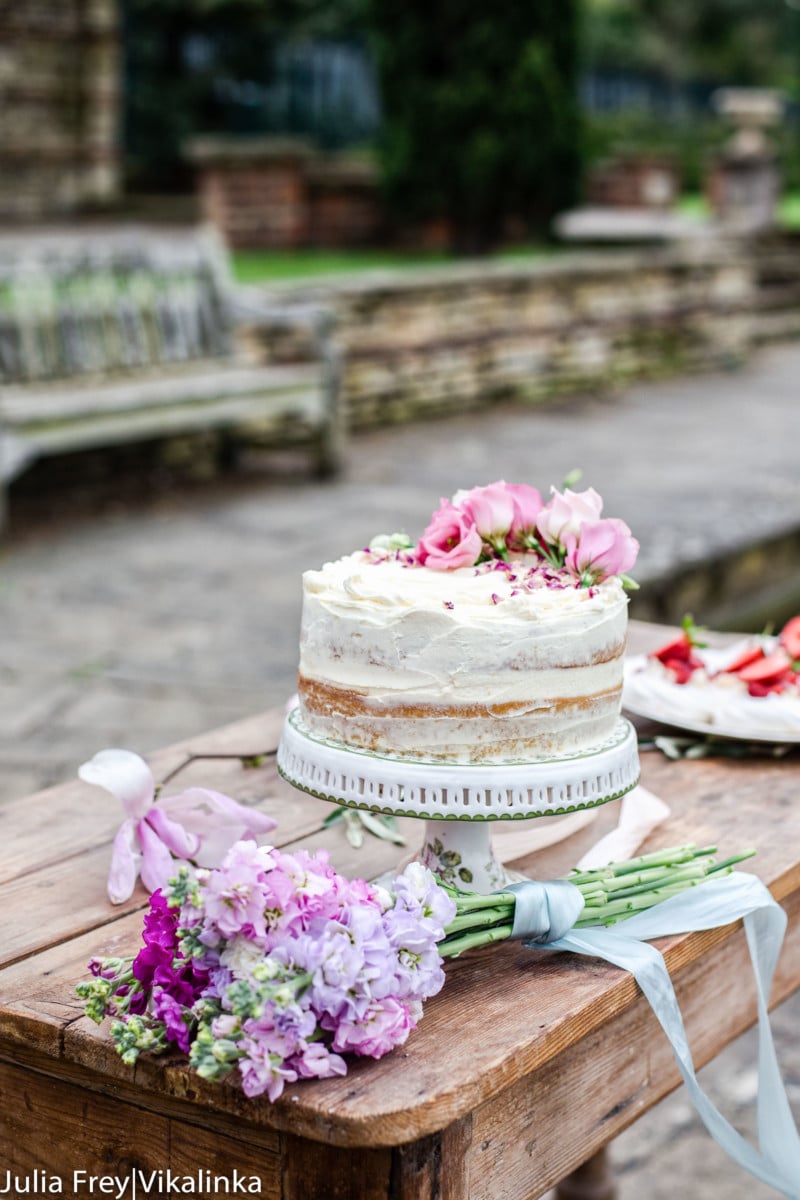 A naked cake is intentionally left without fancy decorating. This gives it the look of understated elegance, and also means that it is easier to make your own gorgeous naked cake!
Naked cake
In many ways a naked cake is like any other layer cake. The significant difference is that there is little to no frosting on the sides of the cake.
This gives the cake a lovely rustic look, like it has been left artfully unfinished. It also shows off the layers of the cake rather than hiding them behind the frosting.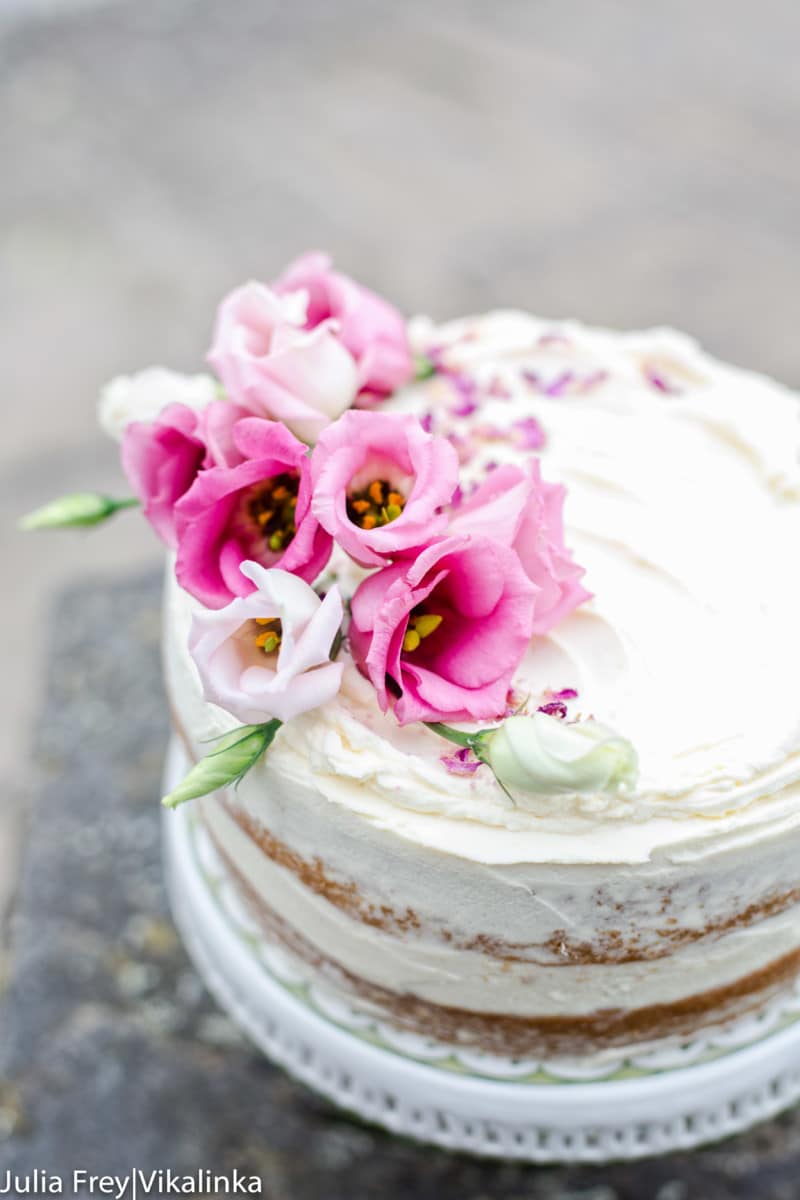 Naked cakes became a huge trend a few years back as a reaction to the over-styled cakes seen at weddings. The trend inevitably spilled beyond weddings, making naked cakes a common sight in all sorts of settings.
I'm a big fan of naked cakes, and not only for the unique and beautiful way they look when done well. Too much sweet frosting is more than I can take, so a cake with less is just my speed!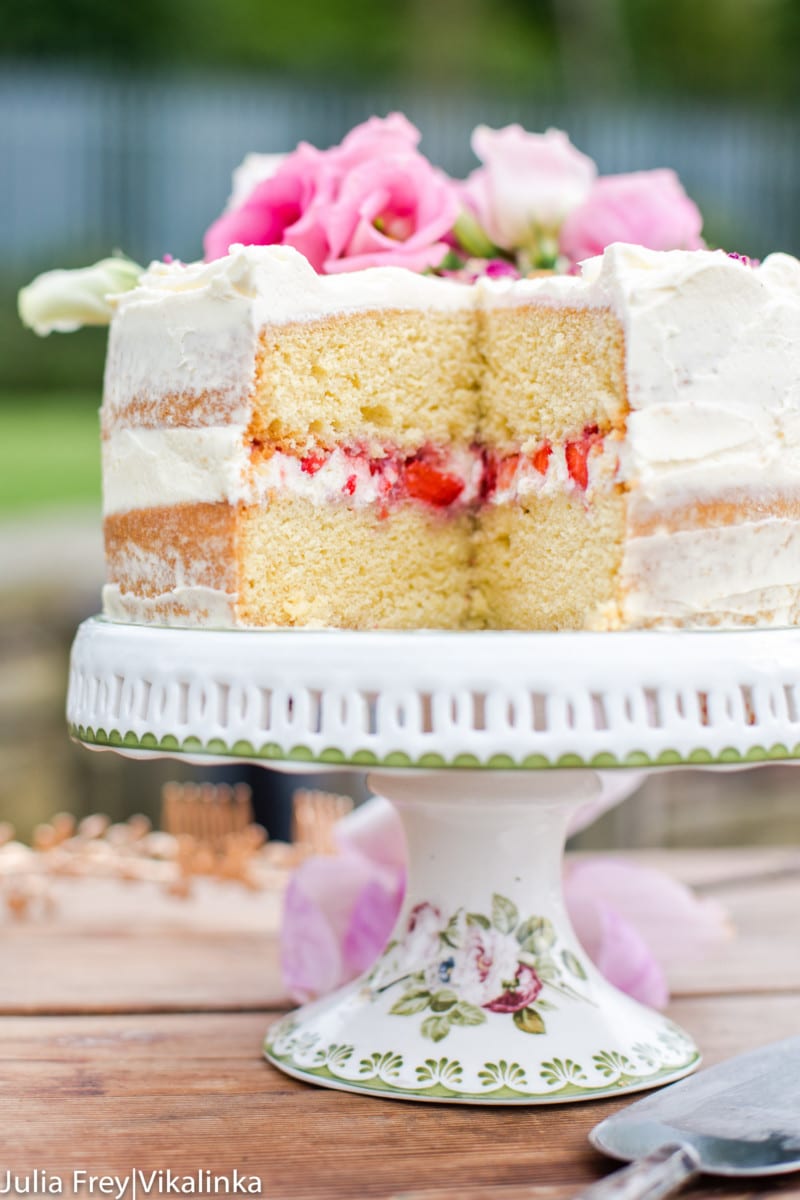 The sponge I made is something I come to over and over again when I need a no-fail cake. The sponge is light and fluffy with an intense vanilla flavour and the frosting is made of a mix of mascarpone and heavy cream, the fruit inclusion is variable.
I used strawberries for this one but you can use whatever is in season like Victoria Sponge Cake with Blackberry Compote.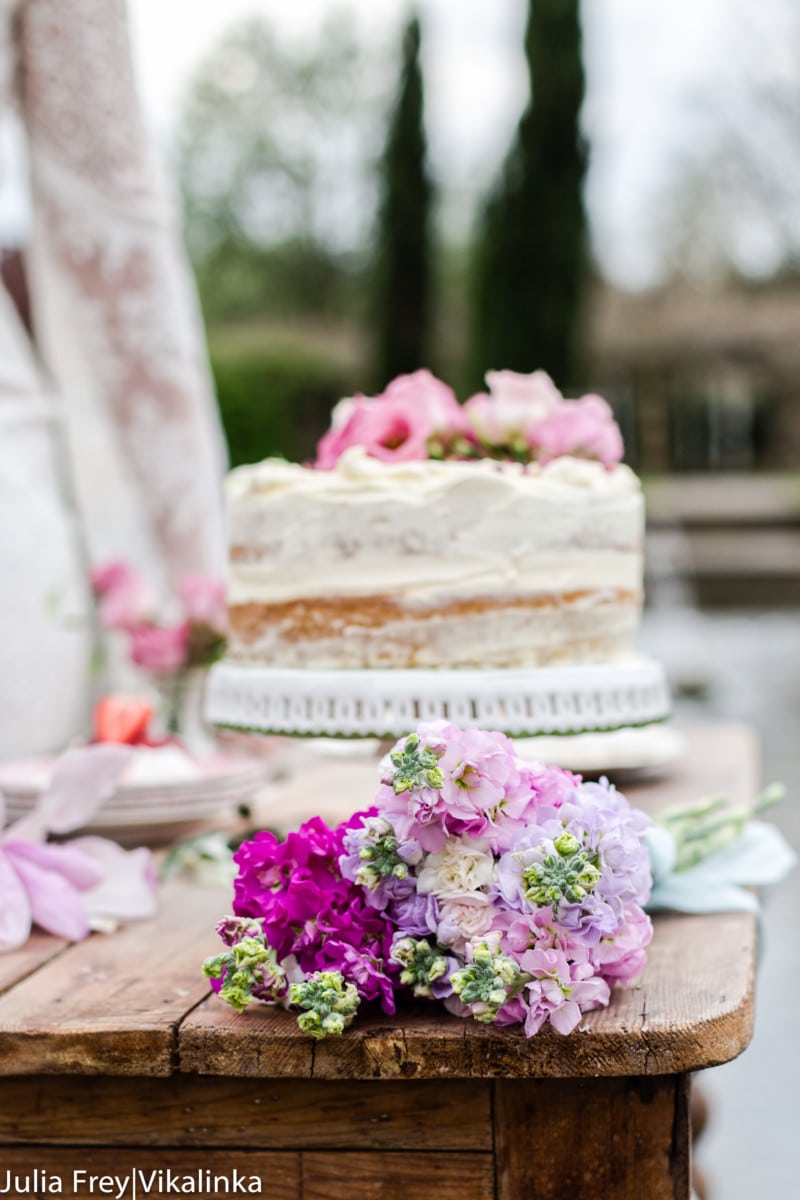 How do you keep a naked cake moist?
For most cakes, frosting serves to keep moisture in the sponges. Because naked cakes have less or no frosting on the sides, moisture can escape easier and can dry out the cake if left too long.
To prevent this from happening, avoid making the cake days before you intend to serve it, or add a thin layer of frosting to the sides as I have done. This thin layer is called a crumb coat.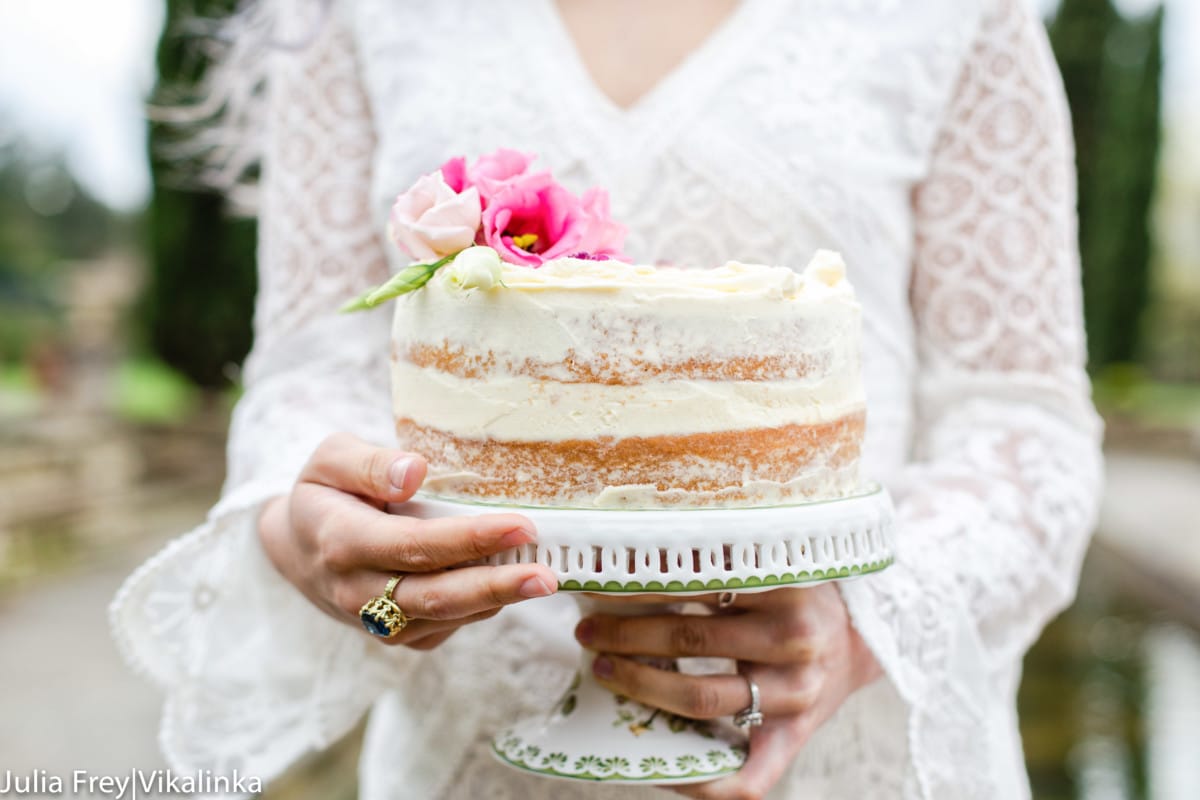 If you do need to make the sponge days in advance, it is best to freeze it to keep it fresh. Freezing the sponge will lock the moisture inside so it is ready to go when you need it.
I also added a good thick layer of icing between the sponges. I find this adds moisture and compensates for the reduced icing on the outside.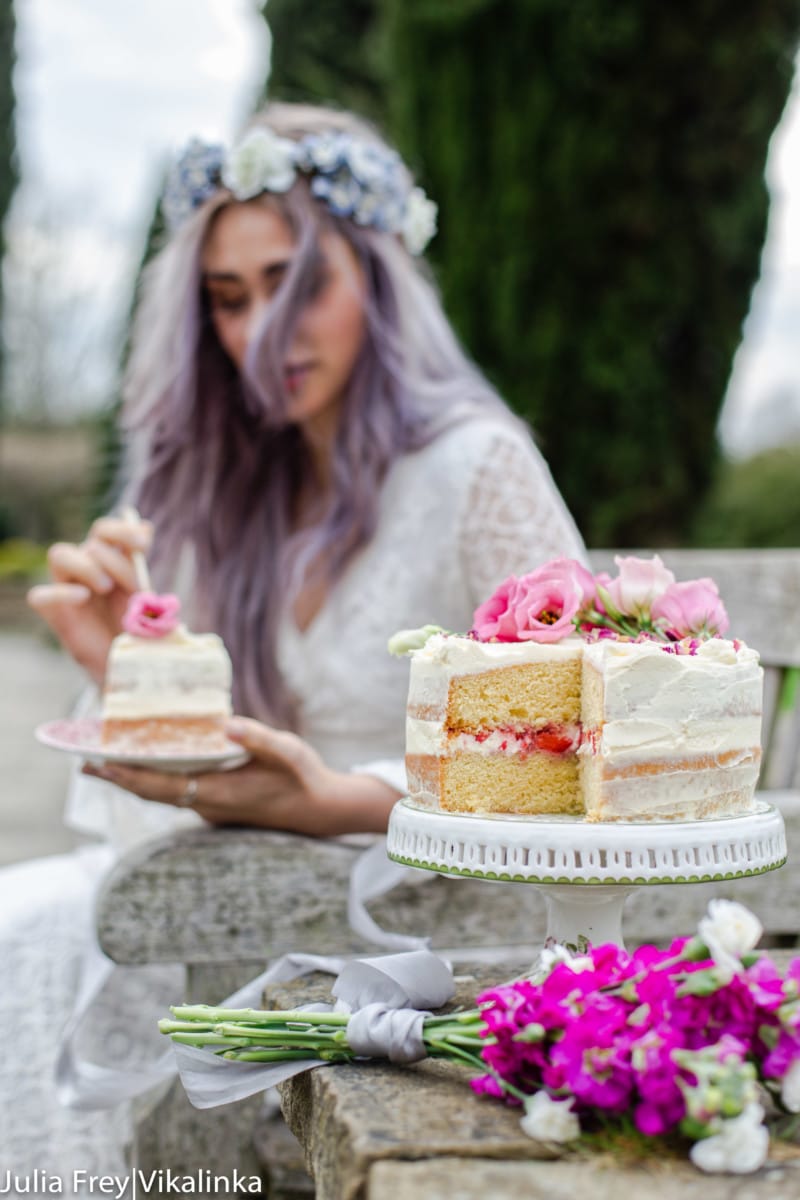 Assembling the cake
Start by preparing the layers of sponge. Make the sponge layers level by trimming off the domes so they are easier to lay flat. A sharp bread knife will do the trick.
Now stack the layers, adding a generous layer of mascarpone icing in between. If you decide to have more than two layers, it may be helpful to very slightly offset the middle layer. This makes it easier to achieve the semi-naked look.
Use an offset spatula to smooth out the top layer of icing. It may be easier to achieve when using a turntable.
Now add icing to the sides of the cake, starting at the bottom and working towards the top. This is a naked cake, so don't add a huge amount of icing to the sides.
Using a bench scraper, smooth out the icing on the sides, leaving a very thin, fine layer behind. You may need to add very small dollops of icing as you go if any area is scraped too thin.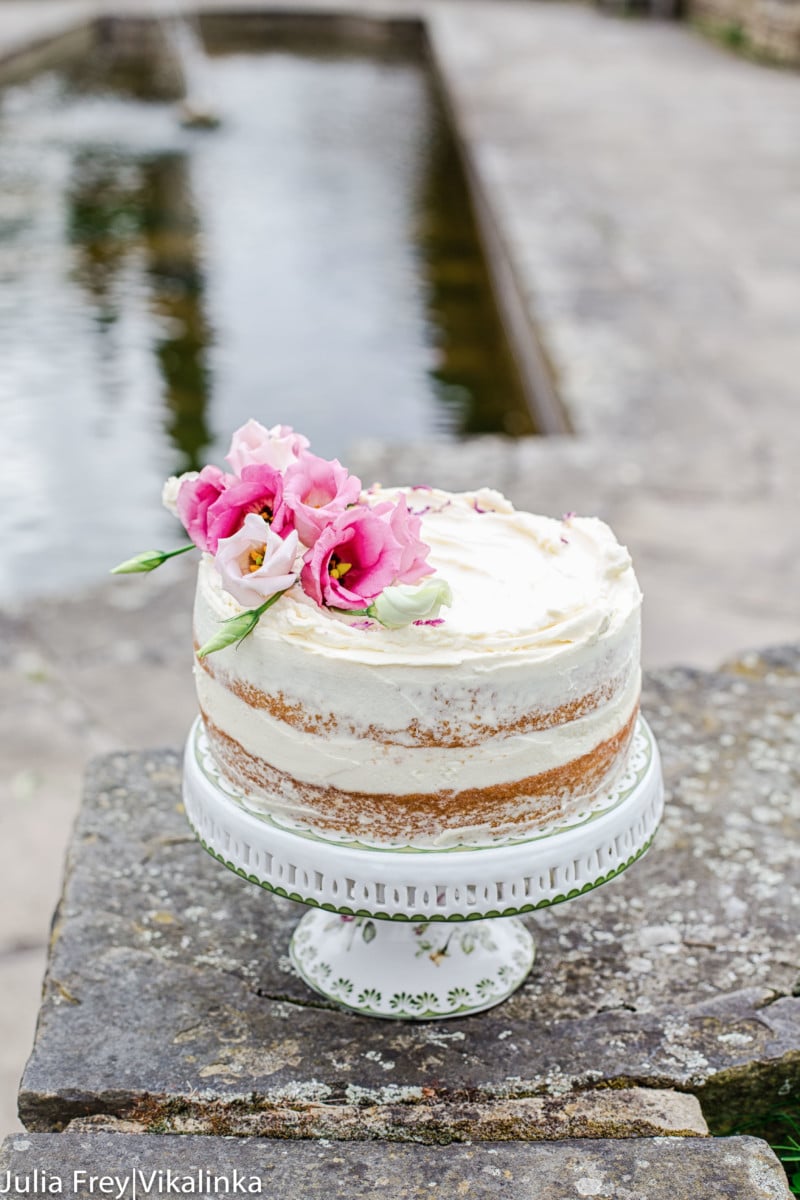 Once you have a smooth, rustic look on the side areas of the cake, give the top layer one more smooth down. Use a spatula to pull any excess icing coming up from the sides into the centre of the cake.
Time to add the decoration of your choice. I think that flowers are absolutely perfect for a naked cake! (Make sure you find organic flowers so you aren't transferring chemicals to the cake!)
A lot of you have made this naked cake already and I am so happy about that! However I WANT to see your photos of this gorgeous cake! So if you make this cake, share the photos and tag @vikalinka in your instagram shots!!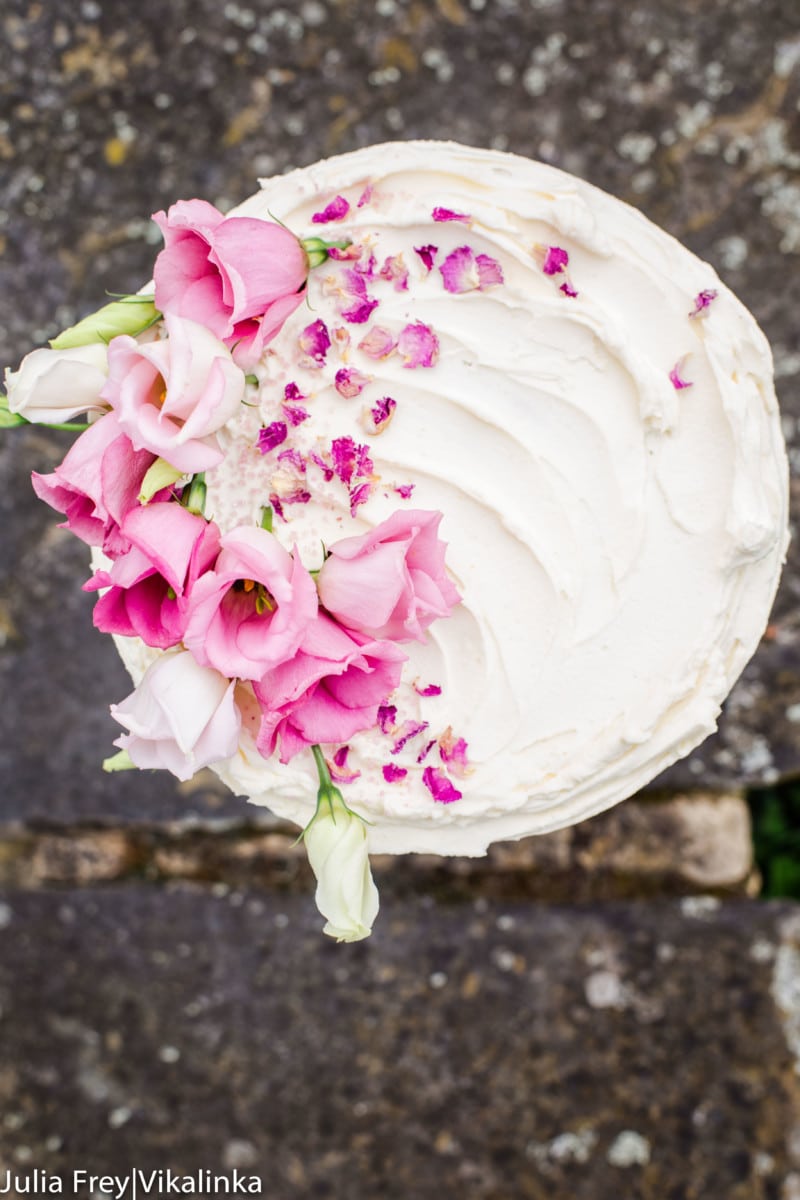 More cake recipes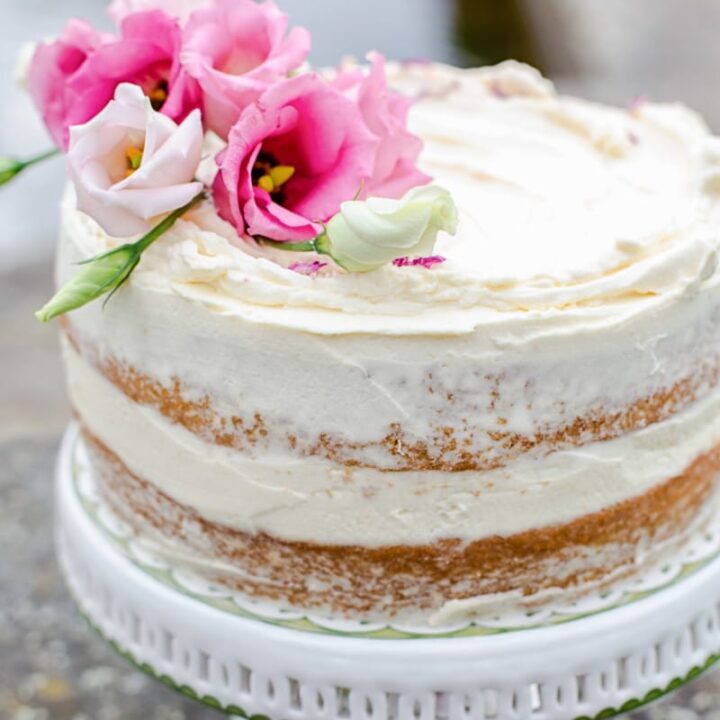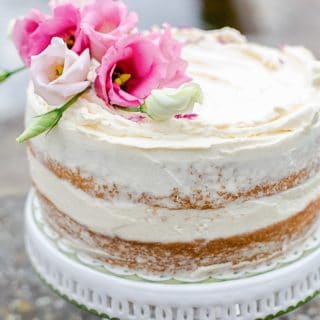 Naked Cake with Mascarpone Cream and Crushed Strawberries
Light and fluffy with an intense vanilla flavour and frosting made of a mix of mascarpone and heavy cream.
Ingredients
For the cake
250

g

/1 cup butter

softened and unsalted

250

g

/1⅓ cup caster sugar

4

eggs

large

1

tsp

vanilla bean paste or extract

250

g

/1¾ cup flour

2½

tsp

baking powder

½

tsp

baking soda

½

tsp

salt

Zest of 1 lemon
For the mascarpone cream
250

ml

/ 1 cup mascarpone

chilled

60

g

/ ¼ cup icing sugar

175

ml

/ ¾ cup double cream

1

tsp

vanilla bean paste
For the crashed strawberries
250

g

/ 2 cups strawberries

quartered

100

g

/ ½ cup sugar

Organic flowers

dried rose petals and pink sprinkles for decoration
Instructions
For the cake
Preheat the oven to 180C/350 C, grease two 8″/20cm round cake pans and line with parchment paper, set aside.

In the bowl of a stand mixer cream softened butter with sugar until light and fluffy.

Start adding eggs one by one, whipping until well combined after each addition for about a minute. Add vanilla bean paste and lemon zest.

Combine sifted flour, baking soda and powder and salt in a separate bowl. Add the dry ingredients to the wet ingredients and mix well, stopping the mixer and scraping sides and the bottom of the bowl.

Divide the batter between two pans. Weigh them to get exactly the same cake in size. Bake in the oven for 30-35 minutes or until cake tester comes out clean.

Remove from the oven and set on a wire rack to cool for 20 minutes, then remove from the pan and cool completely.
For the mascarpone cream
Whip chilled mascarpone with icing sugar and vanilla bean paste for 1-2 minutes until well combined.

Then add double/whipping cream and whip for 2 more minutes until stiff.
For the crushed strawberries
In a small bowl mix 1 cup of quartered strawberries with ½ cup of sugar and crush them gently with a fork until they resemble a rough, juicy mash, add the remaining cup of strawberries for more texture and mix.
Cake assembly
To assemble the cake spread ¼ of mascarpone cream on top of the bottom layer of the cake. Dab the crushed strawberries all over, they shouldn't cover the entire cake, then add more mascarpone cream directly on top of strawberries and level everything with a cake spatula. Cover with the second cake layer.

Cover the entire cake with the remaining mascarpone cream, making pretty swirls on the top of the cake, and then using an offset spatula scrape the mascarpone cream off the sides of the cake to reveal the sponge, thus creating the "naked cake" effect. Decorate the top with organic flowers, rose petals, sprinkles etc.
Nutrition
Calories:
800
kcal
Carbohydrates:
80
g
Protein:
9
g
Fat:
50
g
Saturated Fat:
20
g
Polyunsaturated Fat:
7
g
Monounsaturated Fat:
15
g
Trans Fat:
1
g
Cholesterol:
143
mg
Sodium:
568
mg
Potassium:
269
mg
Fiber:
1
g
Sugar:
53
g
Vitamin A:
1999
IU
Vitamin C:
19
mg
Calcium:
144
mg
Iron:
2
mg