Lighter than a cloud this sweet sponge is filled with tangy rhubarb creating a pleasing balance of tart and sweet. Sharlotka Cake is the everyday cake you've been looking for! Only 6 ingredients. Perfect for teatime!
If you like this easy cake, check out my Blackberry Tea Cake.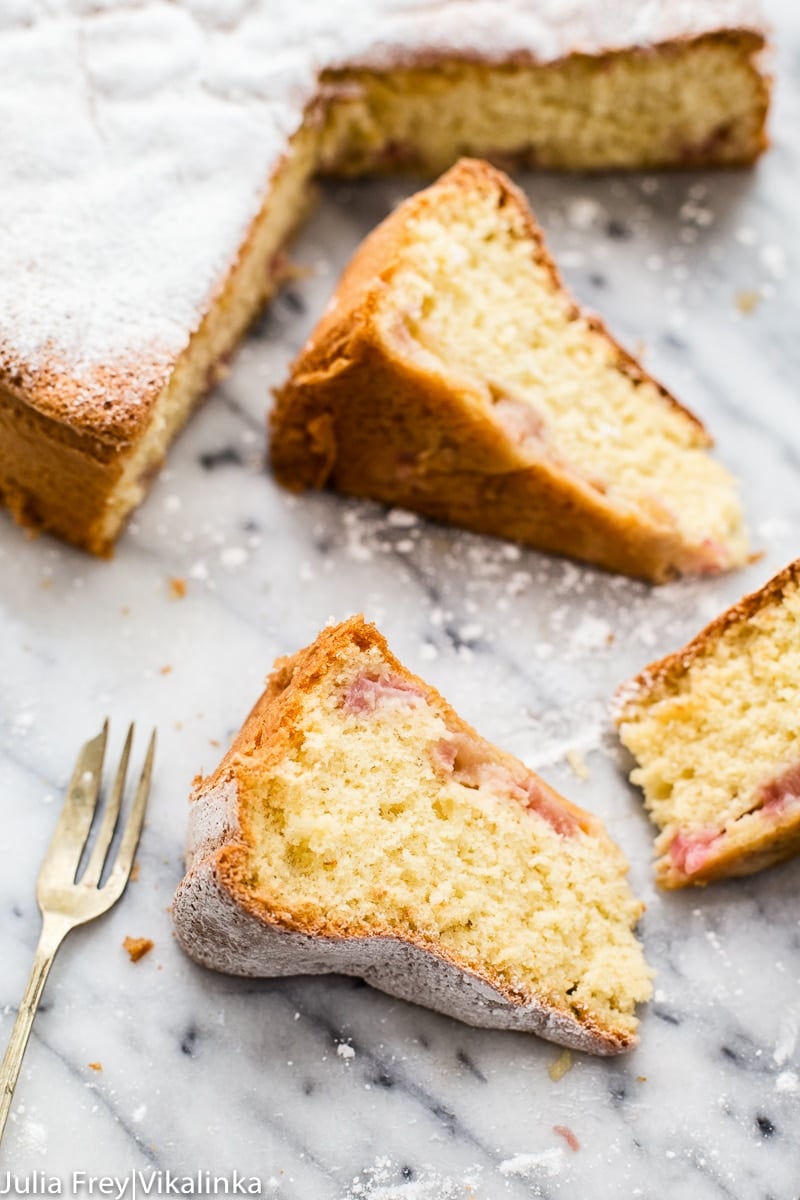 While many of you are still battling snow storms we've been blessed with warmth, sunshine and blooming magnolias all over London!
No, I am not trying to rub it in…please hear me out. We are usually the ones suffering from miserable weather and never ending conversations discussing it but not this week.
This week we are basking in the sunshine, good mood and gorgeous seasonal produce, namely rhubarb.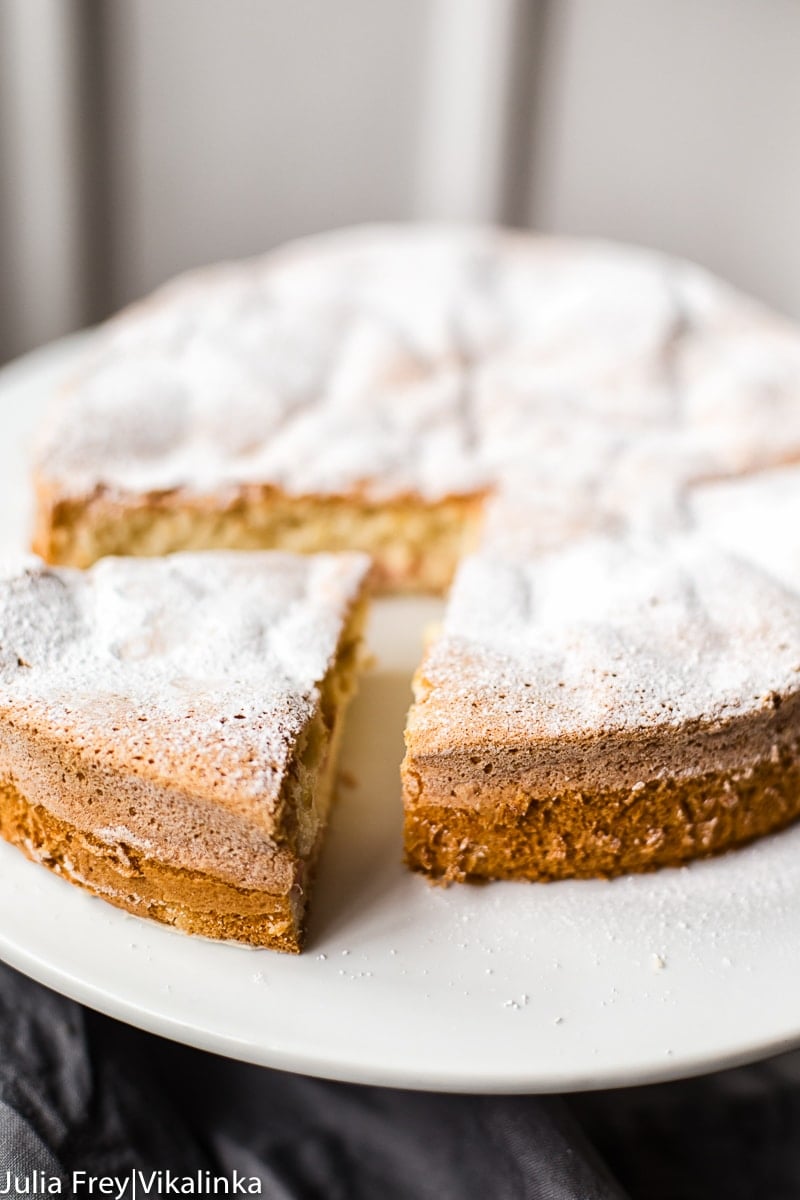 To let the rhubarb shine, I decided to go back to basics. And by basics I mean, a simple sponge cake, my mom used to make at least once a week.
It's called Sharlotka in Russian and is usually made with apples. Sharlotka cake is so simple; it only calls for 6 ingredients but it is also glorious in its simplicity!
I made this rhubarb cake twice in one week partially because I wanted to get the recipe just right but also because my kids begged me for more!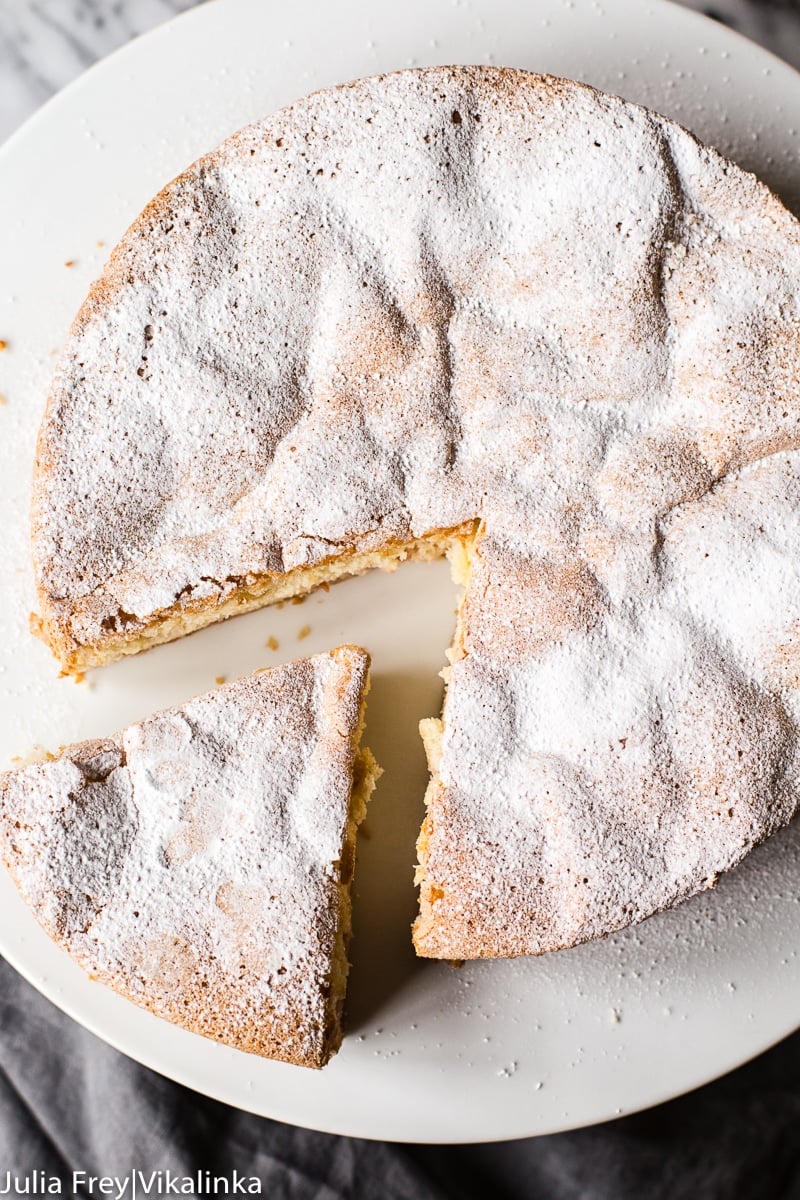 What is Russian sponge aka Biskvit?
Traditionally this recipe calls for 5 or 6 eggs, no rising agents like baking powder or baking soda, the rise of the sponge comes from the air that gets beaten into eggs.
It's a classic sponge that is used in many European countries called Genoise. The version that survived in Russian uses no butter. I have however, made it with butter in the past and found it to make no difference, so I reverted back to the version I grew up with.
When the idea for rhubarb sharlotka popped into my head I only had 3 eggs in the house, so I baked my first version with only 3 eggs instead of 5.
To compensate for it I added ½ tsp of baking powder and it turned out just as light and airy! See for yourself.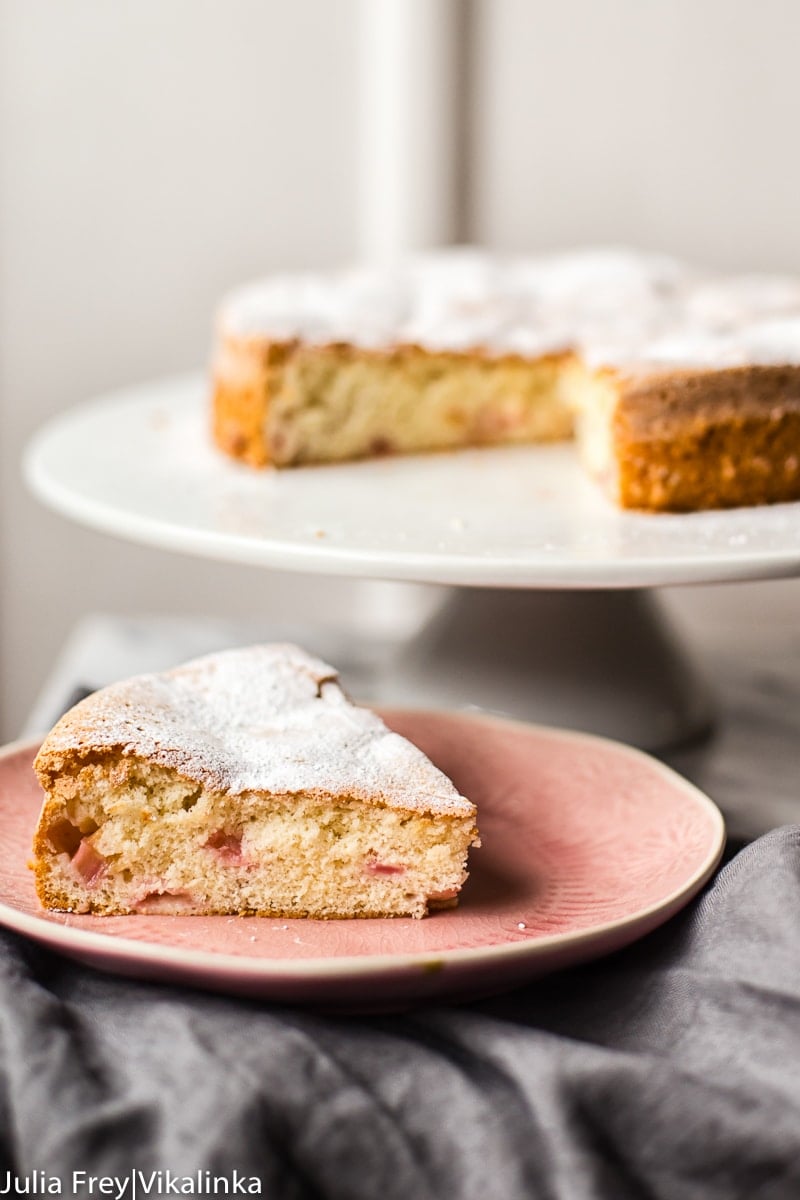 But I felt like more rhubarb was needed, so I doubled the rhubarb to 2 cups and added two more eggs for my second version.
The cake more than doubled in size during baking and had the consistency of a cloud, I kid you not, but interestingly enough, all rhubarb ended up at the bottom, just like in the traditional apple sharlotka.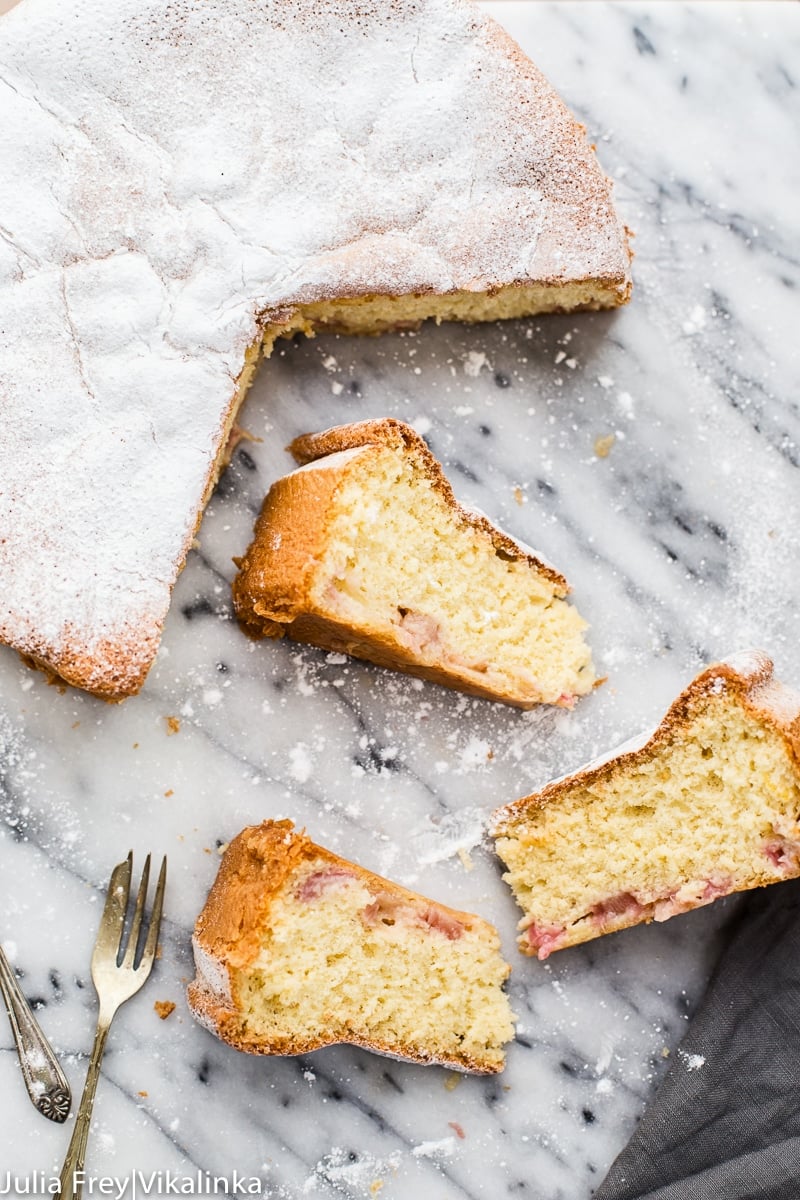 If I am completely honest I didn't see a huge difference between the two versions of this rhubarb cake in regards to the sponge itself but I did prefer the second one with more rhubarb.
How do I get my sponge cake to rise?
Now let's talk about the technique. I have used this sponge recipe in many of my cakes, and inevitably I get feedback from some of my readers that the sponges either didn't rise or came out dry.
The recipe itself gets questioned a lot.
I want to start by saying that I didn't invent Genoise as this is exactly what it is.
It's a classic European recipe to this day very popular in France and Italy. The technique however, that is widely used in Russia, is slightly different if not simpler than the one in patisserie books.
It bypasses the water bath without losing the delicate and airy texture of the finished product, which is a win in my books.
This recipe is a little trickier than most common cakes out there but the final result is well worth it, so I hope you give it a try. Perfecting it takes patience and a light hand.
If over-mixed, the batter will deflate and will not rise. If overbaked, it will be dry.
Do I need to grease my pans before baking a sponge cake?
Another question I get a lot is whether I grease my cake pans. The answer is YES, I DO!!
I both grease and flour my cake tins and my sponges still rise to incredible heights, and so will yours if you follow my instructions.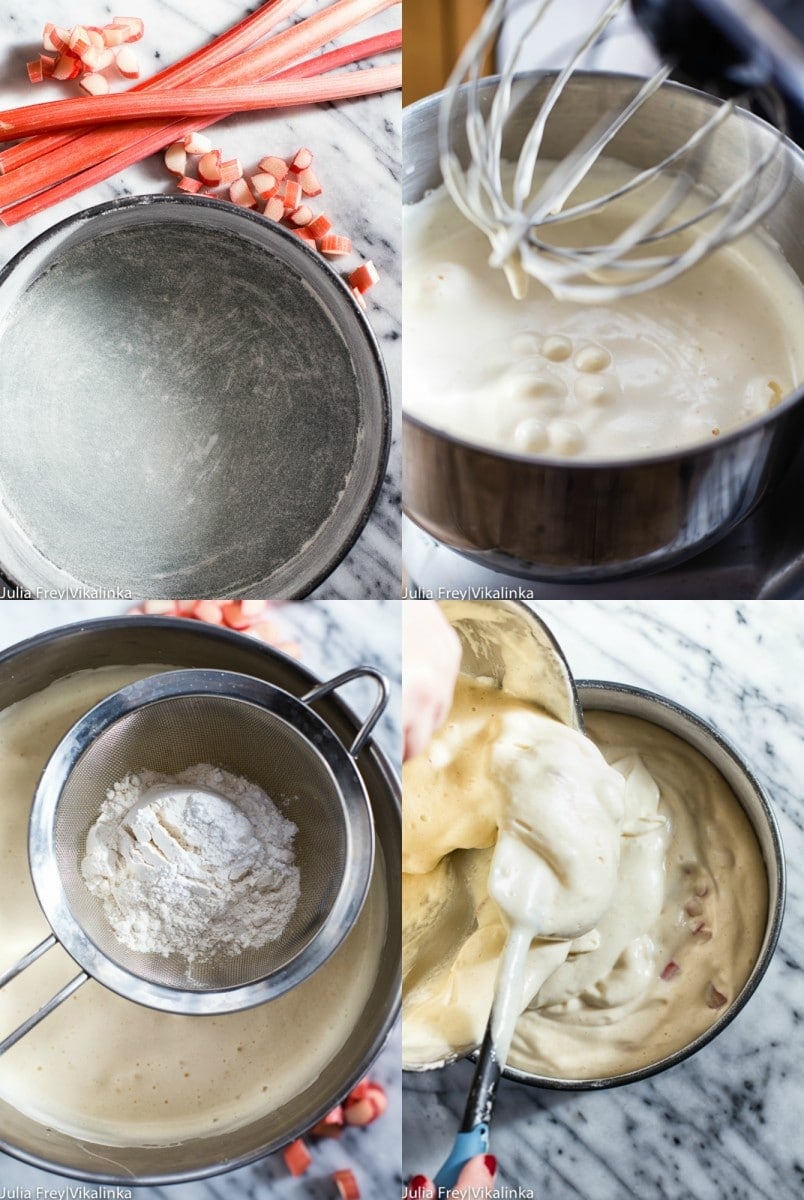 How do I make rhubarb cake?
Combine your eggs and sugar and beat the mixture until it's pale, thick and creamy and is tripled in volume
Add flour and baking powder through a sifter in 3 additions. Use spatula to fold the flour in very lightly. Scrape the bottom to make sure all flour is incorporated.
Carefully fold in the rhubarb with a spatula making sure not to deflate the bater.
Make sure the oven temperature is at a steady 350F/180C. Use an oven thermometer as oven temperatures vary and are often unreliable.
Lastly, don't get discouraged if at first you don't succeed. Keep practicing and before you know it you will be a contestant on Great British Bake Off!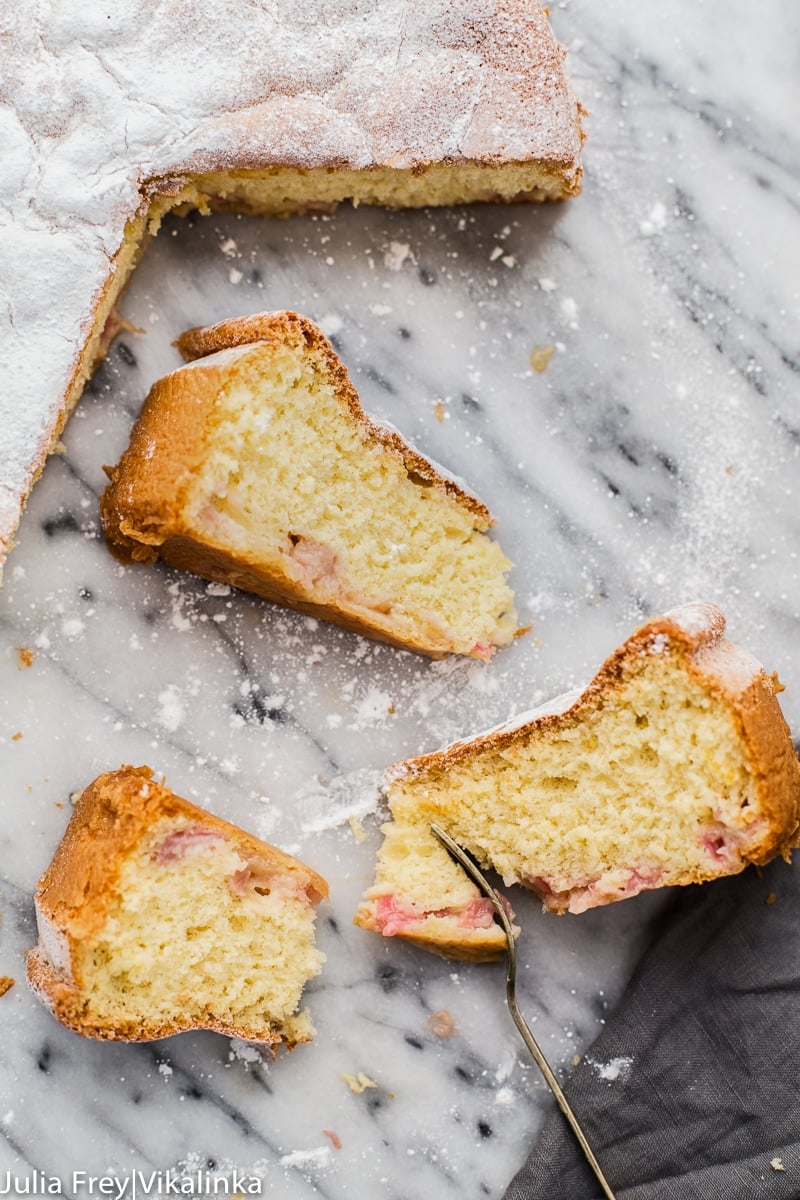 More Everyday Cakes for Tea and Coffee Time
Recipe originally published in 04/2017. Updated in 04/2019.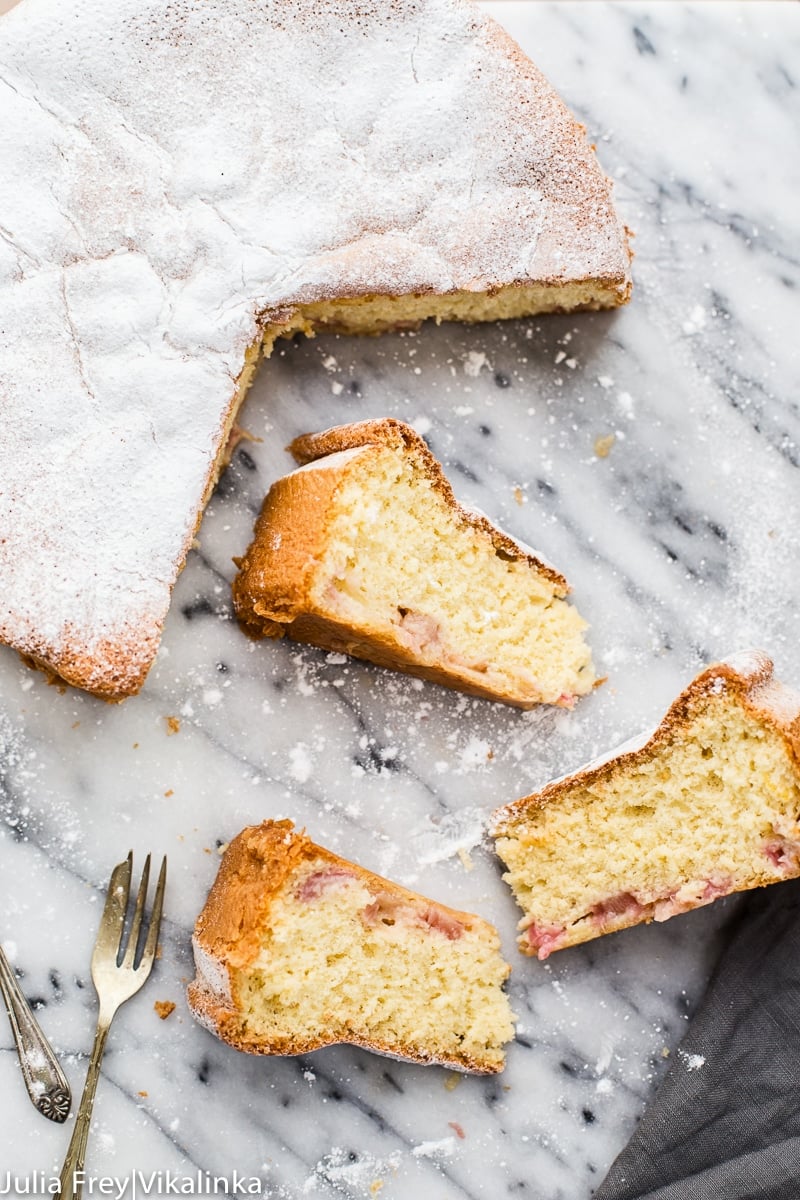 Ingredients
5

eggs

1

cup/ 200g sugar

1

tsp

vanilla

1

cup/120g flour

½

tsp

baking powder

2

cups/ 300g rhubarb

chopped
Instructions
Preheat the oven to 350F/180C

Grease a 9" pan and dust with flour, set aside.

In a large bowl combine room temperature egg, sugar and vanilla and beat with an electric mixer until the mixture is thick, pale and is tripled in volume. It will take between 7 and 10 minutes depending on the power of your mixer.

Combine flour and baking powder and add to the egg mixture through a flour sifter in three additions. Gently and carefully fold in flour with a spatula after each addition, making sure not to deflate the batter or the sponge will not rise. (Read the recipe notes in the main body of the post)

Carefully fold in chopped rhubarb with a spatula and put in the prepared pan.

Bake for 40-45 minutes until golden and the cake tester comes out clean.

Dust with powdered sugar before serving.