This moist chocolate fudge cake can be easily mixed in your food processor. It takes no time and is beyond delicious! And you can really take it to the next level with a dollop of fragrant stewed rhubarb!
Try this fudge cake with stunning Amarena Gelato!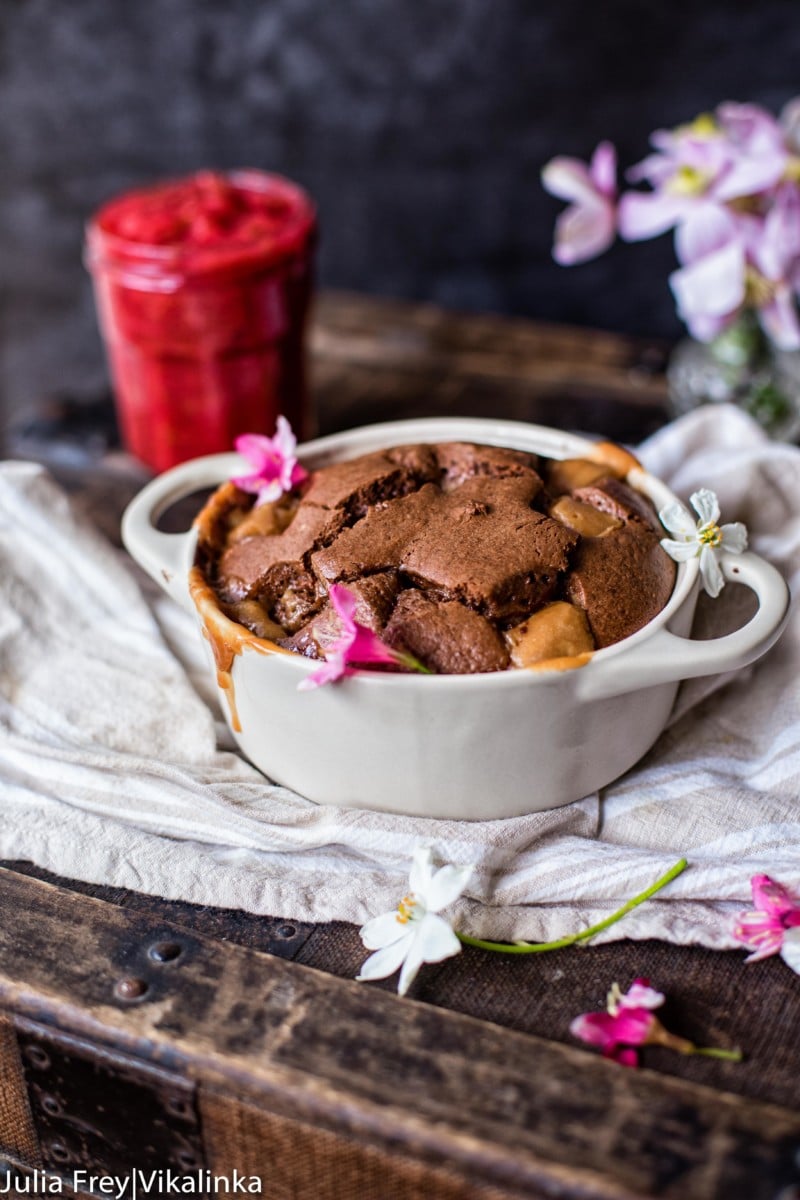 Some days happiness comes in the form of chocolate cake. Fortunately, I have exactly what you need! Warm, moist and full of chocolate fudge flavour.
Even better, it won't take you all day to make and there is absolutely no chance at failing because this cake is dead simple. It's a cake my kids made numerous times with no supervision.
This cake gets mixed in your food processor and then poured into a baking dish. No special technique or skill required.
Not convinced? One taste and you will be! Just because it's simple doesn't mean it can't be delicious!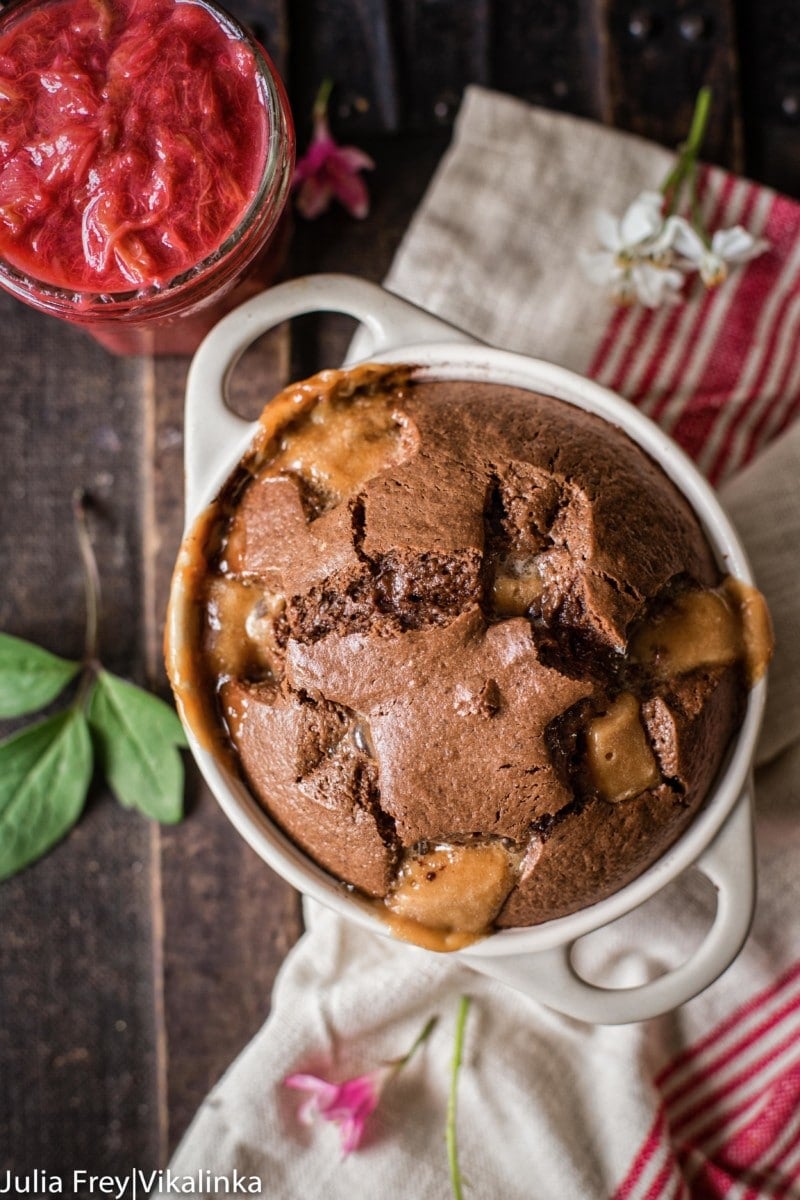 Chocolate fudge cake
When I call this beauty a cake I apply the term somewhat loosely. It's more of a scoopable chocolate pudding with fudge bits baked into it.
I love it served still warm with a dollop of whipped cream – or better yet creme fraiche – and a spoonful of homemade stewed rhubarb. And let me tell what a magical duet this slightly tart rhubarb and an intensely rich and sweet chocolate fudge cake is!
It's impossible to imagine a better pair than those two! They truly complete each other.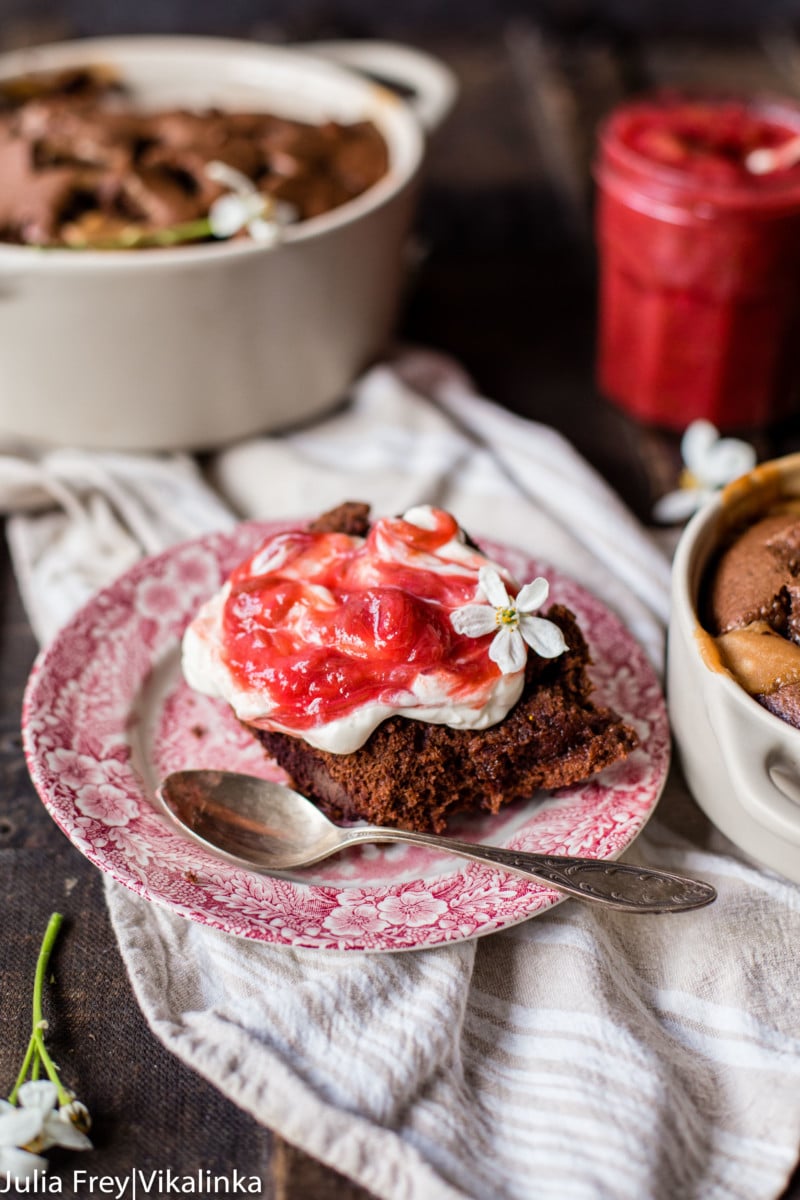 Making the cake
As promised, this is a remarkably simple cake to bring together. And as with many easy recipes, it lets a food processor do the hard work!
Simply add chocolate chunks with sugar, almonds, cocoa powder and salt to a food processor and pulse until it is smooth. And then, while letting the motor run, add one egg at a time, then flour and baking powder.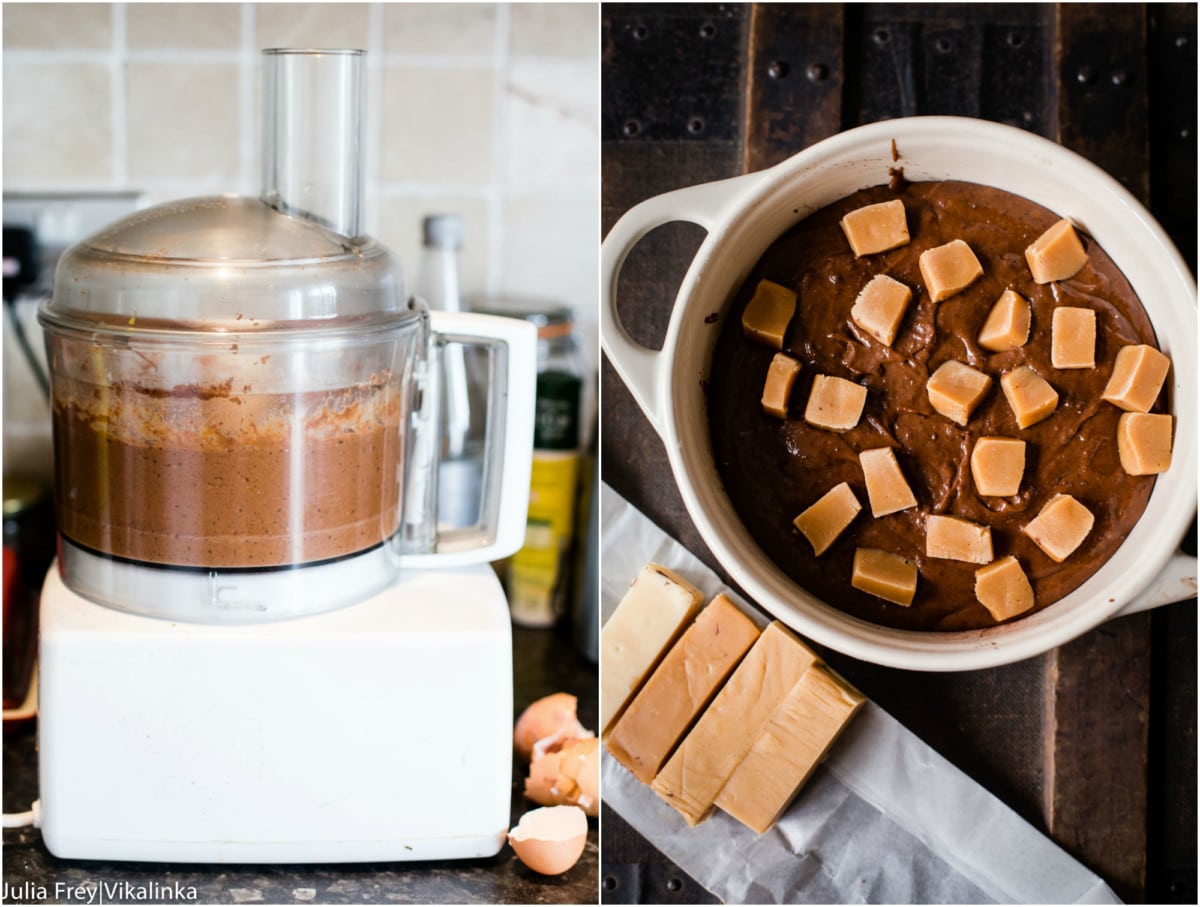 See how easy that is? Once the batter is ready, pour it into a baking dish that has been greased and dusted with cocoa powder. Scatter a few fudge pieces overtop and bake.
To really get best results, this cake is magical when served warm! Because it is so quick and easy, I like to make it right before guests come over or I'm planning to enjoy a treat.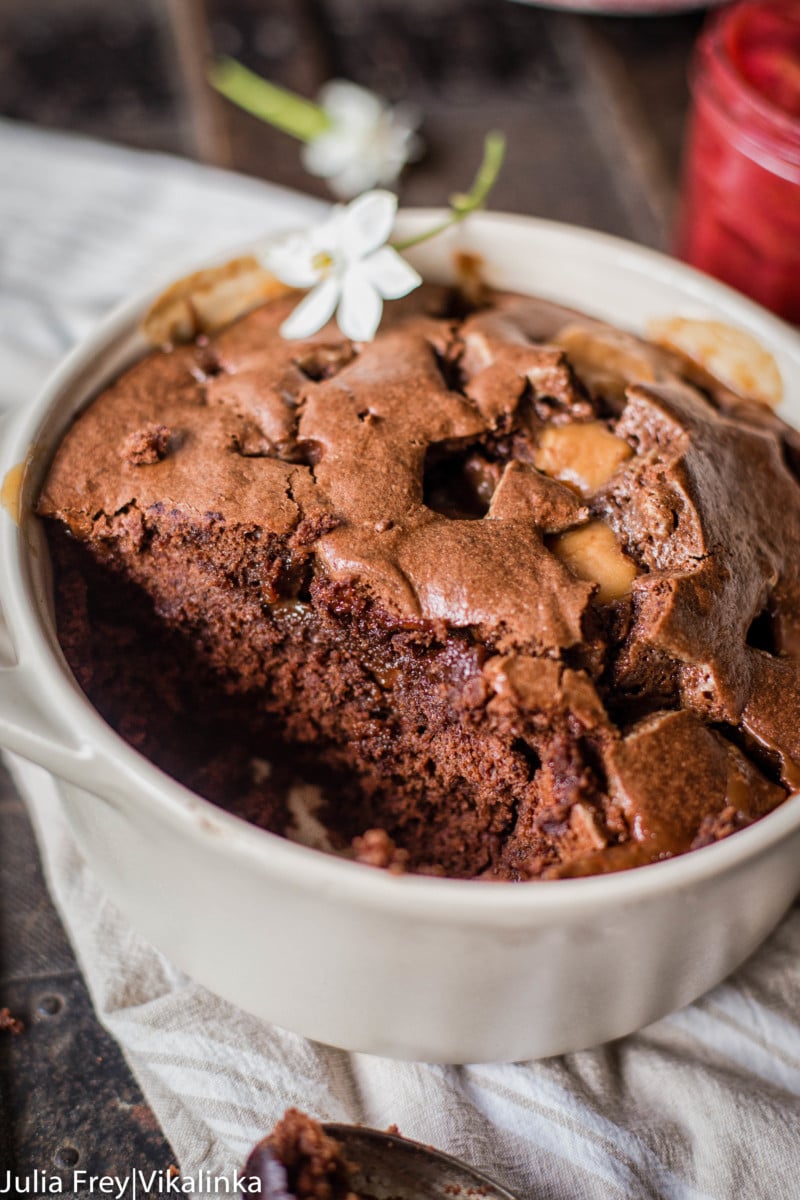 Stewed rhubarb
I grew up eating rhubarb and have never stopped being a fan. It's delicious when served in so many ways, whether added to drinks, baked into pies, or made into a curd.
But one way to use rhubarb that really brings out my nostalgic side is when it is stewed. It was a common way to use up the piles of rhubarb we would end up with every year, and something I always looked forward to when growing up.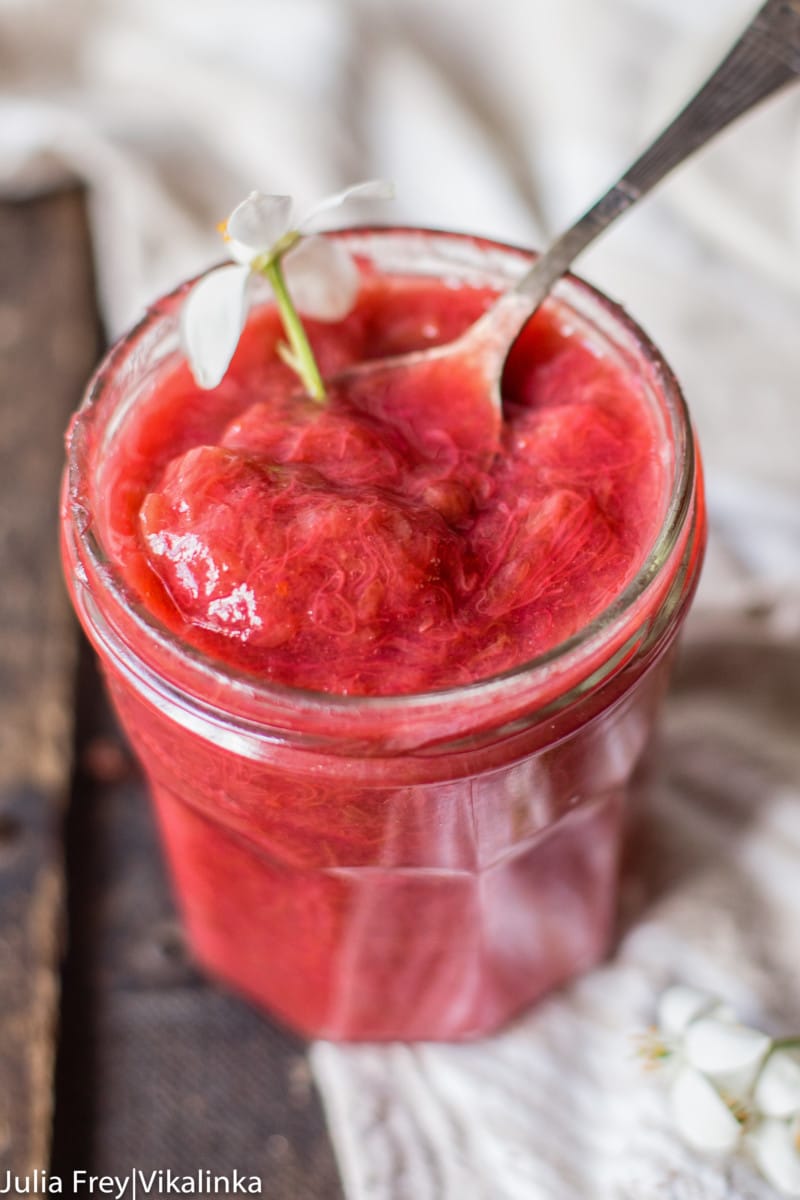 Stewed rhubarb can be used in countless ways. Some of my favourite are:
Pouring over ice cream
Adding to porridge
Swirling it into baked goods
Eating with a dollop of custard
It works especially well with a chocolate cake like this one because the tart rhubarb cuts through the richness of the cake. It's a pairing that is impossible to beat!
To make stewed rhubarb, cut washed stalks into half inch (1.5cm) pieces and place in a small saucepan with sugar. Using very low heat, let it cook until the rhubarb releases its juice. Then cover with a lid and let it cook for 15 to 20 minutes longer.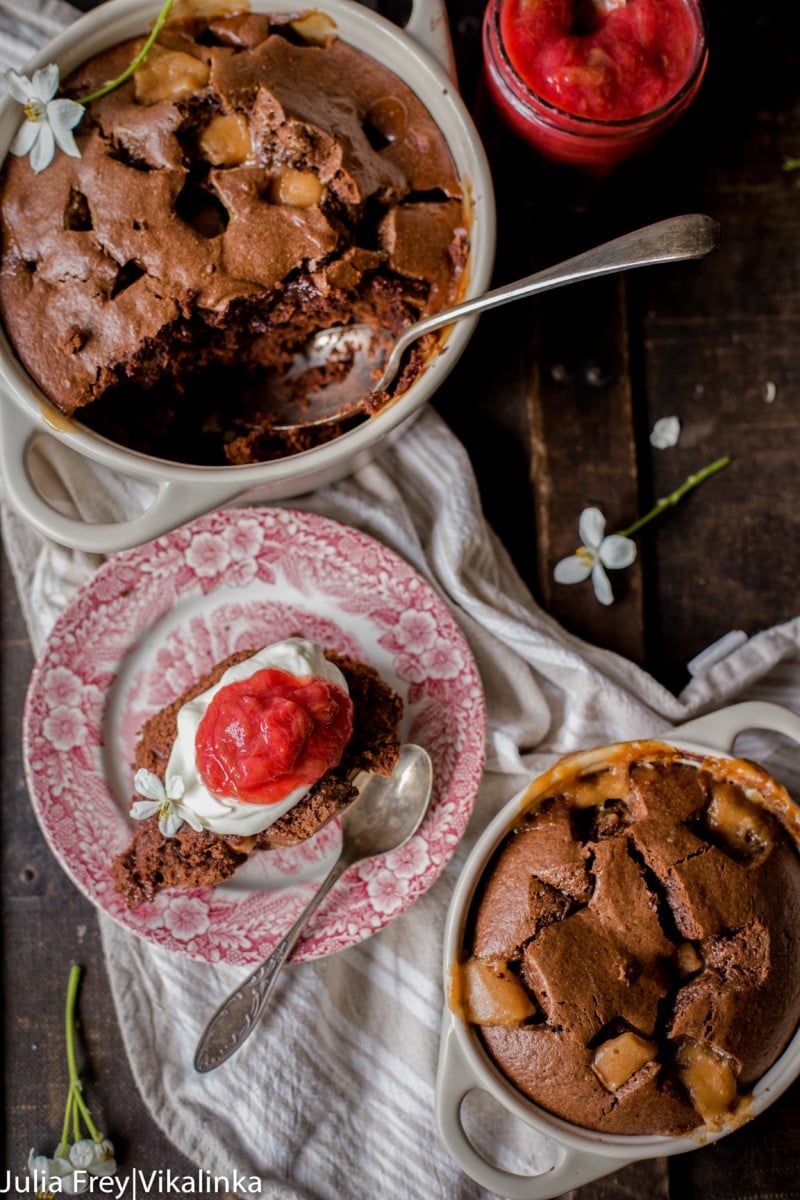 Recipe tips and tricks
It is possible to use chocolate chips instead of chunks, but I don't recommend it. Chocolate chunks melt more evenly and become silky smooth when heated. Chips are designed to hold their shape, so do not melt in the same way, and are generally not of the same quality.
Look for rhubarb with pink stalks to get a pinker colour. If you can't find rhubarb that is an ideal colour, do not worry as it will taste just as good.
It is possible to add a drop of pink or red food colour gel to get a more vivid colour.
Using different fudge flavours is a great way to add a twist to this cake. I'm looking forward to trying it with salted caramel or white chocolate!
This recipe is kid-friendly to make because the process is simple and the ingredient list is fairly short. This is the first recipe my daughter used to make a cake without supervision, and it was a great success!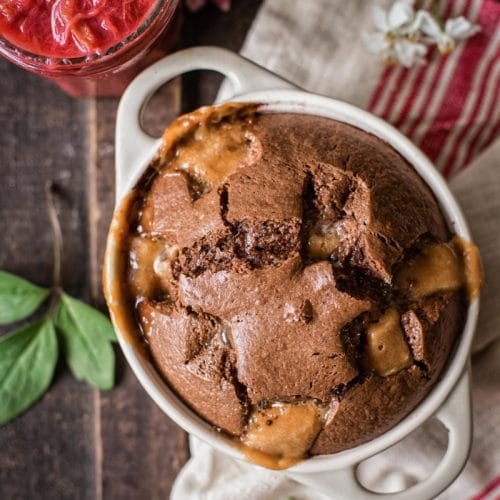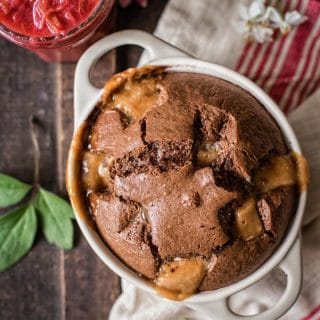 Chocolate Fudge Cake With Stewed Rhubarb
An easy chocolate cake that can be mixed in a food processor.
Ingredients
For the chocolate fudge cake
200

g

/ 1 cup dark chocolate or chocolate chips

175

g

/3/4 cup butter plus extra for greasing

120

g

/2/3 cup granulated sugar

100

g

/2/3 cup ground almonds

2

tbsp

unsweetened cocoa powder

4

eggs

large

150

g

/1 ⅓ cup flour

1 ½

tsp

baking powder

½

tsp

salt

100

g

/3 ½ oz fudge
For the stewed rhubarb
400

g

/4 stalks rhubarb

3

tbsp

granulated sugar

zest of 1 lemon
Instructions
For the chocolate fudge cake
Preheat your oven to 325F/160C

Break up the chocolate into squares and put it in the food processor along with butter, sugar, almonds, cocoa powder and salt. Pulse until smooth. With the motor still running crack one egg at a time, then add flour and baking powder.

Grease a rectangular 9×13 baking dish and dust it with a bit of cocoa powder. Pour the cake batter into the pan and scatter the fudge pieces all over it. Bake for 18-20 minutes. Alternatively you can bake it in a deep 9″ cake pan or a casserole dish for 30 minutes.
For the stewed rhubarb
Cut washed rhubarb stalks into ½″ pieces and combine with sugar in a small saucepan. Heat over very low heat until rhubarb releases juice, then cover with a lid and cook for 15-20 minutes longer.

Serve the cake with whipped cream and stewed rhubarb.
Nutrition
Serving:
8
g
Calories:
619
kcal
Carbohydrates:
61
g
Protein:
10
g
Fat:
39
g
Saturated Fat:
19
g
Polyunsaturated Fat:
3
g
Monounsaturated Fat:
13
g
Trans Fat:
1
g
Cholesterol:
131
mg
Sodium:
331
mg
Potassium:
582
mg
Fiber:
6
g
Sugar:
36
g
Vitamin A:
746
IU
Vitamin C:
4
mg
Calcium:
156
mg
Iron:
5
mg