Are you familiar with Amarena Gelato? If not, you need to become friends!! This no churn vanilla gelato with sour cherry ribbons is luxuriously creamy and oh so tasty!
The cherries in this dessert are divine! To get even more of a good thing, try Black Forest Cake!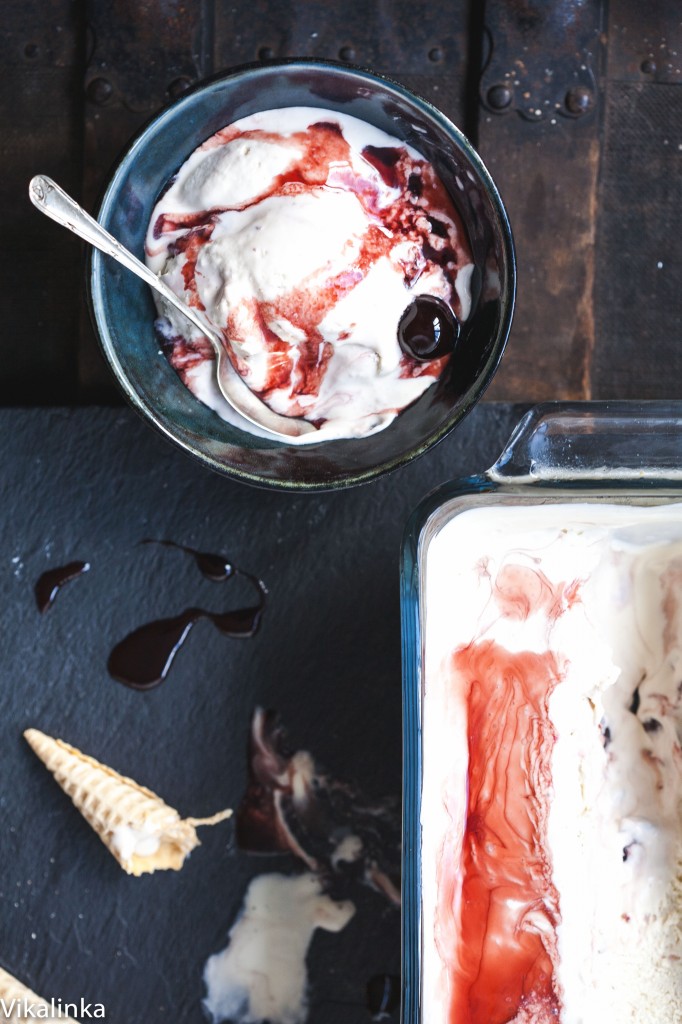 Summer is here, and I couldn't be happier! Tis the season of basking in the sunshine, sipping fruity drinks and snacking on frozen treats. What could be better?
I live a long way from any beach but that doesn't mean that I can't trick myself into thinking that I'm on holiday. And how better than gelato with classic Italian flavours?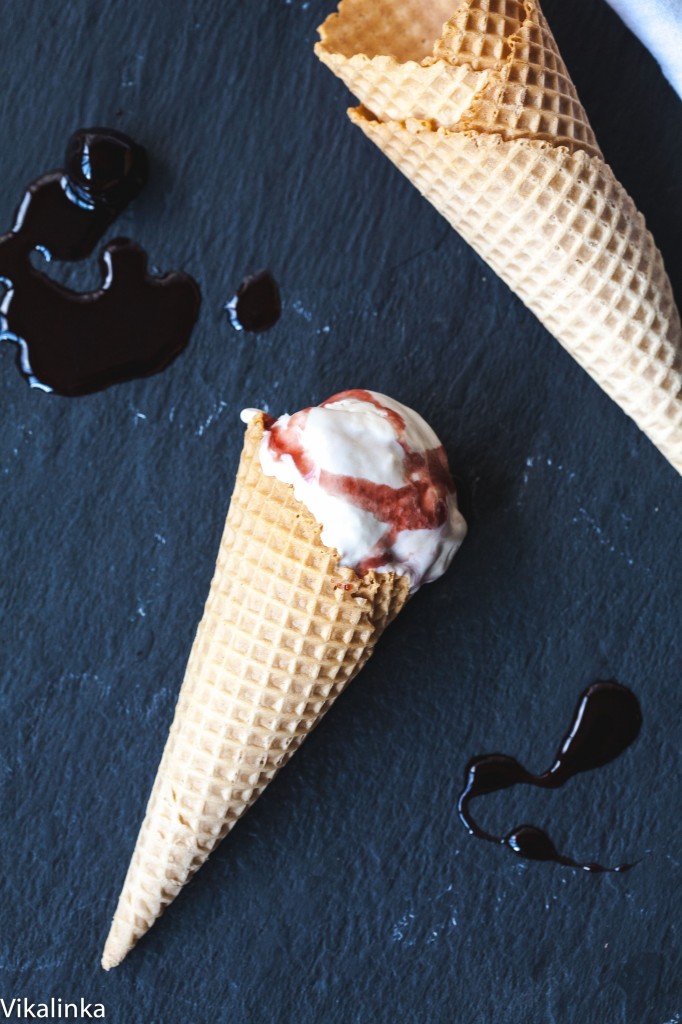 I don't eat ice cream regularly, in fact I hardly ever eat ice cream. It's not exactly a health food and I don't really feel like I am missing out.
My attitude changes drastically whenever we are in Italy. I want gelato ALL THE TIME. It doesn't even have to be hot. I just want to consume huge amounts of it for days on end.
I can't spend all my time in Italy, which means I've had to work on bringing Italian-style gelato into my own home. Is it really possible to get silky, creamy gelato-style ice cream in a home kitchen, you ask! Absolutely!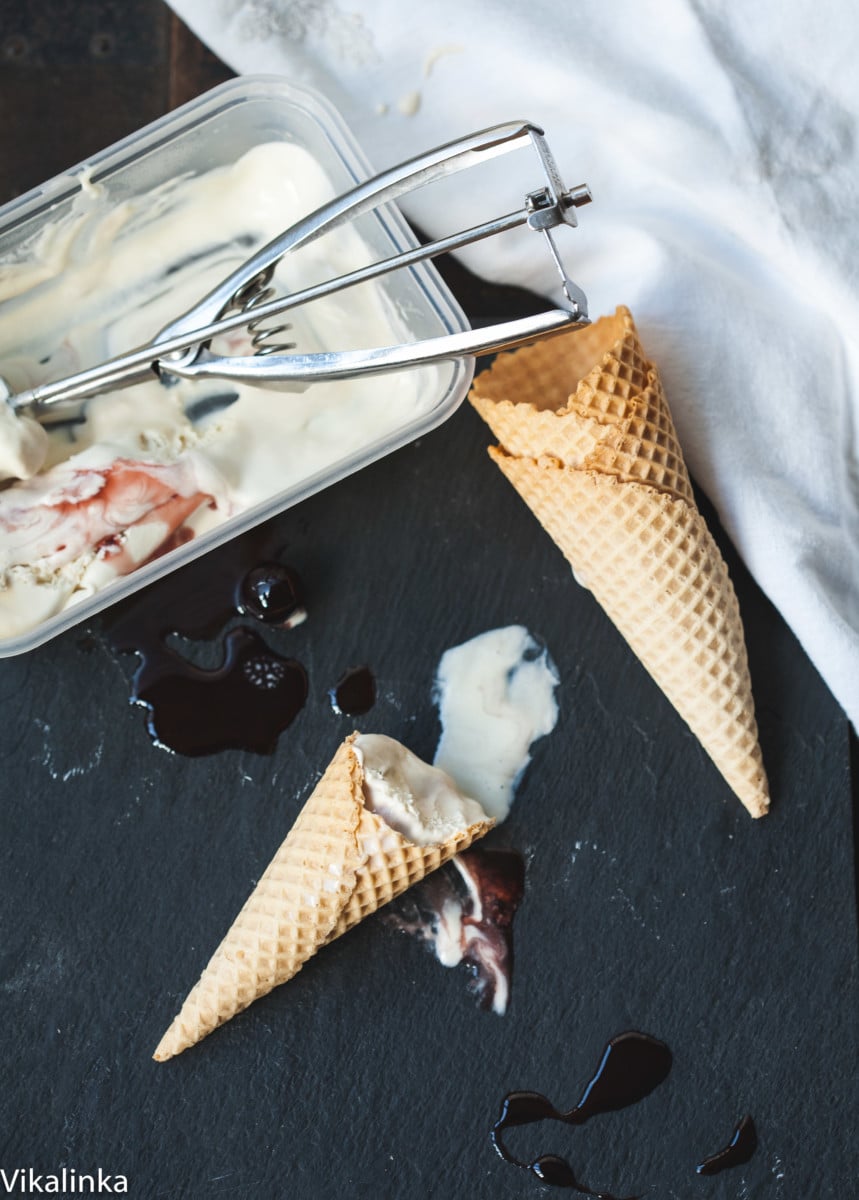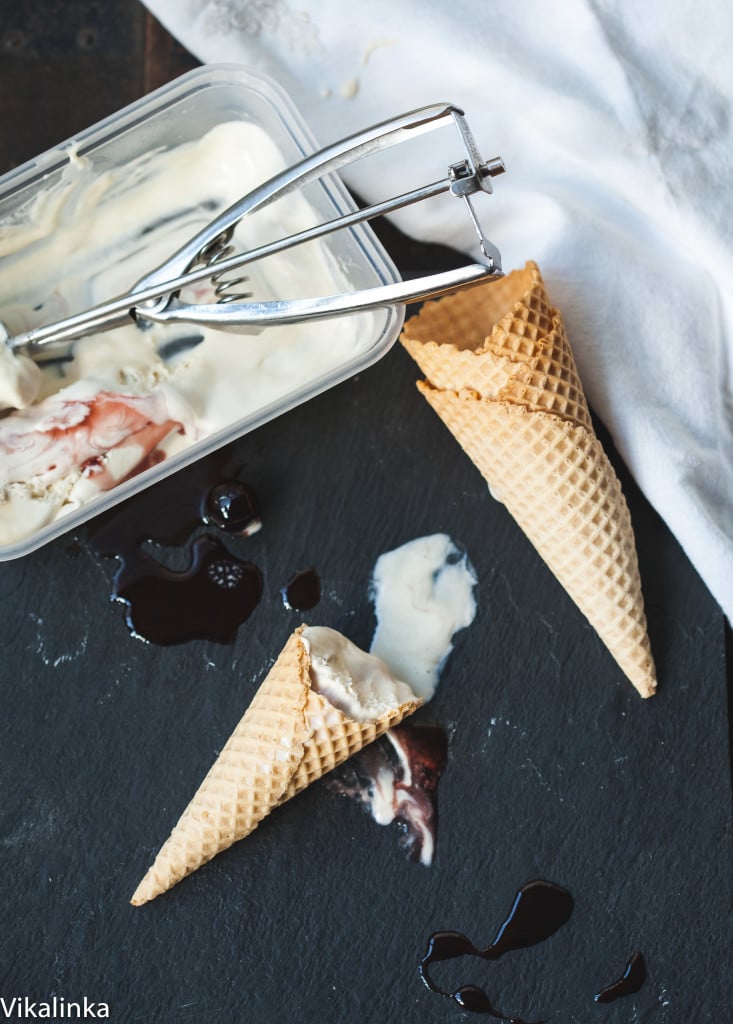 Cherry gelato
We all have our favourite kind of gelato. In our family we have devoted fans of strawberry and pistachio.
But my heart goes to cherry gelato, or gelato all'amarena. Smooth and luscious vanilla ice cream threaded with ribbons of amarena cherry preserves.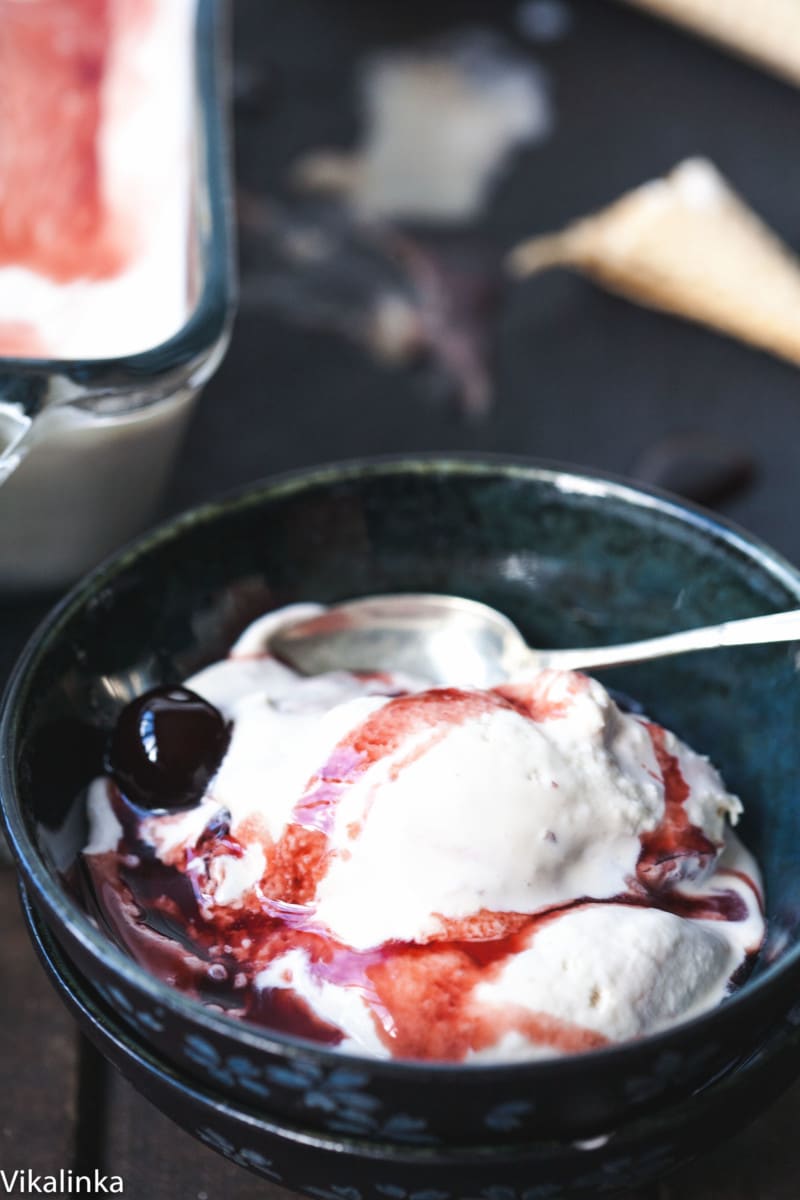 Don't be fooled though – it's not your regular cherry ice cream that's been given a name makeover. This is a revelation everyone should discover at one point of their life. Amarena gelato is a beauty to behold!
Cherry adds an elegant flavour to this creamy ice cream. Amarena cherries in particular are something special, which just the right mix of sweet with a hint of bitterness. They match so well with the thick cream.
Amarena cherries are unique, and while there are other options that come close, they can't quite duplicate the same flavour. This gelato really does benefit from the real thing. Look for Amarena cherry preserves in an Italian section of your supermarket or deli.
If you really can't find any try Luxardo cherries or other preserved sour cherries. I would not recommend maraschino cherries, though, as they are a bit too one-note!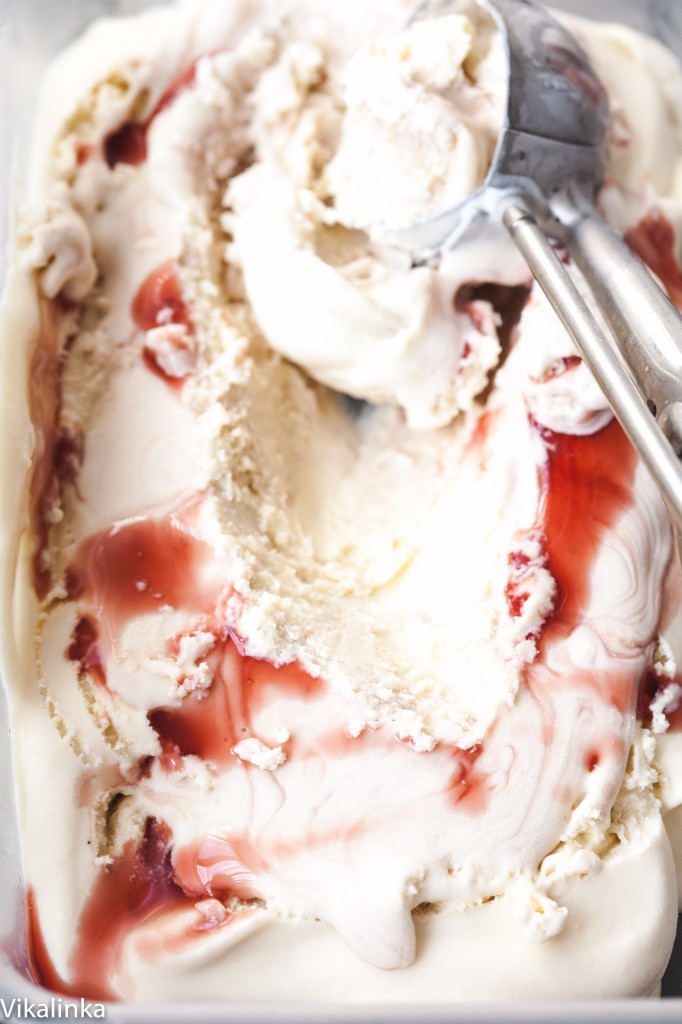 No-churn ice cream
I'm a huge fan of no-churn ice cream, which is why I come back to it so often. It's almost ridiculous that creamy, decedent ice cream can be made without special equipment or a lot of effort.
I was absolutely determined to re-create this favourite of mine at home and played around with a few different recipes before finding one I loved. It's beautiful and simple and not something intimidating to tackle at home.
The recipe for my amarena gelato was easy to develop from there and was I ever pleased with the result! And here is the best part…no ice-cream maker required!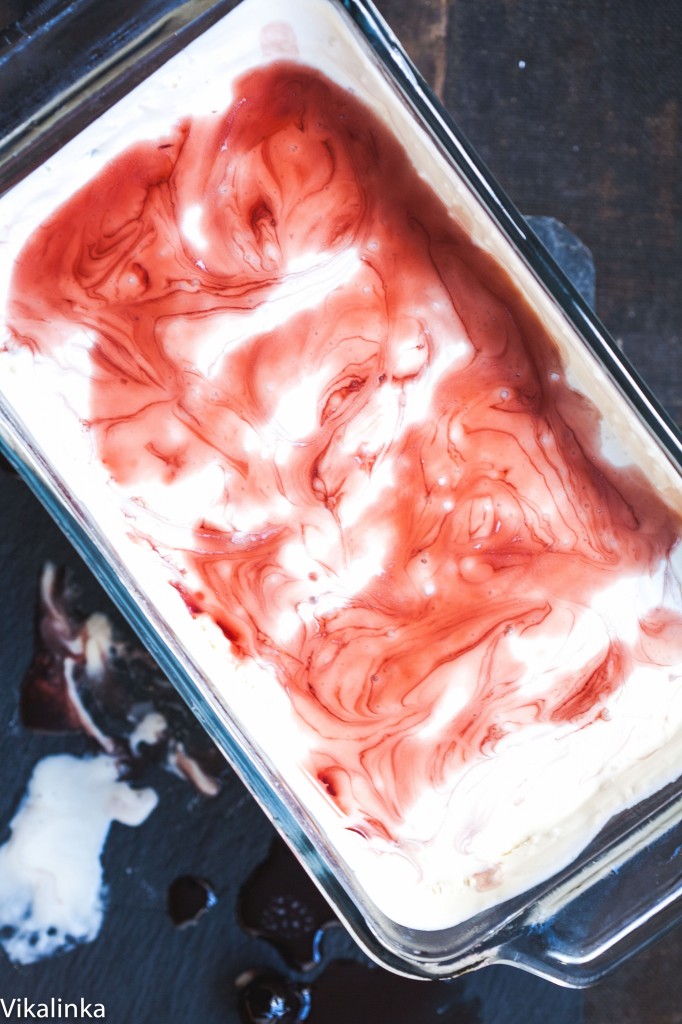 While I don't own an ice cream maker, I did borrow one from my friend because I wanted to experiment.
I divided the mixture into half and churned one half in an ice cream maker but left the other one un-churned. I simply put it in a freezable container and left it in the freezer for 5 hours.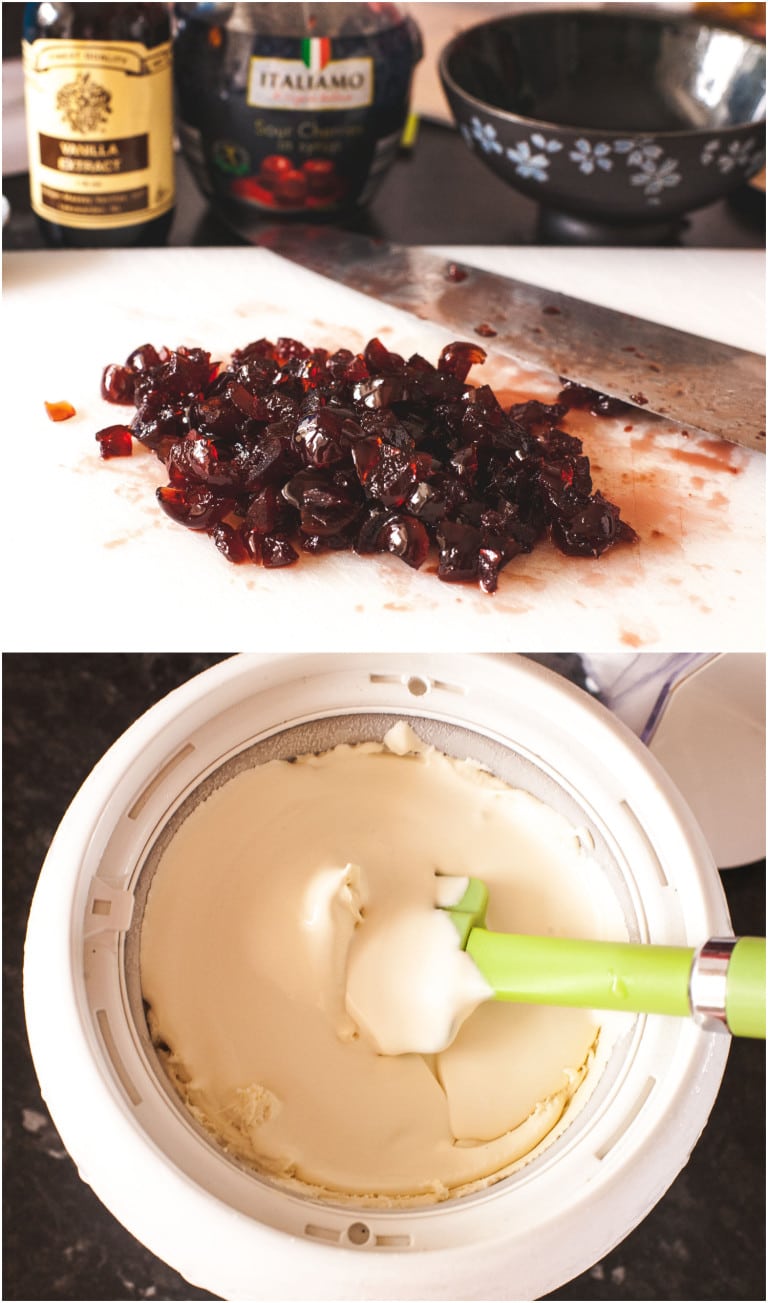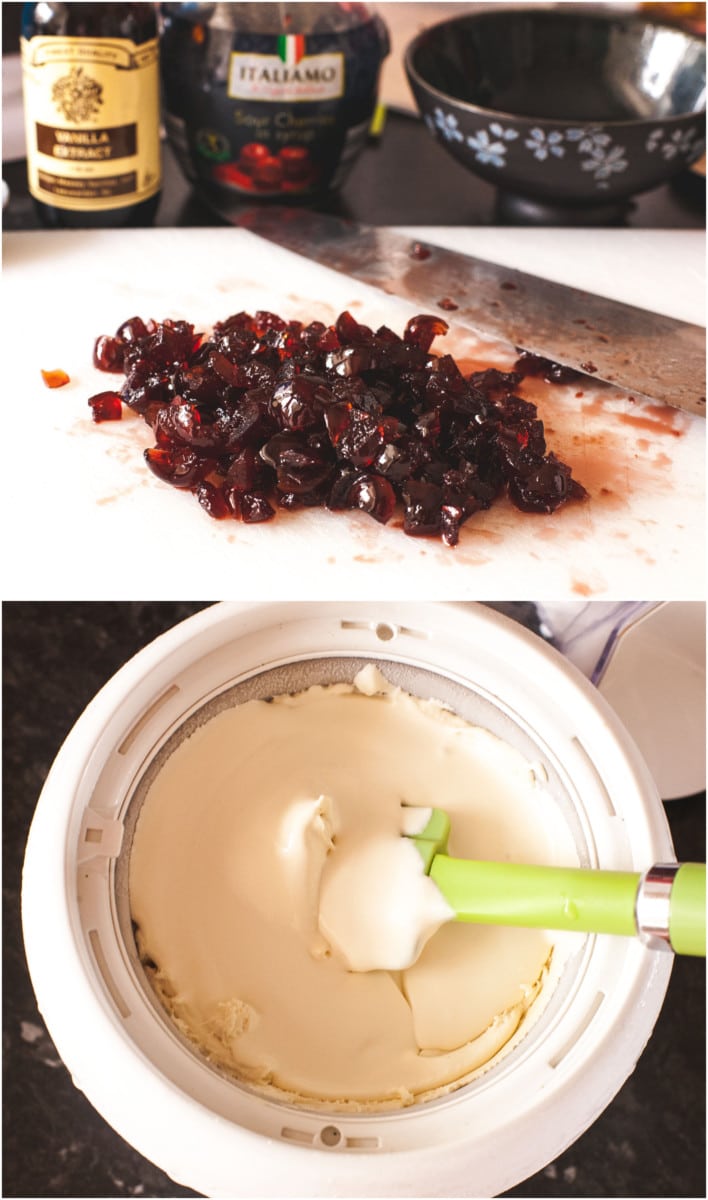 No one could tell the difference between the two. No joke!
The vanilla base for this amarena gelato is a combination of double cream or whipping cream and sweet and condensed milk.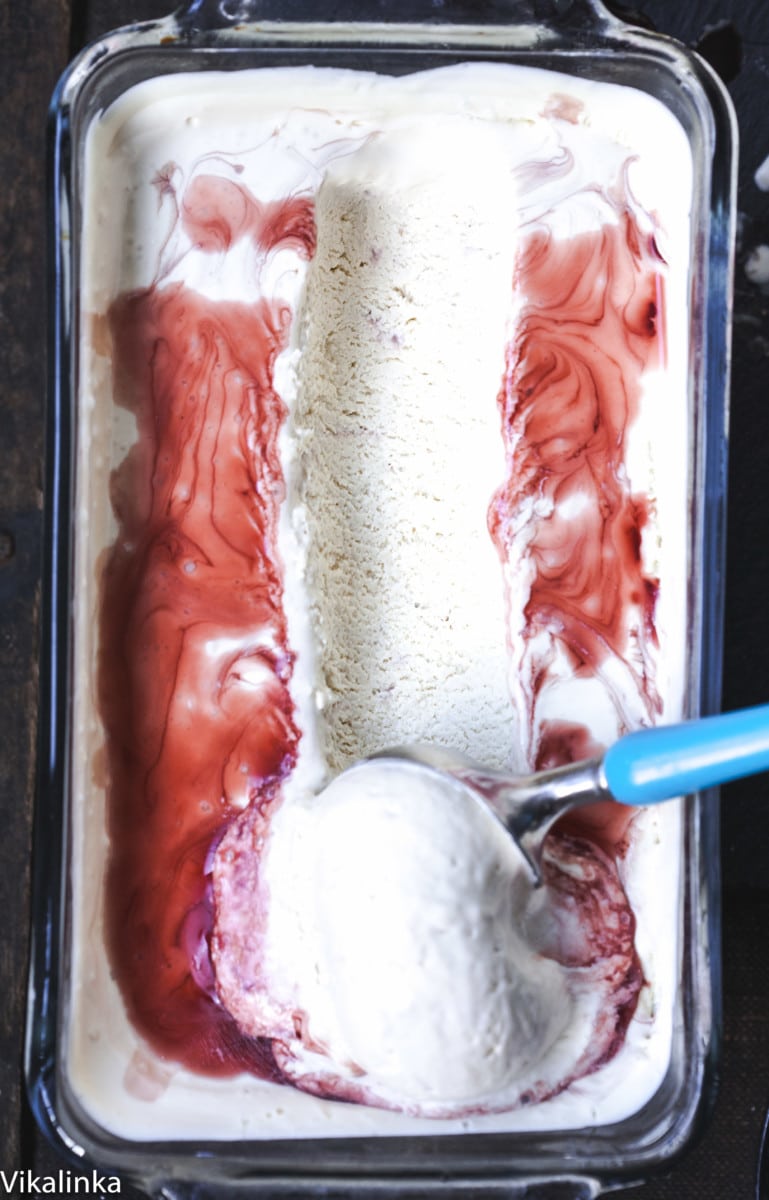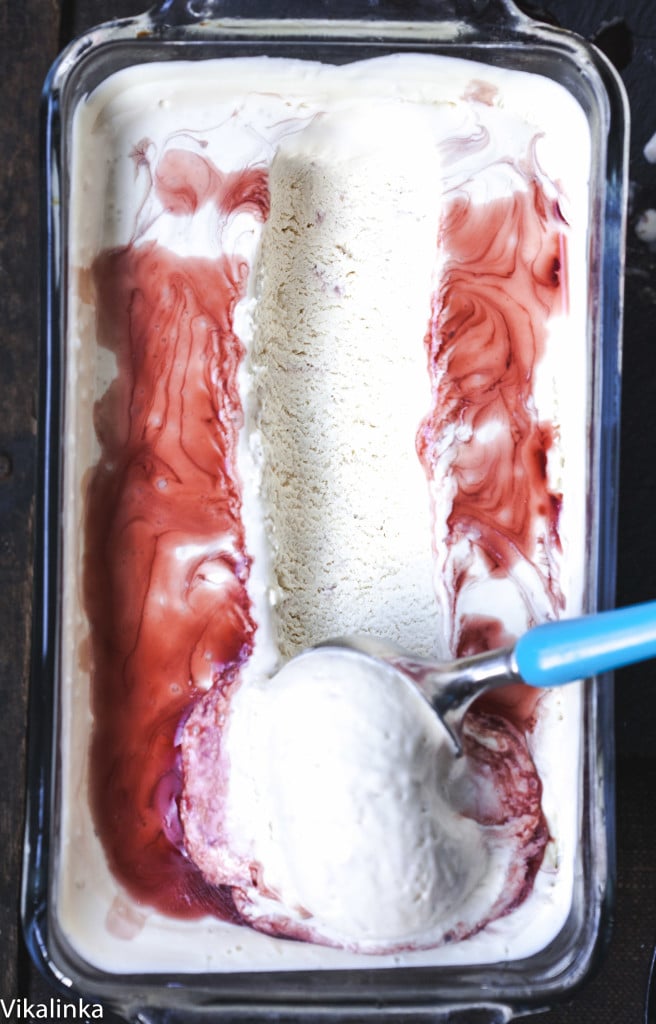 I know I already got your attention by the mere mention of sweet and condensed milk. That stuff is pure magic!
I also added a splash of Creme de Cassis because a bit of alcohol prevents ice-crystals from forming and helps create silky smooth texture. It doesn't taste boozy at all, I promise you!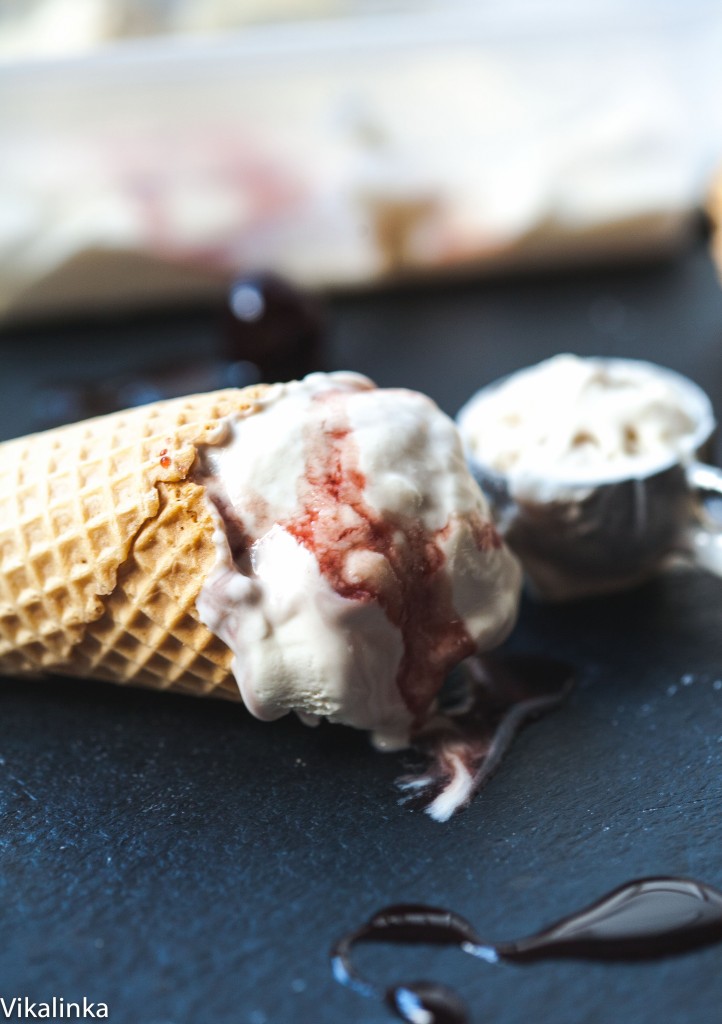 More frozen desserts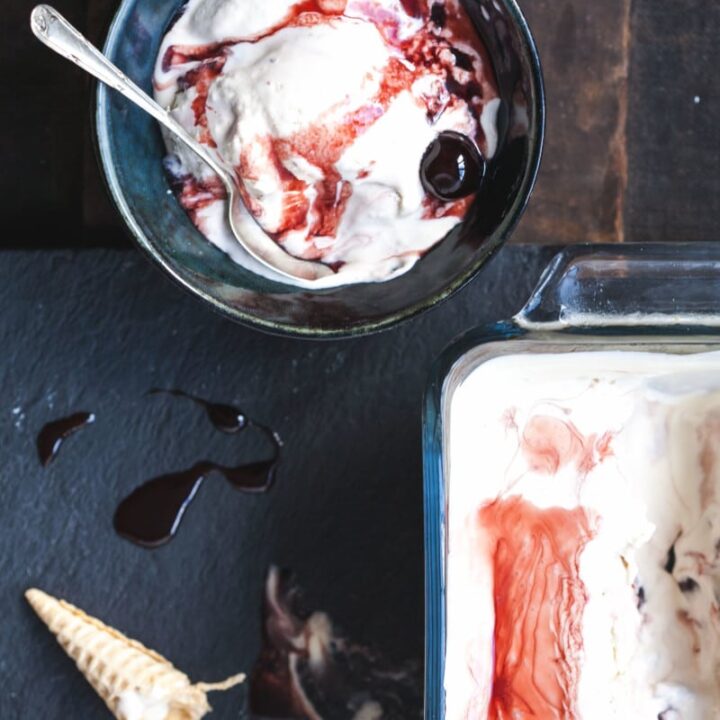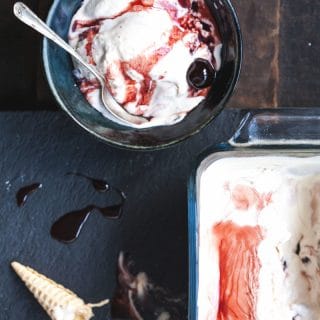 Amarena Gelato
No churn gelato recipe with sour cherries.
Ingredients
500

ml

/2 cups double cream/whipping cream

395

g

/14oz condensed milk

one tin

2

tsp

vanilla extract

3

tbsp

chopped amarena cherries

2

tbs

amarena syrup

3

tbs

Creme de Cassis

or any other flavour you love
Instructions
Whip double cream with sweet and condensed milk and vanilla essence just until soft peaks form. Don't overbeat, we are not looking for whipped cream here. Fold in creme de cassis.

If using an ice cream machine, pour the vanilla base in and start churning for 10-15 minutes. Gently swirl chopped cherries in and put in the freezer to firm up for 5-7 hours.

If not using an ice cream machine pour in the vanilla base into a freezer safe container and put in the freezer for 1 hour.

Remove from the freezer and swirl in chopped cherries, continue freezing for 5-7 hours.

Before serving sprinkle with the syrup from the preserves.
Nutrition
Calories:
547
kcal
Carbohydrates:
46
g
Protein:
7
g
Fat:
37
g
Saturated Fat:
23
g
Cholesterol:
137
mg
Sodium:
117
mg
Potassium:
314
mg
Fiber:
1
g
Sugar:
42
g
Vitamin A:
1454
IU
Vitamin C:
2
mg
Calcium:
241
mg
Iron:
1
mg