Can I tempt you with a Cappuccino Daim Ice Cream Sandwich? Without a doubt the tastiest and the most decadent ice cream sandwich I have ever made!
There is so much fun to be had with ice cream sandwiches, including decadent Waffle Ice Cream Sandwiches!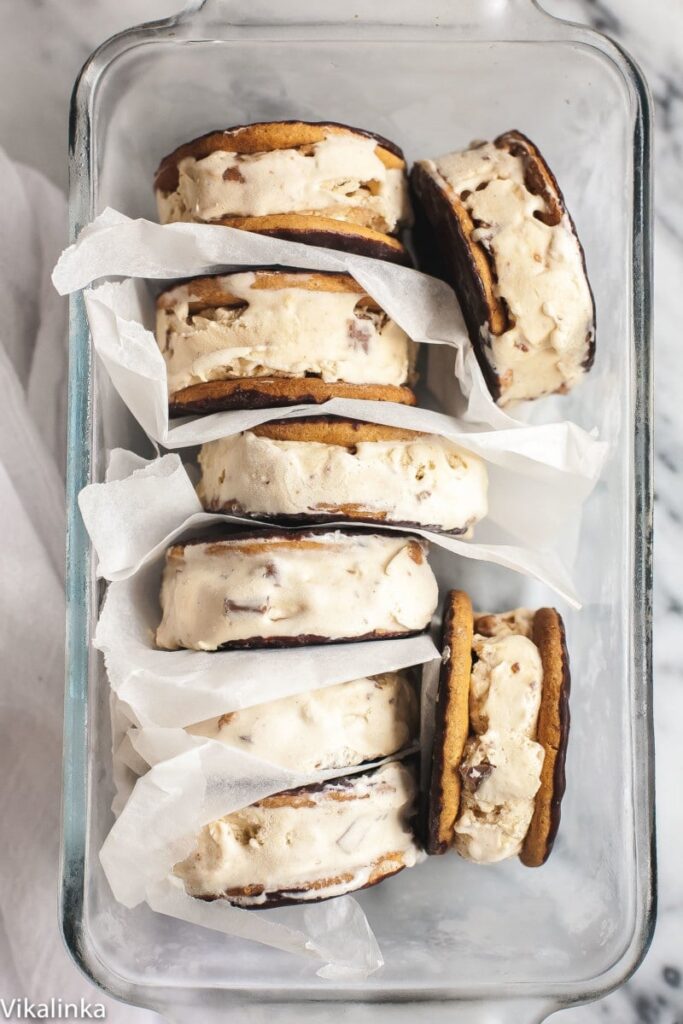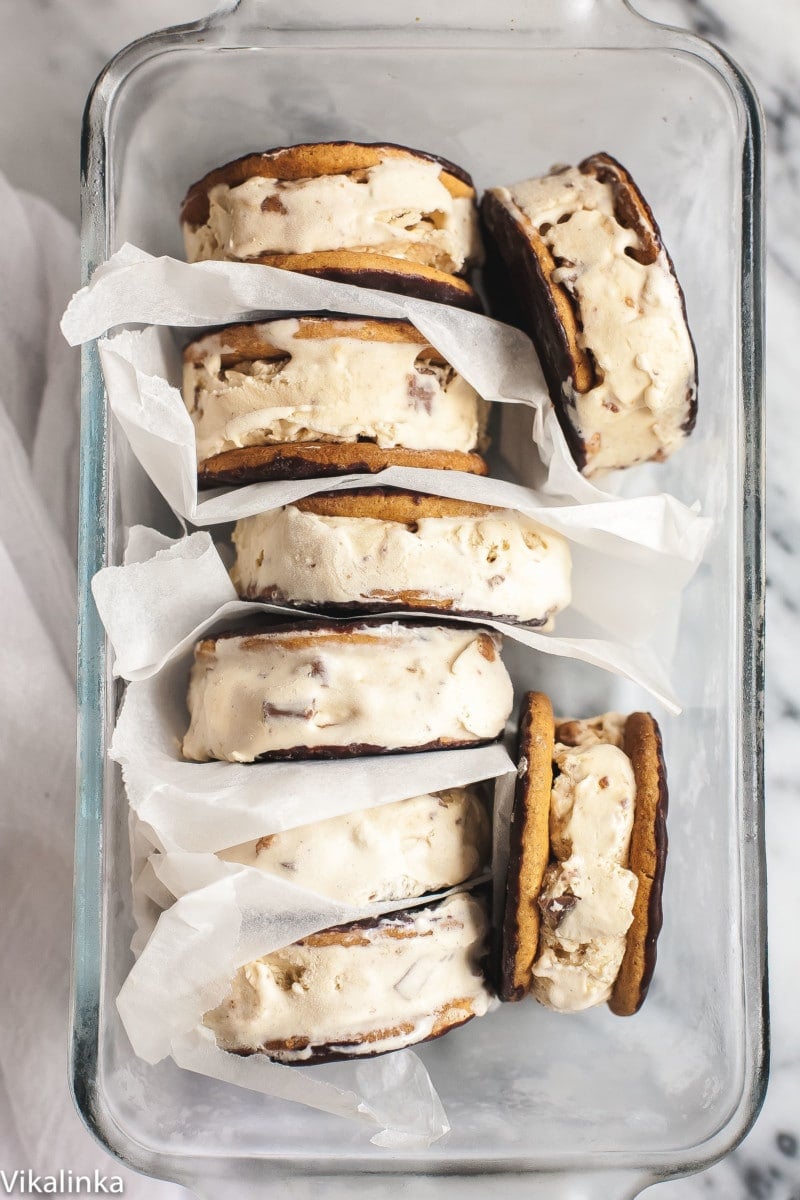 Travelling in Italy has taught me to adore proper gelato, but this doesn't mean I've moved past other ice creams. There are moments when all I really want is a Dairy Queen blizzard!
I've often made recipes inspired by Dairy Queen, whether ice cream cake for my kids birthdays or playing around with my own ice cream flavours. This recipe is one more, inspired by Heath Blizzards.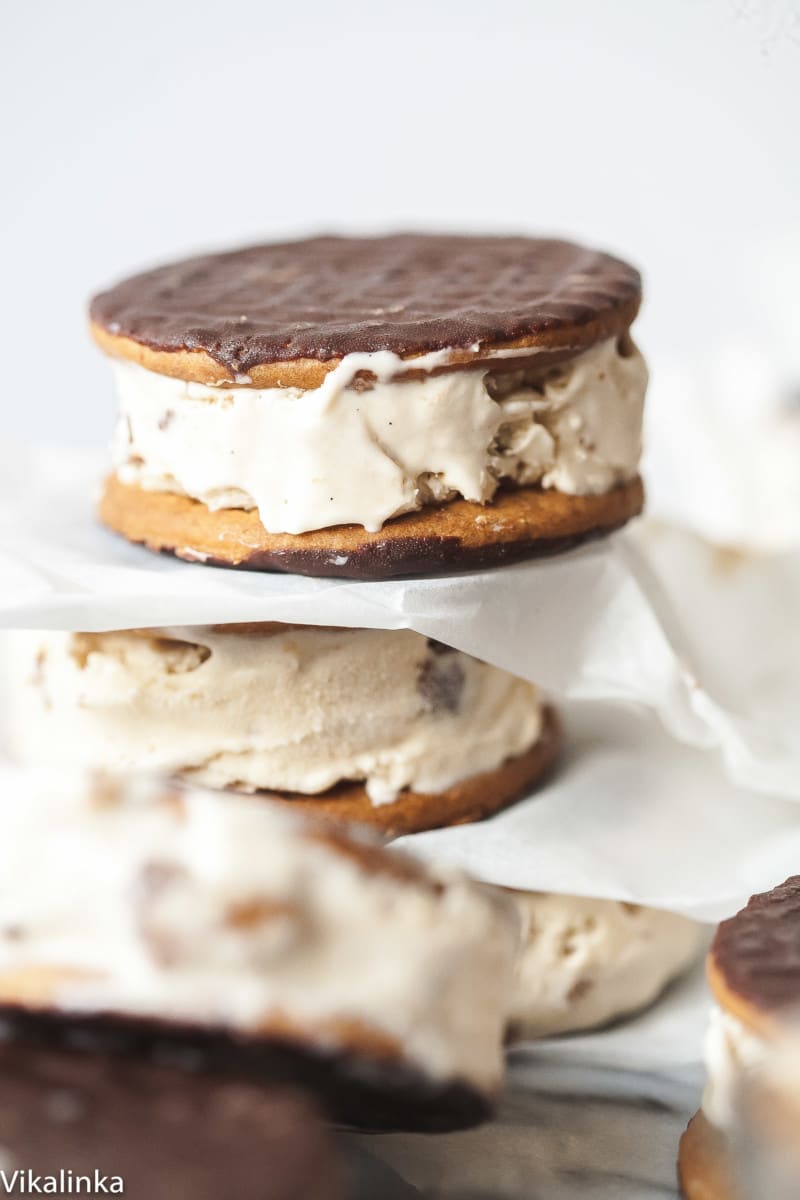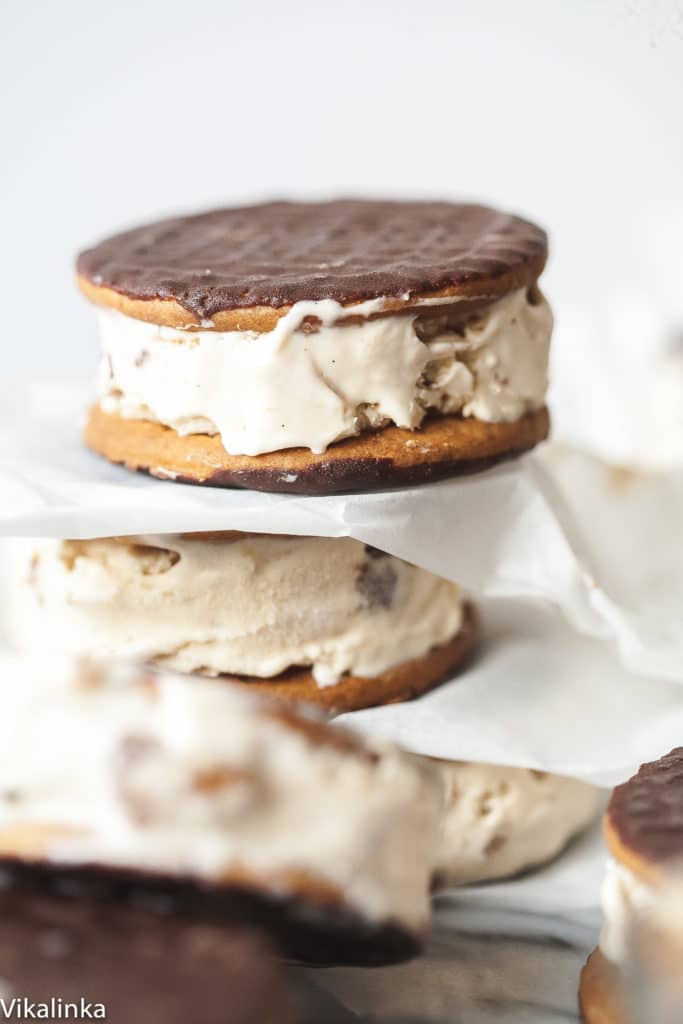 Living in Europe, though, means that Heath bars are hard to come by. Fortunately we have a fantastic equivalent, the legendary Daim!
Equally chocolatey, toffee-licious and crunchy Daim bars are almost exactly the same confection. True connoisseur would surely note the difference between Daim, Heath or Skor, but for a recipe like this any of them will do perfectly.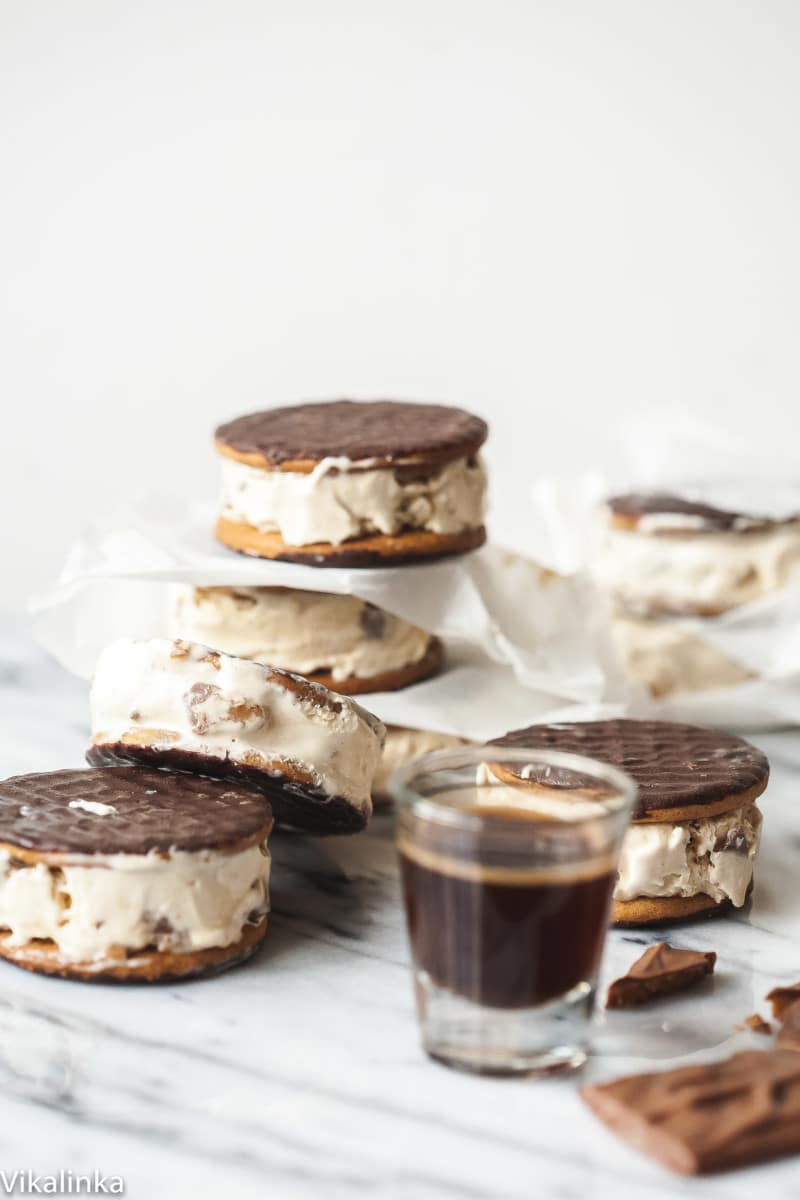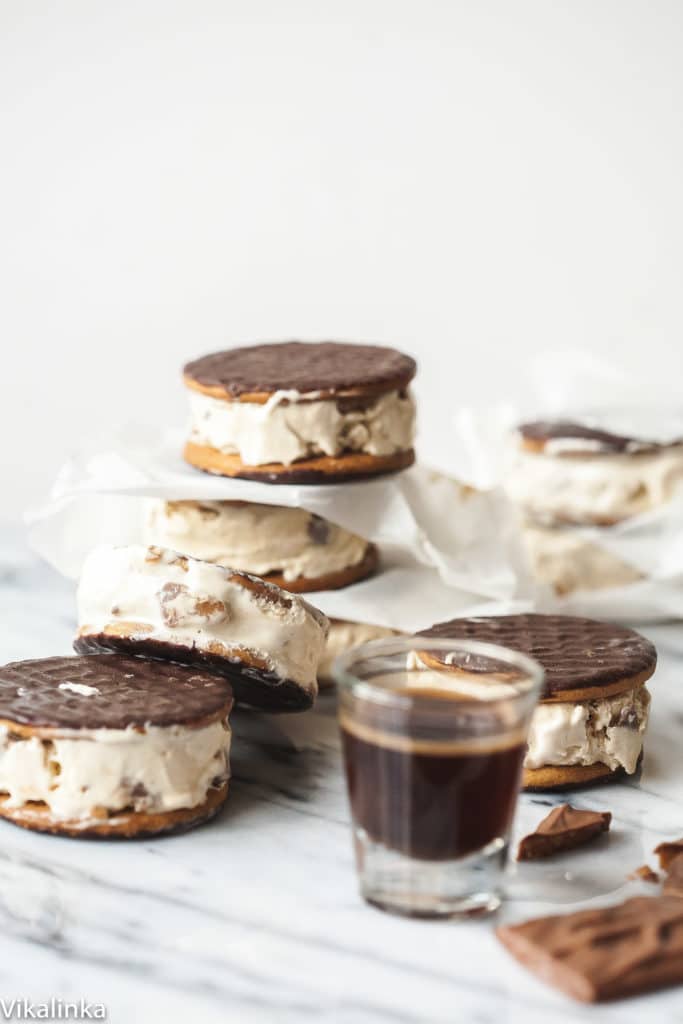 I could have just made a blizzard-type milkshake but what fun is that to just duplicate a recipe. Instead I went for an ice cream sandwich because I love the mix of textures and combination of crispy cookie and smooth ice cream!
No-Churn Ice Cream
I used my favourite no-churn ice cream recipe to fill chocolate covered Digestive biscuits. Making no-churn ice cream is surprisingly easy and results in a luxuriously creamy treat you'll fall in love with!
I've also used a no-churn ice cream recipe to make Amarena Gelato and Blackberry and Pistachio Eton Mess. The basic method is very flexible so there is no end to the creative flavour combinations you can play with!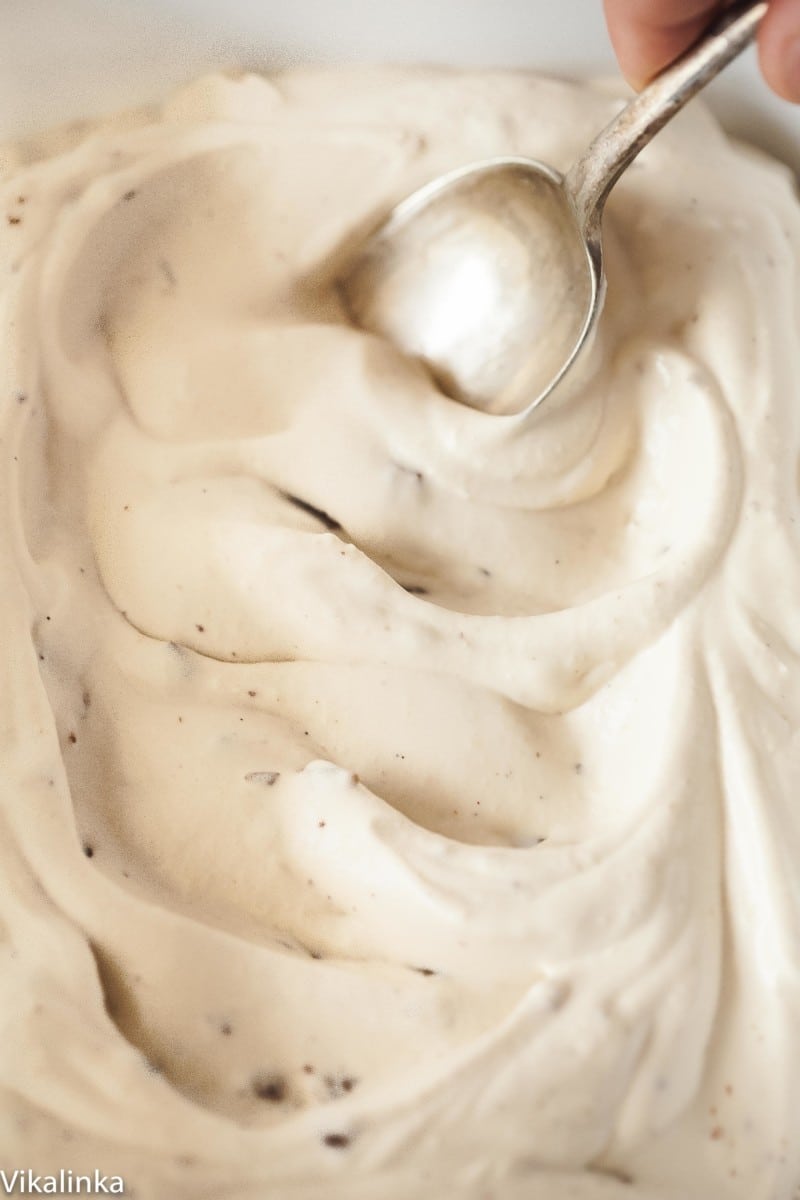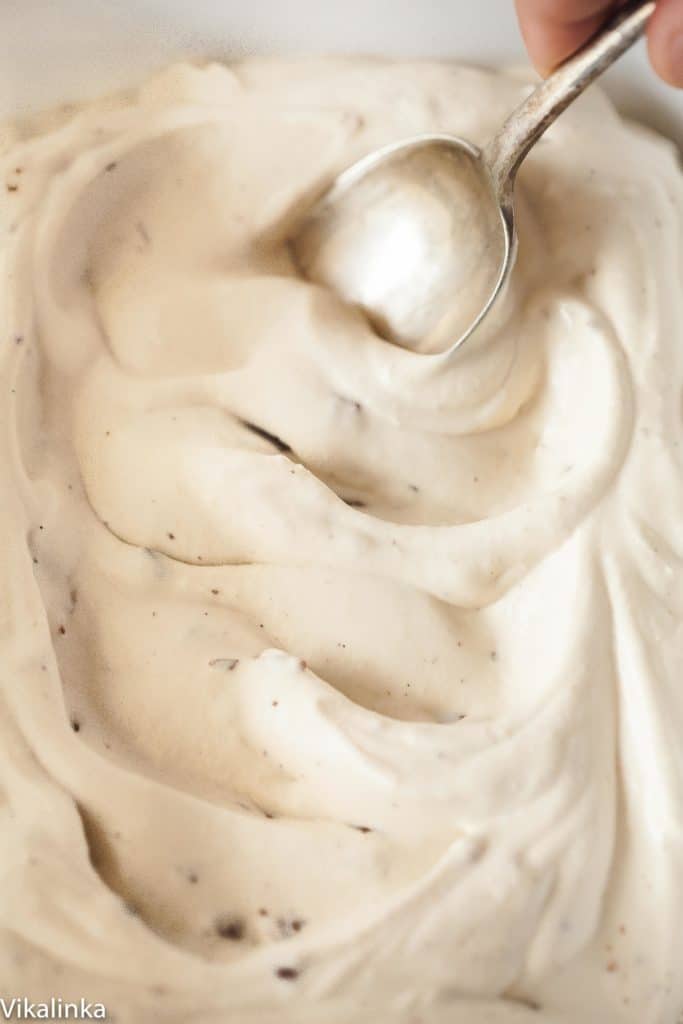 To make the ice cream, whip the double cream (or whipping cream) sweetened condensed milk and a shot of espresso with the coffee and vanilla extract. You will want to use an electric mixer for this.
Stop once peaks begin to form so you don't over beat. The texture should be fluffy rather than stiff.
Now that your ice cream mixture is ready, roughly chop your Daim (or Heath or Skor) bar and stir into the mixture gently with a spatula. Try to disperse the chocolate chunks as evenly as you can.
Add it all to a container you can leave in the freezer and let it chill and solidify for at least even hours. It is best to do this the night before so you are ready to go with assembling the sandwiches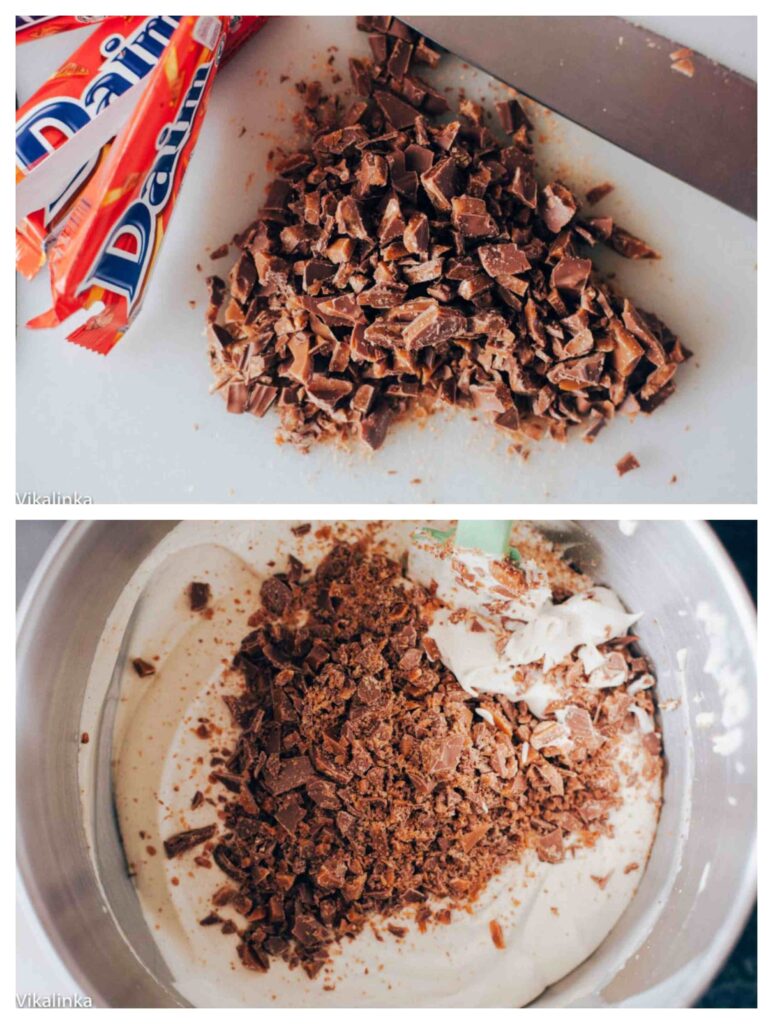 How to put them together
You can use any cookie/biscuit you love but I am partial to the digestives. They are not overly sweet so these wheaty crunchers give a perfect balance and never take away from the wonderful flavour of Cappuccino Daim ice cream.
Digestives can be fragile, though, so it's best to give them some time in the freezer. This allows them to harden so they aren't breaking into chunks when the ice cream is added.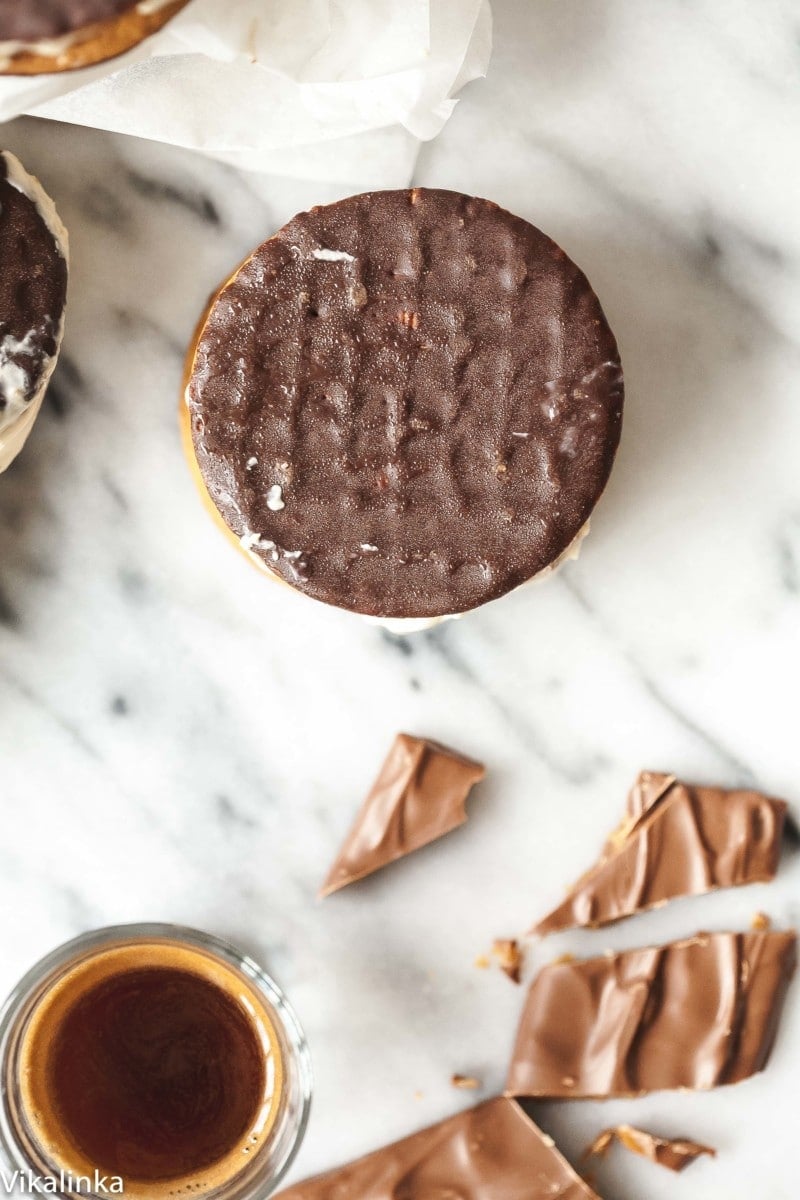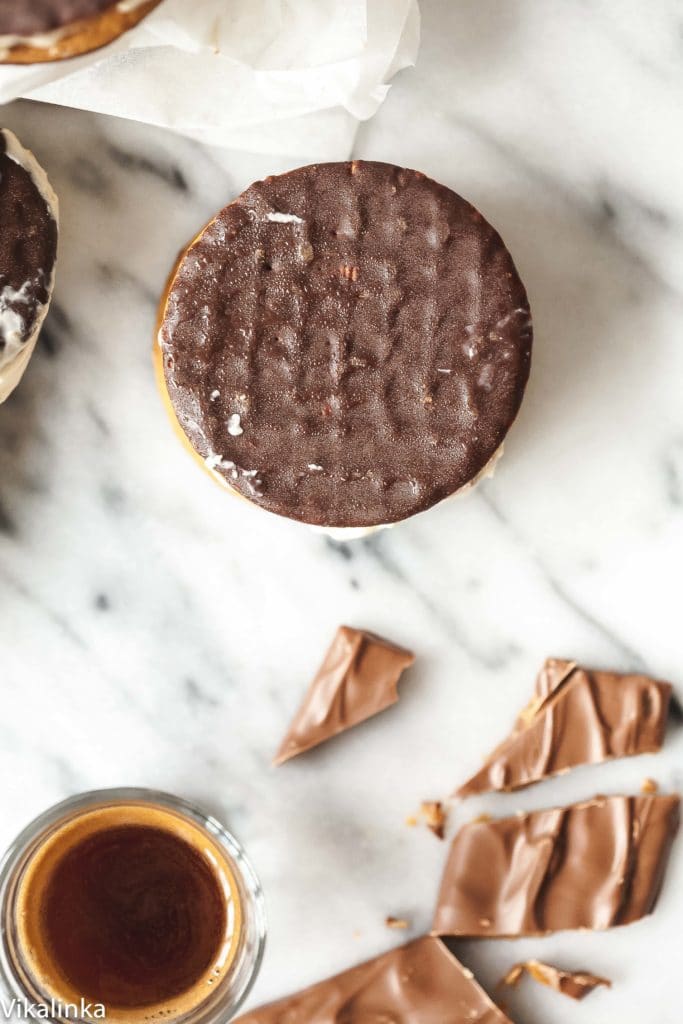 Now you are ready to assemble the ice cream sandwiches. This step is easy and fun so a great opportunity to get you kids involved!
Just add a generous amount of ice cream to a digestive, top with a second biscuit, and run a spoon or spatula around the outside to give them a polished look.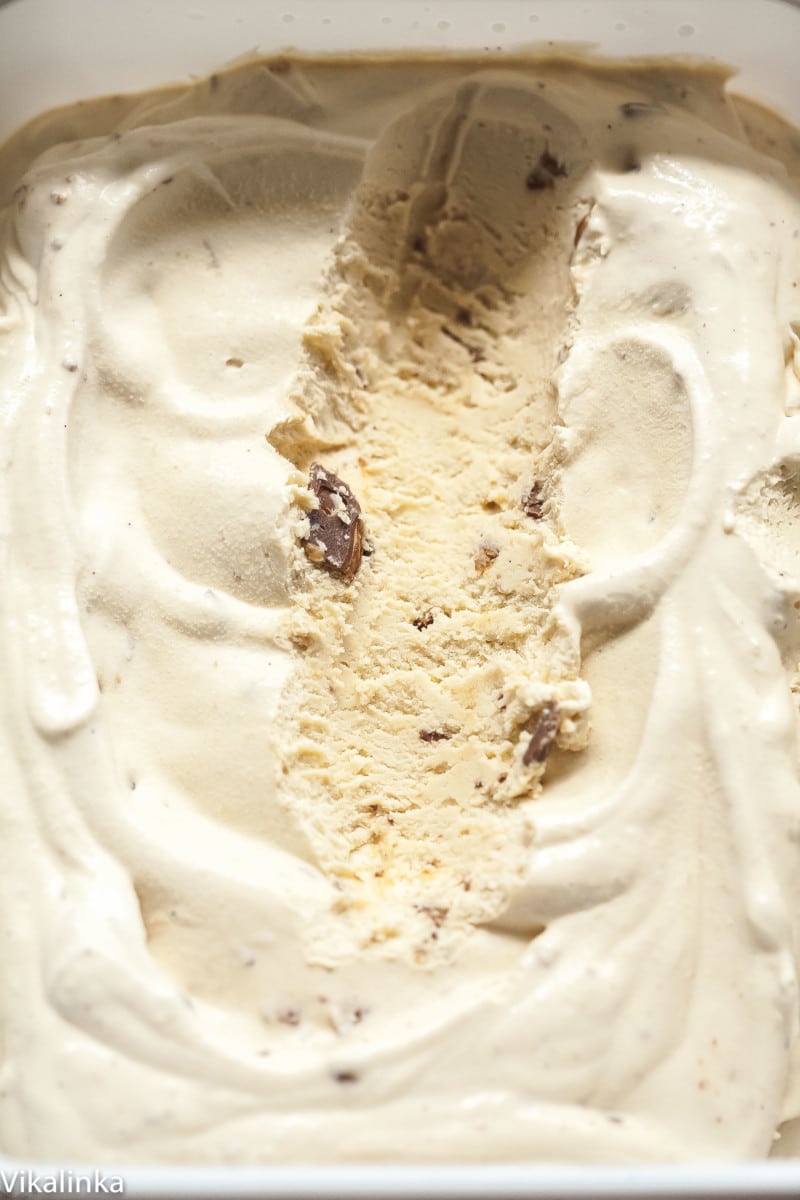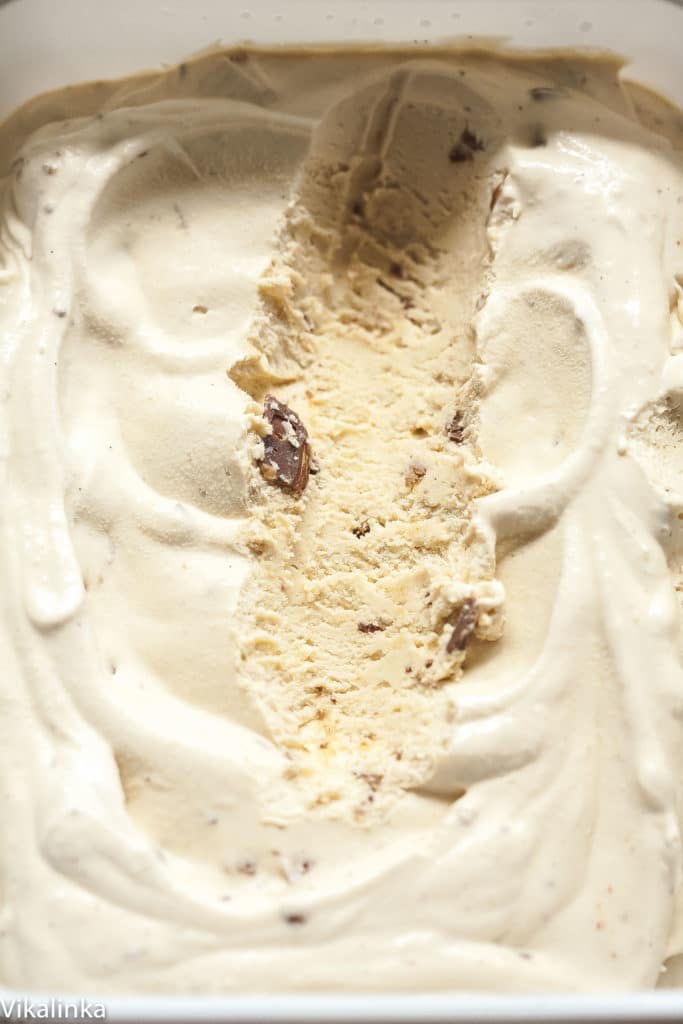 This ice cream sandwich is the ultimate frozen treat. Your whole family will be so impressed! The best thing about them is that you can make them once and keep them in the freezer for whenever you need that sweet fix.
If you are saving them for later, add a sheet of parchment paper between the sandwiches before returning then to the freezer. This makes it easier to grab a single sandwich without having to wedge them apart.
They are perfect little bites and come with portion control built in. Go ahead and indulge without the guilt!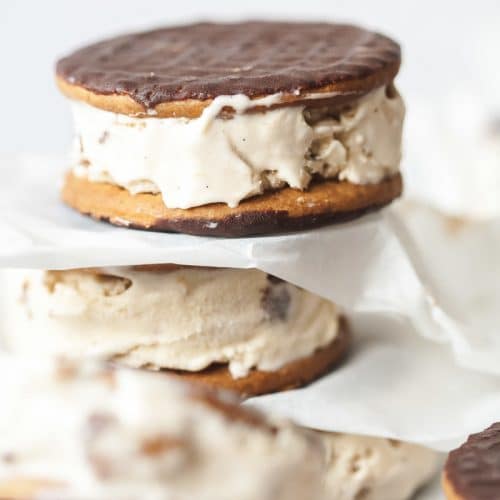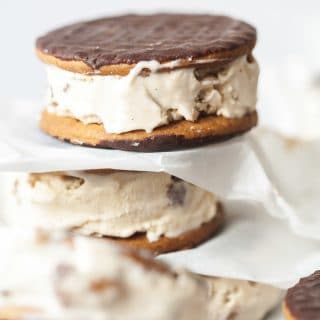 Cappuccino Daim Ice Cream Sandwiches
Makes 10 sandwiches
Ingredients
500

ml

/ 2 cups-double cream/whipping cream

1

x 395g tin condensed milk

2

tbsp

espresso or instant espresso powder blended with 2 tbsp of water

2

tsp

pure coffee extract

optional

1

tsp

vanilla extract

5

Daim bars

chopped or Heath or Score bars

20

chocolate covered Digestive biscuits
Instructions
Whip double cream with sweetened condensed milk, espresso, and coffee and vanilla extract just until soft peaks form. Don't over beat, we are not looking for whipped cream here.

Fold in chopped Daim bars with a spatula.

Scrape into a freezer-safe container and cover with a lid or foil. Freeze overnight or at least for 7 hours.

Prior to assembling ice cream sandwiches place biscuits in the freezer to firm up.

To make sandwiches scoop ¼ cup of ice-cream onto a previously frozen digestive biscuit, top with another one and smooth the sides with a spoon. Repeat with the remaining biscuits and ice-cream.

Put back in the freezer until firm.
Nutrition
Calories:
313
kcal
Carbohydrates:
25
g
Protein:
4
g
Fat:
23
g
Saturated Fat:
14
g
Cholesterol:
82
mg
Sodium:
77
mg
Potassium:
190
mg
Fiber:
1
g
Sugar:
23
g
Vitamin A:
841
IU
Vitamin C:
1
mg
Calcium:
146
mg
Iron:
1
mg