Can I tempt you with a cappuccino daim ice cream sandwich? Without a doubt the tastiest and the most decadent ice cream sandwich I have ever made!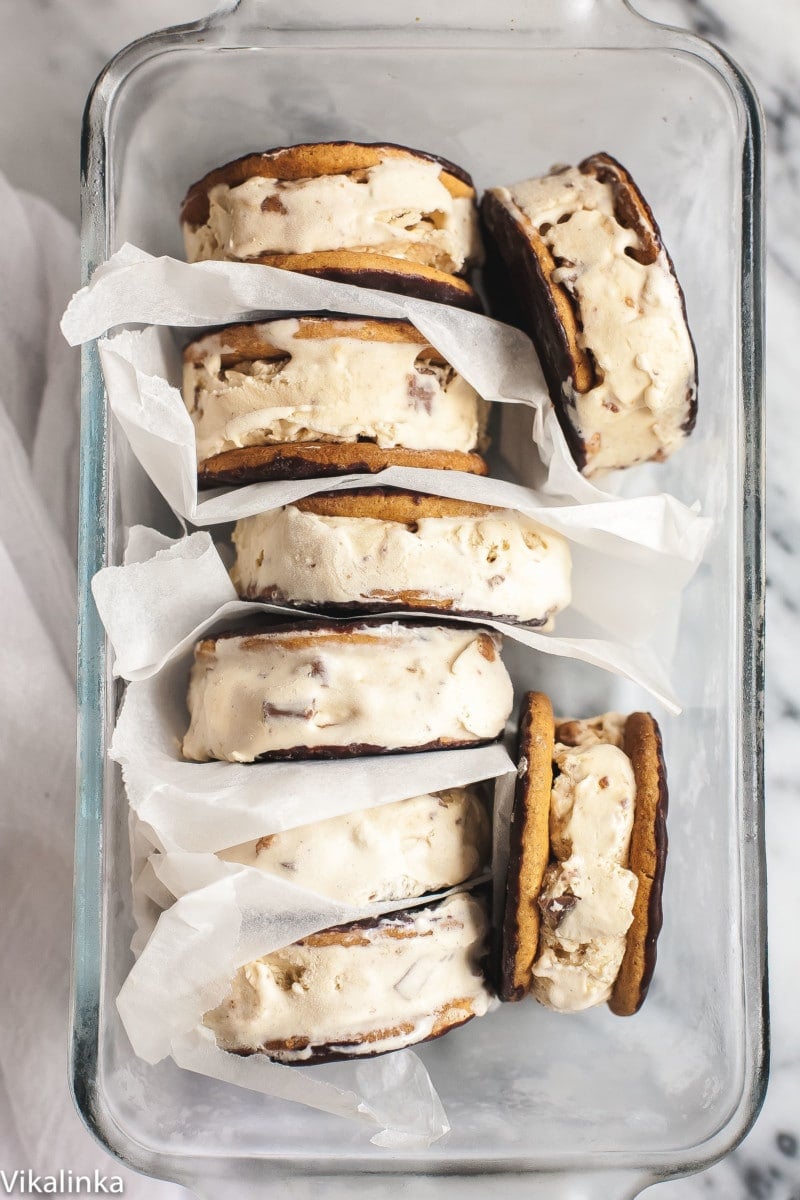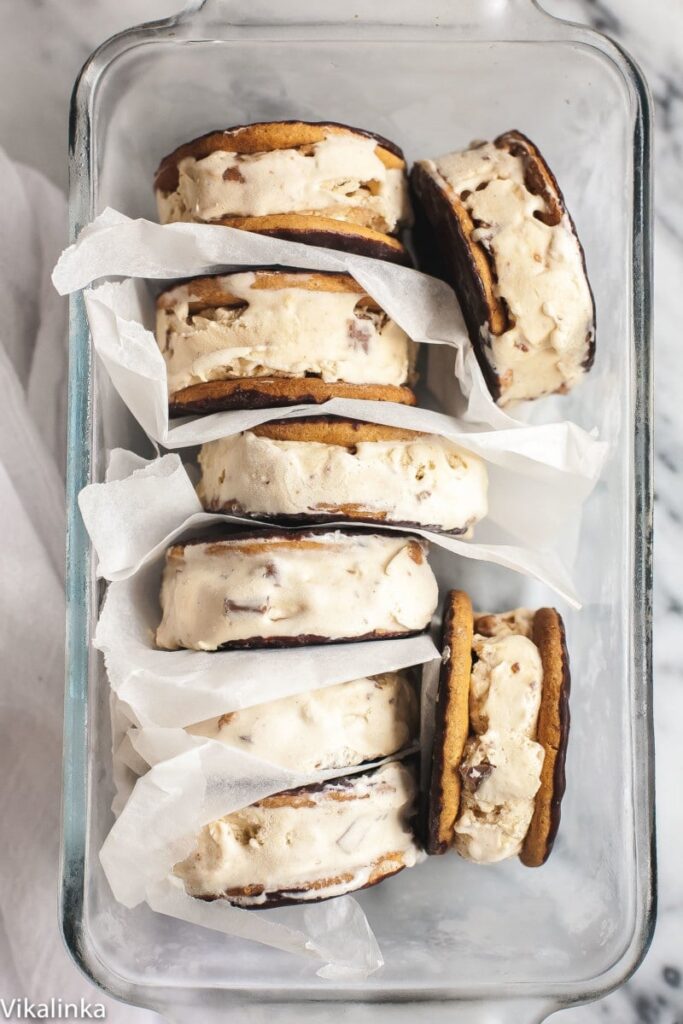 I love Italian gelato. I love everything about the sophisticated flavours it boasts, creamy consistency and tiny cups with colourful spoons they serve it in. I love letting people know that one of my favourite flavours is Basil Green Apple, it sounds really posh at a dinner party.
All of these things I just said are good and true but once in while I have a deep longing for a Dairy Queen Blizzard and nothing else can fill the void.
My first introduction to DQ was made with a bang. A friend of mine ordered me a large Cappuccino Heath and I've never looked back, except for an occasional chocolate covered strawberries blizzard, I stayed true to my love. When Brad and I moved to Canada after college it became Cappuccino Score, a Canadian version of a heath bar.
After moving to England I've been dreaming up a recipe for a while, which would hit the spot, as well as doing an extensive research on what would replace Heath or Score bar. Friends, I give you-Daim, the European hero.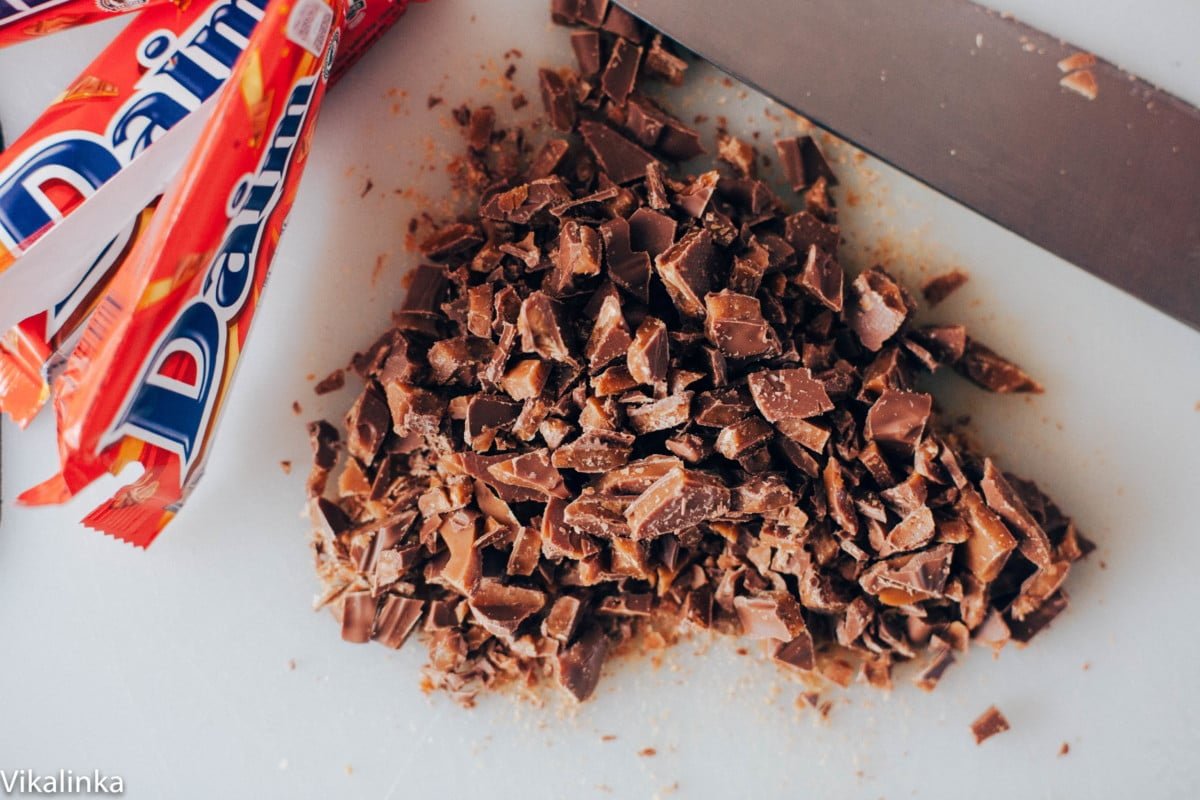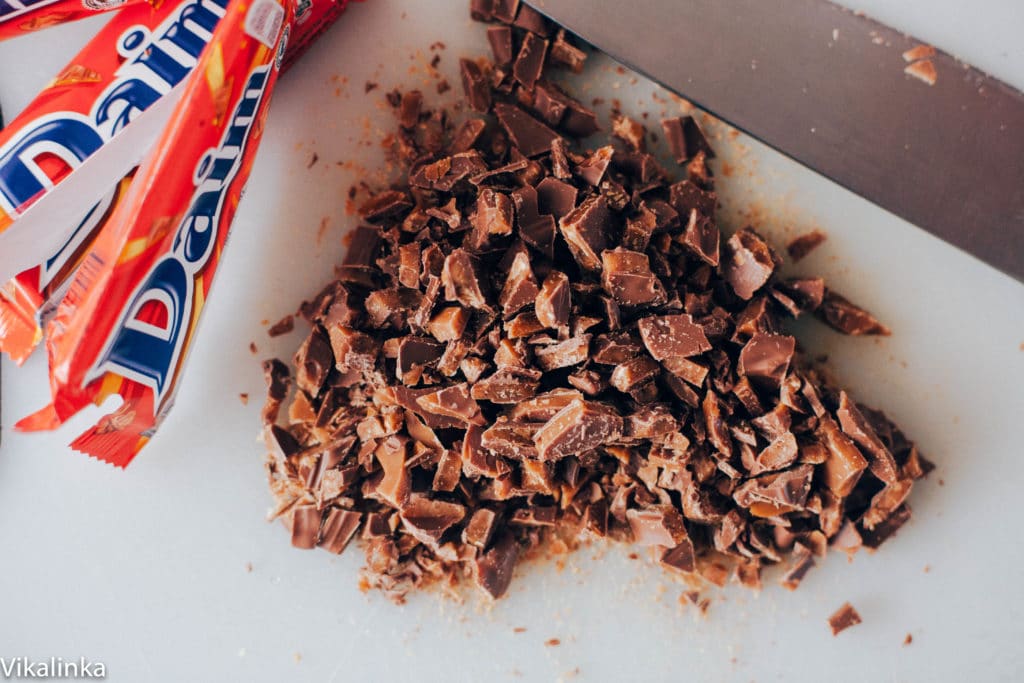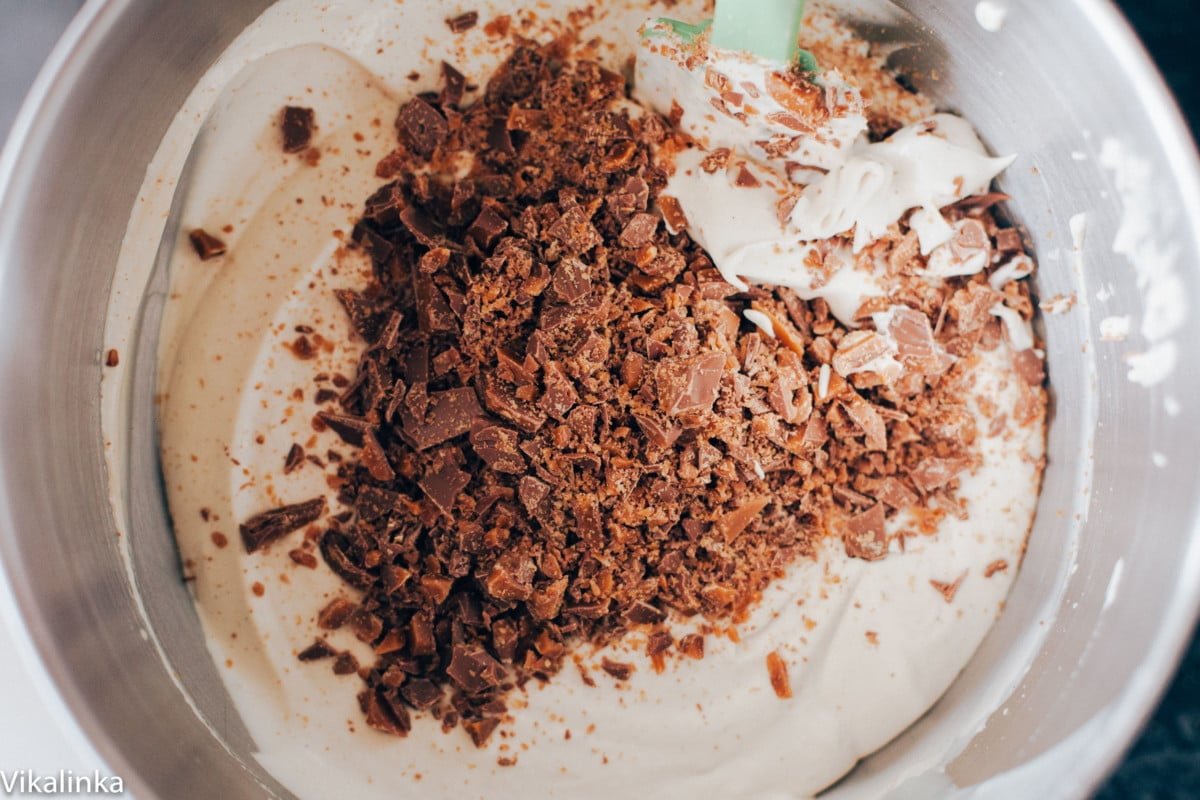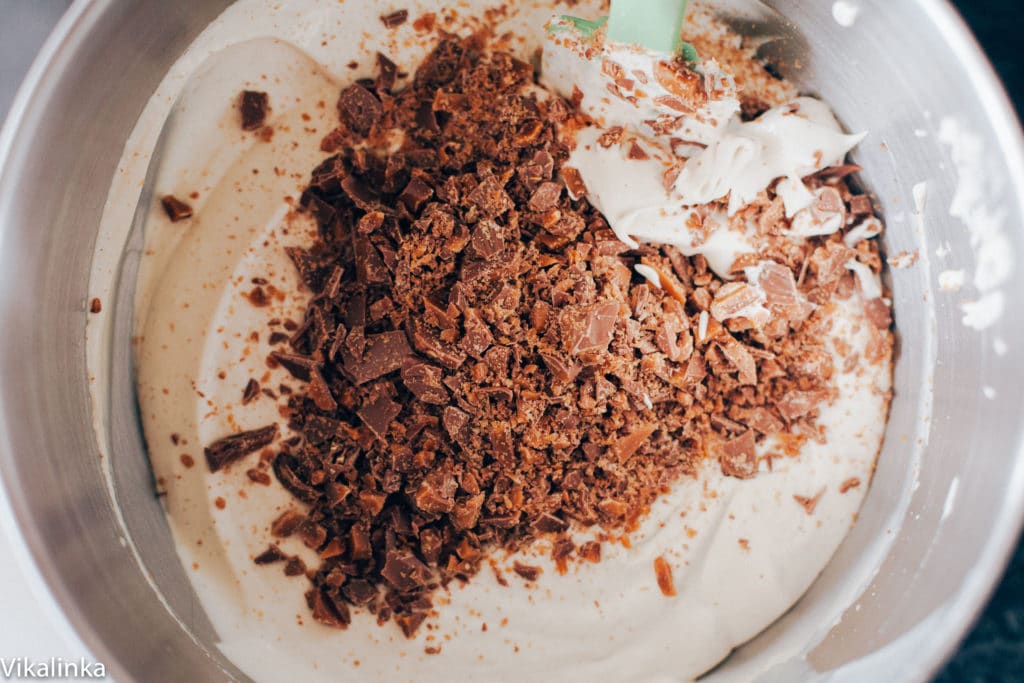 Equally chocolatey, toffee-licious and crunchy Daim bars are, in fact, exact same confection but produced in Europe under another name. Score!! Pardon the pun.
I could have just made a blizzard-type milkshake but what fun is that to just duplicate a recipe, so I went for an ice-cream sandwich because ice cream sandwiches they are so darn cute! I used my favourite no-church ice-cream recipe to fill chocolate covered Digestive biscuits.
You can use any cookie/biscuit you love but I am partial to the digestives; not overly sweet these wheaty crunchers give a perfect balance and never take away from the wonderful flavour of Cappuccino Daim ice cream.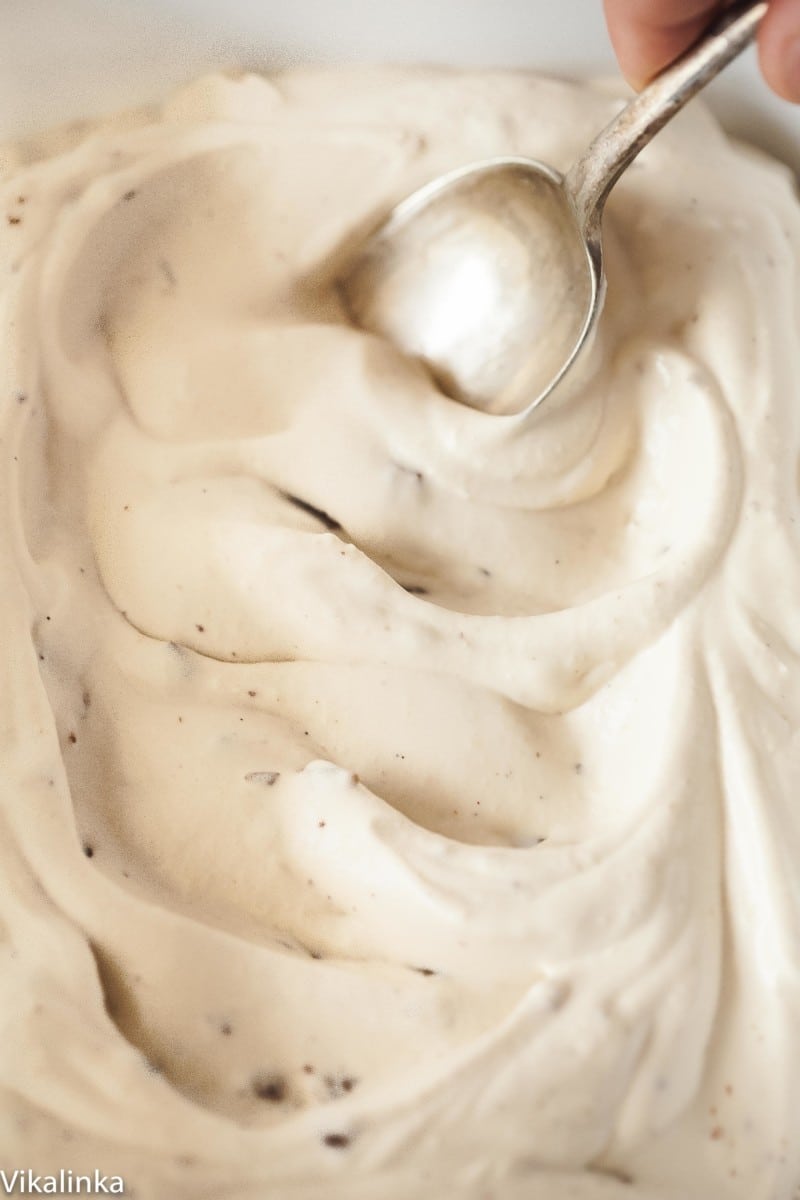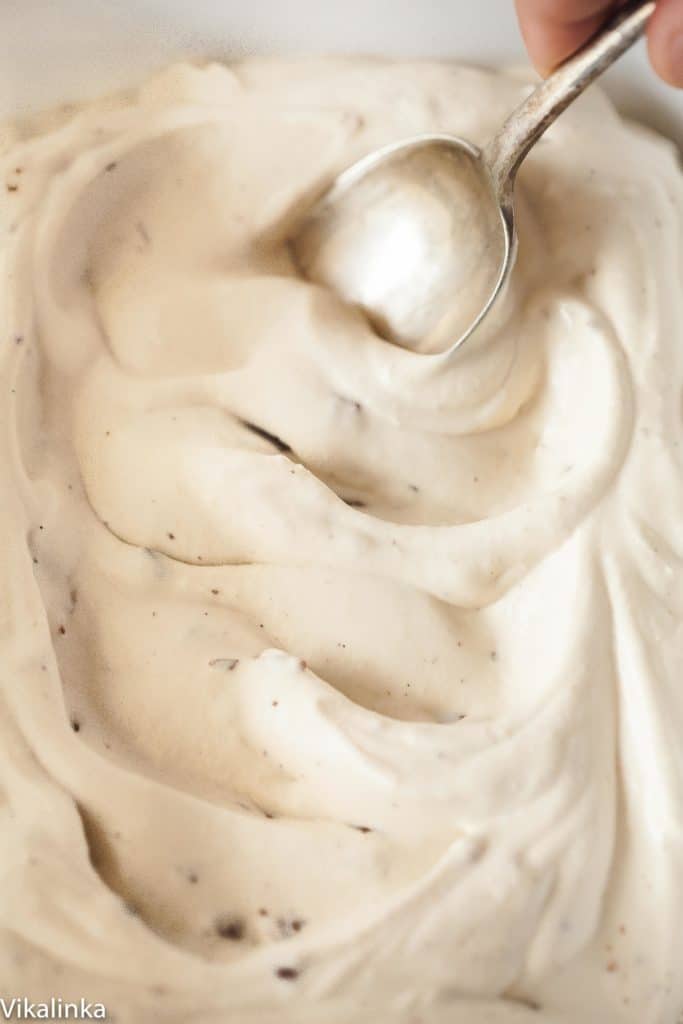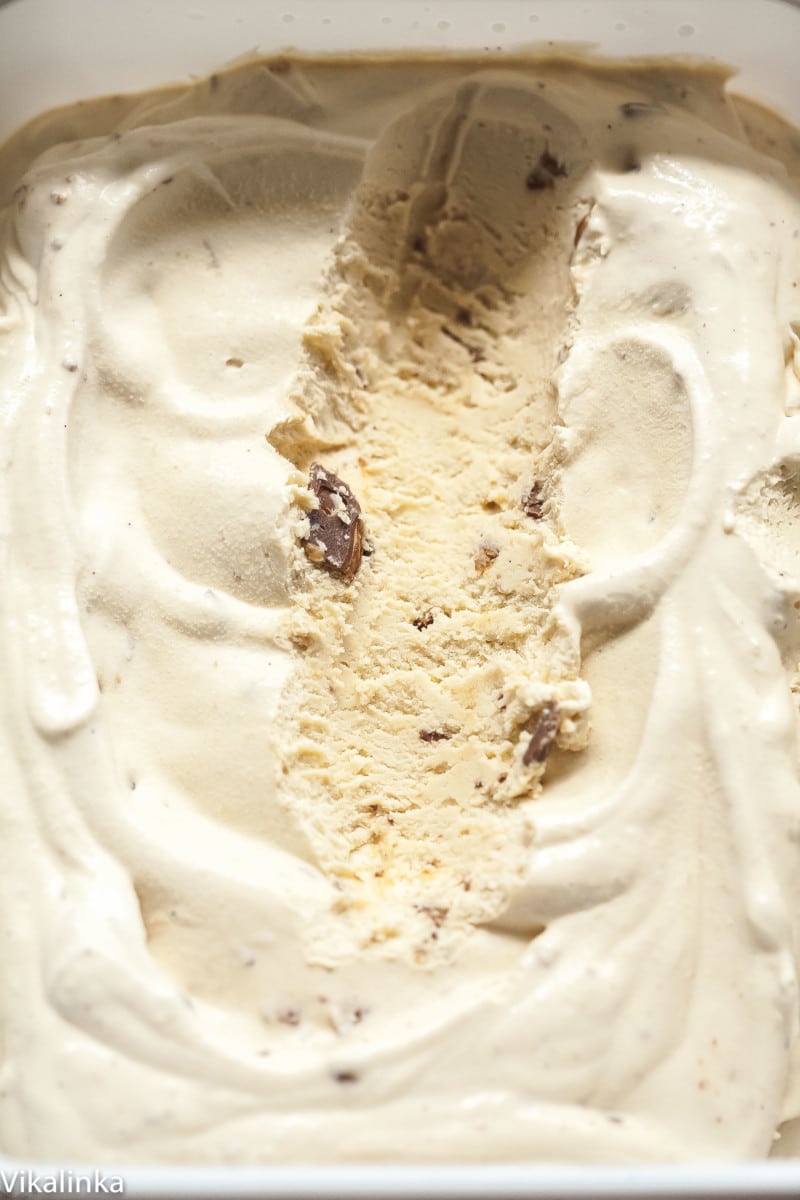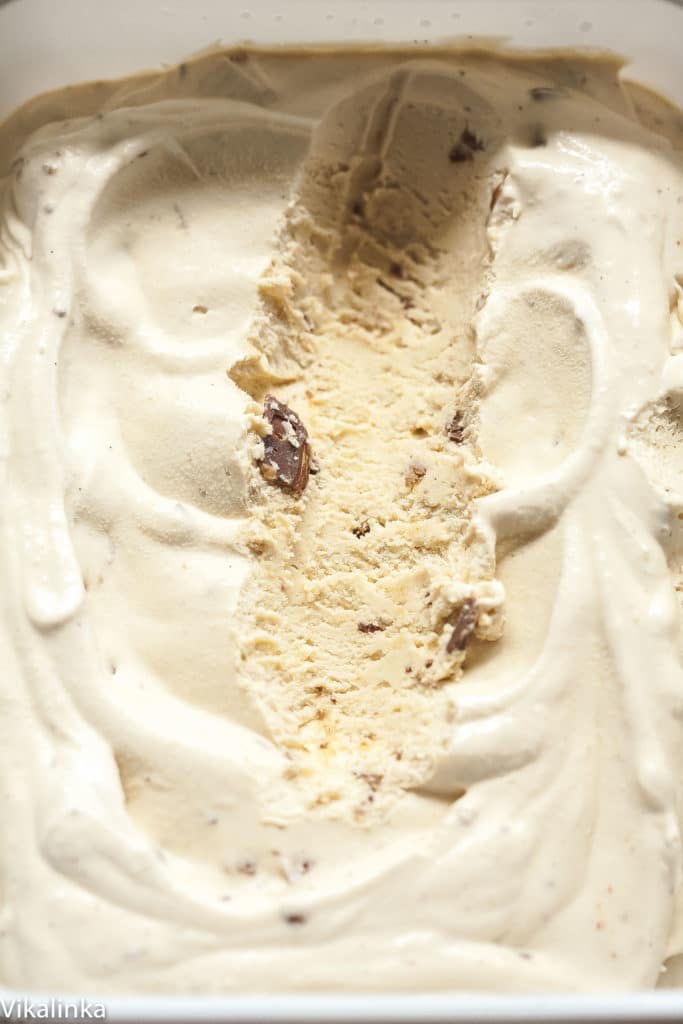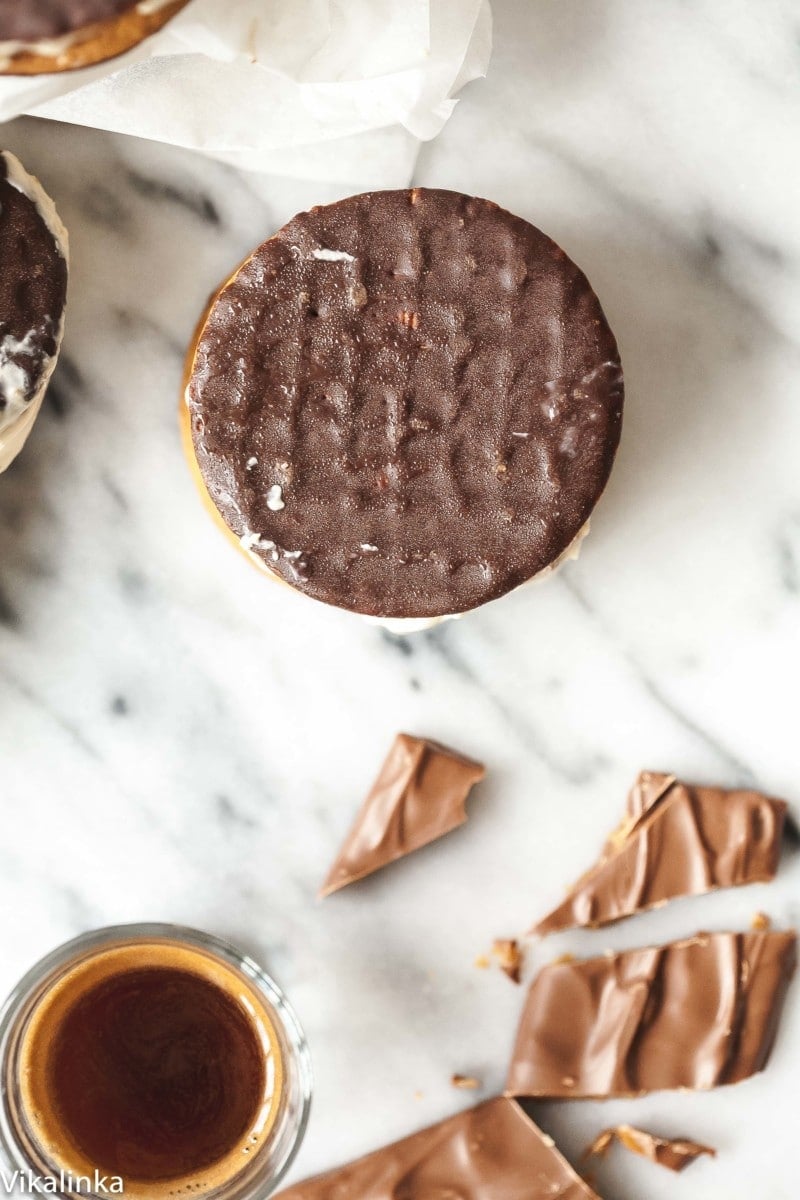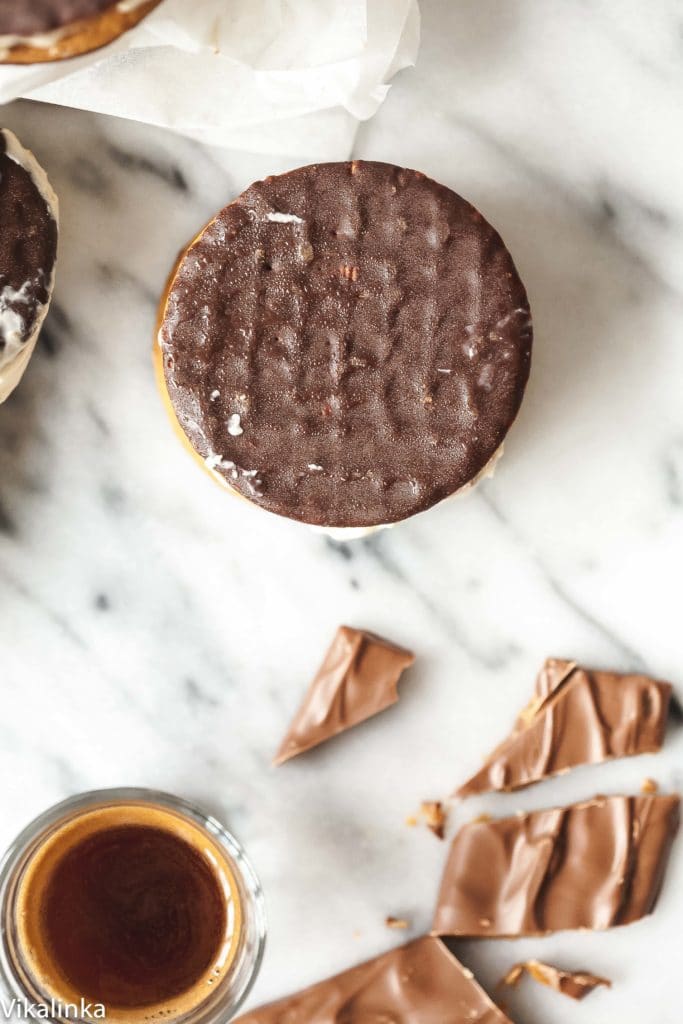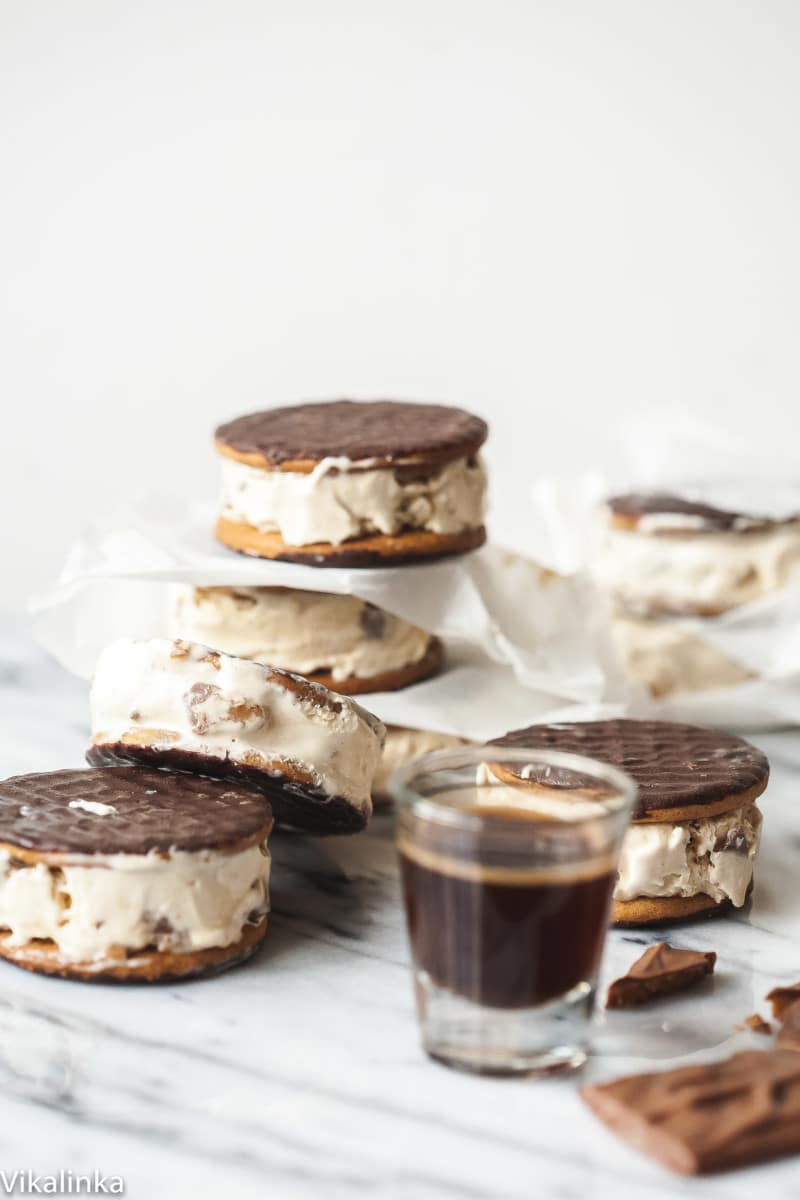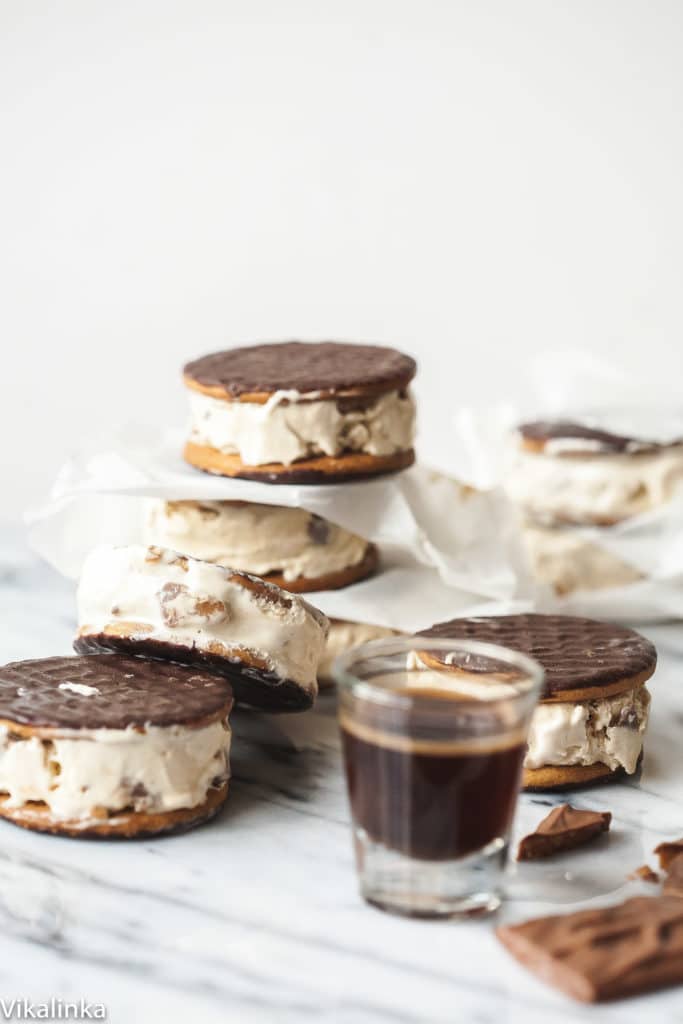 This ice cream sandwich is the ultimate frozen treat. Your whole family will be so impressed! The best thing about them is that you can make them once and keep them in the freezer for whenever you need that sweet fix. They are perfect little bites, so go ahead and indulge without the guilt!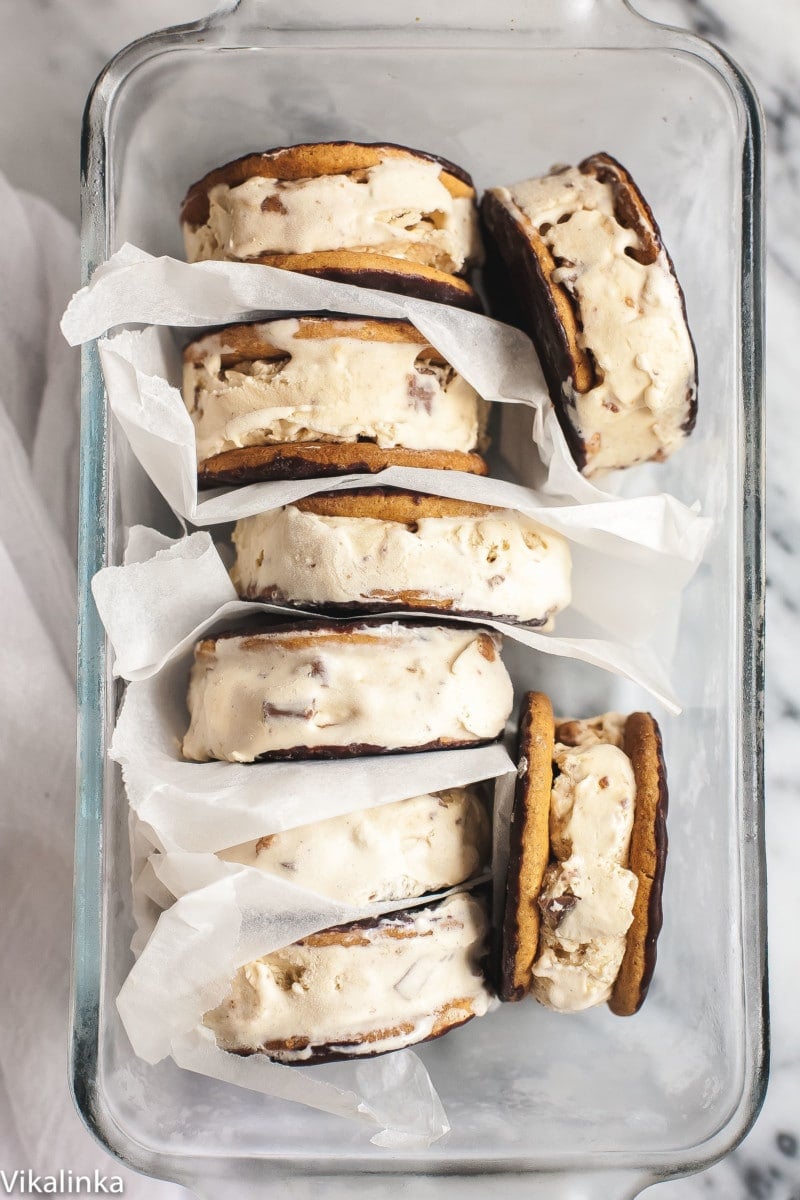 Ingredients
500

ml/ 2 cups-double cream/whipping cream

1

x 395g tin condensed milk

2

tbsp

espresso or instant espresso powder blended with 2 tbsp of water

2

tsp

pure coffee extract

optional

1

tsp

vanilla extract

5

Daim bars

chopped or Heath or Score bars

20

chocolate covered Digestive biscuits
Instructions
Whip double cream with sweet and condensed milk, espresso, and coffee and vanilla extract just until soft peaks form. Don't overbeat, we are not looking for whipped cream here.

Fold in chopped Daim bars with a spatula.

Scrape into a freezer-safe container and cover with a lid or foil. Freeze overnight or at least for 7 hours.

Prior to assembling ice cream sandwiches place biscuits in the freezer to firm up.

To make sandwiches scoop 1/4 cup of ice-cream onto a previously frozen digestive biscuit, top with another one and smooth the sides with a spoon. Repeat with the remaining biscuits and ice-cream.

Put back in the freezer until firm.