These waffle ice cream sandwiches might be a treat for special occasions only but they are still so worth making!!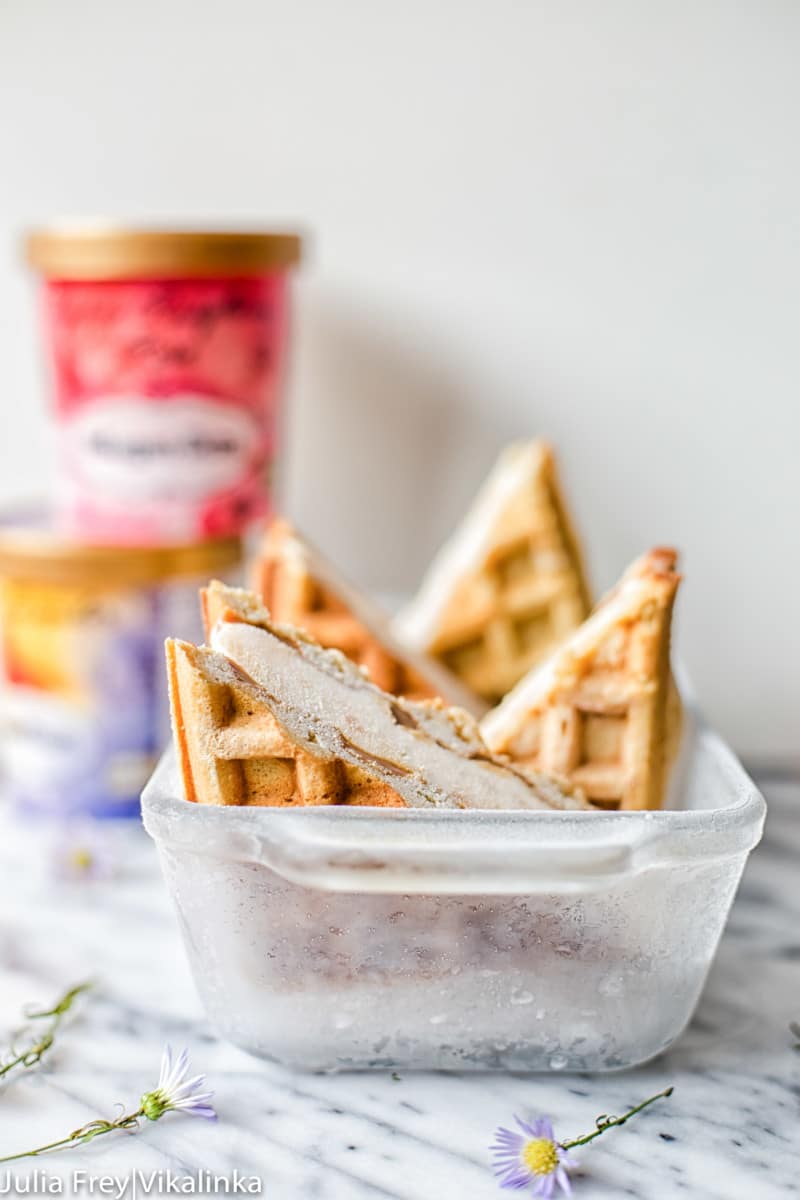 Can you blame me for being super excited for our trip to Rome in a few weeks? I cannot wait for proper pizza and gelato! Speaking of gelato, why is it so crazy delicious over there?!
I've thought on the subject extensively, no joke and came to the conclusion it's all in the flavours. They have amazingly creative flavour combos that are so unusual for us non-Italians!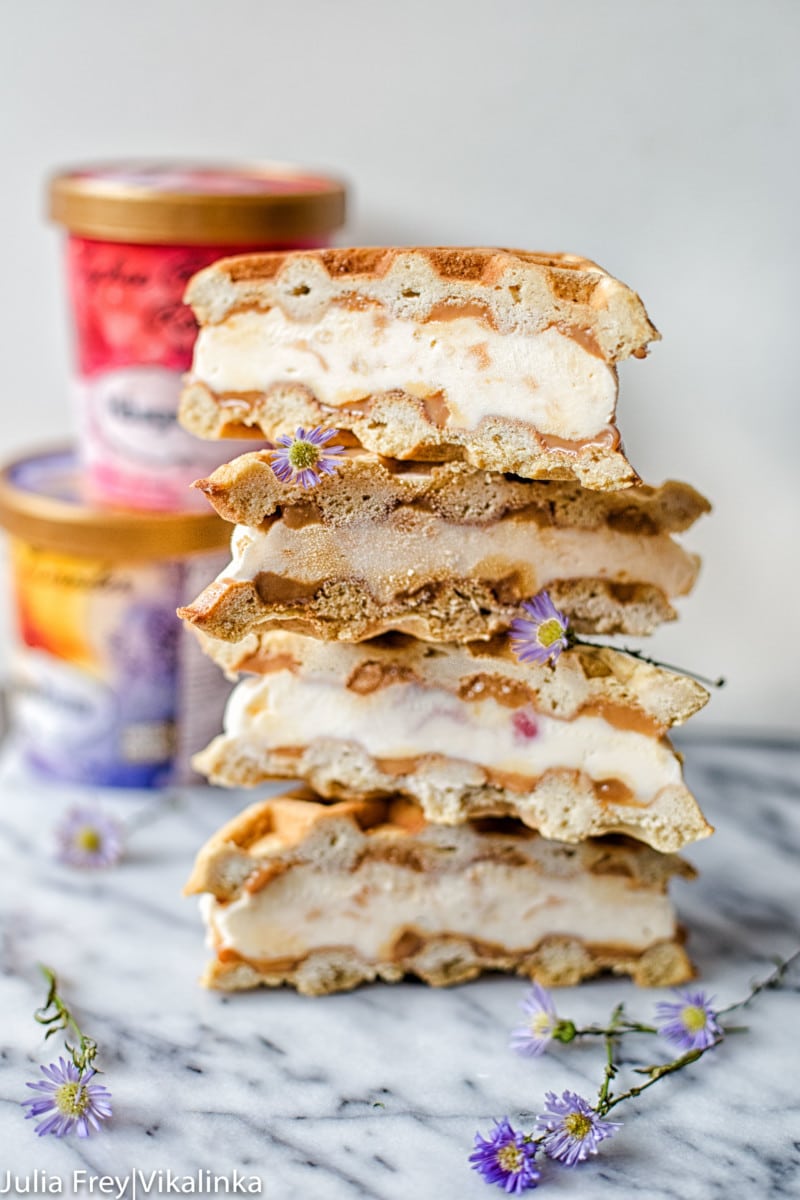 The good news though is that there is something cool happening in our corner of the world as well! I just discovered two delicate and floral new flavours of Häagen-Dazs ice cream.
Häagen-Dazs Lychee Raspberry Rose and Häagen-Dazs Apricot Lavender that are exclusively available in the UK at Liberty London for a limited period from 11th of April to 24th of April, the West End's luxury department store.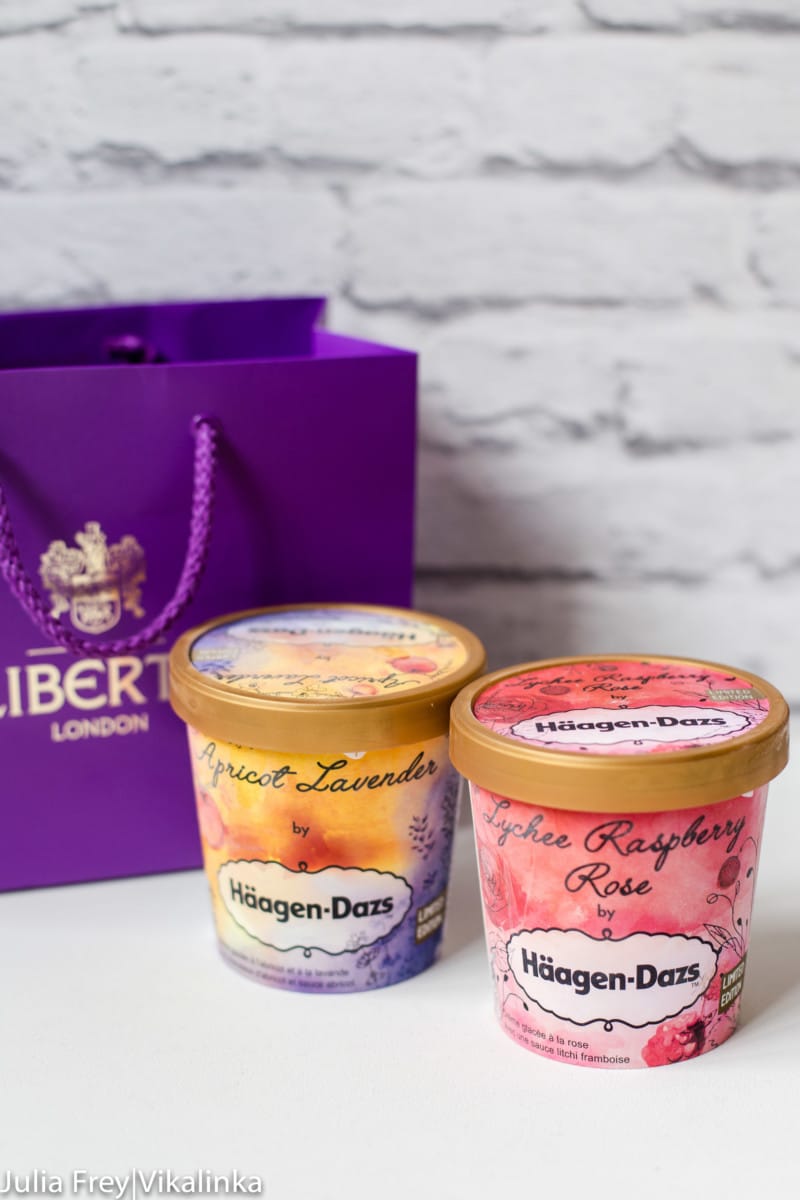 I was very excited when Haagen-Dazs asked me to create a recipe using their new range as I simply love the brand and I was really intrigued by the new flavours.
When I got to taste both of them it was love at first bite; they have such a perfect balance of fruity and floral notes and that is not easy to do.
I've cooked with both lavender and rose water before. It's so easy to go from a dessert to a perfume in a matter of one extra drop!
You might think both ice creams have quite a grown-up and sophisticated taste but surprisingly enough my kids enjoyed them as much as we did!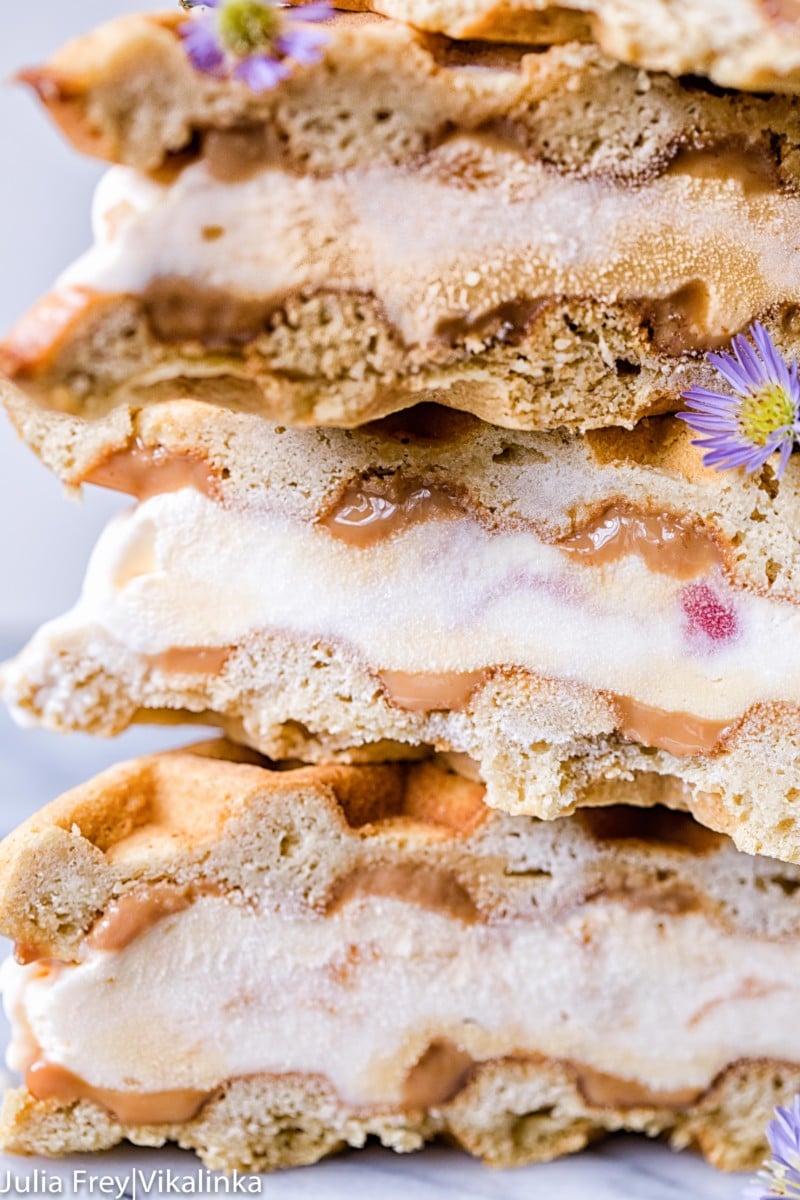 I decided to play on my favourite childhood treat-waffle cone ice cream.
There is just nothing better, especially when the waffles are sweet and buttery and drizzled with just a little bit of dulce de leche to create a barrier between a waffle and ice cream to prevent the waffle from going soggy!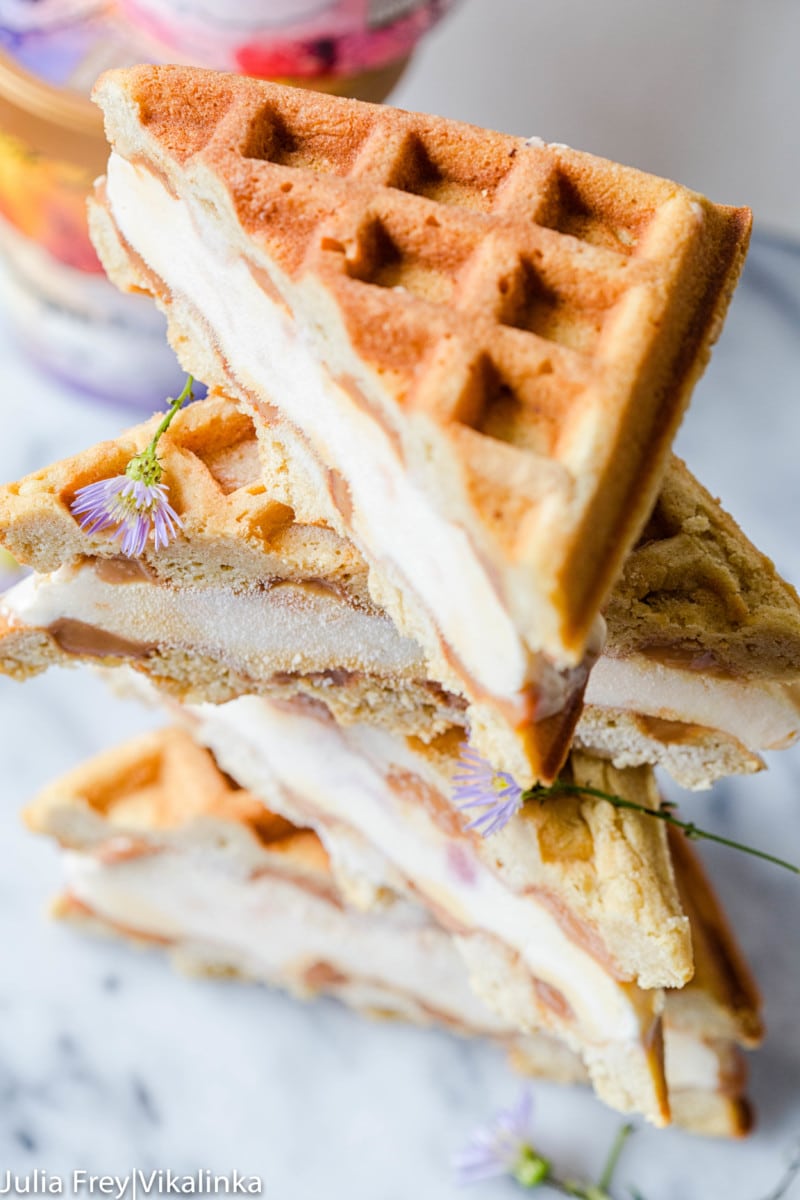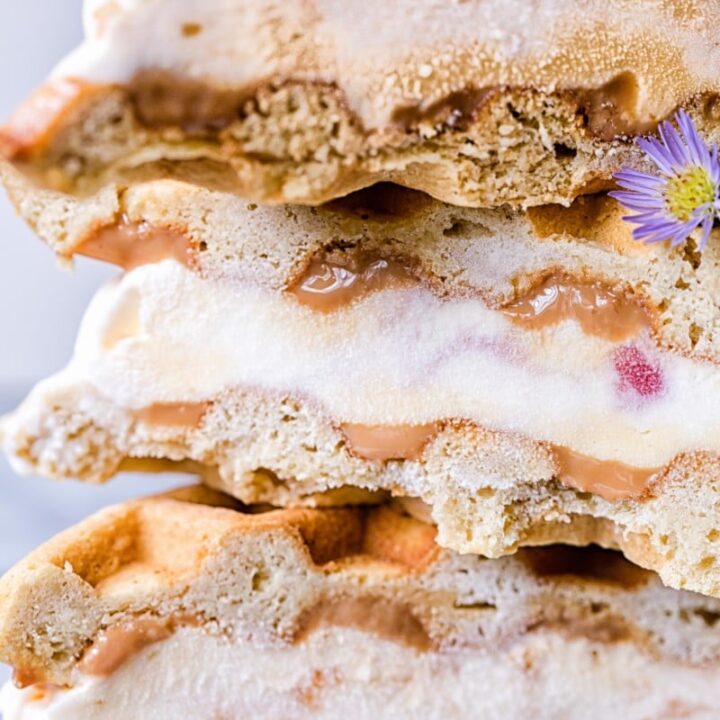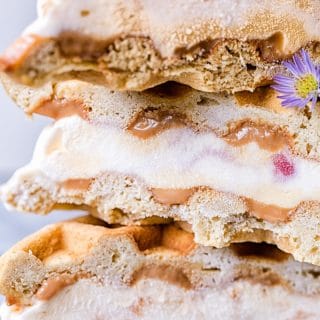 Waffle Ice Cream Sandwiches
Waffle ice cream sandwiches with dulce de leche.
Print
Pin
Rate
Ingredients
For the waffles
2

cups/ 250 g flour

¾

cup/ 150 g sugar

3-½

teaspoons

baking powder

2

large eggs

separated

1 ½

cups/ 625 ml milk

1

cup/ 250 g butter

melted

1

teaspoon

vanilla extract

1

tin/397 g prepared dulce de leche or caramel

I used Carnation brand

1

tub Haagen-Dazs Lychee Raspberry Rose Ice Cream

1

tub Haagen-Dazs Apricot Lavender Ice Cream
Instructions
For the waffles
Separate egg whites from egg yolks.

In a large bowl mix flour, sugar and baking powder.

In another bowl, lightly beat egg yolks. Add milk, butter and vanilla and mix well.

Stir into dry ingredients. Beat egg whites until stiff peaks form with an electric mixer, then fold into batter.

Bake in a preheated waffle maker until golden. Makes approximately 10 dessert waffles.

Cool waffles on a wire rack.
To assemble waffle ice cream sandwiches
When waffles are cooled spread dulce de leche in a thin layer with a knife, then scoop ice cream on a waffle and top with another one. Freeze immediately. Repeat until all waffles are filled and freeze overnight.

Cut waffles in half or quarters. Waffles ice cream sandwiches are best served after they've been out of the freezer for approximately 5-10 minutes.
(This post is sponsored by Haagen-Dasz, all opinions remain my own.)