I am so excited to share this recipe for Autumn Mississippi Mud Pie, which is perfect for a smooth transition from summer into the autumn since it's filled with pumpkin spice latte ice cream!
Get even more fantastic autumn flavour with Pumpkin Spice Syrup!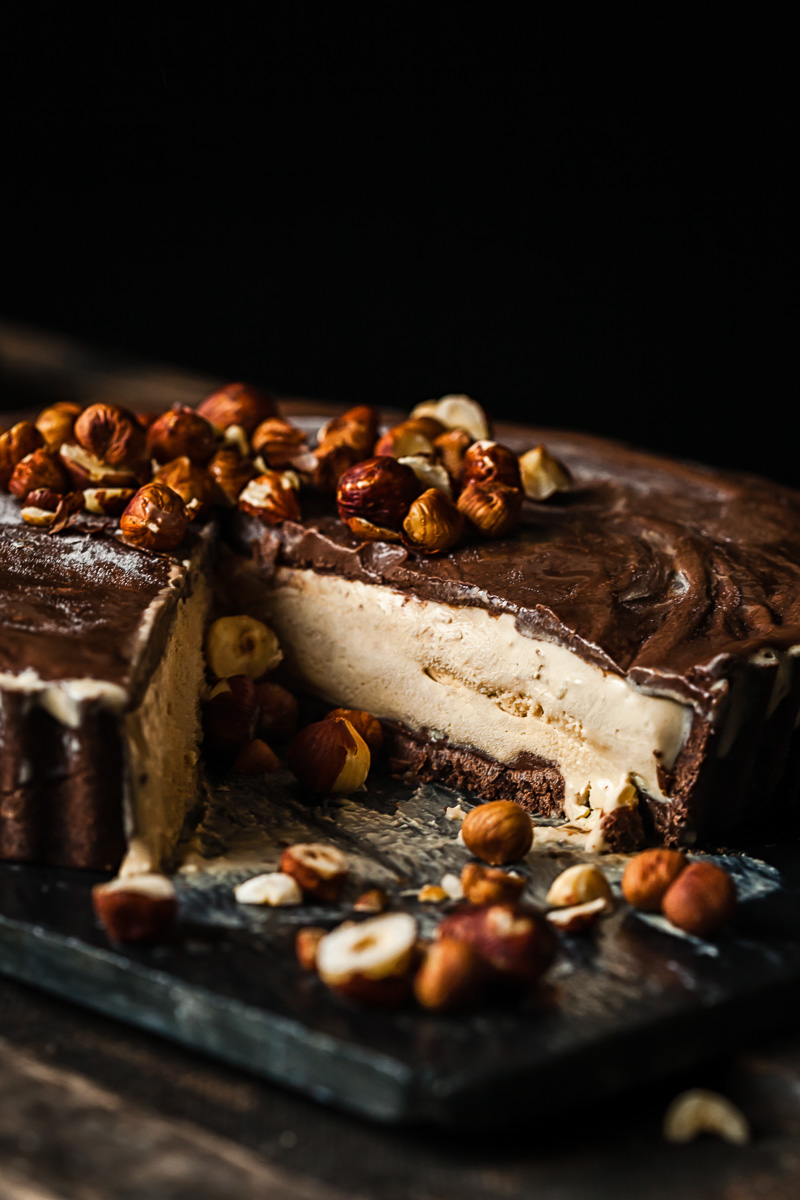 As the seasons change, our food choices change as well. When it is time for our dessert course, we can say goodbye to summer treats covered in fresh berries and welcome true decadence!
This Autumn Mississippi Mud Pie is just right for the change of seasons. But be warned: it is a dangerously addictive dessert, plus over the top indulgent!
Even though Mississippi Mud Pie is a fairly recent invention, it has already become an absolute legend. I start craving it even at the sheer memory of the sweet, smooth, crumbly, crunchy and all around delicious Mississippi Mud Pie.
If you've had one you will instantly start nodding your heads in agreement, but wait till I tell you what I've done to the original recipe.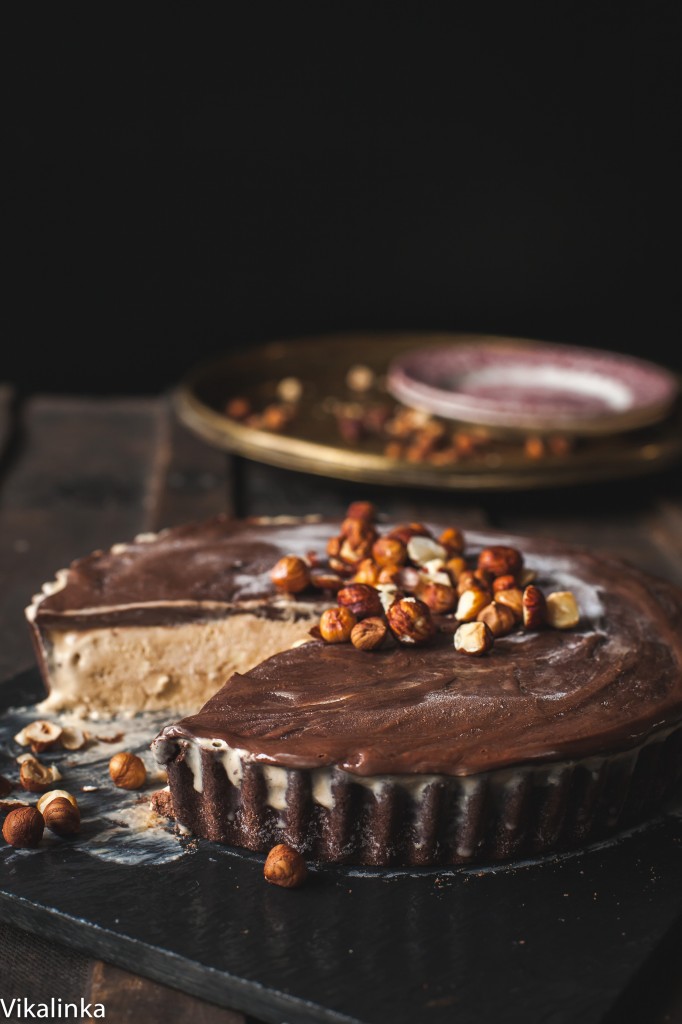 Mississippi mud pie recipe
For it to be really fit for autumn, this pie needs to have the perfect flavours to enjoy with cooling days and falling leaves. It just has to be pumpkin spice!
What do I do? I make Pumpkin Spice Latte Ice Cream! Then I throw white chocolate chunks in.
But as you have probably guessed that was so not the end of the story. I really wanted to create the epitome of decadence, and American desserts is where decadence abounds. No stops there. None.
The Mississippi Mud Pies I remember from my college days stand out as very tasty and also extremely sweet. I've built off that with a version that is quite a bit different and adapted to my grown-up taste.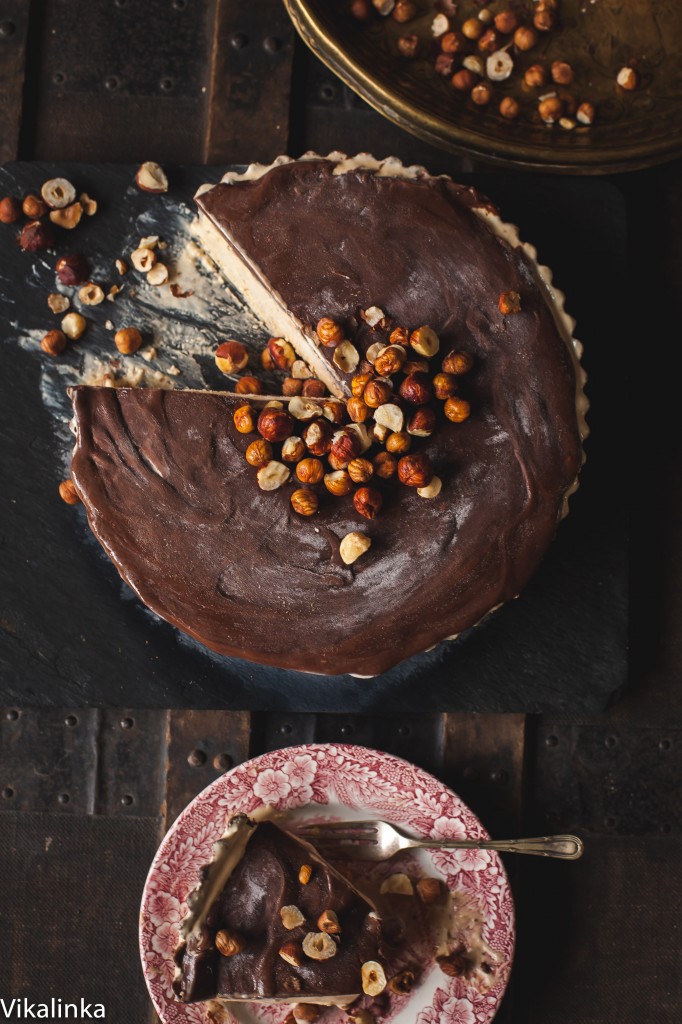 The pie starts with a chocolate crust, which then layered with chocolate ganache, then filled with no churn pumpkin spice latte ice cream with white chocolate chunks.
But one of the reasons people crave Mud Pies like they do is because of the fantastic quantities of chocolate. So we need to cover it with another layer of chocolate ganache and sprinkle with toasted hazelnuts. Done!
What sold me on this dessert is that pumpkin spice latte ice cream offsets the sweetness of the chocolate and creates the perfect balance. In the end, it didn't taste overly sweet but it did taste luxurious!
The biggest surprise was that my kids were as excited by this mud pie as much as the adults. I thought I was making a dessert for the adults, but even the coffee and nuts wouldn't dissuade them!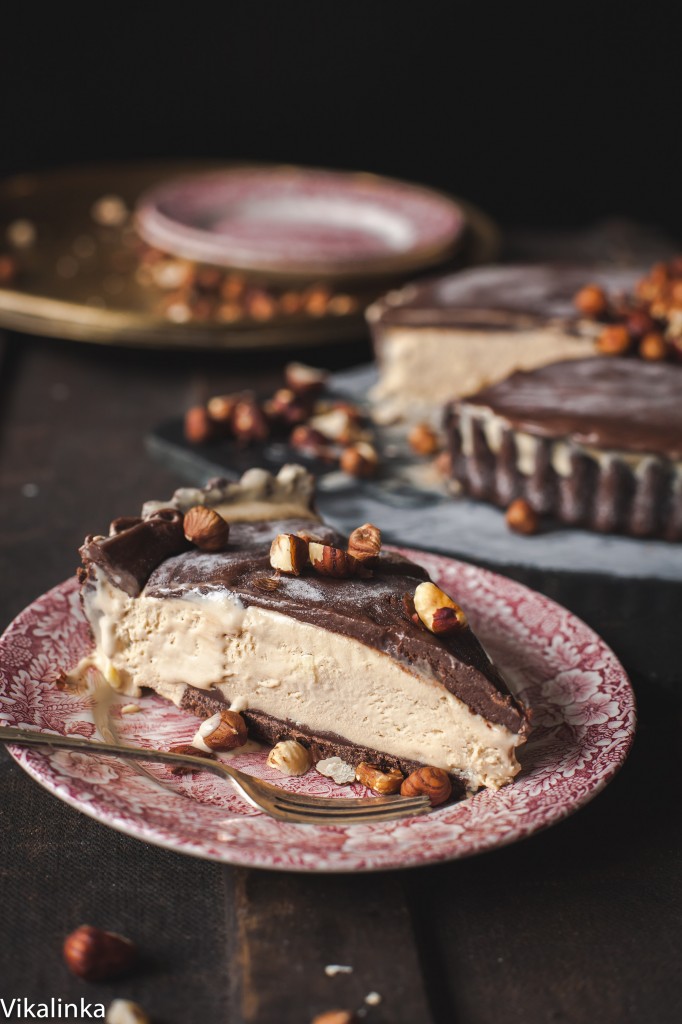 Pumpkin spice ice cream
Pumpkin spice flavours have really become synonymous with autumn. The first hint of the familiar aroma is a sure sign that colder seasons are upon us.
I've enjoyed integrating pumpkin spice in a lot of different recipes, including chocolate cake and cupcakes. The opportunity to add it to the deep chocolate and toasted hazelnuts was just to tempting to ignore!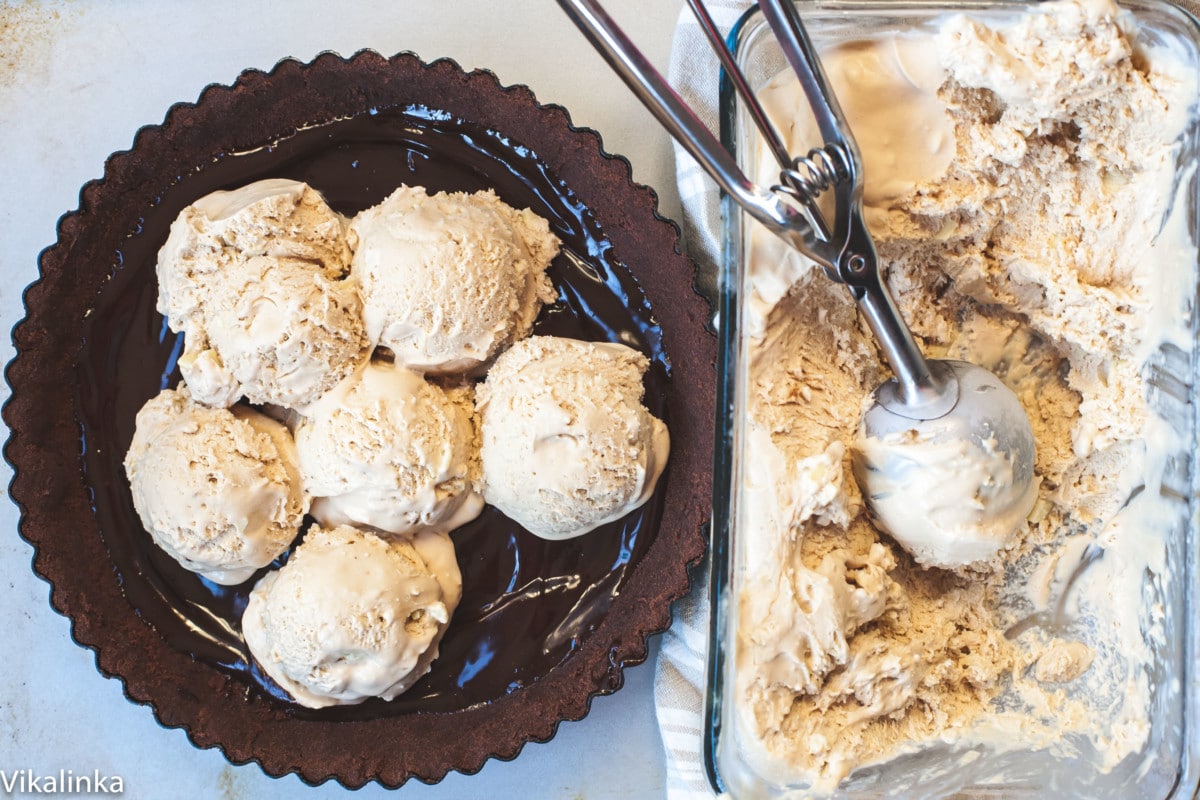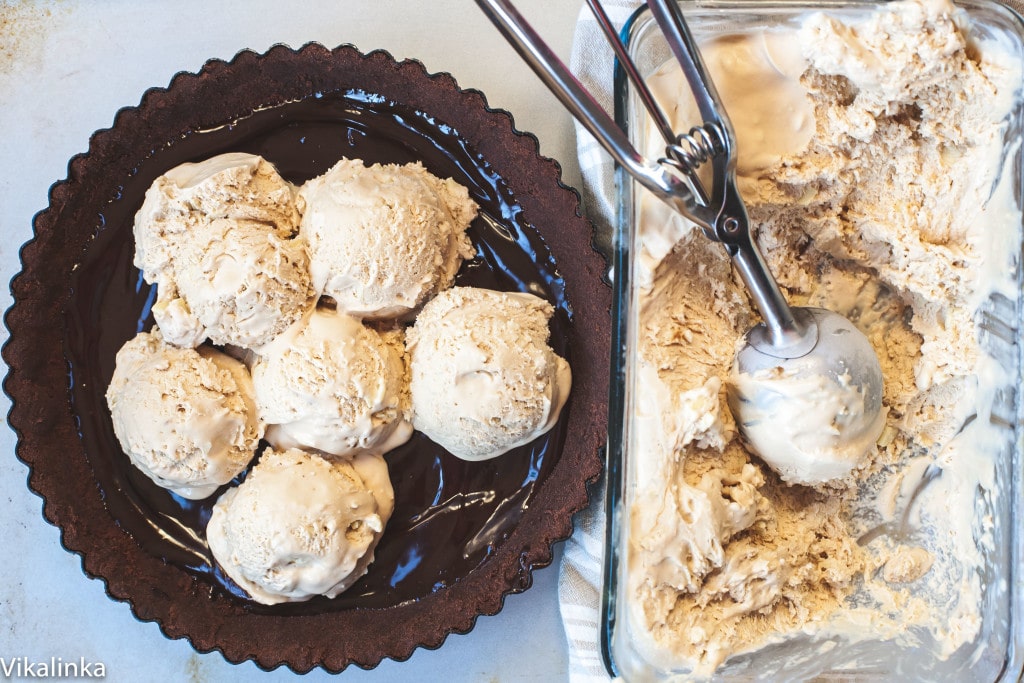 Although this ice cream is a delight in this mud pie recipe it will work a dream elsewhere as well. Reaching for ice cream may not be the first thing you think of when the colder seasons arrive, but the flavours here may change your mind!
The method is very simple, and one that I have used elsewhere. While an electric mixer will make it even easier to make, it is absolutely possible to make smooth, creamy ice cream by hand!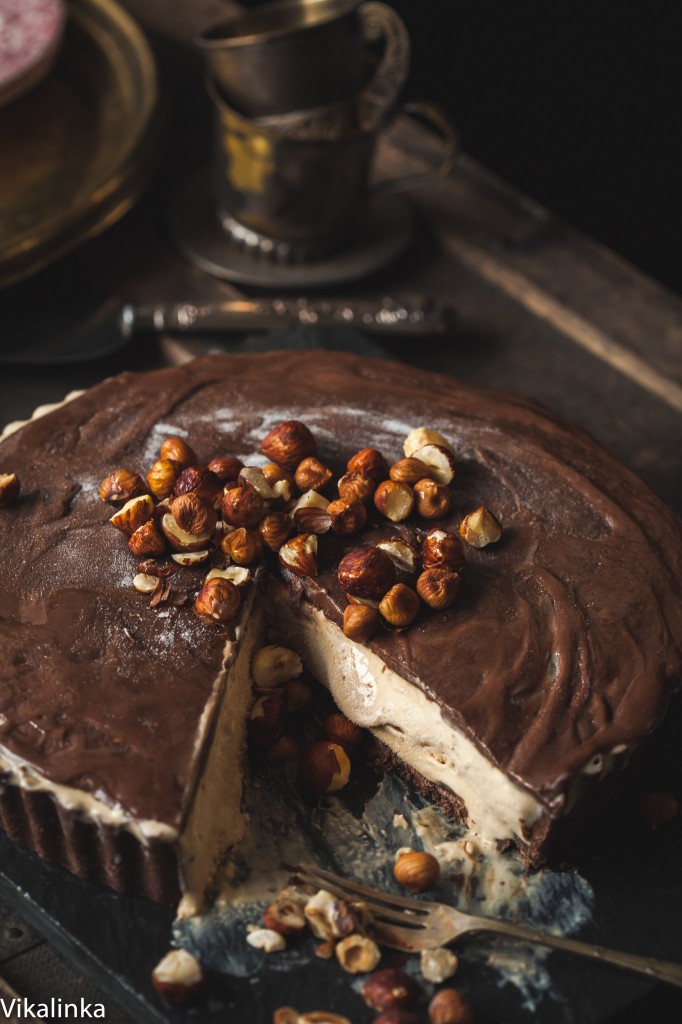 Recipe tips and tricks
The liqueur can be omitted from the pumpkin spice ice cream, but this will result in a texture that is less smooth. The small amount of alcohol prevents ice crystals from forming as the ice cream settles, and is not enough to make the ice cream taste alcoholic.
This recipe is not too complicated but requires time for ice cream to freeze and solidify. Start making a day in advance to allow enough freezer time. An additional hour will also be needed during assembly for the ice cream to settle in the tart shell, plus 30 minutes for the ganache.
Other ice cream flavours can be used in place of pumpkin spice. Coffee or chocolate ice cream in particular will be good substitutes.
More chocolate desserts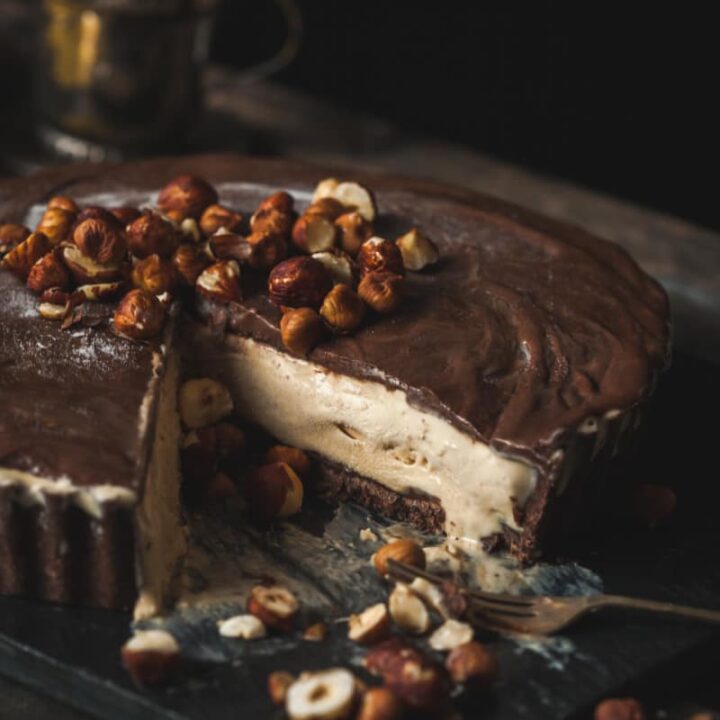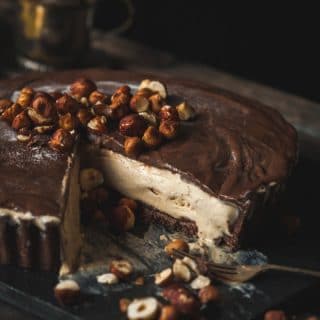 Autumn Mississippi Mud Pie
Frozen Autumn Mississippi Mud Pie filled with pumpkin spice latte ice cream with white chocolate chunks.
Ingredients
For the ice cream
250ml/1 cup

double cream/whipping cream

400ml/14 oz

sweetened condensed milk

1

tsp

vanilla

4

tbsp

vanilla or coffee flavoured liqueur

2

packets instant Pumpkin Spice Latte powder like Starbucks VIA or instant coffee

100g/3.5 oz

white chocolate

chopped
For the tart
6

tbsp

cold butter

cut into small pieces

170g/1 ⅔ cup

plain flour

4

tbsp

cocoa powder

100g/1/2 cup

dark brown sugar
For the ganache
150g/5oz

dark chocolate

150ml/1/2 cup+2 tbsp

double/whipping cream

3

tbsp

golden syrup

optional

80g/1/2 cup

toasted hazelnuts
Instructions
Make your ice cream the night before. In a large bowl combine double/whipping cream, sweetened condensed milk, vanilla, vanilla or coffee liqueur and instant coffee. (Alcohol prevents ice crystal from forming. You can omit it but you will sacrifice the smooth and silky texture of your ice cream. The final product does not taste alcoholic.)

Whip until light and fluffy but not stiff. Fold in white chocolate chunks with a spatula. Put in a freezable container, cover and freeze overnight.

Preheat the oven to 350F/180C. Rub the butter, flour, cocoa powder and dark brown sugar together until they resemble chocolate sand.

Press into the base and sides of a loose-bottomed 9 inch tart tin. Cover with a piece of parchment paper and weigh down with baking beans. Bake for 8-10 minutes until just set. Remove the paper and baking beans and cool on a rack, still in the tin.

Make the ganache by heating double/whipping cream until just boils, take off the heat and add chopped chocolate, let sit for a couple of minutes, then stir until combined, add corn syrup and blend well.

Spread half of the ganache on the bottom of the chocolate tart, let it set for 20 minutes. Fill the tart with slightly softened ice cream, cover with plastic wrap and put it in the freezer for 1 hour.

Spread the remaining ganache on the firm ice cream and put it back in the freezer for 30 minutes. (If your ganache is not spreadable, heat it in the microwave for 30 seconds, then stir.) Then take it out, cover it with a plastic wrap and let it freeze overnight.

Toast hazelnuts in a dry frying pan for 10 minutes stirring frequently. Scatter toasted hazelnuts before serving.
Notes
You can use prepared coffee or chocolate ice cream.
Nutrition
Calories:
811
kcal
Carbohydrates:
82
g
Protein:
11
g
Fat:
49
g
Saturated Fat:
27
g
Cholesterol:
111
mg
Sodium:
177
mg
Potassium:
521
mg
Fiber:
4
g
Sugar:
60
g
Vitamin A:
1138
IU
Vitamin C:
2
mg
Calcium:
241
mg
Iron:
4
mg