These cupcakes were born out of my never ending longing for Starbucks Pumpkin Spice Lattes that were not available in England last autumn. I've moved so many times in my life that I've developed a certain strategy by now. My way of coping with the change is to bring as many familiar things into my life as possible to alleviate the stress of it for a time until I no longer need them.
Pumpkin Spice Latte Cupcakes were a result of one of my experiments in the kitchen that worked well the first time. I love when that happens! In this case I combined two recipes- my favourite Pumpkin Muffin recipe that was given to me by a dear friend Barbara from my church in Canada and the icing came from Sweetapolita's Vanilla Bean Latte Cake. Well, let's jump to it.
Cupcake Recipe
Ingredients:
4 ½ c. flour
3 tsp. baking powder
2 tsp. baking soda
1 ½ tsp. salt
3 tsp. cinnamon and 1tsp. mixed pumpkin spice(nutmeg, cloves, ginger)
2 ¼ c oil
3 c. white sugar
6 eggs
1 large can 28 oz of pumpkin pure or use your own as I did
Directions:
Mix first 5 ingredients, add next 3, than the last one.
Bake at 325 F/160C for 25-30 min.
Easy peazy lemon squeezy. Please, don't judge me for saying that but when you are a mom of two primary school children a lot of unnecessary stuff is rattling in your brain!
Swiss Meringue Buttercream
Right, this particular Buttercream recipe takes longer than the traditional American Buttercream but has much superior taste, so for me it's worth the effort. Don't be intimidated to attempt it, especially if you have a stand mixer like KitchenAid or any other brand-the machine is practically doing it for you!
Ingredients:
6 large egg whites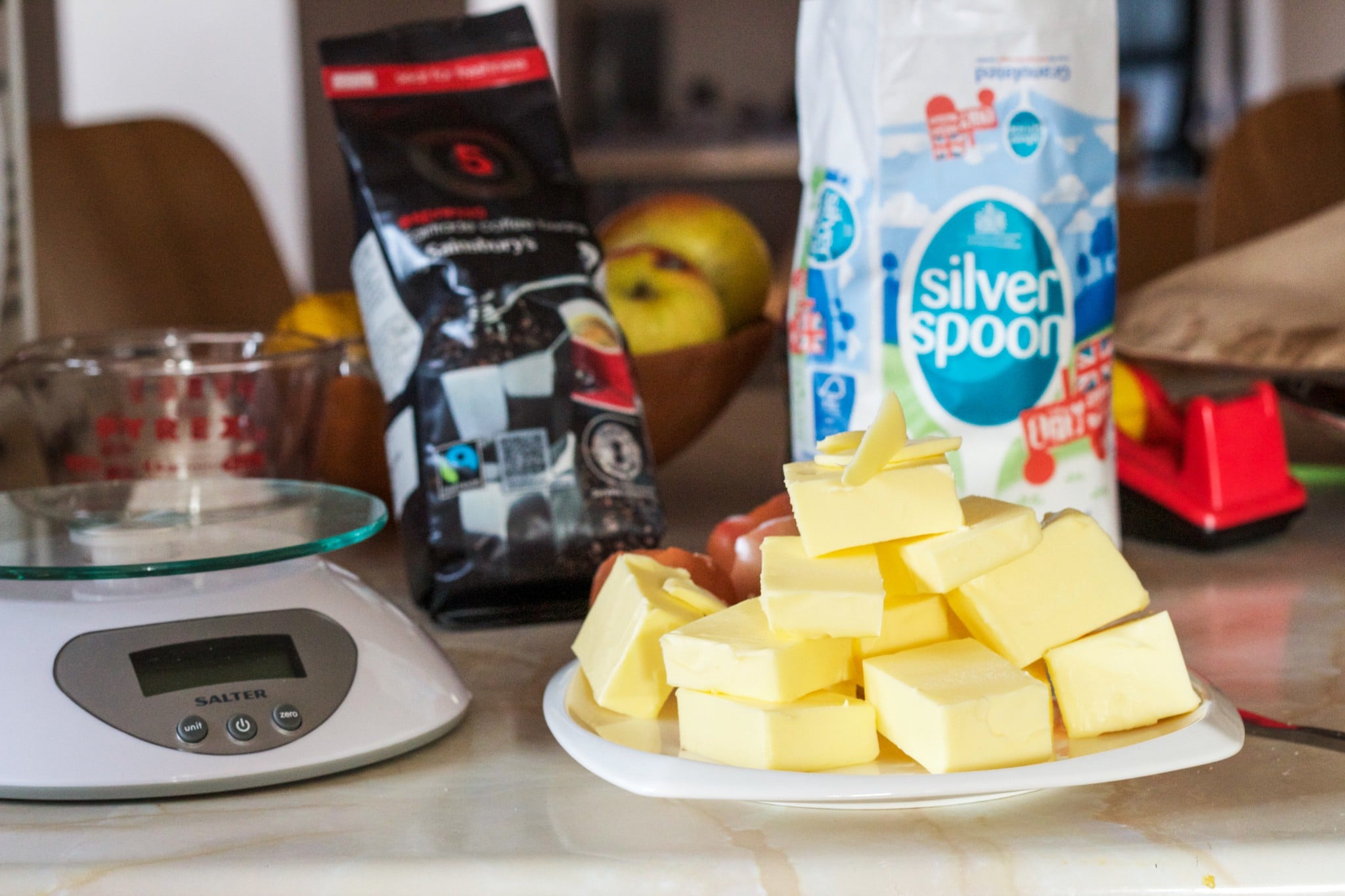 1 cup (200 g) granulated sugar
1-½ cups(340 g) unsalted butter, softened but cool, cut into cubes
1 teaspoon (5 ml) pure vanilla extract
1 tablespoon instant coffee powder dissolved into 1 teaspoon boiling water
Pinch of salt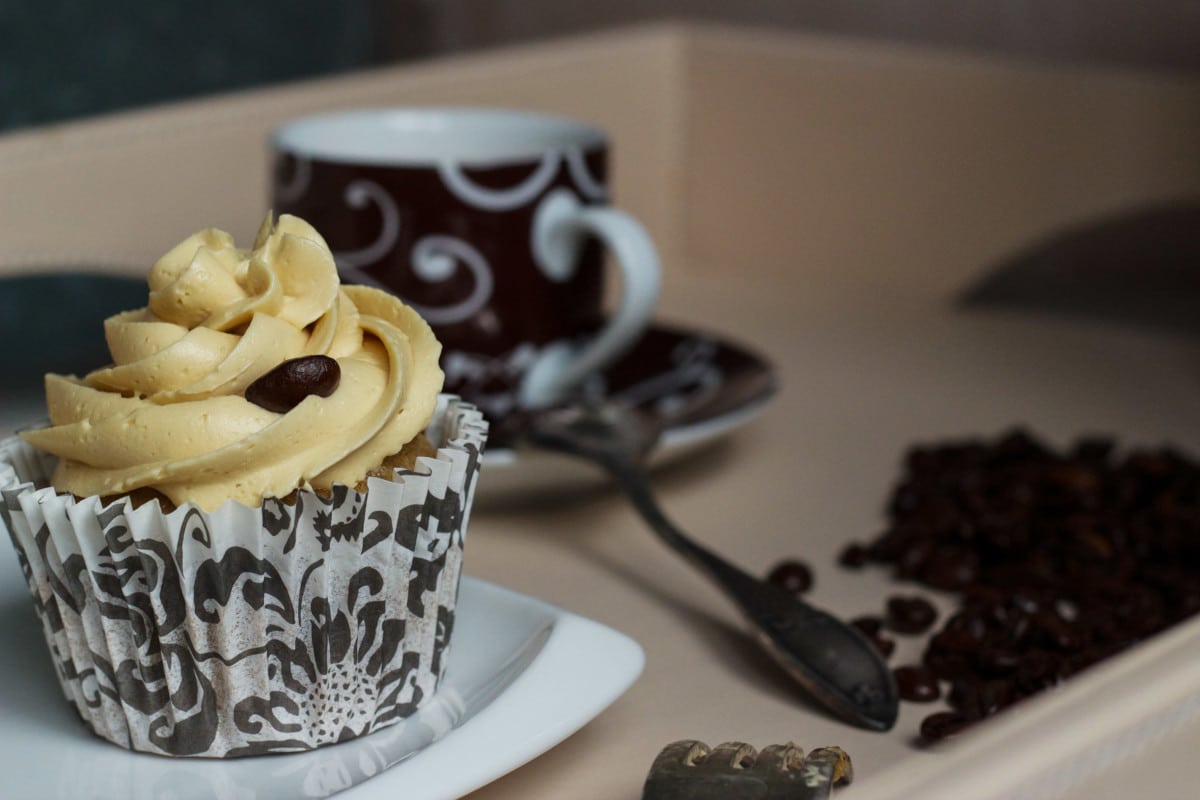 Directions:
Cut your butter into cubes and set aside. Clean your mixing bowl very well making sure there are no traces of grease left on it from previous use. I wiped it and the beater with a bit of lemon juice. Separate the egg whites from the egg yolks (refrigerate the yolks for another day in the kitchen). Set a large pot about ⅓ full of water on the stove on medium heat. Combine egg whites and sugar in your mixing bowl with a whisk and set the bowl inside the pot of simmering water to create a double boiler. Heat the mixture while constantly whisking it. I am serious about the word "constantly". Do not walk away from it under any circumstances or you will boil your egg whites. Continue whisking until the sugar is dissolved and the mixture is hot.
Take the bowl out of the pot and start whisking the eggs whites with a whisk attachment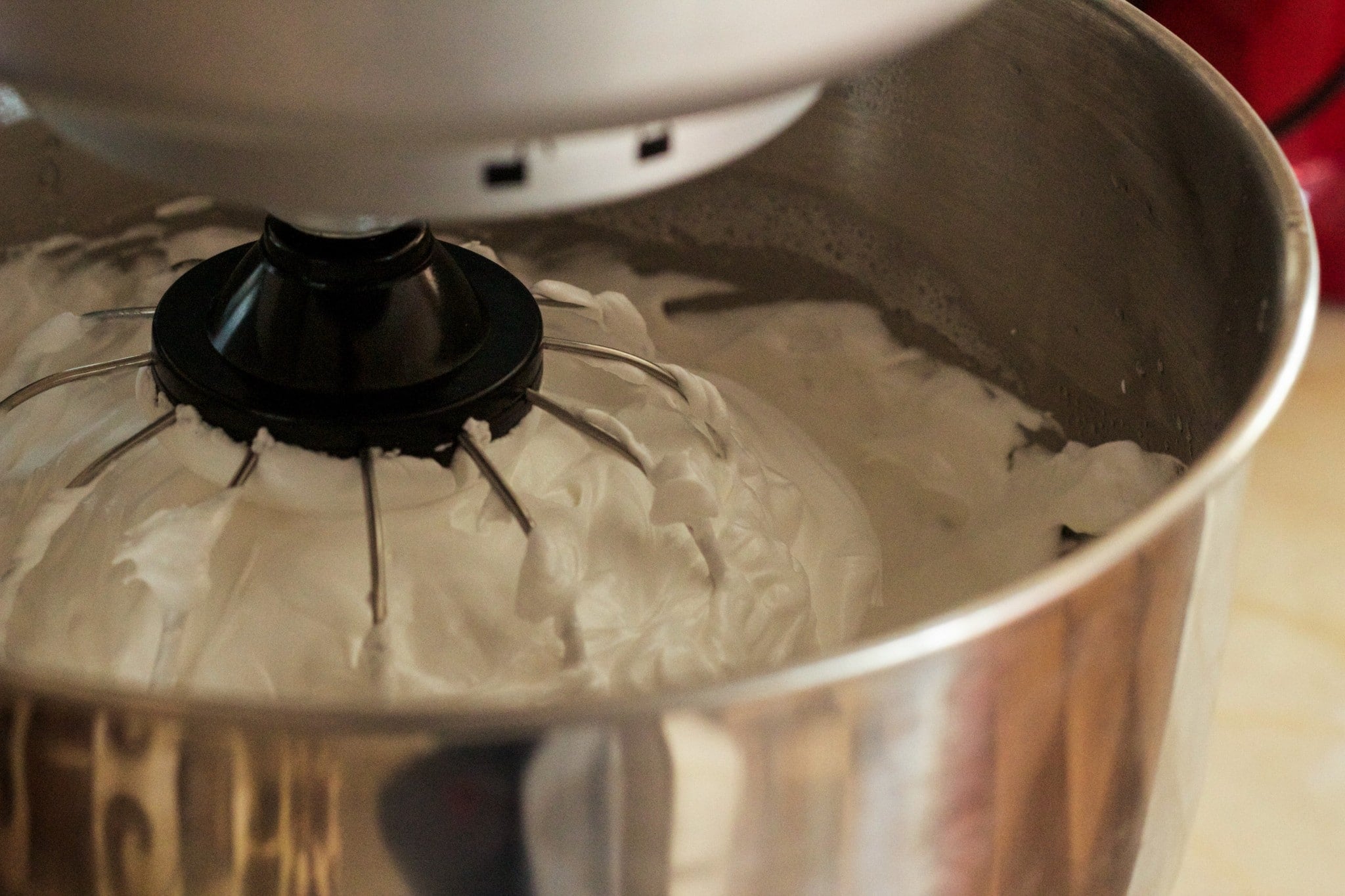 until the mixture is no longer warm and looks thick and glossy. It will take about 10 minutes. And will look like this. The next step is combining the meringue with butter but don't start putting butter yet if your bowl is still warm to the touch.
Switch to a paddle attachment and start adding your cubes of butter one at a time and continue beating until each cube is fully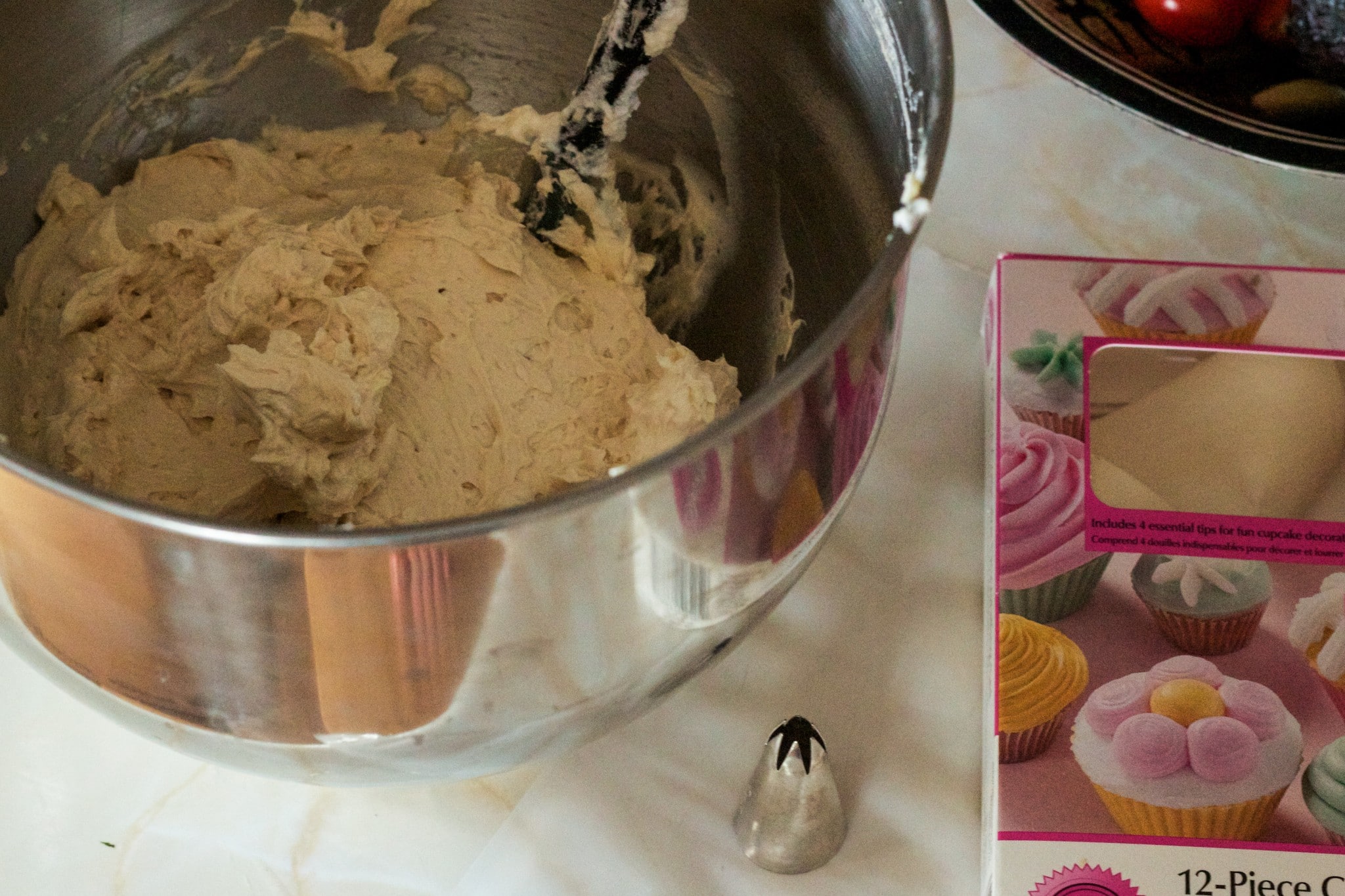 incorporated. Add your vanilla and coffee flavour last. Now I have heard many times that at this point in the process your buttercream might curdle but because it never happened to me I thought that the people just didn't follow the directions properly! Well, it curdled today but I knew that I just had to keep beating and it would come back together. I beat and beat and beat and then beat some more. Then I switched to a whisk attachment and continued beating because the icing would just not submit! In the end I conquered it and the awful cottage cheese like icing turned into fluffy, silky and delicious!
Pipe your beautiful Buttercream on the cupcakes using a star tip and decorate with a coffee bean or however your creativity inspires you.
A perfect treat for this November day. I do hope you will give these cupcakes a try.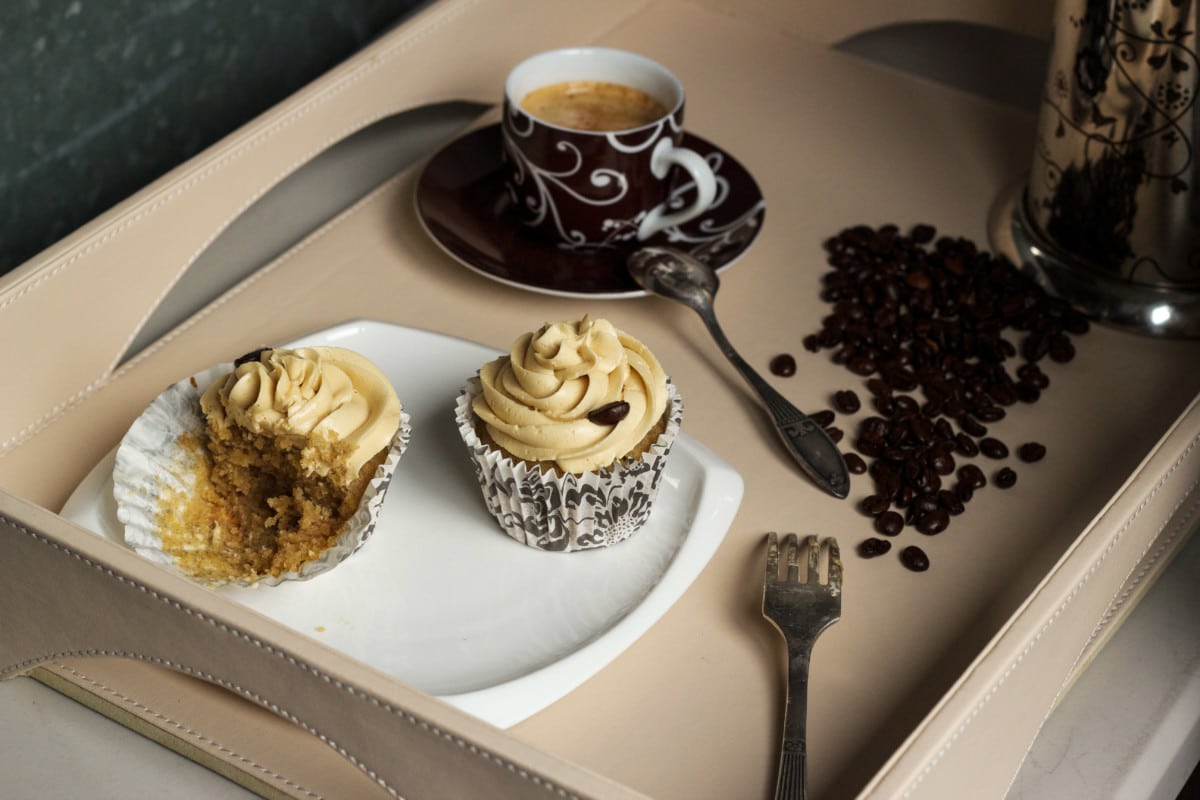 If you really would rather not spend the time making Swiss Meringue Buttercream I would recommend adding a bit of coffee flavour to the regular Buttercream and this way you too will end up with something like this…
Enjoy!