This beautiful pumpkin and chocolate cake boasts gorgeous flavours of autumn and will be the most memorable finish to your Thanksgiving dinner.
This cake makes a great addition to any Thanksgiving celebration. Find all the recipe ideas you need in our Thanksgiving Recipe Collection!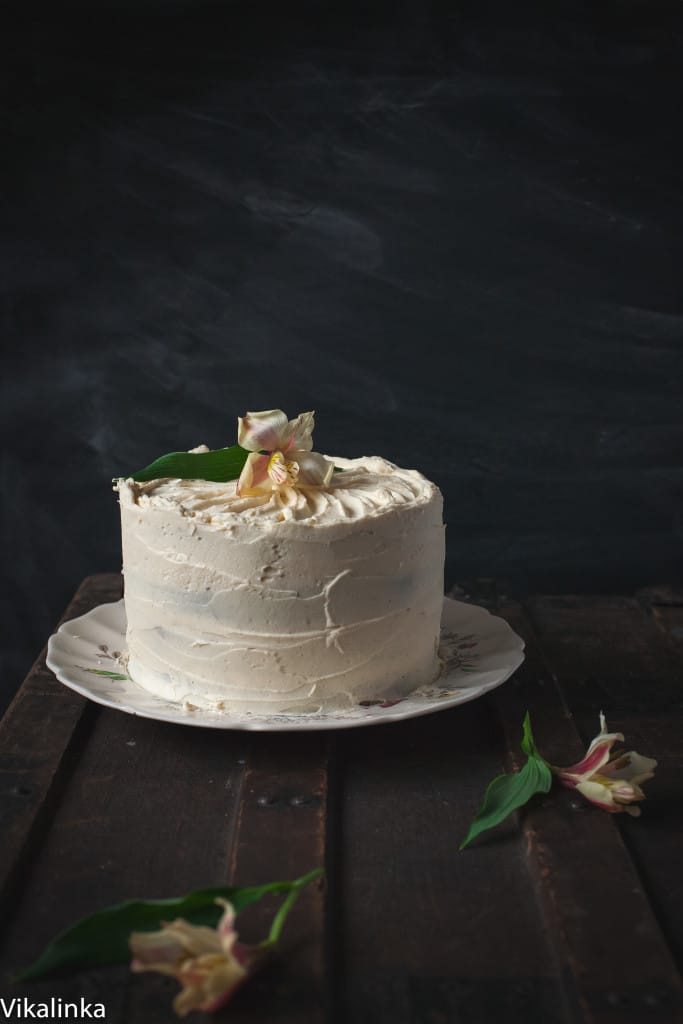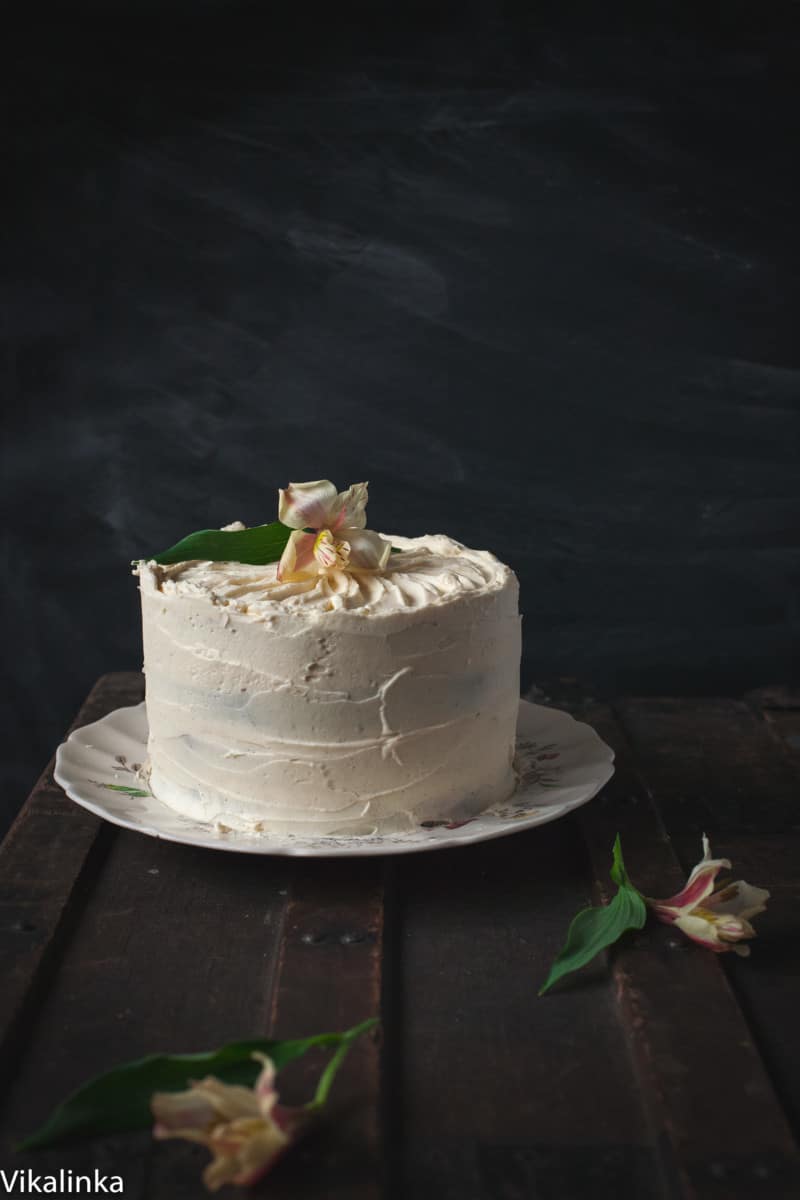 I'm a huge fan of finishing any holiday meal with a bang. The appearance of a big show-stopping dessert is when a meal goes from a bit of fun to a real celebration!
The inspiration for this cake came when I was getting ready for a Thanksgiving dinner with family and friends. I wanted to make something a bit more spectacular than we would normally have.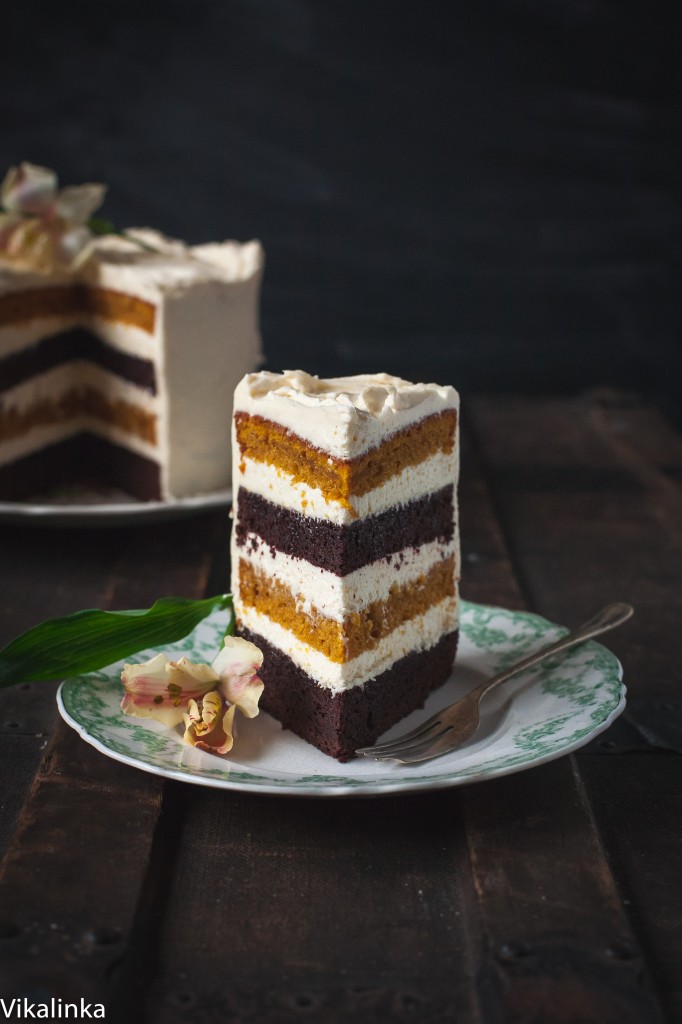 I knew where I needed to start because my family would revolt if dessert did not have spiced pumpkin somewhere. But I also wanted chocolate because moist, dark chocolate cake is the sort of decadent dessert I can really get excited about!
It may not be not be obvious, but pumpkin and chocolate make a fantastic combination, like with this Pumpkin Pie with Chocolate Swirl! The combination of silky chocolate and spiced pumpkin with make you swoon, especially when layered with luxurious mascarpone frosting!
Pumpkin and chocolate cake
I made this cake for a special occasion, which is why it has a bit more happening than with some cakes. To make this celebratory cake I combined two of my favourite cake recipes and invented a new favourite frosting.
It has two layers of Chocolate Stout Cake and two layers of Spiced Pumpkin Cake. I brushed each layer with a combination of Demerara sugar and the beautiful flavour of Sloe Gin syrup.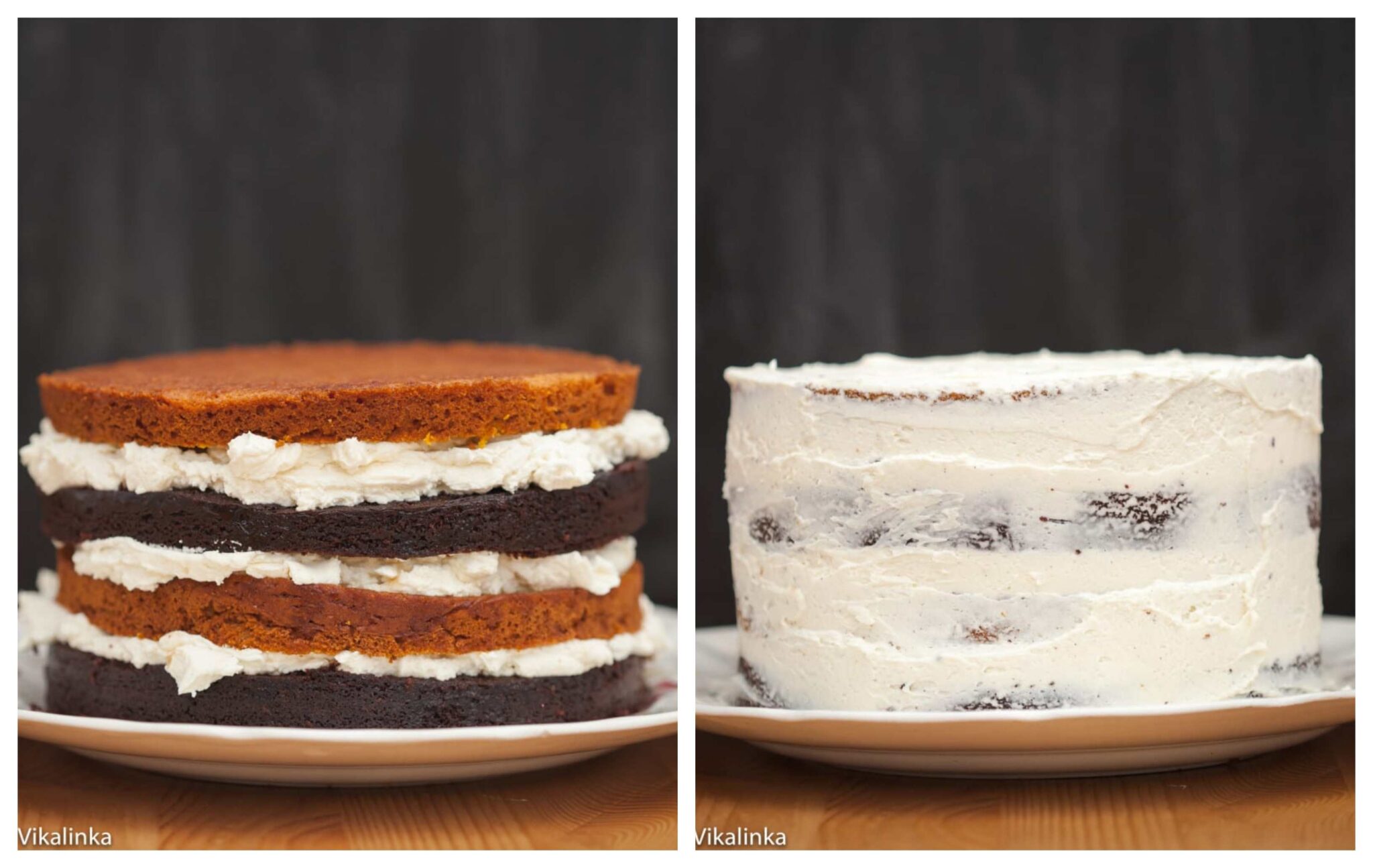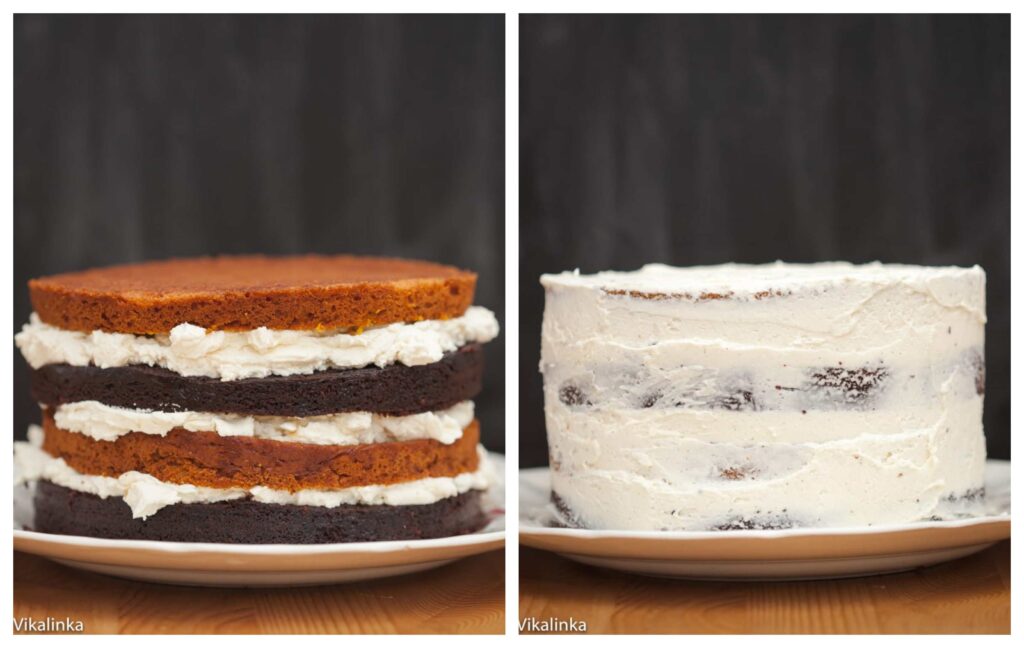 The frosting makes me really happy! It is light and fluffy mascarpone frosting with maple and cinnamon. A dream!
If you are like me and are wondering whether spiced pumpkin and chocolate go together you have to make this cake. Make it, make it, make it! This cake boasts all the gorgeous flavours of autumn and will be the most beautiful finish to your Thanksgiving dinner.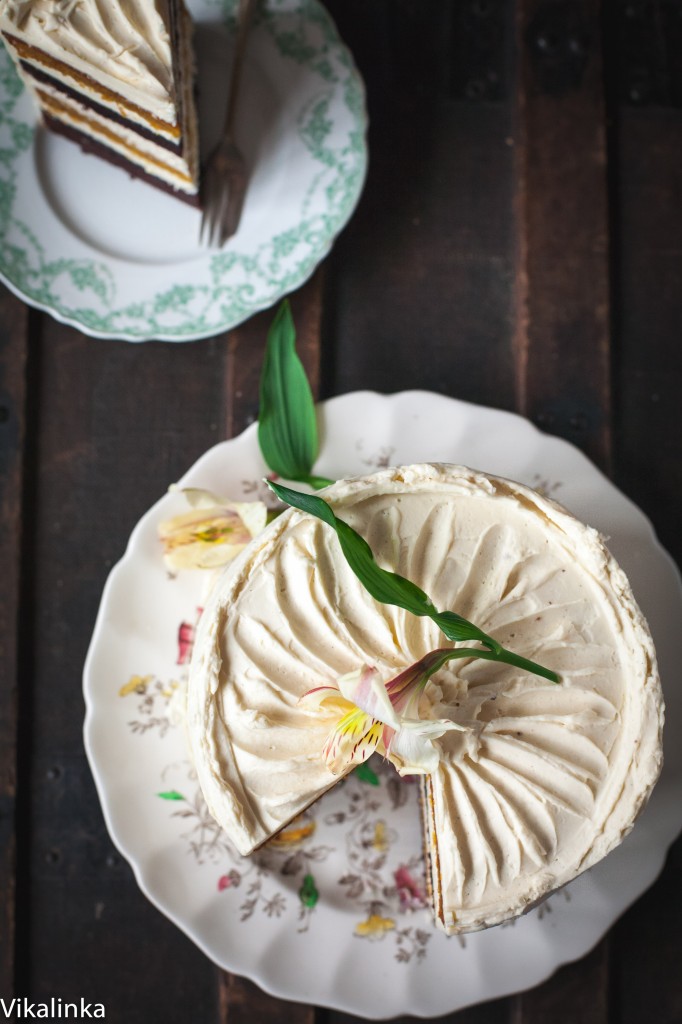 Recipe notes
To make sure your cake is beautifully frosted always start with a crumb coat. Cover your cake with a thin layer of frosting to seal all crumbs and put it in the fridge for 20-30 minutes to chill. Then finish it off with more frosting and whatever design you choose.
Some brands of mascarpone (especially mascarpone available in America) may separate when made into this frosting. To prevent this from happening, combine both mascarpone and cream when well chilled and do not over beat. If the problem persists, try whipping the heavy cream first, then folding it into the mascarpone.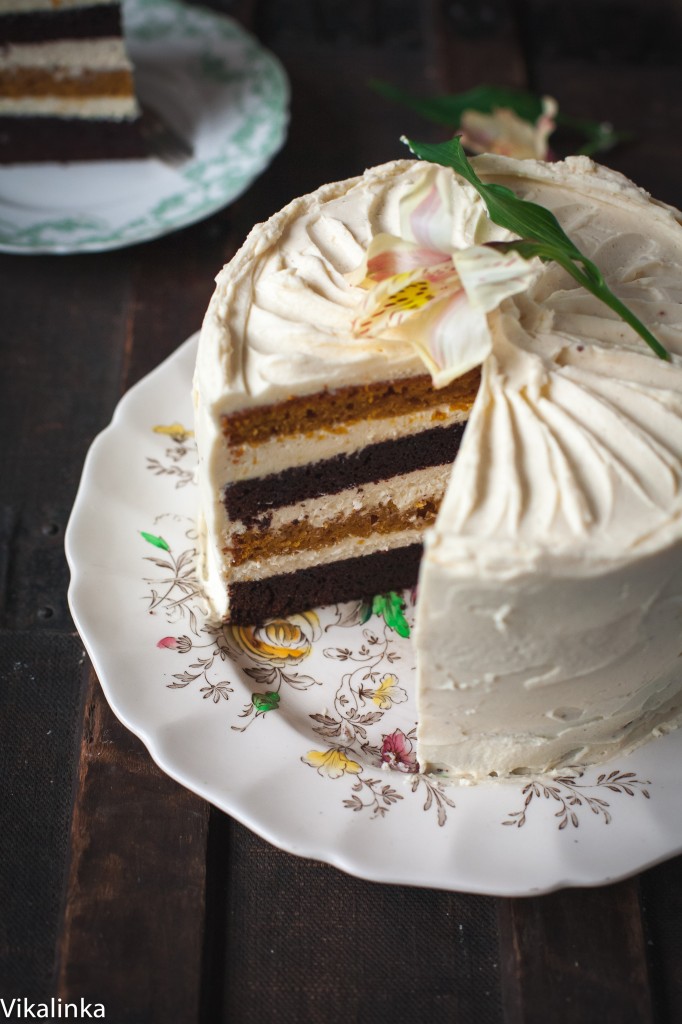 More cake recipes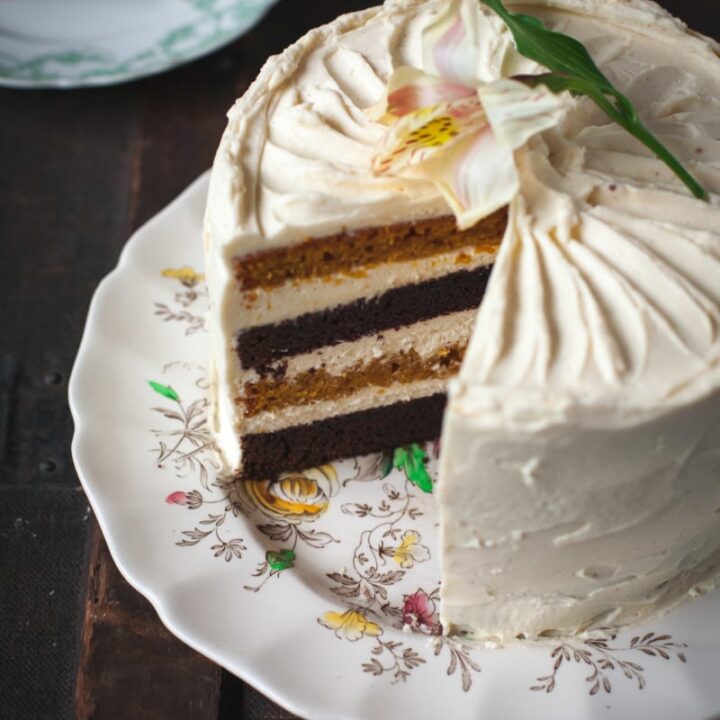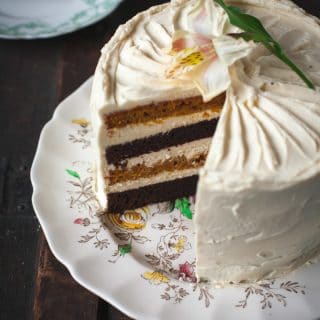 Spiced Pumpkin and Chocolate Cake with Maple Cinnamon Mascarpone Frosting
This spiced pumpkin and chocolate cake might just what your holiday table needs!
Ingredients
For the Chocolate Stout Cake layers
⅓

cups

/ 80 ml Guinness or other stout

2

tbsp

strong black coffee

½

cup

/ 115 g unsalted butter

⅓

cups

/ 45 g unsweetened cocoa powder

1

cup

/ 130 g all purpose flour

1

cup

/ 130 g sugar

¾

tsp

baking soda

½

tsp

salt

1

large egg

1 ½

tsp

pure vanilla extract

½

cup

/ 120 ml creme fraiche/sour cream
For the Spiced Pumpkin Cake layers
1

cup

+ 2 tbsp / 130 g flour

⅔

tsp

baking powder

¼

tsp

baking soda

½

tsp

salt

1

tsp

cinnamon

¼

tsp

mixed pumpkin spice

(nutmeg, cloves, ginger)

⅔

cup

/ 160 ml vegetable oil

⅔

cup

/ 135 g granulated sugar

2

eggs

large

7

oz

/ 200 g pumpkin purée
For the syrup
¼

cup

/ 60 ml simple syrup

sugar and water in equal parts

2

tbsp

sloe gin or damson gin

not regular gin
For the Maple Cinnamon Frosting
2

cups

/ 500 g Italian mascarpone

1

cup

/ 130 g icing sugar

1

tbsp

pure maple syrup

1

tsp

cinnamon

1

tsp

vanilla

½

cup

/ 120 ml whipping cream or double cream
Instructions
Preheat the oven to 325F/160C.

Grease 2-8″ round cake pans and line the bottoms with greased parchment paper. Set aside.
Chocolate layers
In a saucepan heat stout, coffee and butter together until the mixture comes to a gentle simmer, add cocoa powder while whisking continuously to avoid lumps until smooth. Set aside to cool.

Blend flour, sugar, baking soda, and salt in a different bowl. Mix eggs, vanilla and creme fraiche with an electric mixer in bowl no 3.

Now check on your chocolate mixture and make sure it's cool enough to continue the process.

Add the chocolate mixture to the egg and creme fraiche mixture and blend them together.

Add flour mixture a little bit a time and beat on low speed until combined. Pour into the pan and level.

Bake in the preheated oven for 25-30 min. Always test your cakes for doneness with a toothpick or a cake taster. Cool on a wire rack.
Spiced Pumpkin layers
Mix flour, baking powder, baking soda, salt and spices. Then add oil, sugar and eggs, beat well to combine.

Add pumpkin and mix for 2-3 minutes until well incorporated.

Pour into the cake pan and level. Bake at 325 F/160C for 25-30 min, cool on a wire rack.
Sugar syrup for drizzling
Mix sugar syrup with sloe gin or any other liqueur of your choice.
Maple Cinnamon Mascarpone Frosting
Whip cold mascarpone until light, which will take no longer than 30 seconds, add pure maple syrup and icing sugar, beat until well incorporated for 30 seconds longer.

Add cinnamon, vanilla and whipping cream. Whip for 2 minutes until stiff.
Assemble the cake
When the cakes are cooled, split each layer in half. Brush each layer with some sugar syrup.

Divide Maple Cinnamon Frosting into 4 parts.

Stack the layers on top of each other so chocolate and pumpkin layers interchange. Fill the layers with ¾ of Maple Cinnamon frosting.

Then cover the entire cake with your crumb coat using the frosting from the part you'd set aside. Chill in the fridge for 20-30 minutes.

Then cover the cake with the remaining frosting and decorate with flowers if desired or leave it plain. Alternatively, you can lightly dust the cake with a touch of cinnamon.
Nutrition
Calories:
813
kcal
Carbohydrates:
78
g
Protein:
9
g
Fat:
53
g
Saturated Fat:
35
g
Polyunsaturated Fat:
1
g
Monounsaturated Fat:
7
g
Trans Fat:
1
g
Cholesterol:
141
mg
Sodium:
409
mg
Potassium:
200
mg
Fiber:
2
g
Sugar:
54
g
Vitamin A:
4321
IU
Vitamin C:
1
mg
Calcium:
126
mg
Iron:
2
mg