Classic pumpkin pie made even more delicious and far more exciting by a chocolate swirl or melted Toblerone to be exact. Ready for this fabulousness? Meet your new favourite pumpkin pie recipe!
If you are a big pumpkin pie fan but don't want to mess with pastry, take a look at my Pumpkin Mousse Trifle!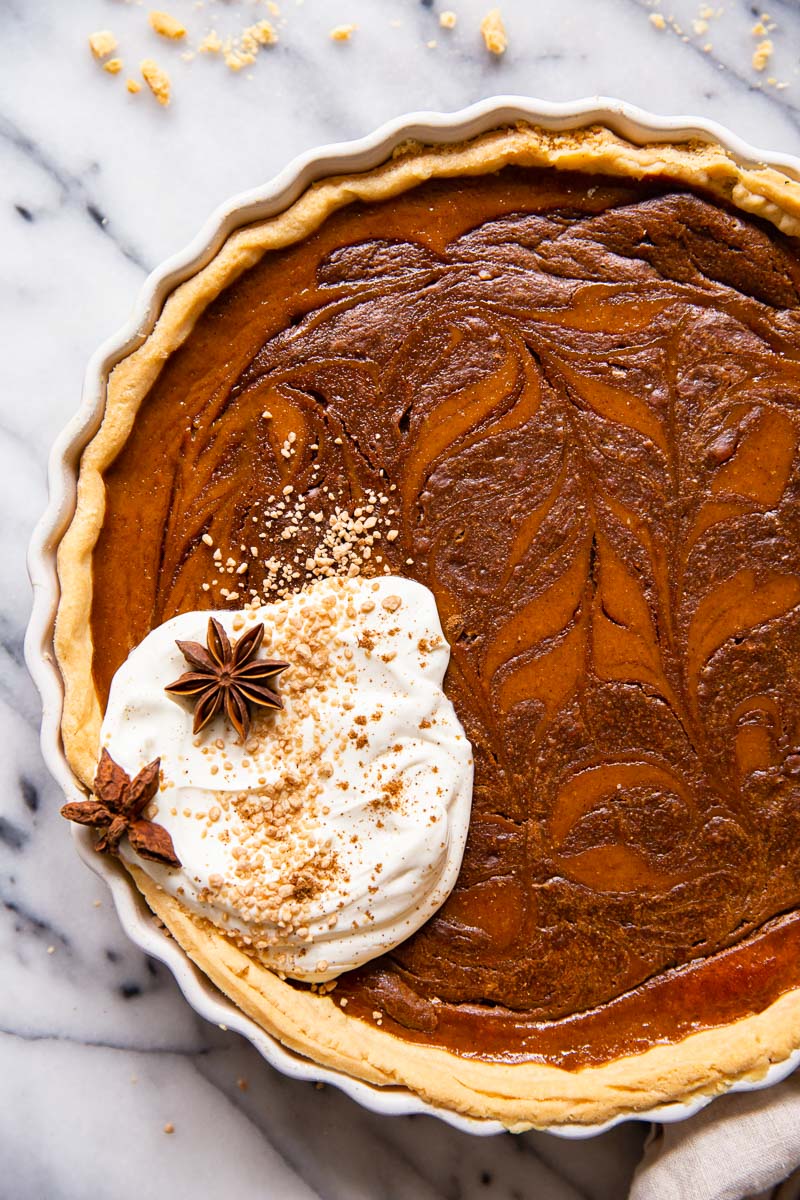 Until a couple of days ago I was convinced it's impossible to improve on a classic pumpkin pie. Why mess with perfection, right?
I still believe the classic recipe is genius but every once in a while it's fun to try a twist on an old favourite. Especially when this awesomeness comes into play. Ready? Pumpkin Pie meets…Toblerone.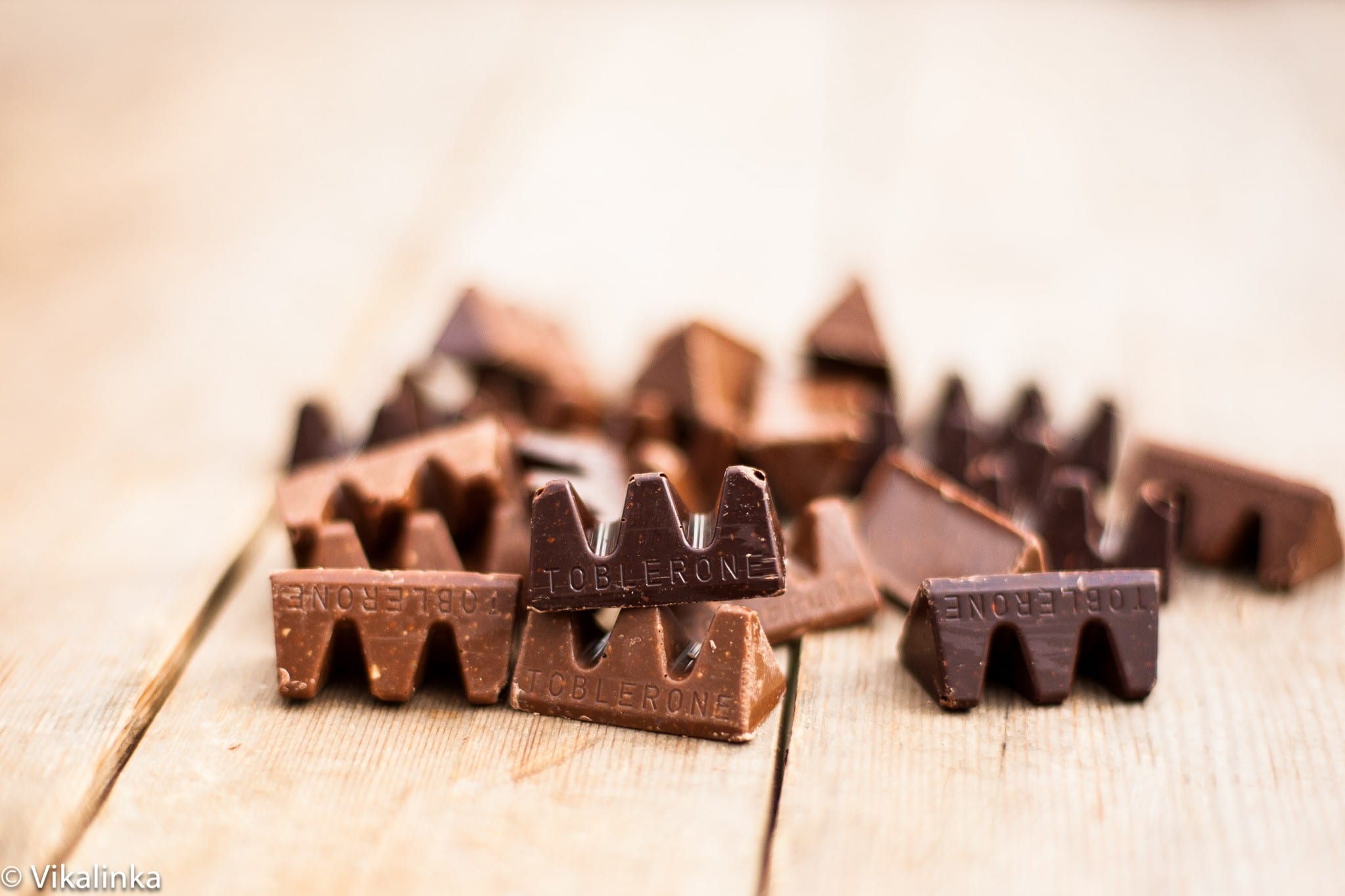 One of my favourite chocolates ever! How could you not love those little crunchy bits of nougat in rich and smooth chocolate! It turns out the light crunch of toblerone chocolate meshes brilliantly with creamy pumpkin. A winning combination!
But let's start from the very beginning and every pie starts with a perfect pastry recipe, which I am in possession!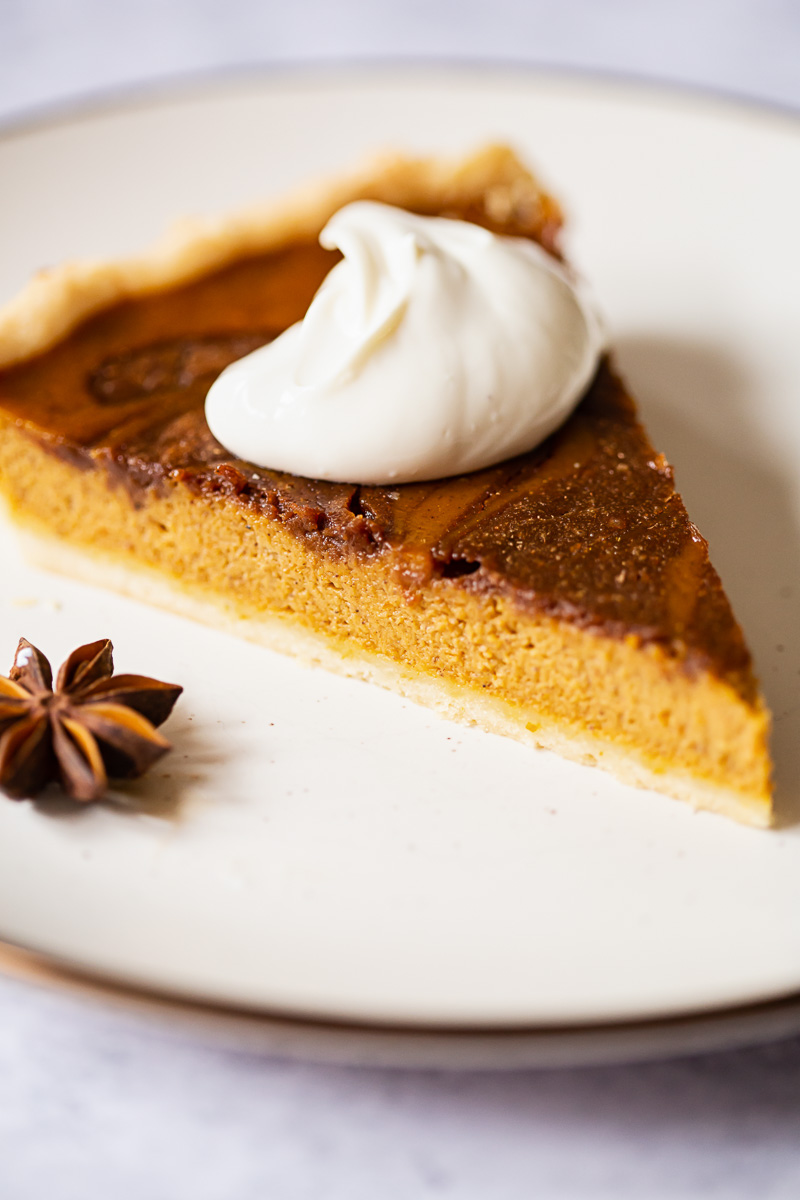 How to make the best pastry
I think we all agree that the best pastry is the flakiest pastry. The recipe I use most is the one that got passed onto me by my mother-in-law. The woman is famous for her pies. Her pies are so good that my father-in-law used to request a birthday pie instead of a birthday cake.
What makes the recipe uniques is the use of vinegar, which is responsible for the flakes! It also uses lard, and this is the only time I insist on using lard because you absolutely need it.
What is also incredibly important is to handle the pastry as little as possible to avoid the fat melting because keeping little bits of it intact is crucial for the texture. Another important tidbit of information is chilling the pastry is just as significant to the success. Never rush the pastry. Keep it well chilled after putting it together, then roll it.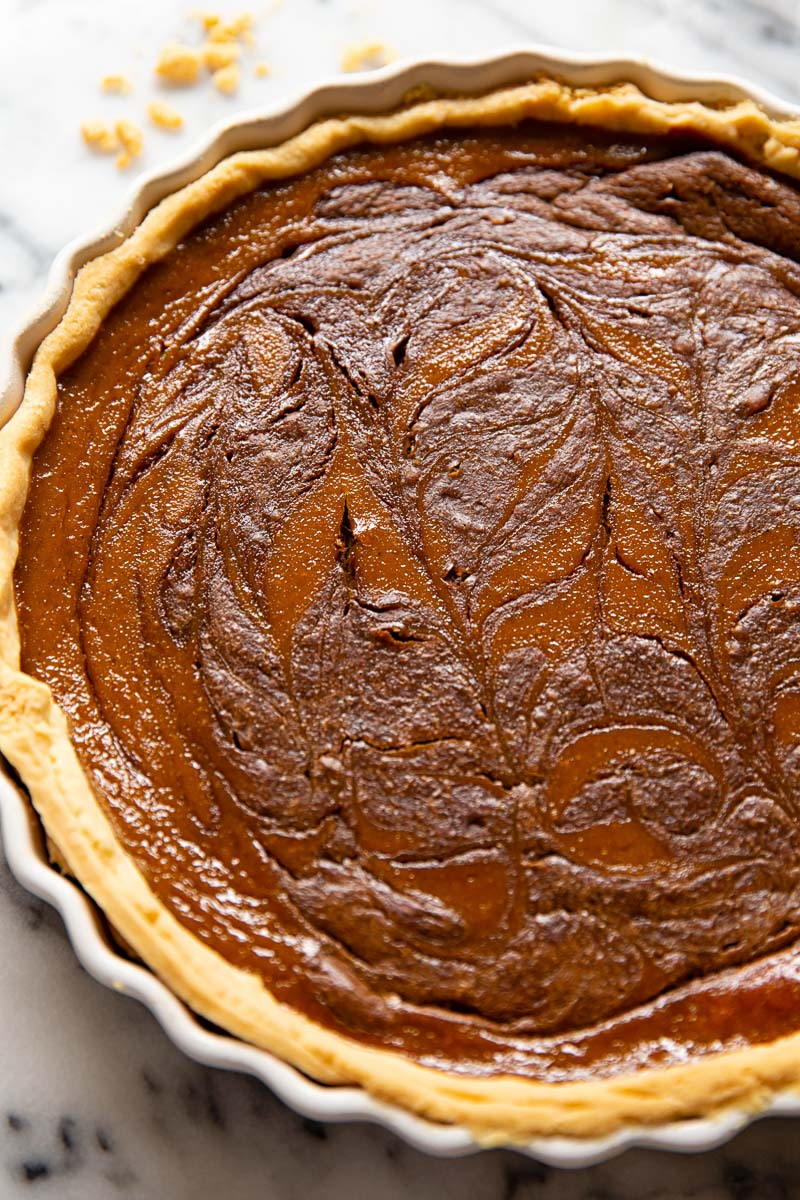 Should I blind bake the pastry?
Absolutely. You have to pre-bake the pastry blind if you want to avoid a soggy bottom! Blind baking sounds like a fancy term but it's easy to do.
All it means is covering your pastry with parchment paper and filling it with weight to prevent the pastry from shrinking.
You can use commercially produced baking beans for weights or regular beans and rice like I did. In the case with pumpkin pie you only half bake it. Then you fill it up with the pumpkin filling and finish it up.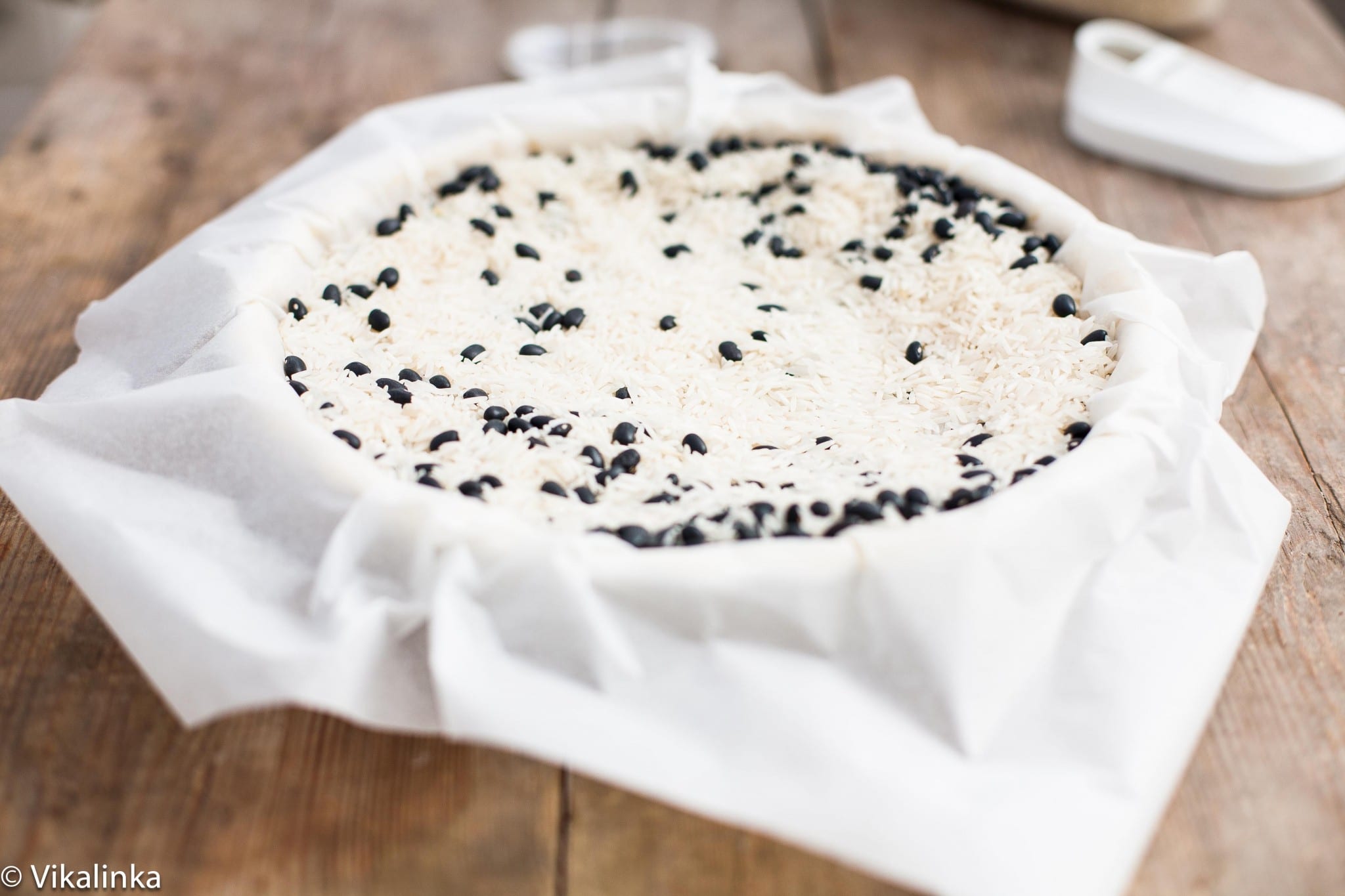 How to add chocolate swirl to pumpkin pie
In order to add a beautiful chocolate swirl to pumpkin pie you need to melt the chocolate of choice, then mix that chocolate with a small portion of your pumpkin pie filling.
Mixing the melted chocolate with ½ cup of pumpkin pie filling helps to make two filling mixtures more similar in texture. If you skip that step, your pumpkin pie will crack when baked. (I learned that from my previous less successful attempts.)
Once that is done, randomly drop little bits of chocolate mixture on top of the pumpkin mixture and swirl with a knife or a skewer until you like the design.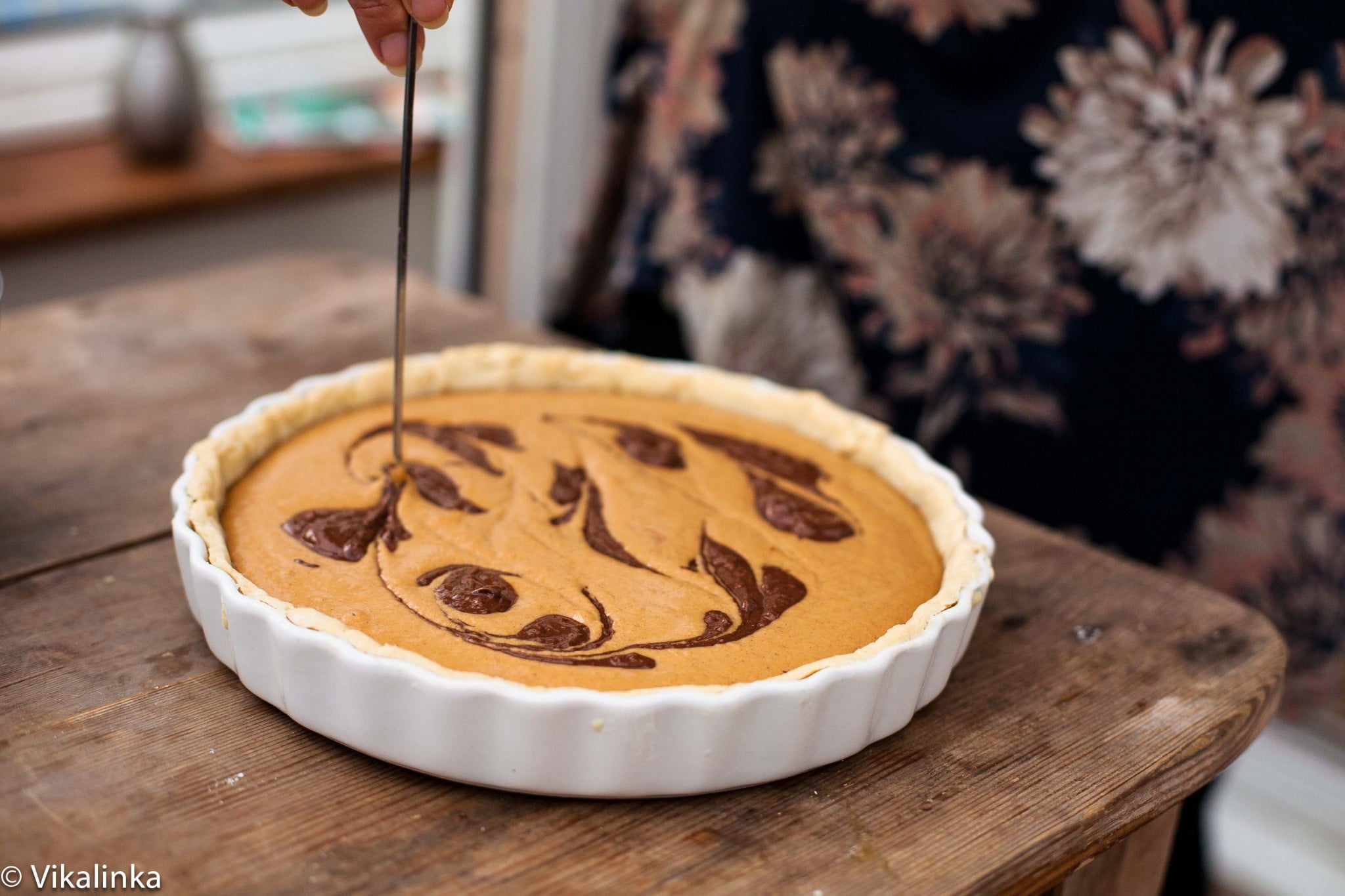 Serving suggestions
This pumpkin pie is best when served at room temperature. Serving it chilled tends to suppress the flavours. It's delicious when served with whipped cream or if you are not a fan on sweet on sweet, try this pumpkin pie with slightly sweetened creme fraiche.
I love decorating autumn desserts with star anise. So beautiful and 100% natural! I've also sprinkled my pie with a little bit of maple sugar. A gift from Canada. 🙂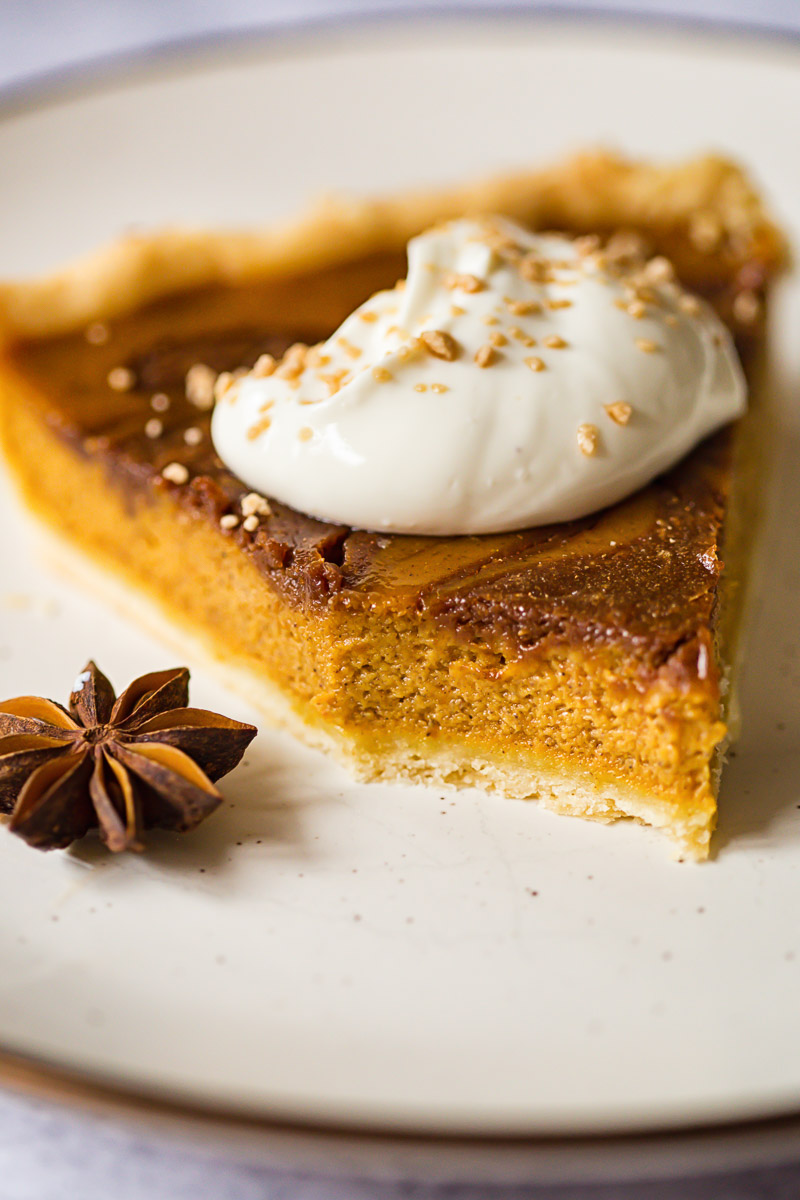 More pumpkin recipes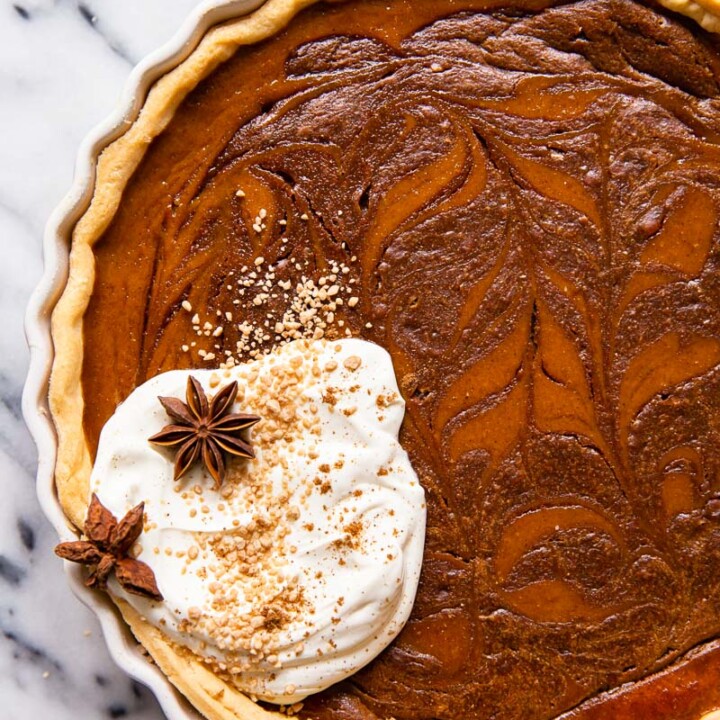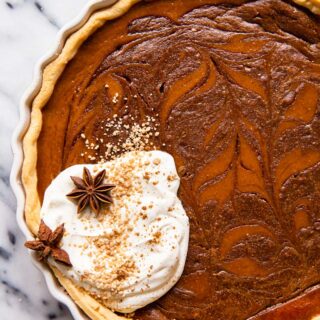 Pumpkin Pie with Chocolate Swirl
Classic pumpkin pie made even more delicious and far more exciting by a chocolate swirl.
Ingredients
9 inch

pie crust

or store bought pie crust

400g/15oz

canned pumpkin puree

or your own

3

eggs, large

125ml/1/2 cup

double cream/whipping cream

100g/1/2cup

brown sugar

1 ½

tsp

cinnamon

¼

tsp

cloves

¼

tsp

ginger

¼

tsp

nutmeg

1

tsp

vanilla

½

tsp

salt

80g/1/3cup

chopped toblerone or regular chocolate bar
Instructions
For the pie crust
Preheat the oven to 400F/200C. Make ⅓ of the pie crust recipe. Roll out the pastry on a floured surface. Drape the pastry on your rolling pin and transfer to the pie/tart plate. Make sure the edges are neat and come up to the top of the pie plate. Chill in the fridge for 20 minutes.

Line your unbaked pie crust with parchment paper and fill the pie plate with baking beans to the top. Bake at 400F/200C for 15 minutes, then take out of the oven, turn the temperature to 350F/180C. Let it cool for 5 minutes and then lift the parchment paper together with the weights out of the pie.
For the pumpkin pie
While your crust is blind baking make the pumpkin filling. Beat your eggs with sugar, then add pumpkin puree, cream, cinnamon, nutmeg, cloves, ginger, vanilla and salt. Set aside for a moment.

Now chop up the toblerone bar and melt it in a double boiler or melt it in a microwave in short 30 second bursts, stir between each time. Take 125ml/1/2cup of the pumpkin filling and stir in the melted chocolate.
Pour the pumpkin filling in the pie crust, then drop in melted chocolate mixture randomly, take a skewer or a tooth pick and swirl it lightly.

Bake in the preheated oven for 40 minutes until the filling is set. Take out of the oven and cool completely. Serve with whipped cream.
Nutrition
Calories:
292.66
kcal
Carbohydrates:
33.75
g
Protein:
4.68
g
Fat:
16.57
g
Saturated Fat:
7.95
g
Cholesterol:
82.79
mg
Sodium:
269.37
mg
Potassium:
203.73
mg
Fiber:
2.73
g
Sugar:
19.04
g
Vitamin A:
8100.29
IU
Vitamin C:
2.1
mg
Calcium:
52.97
mg
Iron:
1.93
mg