Classic pumpkin pie recipe is simple but far from plain! Delicious flaky pastry and a smooth pumpkin custard filling are easy enough to master with a few simple tricks. Decorate your pie with fall-themed pastry cutouts for a beautiful autumnal touch!
Or make our Pumpkin Pie with Chocolate Swirl for the chocolate lovers in your family.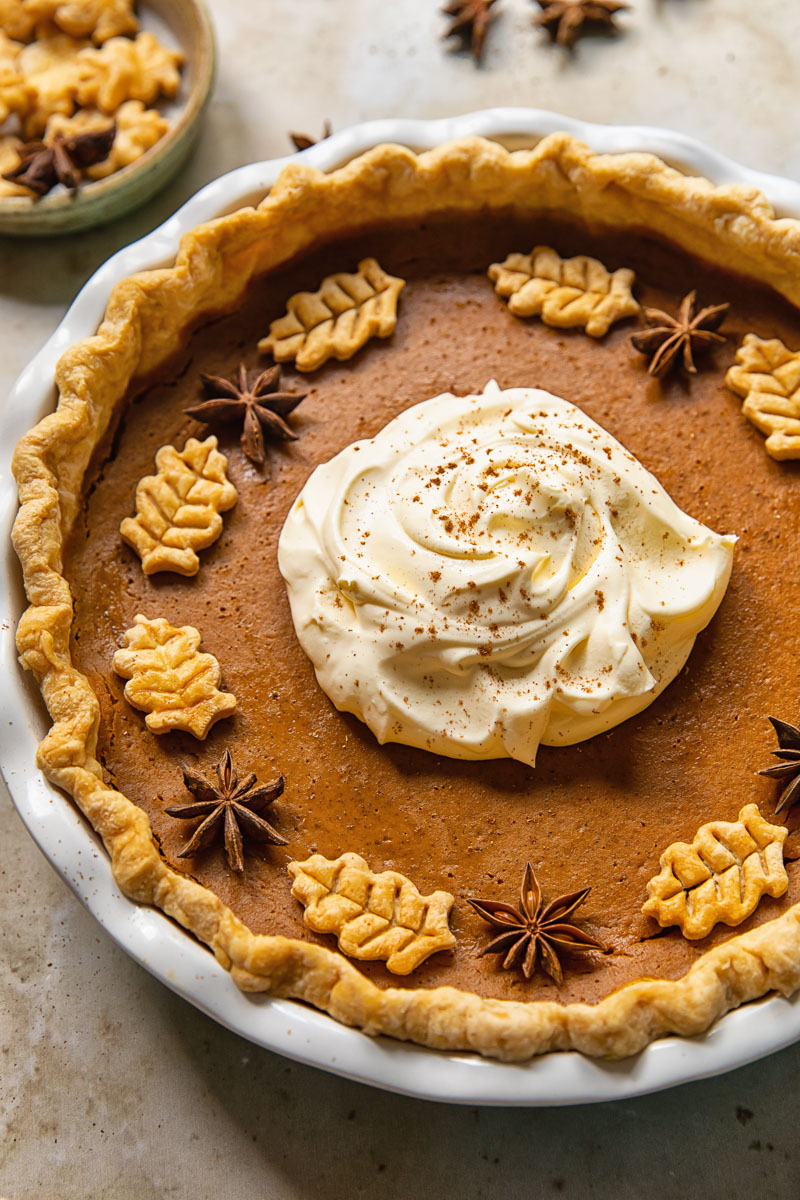 Pumpkin pie is no doubt an American wonder, which takes people by surprise if they are not accustomed to it. It is however, shocking how quickly they get on board with a flaky pastry case filled with delicately spiced pumpkin custard.
I am a huge fan, in case you are wondering, and so are my children. Pumpkin pie is a non-negotiable item on our Thanksgiving table. Truth be told my son would gladly eat it any time of the year.
Let me show you our family's version, that my children grew up with as well as a few tricks I've learned over the years. Below are the secrets to a smooth, crack-free custard and flaky pastry.
Best Pie Crust
You are probably rolling your eyes at my claim to the "best" pastry and I would too. I tend to be very sceptical when people pronounce anything to be the best. Let me explain, best recipes for anything are hugely personal and even more so when it comes to classics.
They are embroiled in the feelings of nostalgia and longing. No recipe can compete with that. Mom's or grandma's recipe is always best. And today I want to share with you our best recipe.
Nothing can beat the taste of butter in the pie crust. We all love that, myself included. What I also love is the light and flaky texture. The kind, that breaks into dozens of tiny shards when you bite into it.
For this texture I believe lard is necessary. So with that in mind I embarked on the task of creating the tastiest pastry with the best texture. It took me several tries to get there and many, many pies. I do believe I achieved my goal.
My recipe calls for a lot of butter, more than many other recipes out there but it's worth it I promise. It truly tastes like butter! I also add an egg, which makes the dough a lot more pliable and easier to work with.
I prefer making my pastry in a food processor. Without touching anything with my warm hands, the ingredients stay cold, which contributes to that desired flaky consistency.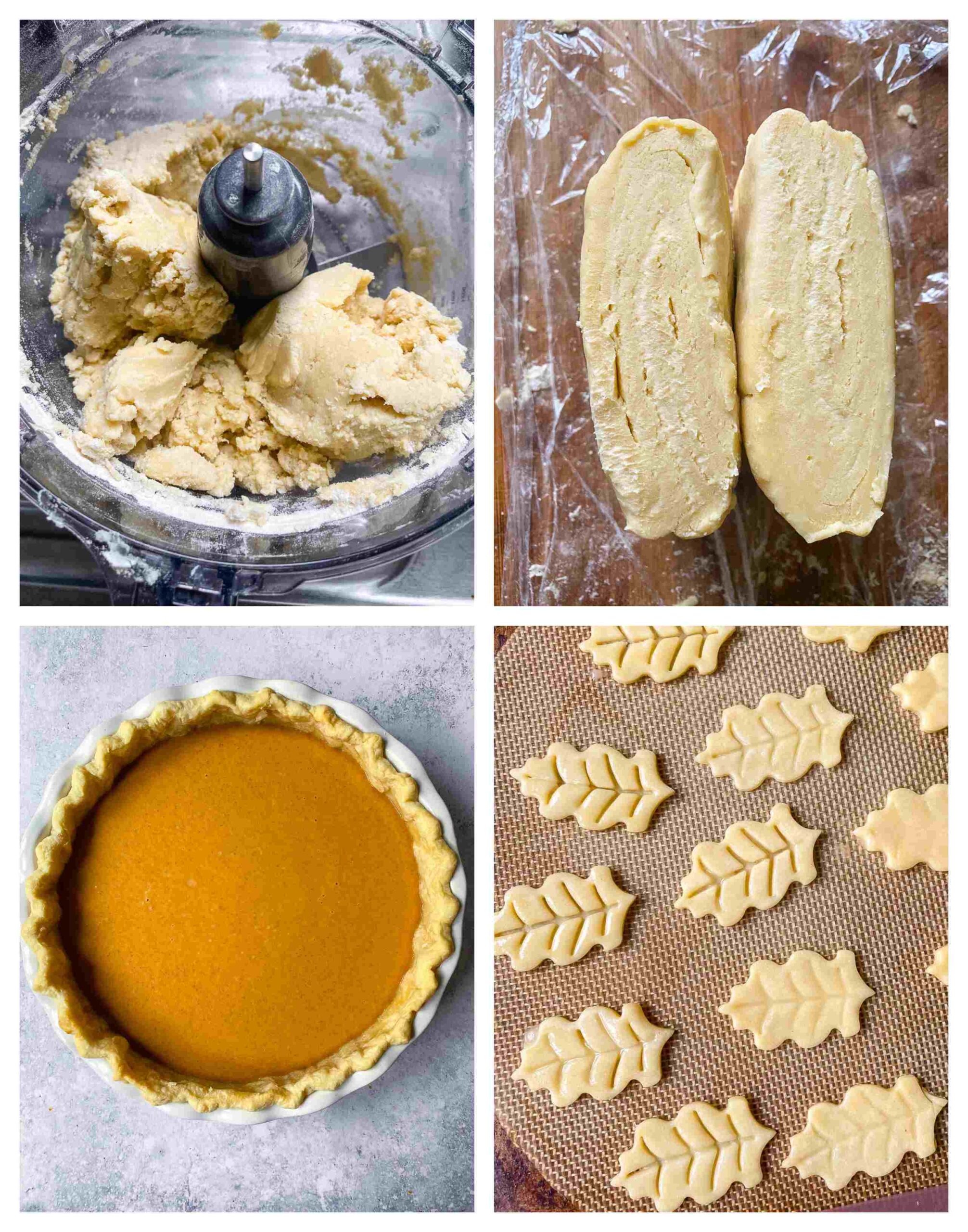 Smooth Pumpkin Filling
The filling inside the pie is nothing more than a pumpkin custard. What we want from a custard is to be silky smooth and crack- free. It sounds like we are walking into a high cuisine territory with that talk of custards and perfect texture.
However perfection is easy to achieve if we know what causes undesirable grainy texture and cracks. The truth is it's all about the temperature. I cook my pumpkin pie at 350F/180C. If you go any higher it will curdle the custard and turn grainy.
To prevent cracks, allow the pie cool slightly in the oven after it's done cooking. It is the drastic change of temperature that causes the custard to crack. The same deal as we cheesecakes. If you are afraid it will burn, crack open the oven door.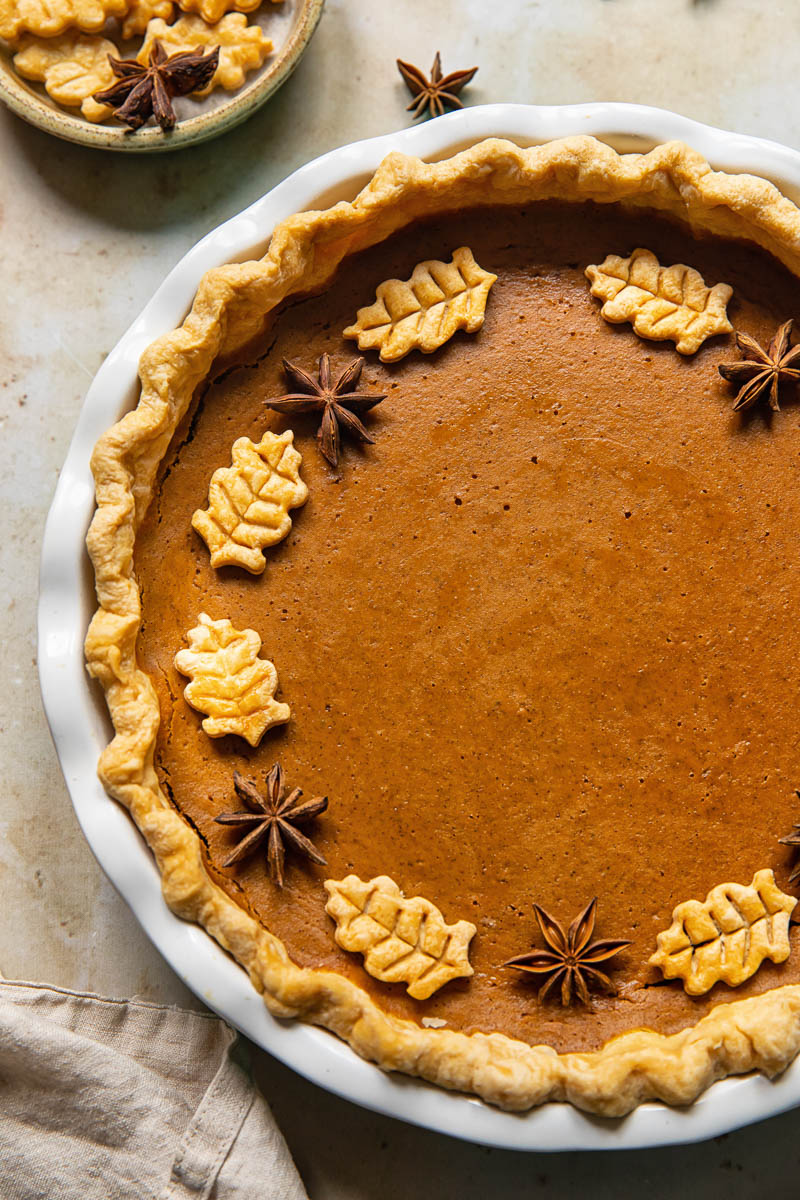 Recipe Tips and Notes
My biggest tip is to break up the task and make the pastry a day or even several days ahead. Your pastry will benefit from being chilled in the refrigerator. And your feet will be grateful for not being stuck in the kitchen for hours.
The pastry recipe makes one double crust pie or two single crust pies. When I make a pumpkin pie, I freeze another half of the pastry for Christmas. Simply double wrap it in plastic wrap and put inside of a ziplock bag. The pastry will keep for a couple of months.
Now let's talk about the baking of the pie crust. Whenever a filling is very wet like in this case, you will need to partially bake the pastry case to avoid soggy bottoms. Even when you do, sometimes the bottoms is still a bit raw, which means it wasn't pre-baked long enough.
This pre-baking process is called blind baking. Line your pie plate with the pastry and trim it, then chill it for 20 minutes in the fridge. After chilling cover the bottom with parchment paper and fill with baking beans or regular dried beans. Not only does this step help with soggy bottom but also prevents the pastry from shrinking. Read more on it here.
My final tip is for decoration. You will have some leftover pastry after you finish with the pie. Use those scraps to create autumnal leaves with the help of a cookie cutter or free hand if you are artistically inclined.
If you don't want to bother with the pastry cutouts, use star anise. They are so beautiful and fragrant. Always serve with whipped cream!
Favourite Thanksgiving Pie Recipes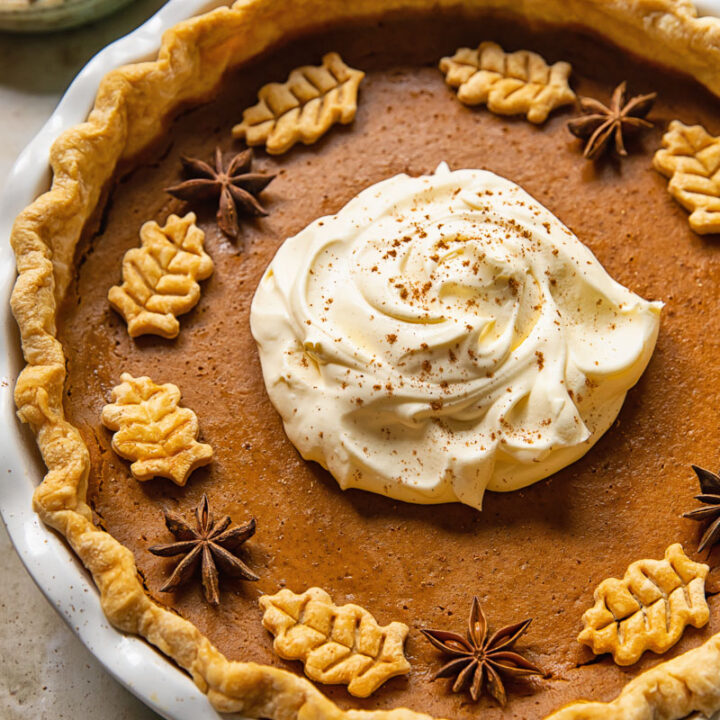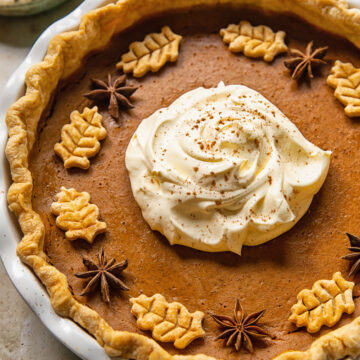 Classic Pumpkin Pie
Classic pumpkin pie recipe is simple but far from plain! Delicious flaky pastry and smooth custard filling are easy enough to master at home!
Ingredients
For the crust
420g/3 cups

plain flour

all purpose

0.5

tsp

salt

250g/1 cup

chilled unsalted butter

cubed

65g/5 tbsp

chilled lard

cubed

1

egg

85ml/1/3 cup

ice cold water
For the filling
400g/15 oz

canned pumpkin puree

not canned pumpkin pie filling

3

eggs

large

125ml/1/2 cup

double/heavy whipping cream

100g/1/2 cup

brown sugar

1.5

tsp

cinnamon

¼

tsp

cloves

¼

tsp

dried ginger

¼

tsp

nutmeg

1

tsp

vanilla

½

tsp

salt
Instructions
Combine the flour and the salt in the bowl of a food processor or a large bowl, add in chilled cubed butter and lard and either process in a food processor or cut in with a pastry blender until you have fine crumbs. Add in beaten egg and ice water and pulse in a food processor for about 20 seconds until you have a dough ball stuck around the centre of the processor. Take it out of the food processor and divide in half. Shape each piece into a ball and then into a flat disk, wrap into plastic wrap and chill 1 disk the refrigerator for 20 minutes or overnight (The pastry could be made a day ahead. Freeze the second pastry disk for up to two months for later use.)

Take the pastry out of the fridge and roll it out on a floured surface. Drape the pastry on your rolling pin and transfer to a 9 inch pie/tart plate. Trim and crimp the edges, put back in the fridge for 20 minutes.ill. Optional: Meanwhile re-roll the pastry scraps and cut out decorative leaves with a cookie cutter or by hand. Arrange them on a cookie sheet and put in the refrigerator to chill.

Preheat the oven to 400F/200C. Line your unbaked pie crust with parchment paper and fill with baking beans to the top. Bake in the preheated oven for 20 minutes.

While your crust is blind baking make the pumpkin filling. With a whisk beat the eggs with sugar, then add in the pumpkin puree, cream, cinnamon, nutmeg, cloves, ginger, vanilla and salt.

Take the pie out of the oven, turn the temperature to 350F/180C. Let it cool for 5 minutes and then lift the parchment paper together with the weights out of the pie. Fill the pie crust with the filling and put it back in the oven, bake for 40 minutes or until the filling is set. Once baked, open the oven door and allow the pie cool for about 20 minutes in the oven to prevent cracks. Then remove from the oven and cool completely.

Optional: Bake the pastry cutouts for 10-13 minutes at 350F/180C or until golden. Cool completely and decorate the pie with them as well as star anise. Serve with whipped cream.
Nutrition
Calories:
396
kcal
Carbohydrates:
38
g
Protein:
6
g
Fat:
25
g
Saturated Fat:
13
g
Polyunsaturated Fat:
2
g
Monounsaturated Fat:
7
g
Trans Fat:
1
g
Cholesterol:
123
mg
Sodium:
404
mg
Potassium:
210
mg
Fiber:
3
g
Sugar:
14
g
Vitamin A:
8511
IU
Vitamin C:
2
mg
Calcium:
63
mg
Iron:
3
mg