Looking for the apple pie you remember from childhood? This apple pie recipe has flavoursome, flaky crust with beautifully flavoured apple filling. Just like grandma used to make it!
For a less traditional recipe, try adding a caramel twist with Dulce de Leche Apple Pie!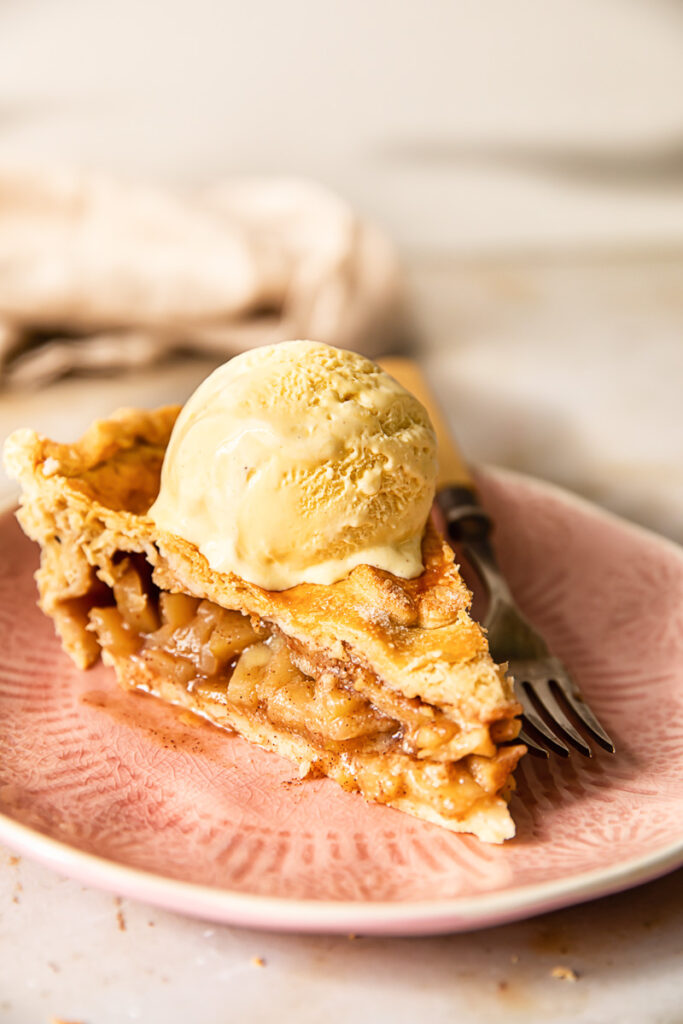 Can you think of a better smell to fill your house than the one apple pie makes when baking? I definitely can't!
Apple pie has a way of always hitting just right, which must be why we all love it so much. I've tried it with all sorts of twists, but for me nothing will be better than the apple pie I grew up with.
Which is why I'm bringing you this recipe for the ultimate in classic desserts. Because who can make a pie better than grandma!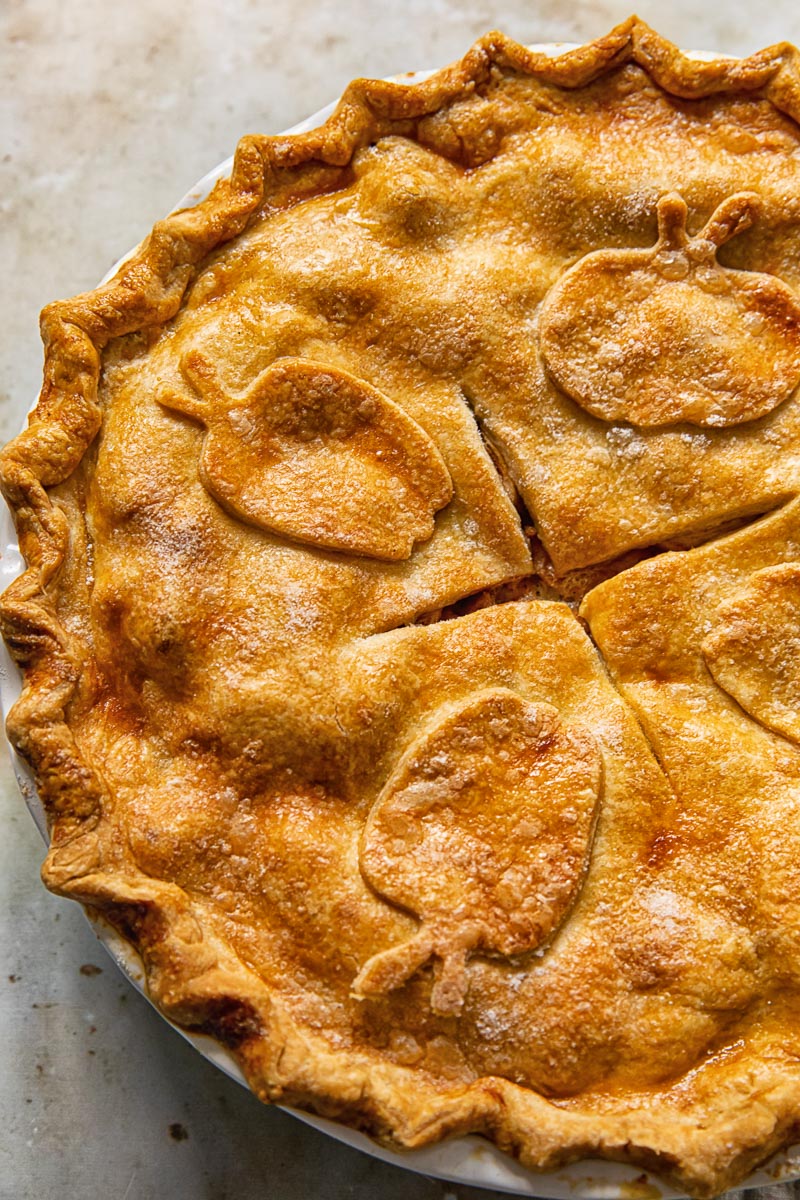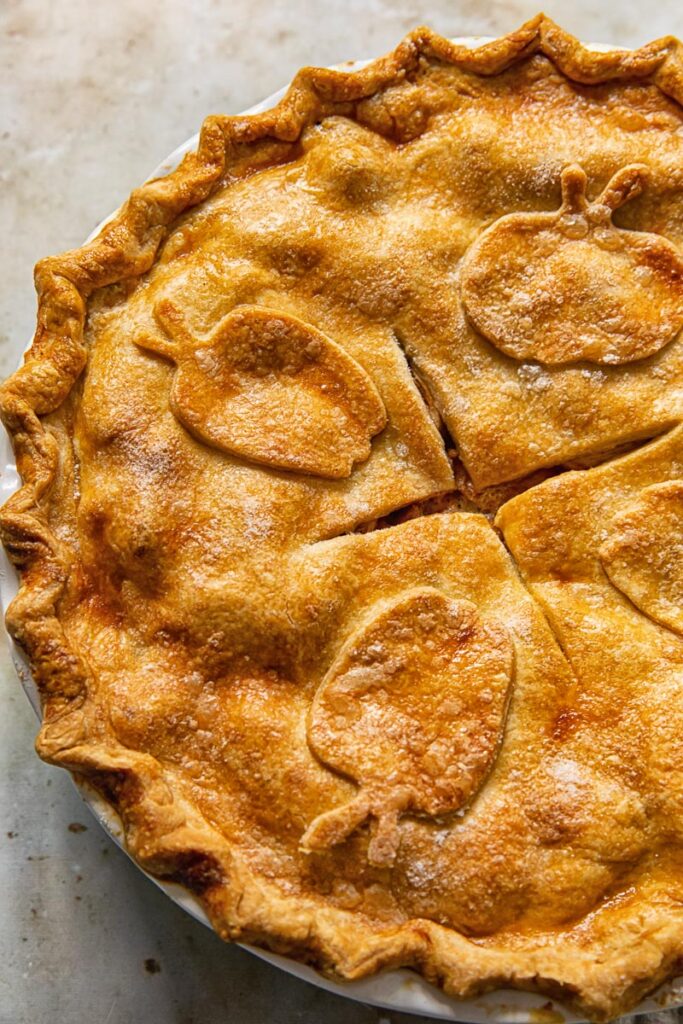 Why you'll love it
The secret to very flaky pie crust has always been lard. But I've always felt that it leaves something to be desired in the flavour department. It just doesn't bring the great taste that butter does.
So when coming up with this pie recipe, I've married together the incredible flakiness of a crust made with lard with the delicious taste of one made with butter. I've used both, and quite a lot of butter, to get the best that both have to offer!
After multiple tests and many pies later the result is a crust so flaky it almost explodes with every bite. But it also never compromises on delectable taste.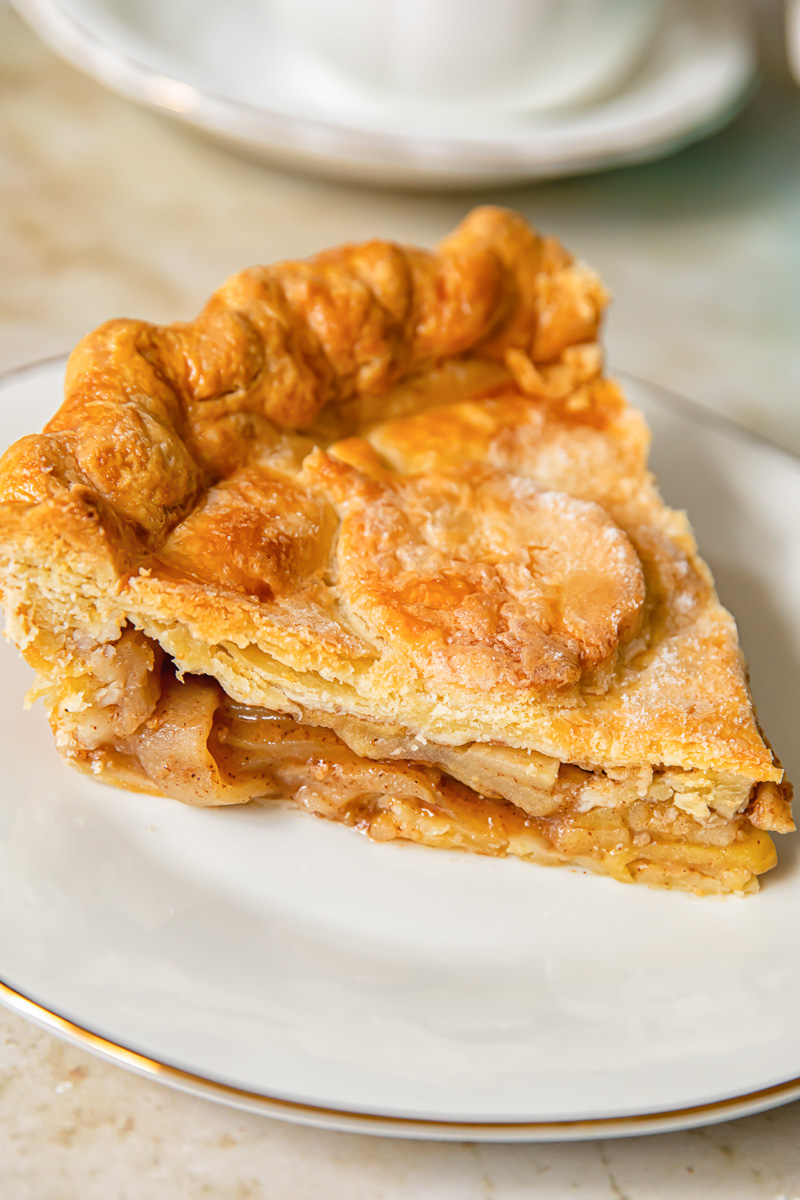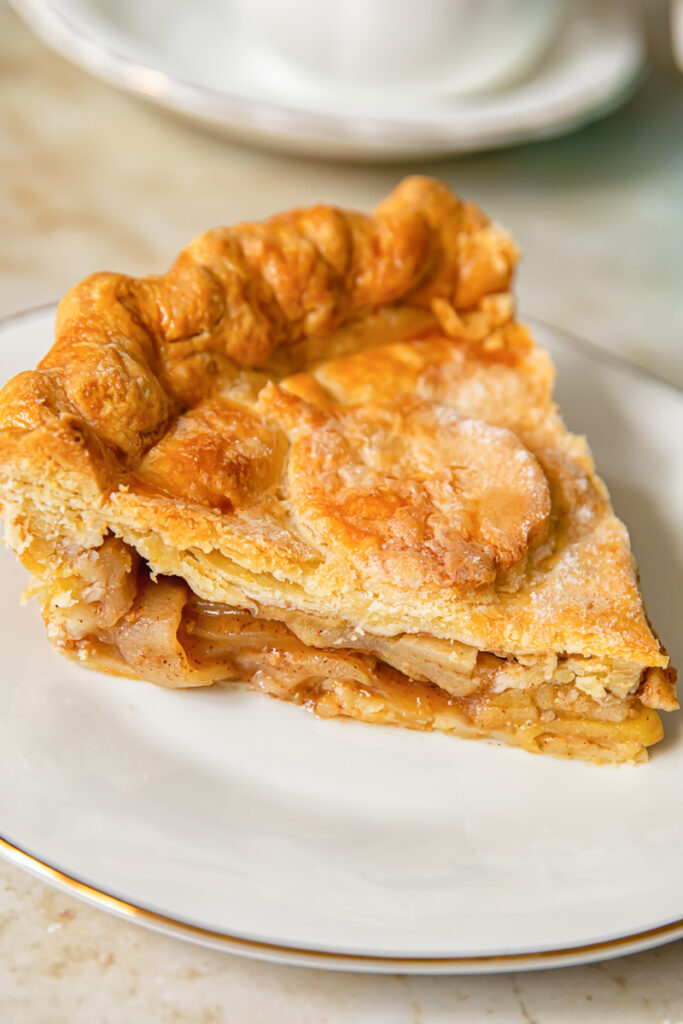 Choosing apples for pie
The apple I prefer for pie is Granny Smith. This variety holds up really well when baked, so it keeps its shape and doesn't become an unappetising mush.
Other firm apple varieties can also be used. Honey Crisp, Braeburn and Golden Delicious will both work well.
Make sure you avoid soft apple varieties such as Mackintosh or Red Delicious. These varieties lack the firmness for baking and turn into an applesauce when cooked.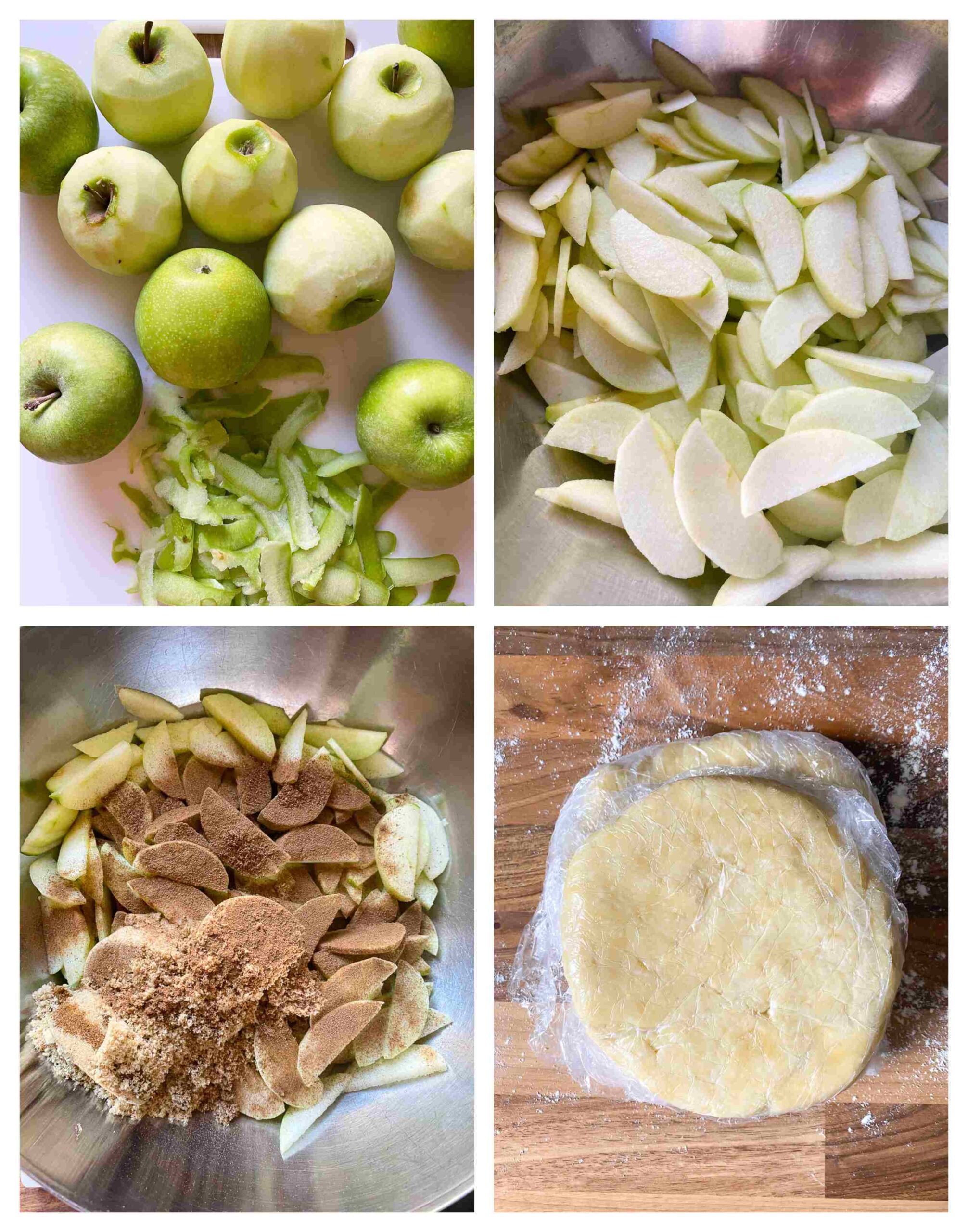 Recipe tips and tricks
I have made many pies in my life and have experimented with various delicious recipes for pastry. The recipe I am sharing today is my favourite. It is flaky, buttery but also not too heavy. It is also the easiest to work with. It rolls like a dream.
To make things even easier I recommend making the pie crust in a food processor. It's fast, simple and since we are not using our hands to make the pastry, the process eliminates that extra heat hands bring, which keeps the pastry flaky.
Make sure your ingredients such as butter, lard, an egg and water are very cold. I use ice cold water.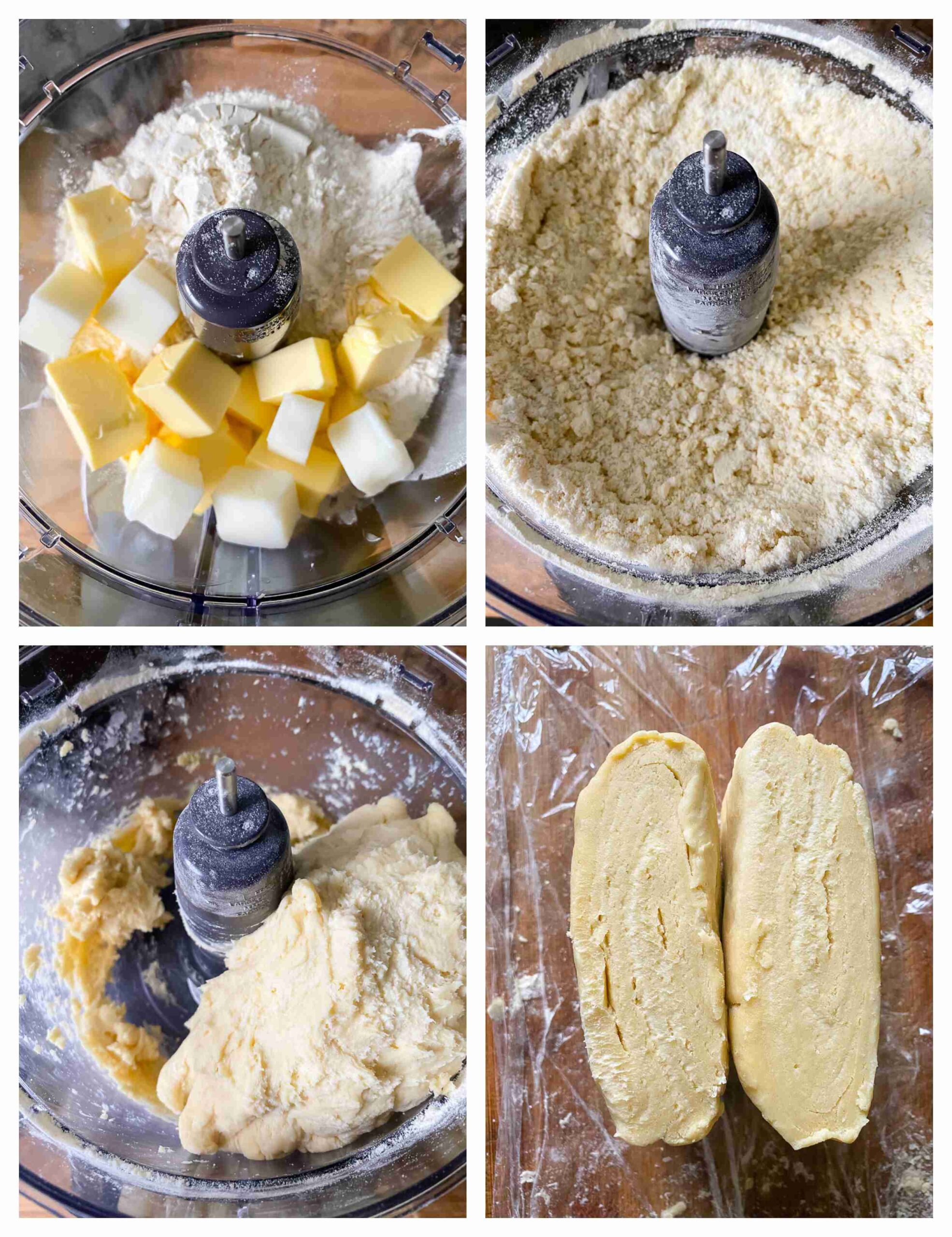 Although this recipe delivers very flaky pastry, I like getting even more by laminating the dough. It sounds complicated but it's really easy. All you do is roll it out then fold into quarters. Then repeat the process once more time. The image above demonstrates the final result. Can you see those layers?
I also recommend chilling your pie crust for 20-30 minutes or overnight if you made it the day before, which I always do. It makes things simpler.
Split your pastry into two balls, then shape into disks, wrap in plastic wrap and refrigerate. You can even wrap it in multiple layers of plastic wrap, put it in a ziplock bag and freezer for a month.
Always peel the apples before slicing, which gives them nicer texture when they are cooked. Slice them thinly to give them a chance to cook all the way through in the amount of time it take the crust to bake.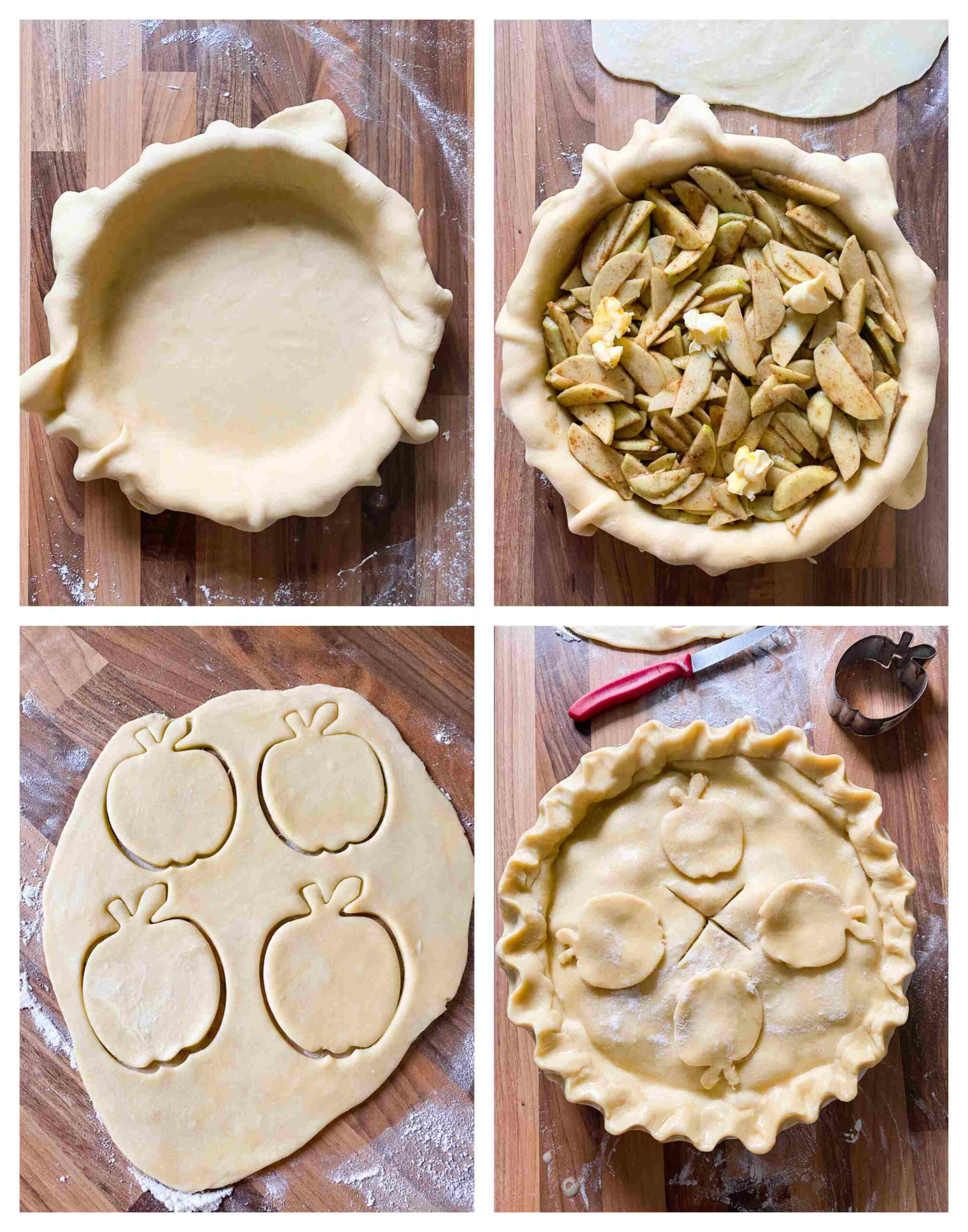 Some people like a fair amount of spice in their apple pies. I like some but not too much. I used a combination of cinnamon and mixed spice in mine. If mixed spice, which is a combination of cinnamon, coriander, caraway, nutmeg, ground ginger and cloves, is not available, use pumpkin spice or just nutmeg.
Don't forget to put slits in your top pastry for ventilation. You will have leftover pastry after you've shaped your pie, so do re-roll the cut offs and use them for decoration. I like using an apple cookie cutter but any autumn-themed design will look great. Make sure the decorative pieces are rolled out thinly, otherwise the pie crust might not bake through evenly.
Always brush the top crust with egg wash for that golden finish and sprinkle with sugar for a bit of sweetness.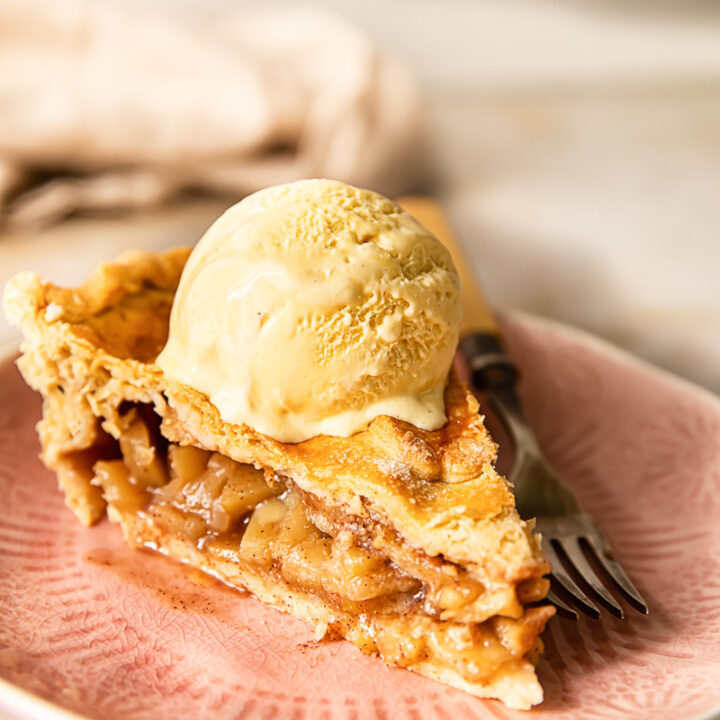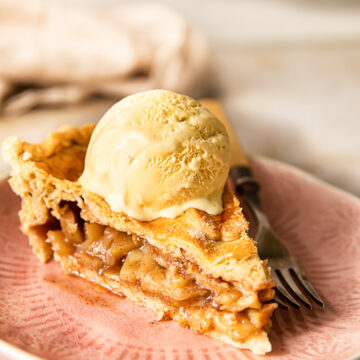 Grandma's Apple Pie
Flaky, tasty crust holding tender apple pieces.
Ingredients
For the crust
420

g

/3 cups plain flour

0.5

tsp

salt

250

g

/1 cup butter

chilled

65

g

/5 tbsp lard

chilled

1

egg

85

ml

/ ⅓ cup ice water
For the filling
8-9

small granny smith apples

peeled, cored and sliced thinly; 2.5 lbs/8 cups sliced

150

g

/ ¾ cup brown sugar

1

tsp

cinnamon

¼

tsp

mixed spice or nutmeg

2

tbsp

flour

2

tbsp

butter

1

egg

for brushing

1

tbsp

caster sugar/extra fine sugar
Instructions
Combine the flour and the salt in the bowl of a food processor or a large bowl, add in chilled cubed butter and lard and either process in a food processor or cut in with a pastry blender until you have fine crumbs. Add in beaten egg and ice water and pulse in a food processor for about 20 seconds until you have a dough ball stuck around the centre of the processor. Take it out of the food processor and separate ⅓ of the pastry. Shape each piece into a ball and then into a flat disk, wrap into plastic wrap and keep in the refrigerator while you are dealing with the apple filling. (The pastry could be made a day ahead.)

Peel, core and slice the apples thinly. In a large bowl, toss the sliced apples with brown sugar, cinnamon, mixed spice or nutmeg and flour.

On a floured surface roll out the bigger pastry piece into a circle large enough to line the bottom of a 9 inch pie plate with an overhang. Then roll out the second piece of the pastry to cover the top of the pie and move on to the filling.

Add the apple filling to the lined with pastry pie plate and scatter little dots of butter all over. Cover with the top piece and trim the excess pastry. Pinch the sides of the pie to seal and cut slits on the top. Brush with a beaten egg all over for a golden finish. You may roll out the excess pastry and cut decorative apples, leaves or anything you like with a cookie cutter. Apply on the surface of the pie and brush with the egg wash, then sprinkle with the sugar all over.

Bake at 375F/190C for 60 minutes or until the pastry is golden and the filling is bubbling through the slits.
Nutrition
Serving:
8
g
Calories:
682
kcal
Carbohydrates:
80
g
Protein:
8
g
Fat:
38
g
Saturated Fat:
10
g
Polyunsaturated Fat:
9
g
Monounsaturated Fat:
17
g
Trans Fat:
1
g
Cholesterol:
48
mg
Sodium:
485
mg
Potassium:
299
mg
Fiber:
6
g
Sugar:
32
g
Vitamin A:
1364
IU
Vitamin C:
8
mg
Calcium:
49
mg
Iron:
3
mg