Finish summer on a high with this Wild Blackberry Pie topped with honeyed crème fraîche, perfect with fresh or frozen berries!
If you can't get enough baking with blackberries, try this Victoria Sponge Cake with Blackberry Compote and Blackberry Crumble Bars!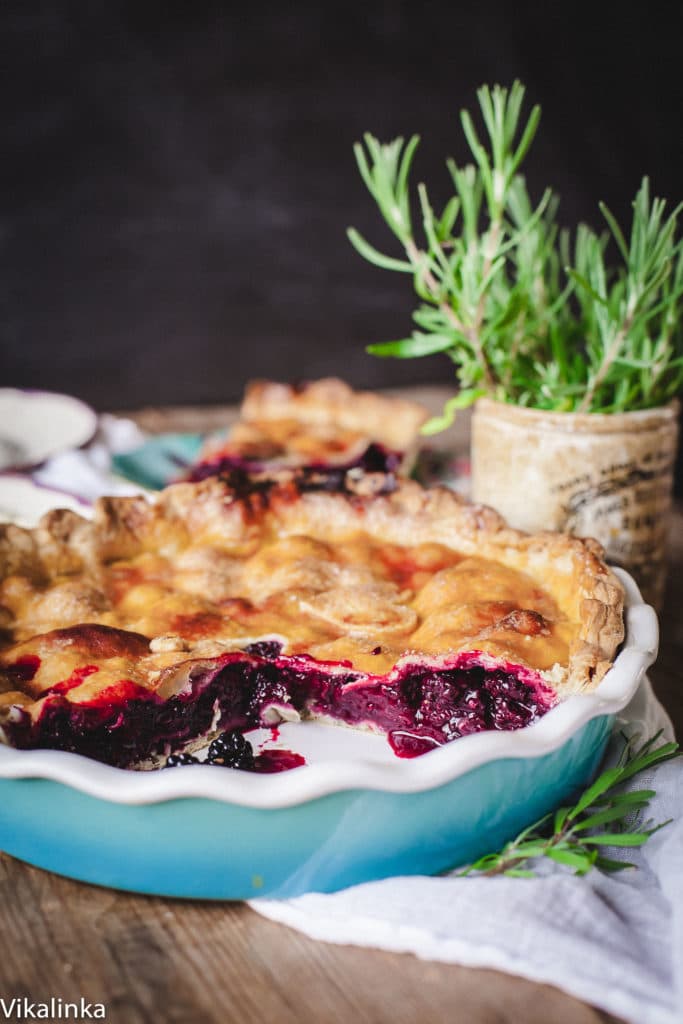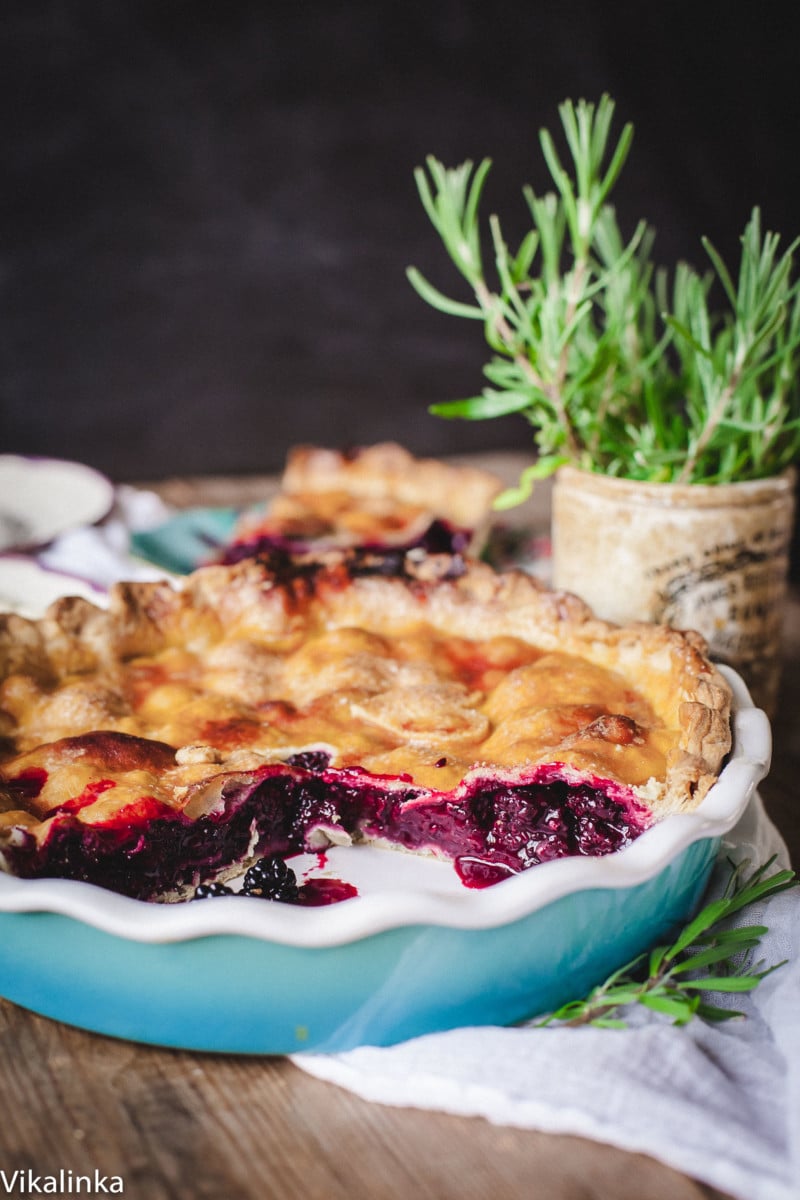 Although I'm never thrilled to see the end of summer, the one thing that makes it bearable is blackberries coming into season. It's a family tradition that we all go foraging for enough blackberries to keep us going until the next summer!
First we gorged on them and then I made a tart and now a pie. Let me tell you what a difference the flavour of wild blackberries makes!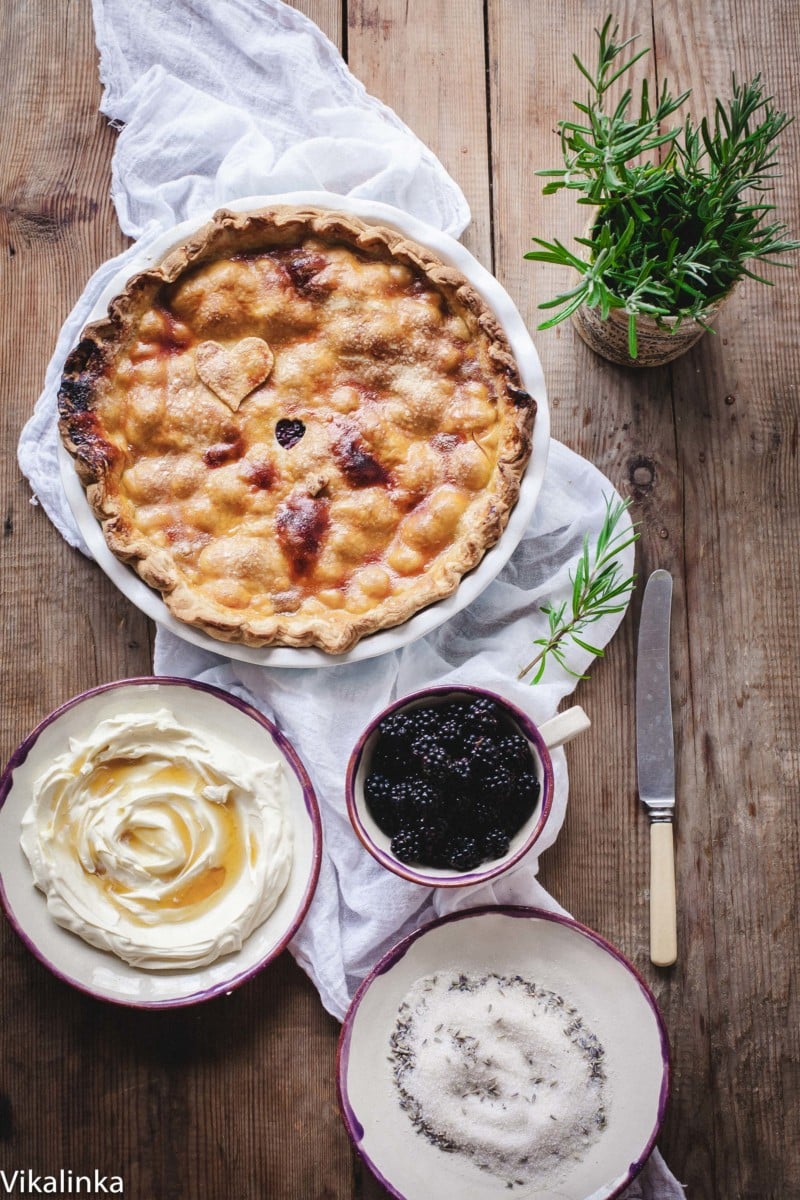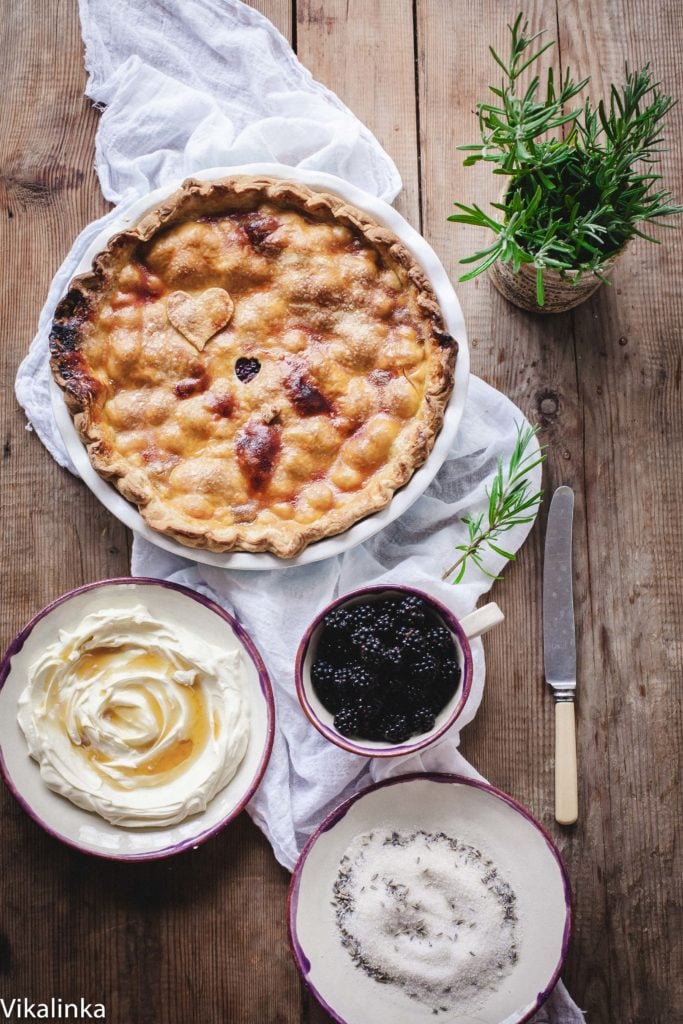 You just can't compare them to the ones that come from a store. The fragrance alone will drive you mad! Of course, if you don't have access to wild blackberries then store bought will do just fine for this pie!
Blackberries are wonderful to bake with. They can sometimes be slightly tart on their own, especially if wild, but this is balanced out by sugar when baking.
The lovely blackberry flavour still has the chance to shine through. The result is so satisfying, and sure to please everyone who tastes it!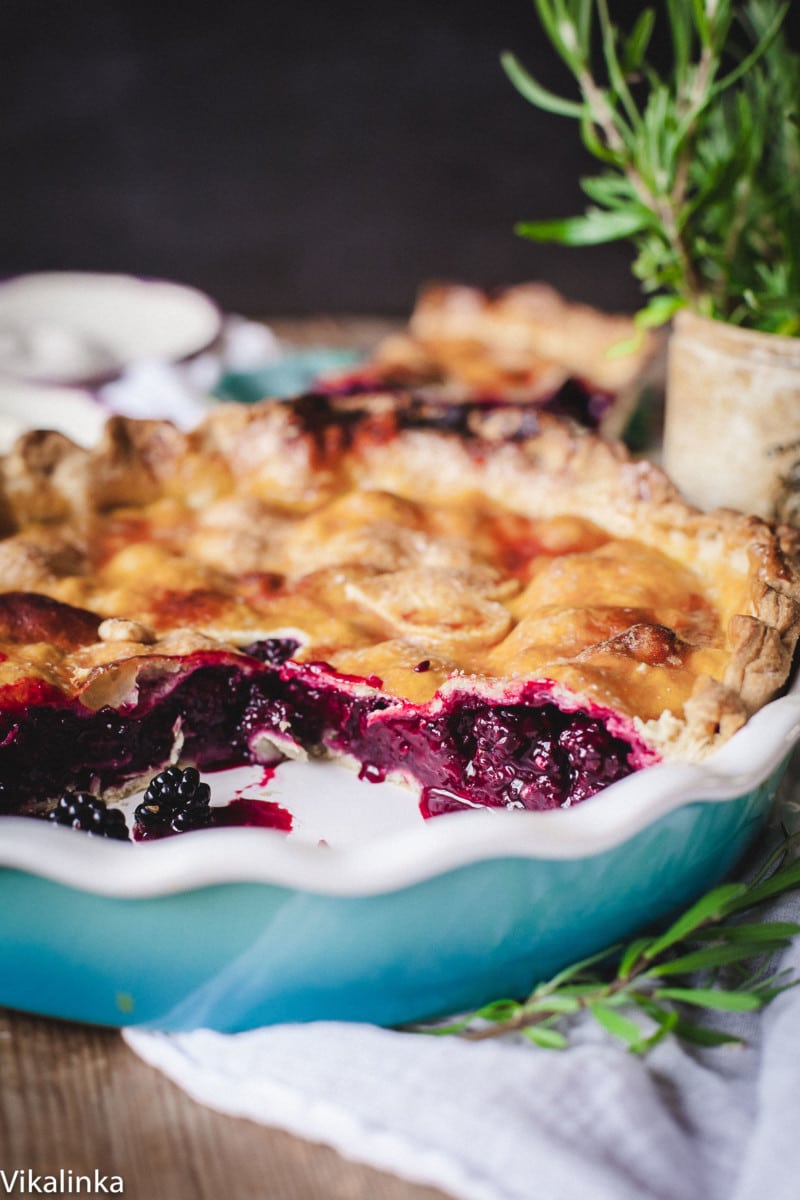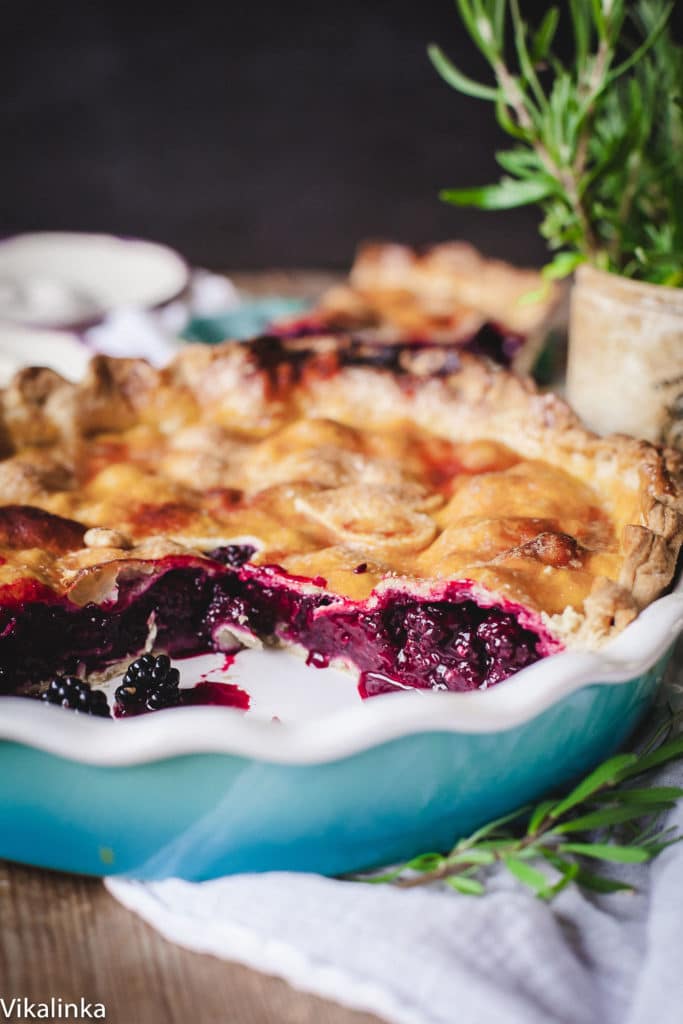 Making the pie crust
As I wrote about in my Dulce de Leche Apple Pie recipe, there's something special about using lard in a pie crust. The crust that results is light but packed with flavour.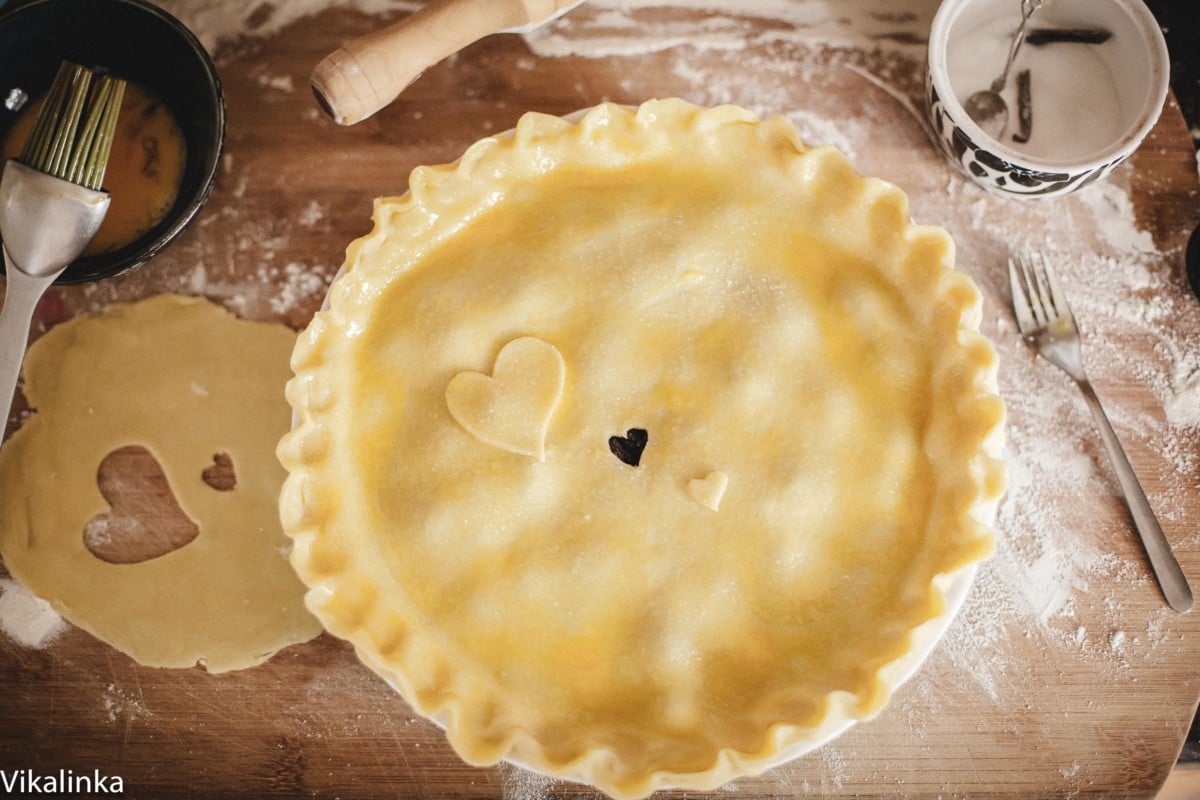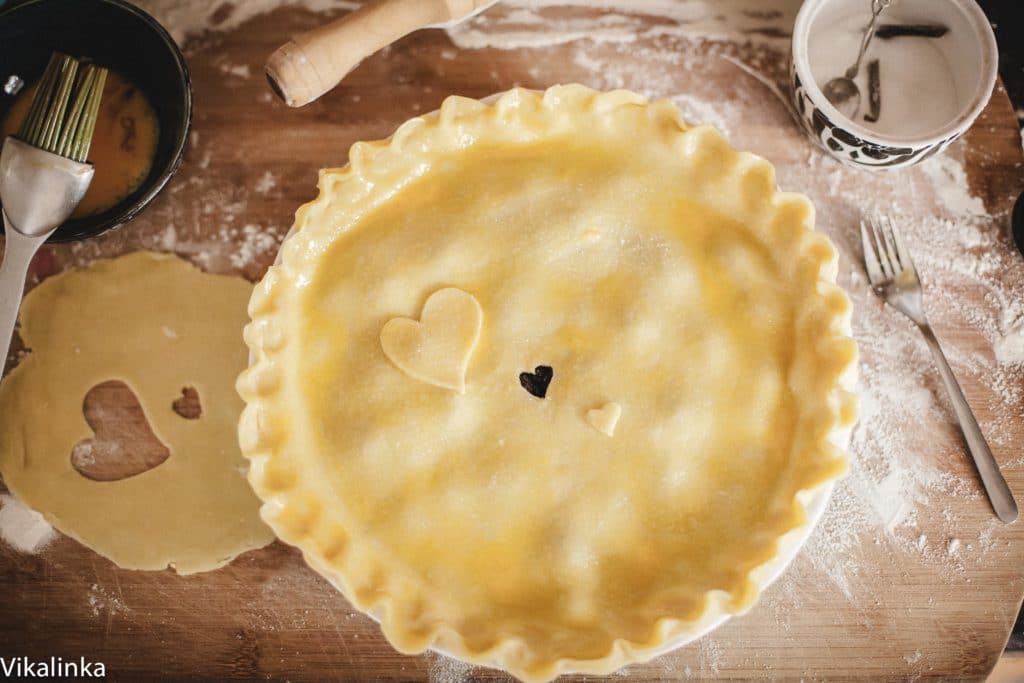 But you can get similar results with this pie crust recipe, which uses butter. The results are still delicate and tasty, but the recipe is very simple.
It's best to use a pastry blender when making pie crust, but don't panic if you don't have one! It's possible to use a fork or even two knives (one in each hand!) to combine the pie crust ingredients.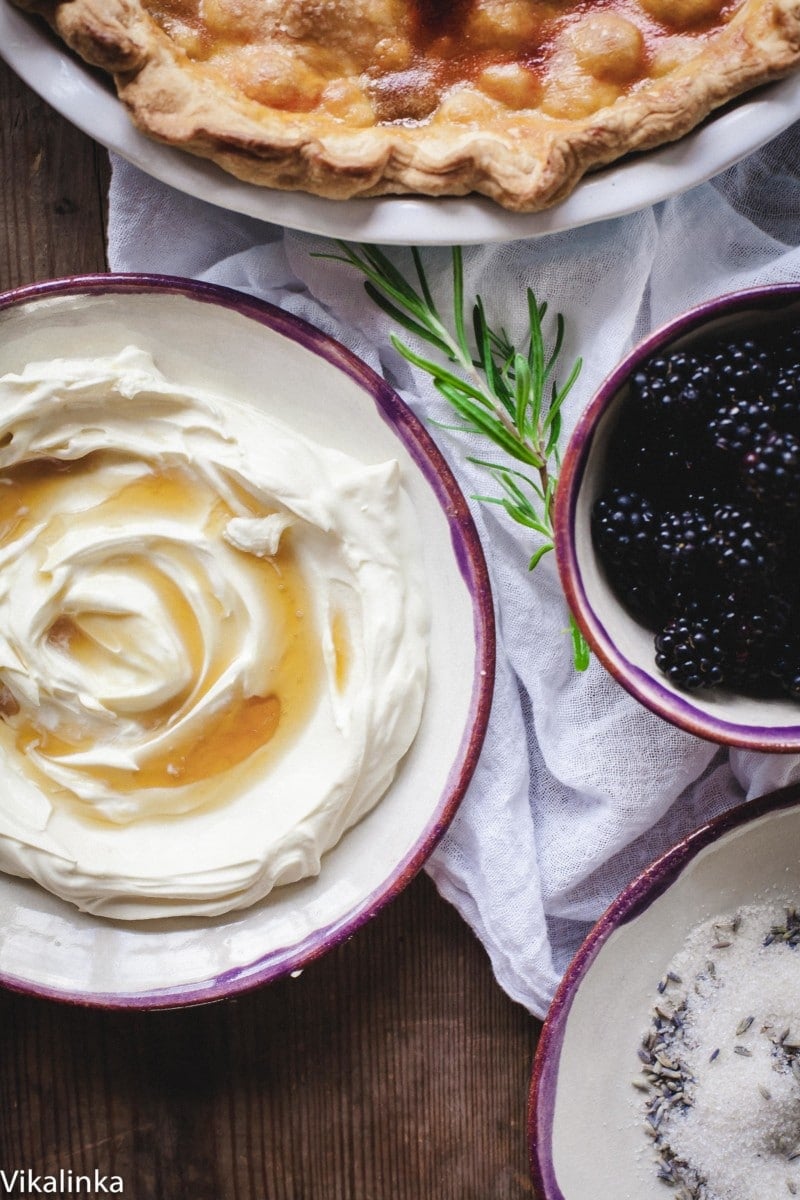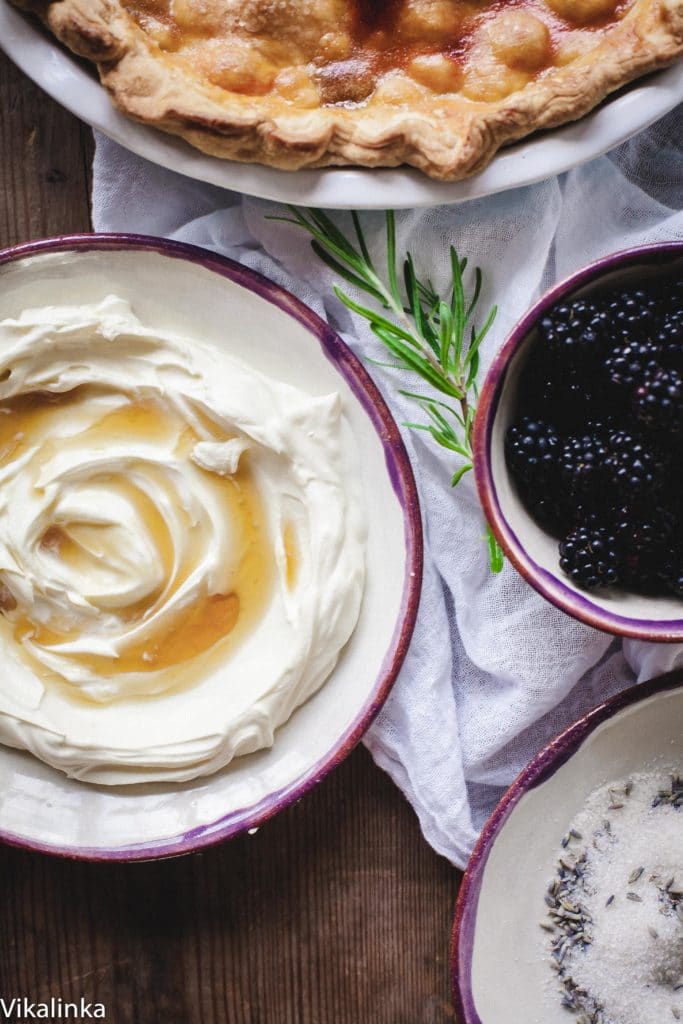 Honeyed Creme Fraiche
I served this wild blackberry pie with honey sweetened creme fraiche lightly sprinkled with lavender. The lavender is optional but the honeyed creme fraiche is too good to miss!
It might seem odd to enjoy a fruit pie with anything but whipped cream or ice-cream but hear me out. Slightly tangy creme fraiche beautifully balances out sweet and fragrant blackberries.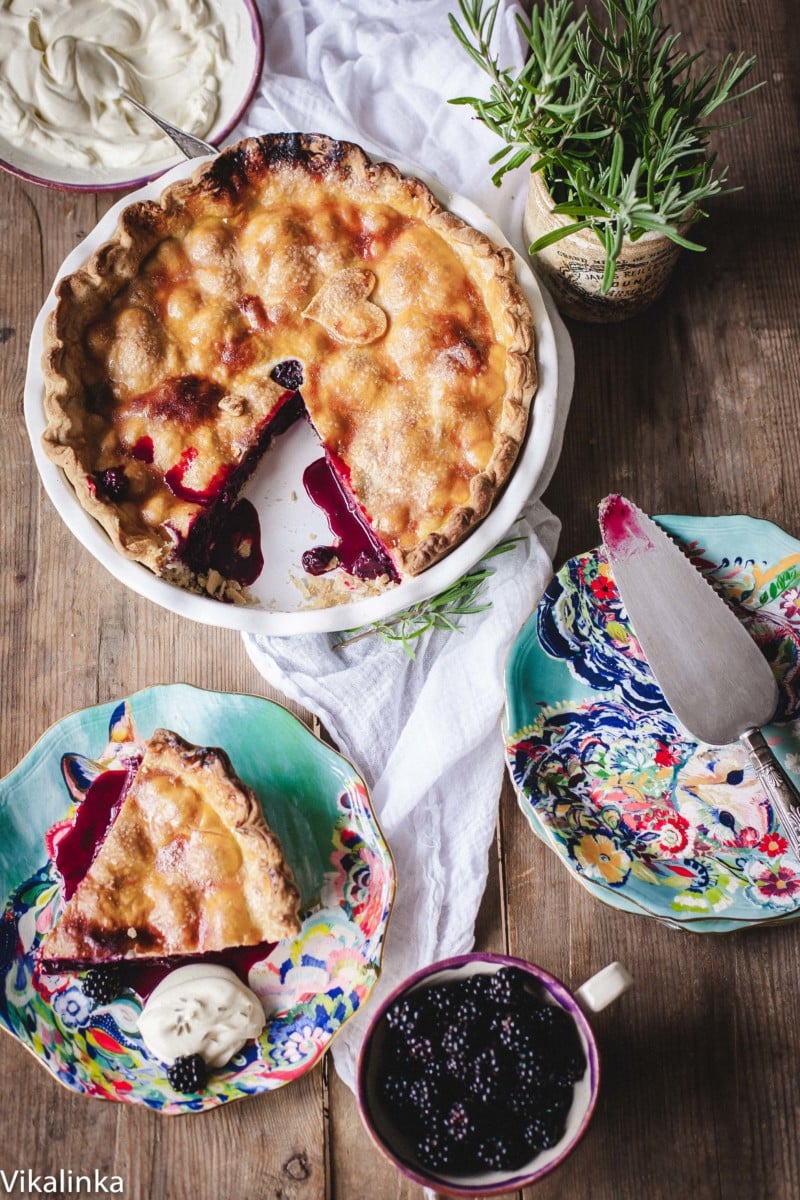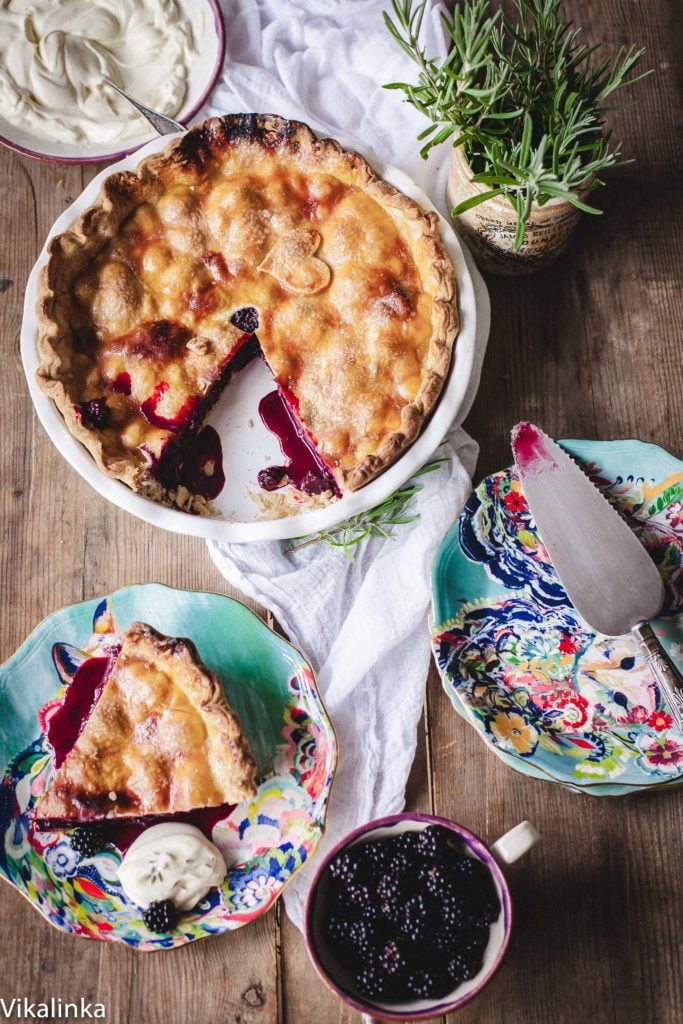 Then add the honey, which brings a touch of earthiness to this gorgeous pie. The French have been doing it for centuries and they know their food!
It's so easy to make too. All you need to do is add honey to the creme fraiche and give it a quick stir. Voila!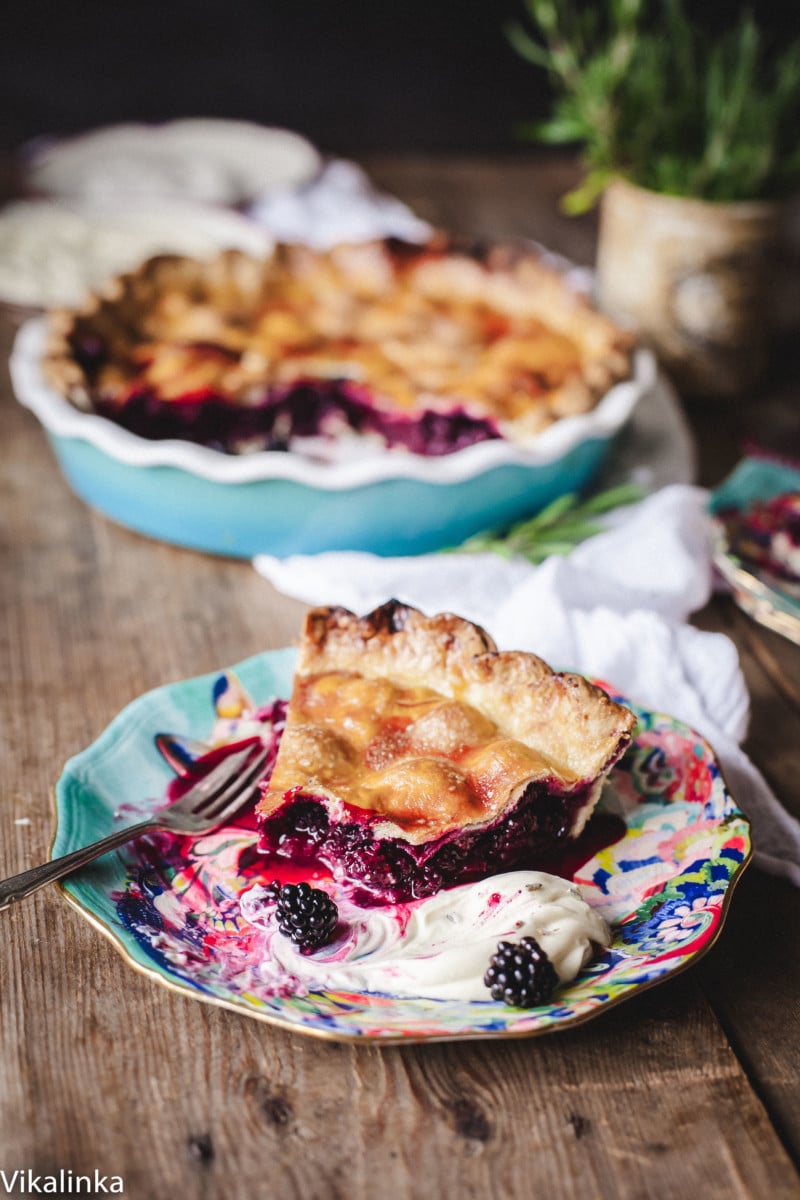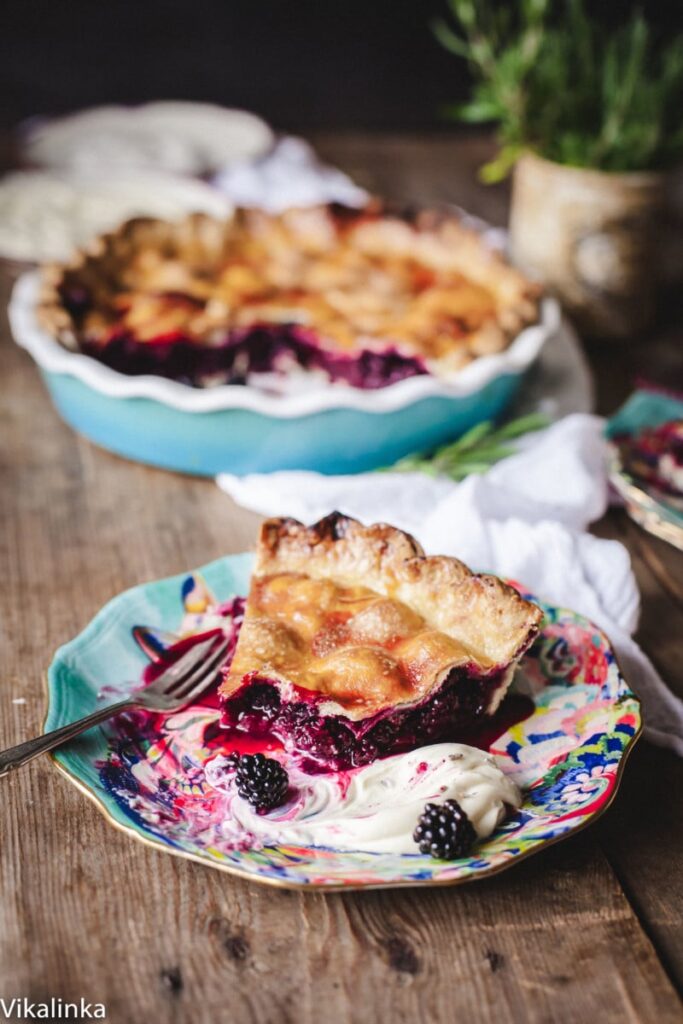 Blackberry and cream of any sort go so well together. If you are looking for more ways to bring the two together, try these Blackberry Meringues from Supergolden Bakes!
Have I inspired you to go foraging in your own backyard? Well, I am off to make another pie and I hope so are you!
Favourite Fruit Pie and Galette Recipes: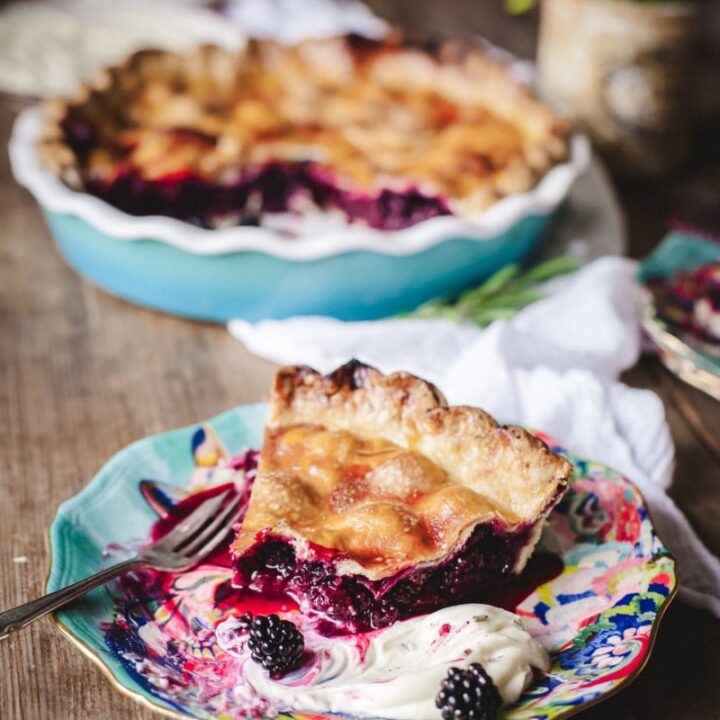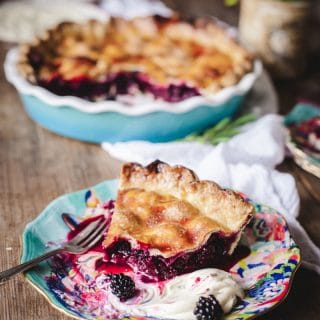 Wild Blackberry Pie with Honeyed Creme Fraiche
Makes 1 9″ deep dish pie.
Ingredients
For the pie crust
3

cups

/420 g flour

¾

tsp

salt

¾

cup

/200gr unsalted butter

¾

cup

/200 gr sour cream
For the blackberry filling
4 ½-5

cups

/ 2 lbs fresh blackberries

½

cup

/100 g sugar

2

tbsp

flour

zest of 1 lemon

1

egg for the eggwash
For the honeyed creme fraiche
2

tbsp

honey

1

cup

/250 ml creme fraiche
Instructions
In a large bowl combine flour and salt, add the butter using a pastry blender, cut it into the flour until it resembles coarse crumbs. Add sour cream and work it into the mixture with your hands until it comes together. Knead briefly, wrap in plastic wrap and chill in the fridge for 30 minutes.

Preheat the oven to 400F/200C

In a large bowl combine fresh blackberries with sugar, flour and lemon zest by lightly tossing them taking care not to mash blackberries.

On a lightly floured surface roll out ⅔ of the pie crust to fit a 9" deep dish pie plate. It should be large enough so the sides hang over the edges of the plate. Drape the rolled out pastry on the rolling pin and carefully transfer it into the pie plate. Fill it with blackberry filling.

Roll out the remaining pastry and cover the pie with it. Pinch the sides of the pie really well and brush the top with lightly beaten egg. Cut slits in the pie and sprinkle with additional sugar if desired. Bake in the preheated oven for 45 minutes until golden.

Before serving swirl honey into creme fraiche and sprinkle with some lavender. (optional) Cool and serve with honeyed creme fraiche.
Nutrition
Calories:
479
kcal
Carbohydrates:
62
g
Protein:
7
g
Fat:
23
g
Saturated Fat:
14
g
Trans Fat:
1
g
Cholesterol:
77
mg
Sodium:
248
mg
Potassium:
230
mg
Fiber:
6
g
Sugar:
22
g
Vitamin A:
869
IU
Vitamin C:
17
mg
Calcium:
63
mg
Iron:
3
mg