This pecan pie, flavoured with maple syrup and a touch of Bourbon, boasts a flaky buttery crust and a delicious filling.
If you are looking for another dessert recipe to enjoy over the holidays, take a look at our Thanksgiving Desserts for inspiration and menu planning.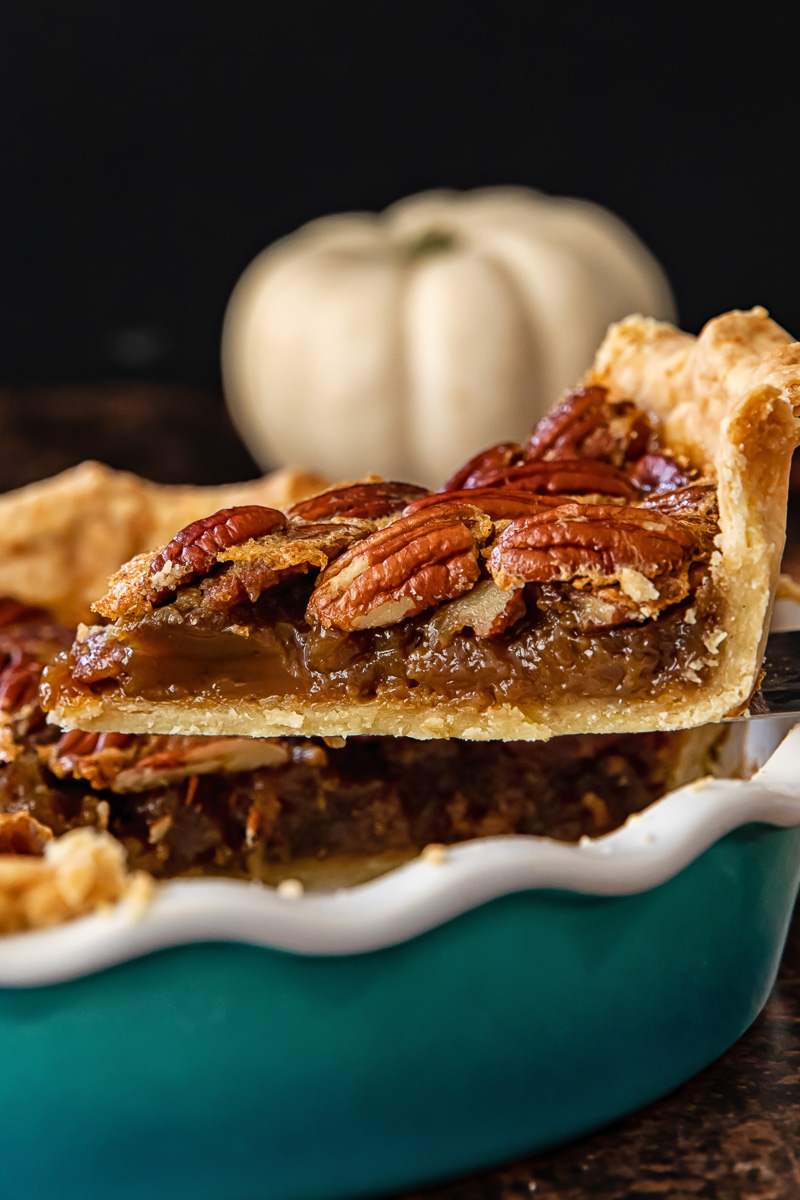 Are you team Pumpkin Pie, Pecan Pie or Apple Pie during the Thanksgiving festivities? Or perhaps you are team All The Pies? My husband definitely fits in the latter category while my son is a die hard pumpkin pie fan.
We don't make pecan pie for our Canadian Thanksgiving dinner if I am honest. So you are probably wondering what business is mine to share this deeply American recipe.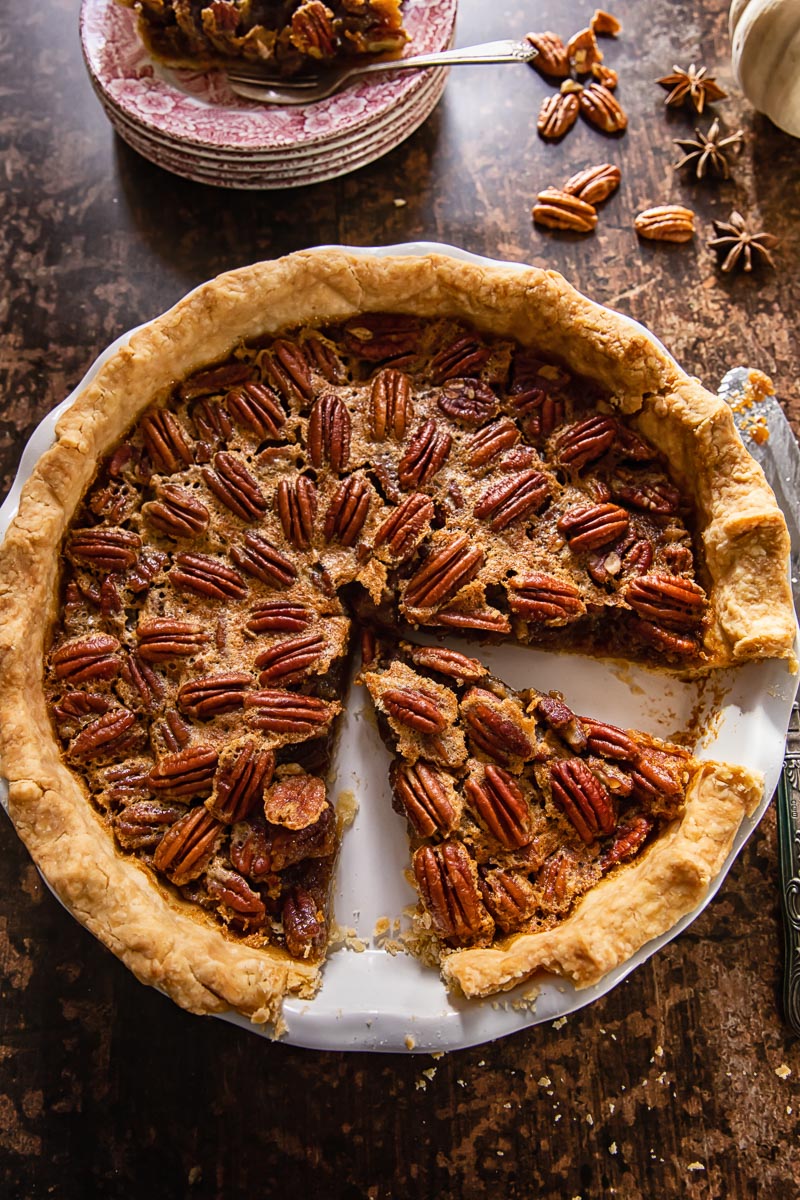 Let me tell you a little secret. An all American pecan pie bears a striking resemblance to a Canadian treat with a cult following. Butter Tarts. They are as Canadian as hockey and maple syrup and they are surprisingly similar to a pecan pie. The main difference is the use of walnuts instead of pecans and an addition of raisins.
I happen to have a killer recipe, so I thought I'd share with you my secrets, tips and tricks on how to take your pecan pie to the next level of sublime. You've probably guessed it already, I added maple syrup to my recipe. I can't help it, it's the Canadian in me. Then I spiked it with Bourbon, which safely brought it back to America!
I also can't wait to share the tastiest pie crust you can imagine. Buttery, flaky, slightly sweet but not enough to make it overwhelming. This shortcrust is a real winner. Just look at the edge of that pie!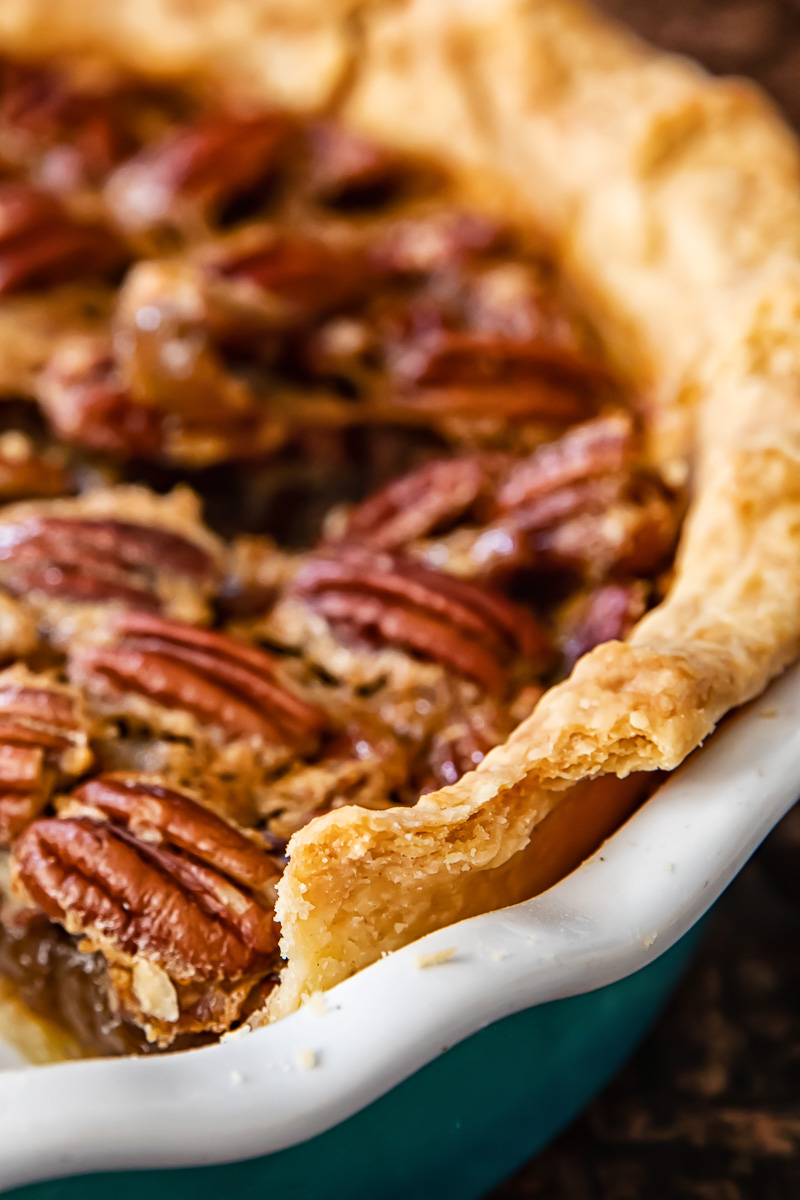 What goes into pecan pie anyway?
Pecan nuts, obviously, but they are not the only ingredient, that makes this pie so special. Traditionally made with eggs, butter, brown sugar and corn syrup, the filling is slightly gooey and very smooth, interspersed with the crunch of the nuts.
The corn syrup is necessary for that classic texture. However, it can be substituted with maple syrup or golden syrup in case you want to make it in the UK. I actually use both corn syrup and maple syrup in my recipe.
All that goodness is encased in a buttery pie crust, and every baker has her/his own recipe. Mine is a classic shortcrust with a tiny pinch of sugar just because I believe it really adds something special.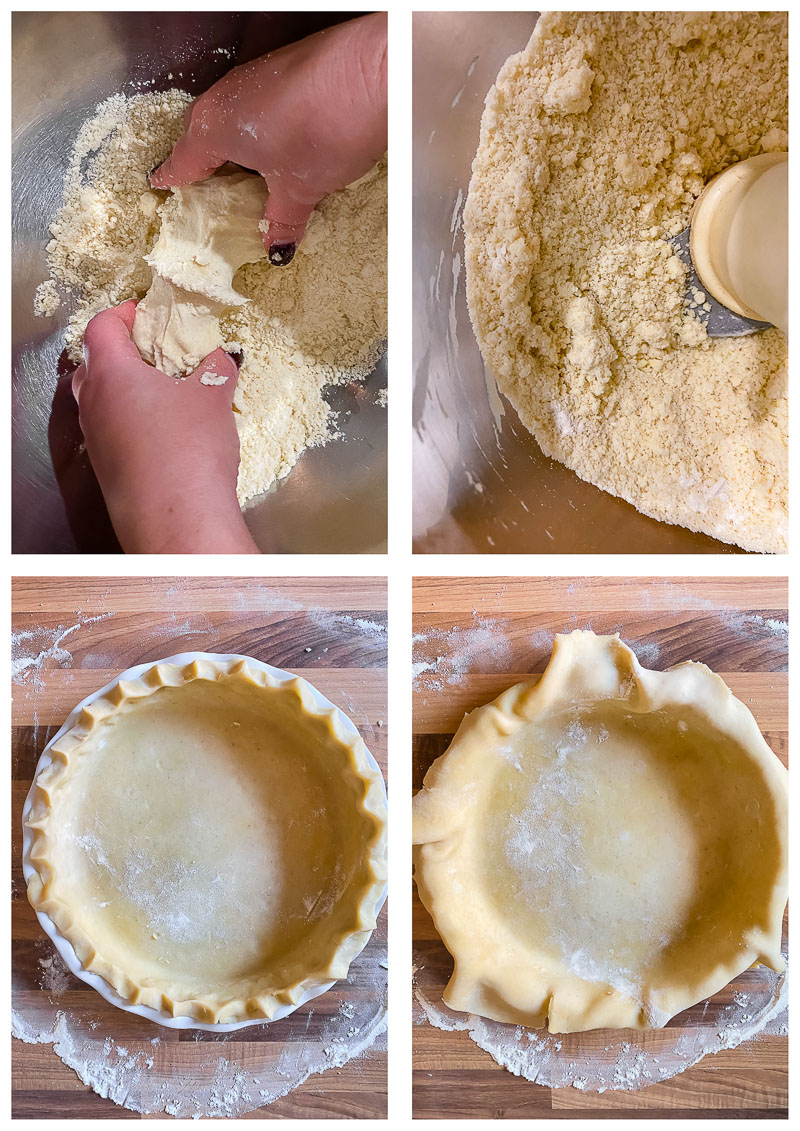 Shortcrust Recipe
The basic shortcrust recipe could be used for both sweet and savoury pies as well as tarts and quiches. To make mine more suitable for the pecan pie I added 1 tablespoon of sugar.
The classic shortcrust recipe usually calls for double amount of flour to the amount of butter. Sometimes the proportions are not exact as adding a bit more flour makes it easier to work with the dough. 2-3 tablespoons of ice cold water are added to help the dough come together.
The images above demonstrate the process. The pastry is very easy to make but because of the flour to butter ratio, it will look like you've got a bunch of crumbs. Don't worry and don't increase the amount of water. Otherwise, the pie crust will be hard instead of flaky.
As long as you've got clumps of dough when you squeeze the crumbs with your hands, as the picture above shows, you are on the right track. I always use my food processor to combine the flour and butter. It's fast, easy and eliminates the use of hands, which warm up the butter too much.
If you don't have a food processor, use a pastry blender to achieve the same thing. It is absolutely necessary to refrigerate the shortcrust after it's been made for at least 1 hour. This helps the gluten in the flour to relax and minimises shrinkage when baked.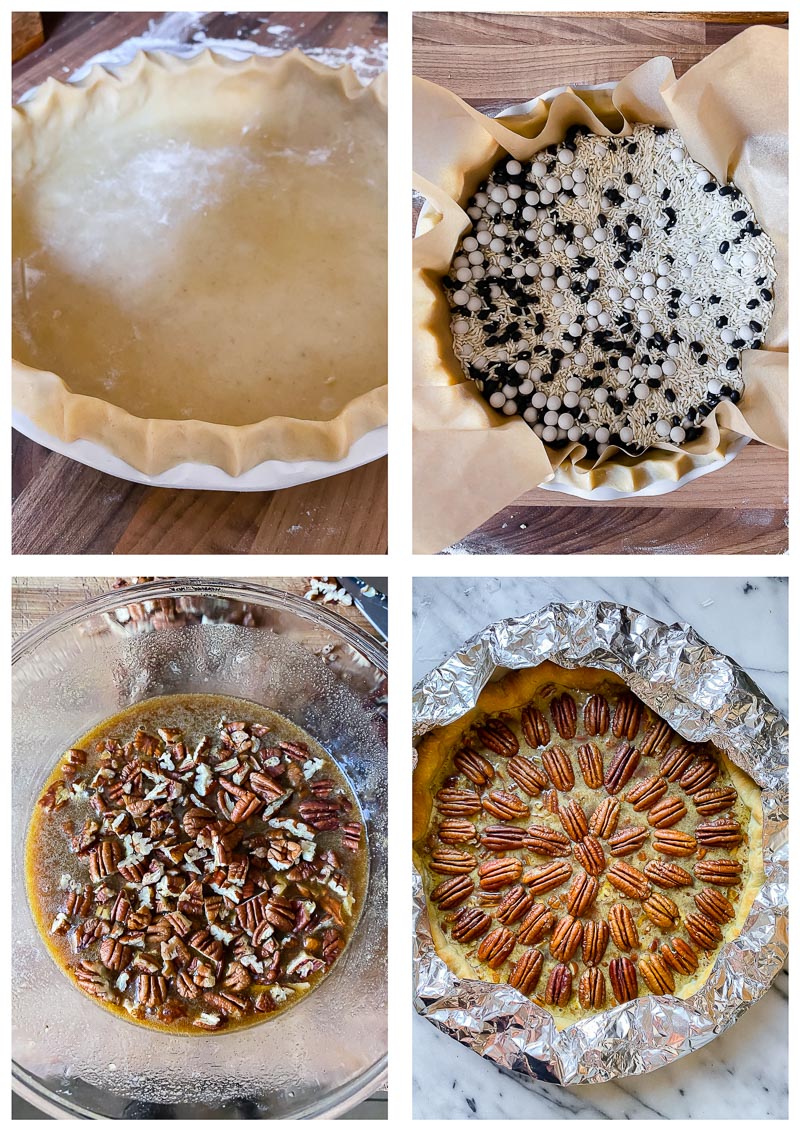 To Blind Bake or Not to Blind Bake
There are many pecan pie recipes on the internet, which skip the blind baking. I am not going to lie they are much easier and faster. However, I absolutely cannot stand soggy bottoms in pies, so for me blind baking is a must.
If you are not sure what blind baking is, let me quickly explain. You partially pre-bake the pie crust with the pie weights in it to prevent it from shrinking. You can either purchase pie weights or use dried beans or even rice. You can see I use a combination of all three to fill my deep 9 inch pie plate. Don't forget to line your unbaked and chilled pie crust with parchment paper to protect it.
Pecan Pie Filling
The filling is the most magical part of this pie, and it is also the easiest! All you have to do it to mix the ingredients with a whisk. You don't even need an electric mixer for it!
A word of advice. Don't overload your pie with pecans or it becomes a bit tiresome to chew. Less is more here. I learned this the hard way.
Alternative Thanksgiving Desserts to Try: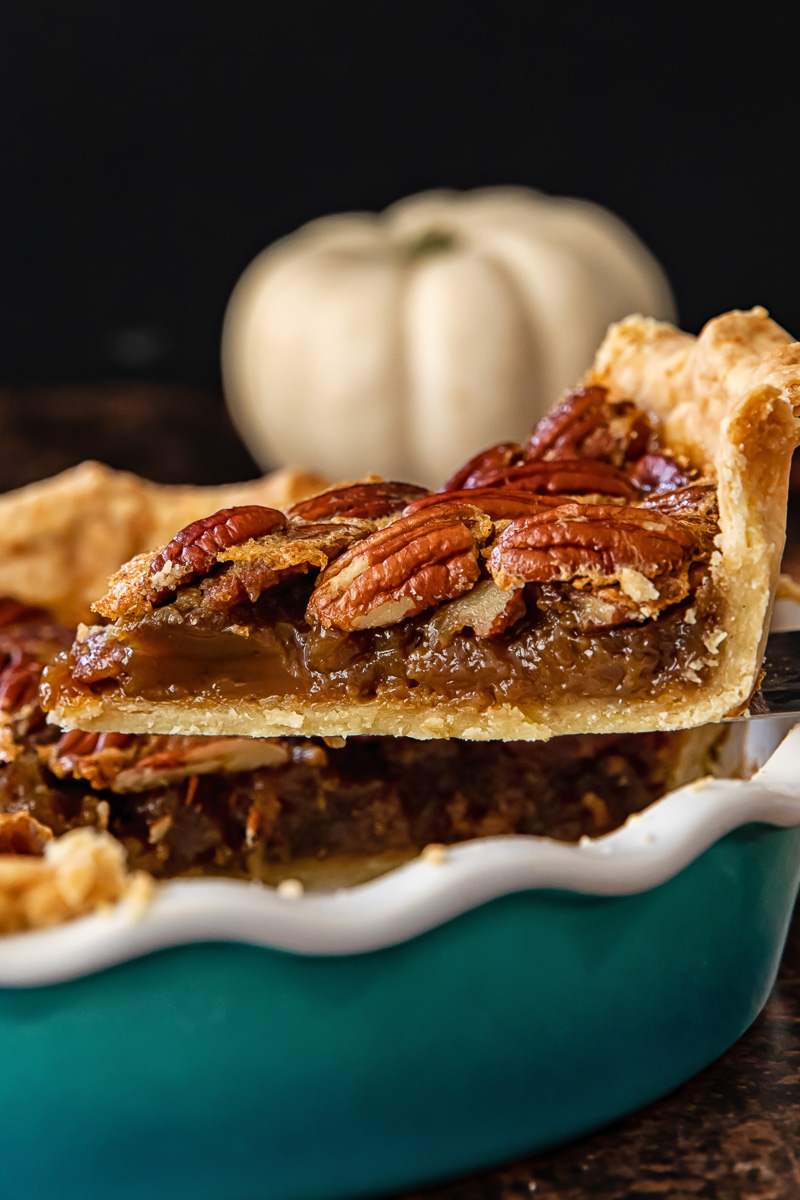 Ingredients
For the shortcrust
250g/ 1 ¾ cup + 1 tsp

plain flour

125g/1/2 cup + 1 Tbsp

cold unsalted butter

cubed

1

tsp

salt

1

tbsp

white sugar

3

tbsp

ice cold water
For the filling
125ml/1/2 cup

corn syrup or golden syrup

125/1/2 cup

maple syrup

100g/1/2 cup

brown sugar

75g/1/3 cup

butter

melted

3

eggs

large

½

tsp

salt

1

tsp

vanilla

3

tbsp

Bourbon

150g/1 ½ cups

pecans

100g/1 cup

pecan halves to decorate the top

optional
Instructions
In a food processor combine the flour and cold cubed butter, pulse to process until the mixture resembles crumbs. Through the chute of a food processor add ice cold water one tablespoon at a time and pulse until the mixture feels a but heavier. It will not come together just yet.

Remove the mixture from the food processor and empty into a large bowl. Bring the dough together with two hands, don't handle it too much, just enough to form a shaggy ball. Wrap in plastic wrap, then press the dough down with the palm of you hand to form a disk. Chill in a refrigerator for at least one hour.

Take the shortcrust from the refrigerator and let it come to room temperature for at least 20 minutes. It's impossible to roll out a well chilled disk of pie crust and if you try really hard it will just crack. Once it's pliable enough to work with, start rolling it out on floured surface into a circle 12 inch in diameter. Don't worry if it cracks, just pinch it together and continue on. Drape on your rolling pin and transfer the rolled out shortcrust into a 9 inch pie plate. Once again if it cracks or tears, just patch it up.

Once the pie plate is lined with the shortcrust, fold the overhanging edges under to form a thicker rim, then crimp it decoratively. Chill in the fridge for 20 minutes. Preheat the oven to 200C/400F.

Take the shortcrust out of the fridge, prick the crust with a fork all over, then line it with parchment paper and fill with baking beans. Blind bake at 200C/400F for 15 minutes, then remove the baking beans and the paper and bake for 5 minutes longer. It will probably shrink a bit, which is normal. It should look pale and partially baked.

While the crust is baking, mix the corn syrup and the maple syrup with the brown sugar, melted butter, salt and vanilla. Then whisk in the eggs and add the bourbon and the chopped pecans.

Take the pie crust, that's been blind baked, and fill with the pecan filling, then top with the pecan halves in concentric circles. (You can also skip this step if want less nuts in your pie.) Cover the edges with aluminium foil to prevent excessive browning and burning. Bake in the oven preheated to 350F/180C for 35-40 minutes or until the edges of the pie are set and the centre is still slightly jiggly. Cool completely before slicing and serving.
Nutrition Facts
Maple Bourbon Pecan Pie
Amount Per Serving
Calories 687
Calories from Fat 405
% Daily Value*
Fat 45g69%
Cholesterol 115mg38%
Sodium 653mg28%
Potassium 243mg7%
Carbohydrates 65g22%
Protein 8g16%
Vitamin A 731IU15%
Vitamin C 1mg1%
Calcium 72mg7%
Iron 3mg17%
* Percent Daily Values are based on a 2000 calorie diet.