This perfectly spiced pumpkin bread with a moist crumb and a delicious butterscotch streusel topping is the seasonal bake you want to make over and over again.
If you can't get enough of pumpkin treats, take a look at my Pumpkin Pie with Chocolate Swirl.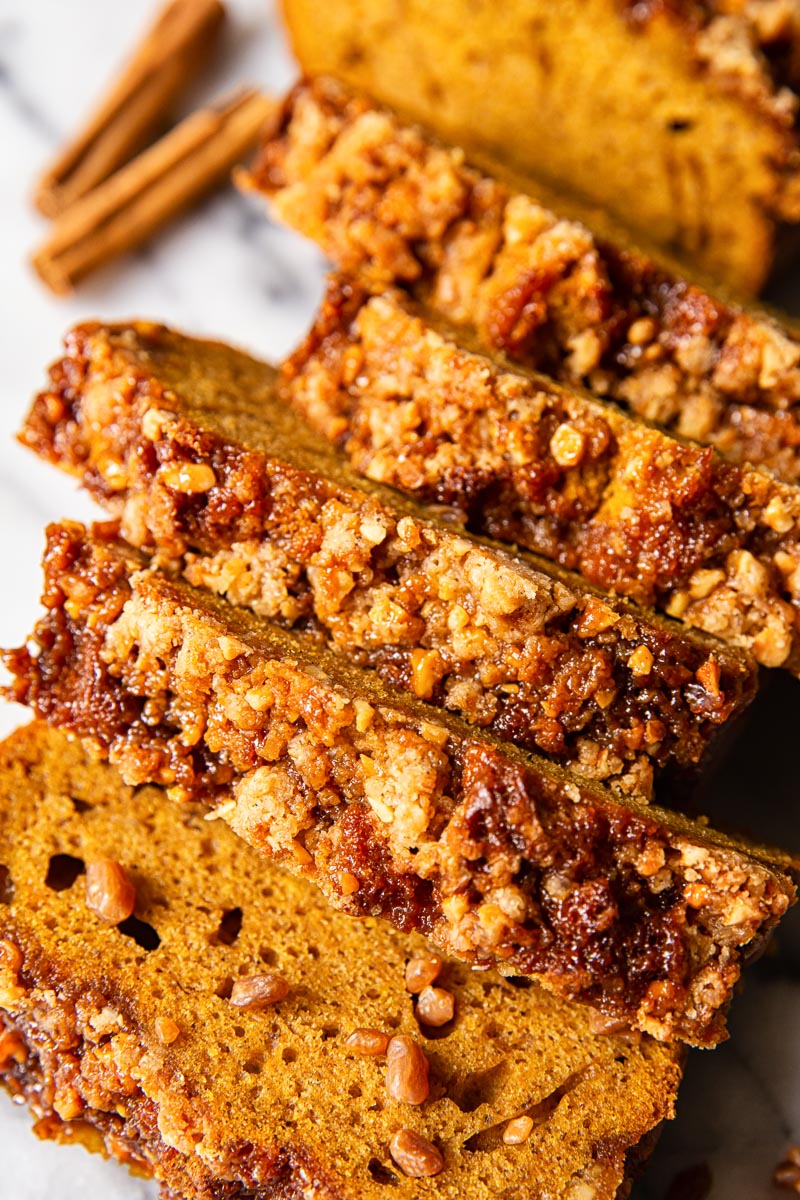 Mornings in the middle of autumn are hard. They are dark, cold and depressing, especially when your wake up time is 6 am! My only consolation in this dreary, rainy season is an abundance of pumpkins and squashes.
I love that they were made bright orange! We need a splash of colour when everything else is monochrome grey.
Best Pumpkin Bread
This pumpkin loaf with a butterscotch streusel topping made a few of my mornings a bit brighter this week. I know I appear to be easily pleased but don't be fooled, I am picky about my food.
When something makes me happy it has to be pretty darn good! I mean fantastic. Soft and moist crumb flavoured with the classic autumnal spices of cinnamon, nutmeg, ginger and cloves is hard to beat!
In addition to cinnamon and nutmeg, I used store bought mixed spice, which is a combination of a few favourites mentioned above. However, if you are in the US or Canada, feel free to use a pumpkin spice mix.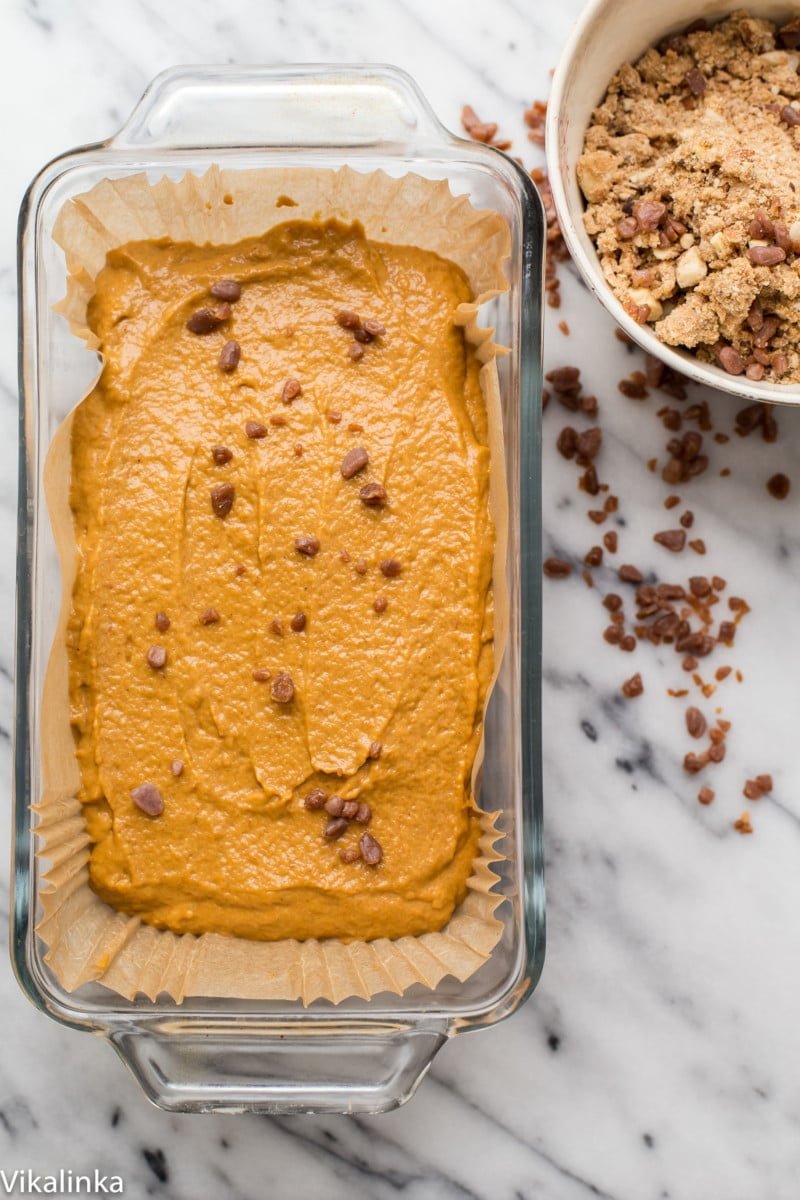 Streusel Topping
I am not going to lie to you, the best part of this pumpkin loaf is the butterscotch streusel. I feel that by adding it on top of a regular pumpkin bread it got propelled in the category of uber-delicious treats.
Made simply by mixing butter, brown sugar, flour, butterscotch chips and chopped walnuts (optional). Then flavoured with the warming spices of cinnamon, nutmeg, and pumpkin spice (or mixed spice in the UK) this streusel topping is outrageously delicious.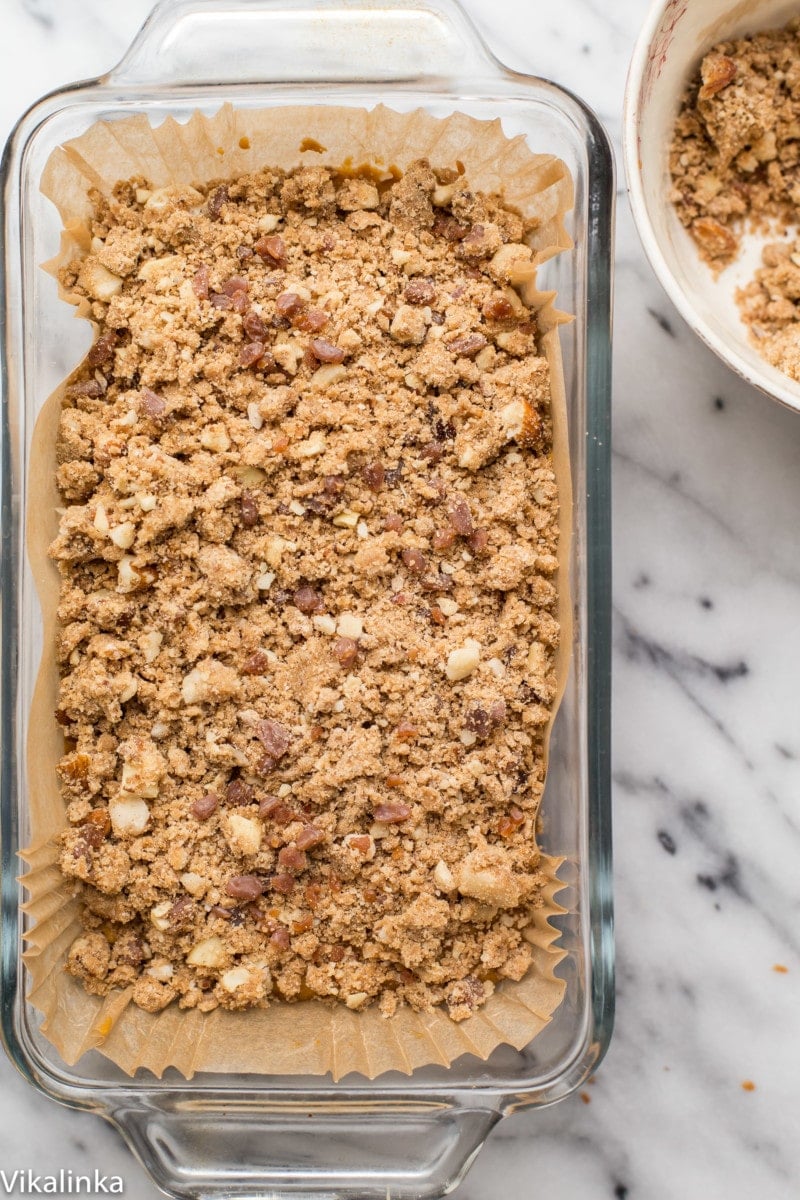 Recipe Tips
And of course it's easy to make. All you need to do is mix the wet ingredients and dry ingredients separately. Then combine and sprinkle the streusel topping on. Pop it in the oven and enjoy!!
I used a loaf pan liner for an easy removal, which I highly recommend. If you can't find the liners, you can use parchment paper instead. Or just grease your loaf pan very well.
Suitable Substitutes
If canned pumpkin puree is not available, you can easily make your own by roasting the pumpkin pieces in the oven until fork tender, then processing the cooked flesh in a blender or food processor until smooth.
One important tip is to drain your homemade pumpkin puree once it's been made. You will be surprised by the amount of liquid being drained. This way the pumpkin flavour will be more concentrated and the texture more suitable for baking.
If butterscotch chips are difficult to find, substitute with peanut butter or toffee chips or make your own by crushing up butterscotch candy!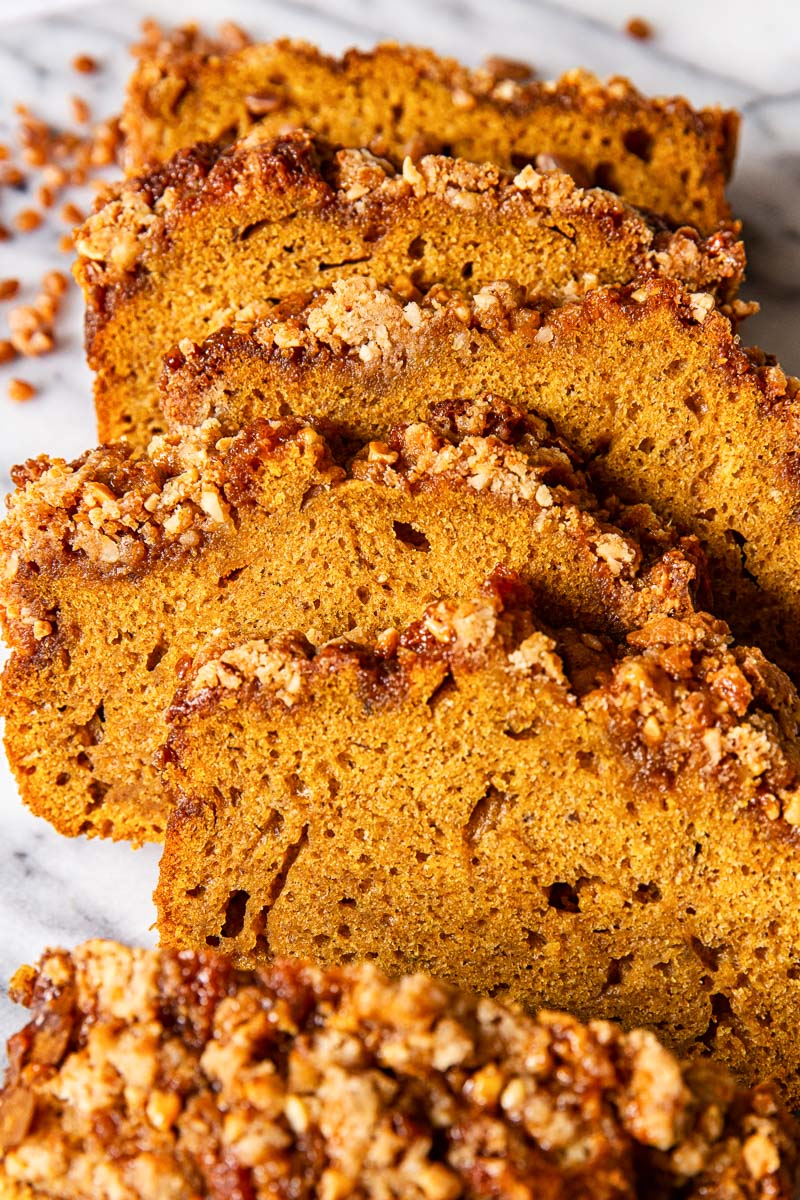 More Pumpkin Recipes to Try:
This recipe was originally published in 10/2015. Updated with new photos, text and recipe tips and republished in 10/2020.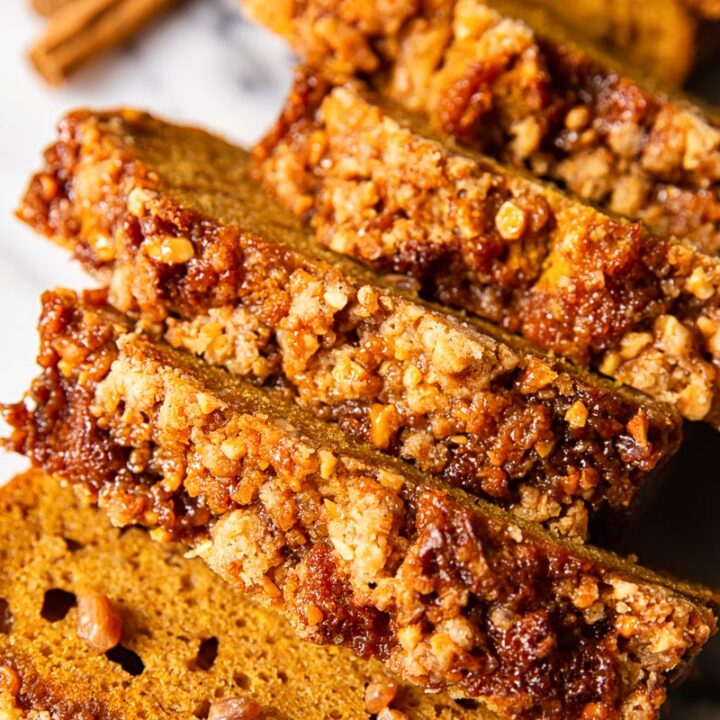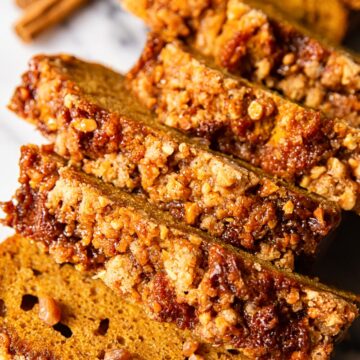 Pumpkin Bread with Butterscotch Streusel Topping
This perfectly spiced pumpkin bread with a moist crumb and a delicious butterscotch streusel topping is the seasonal bake you want to make over and over again.
Makes 1 loaf.
Ingredients
For the pumpkin loaf
220g/1

cup

canned pumpkin or cooked and mashed pumpkin

150g/3/4

cup

white sugar

85ml/1/3

cup

oil

2

eggs

large

180g/1 ½

cup

flour

1

tsp

baking soda

½

tsp

baking powder

½

tsp

salt

1

tsp

cinnamon

½

tsp

pumpkin spice or mixed spice (UK)

¼

tsp

nutmeg
For the butterscotch streusel topping
3

tbsp

flour

2

tbsp

sugar

⅛

tsp

cinnamon

⅛

tsp

mixed spice or pumpkin spice

⅛

tsp

nutmeg

1 ½

tbsp

butter

2

tbsp

chopped walnuts

optional

2

tbsp

butterscotch chips
Instructions
Preheat the oven to 180C/350F

In a large bowl mix pumpkin, sugar, oil and egg and beat with an electric mixer for 2 minutes.

In a separate bowl combine sifted flour, baking soda, baking powder, salt and all spices.

Add dry ingredients to the wet ingredients and mix until combined for about 2 minutes.

Make the butterscotch streusel topping by combining flour and all spices in a small mixing bowl, add softened butter and mix it with your hands until the mixture reminds large oat flakes.

Mix in chopped walnuts and butterscotch chips.

Line your loaf pan with some parchment paper or grease it well and pour the pumpkin loaf batter in it.

Top with the streusel topping and bake for 1 hour to 1 hour 10 minutes or until a toothpick comes out clean when the cake is pierced.

Cool in the pan for 30 minutes, then remove on a wire rack and cool completely.
Nutrition
Calories:
244
kcal
Carbohydrates:
35
g
Protein:
3
g
Fat:
10
g
Saturated Fat:
2
g
Cholesterol:
32
mg
Sodium:
249
mg
Potassium:
101
mg
Fiber:
1
g
Sugar:
20
g
Vitamin A:
3267
IU
Vitamin C:
1
mg
Calcium:
25
mg
Iron:
1
mg