If you haven't discovered Eton Mess now is your chance! Blackberry and Pistachio Ice Cream Eton Mess is simple yet  so impressive!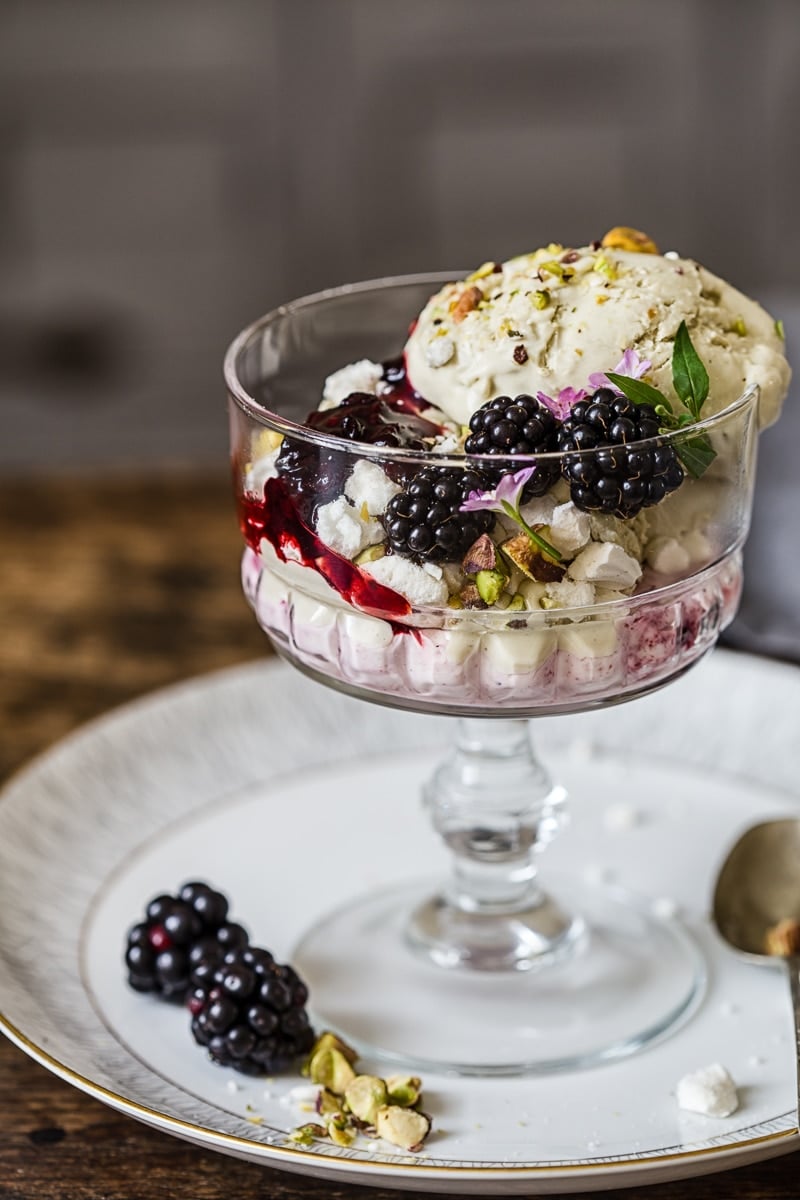 Sadly I can't say our impossibly hot days are driving us to frozen treats for a chance to cool off because these English skies have been depressingly gloomy and temperatures barely creep above 20C lately.
Still it's our summer and we make the best of it, which brings me to the best of British classics Eton Mess.
Admittedly, I messed with the original quite a bit. Traditionally Eton Mess is a combination of fresh strawberries, cream and meringue pieces artfully thrown together.
But there are plenty of traditional recipes on the internet, so why write another one! Also strawberries are on their way out and blackberries are taking over!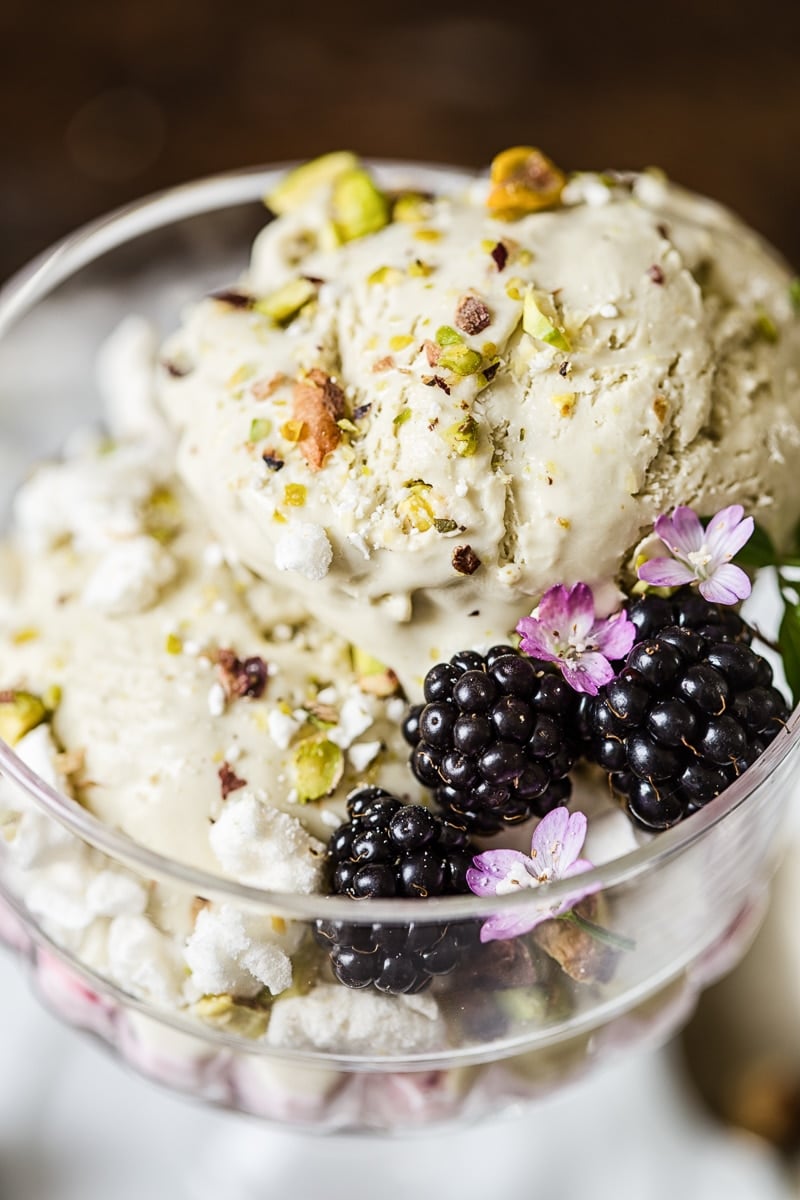 We happen to live a short walk away from a copious amount of wild blackberry bushes and we try to take advantage of them every August. The proof is in all the blackberry recipes on my blog!
Over the last week we have picked about 15 lbs. It such a lovely family activity! You can definitely see which of your children has perseverance and focus and which one possesses an enormous appetite for blackberries and fun!
Watching my daughter bouncing from one bush to another, giggling and babbling with her mouth full of blackberries reminded me so much of my younger self and provided entertainment for the whole family!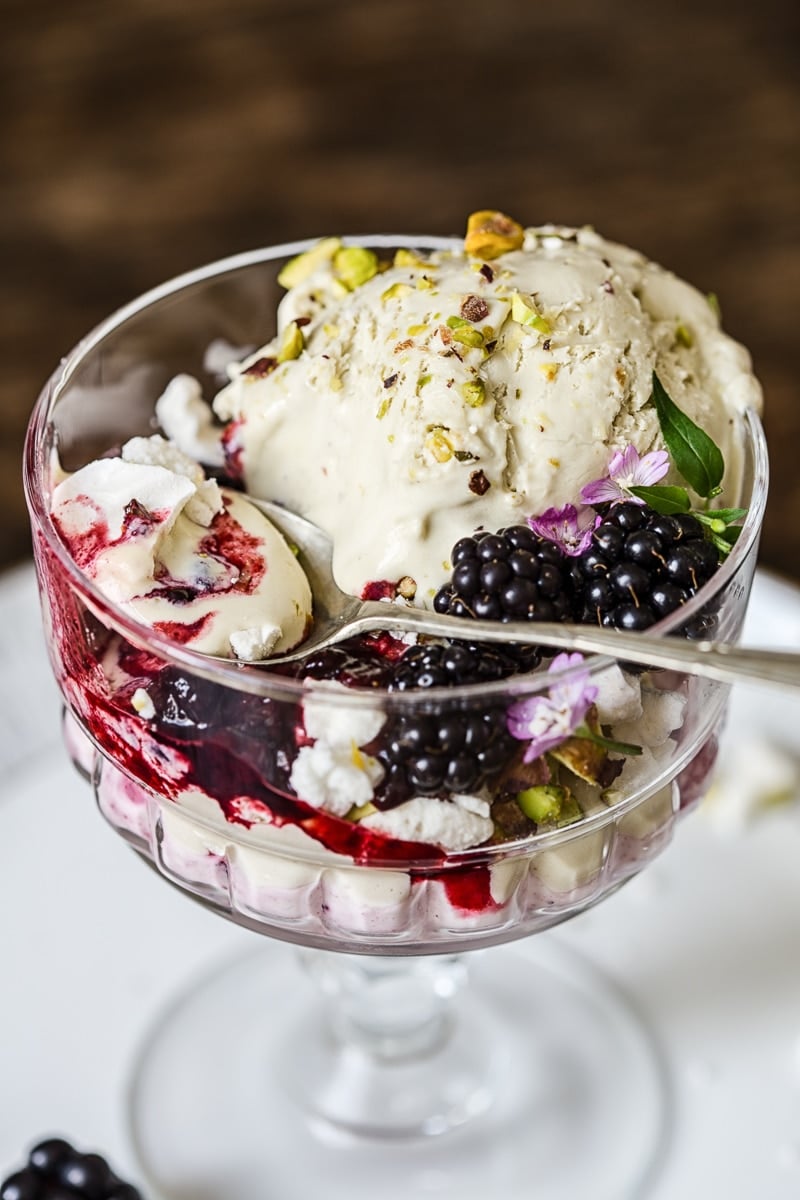 So far we've eaten our body weight in blackberries, baked a blackberry pie, frozen 5-6 large bags and we have just begun.
This Blackberry and Pistachio Ice Cream Eton Mess is a quick and beautiful dessert idea for that special dinner that calls for a dessert but you just have no time to pull it off!
It's delicious and impressive but essentially it is a fancy Ice Cream Sunday. I made my own pistachio ice cream but feel free to use a store bought kind.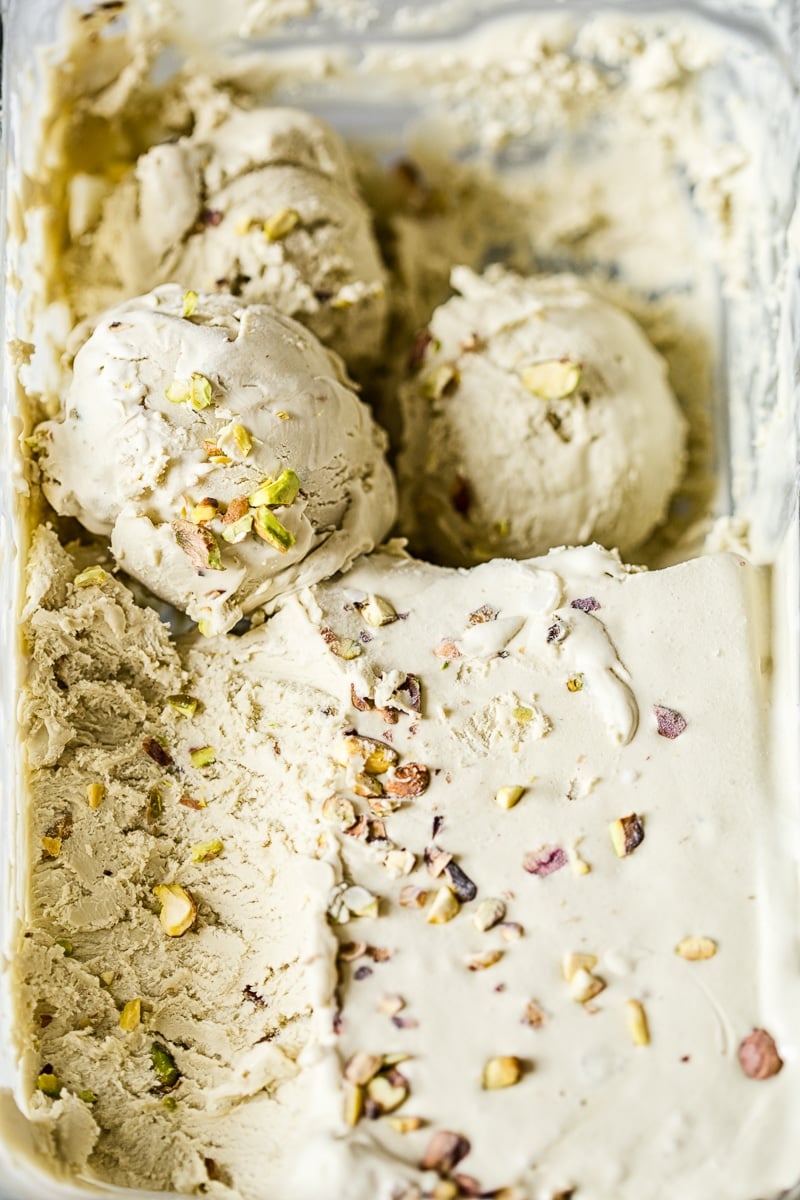 Pistachio ice cream happens to be Brad's favourite flavour. He discovered his passion for it on one of our trips to Italy and ever since then he's bought it at every opportunity he got.
Sadly it only tastes amazing in Italy. Every other time we tried pistachio ice cream it looked the part but its cloying sweet and artificial taste was only sub par.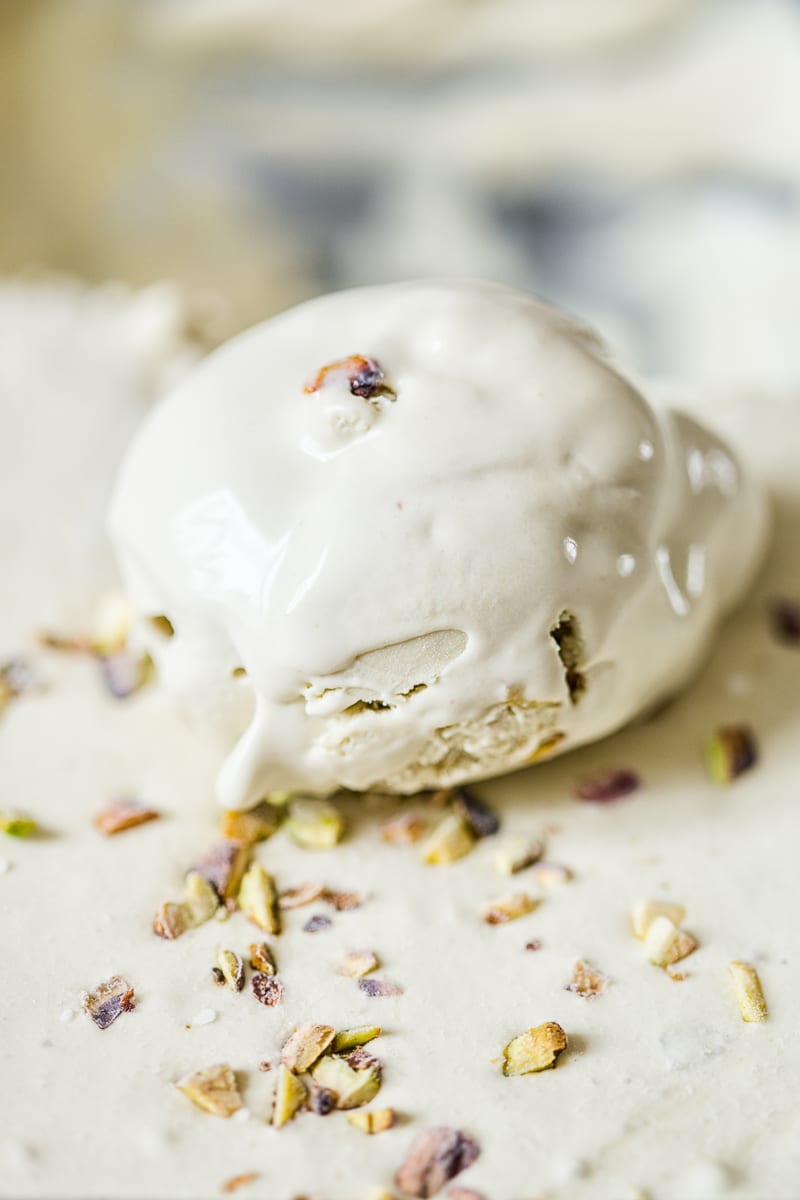 It turns out it's not very easy to extract as much flavour from pistachios as Italians seemed to master, so the only way is to cheat. This ice cream recipe is quite possibly the easiest you can find.
It's no church and only has 5 ingredients-whipping cream, sweetened condensed milk, Italian pistachio paste, a pinch of salt and chopped pistachios. I bought my pistachio paste at Marks and Spencer but if you don't live in the UK you can easily find a similar product on Amazon or in Italian delis.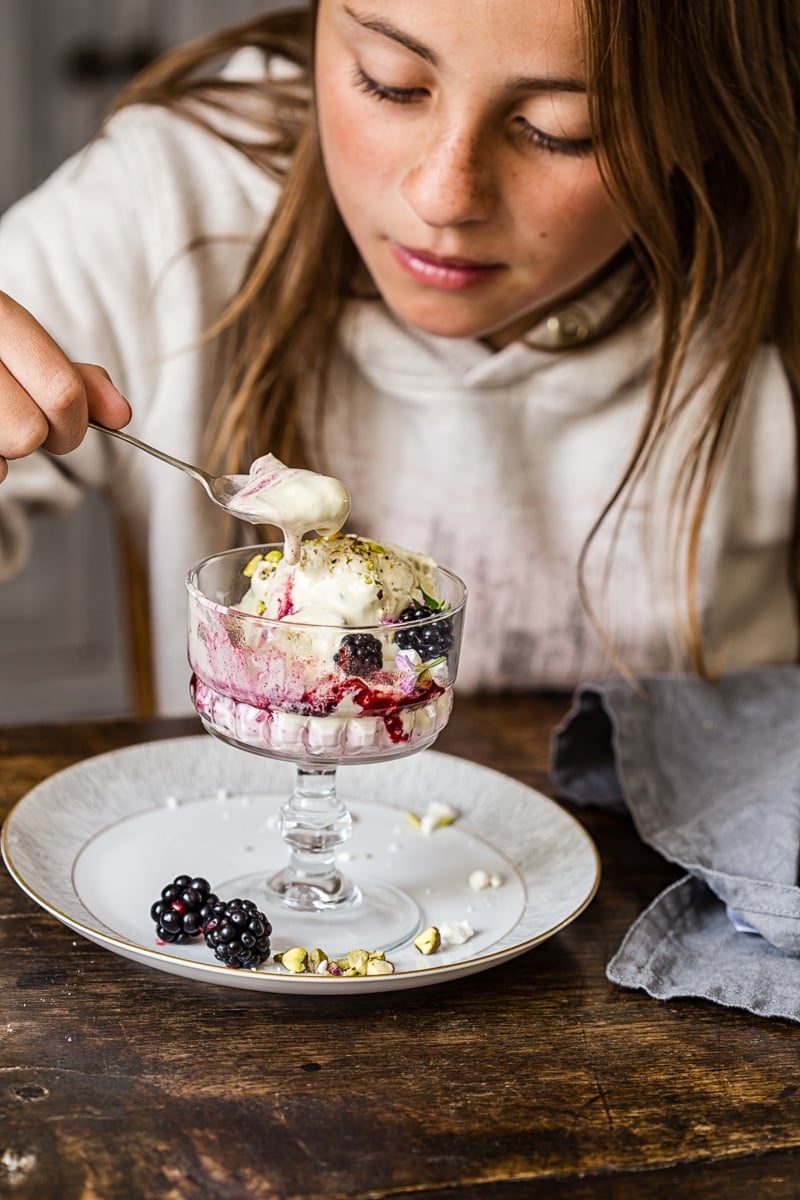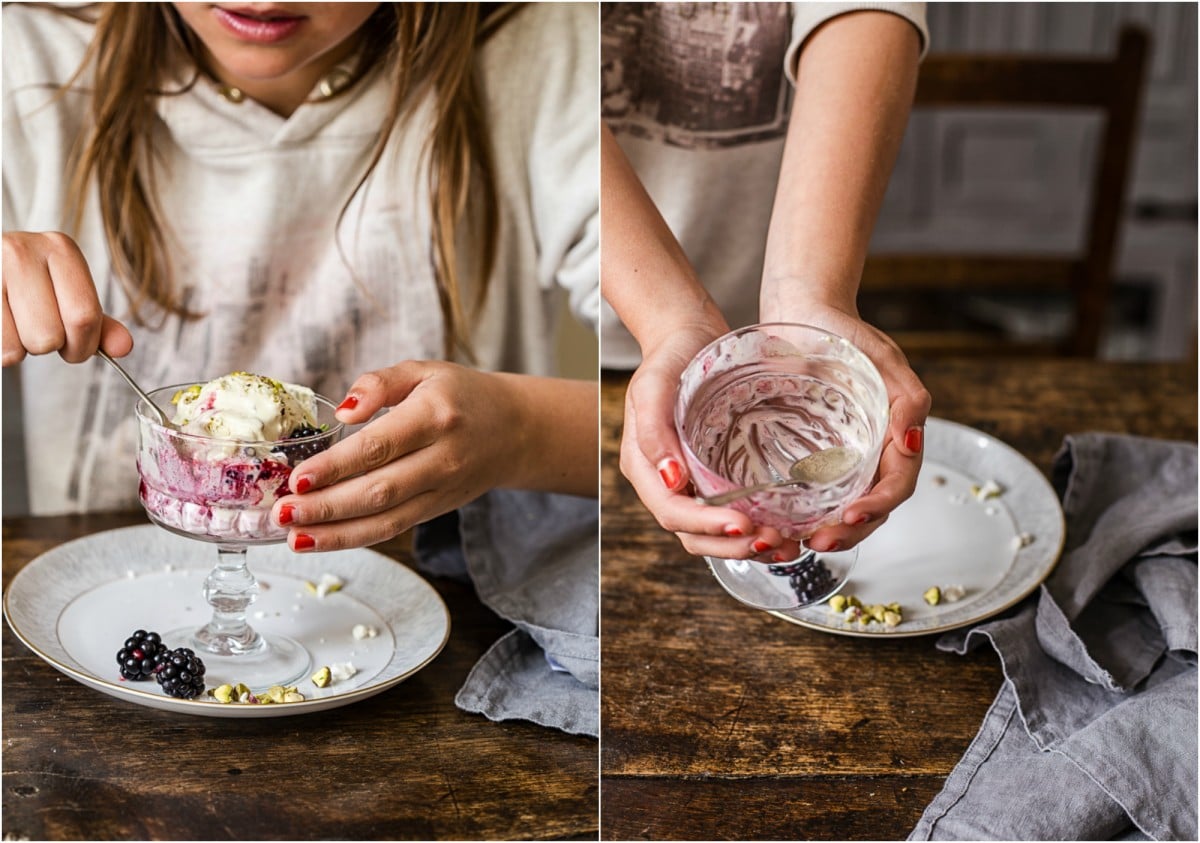 What I absolutely love about this Eton Mess is how easy it is to prepare since all the ingredients can be bought. All you have to do is to assemble before serving or better yet present it as a buffet, so everybody can build their own!
The finished product though is nothing short of stunning!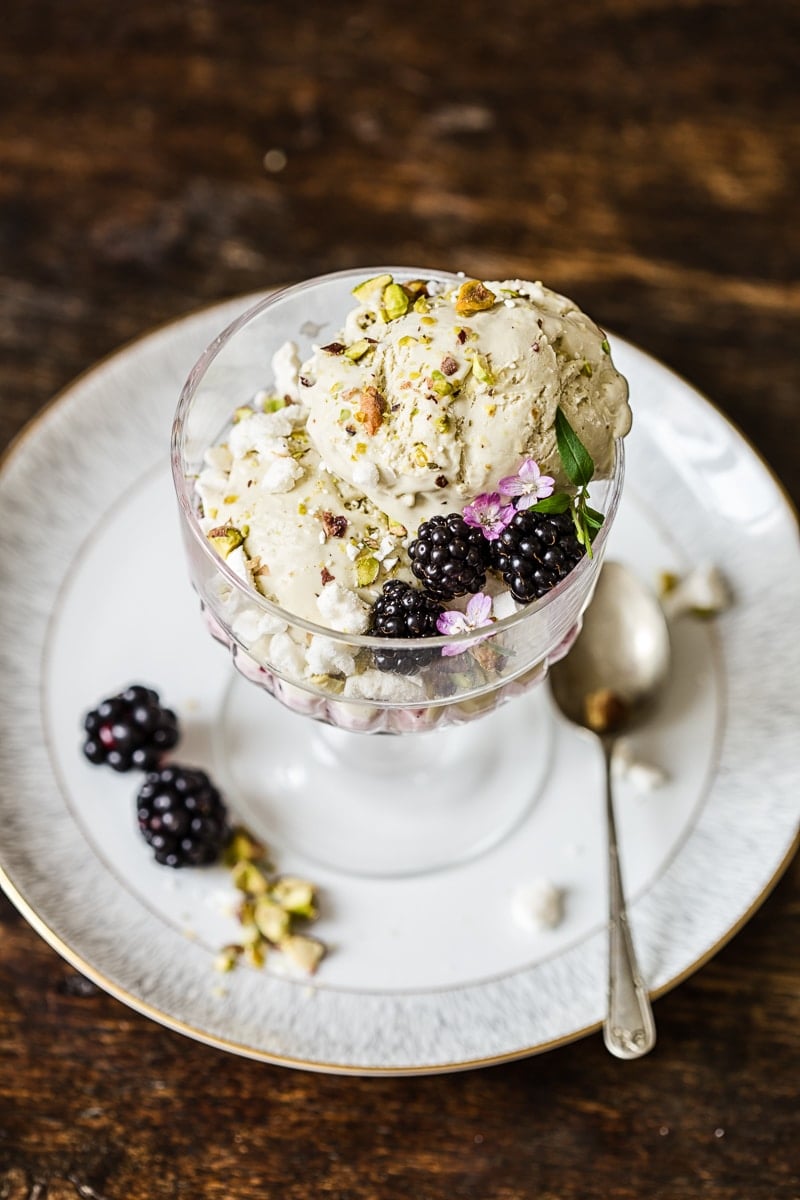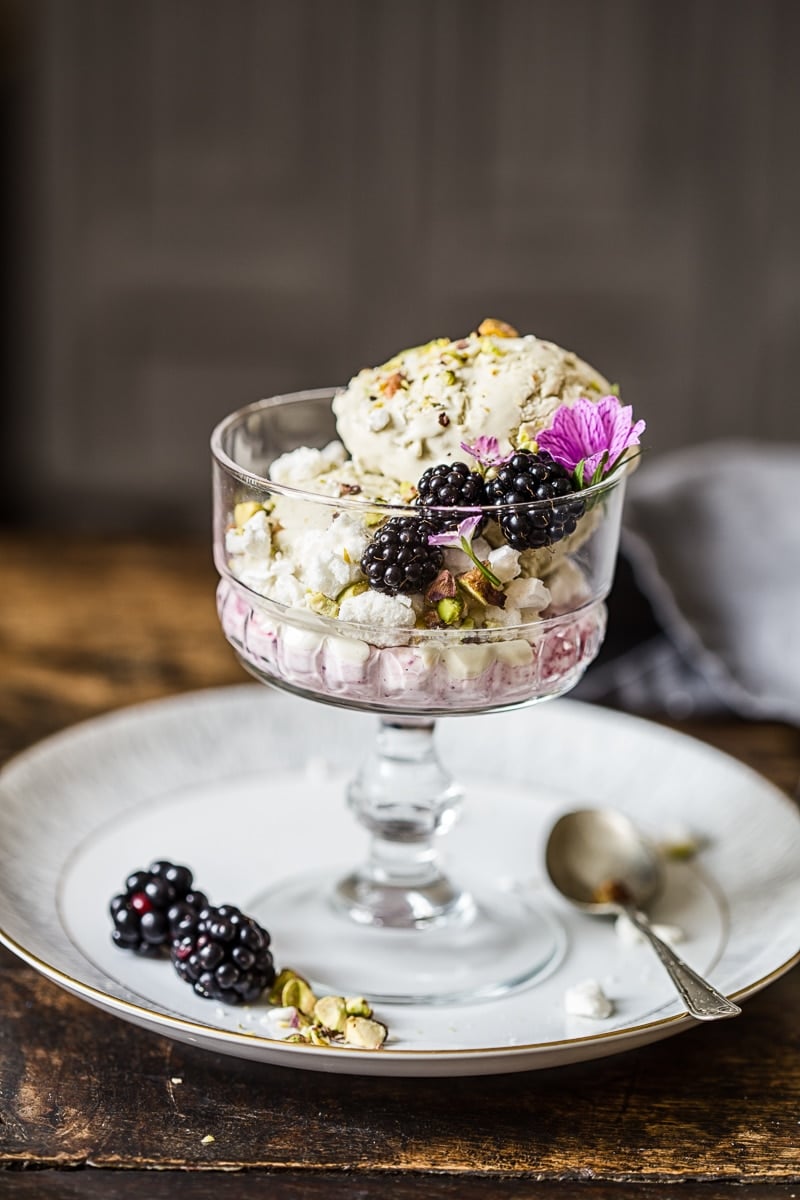 Ingredients
For the pistachio ice cream
500

ml/ 2 cups double/whipping cream

1

X 395g tin sweetened condensed milk

100

g/1/3 cup pistachio spread

I used Pariani

a pinch of salt

2

tbsp

chopped pistachios
For the blackberry and pistachio ice cream Eton Mess
100

g/3/4 cup fresh blackberries plus a few extra for garnish

1

tbsp

sugar

125

ml/1/2 cup creme fraiche or whipping cream

4

scoop pistachio ice cream

1

broken meringue nest

1

tbsp

chopped toasted pistachios
Instructions
For the pistachio ice cream
Toast pistachios on a dry skillet over medium heat until fragrant and slightly browned. Remove immediately, chop and set aside.

In a large bowl whip all the ingredients with an electric mixer until soft peaks form, don't overbeat, we are not looking for a whipped cream here.

Pour in a freezer safe container, sprinkle chopped toasted pistachios and gently swirl them in the mixture. Cover with a cling wrap and aluminium foil and freeze for 5-7 hours.
For the blackberry and pistachio ice cream Eton Mess
In a small bowl mash blackberries with a fork, add sugar and mix. Let sit for a couple of minutes for the sugar to dissolve.

Reserve 2 tablespoons of the blackberry mixture and set aside. Swirl the remaining mashed blackberries into creme fraiche or whipped cream and divide the mixture between two serving dishes.

Top with two scoops of pistachio ice cream each, broken meringue, reserved blackberry mixture and fresh blackberries, sprinkle with chopped pistachios. Serve immediately.