This lemon blueberry trifle is a perfect no bake dessert for a hot summer day! The delicious flavours are delivered through adding lashings of Italian Limoncello liqueur to the trifle sponges as well as lemon curd and fresh, juicy blueberries.What a treat!
You can also try my Pumpkin Mousse Trifle, a recipe for another season but just as delicious.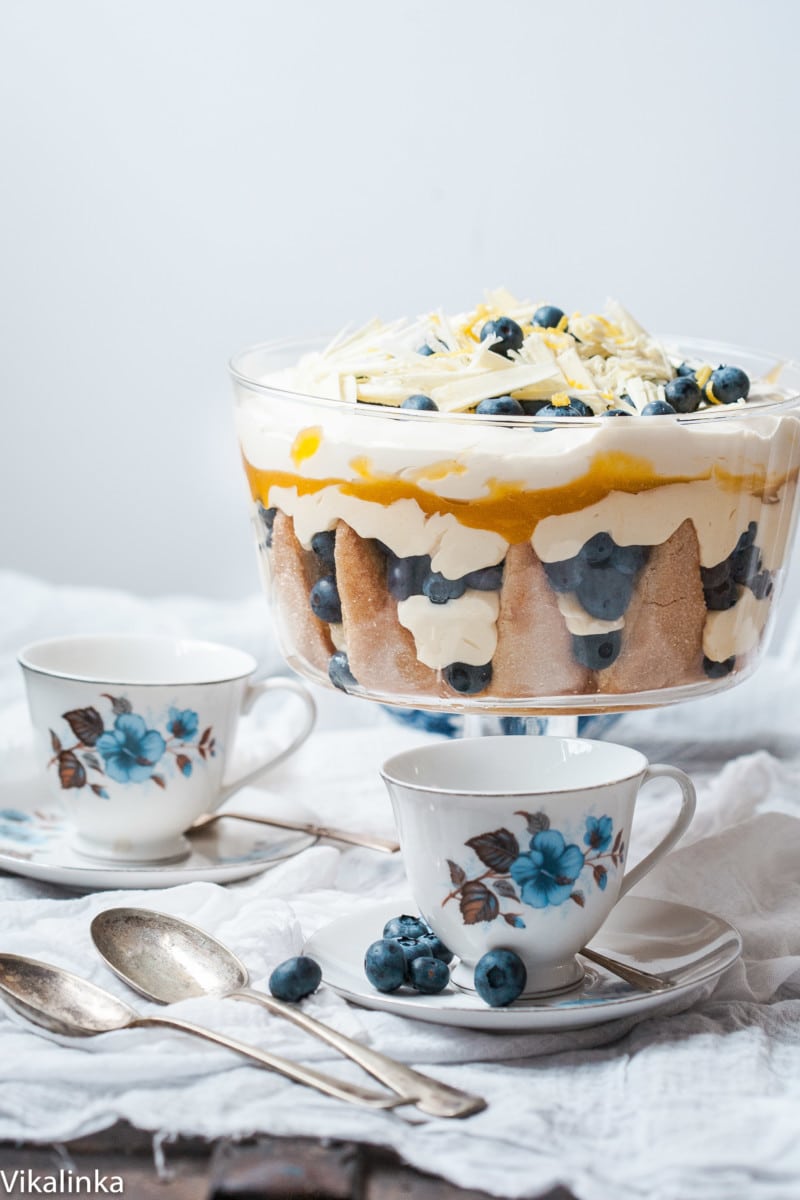 Trifle Recipes
I didn't grow up eating trifle, but my husband did and when he first introduced me to this wonderful mess of cake, cream, custard and fruit, it was love at first sight … and bite.
I can't get Joey's infamous words out of my mind whenever I think of trifles,"What's not to like? Custard, good. Jam, good. Meat, good!"
Although there is no meat or even jam in my trifle, Joey's words of truth stand. Also if you don't get this Friends reference, you are probably too young! 🙂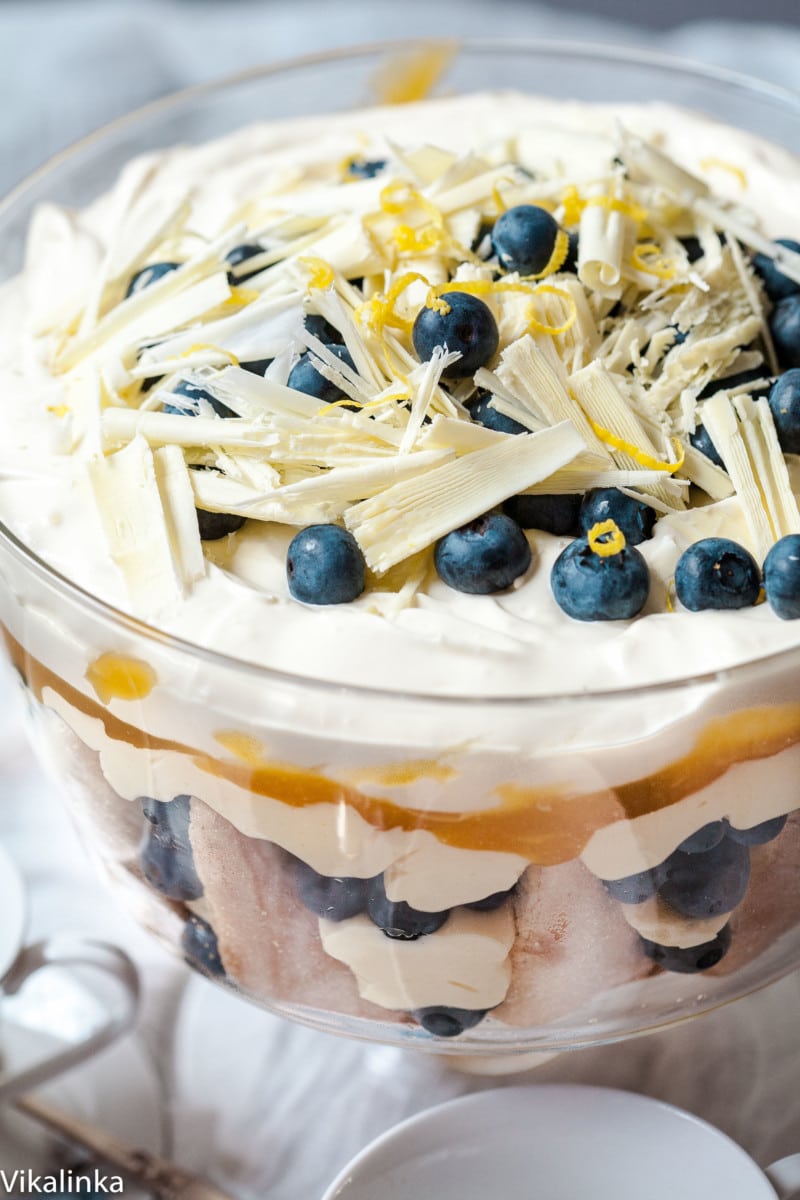 The best thing about trifles, apart from their divine taste, they barely take any time to throw together. And they don't require any baking. Perfect for hot summer days!
Trifles Recipes
Trifle flavours and ingredients vary but the principle remains the same.
All you have to do is to build layers of delicious things made out of cake, curds, puddings, fresh fruit and top them all with softly whipped cream. Trifles are usually served in special trifle bowls, so all beautiful layers are on display.
My personal favourite layer in all trifles is a delicate vanilla custard. Brits really perfected the art of custards. They are customarily used to drown all sorts of puddings – read "desserts" – before they are considered fit to eat and a big part of traditional English Trifle.
Custard take a little bit of patience and loving care to prepare but today I am cutting corners and using a lemon curd folded into a cloud of whipped cream instead of a custard.
However if you still wish to make it, take a look at my recipe for rhubarb custard.
Lemon curd is another famous British delicacy – creamy, sweet and sharp at the same time! Lemon curd is a classic pairing for blueberries.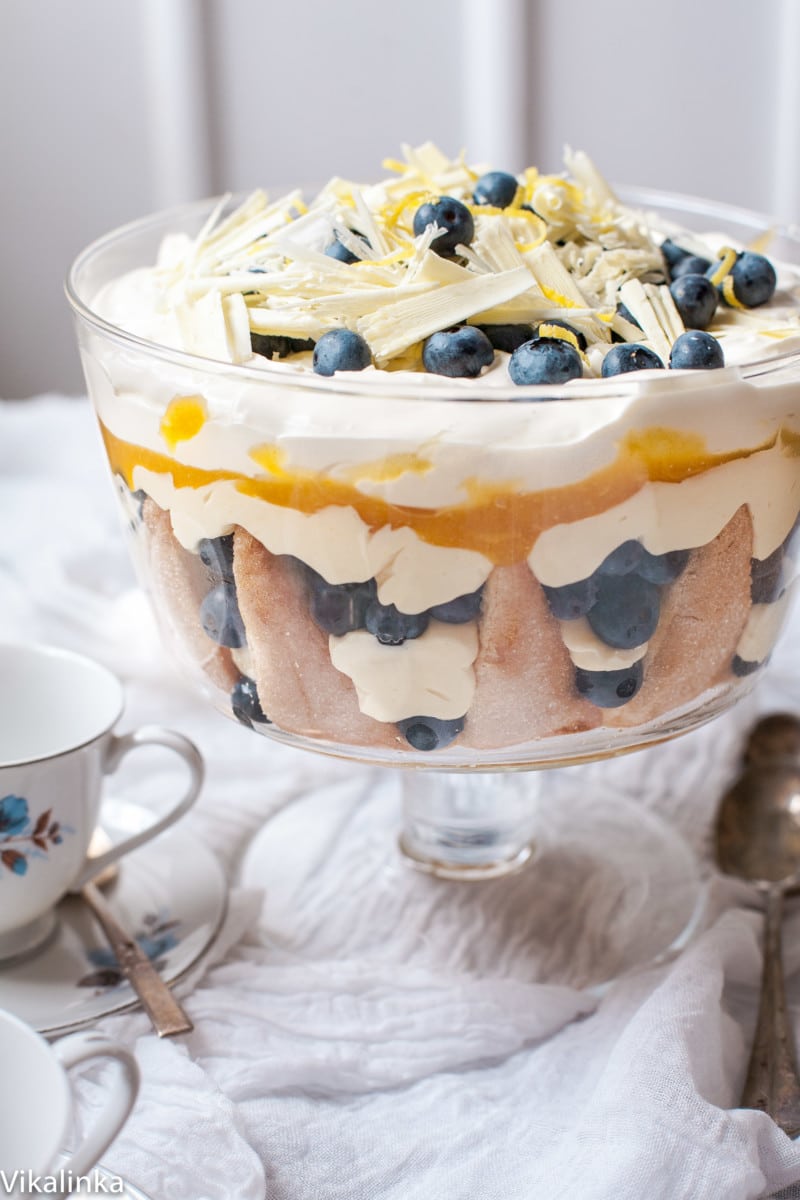 How to Make Blueberry Limoncello Trifle
There are many tasty ways to make a trifle and here is one of mine. This Blueberry Limoncello trifle is as easy as it is unforgettable! Feel free to experiment and mix things up according to your own taste. It's hard to get it wrong.
The base of any trifle is cake, usually an old one. That is why alcohol like sweet sherry is used to soften it and bring back the moisture. I use premade trifle sponges available in most supermarkets and soaked them in lemon flavoured Limoncello instead of sherry. (You can also use lady fingers, the same ones that go into Tiramisu.)
I decided to intensify the lemon flavour and fragrance by adding a generous amount of the famous Italian liqueur and I didn't regret it. Pure indulgence!
If you'd like to keep your trifle alcohol free, soak the cake in lemon syrup or lemon cordial.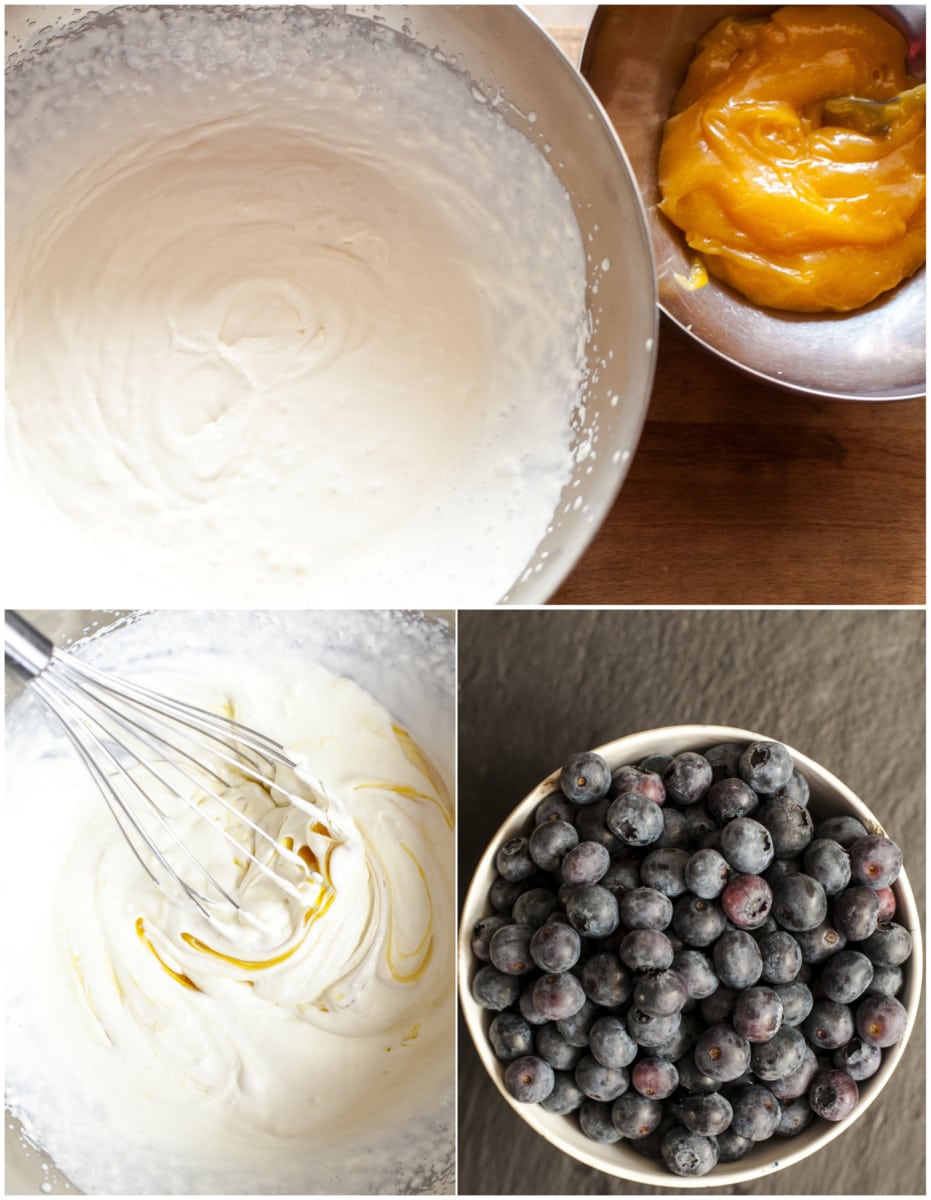 The second layer is lemon curd folded into softly whipped cream. The trick is here not to over whip. We want a cloud like texture, not butter.
Then a gorgeous layer of fresh blueberries followed by a layer of pure lemon curd. I finish my trifle off with slightly sweetened whipped cream, white chocolate curls and blueberries.
Can I make a trifle ahead?
You can and should make a trifle a day ahead. The cake layer needs that time to soak up all the flavours and to regain the moisture.
However, decorate the top with fresh berries and chocolate curls before serving. This will make it look more attractive.
Keep the trifle refrigerated and consume the leftovers within two days.
Grab a big enough spoon and prepare yourself for greatness!
More no bake desserts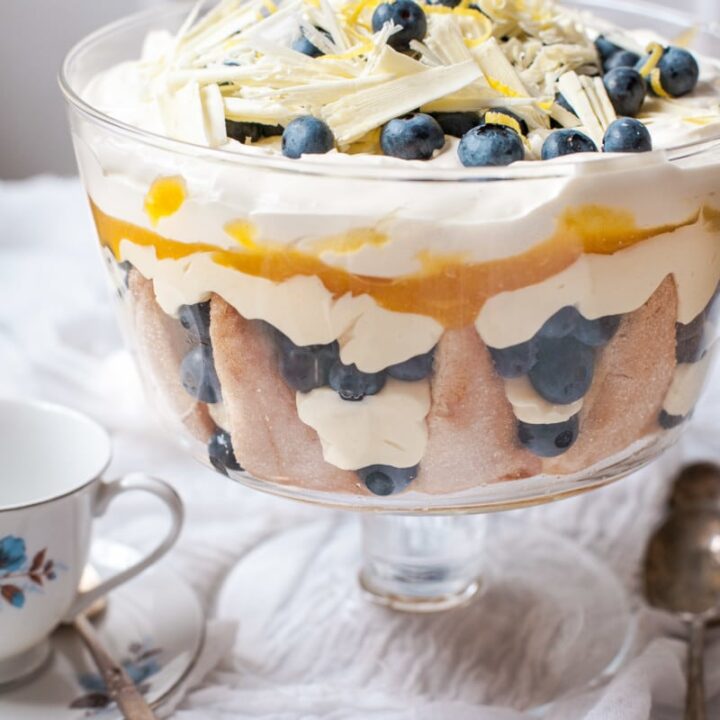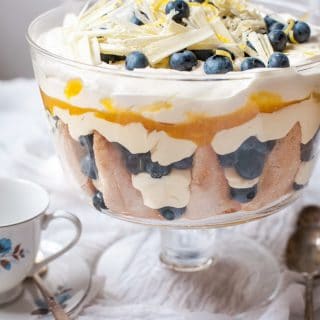 Blueberry Limoncello Trifle
A no bake dessert layered with lady fingers, lemon curd, blueberries and Limoncello.
Ingredients
200g/7 oz

trifle sponges or pound cake

3

tbsp

Limoncello or other lemon flavoured liqueur

500ml/2cups

lemon curd

prepared

750ml/3 cups

whipping cream

divided

4

tbsp

sugar

divided

2

tsp

vanilla

400

g/14 oz

blueberries

50

g/2 oz

white chocolate for decoration

lemon zest for decoration
Instructions
Arrange trifle sponges on the bottom of a trifle dish attractively-make a pattern if you wish and sprinkle with limoncello.

Whip 2 cups of the cream with an electric mixer with 2 tbsp of sugar and 1 tsp of vanilla in a large bowl.

Whip the curd with a whisk until light and runny. Gently fold the curd into the whipping cream without losing the volume and reserving ½ cup.

Layer ½ of blueberries on top of the cake, then add the creamy curd mixture.

Carefully spread a thin layer of the reserved curd.

Whip the remaining cream with 2 tsp. of sugar and vanilla. Top your trifle with it and decorate with more blueberries, white chocolate curls and lemon zest curls.

* To make chocolate curls drag a blade of your knife along a chocolate bar until curls form or use a vegetable peeler. However my favourite tool is my cheese slicer.
Notes
You can substitute Limoncello with lemon syrup to make it alcohol free.
You can also use lady fingers or cubes of pound cake in place of trifle sponges.
Nutrition
Calories:
586
kcal
Carbohydrates:
60
g
Protein:
6
g
Fat:
36
g
Saturated Fat:
22
g
Cholesterol:
148
mg
Sodium:
213
mg
Potassium:
124
mg
Fiber:
1
g
Sugar:
44
g
Vitamin A:
1235
IU
Vitamin C:
4
mg
Calcium:
71
mg
Iron:
1
mg