A stunning crêpe cake made with thin pancakes layered with silky custard flavoured by a sweet, homemade rhubarb syrup.
If you like this rhubarb syrup, you will adore Rhubarb Curd!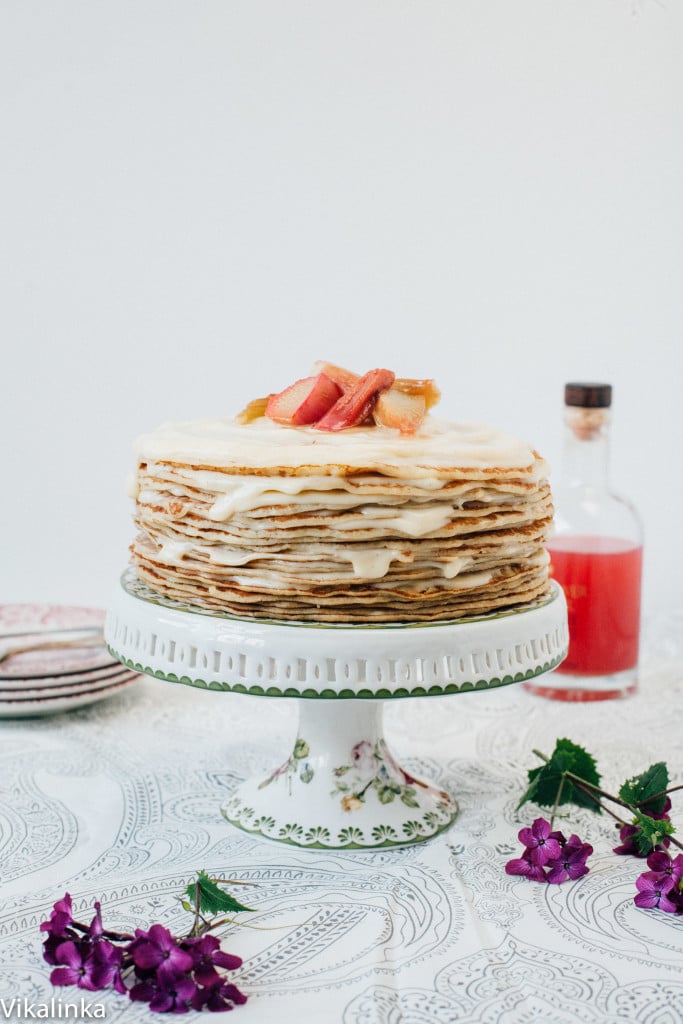 Pancakes in any form – crêpes, blini or American-style – are usually left to weekends. But they shouldn't. Pancakes are too good to be relegated to Saturdays and Sundays, and way too versatile to be left to breakfast!
I grew up making crêpes on a regular basis, although we called them blini. My mother's signature recipe used kefir as the base, and to this day I have never tasted better. That recipe is one of the first ones I shared on my blog.
My mum always said that two tricks to thin, lacy crepes are kefir, which encourages fermentation in the batter, and a well made thick-bottomed frying pan.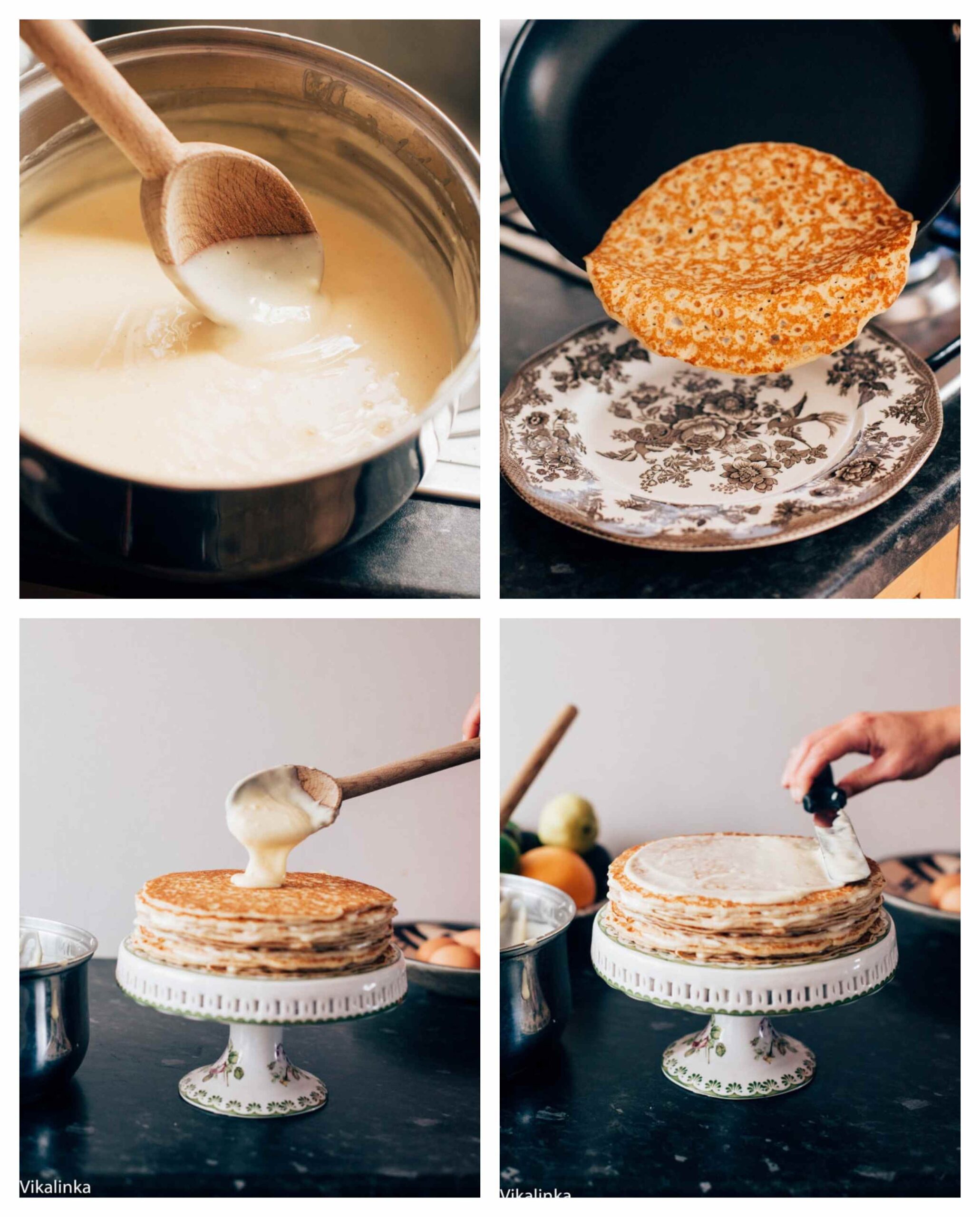 Crêpe cake with custard
Custard to the English is what maple syrup is to Canadians. The love goes deep.
In North America it's usually seen as a side act but here it's the main production. Brits don't use a dollop of custard to go with their dessert. They are not satisfied until the thing is drowned.
They would love it in a cake like this, where it is spread between each and every layer. So much creaminess!
I can admit that I've developed a bit of a soft spot for custard myself. I can't really pass up a delicious bowl of this creamy goodness, but that doesn't mean we can improve it with a bit of rhubarb syrup!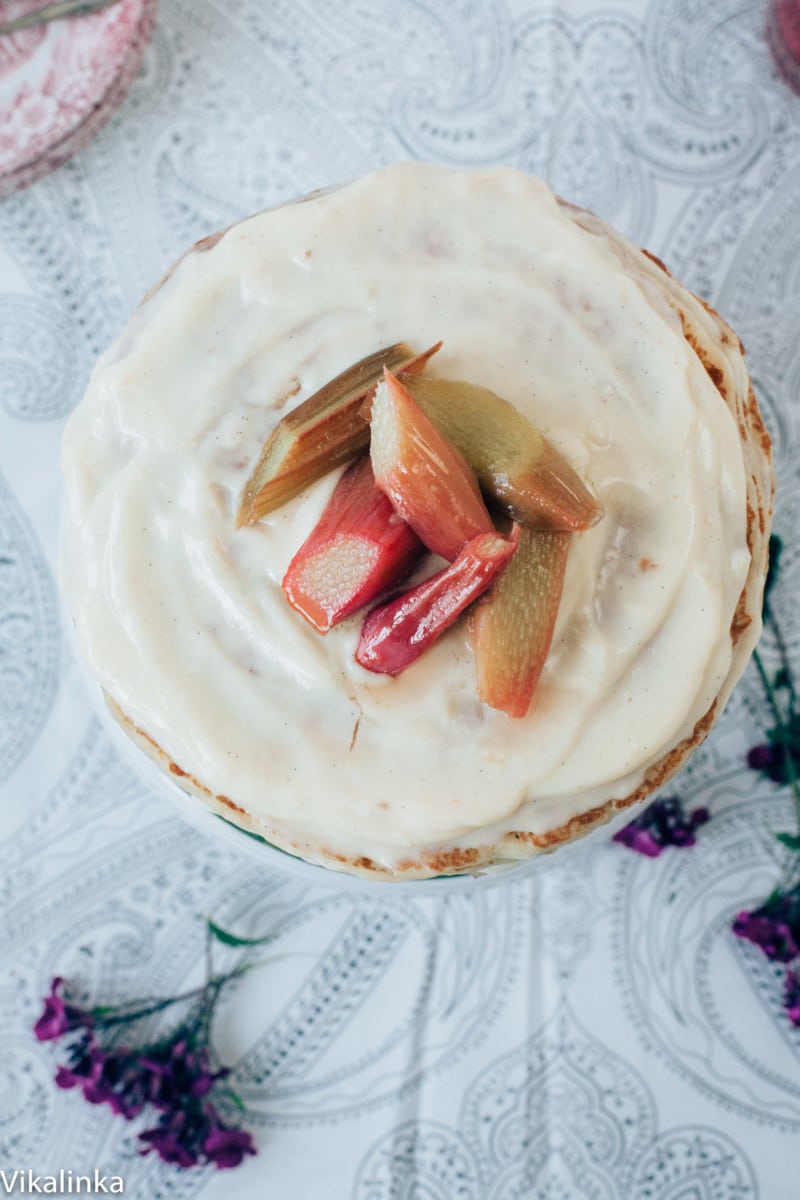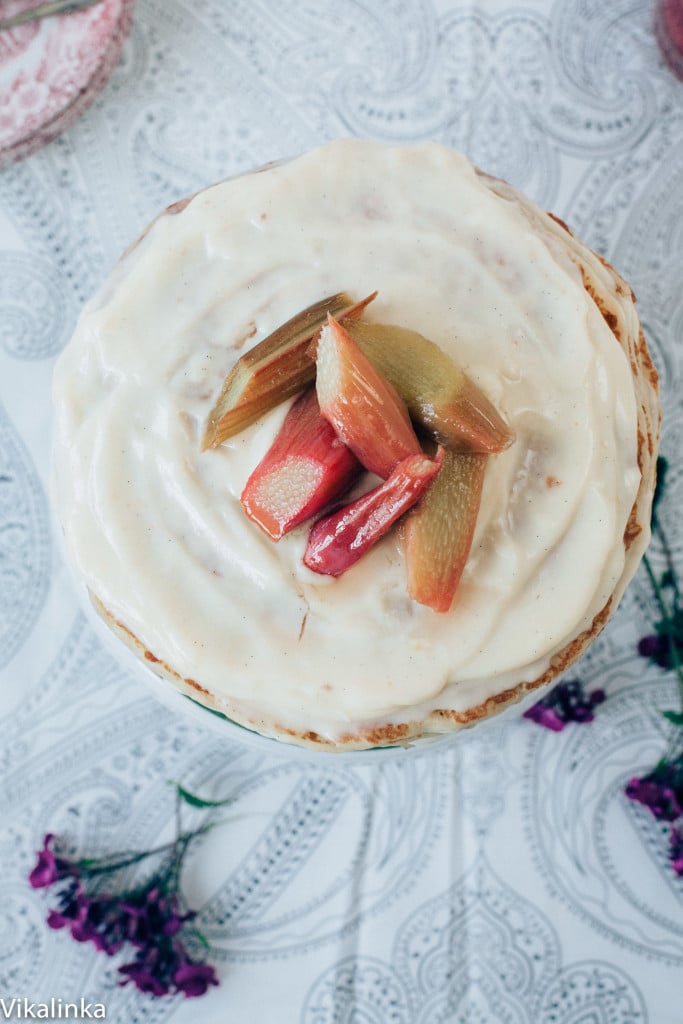 Rhubarb syrup
I added a splash of homemade rhubarb syrup to the custard while it was still hot, which seems the right thing to do in rhubarb season. Words fail me to describe that…it smelled of May!
Rhubarb syrup is a favourite of mine. I make it every year and have used it in everything from baking to Moscow Mule cocktails!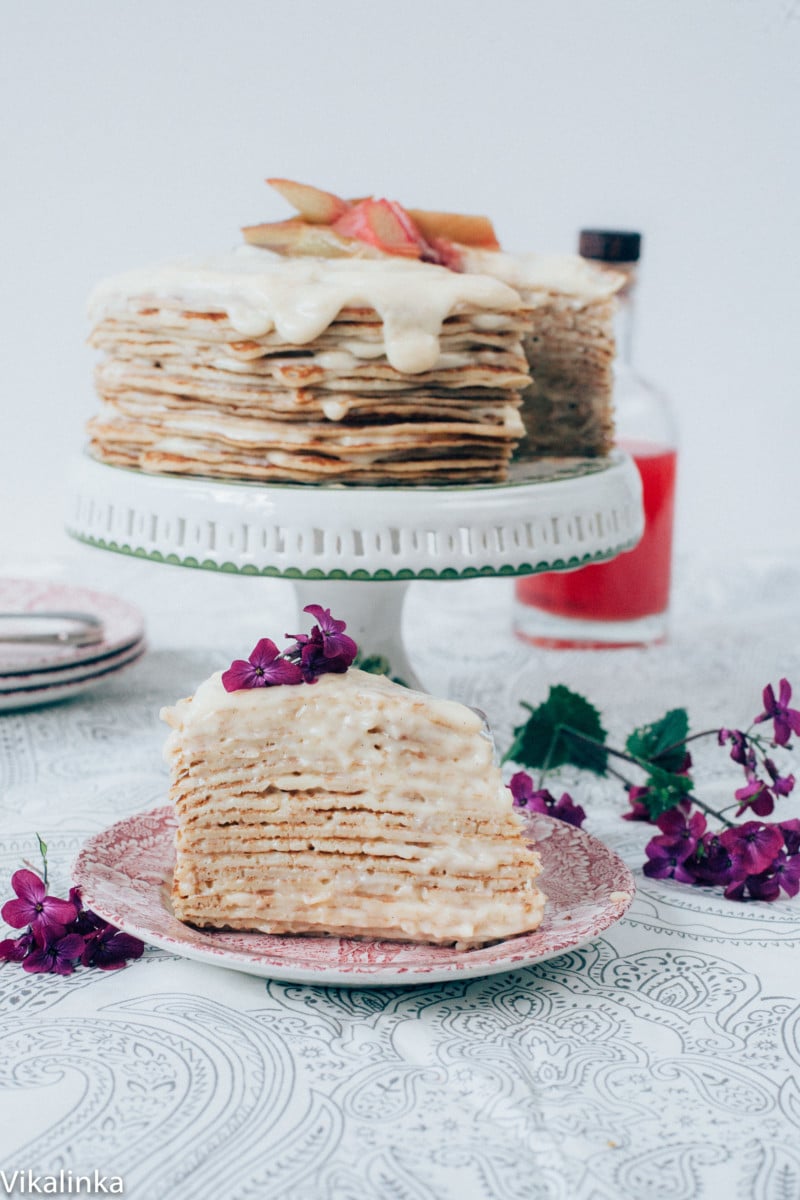 It only takes three ingredients to make: rhubarb, caster sugar and water. Heat together in a saucepan, run through a sieve and heat a bit more to thicken. And you are there!
I usually double the recipe so I have extra syrup. Store it in the fridge and have it ready to go whenever you want it. It's especially good over pancakes!
And there you have it. A delicious crêpe cake with rhubarb custard. Unpretentious. Simple. Glorious.
More rhubarb bakes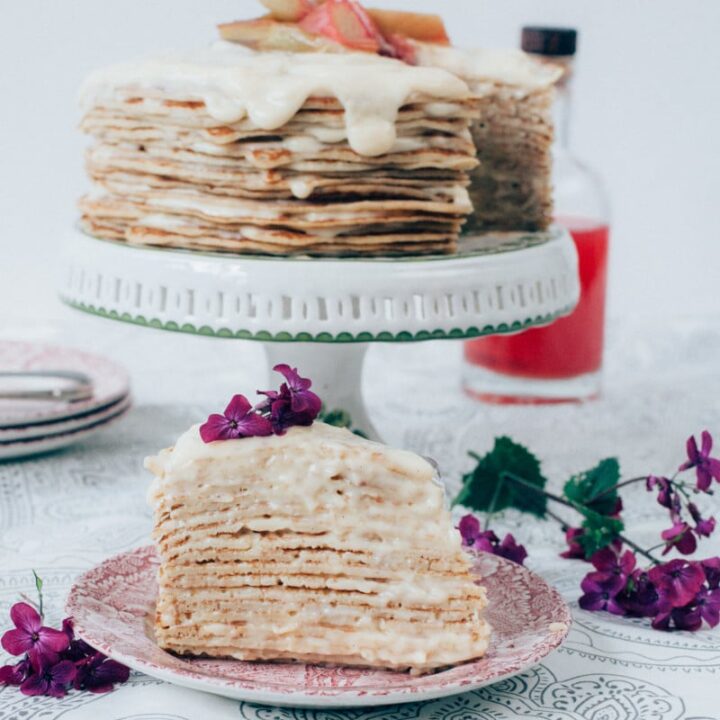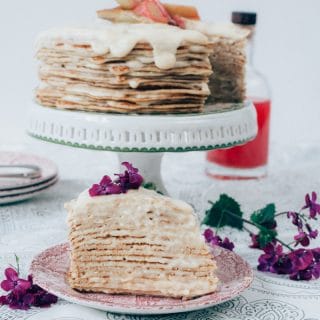 Rhubarb Custard Crepe Cake
Crepe cake filled with rhubarb custard.
Ingredients
For the crepes
2

cups

/400g flour

3

cups

/700ml kefir

1

cup

/235ml water

2

eggs

large

3

tbsp

sugar

1

tsp

salt

1

tsp

baking soda

3

tbsp

oil
For the rhubarb syrup
1

cup

/100g caster sugar

1

lbs

/450g chopped rhubarb

⅓

cup

/80ml water
For the rhubarb custard
5

tbsp

Bird's custard powder

7

tbsp

sugar

3

cups

/720ml whole milk

1

cup

/240ml single cream

1

vanilla bean

seeds scraped out

2

tbsp

butter

¼

cup

/60ml rhubarb syrup
Instructions
For the crepes
In a mixing bowl mix eggs, flour, 1 cup of kefir, baking soda, sugar, salt and oil with a whisk. When the mixture is smooth and has no lumps add remaining kefir and water. The consistency should be the same as of heavy cream.

Let stand for 20-30 minutes. You should see small bubbles on the surface of your batter. Preheat your non-stick frying pan on medium heat and grease it with an odourless oil. ( I usually put some oil on a paper towel and rub the frying pan with it to ensure even coating, I re-apply oil before frying each crepe.)

With a ladle or a measuring cup pour ¾ cup of batter in the pan and tilt the pan slightly so batter runs to the edges forming a thin and round crepe. Cook it until batter looks dry, then flip with a spatula and cook for 2-3 more minutes. Remove to a platter.

Repeat with the next crepe and continue cooking until the batter is used. Stack the blini on top of each other.

This recipe make 10 23 cm crepes. If you want a tall cake double the recipe.
For the rhubarb syrup
In a saucepan combine rhubarb, sugar and water, turn the heat on and heat very gently until sugar melts, cover with a lid and let it simmer for 5 minutes until rhubarb it tender but not falling apart.

Turn the pot over a fine sieve set over a bowl. Save a few pieces of rhubarb to decorate the top of the cake and set them aside.

With a spoon gently push on the rest of rhubarb to get the juices out. Put the rhubarb juice back in the saucepan and simmer until thick and syrup coats a spoon.
For the custard
Mix custard powder and sugar in a saucepan, add 4 tbsp of milk and mix the ingredients to form a smooth paste.

Split the vanilla bean in half lengthwise and scrape the seeds out with the blade of a knife.

Add the rest of the milk, cream and vanilla bean seeds and set over the heat. Heat gently whisking the whole time to prevent lumps.

Custard will start to thicken after 5-7 minutes on the stove and will be as thick as gravy. When it's desired consistency take it off the heat and stir in butter and rhubarb syrup. Cool for 10 minutes.

Assemble the cake by filling each layer with a thin layer of rhubarb custard. Decorate the top with reserved rhubarb pieces. Chill for at least 2 hours before serving.
Notes
You can double the recipe for rhubarb syrup and bottle the syrup for future use. It's delicious over pancakes!
Nutrition
Calories:
605
kcal
Carbohydrates:
84
g
Protein:
12
g
Fat:
26
g
Saturated Fat:
12
g
Polyunsaturated Fat:
2
g
Monounsaturated Fat:
8
g
Trans Fat:
1
g
Cholesterol:
128
mg
Sodium:
589
mg
Potassium:
430
mg
Fiber:
2
g
Sugar:
50
g
Vitamin A:
860
IU
Vitamin C:
5
mg
Calcium:
329
mg
Iron:
2
mg