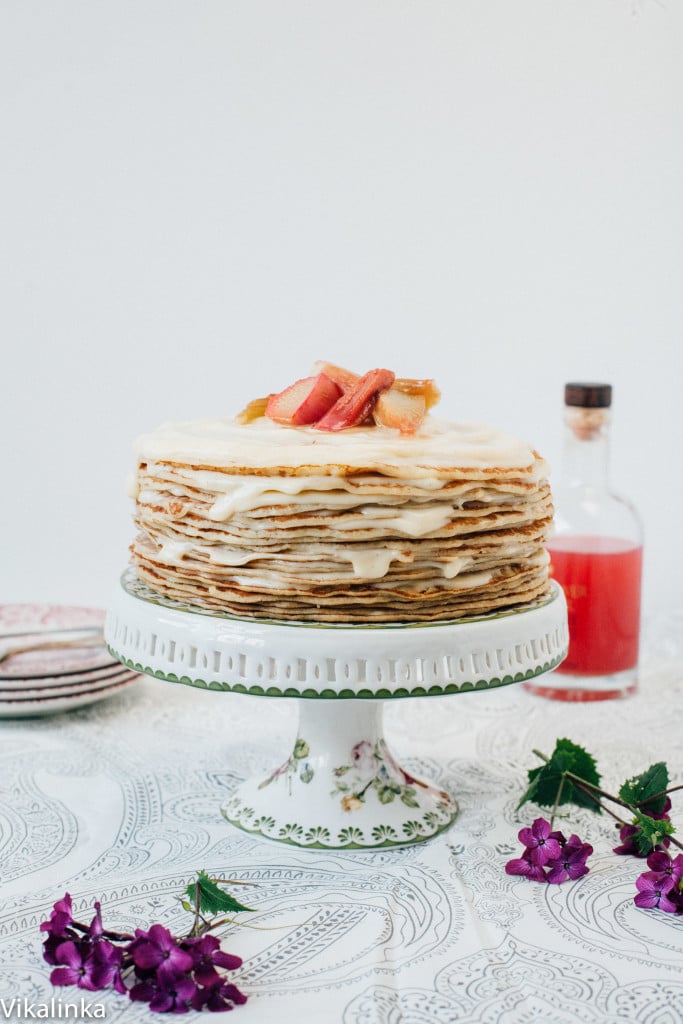 After weeks and weeks of studying every weekend it felt absolutely glorious to spend a Saturday flipping crepes instead. Oh how things have changed. I would never consider "slaving over a hot stove" recreation 5 months ago, however doing anything BUT designing a detailed English course or learning about specifics of audiolingualism feels like play. Perspective gained.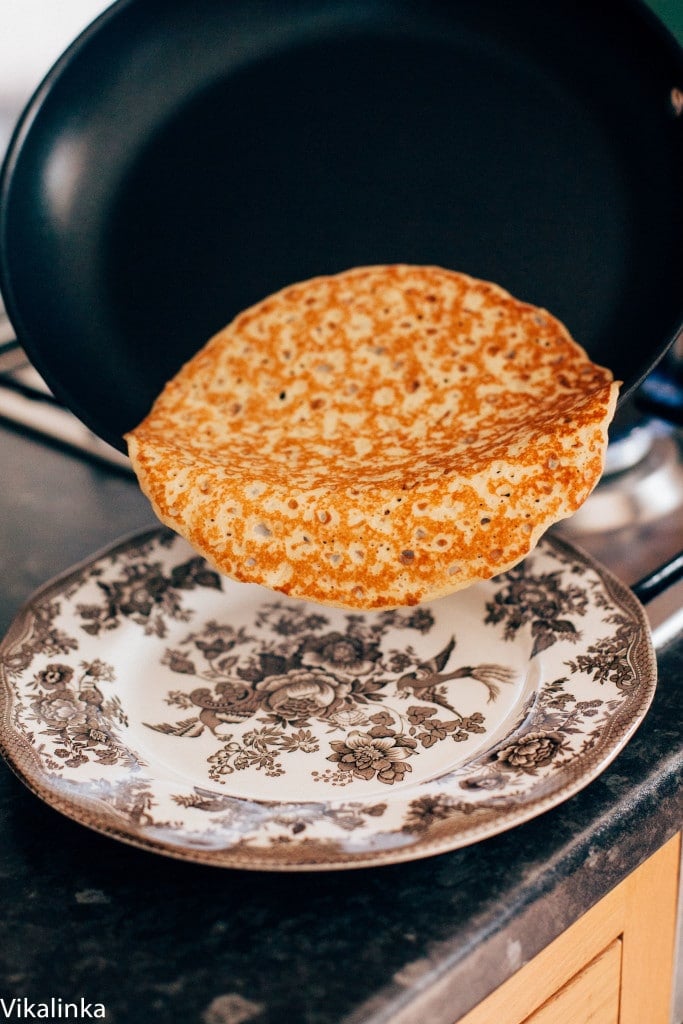 Now let me tell you about these crepes. As any Russian child I grew up on them, although we called them 'blini'. I was making my own by the age of 10. My mama's signature recipe used kefir as a base and to this day I have never tasted better crepes. That recipe is one of the first ones I shared on my blog. My mum always said that two key contributing factors to thin, lacy crepes (yes she talks like that, she is an engineer) are kefir, which encourages fermentation in the batter, and a well made thick-bottomed frying pan.
I have tested quite a few products by OXO and have always been impressed with their quality, so when they asked me if I was willing to review their new line of non-stick frying pans I gave an enthusiastic,"Heck ya!"
I have had close to half a dozen of non-stick pans in my life. The price ranged from very low to reasonably high but regardless of their brands, they all had a few things in common. They are great for cooking delicate food, but unfortunately they are often too light and don't heat evenly. They also don't last.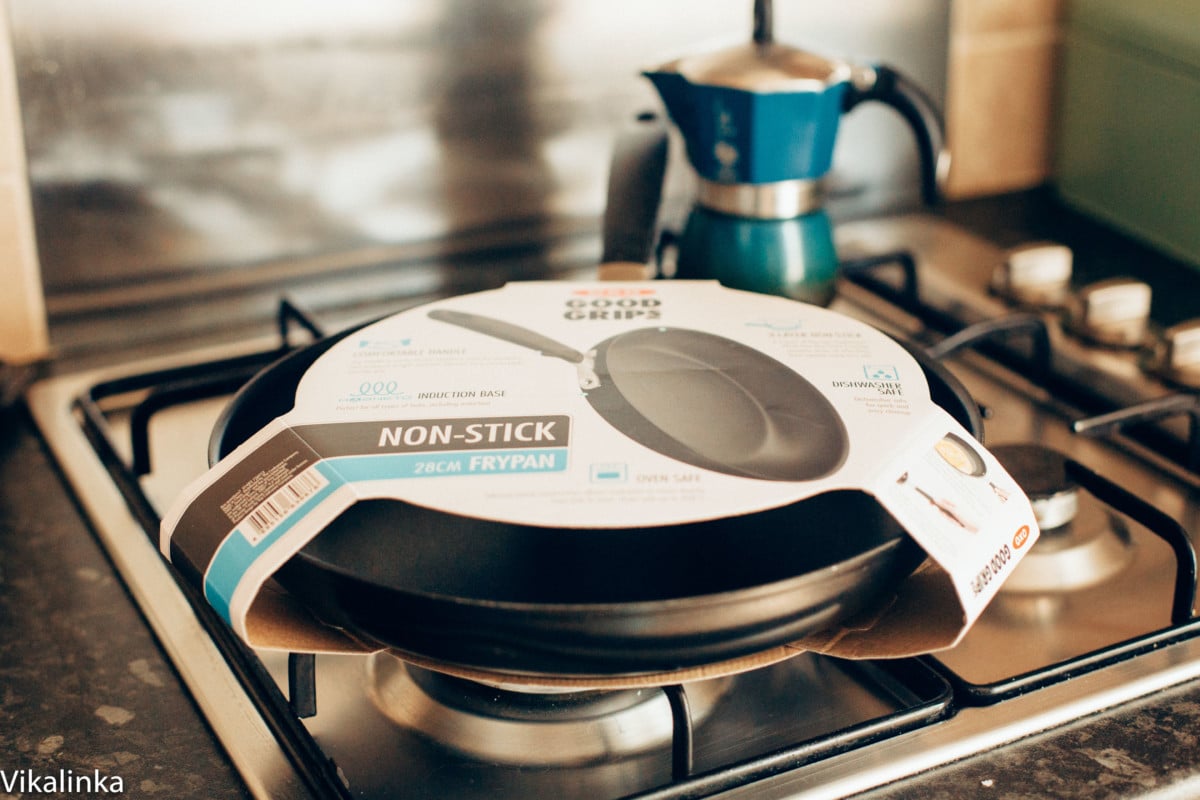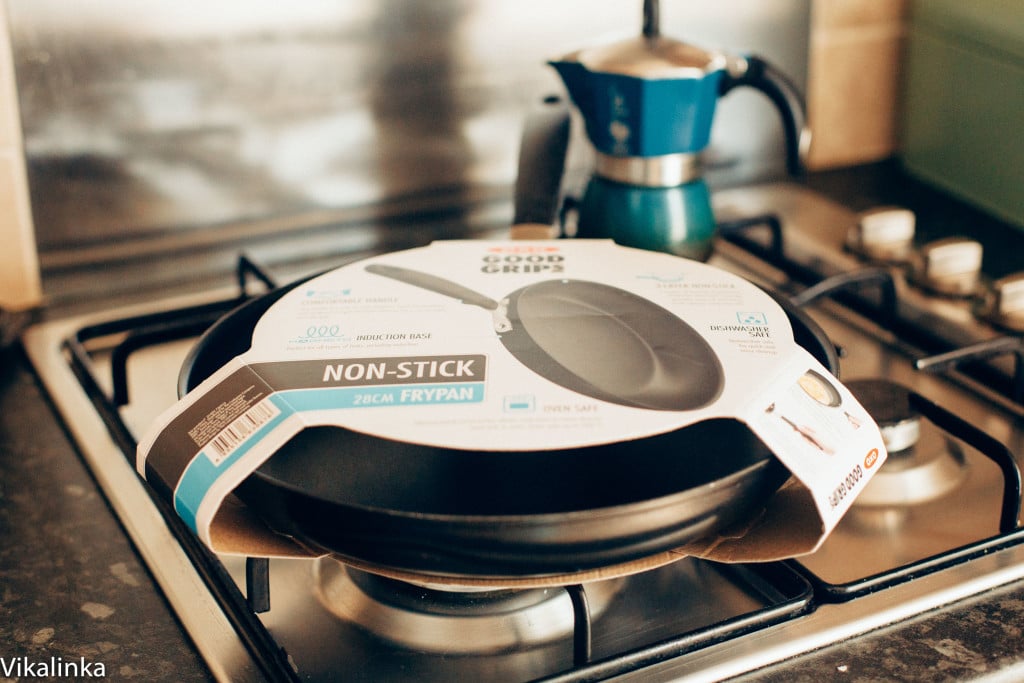 The first thing I noticed when this beast arrived is how heavy it was! I am not the one to read an instruction manual, so I immediately dove into cooking. So far I've used it for cooking meat, fish, eggs, pasta sauces…you name it! I could tell it was no ordinary non-stick pan as the ones I've used in the past. First of all, it has a triple layer of non-stick coating and an incredibly thick bottom. Check. The silicone handle is shaped to fit your hand and is made to go in the oven. Check. The bottom is covered in a non-slip coating so it doesn't slide around your stove top, a feature especially helpful for those cooking on smooth glass stove tops. To top it off it is safe to go in a dishwasher and comes with a lifetime warranty. Check and check. That's pretty gutsy for a company that makes non-stick pans to offer that! From my experience they only last about a year but something tells me Oxo has confidence they won't have to replace yours often.
I knew the ultimate test for this new pan had to be my mum's crepes so I did just that. And then I turned them into a crepe cake filled with rhubarb custard.
Custard to an Englishman is what maple syrup is to a Canadian. The love goes deep. In North America it's usually seen as a side act, here it's the main production. The Brits don't take a dollop of custard to go with their dessert – they are not satisfied until the thing is drowned. And my little British Canadians are becoming equally enchanted by both. I have to admit I am often amused when I overhear their conversations about school dinners.
-Mitchell, what did you have for pudding (read "dessert")?
-Cake and custard. You?
-Ice cream and jelly. They ran out of custard. (sad face)
I have yet to hear them mention treacle pudding and pumpkin juice. 😉
If I am completely honest I can admit that I've developed a bit of a soft spot for custard myself. I can't really pass up a delicious bowl of this creamy goodness. Since it's a rhubarb season I also added a splash of homemade rhubarb syrup while it was still hot and then stuck my nose in it and smelled it for a good minute or so. Words fail me to describe that…it smelled of May.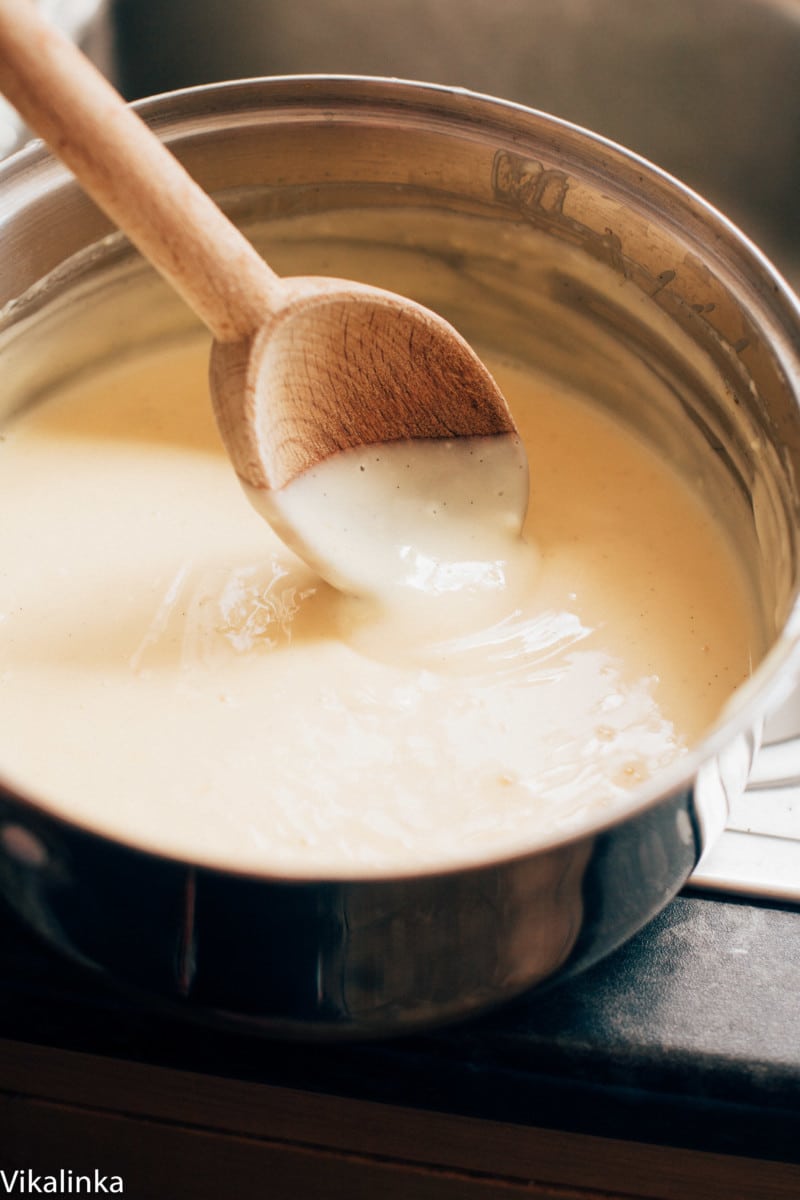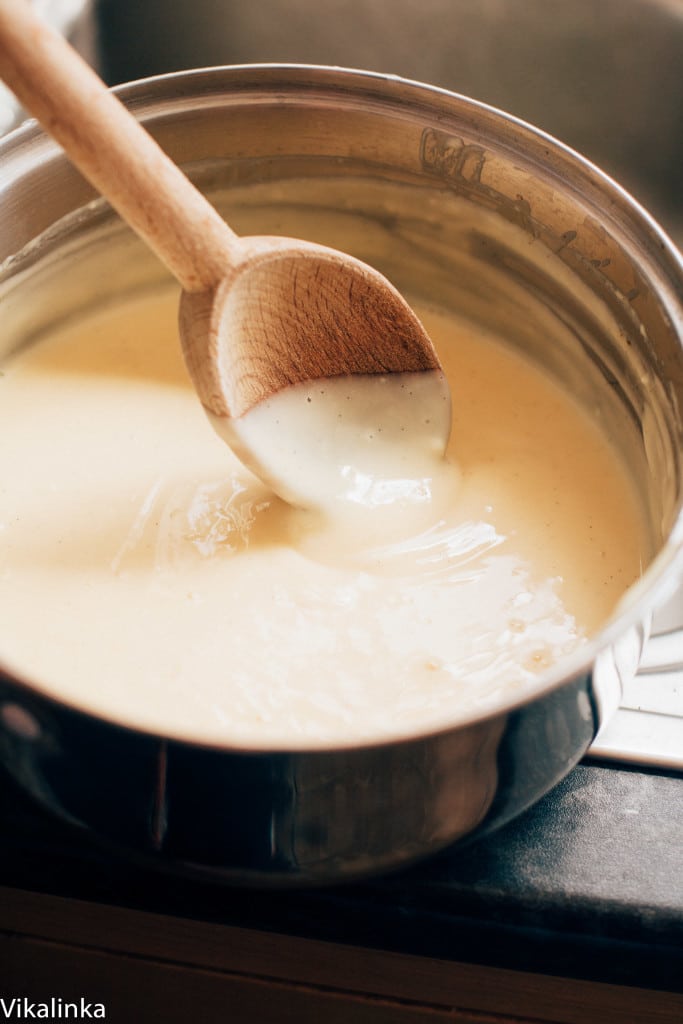 And there you have it. A stack of crepes filled with rhubarb custard. Unpretentious. Simple. Glorious.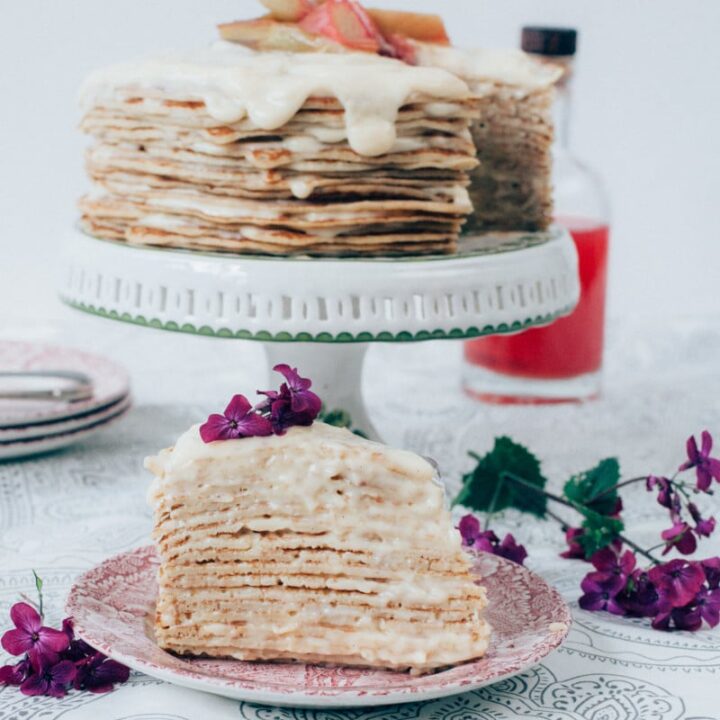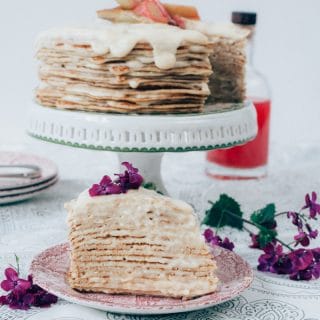 Ingredients
For the crepes
2

cups

flour

3

cups

kefir

1

cup

water

2

eggs

large

3

tbsp.

sugar

1

tsp.

salt

1

tsp.

baking soda

3

tbsp.

oil
For the rhubarb syrup
1

cup/ 100g caster sugar

1

lbs

chopped rhubarb

⅓

cup

water
For the rhubarb custard
5

tbsp

Bird's custard powder

7

tbsp

sugar

3

cups

whole milk

1

cup

single cream

1

vanilla bean

seeds scraped out

2

tbsp

butter

¼

cup

rhubarb syrup
Instructions
For the crepes
In a mixing bowl mix eggs, flour, 1 cup of kefir, baking soda, sugar, salt and oil with a whisk. When the mixture is smooth and has no lumps add remaining kefir and water. The consistency should be the same as of heavy cream.

Let stand for 20-30 minutes. You should see small bubbles on the surface of your batter. Preheat your non-stick frying pan on medium heat and grease it with an odourless oil. ( I usually put some oil on a paper towel and rub the frying pan with it to ensure even coating, I re-apply oil before frying each crepe.)

With a ladle or a measuring cup pour ¾ cup of batter in the pan and tilt the pan slightly so batter runs to the edges forming a thin and round crepe. Cook it until batter looks dry, then flip with a spatula and cook for 2-3 more minutes. Remove to a platter.

Repeat with the next crepe and continue cooking until the batter is used. Stack the blini on top of each other.

This recipe make 10 23 cm crepes. If you want a tall cake double the recipe.
For the rhubarb syrup
In a saucepan combine rhubarb, sugar and water, turn the heat on and heat very gently until sugar melts, cover with a lid and let it simmer for 5 minutes until rhubarb it tender but not falling apart.

Turn the pot over a fine sieve set over a bowl. Save a few pieces of rhubarb to decorate the top of the cake and set them aside.

With a spoon gently push on the rest of rhubarb to get the juices out.

Put the rhubarb juice back in the saucepan and simmer until thick and syrup coats a spoon.

You can double the recipe and bottle the syrup for future use. It's delicious over pancakes.
For the custard
Mix custard powder and sugar in a saucepan, add 4 tbsp of milk and mix the ingredients to form a smooth paste.

Split the vanilla bean in half lengthwise and scrape the seeds out with the blade of a knife.

Add the rest of the milk, cream and vanilla bean seeds and set over the heat.

Heat gently whisking the whole time to prevent lumps.

Custard will start to thicken after 5-7 minutes on the stove and will be as thick as gravy.

When it's desired consistency take it off the heat and stir in butter and rhubarb syrup.

Cool for 10 minutes.

Assemble the cake by filling each layer with a thin layer of rhubarb custard.

Decorate the top with reserved rhubarb pieces.

Chill for at least 2 hours before serving.