Classic British Eton Mess, a mixture of whipped cream, strawberries and broken meringue pieces, transformed as a semifreddo!
There are so many variations of this British classic to enjoy, like this Blackberry and Pistachio Ice Cream Eton Mess!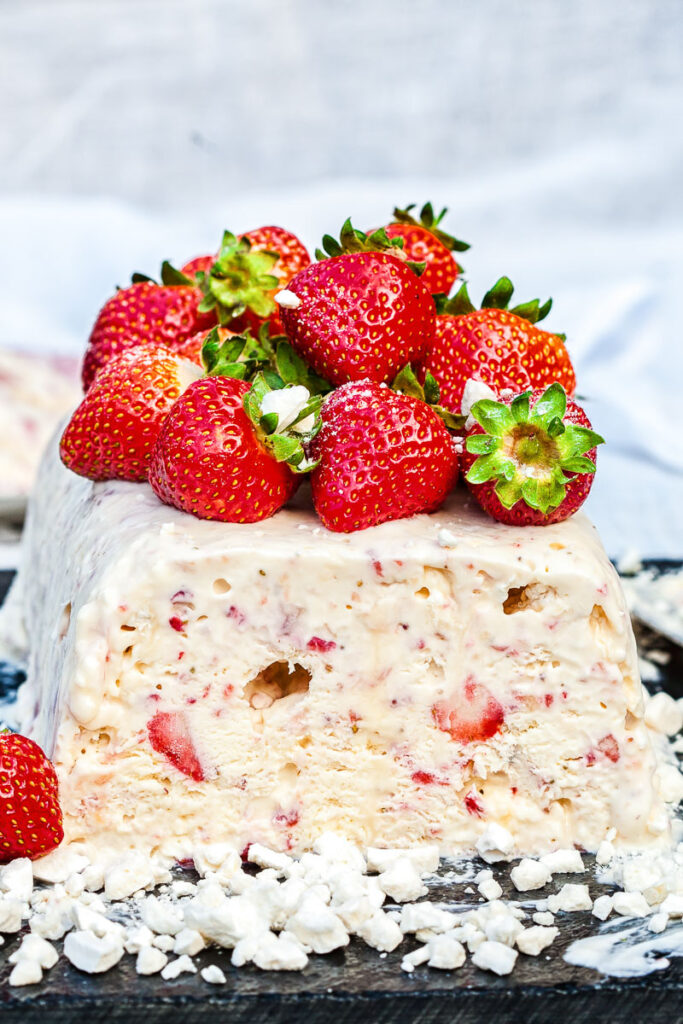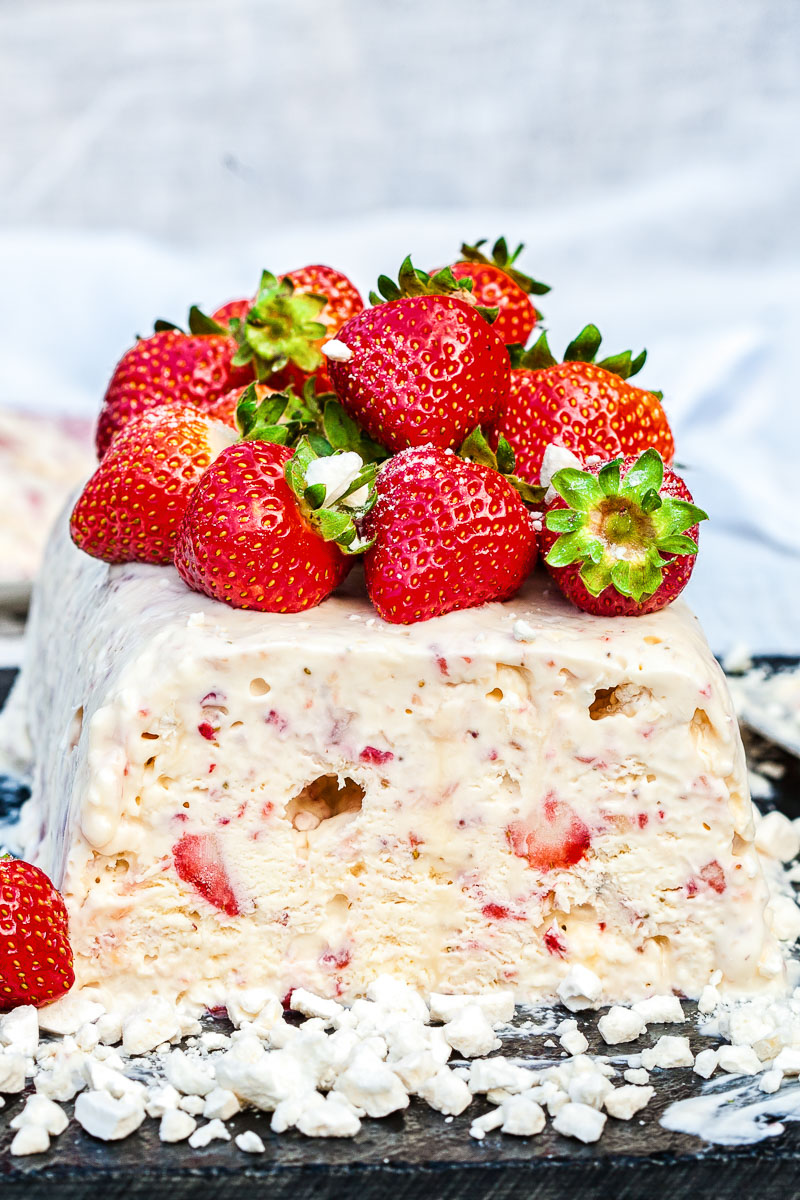 The British love their traditions, like roast dinner on Sunday and strawberries and cream at Wimbledon. Eton Mess sits along side these as it's traditionally served at the annual Eton and Harrow Colleges cricket game and is a true classic.
It's also a fun dessert to play around with, making endless variations on the basic recipe. This semifreddo version keeps the basics of the original recipe intact, but turns it into a lovely cold dessert perfect for a hot summer day!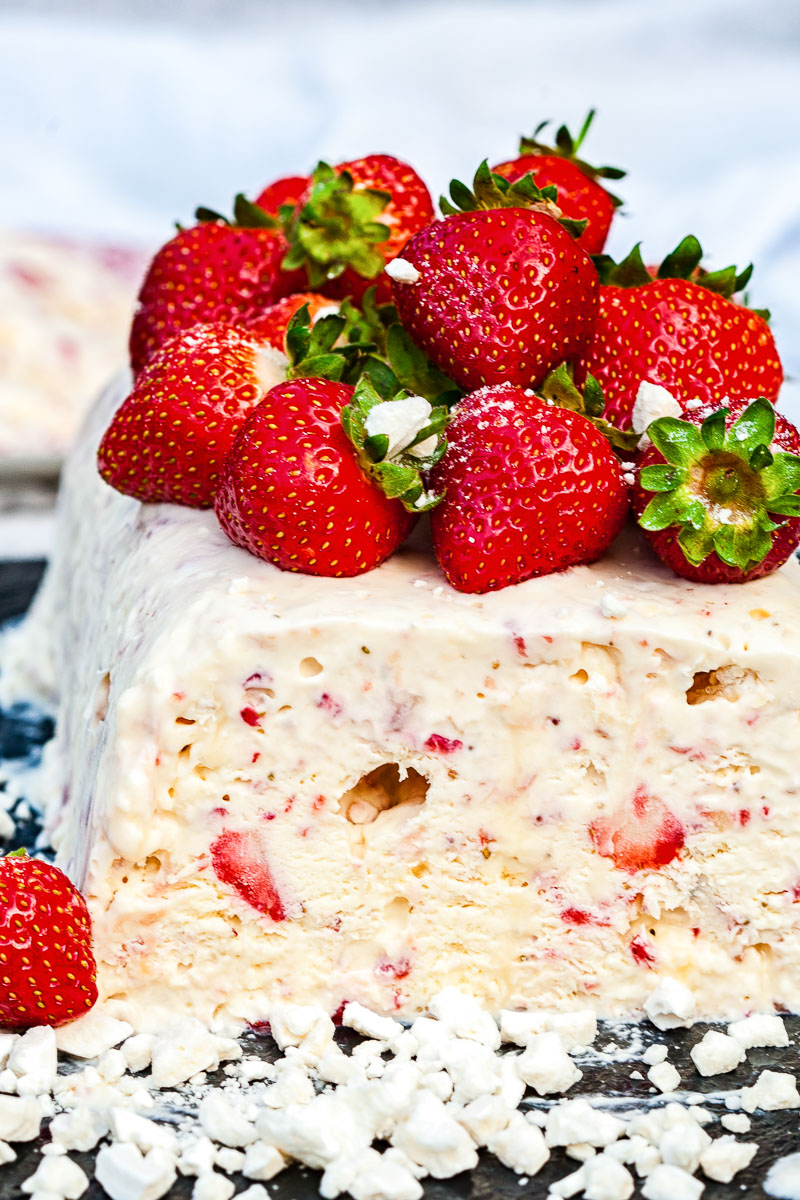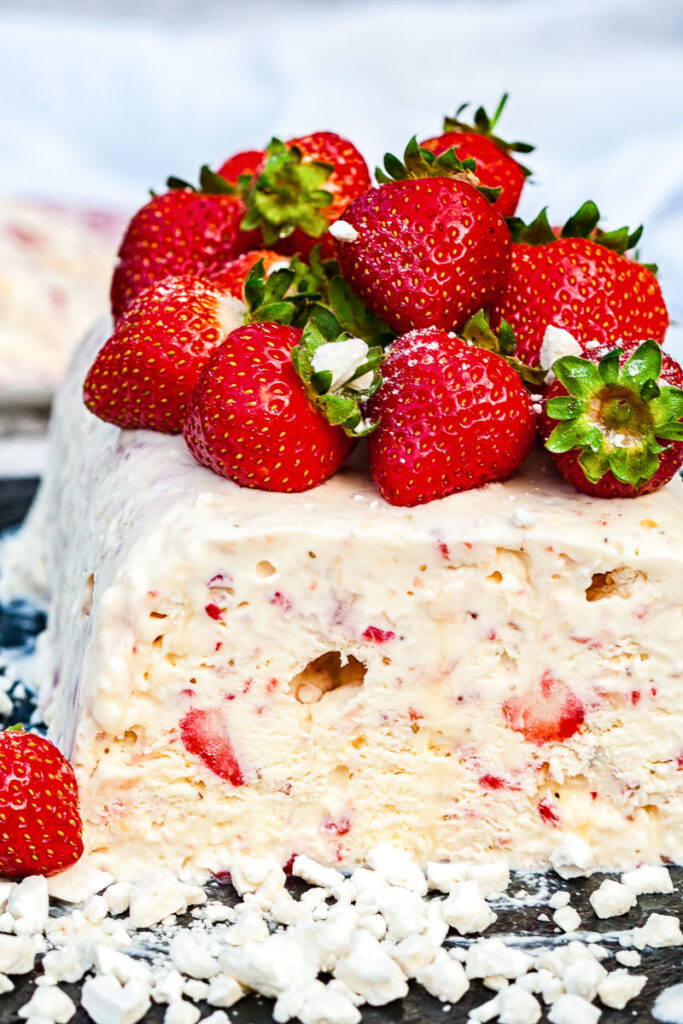 Eton Mess
The dessert is as British as it comes, a true classic. It's a creamy mixture of whipped cream, strawberries and broken meringue pieces.
The legend is that a dessert made of cream, strawberries and meringue was dropped at a cricket match between Eton and Harrow. Rather than waste a perfectly good dessert, it was scraped up and served anyway. I don't know if that is true, but it sounds plausible!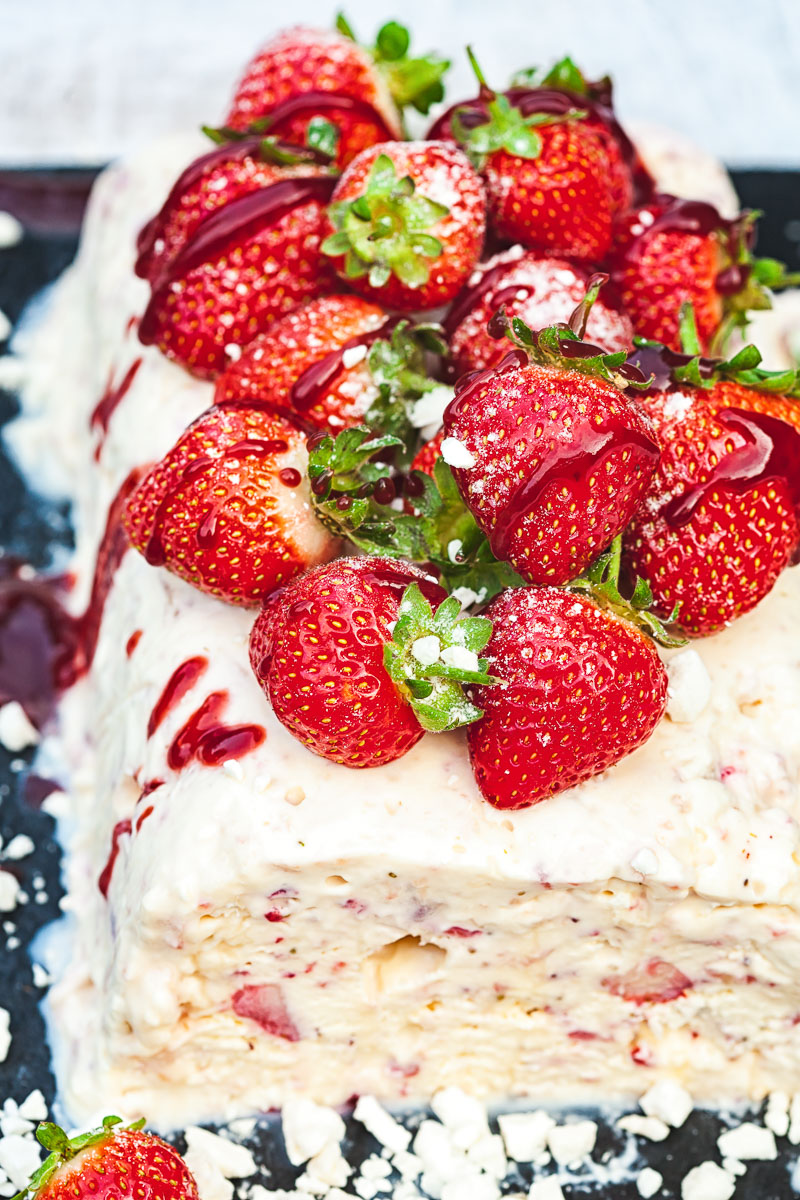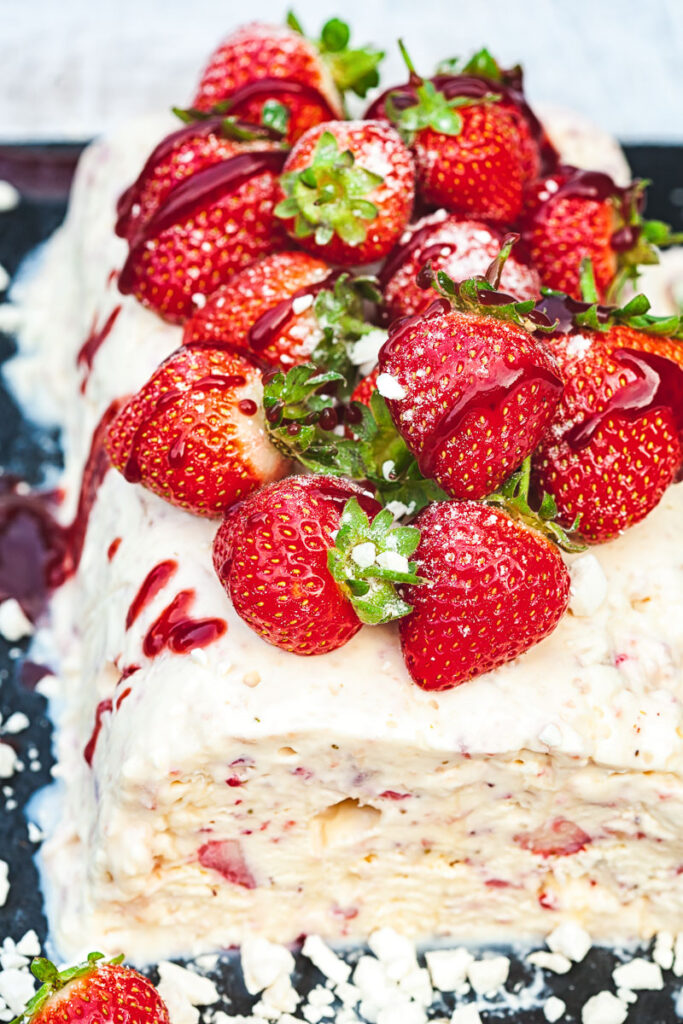 Other berries or summer fruit can be used instead, but strawberries are traditional. The mavericks at Lancing College make their own version with bananas!
For a dessert as spectacular and loved as this one, it's amazingly easy to bring together. All it takes is combining the whipped cream, strawberries and meringue pieces together, and you are there!
What is semifreddo?
Semifreddo is Italian for half-cold and, essentially, has a texture of frozen mousse. At this point you are probably thinking, mousse sounds hard but don't give up on me yet.
This dessert consists of 4 ingredients and takes 15 minutes to whip together plus time in the freezer. This British dessert is creamy, silky, studded with fresh strawberries and broken meringue.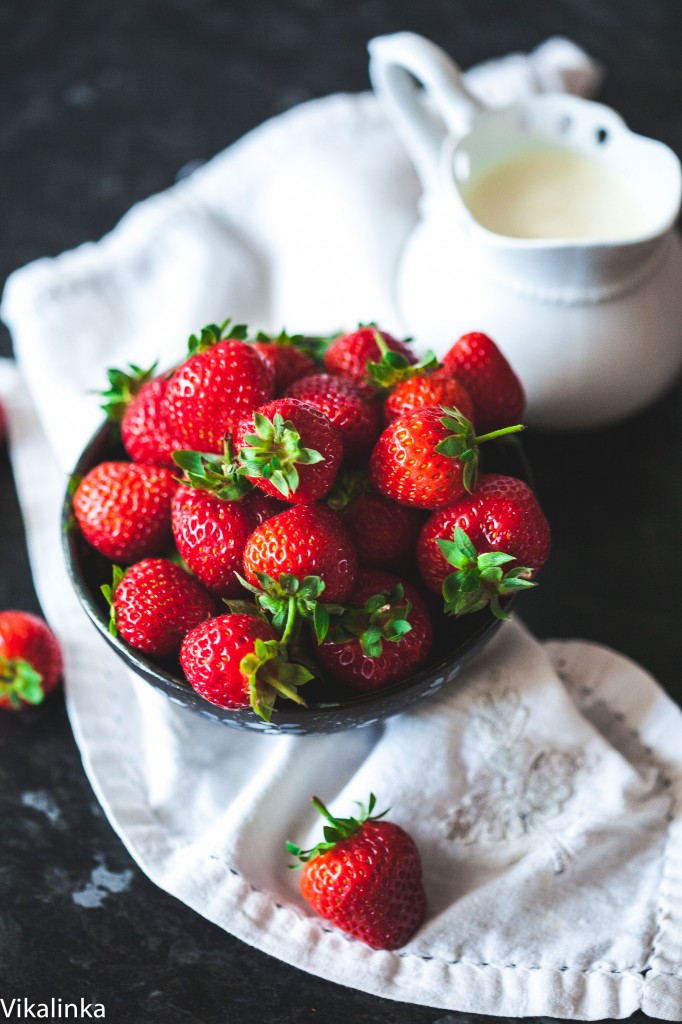 After sitting in cream overnight the dessert takes on a pleasant marshmallow-y texture. Besides, it's incredibly refreshing on a hot summer day.
All you have to do is to whip cream with sweetened condensed milk, then fold in chopped strawberries and broken meringue and freeze it!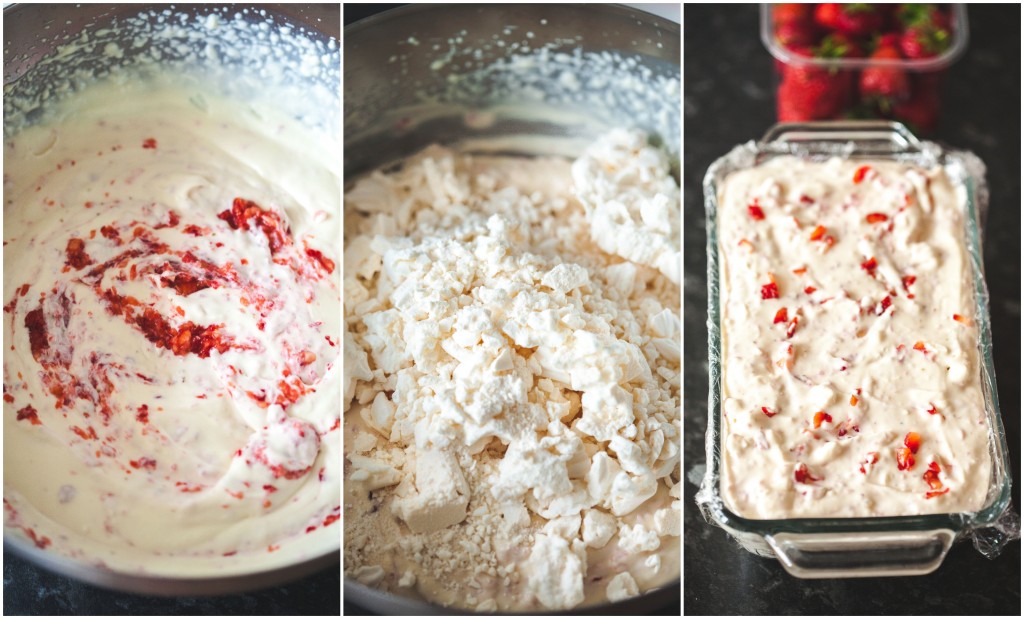 After a night in the freezer, un-mould it and WOW your friends and family. A stunning dessert that took you no time to make! Just slice it as you would a good ice cream cake and serve with more strawberries!
More chilled desserts: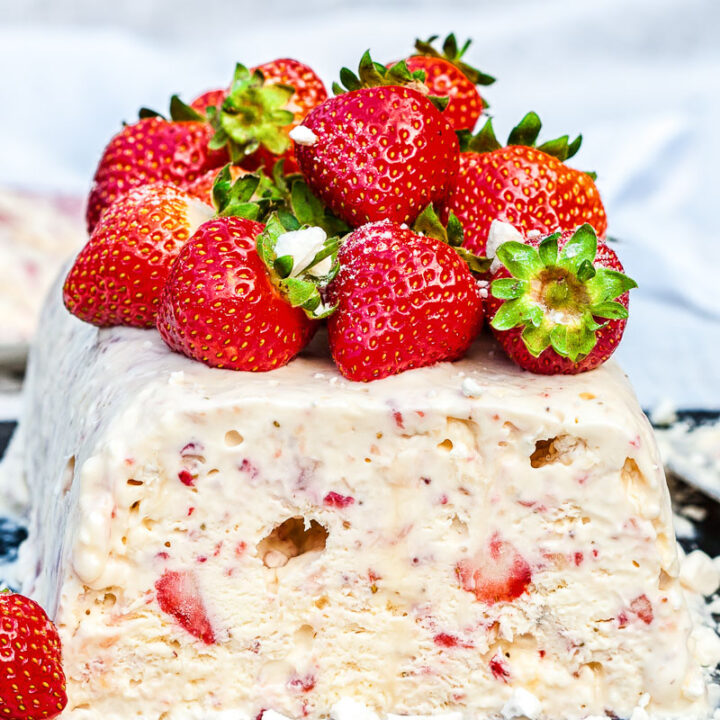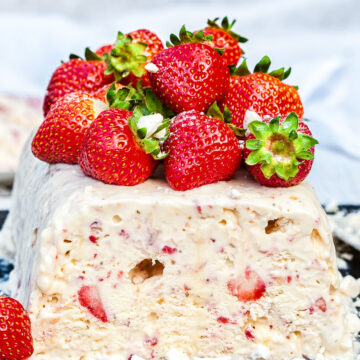 Eton Mess Semifreddo
Frozen dessert of whipped cream, strawberries and broken meringue.
Ingredients
500ml/2 cups

whipping cream/double cream

397g/14 oz

sweetened condensed milk

2

tsp

vanilla

150g/5 oz

fresh strawberries

4

meringue nest

ready made, broken into small pieces

Strawberry coulis

optional
Instructions
In a large bowl combine whipping cream and sweetened condensed milk with good quality vanilla. Whip until soft peaks form, don't over-beat, we are not looking for a whipped cream here. (If you are in the US, whip the heavy cream first, then combine with the sweetened condensed milk.)

Chop strawberries finely or quickly pulse them in the food processor, drain the juice. Crumble store bought meringue with your hands or use a rolling pin. Gently fold strawberries into the cream mixture, then add broken meringue.

Line a loaf pan with a cling film or aluminium foil with the ends over-hanging for easy un-moulding and fill it with the cream mixture. Bring the cling film ends over to cover the top of the semifreddo, then wrap the whole pan in double layer of aluminium foil.

Freeze over night. For easy un-moulding, let your semifreddo sit on your countertop for a few minutes, then put your serving dish on top of the loaf pan and quickly turn it over, peel the cling film off and top with additional strawberries.

You may drizzle it with some strawberry coulis, jam or sauce for extra drama.
Nutrition
Calories:
307
kcal
Carbohydrates:
24
g
Protein:
4
g
Fat:
22
g
Saturated Fat:
14
g
Polyunsaturated Fat:
1
g
Monounsaturated Fat:
6
g
Cholesterol:
82
mg
Sodium:
70
mg
Potassium:
208
mg
Fiber:
1
g
Sugar:
22
g
Vitamin A:
843
IU
Vitamin C:
10
mg
Calcium:
148
mg
Iron:
1
mg