This strawberry and cream cheese galette is a quick and lazy way to enjoy delicious fruit pies in the summer! And look how GORGEOUS!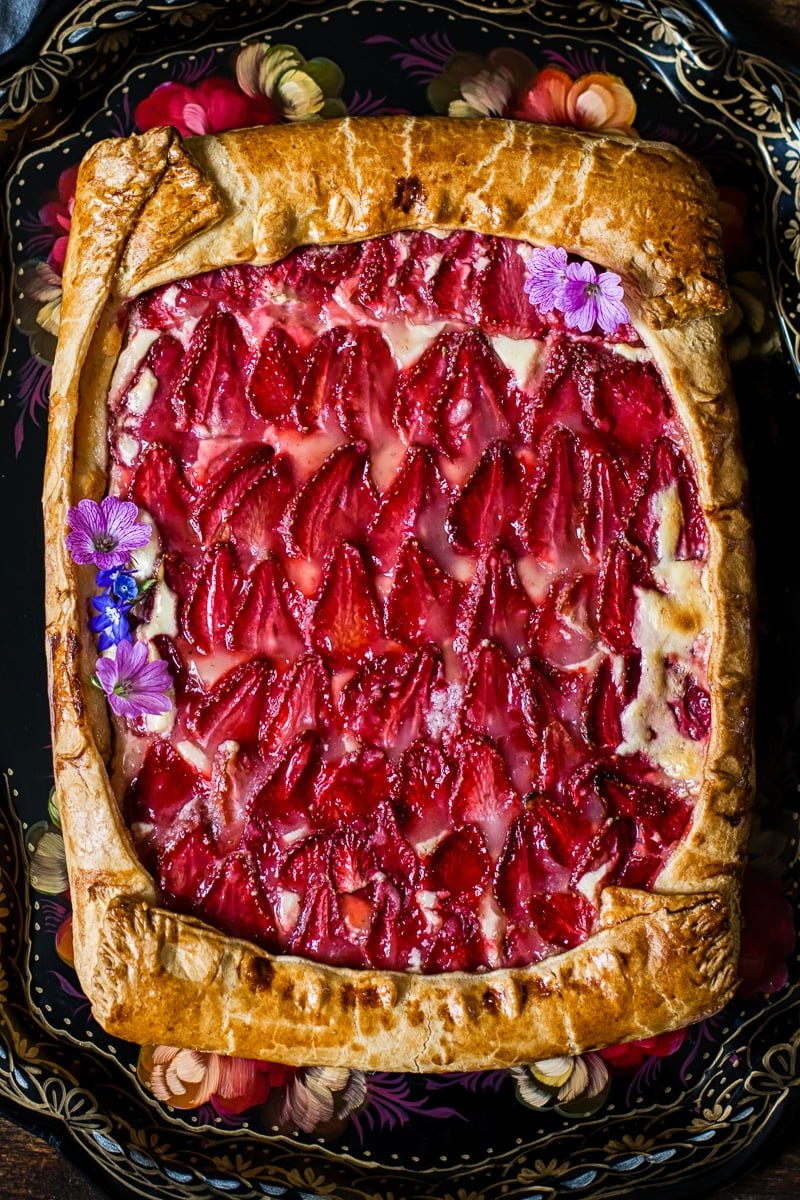 It was a long time since I baked…well apart from cupcakes for Vika's school bake sale but that was not interesting or inspiring though tasty. I don't actually like baking that much. Precision is not my forte.
I would so rather be creative when I cook while randomly throwing herbs and spices in to discover new flavour combination.
Of course some of it is possible in baking but the major part of a successful bake still lies in the mathematical precision in every aspect of it; measurement, oven temperature, humidity…I get really bogged down by the science of baking. It doesn't jive with my personality!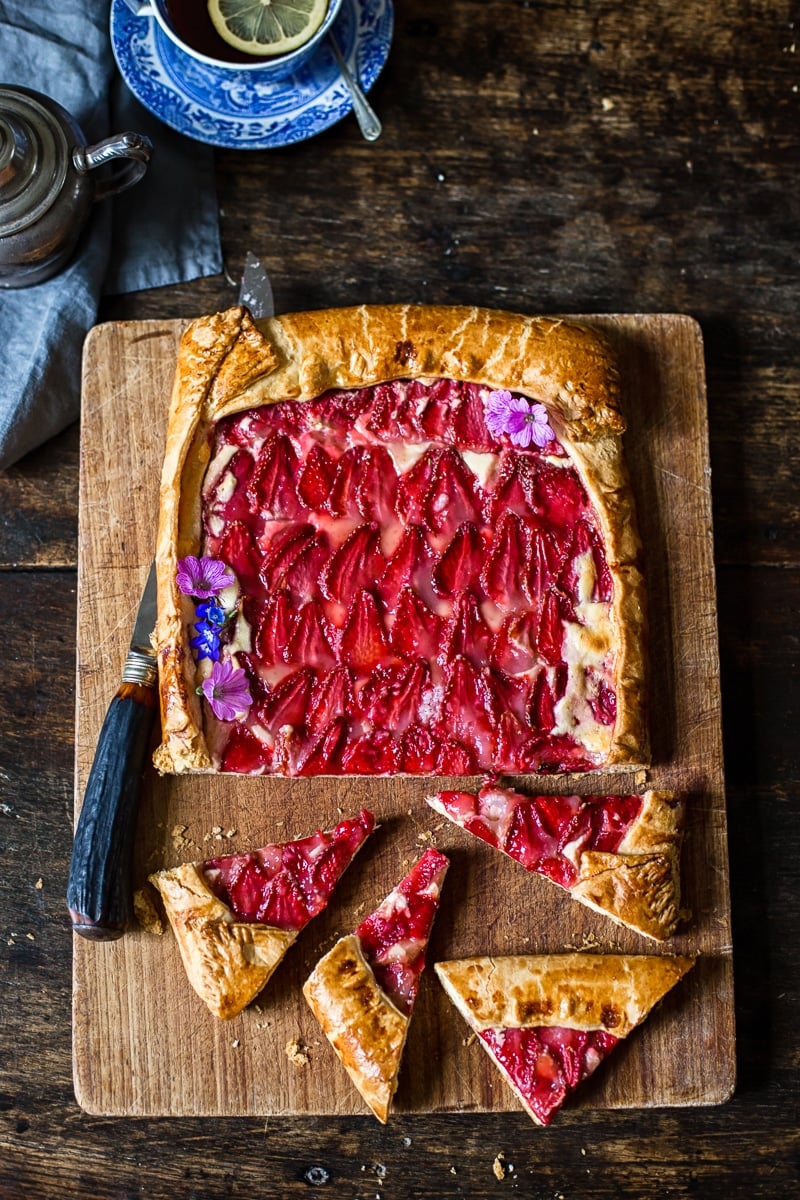 Yes, I still make elaborate cakes like this one and that one. And the one here but I do it very rarely and only when a certain amount of inspiration strikes.
My everyday bakes are much simpler and are quite rustic like my Chocolate Fudge Cake with Stewed Rhubarb or Wild Blackberry Tea Cake.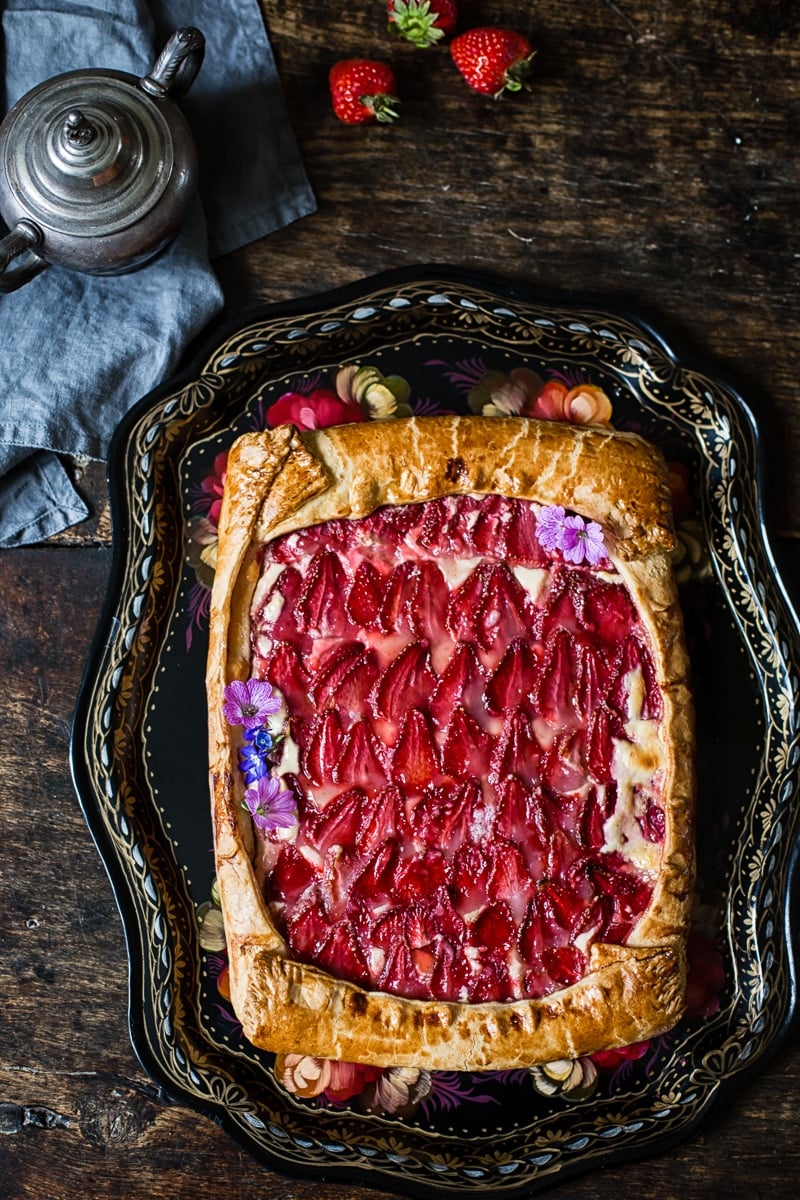 I absolutely adore baking simple cakes with summer fruit and always bake several of them throughout the summer, which brings me to today's strawberry and cream cheese galette.
This one is a bit of a cheat since I am using already made shortcrust pastry. But I am sure you won't mind since it will give you more time to enjoy the lovely weather! If you feel like making your own, this pastry recipe comes from my mother-in-law and is our family favourite!
The strawberry and cream cheese galette I am sharing today is a variation on another popular recipe on my blog Crumb Apricot Cheesecake. You, friends, loved it so much and gave me a lot of feedback. Some of you loved it as is, and some of you wanted less crust!
My Crumb Apricot Cheesecake is a traditional Russian dessert with a few personal tweaks. This strawberry and cream cheese galette is a step away from that.
The pastry is a classic shortcrust instead of a sable pastry, and and the cream cheese layer is much thinner. All in all this recipe is a huge winner. You get to taste sweet and juicy strawberries and enjoy the creamy layer underneath, which is quite a new spin on classic fruit galettes.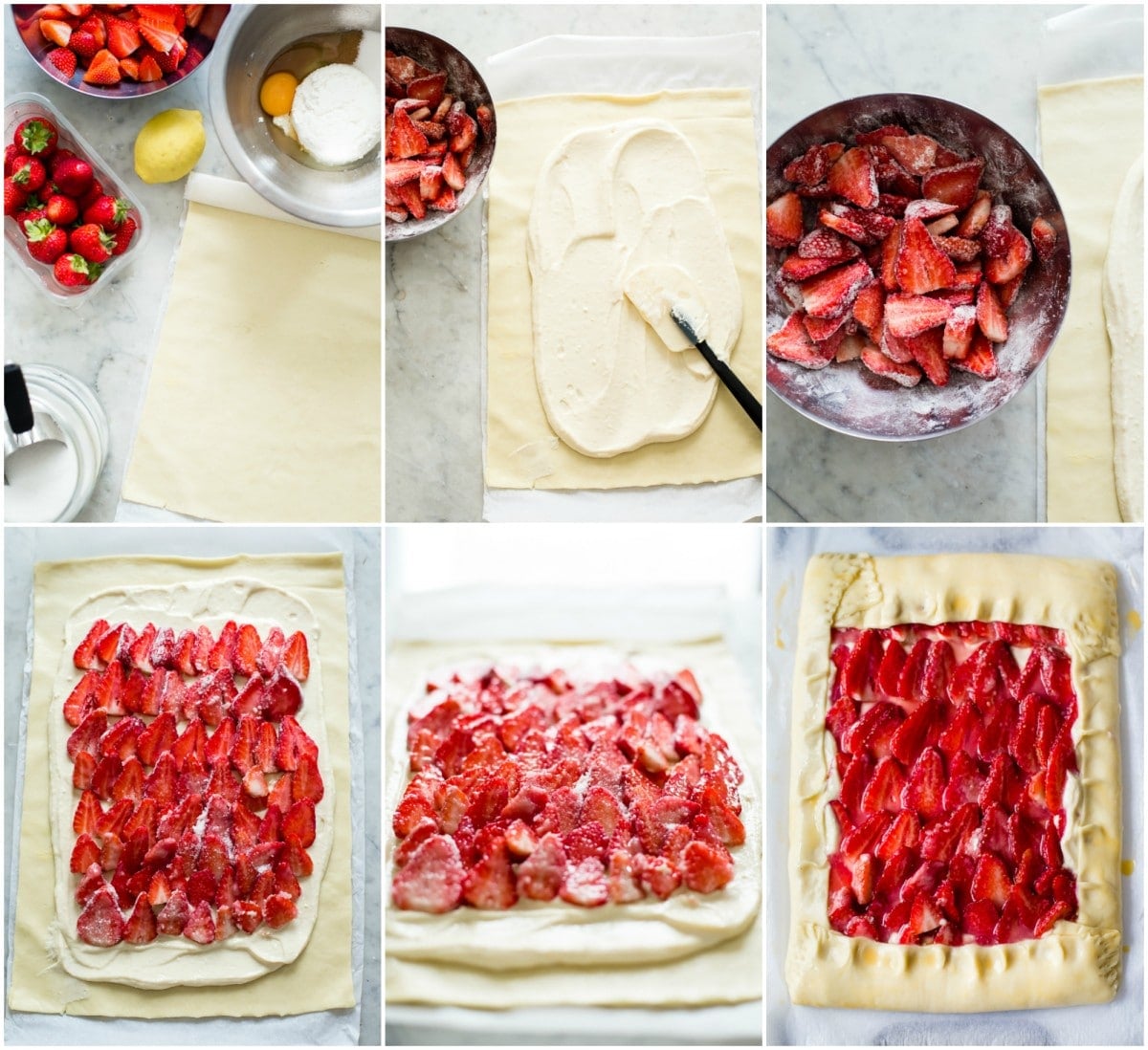 As you can see in the step-by-step photos, the assembly is very easy. The whole galette comes together in less than 20 minutes if you use a prepared pie crust. Feel free to change the shape to a more traditional round one. It won't affect the taste!
In my recipe I used farmer's cheese aka "tvorog" or "twarog", which is found in all Eastern European shops and in Sainsbury's international aisle (UK). I prefer the slightly tangy taste and a firmer texture of tvorog. If you can't track down farmer's cheese, feel free to use cream cheese.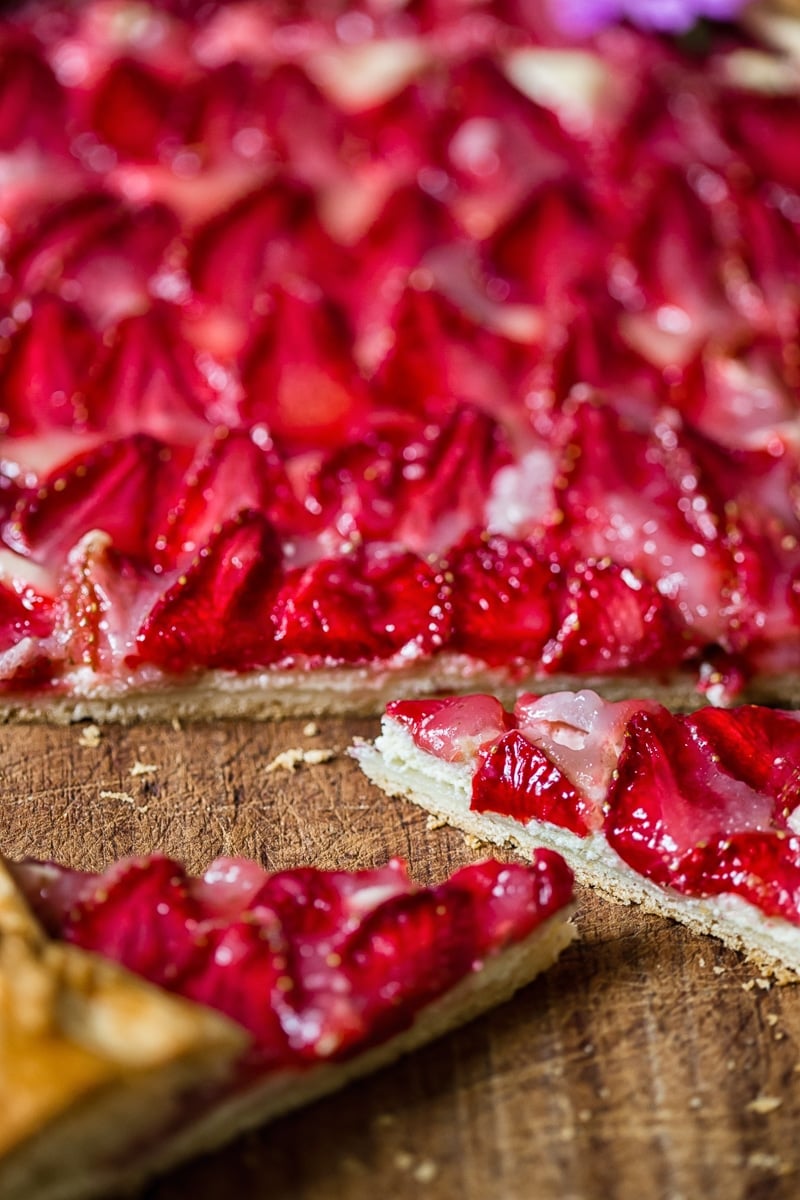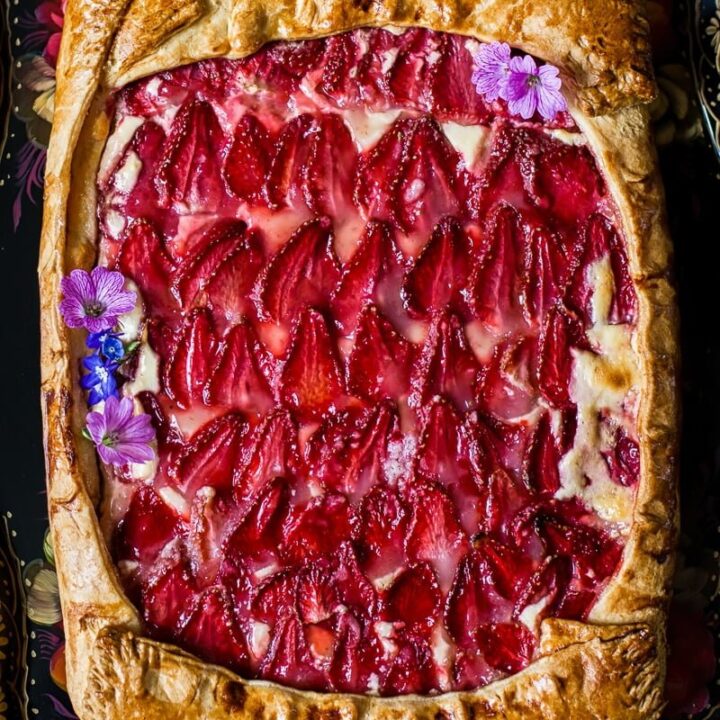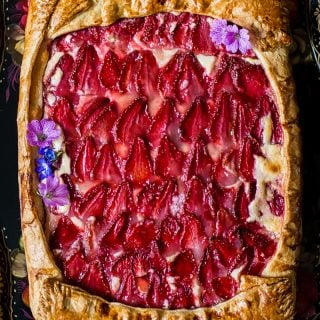 Rustic Strawberry and Cream Cheese Galette
This strawberry and cream cheese galette is a quick and lazy way to enjoy delicious fruit pies in the summer!
Print
Pin
Rate
Ingredients
375

g

/13 oz prepared shortcrust pastry
Strawberry layer
400

g

/14oz strawberries

75

g

⅓ cup sugar

1

tbsp

flour
Cheese layer
250

g

/8 oz full fat farmer's cheese or cream cheese

100

g

/1/2 cup sugar

2

eggs

1

tsp

vanilla

zest of 1 lemon
Instructions
Preheat the oven to 200C/400F.

In a food processor or a blender combine farmer's cheese, one egg, sugar, vanilla and lemon zest, process until smooth. (Skip this step if using cream cheese. Simply combine all ingredients in a medium-sized bowl and beat with an electric mixer for 2-3 minutes.)

Slice the strawberries and gently toss with sugar and flour ensuring each slice is even coated. This step is important and prevents from too much liquid forming in the filling.

Unroll the prepared pastry sheet and leave it on parchment paper it was packaged in. Spread the cheese mixture on it leaving a 2 inch border all around, then lay out the strawberry slices directly on top of the cheese in one layer.

Pick up the sides of the parchment paper and carefully fold the sides of the pastry all around the filling, pinch the corners together and brush with the remaining beaten egg. Transfer on a baking sheet with the parchment paper and put in the fridge to firm up for 20 minutes.

Take out of the fridge and bake in the preheated oven for 10 minutes, then lower the temperature to 180C/350F and bake for 30 minutes longer until golden.

Let it cool for one hour before serving.
Nutrition
Calories:
404
kcal
|
Carbohydrates:
68
g
|
Protein:
12
g
|
Fat:
9
g
|
Saturated Fat:
3
g
|
Trans Fat:
1
g
|
Cholesterol:
68
mg
|
Sodium:
490
mg
|
Potassium:
170
mg
|
Fiber:
3
g
|
Sugar:
33
g
|
Vitamin A:
87
IU
|
Vitamin C:
39
mg
|
Calcium:
26
mg
|
Iron:
3
mg