Layers of toffee, sliced bananas, whipped cream and chocolate curls nestled inside a buttery, crushed chocolate cookie crust. Yes, I am describing the one and only Banoffee Pie!
This easy, no bake dessert is for the times when you crave something delicious but have no time or desire to put the hours in.
If you love this Banoffee Pie recipe, check out another no bake dessert Strawberry Meringue Cheesecake (No Bake)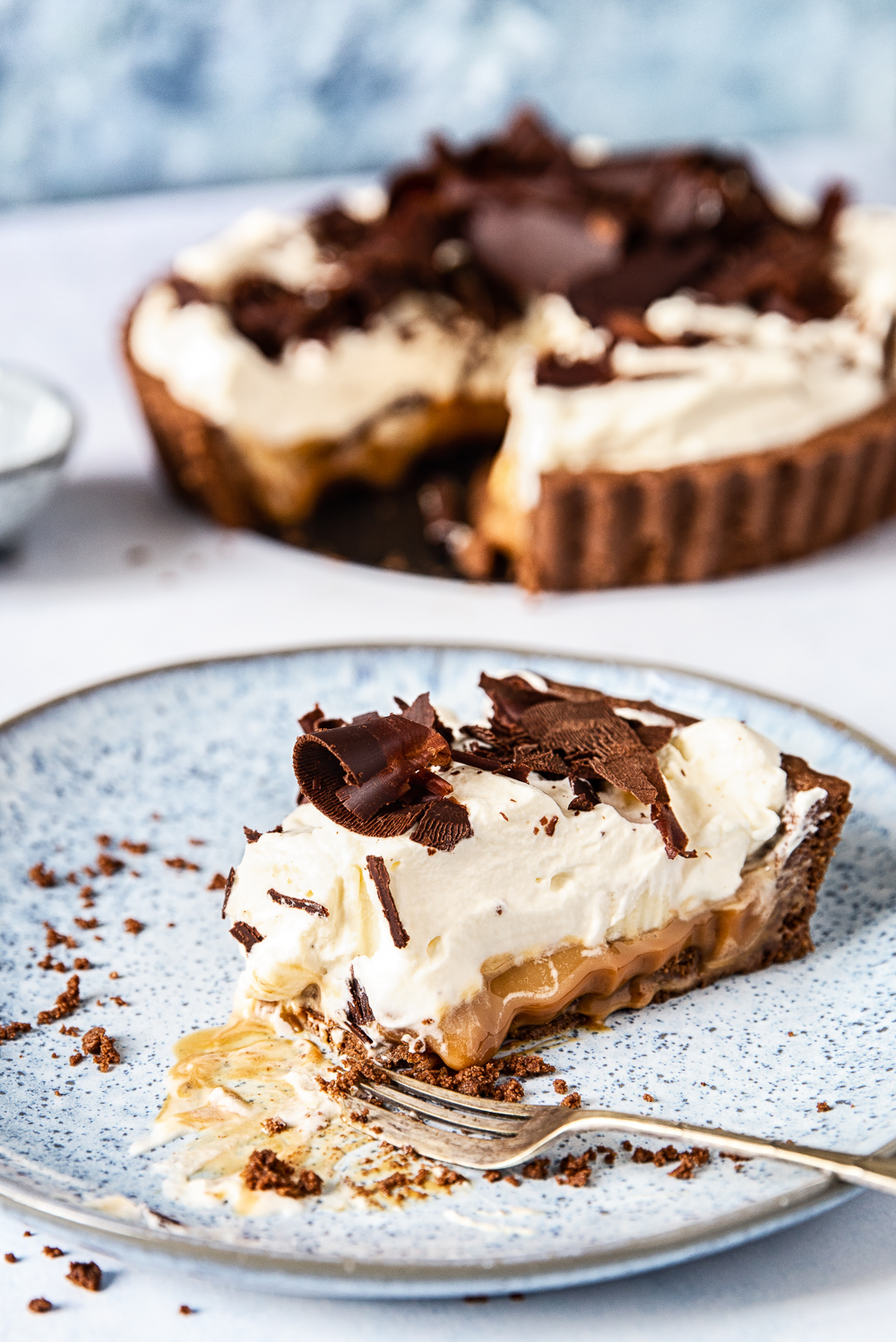 Banoffee Pie is known to be simple to prepare but I made my recipe even easier! I love making this delicious pie whenever I cook a big celebratory meal. The main reason for it is convenience.
Banoffee Pie requires no baking, only assembling a handful of ingredients but it tastes so decadent, no one will ever think shortcuts were taken!
I absolutely love ending a great meal with something easy but equally impressive. Banoffee Pie almost always wins. It's a firm favourite with the guests and this cook!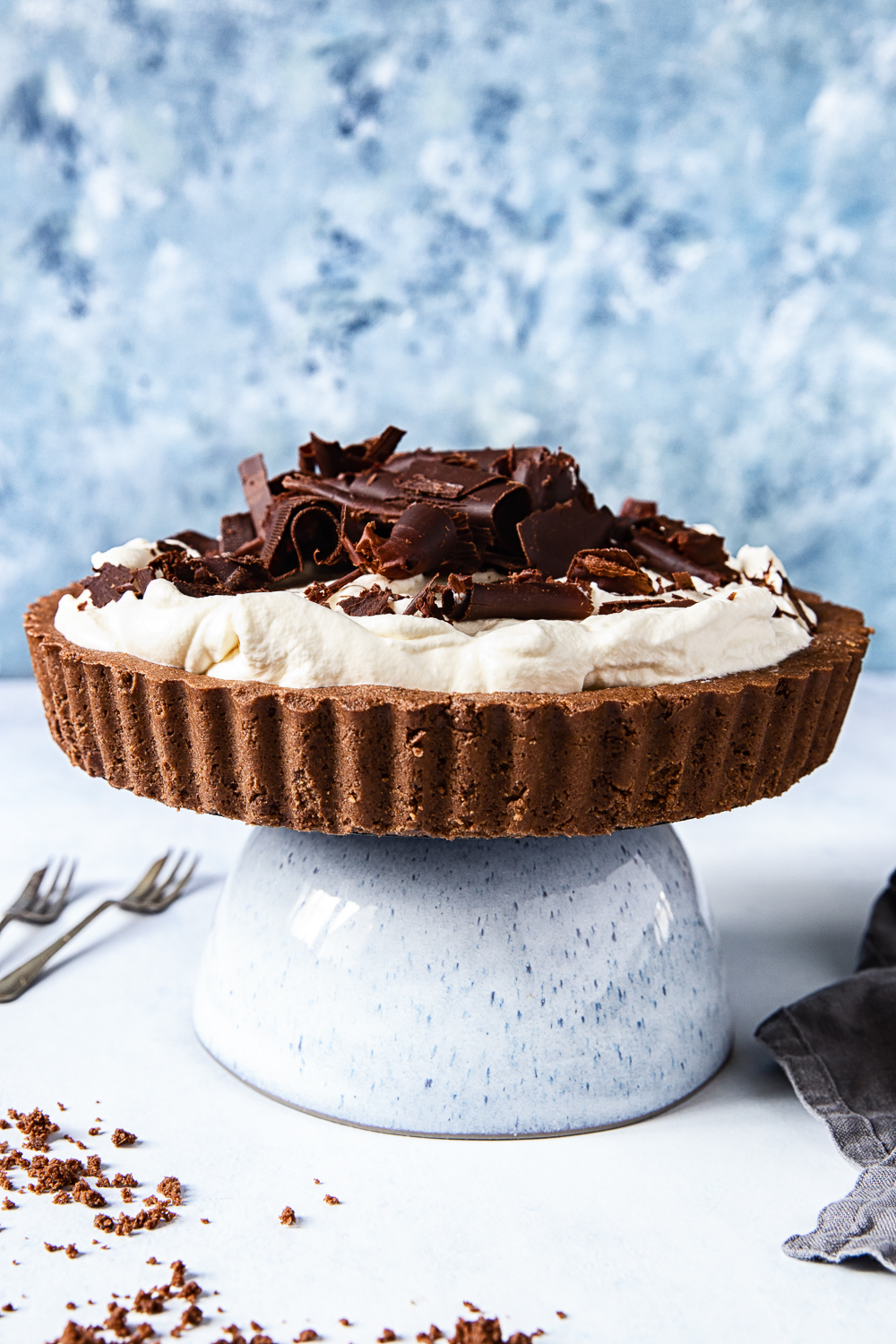 What is Banoffee Pie?
Banoffee Pie, which rhymes with "toffee pie" needs no introduction for those living in the UK. It is as ubiquitous in every coffee shop, cafe, restaurant and people's homes as an apple pie in America!
It consists of three distinct layers of toffee, sliced bananas and whipped cream, often topped with grated chocolate. Have you guessed the origin of the name yet?
It's a mashup of two words banana and toffee…making it Banoffee! The delicious layers are housed within an easy to prepare cookie crust or as it's called in its birth country, biscuit crust.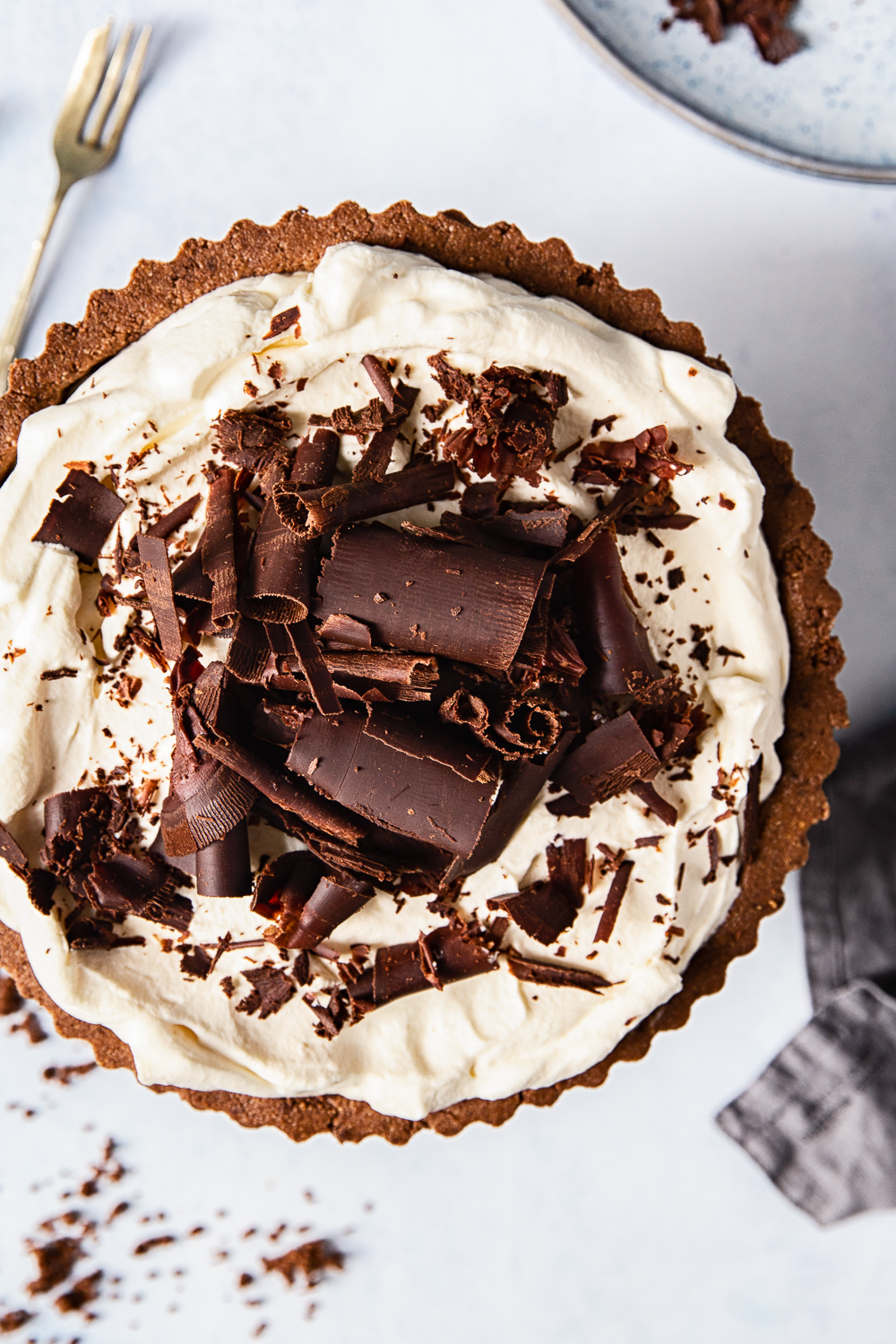 What are Banoffee Pie ingredients?
The original recipe varies slightly from the one I am sharing today. I wanted to make this dessert extra easy, so I simplified a couple of things.
First of all, the traditional Banoffee pie crust was a baked shortcrust although a biscuit crust is widely used now, and pretty much replaced the baked version.
Secondly, I tend to use the caramel filling straight from the can instead of cooking it with butter until it's thicker and holds its shape when the pie is cut. There are two reasons for it. Convenience and personal preference. I actually love the gooey, runnier caramel layer. There is something so attractive and satisfying about it. Carnation brand Caramel filling is what I always go for.
Lastly, a coffee extract is usually added to the whipped cream layer to counterbalance the sweetness of the caramel and bananas. I omit coffee for the same reason as above. Personal preference.
I do take a bit of extra time to decorate my pie with large chocolate curls for extra drama. You can easily use grated chocolate instead to make it simpler.
If you follow my easy banoffee pie recipe, you will have a dessert made in 30 minutes flat, not counting the fridge time. Like I said I love it easy!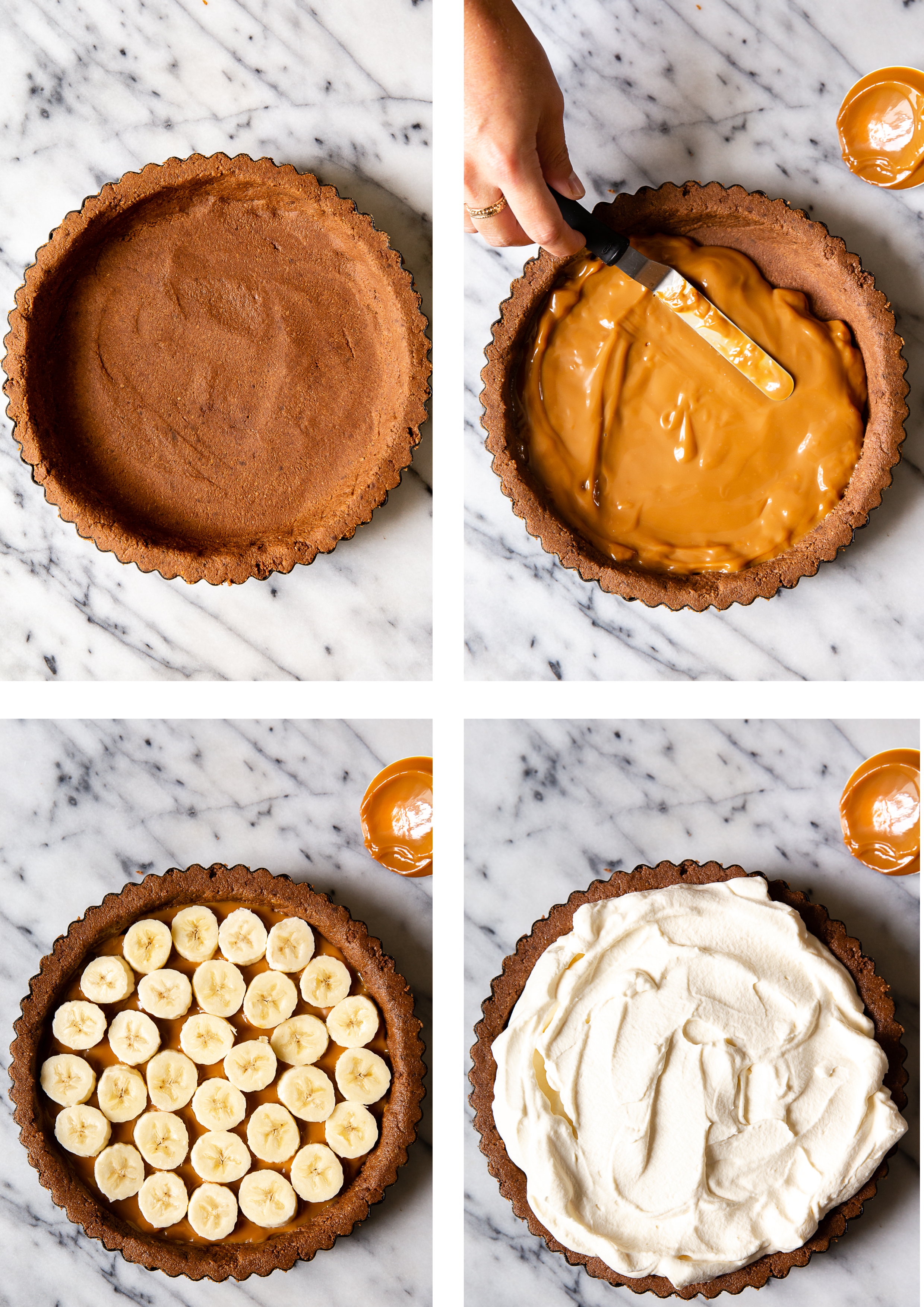 How long does Banoffee Pie keep?
Banoffee Pie is best enjoyed after it's been chilled for a few hours. This will allow for the flavours to meld and for the cookie crust to set. However, it should be eaten within 24-30 hours while it is still at its peak.
Don't worry about sliced bananas turning brown as they are safely tucked under a fluffy layer of whipped cream, which prevents them from being exposed to air and changing colour.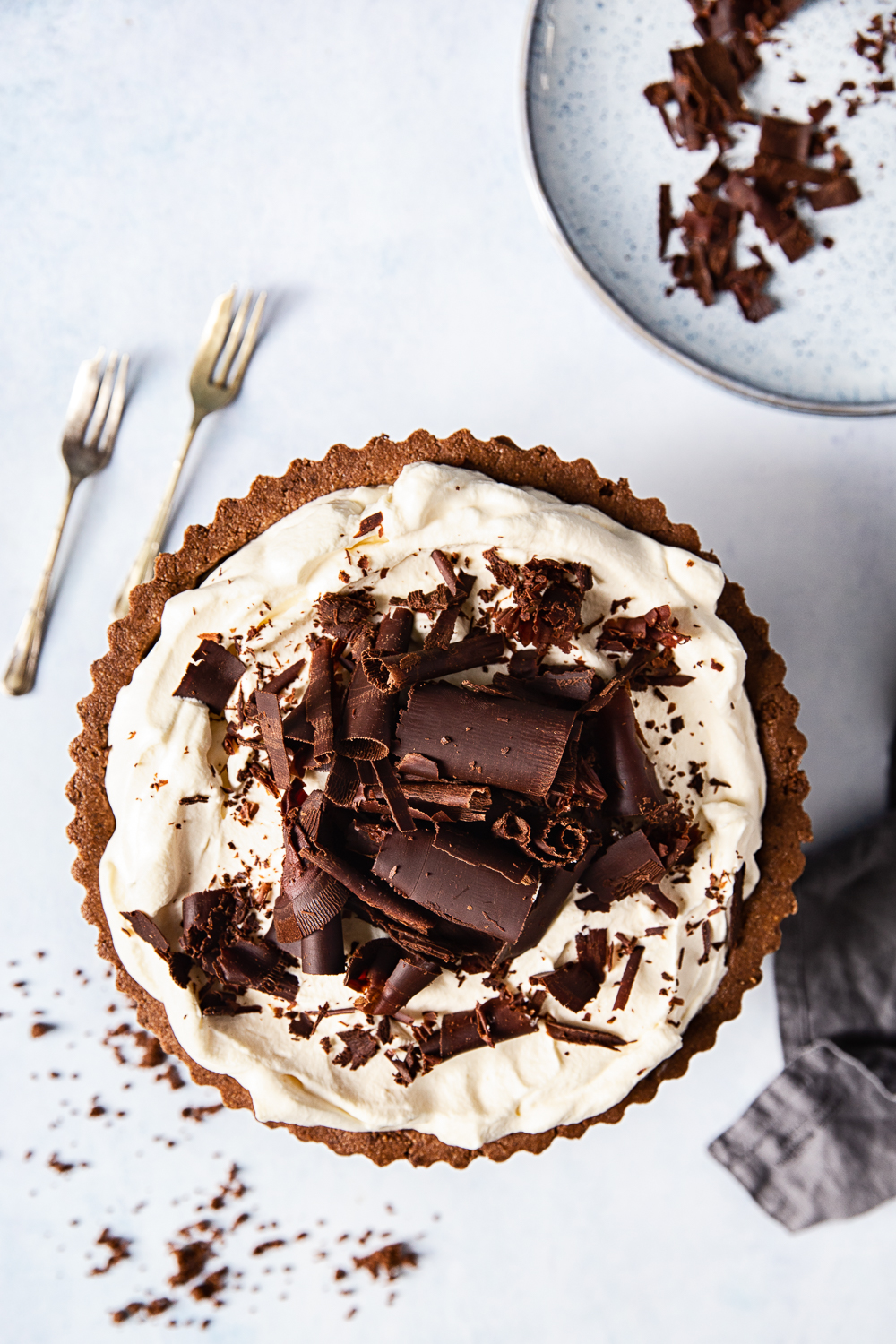 More British desserts: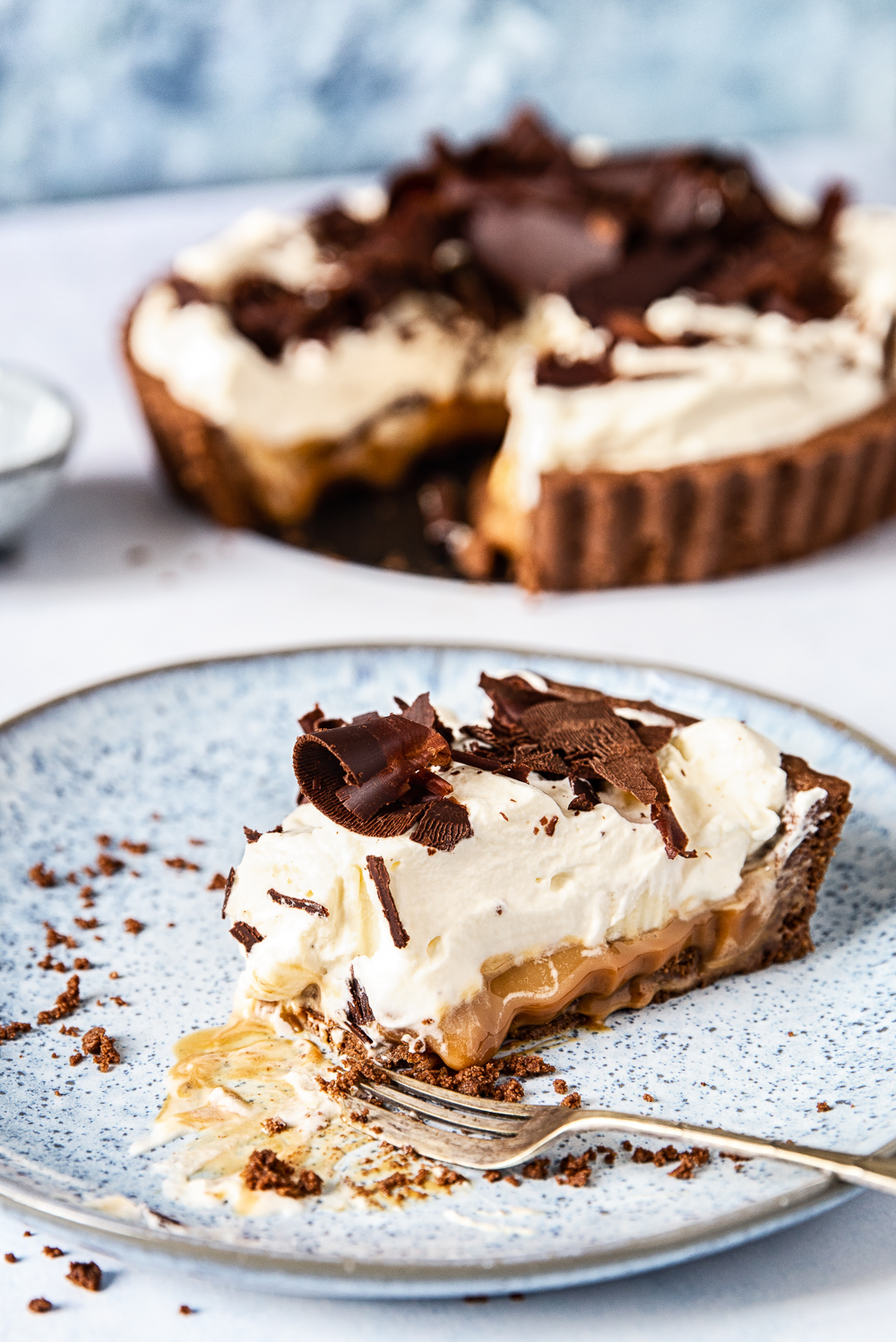 Ingredients
250g/3 cups

chocolate covered digestive biscuits or chocolate wafers

100g/1/2 cup

butter

1 tinX397g/1 cup

Carnation caramel/dulce de leche

2

bananas,sliced

375ml/1 ½ cup

double cream/heavy creamy

30g/1/4 cup

icing sugar/powdered sugar

1 tsp

vanilla

50g/2oz

chocolate
Instructions
Prepare an 8 inch/20 cm pie or tart plate by rubbing it with butter. Removable bottom tart tin works best in this recipe.

Put the chocolate digestive biscuits or chocolate wafers in a ziplock bag and crush them using a rolling pin or process them in a food processor until they turn into fine crumbs.

In a medium bowl combine the crumbs and melted butter, then line the bottom and the sides of the prepared tart tin or pie plate with the mixture and refrigerate for 4 hours until firmly set.

Melt the chocolate in a microwave in short 30 second bursts to ensure you don't burn the chocolate, stir it after each burst. Alternatively, you can melt it in a double boiler. After the chocolate has been melted, spread it on a clean cookie sheet and refrigerate until set for approximately 1 hour.

Take the pie crust out of the fridge and spread the caramel filling over the bottom, then level it with an offset spatula or the back of a spoon, then line with sliced bananas.

Whip the double cream with icing sugar and vanilla until soft peaks form, then top the pie with it while creating attractive swirls with the back of a spoon.

Take the chocolate out of the fridge and drag the blade of a knife directly across towards yourself in a firm movement to create a chocolate curl. Repeat until you have enough of chocolate curls to decorate the top of the pie. Arrange the chocolate curls on top of the whipped cream and refrigerate until serving. Alternatively, you can skip this step and simply decorate your pie with grated chocolate.
Nutrition Facts
Easy Banoffee Pie
Amount Per Serving
Calories 477
Calories from Fat 333
% Daily Value*
Fat 37g57%
Cholesterol 91mg30%
Sodium 203mg9%
Potassium 224mg6%
Carbohydrates 37g12%
Protein 3g6%
Vitamin A 1020IU20%
Vitamin C 3mg4%
Calcium 55mg6%
Iron 1mg6%
* Percent Daily Values are based on a 2000 calorie diet.