These salmon cakes made with leftover mashed potatoes and canned salmon are 'cheap and cheerful'. So you can eat your cakes and also… live a little! Learn my secret to the best salmon patties!
If you love this recipe, take a look at my more elevated version of Salmon Fishcakes with Creamy White Wine Sauce.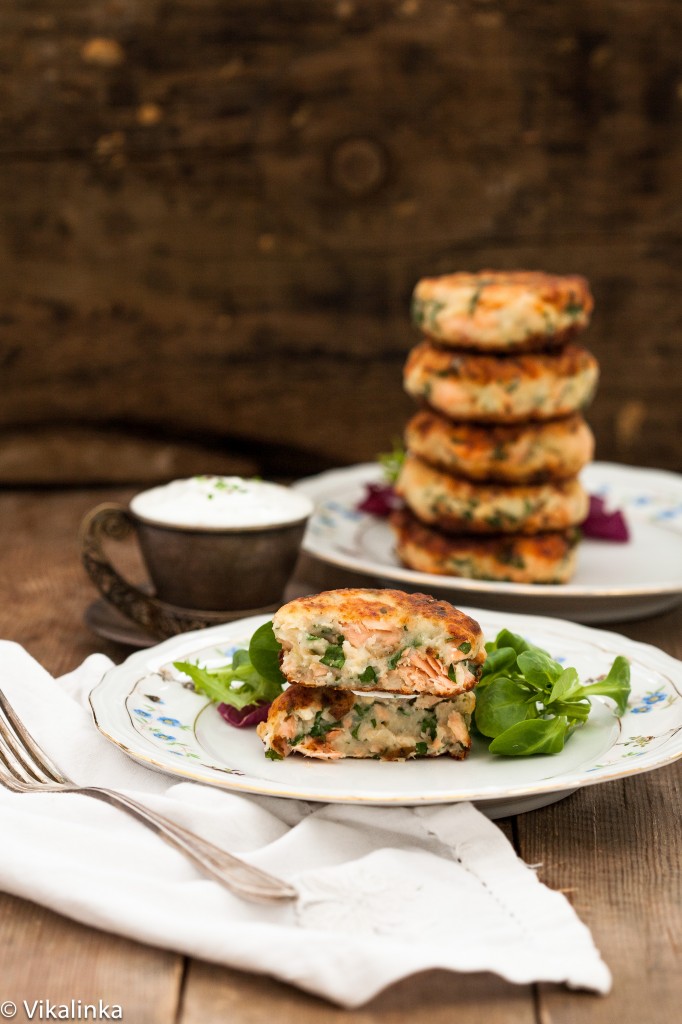 When I woke up this morning I didn't plan to blog about salmon cakes, but I did plan to finally clean out my fridge and use up all the leftovers for lunch.
If my mum taught me anything, when I was still impressionable, it was that being frugal was definitely a virtue! The rule I quickly forgot as soon as I got my first paying job.
Nowadays I find myself coming back to my senses and saving a forgotten container of the mashed potatoes at the back of my fridge doesn't seem like insanity. Especially when it could be transformed into something completely different, exciting and delicious like these salmon cakes.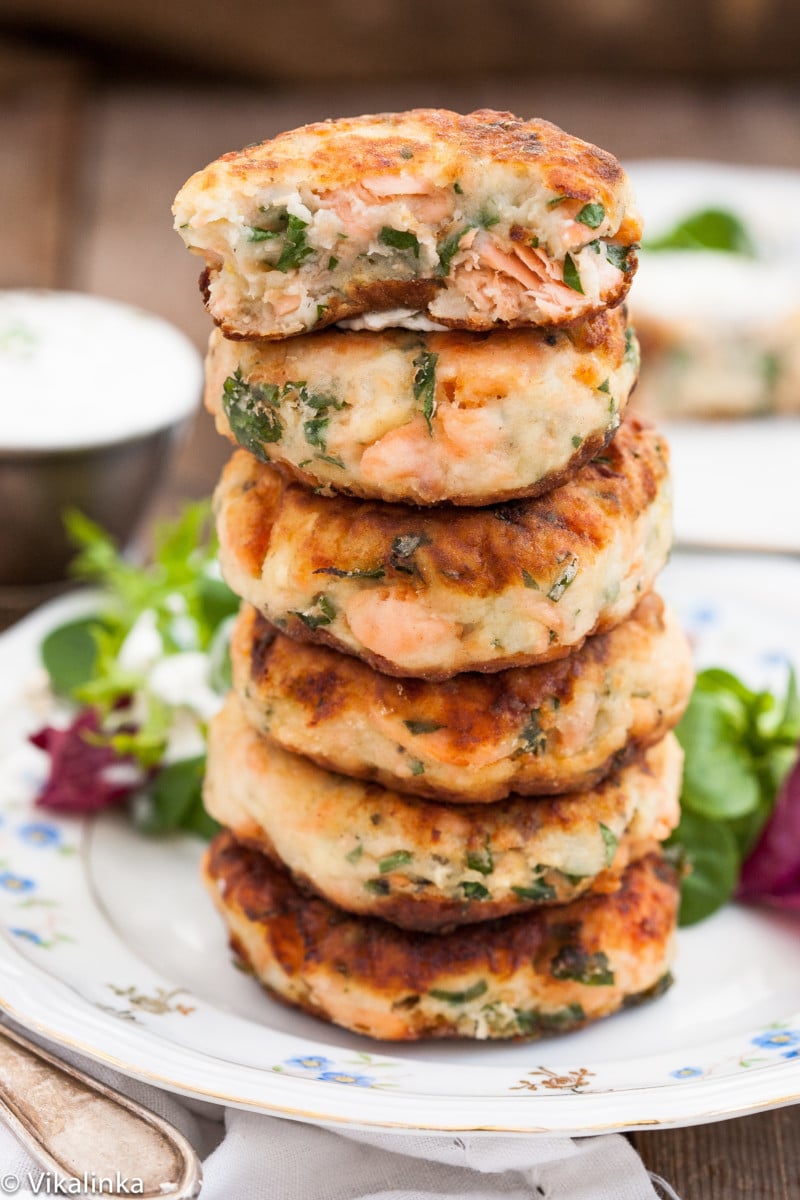 What are salmon cakes made of?
The most important part of these cakes are obviously salmon, so I would encourage you to buy the best quality canned salmon available or use fresh salmon. You salmon cakes will only taste as good as the ingredients in them.
Secondly, I prefer using mashed potatoes as a filler but there are many recipes that use breadcrumbs.
Use an egg and a pinch of flour to bind the mixture together.
Flavour your fish cakes with lots of fresh herbs and lemon zest.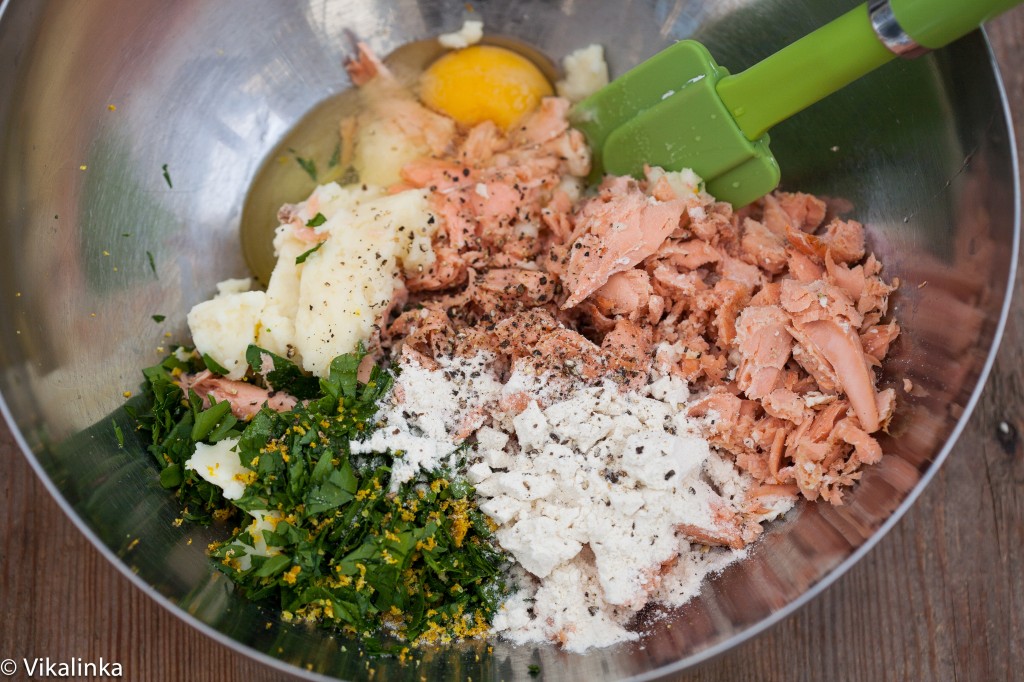 How do I make the best salmon patties?
Break up salmon into larger flakes for maximum flavour.
Form the mixture in the shape of a ball and flatten it into a patty directly on the frying pan, otherwise it falls apart easily.
Or refrigerate them for an hour to allow the mixture to firm up.
Fry 5 or 6 salmon cakes at a time in hot olive oil until golden and crunchy on the outside. Do not overcrowd them or they will steam instead!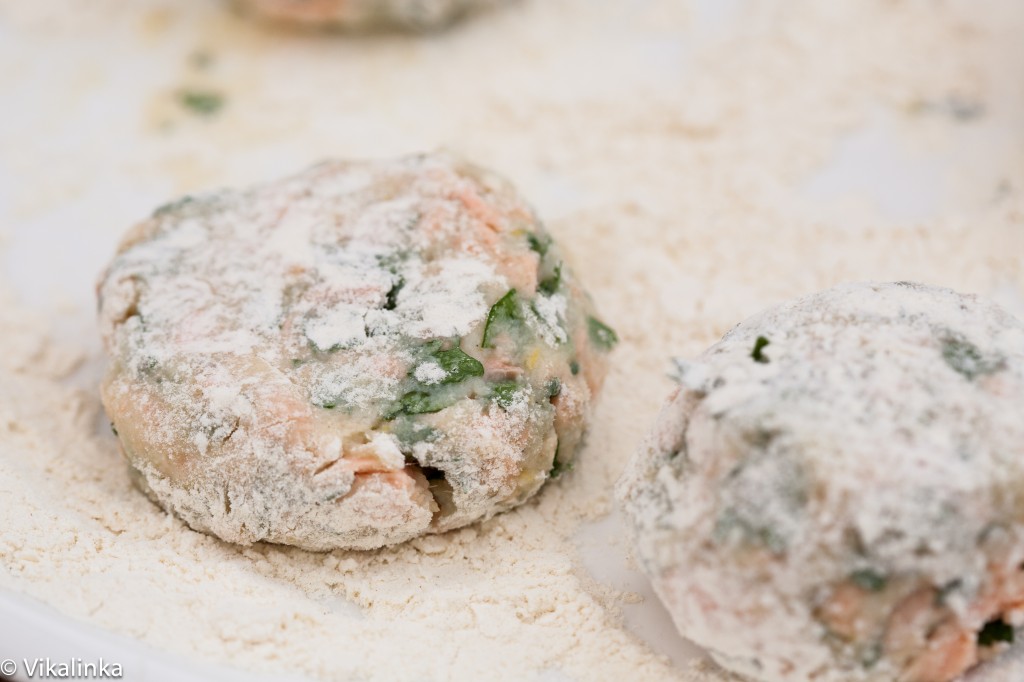 What sauce goes well with fish cakes?
When I first served them my husband asked if we had any tartar sauce to go with the salmon cakes.
We didn't so I quickly mixed together a yogurt sauce flavored with lemon juice, chives and garlic. So much better and lighter than a traditional tartar sauce.
Can I freeze them?
You can freeze salmon patties both cooked or uncooked.
If frozen cooked, defrost in the fridge, then reheat in the oven at 200C/400F for 10 minutes.
If frozen uncooked, defrost in the fridge, then follow the cooking instructions in the recipe.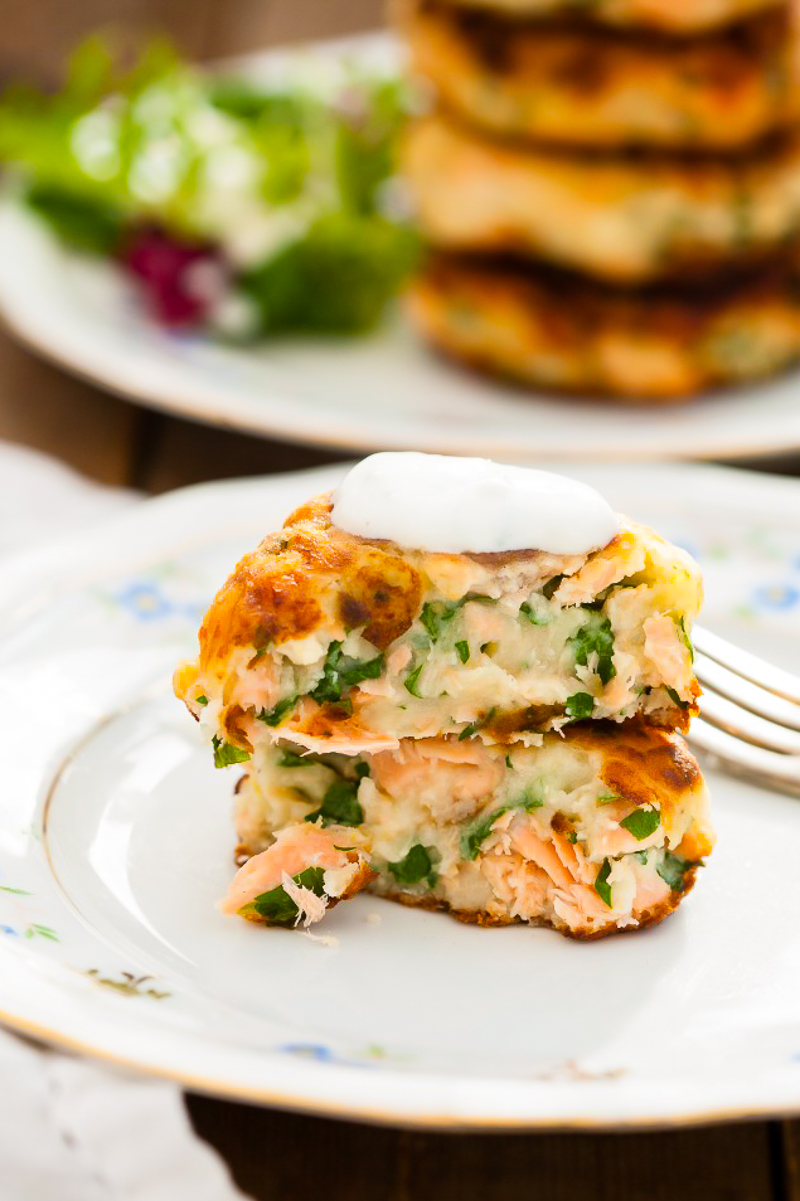 Note: This recipe has been updated on 13/02/2014. I've added a delicious sauce recipe that complements these salmon cakes beautifully.
Updated again and republished on 30/10/2019
More favourite salmon recipes: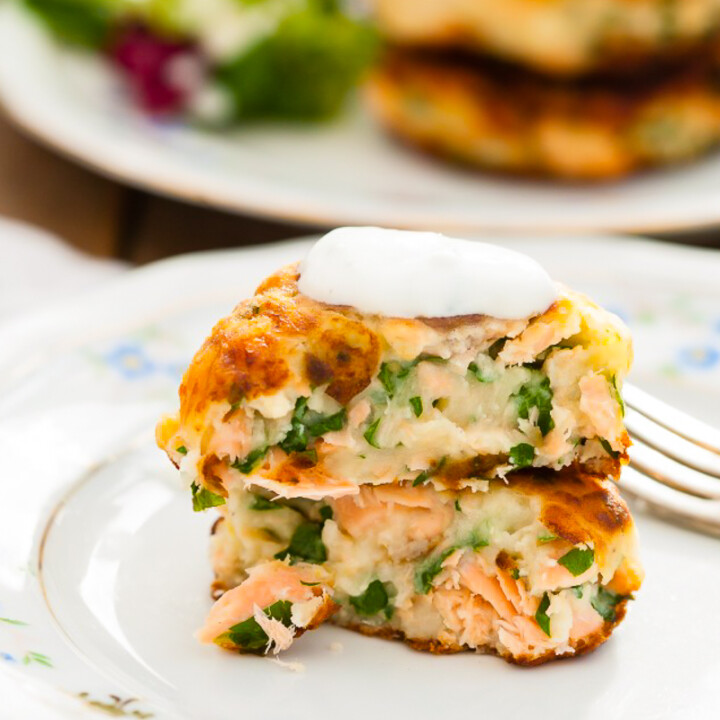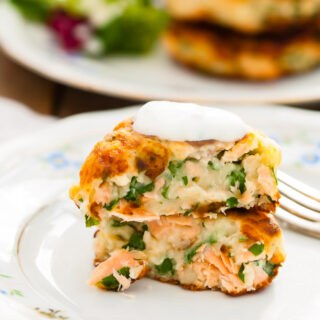 Salmon Cakes with Chive and Garlic Sauce
Soft and fluffy on the inside, crispy on the outside these salmon cakes with chive and garlic sauce is a delicious and inexpensive treat!
Ingredients
4-5

potatoes

I used 3 cups of mashed potatoes

450g/2cups

canned or fresh salmon

1

egg

1

lemon, juice and zest of

1

tbsp

flour, plus extra for dusting

2

tbsp

parsley or dill

salt and pepper to taste

2

tbsp

olive oil
For the sauce (optional)
125ml/1/2

cup

Greek yogurt

1

tbsp

chives

1

clove

garlic, pressed

1

tsp

lemon juice

salt and pepper to taste
Instructions
For the salmon cakes
In a large mixing bowl combine mashed potatoes and salmon while making sure no skin or bones end up in there as well, and break an egg into it. Add the lemon zest to the mixture, juice the lemon and pour it in as well along with chopped parsley and flour. Mix everything well, add a pinch of each salt and pepper.

Scoop the mixture with an ice cream scoop to get even-sized cakes and roll them in the flour on your flour dusted board or plate, flatten them slightly to form a patty.

Fry salmon cakes in hot olive oil until golden and crunchy on the outside.
For the yogurt sauce
For the sauce mix yogurt, lemon juice, chopped chives and minced garlic in a small bowl. Add salt and pepper to taste. Let it sit for at least 15 minutes before serving for the flavours to blend.
Video
Notes
You can also prepare these salmon cakes with fresh salmon. The taste is no doubt superior to the canned variety.
If not leftover mashed potatoes available, you can cook the potatoes specifically for the recipe.
Boil potatoes until tender and mash them while still hot. Poach your fresh salmon or steam or bake, in other words, cook it any way you like it and then proceed with the recipe.
Alternatively you can use any type of fish you like or find at the back of your cupboard!
Nutrition
Calories:
264.22
kcal
Carbohydrates:
21.43
g
Protein:
21.99
g
Fat:
10.43
g
Saturated Fat:
1.68
g
Cholesterol:
69.57
mg
Sodium:
841.61
mg
Potassium:
1025.68
mg
Fiber:
4.1
g
Sugar:
1.2
g
Vitamin A:
203.68
IU
Vitamin C:
28.27
mg
Calcium:
85.14
mg
Iron:
5.58
mg