This Shrimp Penne alla Vodka deserves to be in your top 10 pasta recipes. Quick to make this pasta dish boasts big, bold flavours thanks to herbs, tomatoes and garlic that are slightly tamed by cream and sweet shrimp. Trust me, your family will love it!
Serve my Penne alla Vodka with Warm Zucchini Salad as a starter. If you love this pasta recipe, check out Creamy Prawn Pasta in Sun-dried Tomato Sauce.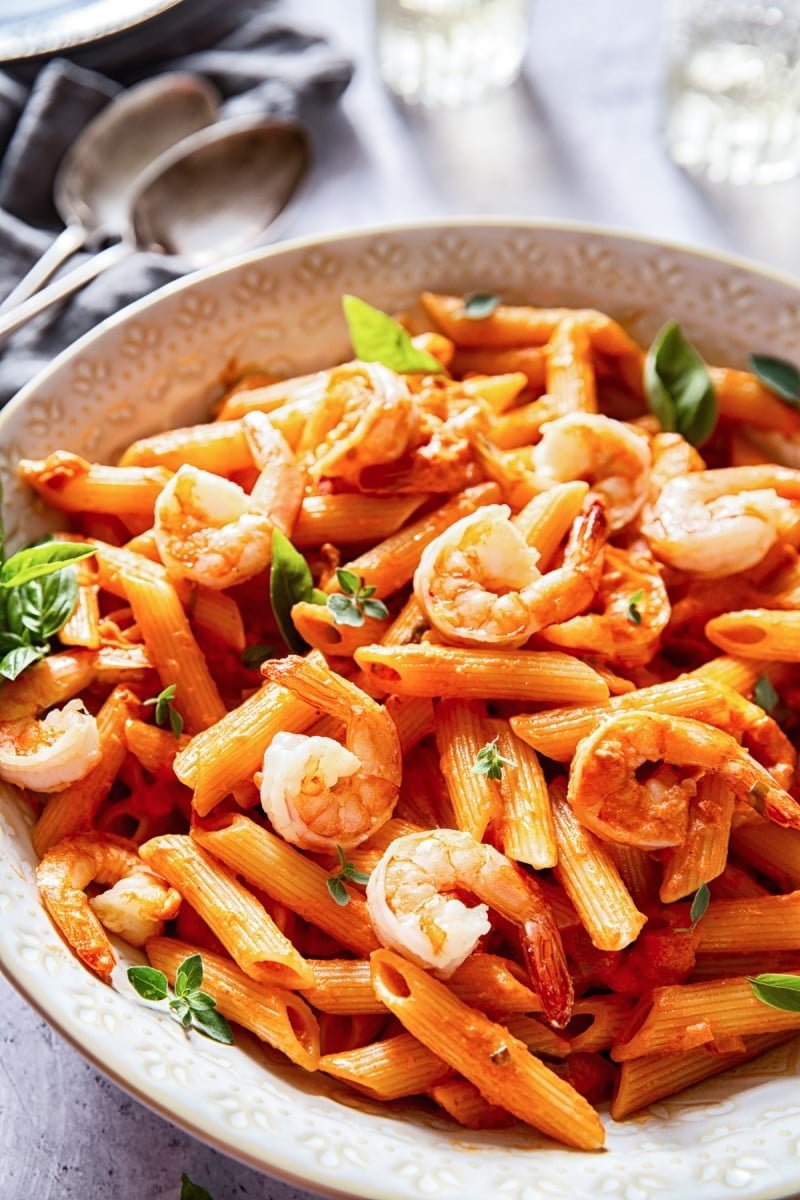 It's been a while since I shared a pasta recipe, which is very unlike me, the self-proclaimed Italophile! There is never a shortage of pasta in my cupboards.
If we ever go down to one packet, my husband or I immediately put 'pasta' on the shopping list, so we never run out! My extensive Italian recipe collection is my proof of my never ending love affair with Italian food.
Penne alla Vodka
Penne alla Vodka is a dish I was hesitant to share as it didn't sound too authentically Italian to me. In fact, the origin of this pasta, tossed in a creamy tomato sauce, is unclear.
Some say it was invented by Italians in America. Some claim that pasta alla vodka was introduced to restaurant in Italy by vodka merchants. Who knows, but most importantly, who cares, when this little number tastes like Italy in the summer itself!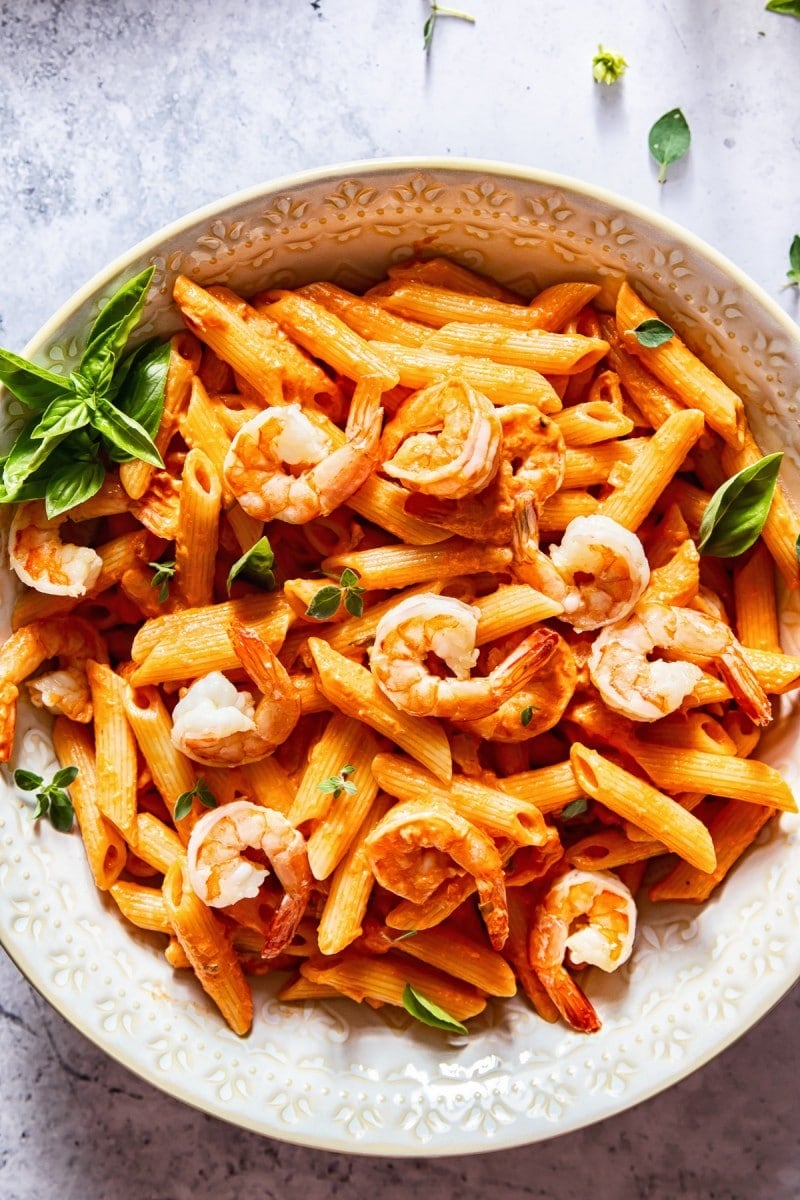 How to Make It
As all Italian or Italian-inspired recipes this one is extremely easy. The creamy and slightly sweet tasting vodka sauce is what makes the dish. I also added shrimp to mine but it is optional.
We start by gently sautéing diced onions or shallots in olive oil, then adding garlic and herbs. The next step is where the vodka comes in. It's important to deglaze the hot pan with some vodka to release the flavour!
The rest is straightforward. In go crushed tomatoes, then we wait a bit while the sauce is simmering and in the last step we hit it with some heavy creamy, which gives the sauce a pleasant creaminess and that distinct orange colour.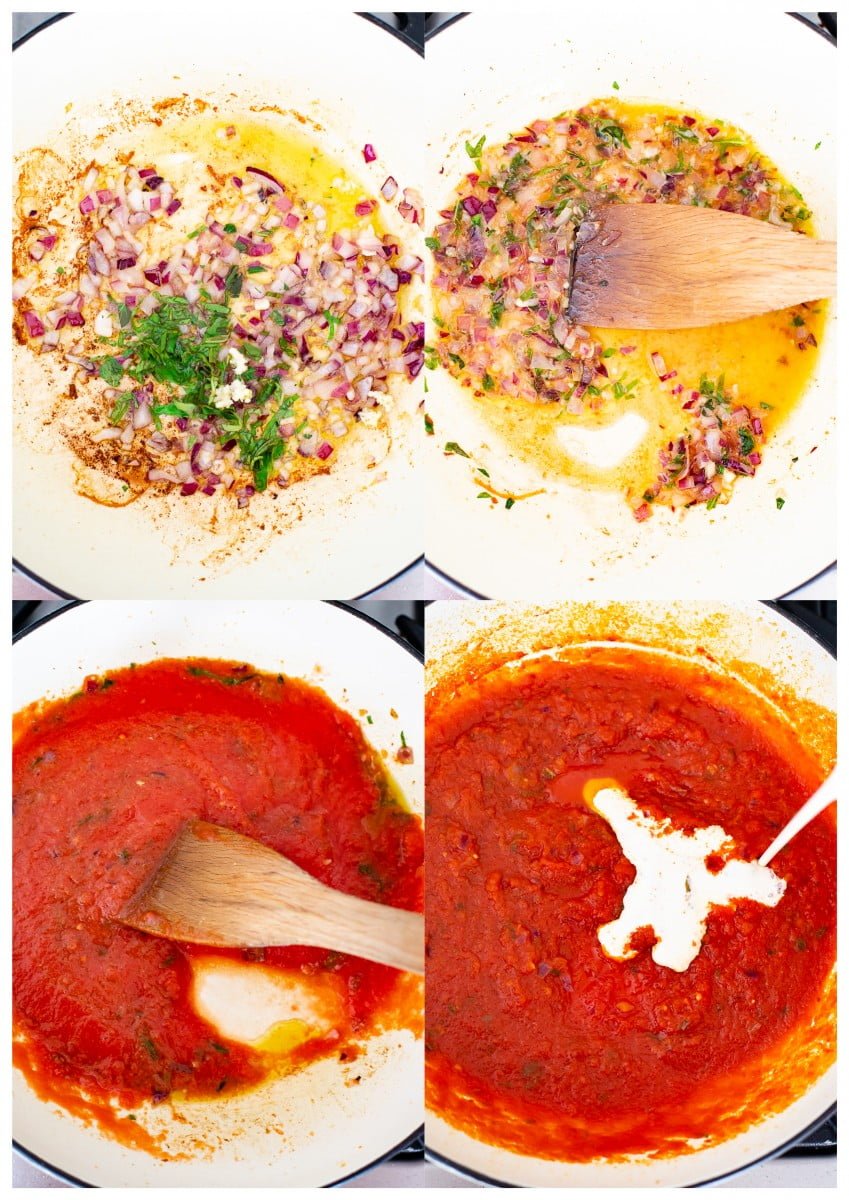 Why this recipe works
Rich tomato sauce, made even more flavourful from the addition of garlic and herbs, and a splash of heavy cream, this creamy pasta recipe is truly outstanding. If you are a seafood lover, you will immediately spot those plump, sweet tasting shrimp dotted all over the pasta.
The addition of shrimp not only improves the flavour but also makes it a complete one pot dinner. Instead of shrimp you can add scallops or chicken to your penne alla vodka.
Just add a simple side dish like our Caprese Salad and you are good to go!
Another reason this penne alla vodka recipe is delicious is the liberal use of fresh herbs like basil and oregano although substituting with dried herbs is also fine.
Now the main question is…
Can you taste vodka?
The short answer is no, which I am sure, brings up another question.
Why use vodka in pasta sauce?
Alcohol has been used in cooking ever since it came into existence, so always. Alcohol adds flavour and is often used to deglaze a pan to release more flavour into the sauce.
In my recipe, vodka adds a kick, that translates into a bit of "spice" when you taste it. Which, in turn, gets mellowed out by the sweetness of crushed tomatoes and heavy cream. Thus creating complexity from layering flavours upon flavours.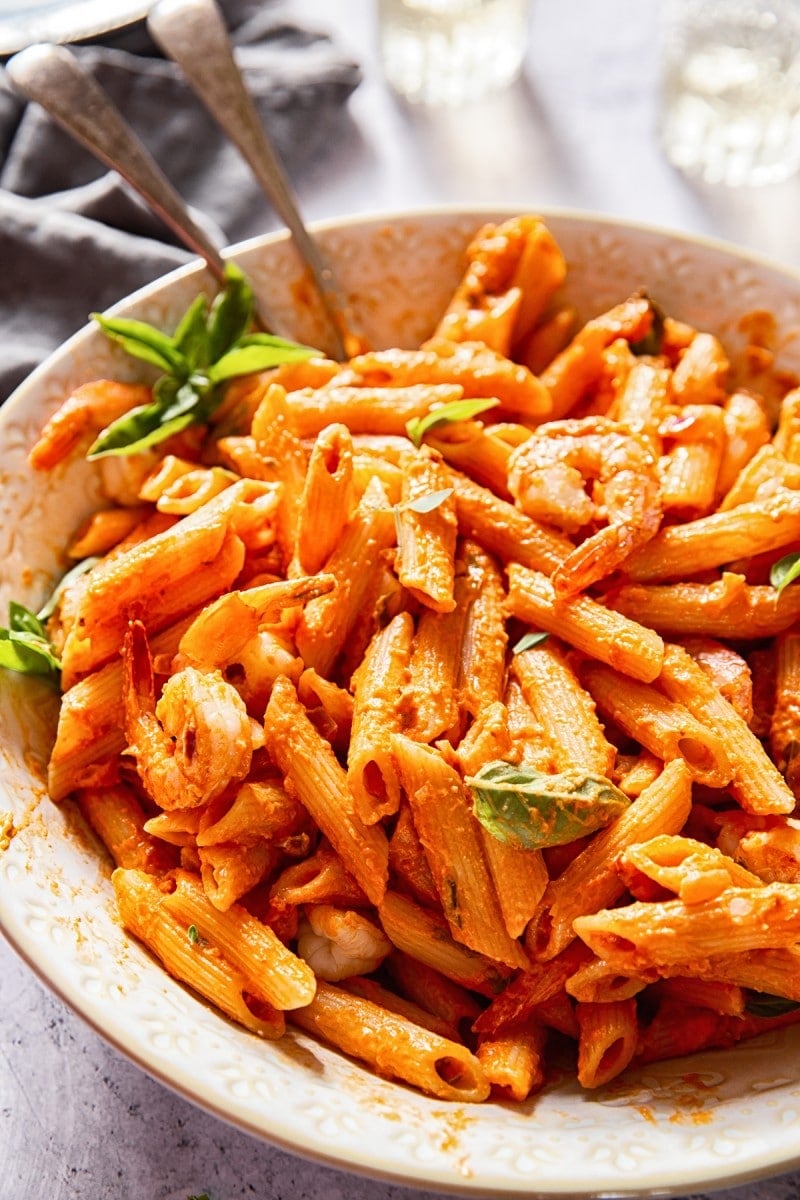 Is it safe for children and pregnant women?
Although much of the alcohol burns out during cooking, there is still a small amount that remains. Not enough to cause any harm but please use your own discretion when cooking for children and pregnant women.
You can safely substitute seafood or chicken stock for vodka if you'd rather not use alcohol.
What vodka should I use in the pasta sauce?
Any vodka you can afford is absolutely fine.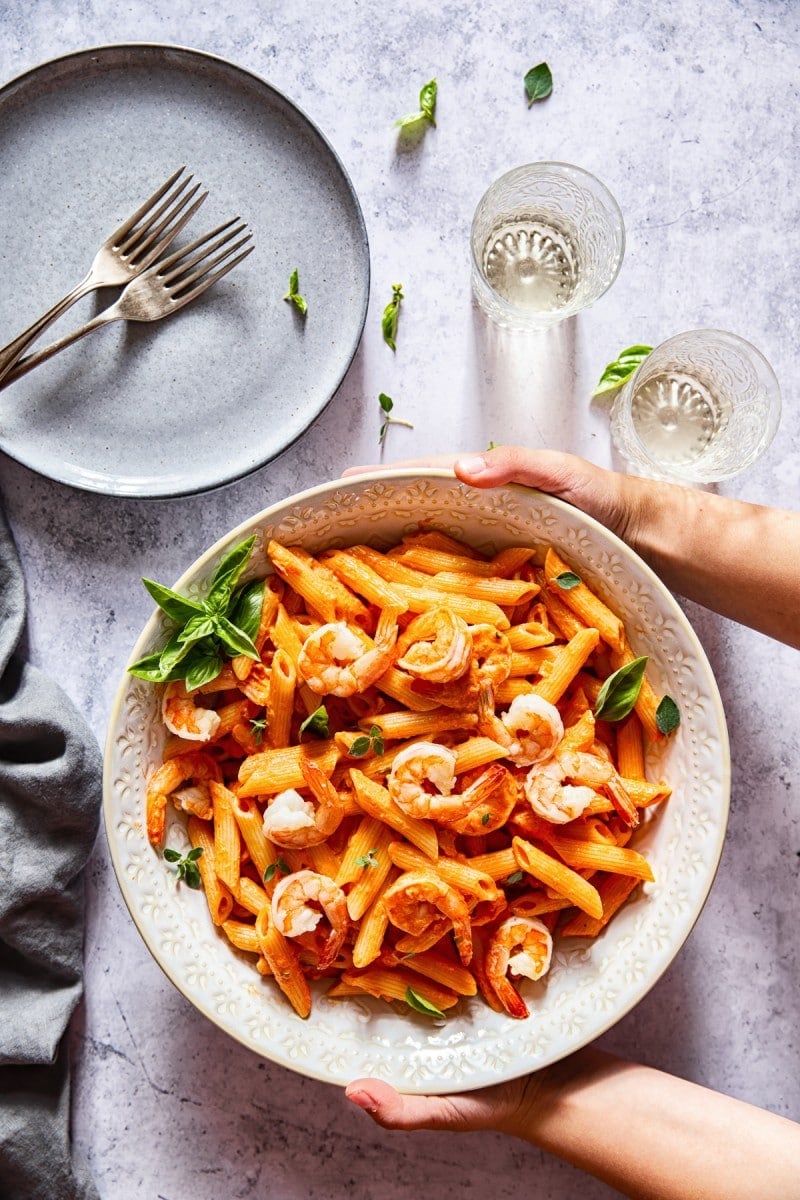 For more pasta recipes check out:
And tag your own creations @vikalinka on Instagram, so I could see them!!
This recipe was originally published in 07/2018. Updated and republished in 04/2020.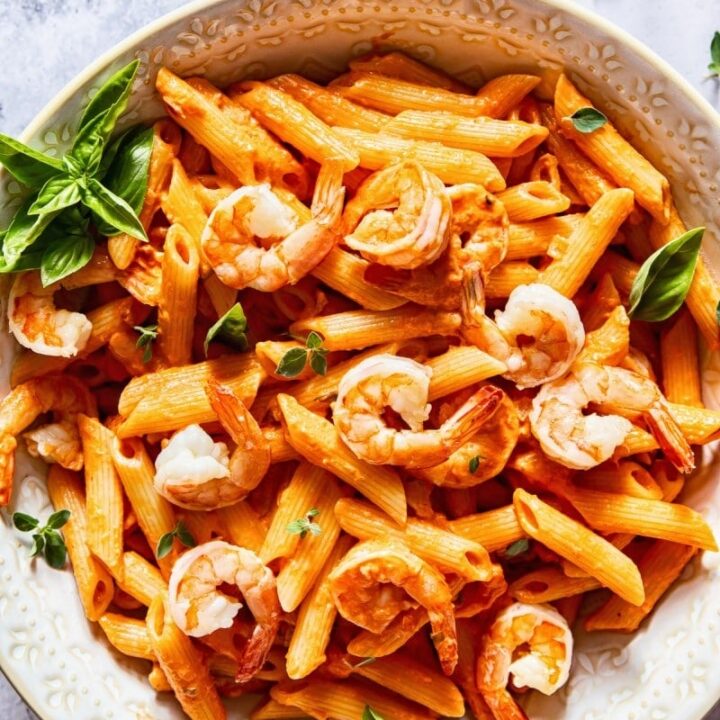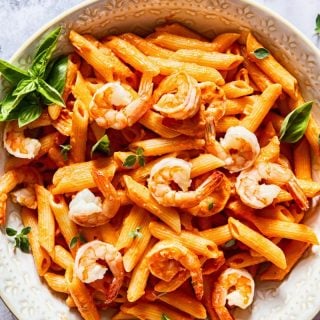 Shrimp Penne alla Vodka
Plump shrimp and penne pasta smothered in a creamy tomato sauce, flavoured with oregano and basil. This Shrimp Penne alla Vodka is a huge crowd pleaser!
Ingredients
2

tbsp

olive oil

extra virgin

1

lbs

shrimp

cleaned and deveined

½

onion

small

1-2

cloves

garlic

crushed

1

tbsp

fresh basil and oregano combined

(can use dry herbs)

¼cup/70ml

This is an affiliate link.

vodka

14oz/400g

canned crushed tomatoes/tomato passata

¼cup/70ml

heavy/double cream

1

lbs

penne

(or any short pasta)
Instructions
Heat the olive oil in a large frying pan and add shrimp with a pinch of salt. Cook for 1 minute on each side over medium heat until shrimp turns pink. Remove to a plate and set aside.

To the same pan add finely chopped onion and cook on low for 7-10 minutes until onion is soft and translucent. Then add fresh chopped herbs and minced garlic and cook while stirring for one minute.

Add vodka and continue stirring with a wooden spoon while scraping the bottom of the pan to release the burned on bits into the sauce for 1 minute.

Then add the tomatoes, stir to combine, ½ tsp salt and bring to a boil, then lower the heat, cover with a lid and let it simmer for 15 minutes. A good indication that your tomato sauce is done is when it changes from bright red to a shade of orange.

While the sauce is simmering, cook the pasta in a large pot of salted water according to package instructions.

When the tomato sauce is done simmering, add the cream and stir, then add pasta and shrimp with the juices that accumulated on the plate for extra flavour.

Toss gently to combine and season with salt if needed.
Video
Nutrition
Calories:
603
kcal
Carbohydrates:
86
g
Protein:
38
g
Fat:
10
g
Saturated Fat:
1
g
Cholesterol:
285
mg
Sodium:
888
mg
Potassium:
363
mg
Fiber:
3
g
Sugar:
3
g
Vitamin A:
35
IU
Vitamin C:
5.9
mg
Calcium:
191
mg
Iron:
3.9
mg