Add a layer of cheese and juicy meatballs to your penne alla vodka, then bake it for an ultimate cozy dinner at home.
Why not start this scrumptious meal with some antipasti like Italians do.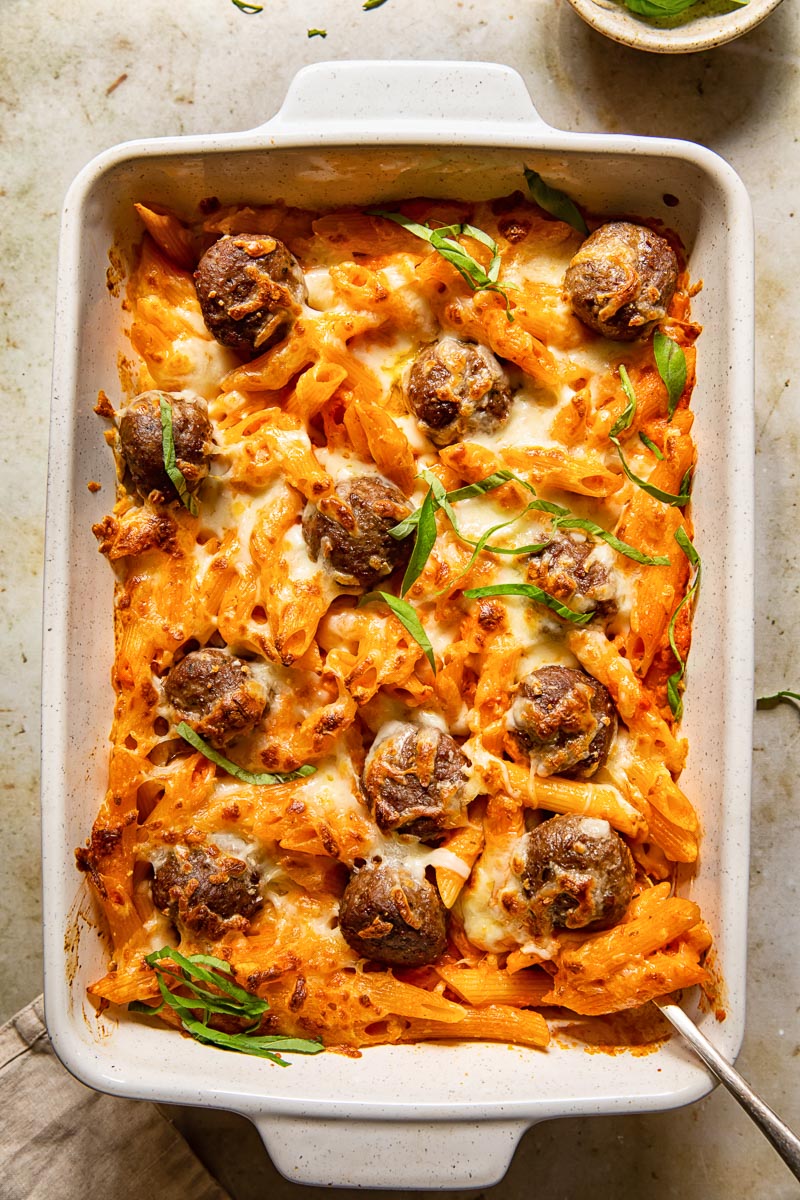 Baked pasta dishes with that crispy cheesy layer on top are infinitely more popular with my family than the unbaked ones.
This sausage pasta bake with mozzarella has been a staple at our house for over a decade. Everyone always ends up fighting for those cheesy bits!
Baked Pasta
So with that in mind I decided to combine our favourite creamy penne alla vodka with Italian style meatballs, then top everything with mozzarella and bake.
The end result was nothing short of sublime. A beautiful one pan dinner, which is hearty yet elegant. It hits the spot when you crave comfort but also good enough to serve to guests.
While you can make a simple tomato basil pasta sauce, a creamy vodka sauce is so much more special. It's that small addition of the heavy cream, that makes all the difference. Tangy, rich and utterly delicious.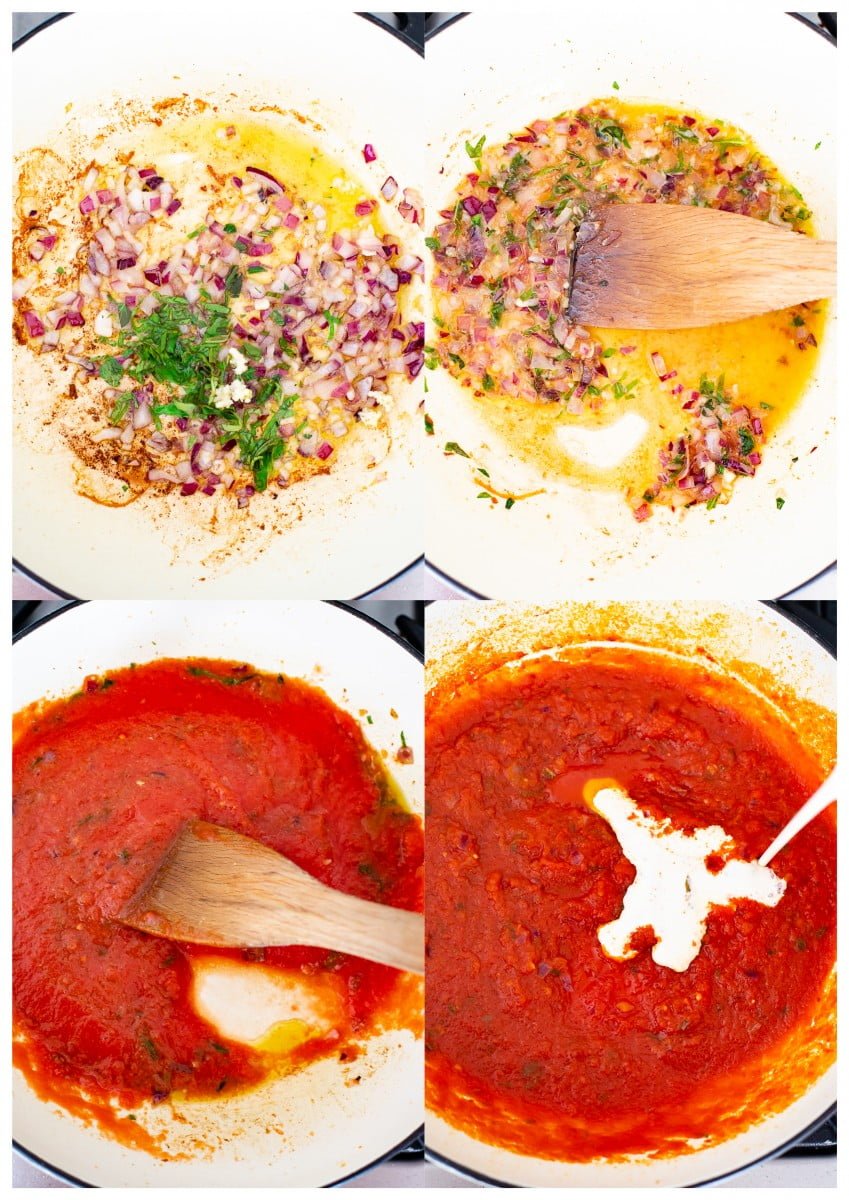 Sometimes I leave the sauce chunky for a rustic feel, which could be so appealing at times.
But more often than not I blend it for a silky smooth finish. I believe that baked pastas taste so much better with creamier sauces. Yes, I AM thinking of baked macaroni and cheese right now! The epitome of baked pasta and comfort food.
How many of us feel like only a bowl of mac and cheese could soothe when extra care is needed. That's what my kids usually request.
I was going for the same nostalgic feeling with this baked penne dish, so adding every child's favourite meatballs to the mix only made perfect sense!
My main tip for baked pasta is to double the amount of sauce you'd normally use. Since it gets absorbed into the pasta while it's baking, the dish can end up looking a bit dry if the sauce is not plentiful.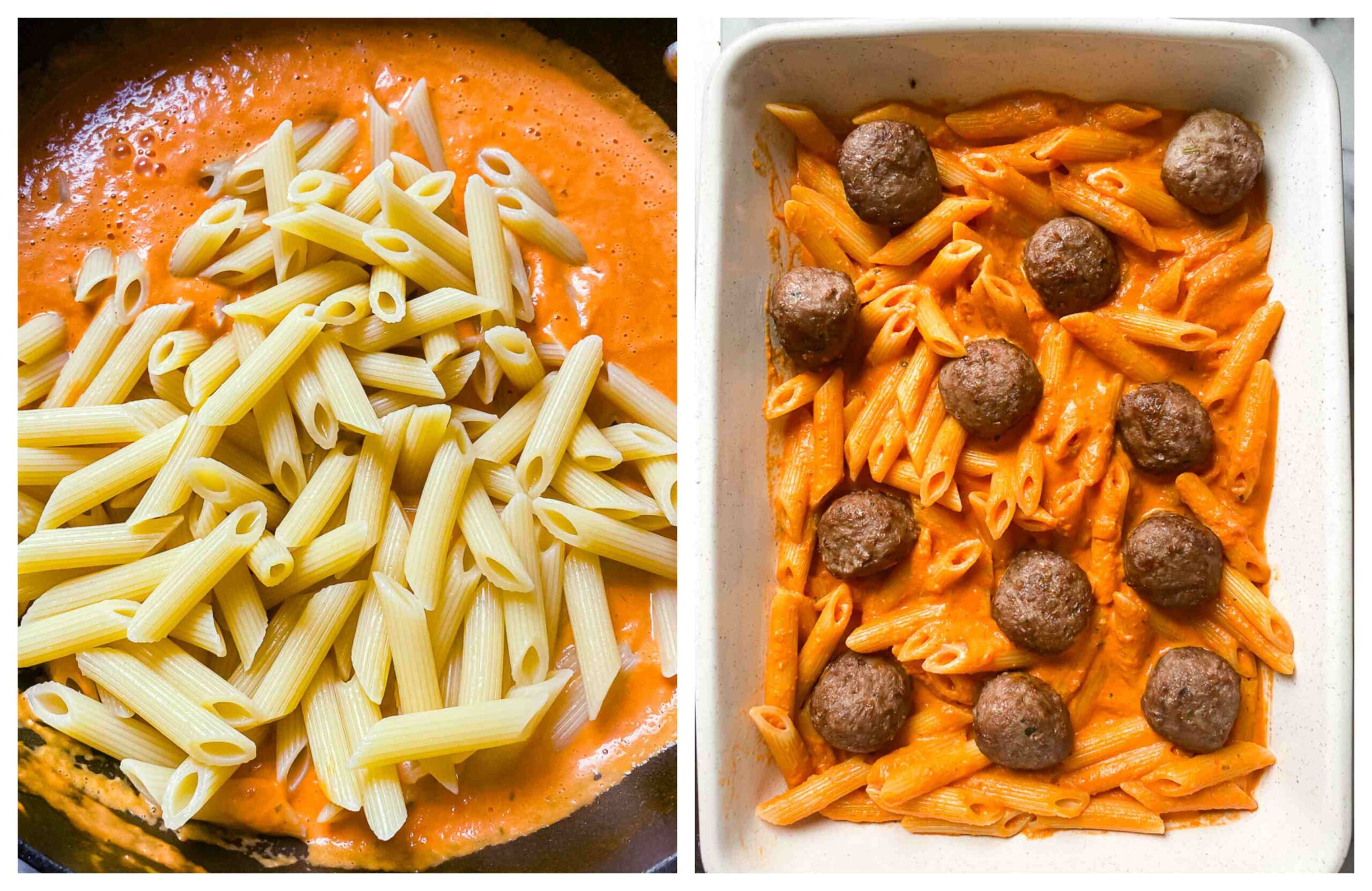 Recipe Tips and Notes
There are several ways to make this recipe quicker and easier. The first one is using pre-made meatballs.
The second one is using good quality store bought pasta sauce and adding cream to it as per recipe.
However, if you don't mind spending some time in the kitchen, follow the recipe as written and you will be rewarded with something very special.
To speed up the process, start by boiling the water and cooking the pasta.
And while that is happening brown the meatballs and set them aside. This is the best kind of multitasking, that is effective and doesn't leave you frazzled.
Prepare the sauce in the same pan, you were frying meatballs. Don't even clean it! This way you will impart more flavour into your sauce.
Make sure the onion are cooked till tender before moving to the next step of deglazing the pan with vodka. If you rush the process, they will remain crunchy and won't add much flavour to the sauce.
I used penne pasta but any short pasta shapes like rigatoni or shells will work just as well.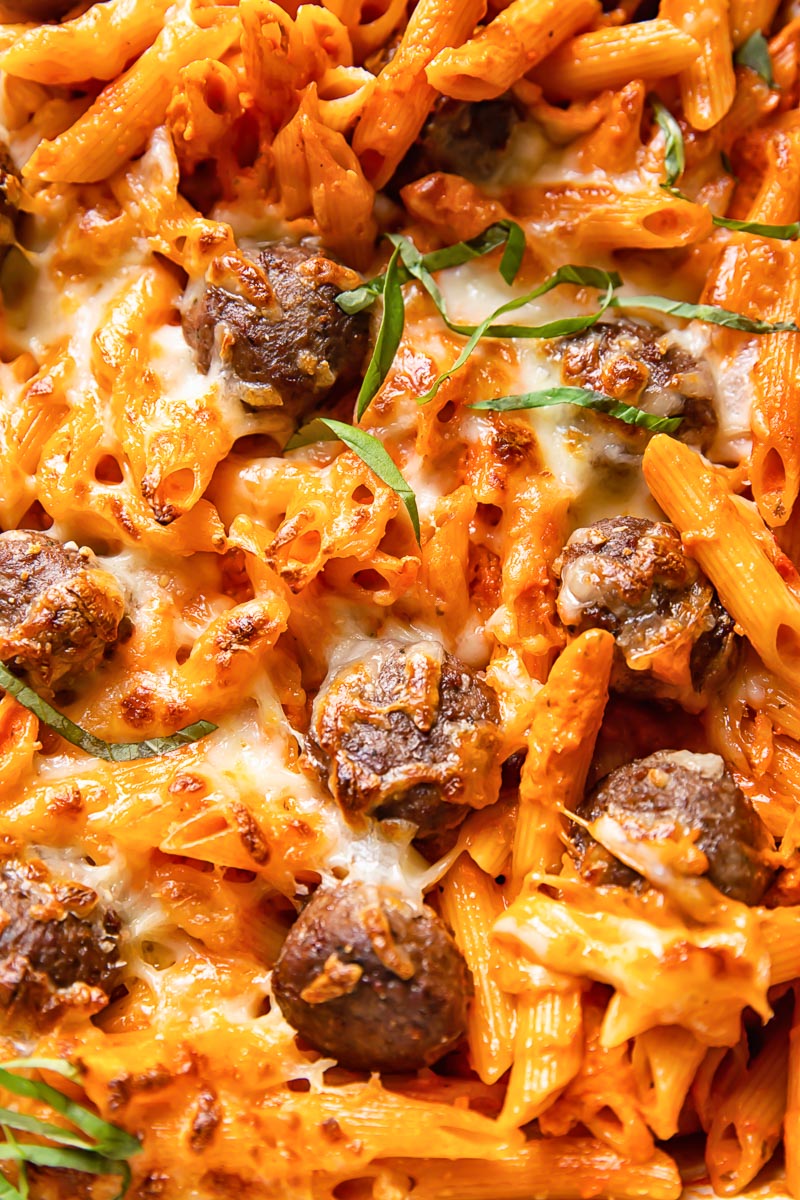 Serving Suggestions
This recipe is a great one pan dinner. However, I would recommend a side of vegetables or a salad for a tasty and nutritious meal.
I like serving pasta with salads in the warmer months and my Tuscan Panzanella Salad goes so well with Italian inspired dishes.
If you are a salad fan even in winter months, take a look at my Rainbow Slaw. It uses harvest vegetables, tastes outstanding and is packed with vitamins.
For the lovers of hot side dishes in colder months, such as myself, I recommend making my Pan Fried Zucchini with Pecorino or Lemon Garlic Green Beans with Parmesan.
Favourite Baked Pasta Dishes to Try: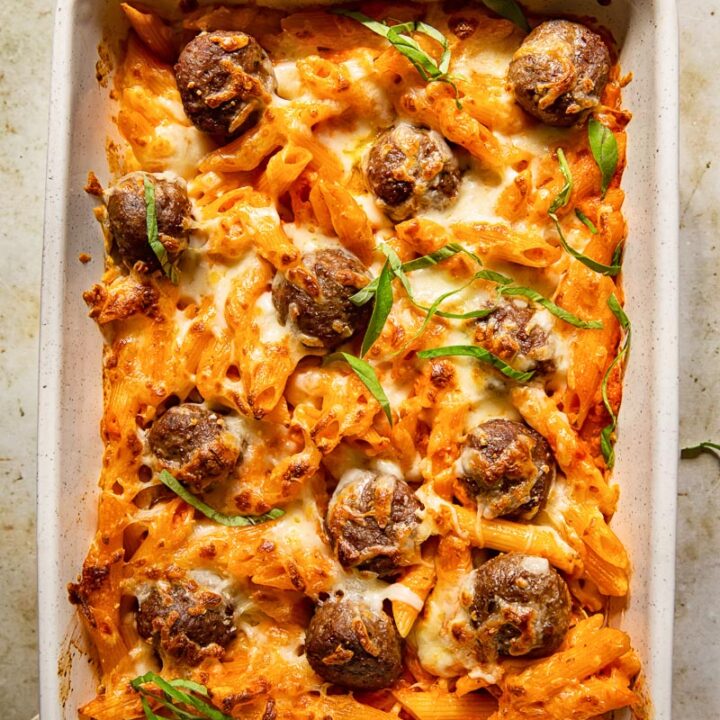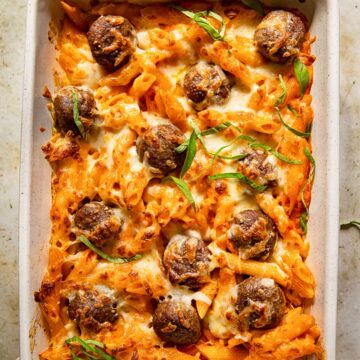 Baked Penne alla Vodka with Meatballs
Add a layer of cheese and juicy meatballs to your penne alla vodka, then bake it for an ultimate cozy dinner.
Ingredients
1

lbs

extra lean ground beef

1

egg

1

tsp

each dried basil and oregano

75g/3/4 cup

breadcrumbs

½

tsp

salt

½

lbs

penne

or any other short pasta shape

2

tbsp

olive oil

divided

½

medium onion

chopped

2

cloves

garlic

4-5

leaves

basil or 1 tsp dried basil

70ml/1/4 cup

This is an affiliate link.

vodka

could be omitted

400ml/14 oz

tomato passata or canned crushed tomatoes

85ml/1/3 cup

double/heavy cream

salt to taste

150g/1 cup

grated mozzarella cheese
Instructions
Start by mixing the ground beef, an egg, 1 tsp of each basil and oregano, breadcrumbs and salt. Then form 12 meatballs out of the mixture.

Set a large pot of water to boil. Meanwhile heat 1 tbsp of the olive oil in a large frying pan and fry the meatballs, shaking them in the pan, so they are well rounded and browned. Remove to a separate plate.

Once the water boils, add a pinch of salt and pasta. Cook 2 minutes less than what package instructions indicate. Preheat the oven to 200C/400F.

While the pasta is cooking, make the vodka sauce. In the same pan heat the remaining olive oil, then add the chopped onion and saute over low heat for about 7-10 minutes until soft but not coloured. Add the minced garlic, sliced fresh basil leaves or dried basil and and cook while stirring for 30 seconds. Pour in the vodka and scrape the bottom of the pan with a spatula to release the brown bits, allow the vodka to reduce by simmering for about 1-2 minutes.

Add the tomatoes, bring the sauce to a boil, then reduce the heat and let the sauce simmer over low heat for about 10 minutes. Pour in the heavy cream and stir to combine, allow the sauce to warm through, then season with salt to taste and take it off the heat. Process the sauce in a blender or food processor until smooth. (Immersion blender works best.)

Drain the pasta and toss with the sauce. Add the pasta to a baking dish and dot with the cooked meatballs all over, then top with grated mozzarella. Cook in the preheated oven for 10-15 minutes until piping hot and the cheese has melted. Broil/grill for 1-2 minutes until the cheese is golden and bubbly for that crispy layer.
Nutrition
Calories:
744
kcal
Carbohydrates:
67
g
Protein:
46
g
Fat:
32
g
Saturated Fat:
14
g
Polyunsaturated Fat:
3
g
Monounsaturated Fat:
13
g
Trans Fat:
0.4
g
Cholesterol:
165
mg
Sodium:
1480
mg
Potassium:
953
mg
Fiber:
5
g
Sugar:
9
g
Vitamin A:
882
IU
Vitamin C:
11
mg
Calcium:
316
mg
Iron:
6
mg