This white lasagna with minced chicken is just as rich and delicious as the classic version. Creamy bechamel sauce and a mix of winter greens cooked with garlic take this Italian beauty to the level of sublime!
Take a look at our classic lasagna recipe while you are at it.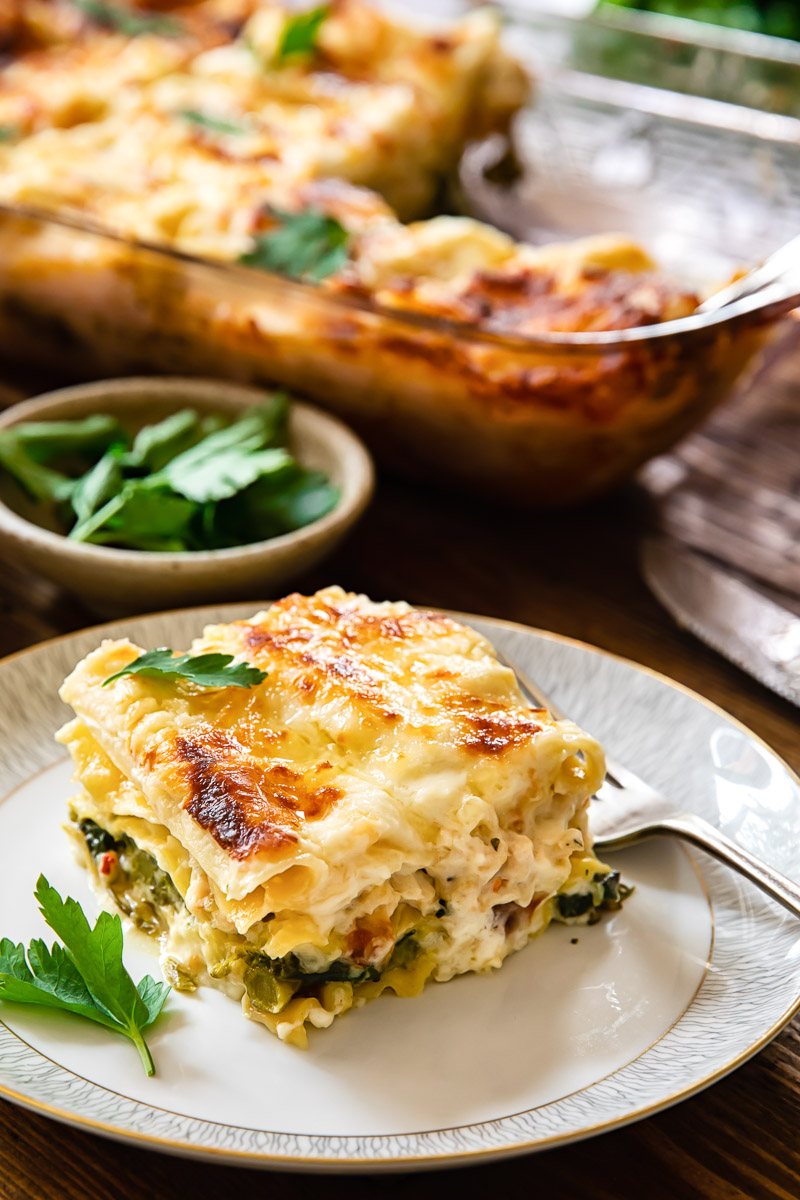 Nothing gets me more inspired to get back in the kitchen than time away from it! I usually take August off for travel and for quality time with my family.
Once September rolls around I am itching to start working on new recipes and flavours again. Rest and relaxation are a great re-set for the brain and creativity!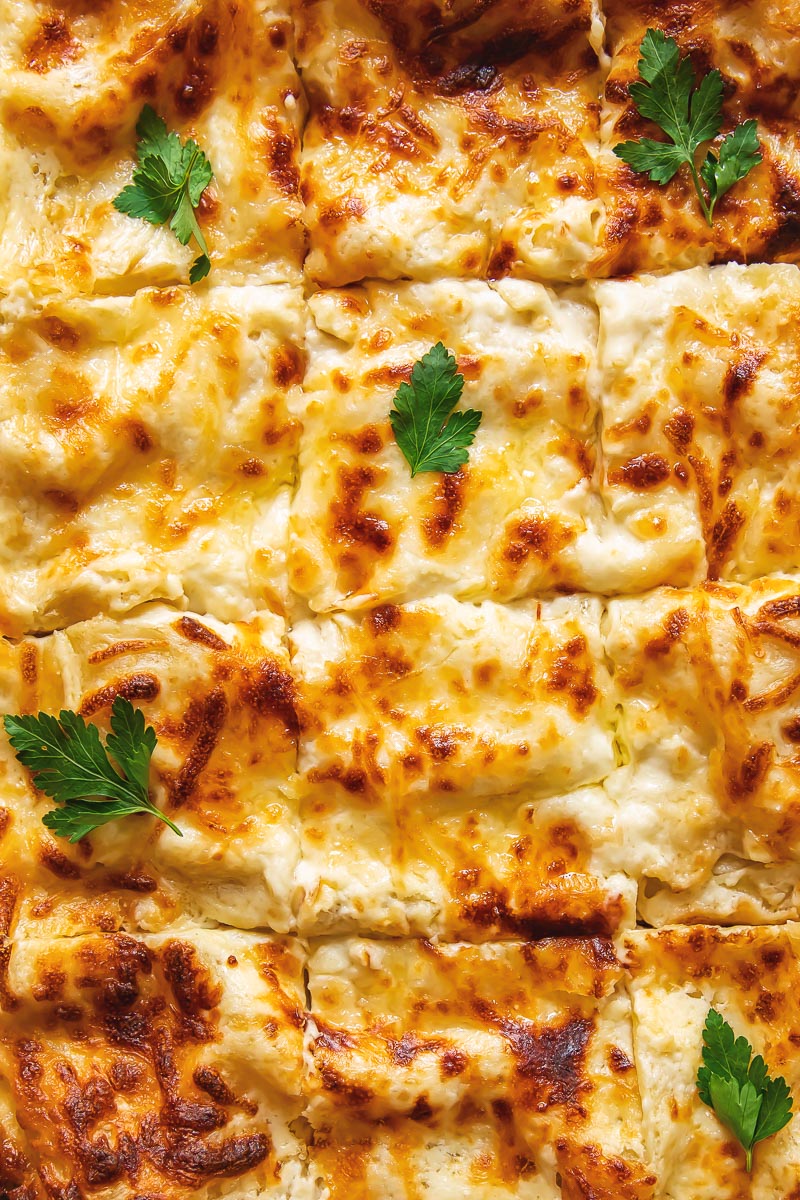 And of course, it's impossible not to get inspired after eating our way through Tuscany! The richness and diversity of Italian cuisine is astounding. While pasta unites the country, there is such a variety of dishes and ingredients, which differs from region to region.
I truly don't believe I can ever get tired of Italian food and that is why a large portion of this website is dedicated to it. Italy is my soul home. It was the reason we moved to Europe from Canada but ended up in the UK! I will never understand twists and turns of life but with age I've learned to accept it.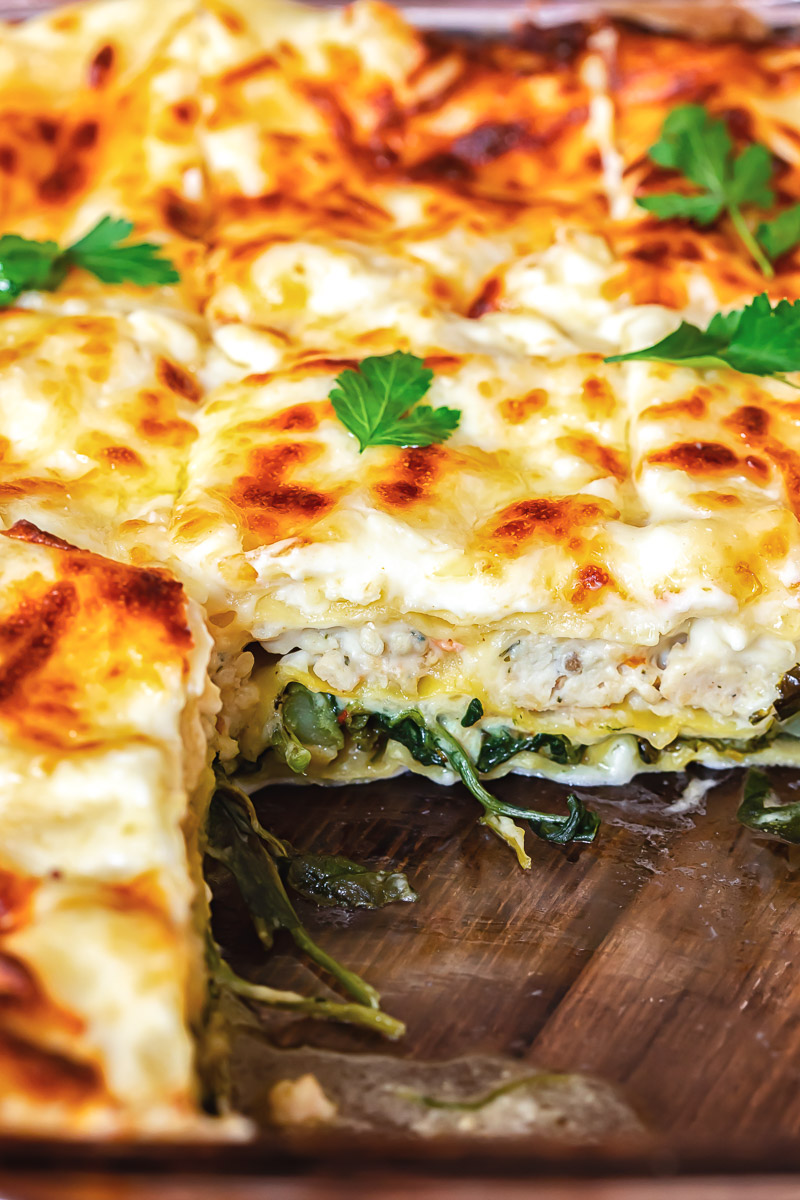 White Lasagna with Chicken
While this recipe is not something I've eaten on my travels, the combination of flavours is truly Italian. My family is obsessed with lasagna and over the years, I've experimented with many versions.
From the classic lasagna alla bolognese to seafood lasagna and eggplant lasagna! I've even made a lasagna with lentil bolognese sauce for my vegetarian website! I tried them all and they are all good! Comfort food personified.
This time I decided to use chicken sausage meat and a mix of winter greens. I combined spinach and tenderstem broccoli (broccolini) but you can also use cavolo nero (black kale) with rapini (broccoli rabe) if you have access to those.
The last two are used heavily in Italy as they add a touch of bitter to a rich dish like lasagna for a nice balance. Rich and creamy bechamel sauce as well as mozzarella cheese are what bring all these flavours together.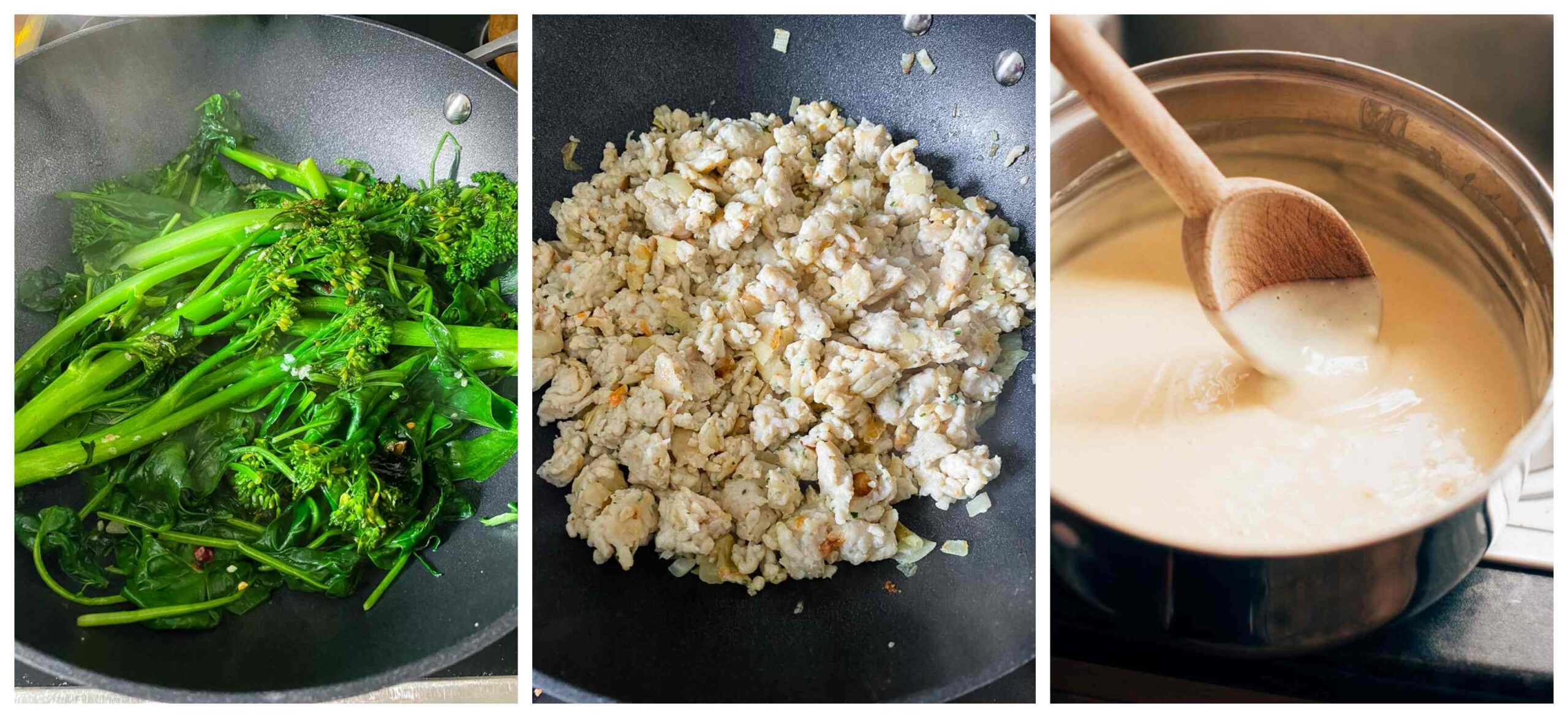 Recipe Tips and Notes
There are three layers in this lasagna recipe. The creamy chicken layer, the winter green layer and the pasta.
The greens and the chicken fillings need to be cooked before assembling. To make the process faster you may cook them as well as the white sauce in advance, then assemble the following day.
Bechamel sauce has a reputation of being a little difficult to make. It is not. However, you will need to watch out for the lumps and the sauce burning from the bottom of a saucepan. To prevent it, keep stirring the sauce until it thickens. And if somehow you still get lumps, don't worry. Just put it in a blender or a food processor!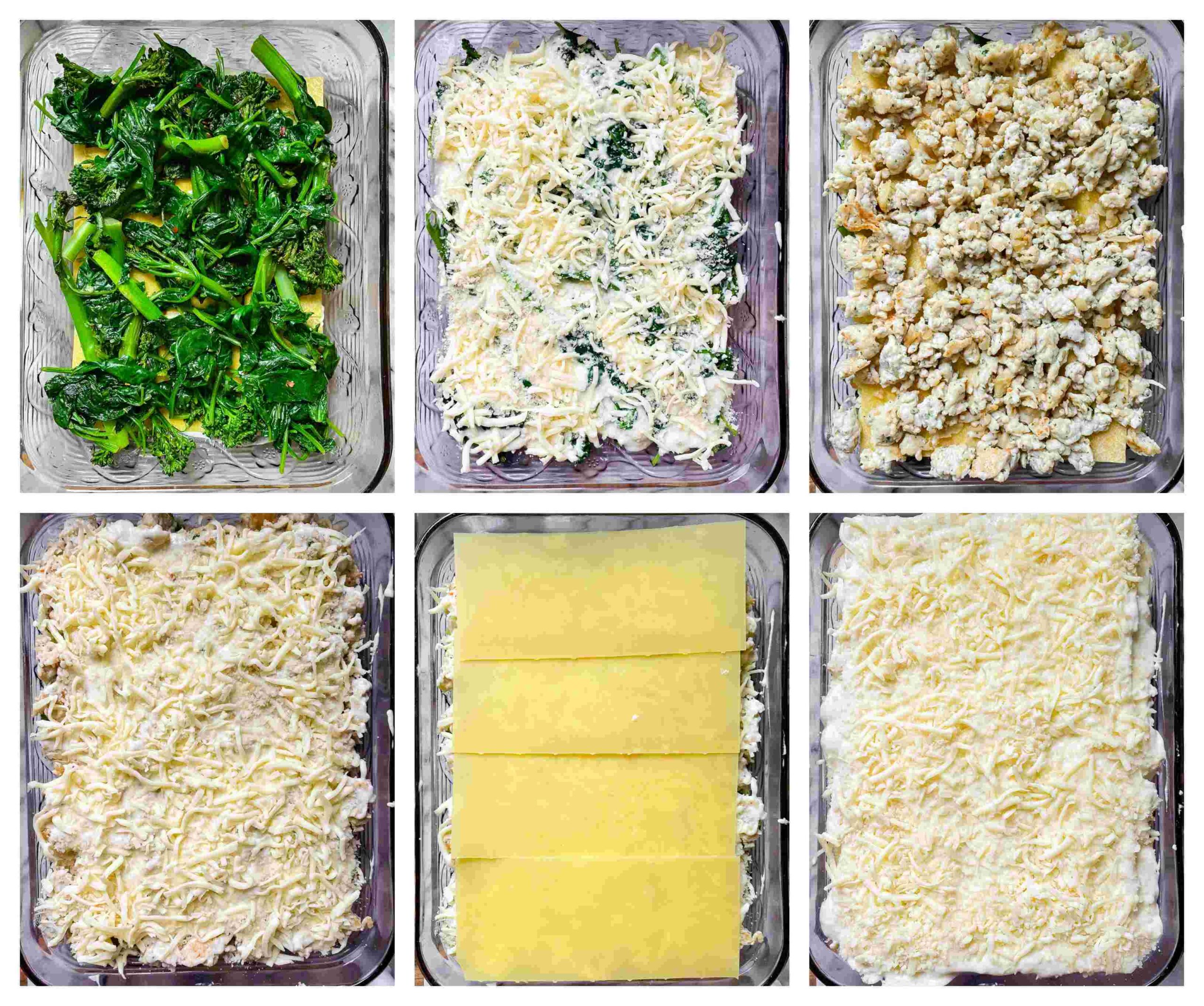 I used Italian flavoured chicken sausage meat but you can also use minced chicken. The reason I prefer using sausage is for the flavours, which have been infused into the meat. Such a great time saver.
If you can't find chicken sausage meat, use pork sausage.
Feel free to use cavolo nero (black kale) and rapini (broccoli rabe) instead of spinach and tenderstem broccoli. Any winter greens can be used in this lasagna!
I also used oven ready lasagna sheets, no need to pre-cook those. To speed up the cooking process, I cover my lasagna with aluminium foil for the first 3o minutes of baking. Then I uncover it to brown the creamy and cheesy layer.
Finally, allow the your cooked lasagna to rest for 30 minutes before cutting it. This way it won't be burning your guests' mouths and will keep its shape much better.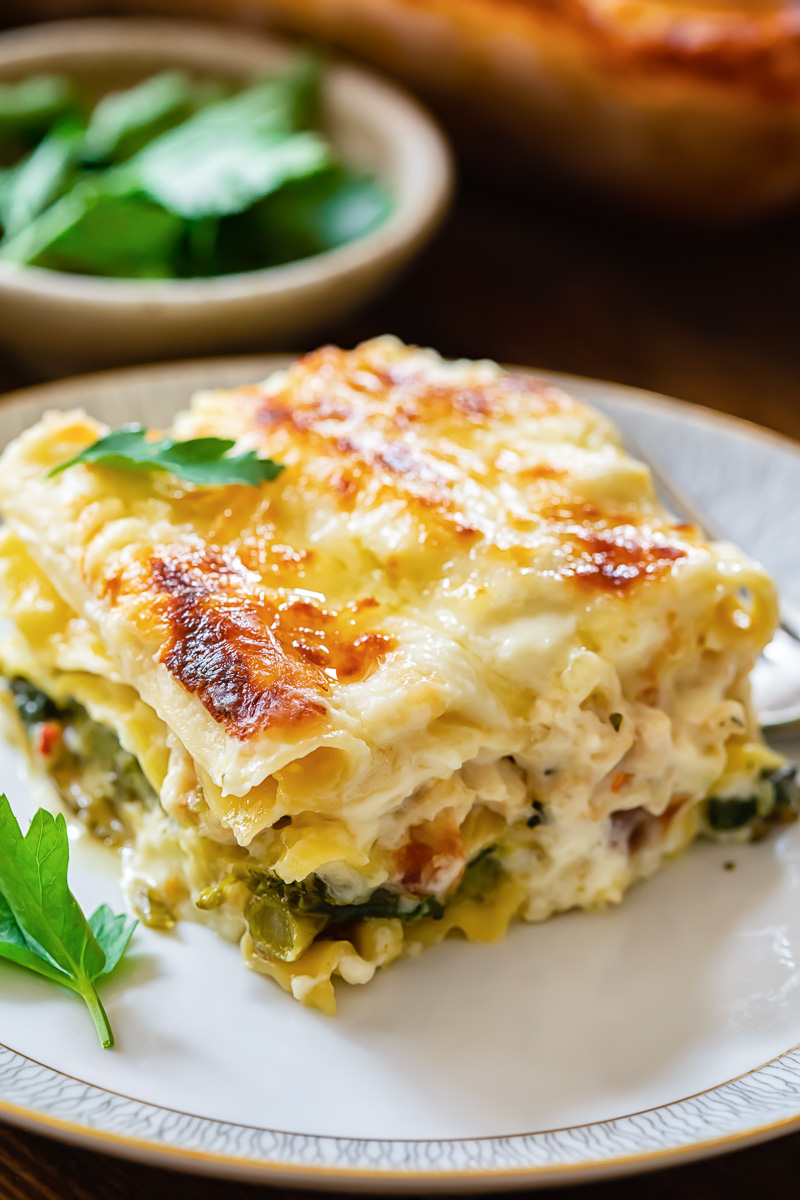 What to serve with lasagna
If you are after a 3 course Italian-style meal, you will want to start with antipasti like crostini or bruschetta.
Don't forget to offer a light salad to balance out a rich lasagna. My personal favourites are Tuscan Panzanella or Warm Zucchini Salad.
Finish it off with a dolce course. This recipe for individual Amaretti Tiramisu is easy and extremely delicious!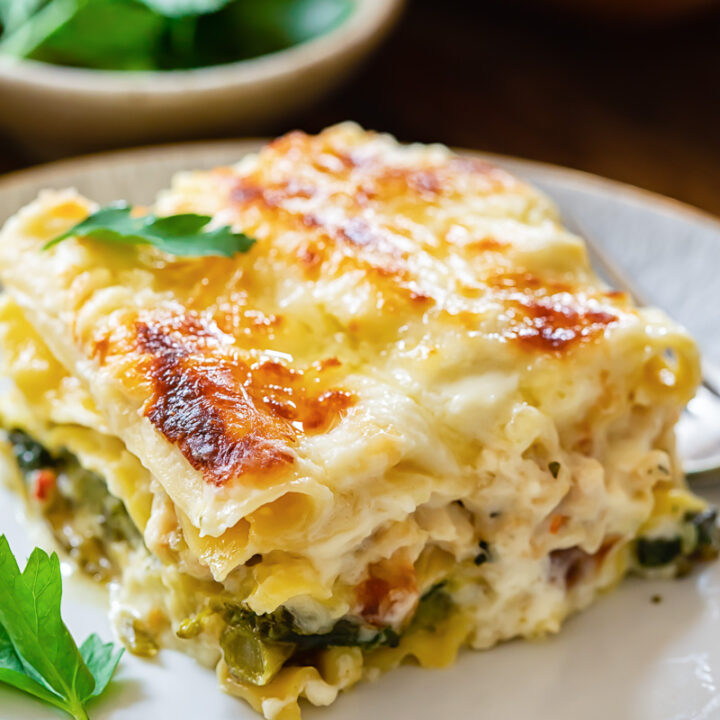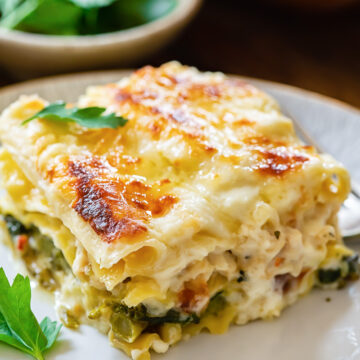 White Chicken Lasagna with Winter Greens
This white lasagna with minced chicken is just as rich and delicious as the classic. Bechamel sauce and winter greens take it to new heights.
Ingredients
2

tbsp

olive oil, divided

200g/7 oz

tenderstem broccoli (broccolini)

250g/8 oz

fresh spinach or frozen and defrosted

4

cloves

garlic, divided

¼

tsp

dried chilli flakes

salt to taste

½

onion

chopped

500g/1 lbs

Italian flavoured chicken sausage meat

I used Heck

250g/8 oz

grated mozzarella

100g/3.5 oz

Parmesan cheese
For the Bechamel Sauce
75g/1/3 cup

butter

75g/1/2 cup

all purpose flour

1 litre/4 cups

whole milk

500ml/2 cups

chicken stock

pinch

nutmeg

1

bay leaf

salt to taste

9

sheets

lasagna or enough for 3 layers

no pre-boiling needed
Instructions
Heat 1 tbsp of the olive oil in a frying pan, then add the tenderstem broccoli and defrosted and drained spinach with a pinch of salt, chilli flakes and sliced garlic, cover with a lid and cook over low heat for 10 minutes until the tenderstem broccoli has softened but retained its bite. Take it off the heat, remove to a plate and cool slightly.

To the same pan add 1 tbsp of the olive oil, then sauté the chopped onion for 5 minutes, add 2 cloves of minced garlic and chicken sausage meat, cook over medium heat until it's cooked all the way through.

Make the Bechamel sauce by melting the butter in a medium saucepan, then add the flour and whisk to combine, cook for a few minutes until the mixture smells slightly nutty. Gradually pour in milk and chicken stock while whisking to avoid lumps, season with salt, pepper and grated nutmeg. Cook the sauce over low heat until thickens for about 10 minutes. Set aside.

Preheat the oven to180C/350F. To assemble the lasagne, spread a thin layer of the Bechamel sauce over the bottom of a 9X13 inch rectangular pan, which is deep enough to hold 3 layers of lasagna.

Then cover the sauce with the lasagna sheets followed by the winter greens, ⅓ of the Bechamel sauce and ⅓ of grated Parmesan and ⅓ of the grated Mozzarella.

Then place the lasagna sheets on top of the cheese, followed by the chicken sausage meat, ⅓ of the Bechamel sauce, ⅓ of the grated Parmesan and ⅓ of the grated Mozzarella.

Top with the final layer of the lasagna sheets, the remaining Bechamel sauce, grated Parmesan and Mozzarella.

Cover the lasagna with aluminium foil and bake in the preheated oven for 30 minutes, then uncover and bake for 15 minutes longer or until the lasagne sheets are cooked all the way through and the top is golden.
Nutrition
Calories:
582
kcal
Carbohydrates:
43
g
Protein:
31
g
Fat:
32
g
Saturated Fat:
14
g
Polyunsaturated Fat:
2
g
Monounsaturated Fat:
8
g
Trans Fat:
0.3
g
Cholesterol:
134
mg
Sodium:
1814
mg
Potassium:
391
mg
Fiber:
1
g
Sugar:
3
g
Vitamin A:
4179
IU
Vitamin C:
34
mg
Calcium:
372
mg
Iron:
4
mg