Tender and juicy chicken, coated in crispy and cheesy breadcrumbs, topped with melted cheese and served with a rich tomato sauce. What is it? Chicken Parmesan of course!
Serve with our Tomato Salad for a healthier dinner!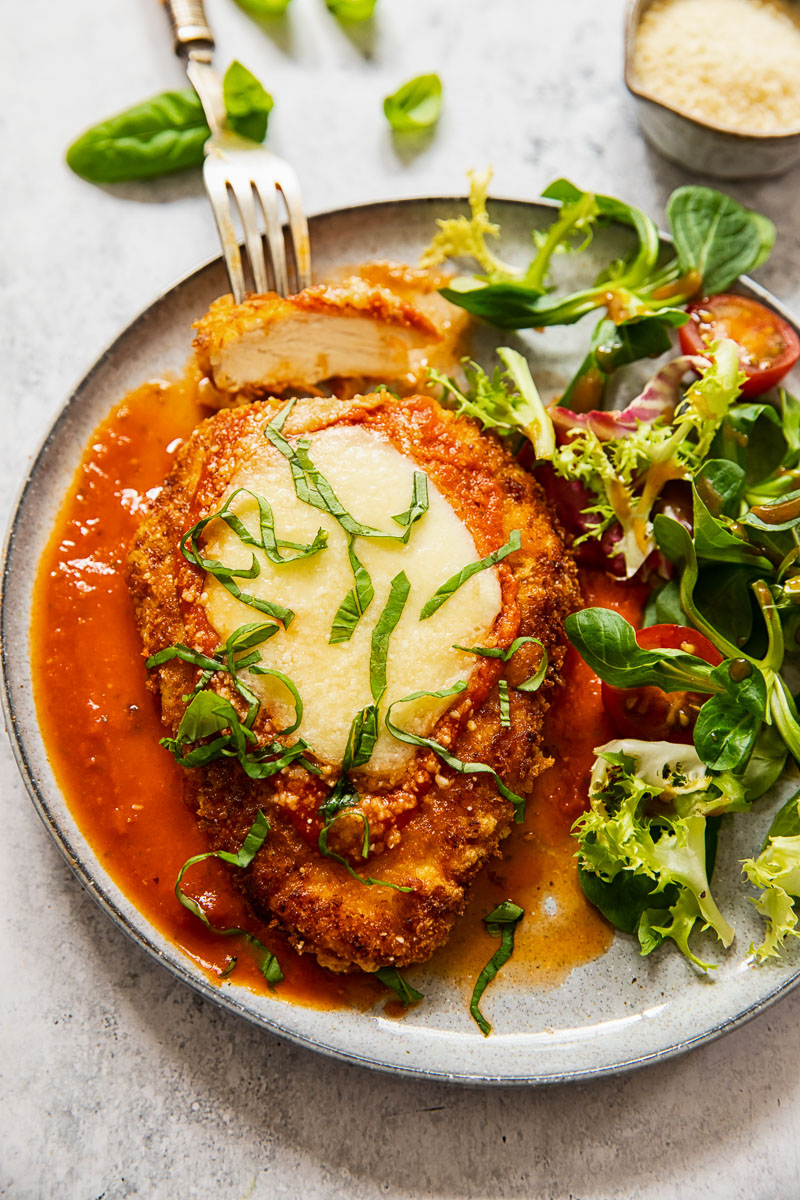 It is difficult to find a dish that is more representative of Italian American cuisine than Chicken Parm! You can search Italy far and wide, and you will come up with nothing. Nope, this baby, although inspired by Italian flavours, is all American.
What's in a name?
What word comes to mind when you think of the classic chicken parmesan? Is it "crispy" or "saucy"? As strange as it sounds, this dish is somehow both.
Breaded chicken cutlets and a delicious basil and garlic flavoured tomato sauce are two things, which describe this recipe perfectly. Actually, there is a third. Cheese. And plenty of it.
The recipe itself originated in the US and was created by Italian Americans. Despite its cult following, chicken parmesan aka chicken Parmigiana is a relatively new creation, not even 100 years old.
It was however, inspired by two authentic Italian recipes, that are ancient. Eggplant Parmesan and Cotoletta, a flattened piece of meat, usually veal, that is breaded and fried.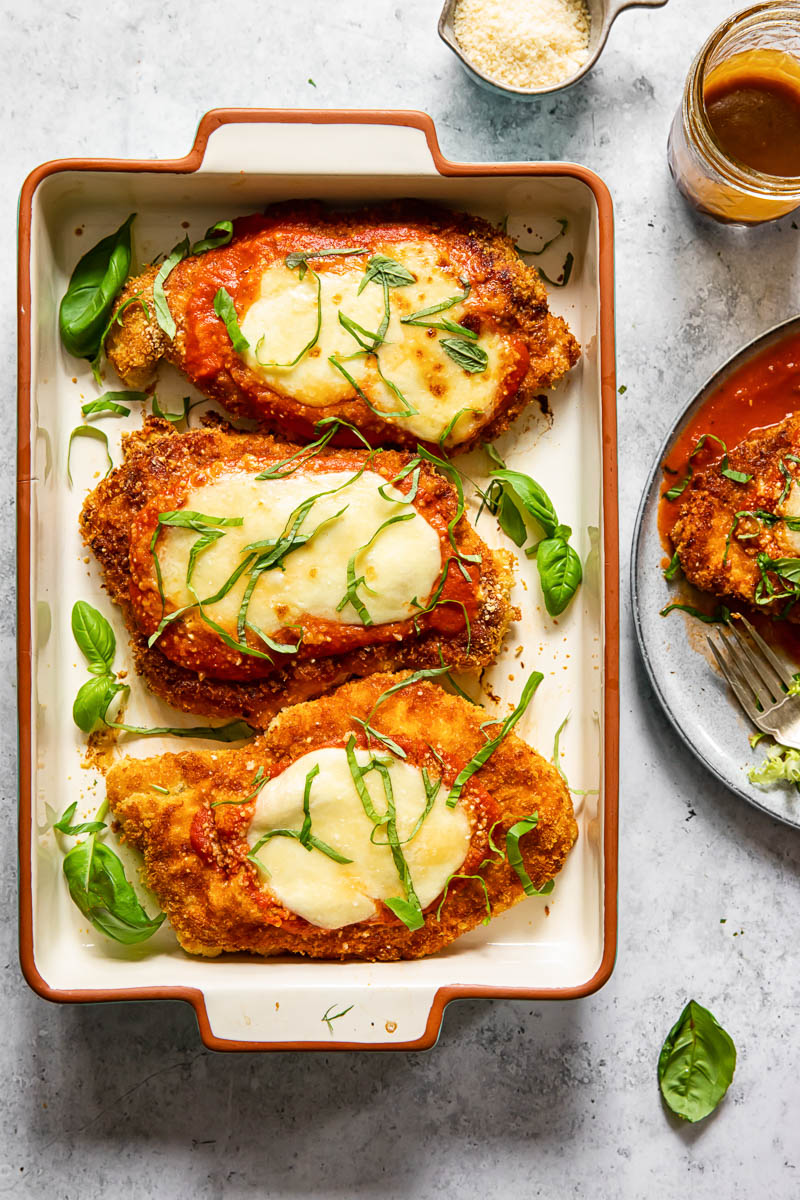 The Process
Like with every recipe, that's been around for a while, we can count on our fair share of good and bad experiences. The reason why I haven't been tempted to recreate it for this website until now is because many versions I've tried were underwhelming to say the least.
Chicken Parm is a tricky recipe. One one hand we expect to bite into a perfectly crispy breaded exterior with juicy chicken inside. And on the other hand, it's baked in a sauce!
Those two simply cannot co-exist. What we taste in the end is a breaded chicken, that's gone soggy in the sauce. So it just tastes rich and heavy! Not for me.
There is a way to cook this recipe well, which will keep the chicken coating delightfully crispy and we don't have to sacrifice the sauce. Here is my version.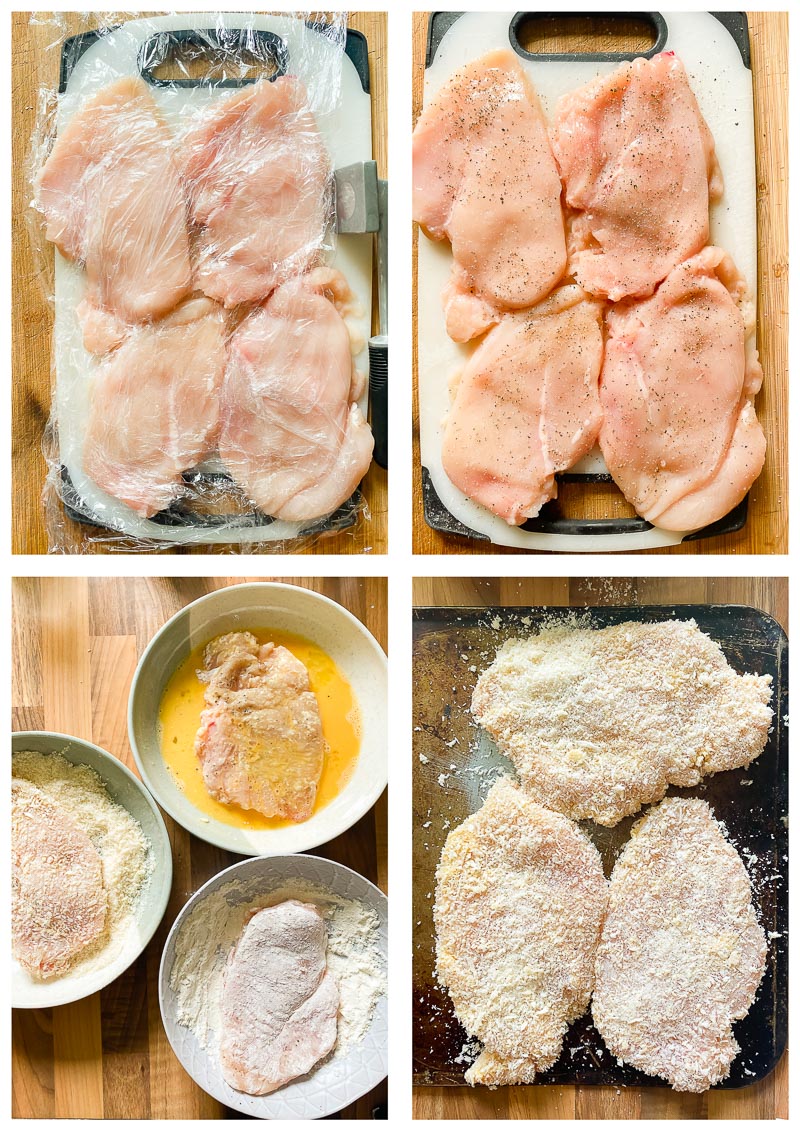 Recipe Tips and Notes
I always start with the sauce. I make a very simple red cause, which I flavour with garlic and basil. It's my basic pasta sauce, which I also use for Eggplant Parmesan.
I don't butterfly the chicken. I keep the entire breast but pound the thicker end until it's even with the thin one. This way the chicken doesn't dry out after being fried, then cooked in the oven.
I season the chicken breasts with salt and pepper. I find they come out under-seasoned if the salt is only in the breading.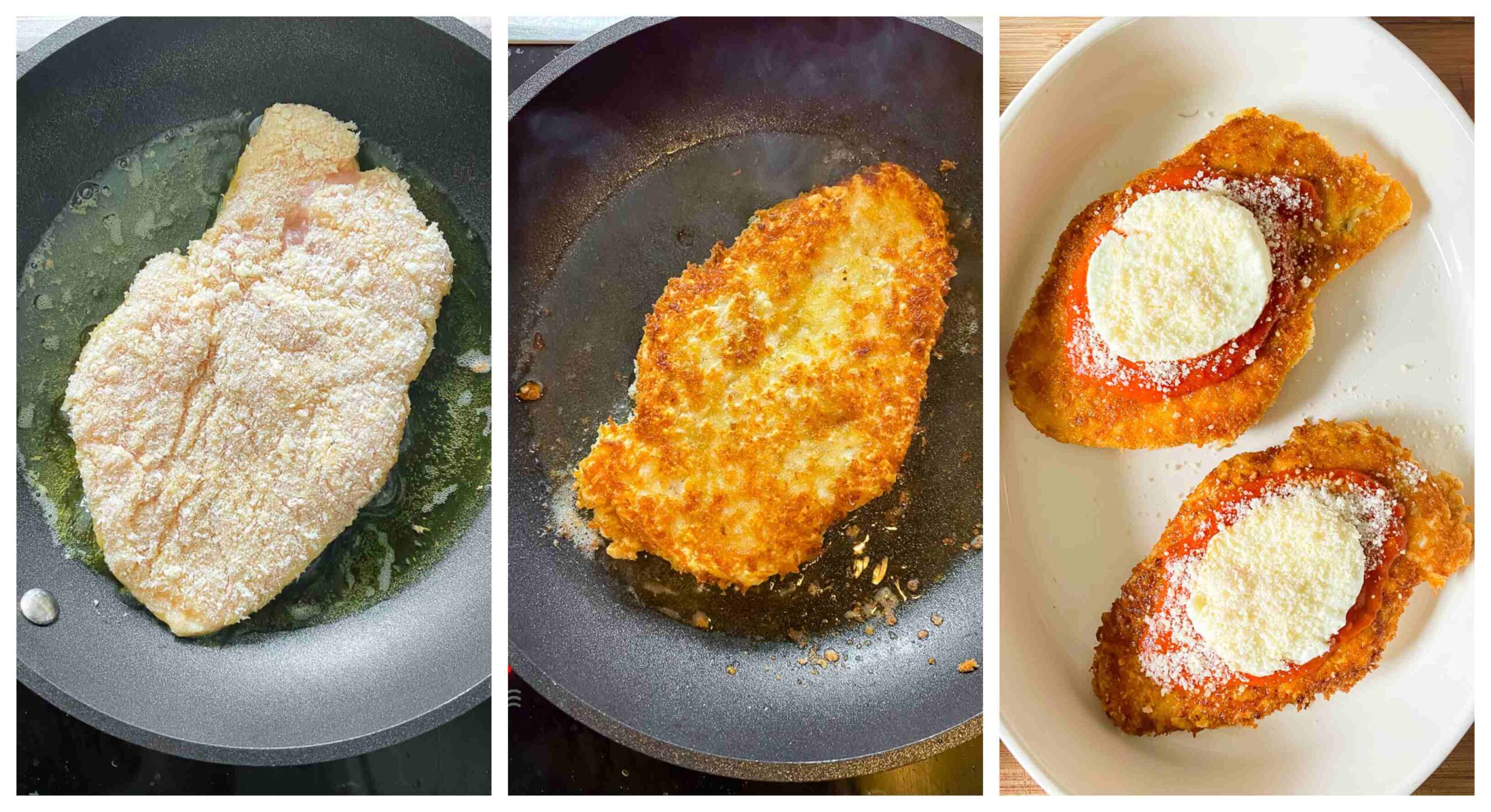 The only breadcrumbs I use are Panko. They deliver much crispier breading than traditional breadcrumbs do. It's all down to how they are made, which is fascinating. Google it if you are interested!
Panko breadcrumbs get mixed with grated Parmesan cheese for another layer of seasoning and flavour.
After I dredge the chicken in flour, seasoned with salt , eggs and the breadcrumb mix, I fry it until golden in olive oil but you can also use butter.
Now all I do to go from a breaded chicken to chicken parmesan is spread a dollop of the sauce on each breast, then top it with a slice of fresh mozzarella and a sprinkling of Parmesan cheese. Then cook in the oven at high temperature for a melty top!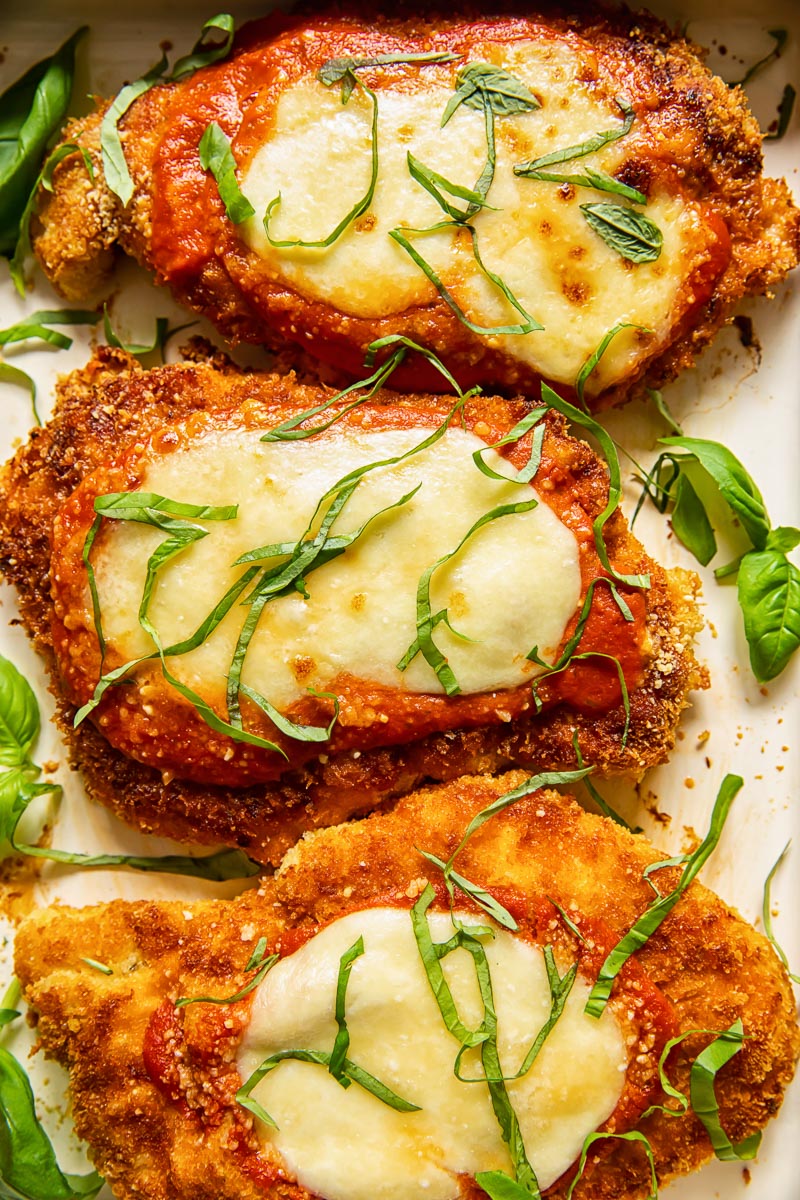 You are probably wondering about all that leftover sauce. Don't worry you will serve your chicken on top of a ladleful of the sauce. But wait till the last minute to do so. We don't want the chicken to go soggy after all.
Serving Suggestions
Traditionally, this chicken gets served with pasta since it comes with a nice sauce. However, you can lighten it up by pairing with a salad or cooked vegetables. Our roasted parmesan broccoli with sun-dried tomatoes or warm zucchini salad come to mind. Both inspired by Italian flavours.
More Italian Chicken Recipes to Try: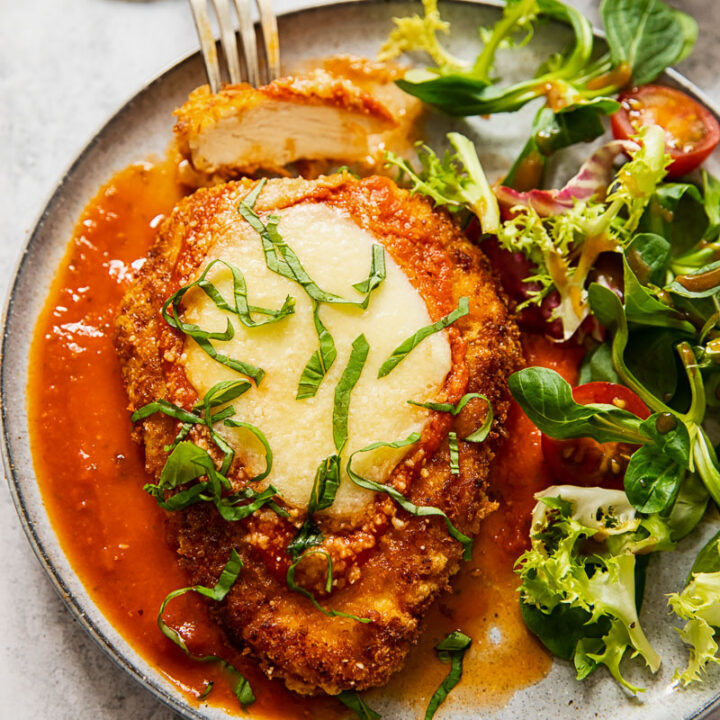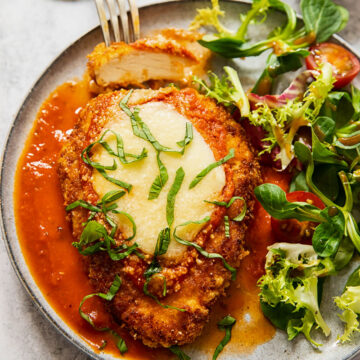 Classic Chicken Parmesan
Chicken coated in crispy and cheesy breadcrumbs, topped with melted cheese and served with a rich tomato sauce
Ingredients
3

tbsp

olive oil

1

clove

garlic

500g/2 cups

tomato passata/crushed tomatoes

2-3

basil leaves

chopped

125ml/1/2 cup

water

salt to taste

4

skinless boneless chicken breasts

2

tsp

salt

divided

1

tsp

pepper

70g/1/2 cup

flour

2

eggs

120g/1 cup

Panko breadcrumbs

50g/1/2 cup

Parmesan cheese

grated

125g/4 ox

fresh mozzarella ball

sliced
Instructions
Make the sauce by heating one tablespoon of olive oil in a medium-sized saucepan , add 1 whole garlic clove and let it cook for 30 seconds or so to flavour the oil, then take it out and discard. Pour in the passata or crushed tomatoes, torn basil leaves and a pinch of salt, add ½ cup water, let it simmer oven medium heat for 10 minutes. Taste and add more salt if needed. If the sauce is too acidic, add a teaspoon of sugar. Keep warm and set aside. Preheat the oven to 200C/400F.

Lay the chicken breasts on a work surface and cover in two layers of plastic wrap. Pound flat with a meat mallet until the thicker part of the chicken breast is the same thickness as the end. Season with salt and pepper.

Set three shallow bowls in front of you and add the beaten eggs to one, the flour mixed with the remaining salt to the second and the breadcrumbs mixed with half of the Parmesan cheese to the third.

Now bread the chicken by dredging it in the flour first, then dipping it in beaten eggs, then coating in the breadcrumb mixture. Set aside till needed.

Heat 2 tablespoons of olive oil in a large frying pan, then fry the chicken in it over medium heat for 5 minutes or until golden on both sides. Press on the chicken breast in the first few seconds of frying to ensure the coating is fully in contact with the pan surface. Add more oil if needed. Don't worry, the the chicken does not have to be fully cooked at this point.

Place the fried chicken in a shallow baking dish in single layer, scoop ¼ cup of the tomato sauce over each chicken breast, make sure there is a part of the crispy coating is still exposed, then top with a slice of mozzarella cheese. Finish it off with the sprinkling of the remaining Parmesan cheese.

Bake in the preheated oven for 15 minutes until the cheese has melted and the chicken is cooked all the way through. Serve on top of the remaining sauce.
Nutrition
Calories:
503
kcal
Carbohydrates:
24
g
Protein:
42
g
Fat:
26
g
Saturated Fat:
9
g
Polyunsaturated Fat:
3
g
Monounsaturated Fat:
12
g
Trans Fat:
1
g
Cholesterol:
187
mg
Sodium:
2472
mg
Potassium:
880
mg
Fiber:
3
g
Sugar:
6
g
Vitamin A:
744
IU
Vitamin C:
13
mg
Calcium:
375
mg
Iron:
4
mg