This incredible Eggplant Parmesan recipe aka Melanzane alla Parmigiana comes straight from the Campania region, the birthplace of this Italian classic. Authentic flavours without the frying. Is it possible? Read on to find out!
To try another recipe from the South of Italy, take a look at our Baked Gnocchi with Meat Sauce and Mozzarella as well as our Bruschetta Recipe Trio for more eggplant cooking ideas!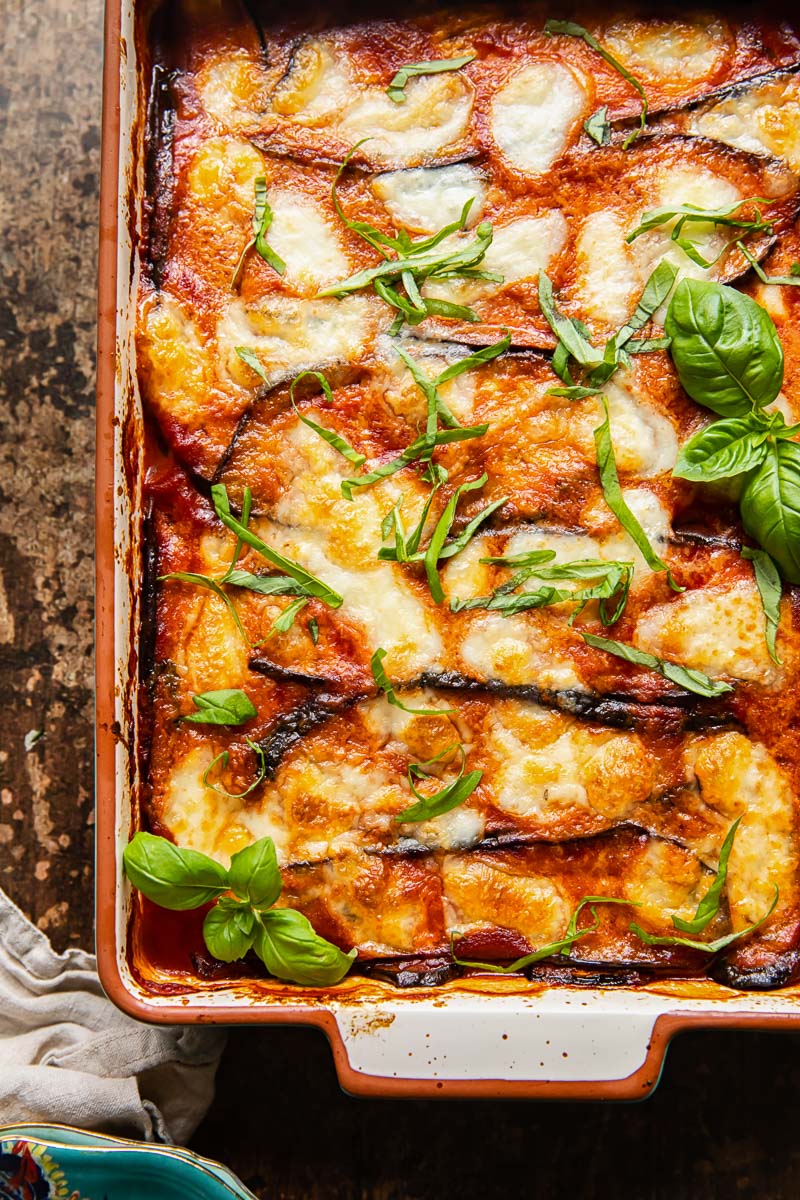 It's been longer than a year since we last visited Italy, which was around the beautiful Amalfi Coast. Southern Italy brings a lot of vibrant flavours to the Italian cuisine all thanks to the relentless sunshine.
The produce, grown in that part of the country, is legendary, and the locals take full advantage of the fruits of their labour by creating wholesome, vegetable packed dishes. Eggplant Parmesan is one of them.
This particular recipe comes as a result of one of the cooking classes I took while visiting Italy. We spent the day making fresh pasta, Bolognese sauce and Eggplant Parmigiana. The recipe for the latter is what I am sharing today.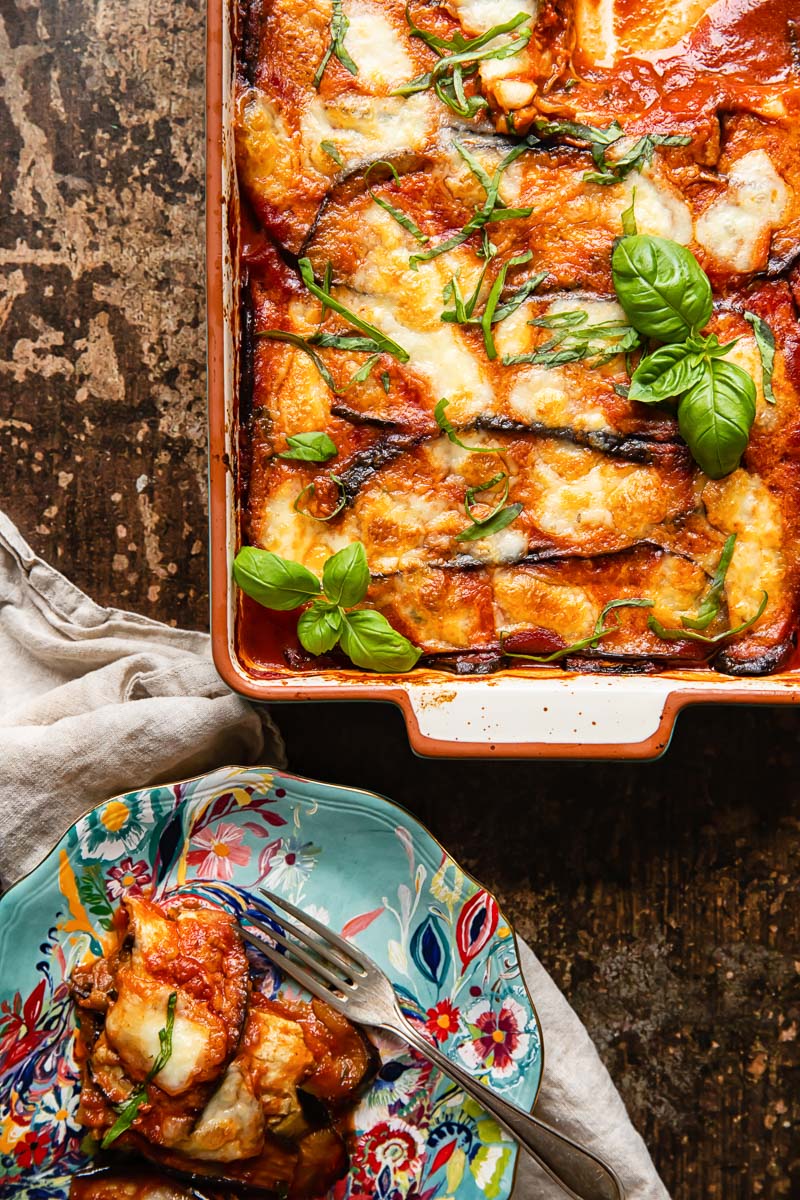 What is Eggplant Parmesan or Melanzane alla Parmigiana?
The dish itself is so famous in both its country of origin and abroad, it barely needs an introduction or a definition. However, for the ones still wondering, it is a vegetarian dish of eggplant slices fried, then baked layered with a rich tomato sauce, Parmesan cheese and mozzarella.
According to our teacher, Italians bake eggplant Parmesan in a casserole dish or a clay pot. They eat it hot or at room temperature, usually as a starter to their meal or as a snack. However eggplant Parmesan would make an excellent vegetarian main dish in my opinion!
The dish we made that day was the best I've ever tasted. After that class I ordered it in every restaurant in Pompeii, Naples and Sorrento but none of them matched its taste.
I am sure all of us can relate to the desire to recreate the dish they tasted and loved while travelling. This is exactly what I did as soon as I got home. I made this recipe many, many times to get it right. To conjure up the taste that was still in my memories.
I finally got there and here is the recipe! The only thing I changed is how I cooked the eggplant. Instead of deep frying it in oil I sliced it thinly, lightly brushed each slice with olive oil and broiled/grilled in the oven at high temperature.
Same taste, a fraction of calories. This recipe is healthy and good for you!!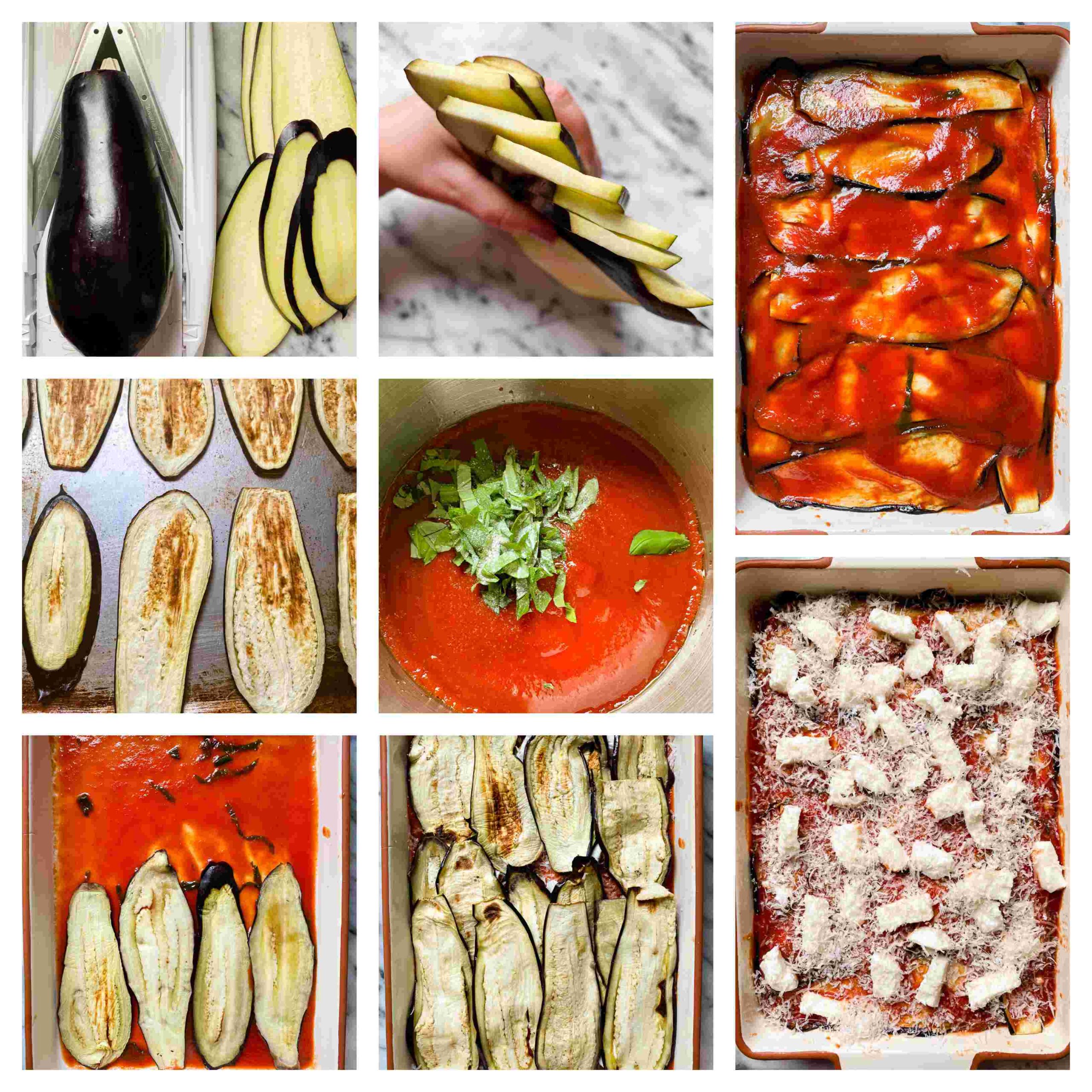 Recipe Tips and Notes
Choose eggplants that are not too large for the best taste. You also want eggplants with less seeds, which are male. They tend to be less bitter and don't need soaking before cooking. To identify male eggplants look at the mark at the bottom. If it's round, it's male! Female eggplants have an indentation shaped like a dash.
Slice your eggplants lengthwise, which will give your slices a similar shape to lasagna noodles. Your slices should be no thicker than ¼ inch for even cooking. I love using my mandoline for it but a sharp knife and a steady hand will do! You can peel your eggplant but I usually don't.
Brush your eggplant slices with just a smear of olive oil or use cooking oil spray on both sides and a pinch of salt. Cook under a broiler/grill (UK) in your oven. Flip halfway through.
The sauce is also very easy but make sure you use high quality tomato passata or crushed tomatoes for it. The ripeness and sweetness of the tomatoes are what makes this dish so irresistible.
Don't over flavour your sauce with garlic and oregano. Our Italian teacher condemned the overuse of garlic and called it very 'unItalian'. They are very passionate about their food!
To add just a touch of garlic, fry one whole clove in the olive oil in the beginning, then remove it. Your oil is now lightly perfumed!
The versions I often had in America were swimming in tomato sauce, but I've learned that this isn't the best way to make it. It's so much better to add a fairly light smear of tomato sauce to each layer of eggplant. This way the tomato sauce infuses the eggplant with flavor, but isn't the main thing you taste. Eggplant should shine in this dish.
The same goes for cheese. Use a fair amount but don't go crazy! Using fresh mozzarella and a block of real Parmesan (Parmigiano Reggiano) is the best way to impart flavour.
Take the fresh mozzarella out of the water it's packed in, and let it dry out a bit by leaving it in a fridge for a few hours or overnight.
Italian cuisine is quite reserved when it comes to herbs and spices. It relies on the quality of ingredients to give dishes their flavour.
Use a shallow and wide pan (9X13 inch pan works great) instead of a deep and narrow one to avoid too much liquid in your final bake.
More Southern Italian Recipes: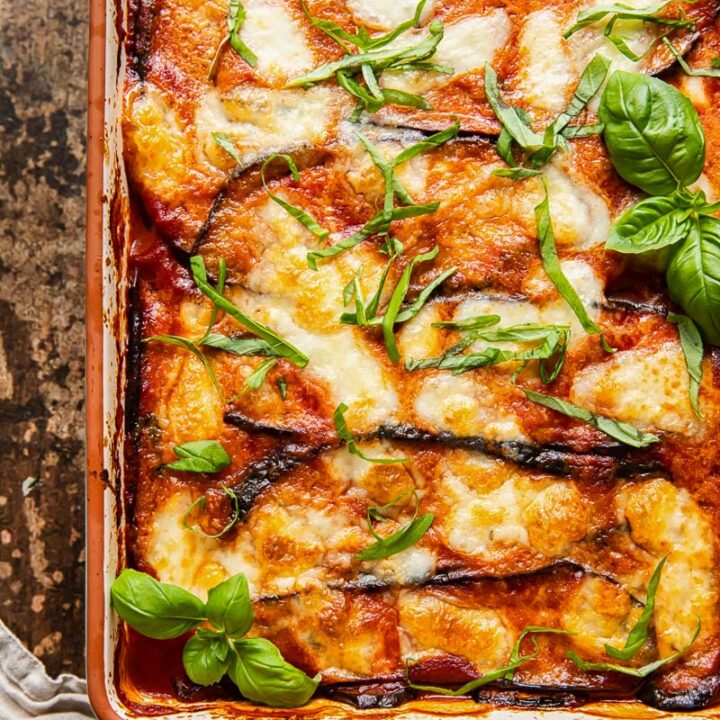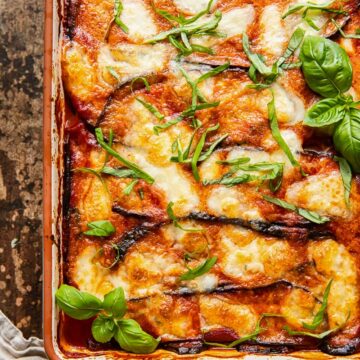 Healthy Eggplant Parmesan Recipe
Eggplant slices grilled, then baked in a rich tomato basil sauce with a generous amount of Parmesan cheese and mozzarella.
Ingredients
4 (2.2lbs)

eggplants, sliced

salt

3

tbsp

olive oil

divided

1

clove

garlic

500g/2 cups

tomato passata/crushed tomatoes

or use pre-made tomato pasta sauce

2-3

basil leaves

125ml/1/2 cup

water

salt to taste

250g/8 oz

fresh mozzarella

cut into small pieces or grated mozzarella

50g/1/2 cup

grated Parmesan
Instructions
Turn your oven into a broil/grill mode. Cut the eggplants lengthwise into ¼ inch slices, brush with 2 tbsp of oil and season with salt. Arrange the eggplant slices on a baking sheet in a single layer and broil/grill in the oven for 7 minutes with the baking sheet set at the top of the oven, then flip over and grill for 3-5 minutes longer longer until the eggplant and cooked all the way through and lost the spongy texture. (Watch carefully as oven temperature vary in different ovens.) You might need to use 2 -3 baking sheets to cook all the eggplant slices.

Meanwhile heat the remaining olive oil in a medium-sized saucepan or a pan, add 1 whole garlic clove and let it cook for 30 seconds or so to flavour the oil, then take it out and discard. Pour in the passata or crushed tomatoes, torn basil leaves and a pinch of salt, add ½ cup water, let it simmer oven medium heat for 10 minutes. Taste and add more salt if needed. If the sauce is too acidic, add a teaspoon of sugar.

Start layering your eggplant parmigiana in a 13X9 inch casserole dish by adding a thin layer of the sauce, then half of the eggplant slices directly on top, 125ml(½ cup) of the sauce, followed by a half of the cut up mozzarella and half of the parmesan cheese, repeat the same layer with the remaining ingredients.

Bake covered with aluminium foil at 350F/180C for 40 minutes, uncover and cook for 10 minutes longer until the cheese is bubbly. Let the dish stand for 15 minutes to allow the juices to settle before cutting into squares and serving.
Nutrition
Calories:
219
kcal
Carbohydrates:
13
g
Protein:
12
g
Fat:
14
g
Saturated Fat:
6
g
Cholesterol:
30
mg
Sodium:
1250
mg
Potassium:
503
mg
Fiber:
5
g
Sugar:
8
g
Vitamin A:
434
IU
Vitamin C:
9
mg
Calcium:
262
mg
Iron:
1
mg