This Italian-style rosemary chicken simmered in a rich tomato sauce with white beans and olives is a great everyday dinner that the whole family will love!
For more Italian recipes, check out my Chicken Marsala.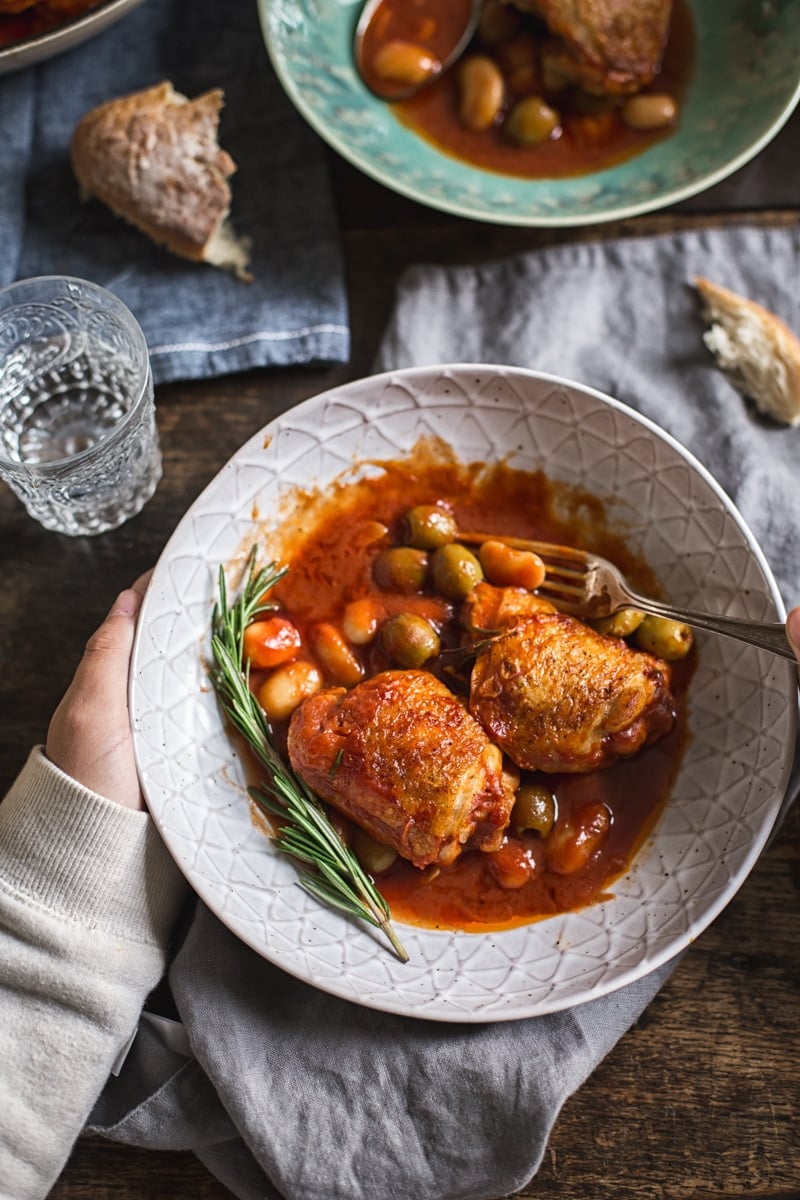 These chicken thighs braised in savoury tomato sauce with beans and olives are the type of comfort food that could be served for a casual weeknight dinner as well as a sit down dinner party.
This rosemary chicken recipe is easy, versatile, and depending on what it's accompanied by, could serve you well for a wide range of occasions.
If you are looking for something simple to prepare for your family dinner, this won't take you longer than 30 minute of hand on time.
The rest is time in the oven when you could be doing anything else. A simple green salad or steamed vegetables will make a complete meal.
How can I use rosemary chicken in an Italian themed meal?
You can also use this rosemary chicken recipe if you are throwing a multiple course dinner party the Italian way. Start with antipasti in the form of cured Italian meats like salami and prosciutto with breadsticks, vegetables and fresh mozzarella or go for our crostini recipe.
Follow up with a simple pasta dish for secondi. Then serve this rosemary chicken with white beans and olives. And finish up with Amaretti Tiramisu for dolce. Job done!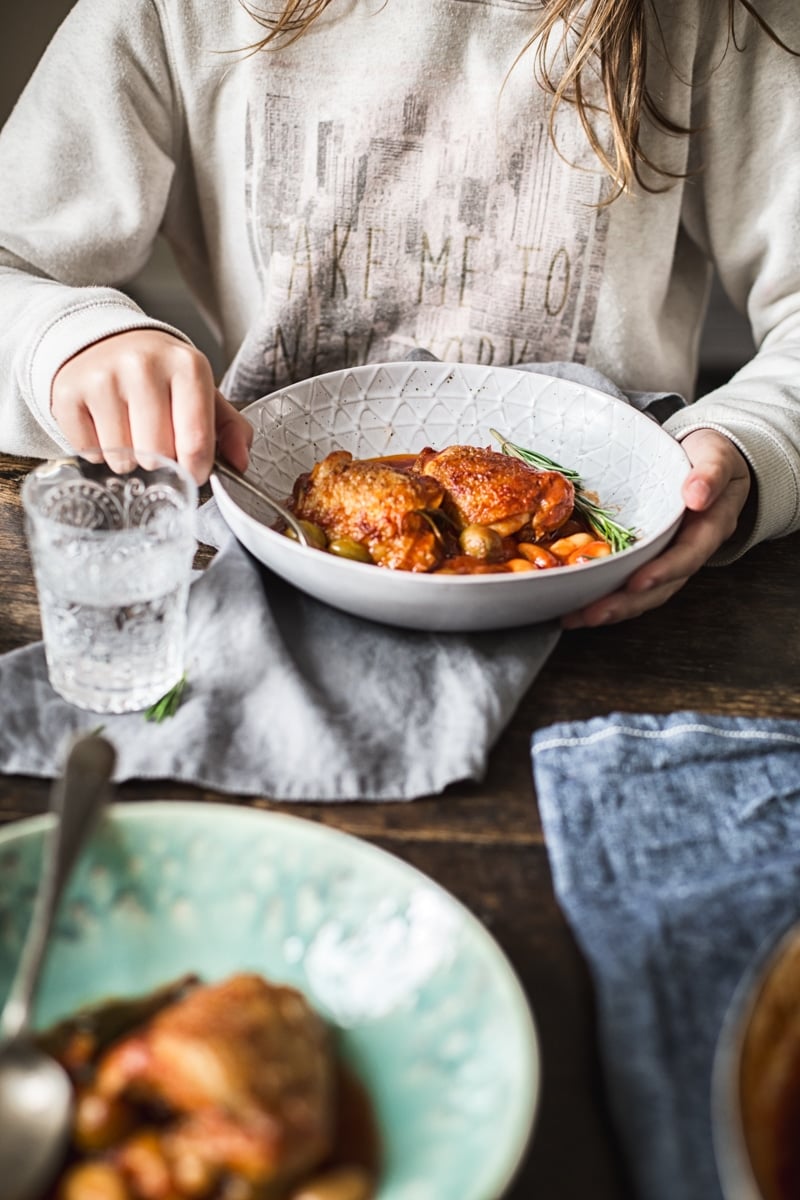 We found this chicken recipe to be a huge winner with our children and it's a small victory for sure!
As our kids are hitting the teen stage, we are ever so keen on keeping family meals a permanent fixture for as long as we can.
It seems like the only time they really want to talk is at dinner time. And as long as they are willing to talk, we will stay and listen, and the conversation is always much more enjoyable with delicious food around.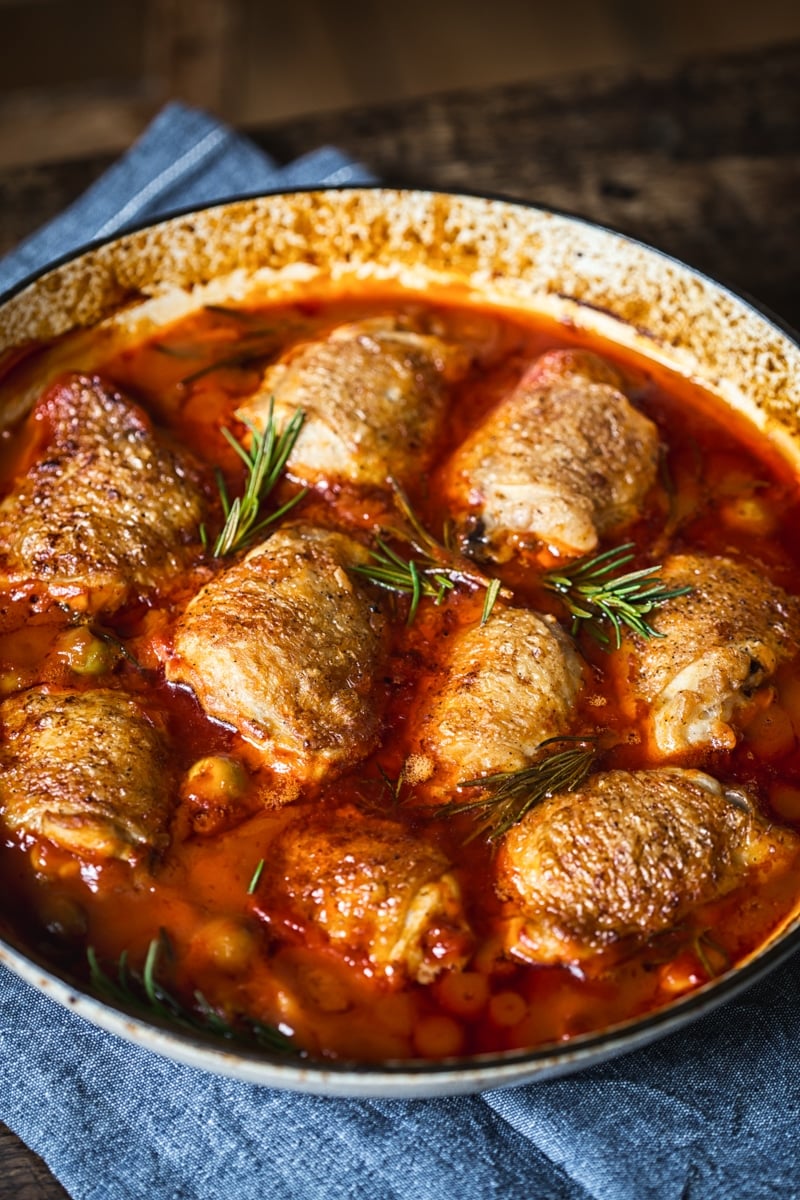 What ingredients are in rosemary chicken recipe?
As most Italian and Italian inspired recipes, the ingredient list is not very long but the ingredient quality is high. All you need for this rosemary chicken recipe to be delicious are
chicken thighs or legs
fresh rosemary
garlic
anchovies or anchovy paste
canned crushed tomatoes or tomato passata
olives
and olive oil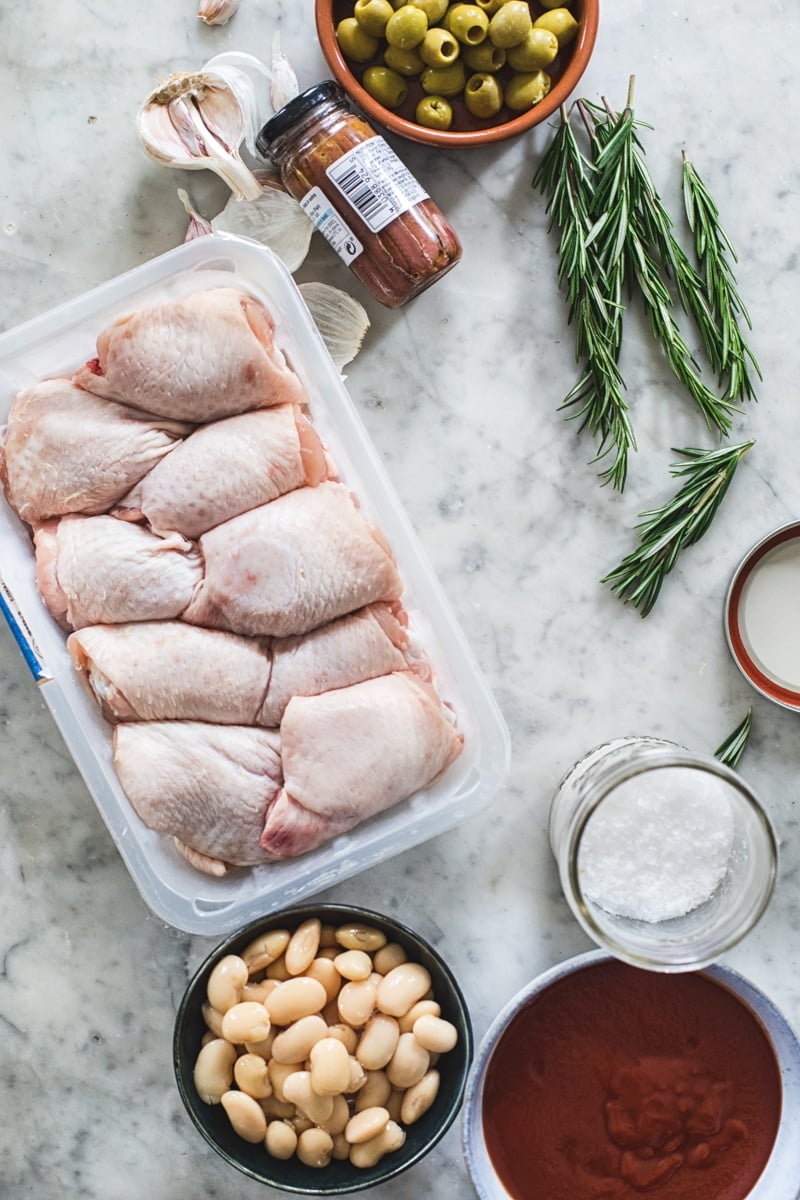 The tomato sauce is a riff on my very popular Puttanesca sauce. This time I incorporated it into a one pot meal by cooking chicken thighs in this bold and rich sauce and adding white beans to round it off.
Garlic, rosemary, anchovies and sweet, ripe tomatoes make this meal a huge winner. It is inspired by Italian flavours but I wouldn't claim it as authentic in fear of incurring the wrath of Italian food purists!! 🙂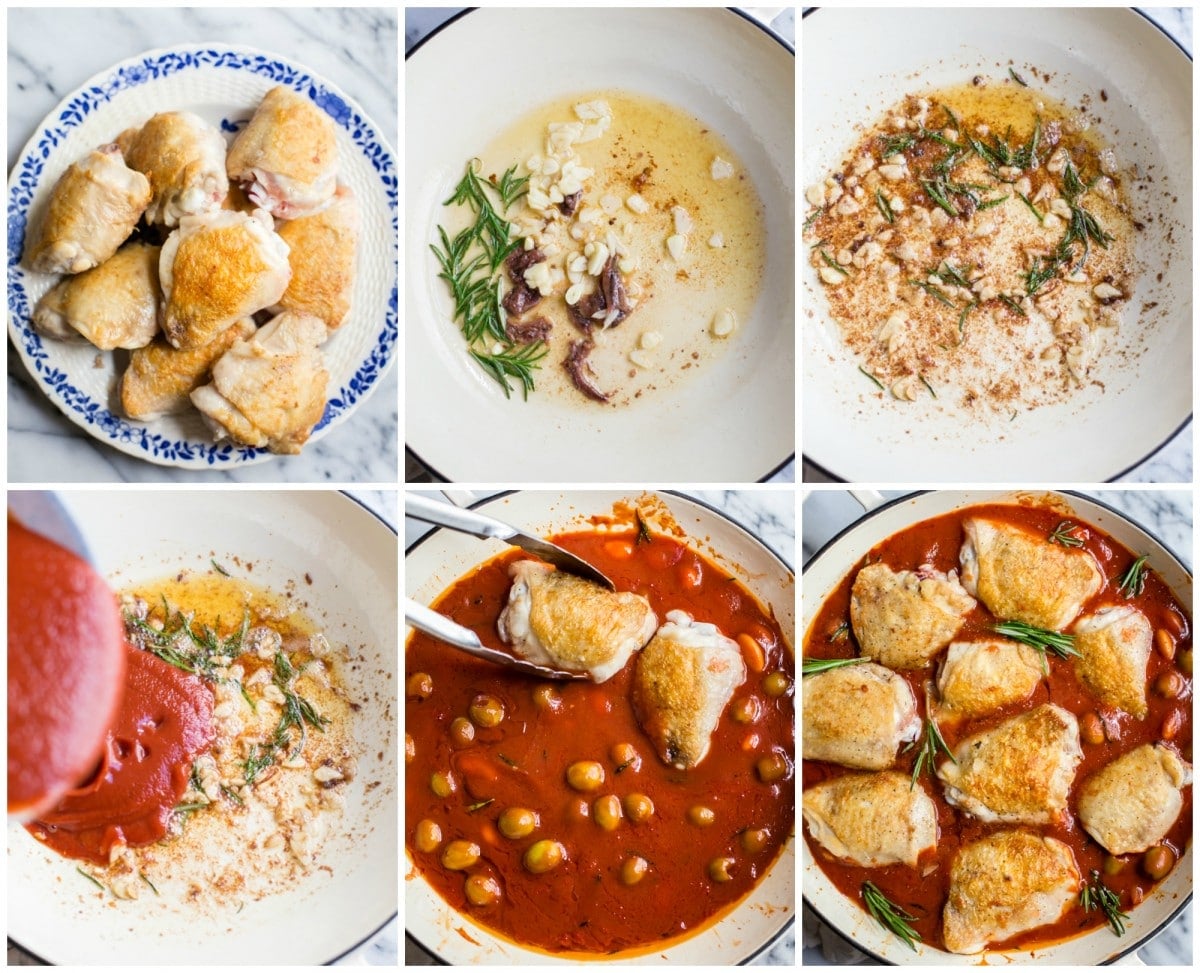 What to serve with rosemary chicken
Authentic or not this rosemary chicken with white beans is always welcome at our dinner table. It's delicious with rice or pasta!
And if you are avoiding carbs, you can enjoy this hearty chicken stew with a side of greens, broccoli or green beans. You name it!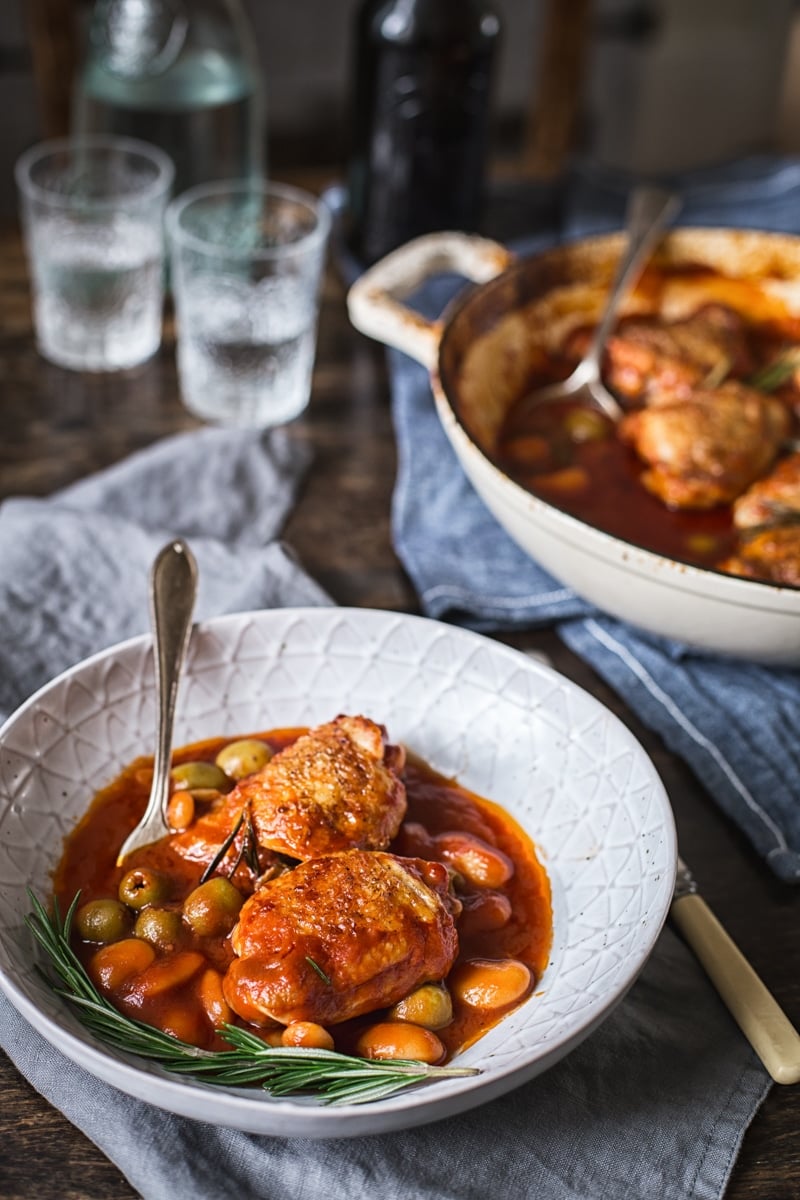 How do I make Puttanesca sauce?
What makes this rosemary chicken and white beans so special is the sauce. And the sauce owes its extraordinary taste to anchovies.
If you are not a fish lover, I would still try to persuade you to give anchovies a chance! Essentially, this sauce is the Puttanesca sauce, so serving this saucy rosemary chicken with pasta is an excellent choice.
Although anchovies in a tin smell fishy, the sauce itself won't. But what they will do is give the sauce that indescribable savoury taste, that is not very easy to achieve without the anchovies.
And don't worry you won't have fish chunks floating in your tomato sauce. As soon as anchovies hit a hot oil, they start to melt and turn into a paste! You can also use chicken breasts but reduce cooking time by a half.
I hope this convinced to give my rosemary chicken in Puttanesca sauce a try!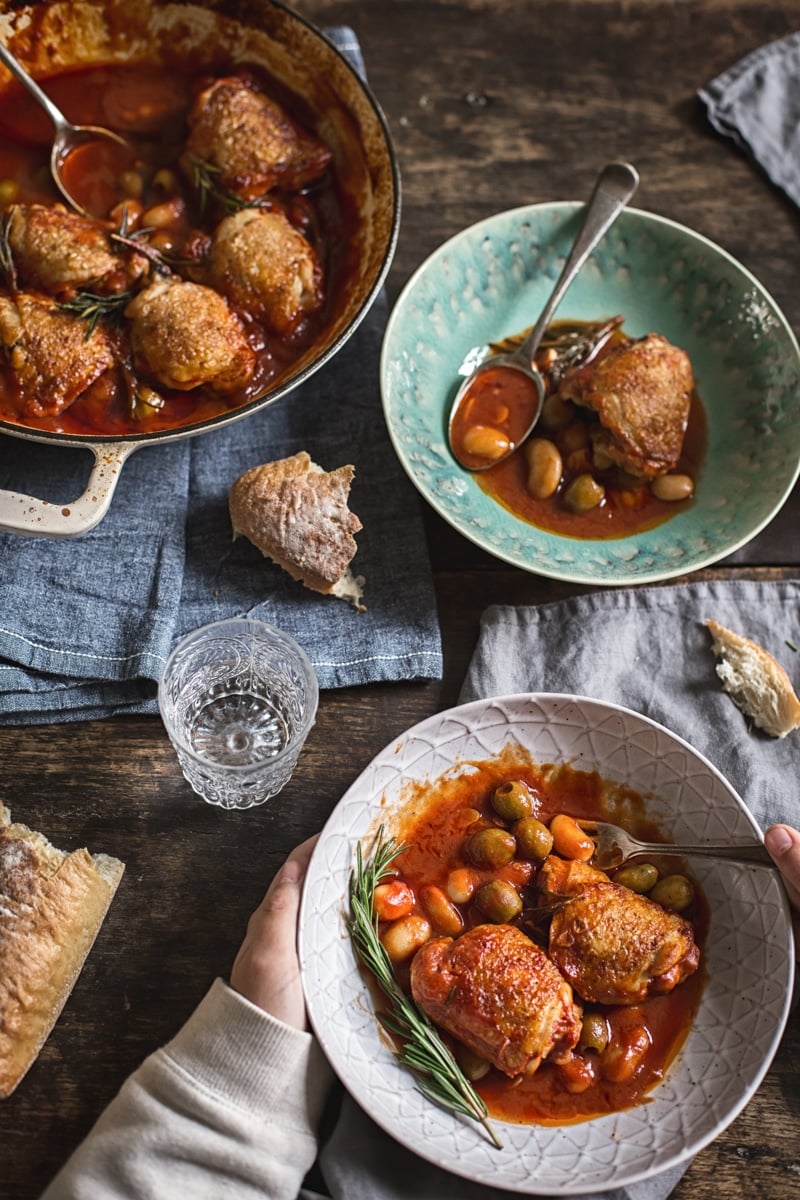 More delicious chicken recipes:
On this note I am signing off! Until next time.
~Julia~
Recipe originally posted in 09/2017. Updated in 04/2019.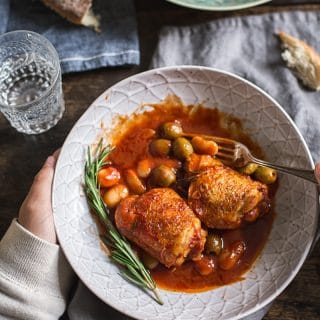 Rosemary Chicken Recipe
This Italian-style rosemary chicken simmered in a rich tomato sauce with white beans and olives is a great everyday dinner that the whole family will love!

Print
Pin
Rate
Ingredients
1

tbsp

olive oil

8-10

chicken thighs

salt and pepper

4

cloves

garlic

sliced

3

fillets anchovies/1 tsp anchovy paste

2-3

rosemary sprigs

500

ml/ 2 cups tomato passata or crushed tomatoes

125

ml/ ½ cup water

½

cup/70 g green olives

1

X 400g/14 oz tin white beans

butter beans or cannellini
Instructions
Preheat the oven to 180C/350F.

Salt and pepper chicken thighs and brown them over high heat in a frying pan in batches to avoid overcrowding and steaming until golden on both sides. ( You can skip oil if using non-stick frying pan.) Remove to a plate and set aside. Discard all oil but 1-2 tbsp.

To the same pan add anchovies, sliced garlic and half the rosemary, fry over medium heat while stirring and trying to break up anchovies into a paste for 1 minute.

Add tomato passata, water, olives, beans and bring to a boil. Taste the sauce and add salt if needed but be careful as both anchovies and olives are salty.

Return the chicken back to the pan together with the juices that collected at the bottom of the plate and remaining rosemary. Cover with a lid and cook in the preheated oven for 20 minutes. Then uncover and cook for 20 minutes longer.

Serve with rice, pasta or a green salad for a low-carb option.
Nutrition
Calories:
474
kcal
|
Carbohydrates:
21
g
|
Protein:
31
g
|
Fat:
29
g
|
Saturated Fat:
7
g
|
Cholesterol:
148
mg
|
Sodium:
407
mg
|
Potassium:
869
mg
|
Fiber:
5
g
|
Sugar:
3
g
|
Vitamin A:
340
IU
|
Vitamin C:
8.3
mg
|
Calcium:
101
mg
|
Iron:
4.2
mg