Veal piccata, or veal scallopini, is an exquisite pairing of delicate veal cutlet in a buttery citrus sauce. It's a symphony of complex flavours tied together by the most tender of meats. But surprisingly quick and simple to conduct! Treat yourself and your family to something a bit different with this time-honoured Italian classic.
Serve with creamy mashed potatoes, or with your own homemade fresh pasta, and lemon garlic green beans.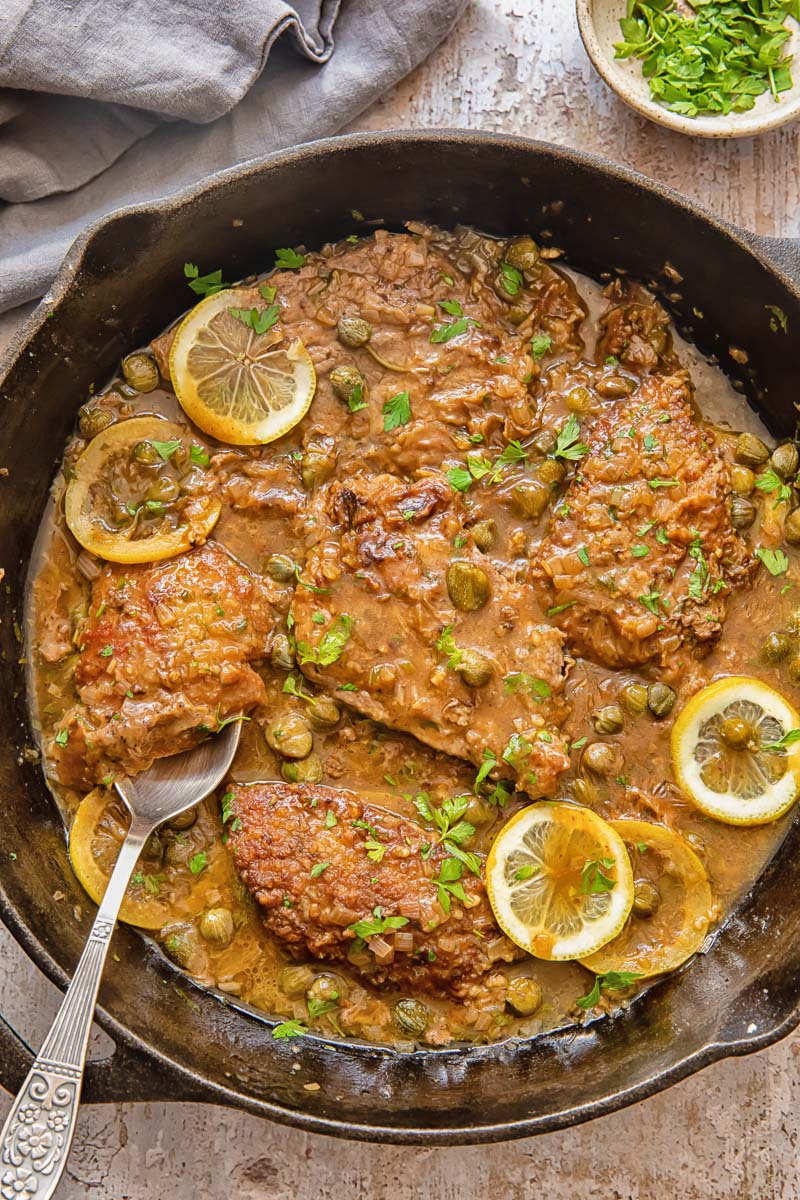 What is veal piccata?
Veal, a meat much-loved by Italians, is considered a delicacy. The calves, from which veal comes from, are raised on a purely milk-based diet, which is what makes the meat so soft on the tooth.
Being favoured for its tender texture and milder-than-beef flavour, veal balances beautifully in a rich lemony butter sauce.
Sliced to specific slimness, the veal cutlet is gently coated in seasoned flour and lightly fried, putting this naturally sweet, melt-in-the-mouth meat at the heart of the dish.
It is then bathed in a luscious pool of sauce unctuous with butter, spikey with tart lemon juice, and tingling with the brininess of plump green capers.
And the whole decadent dish can be put together in under 25 minutes!
What cut is it anyway?
The cut for veal scallopini, or scaloppine in Italian, is usually taken from the rump of the calf. Unlike its grown-up counterpart, the calf's rump is not a tough time-worn muscle but soft and pliable, making it a truly unique meat.
For veal piccata, the meat is then 'scalloped', sliced keenly in half to slimmer dimensions, and given a light pounding to flatten further.
But don't panic! You needn't perform this scalloping surgery yourself! Either ask your experienced butcher to do it or buy them ready scalloped.
You might have already come across this method without even realising; as this dish is Italian, I'm referring to it as veal scallopini, but French recipes would call for a veal escalope, and in English, it's known as a veal cutlet. Sound familiar now?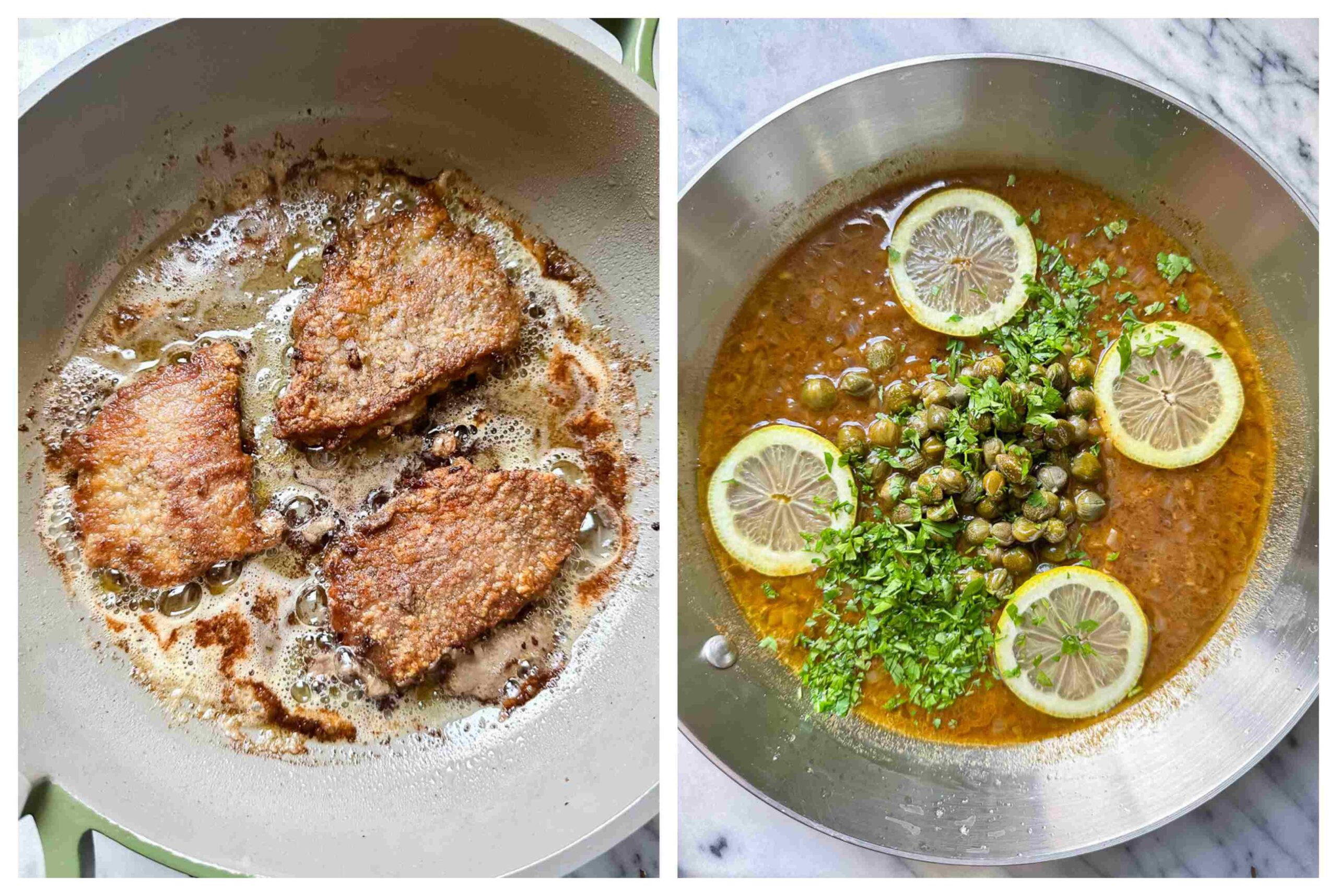 Recipe tips and notes
Keep your flour-dusting light. Too much flour will burn during frying, look unsightly and contribute bitter undertones to the sauce.

Veal isn't inexpensive and this can seem like a bit of a gamble if you've not tried it before! But there is no need to miss out if you want to play it safe. Feel free to substitute the veal cutlets with chicken breast or go further afield with salmon piccata.

It takes very little time to cook veal scallopini due to its super slim figure. So, be careful not to overcook it! Unlike chicken or pork, there's no real risk of undercooking this slim-lined cut.

I've used dry sherry for a slightly sweet and nutty tone, it goes beautifully with butter! But dry white wine is a good substitute if that's what's available to you.

This sauce is delicate in its consistency, but powerful in flavour. I like to compliment the zesty citrus and saltiness with fresh green parsley. And it looks pretty too!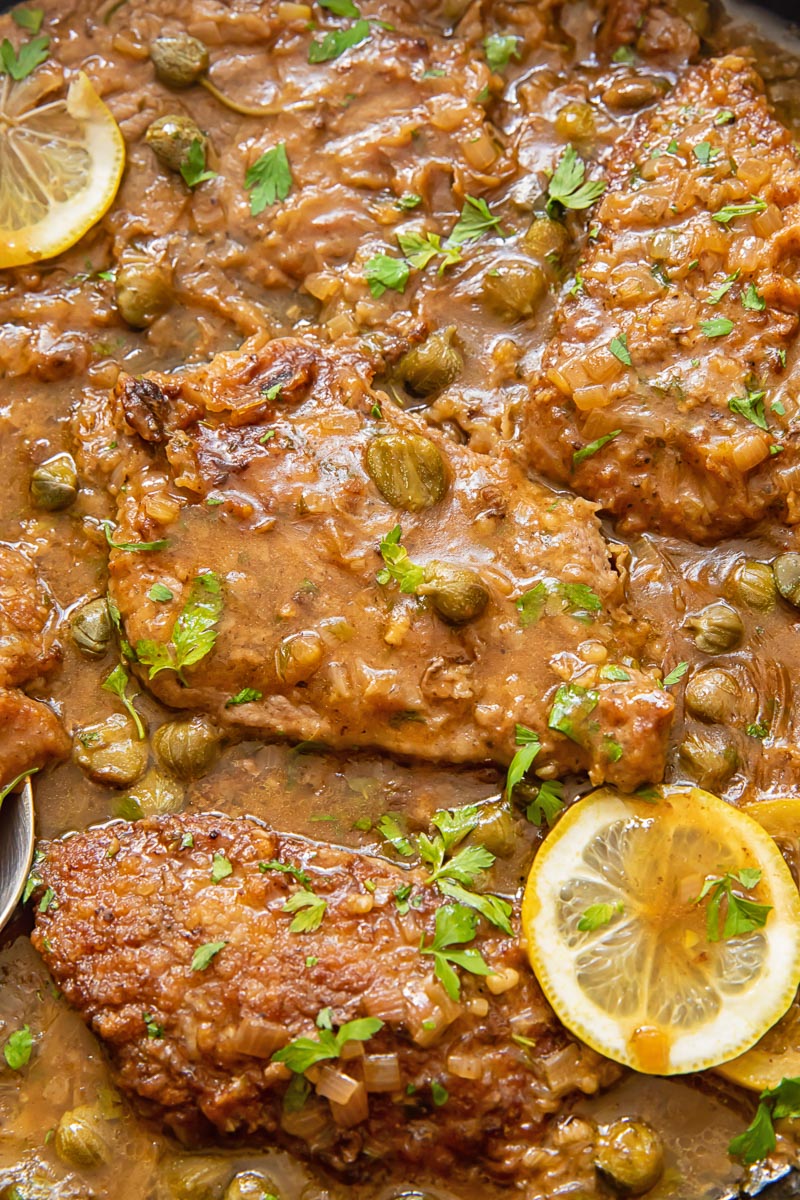 Storage and leftovers
This delectable dish will keep in the fridge for 2-3 days. In that time the flavours of the sauce will intensify and permeate the meat further. Make sure it's wrapped up tight to prevent it permeating anything else.
To reheat, set the oven low, add a splash of water or stock to your pan, cover with foil to prevent drying and heat for 15 minutes or until the meat is hot in the middle.
If you want to freeze leftovers, try to separate the veal from the sauce. In freezer-safe containers, they can be stored for up to 3 months. To cook from frozen, follow the instructions above but add on 10 minutes cooking time.
More Italian Beef Recipes to Try: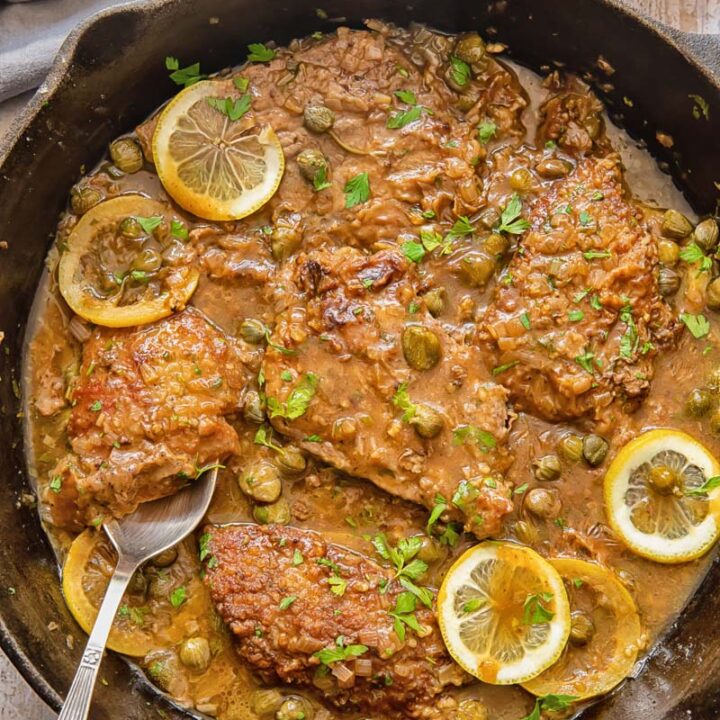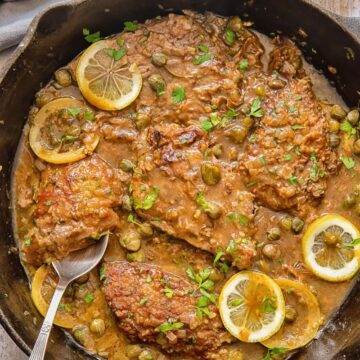 Veal Piccata
Veal piccata, or veal scallopini, is an exquisite pairing of delicate veal cutlet in a buttery citrus sauce.
Ingredients
4

veal cutlets (150g/5 oz) each

4

tbsp

flour

1

tsp

salt

½

tsp

black pepper

2

tbsp

olive oil

4

tbsp

unsalted butter

1

shallot

chopped

2

cloves

garlic

minced

1

lemon (½ juiced and ½ sliced)

125ml/1/2 cup

dry sherry

or white wine

125ml/1/2 cup

chicken stock

3

tbsp

capers

1

tbsp

chopped fresh parsley
Instructions
Preheat the oven to the lowest temperature. Pat the veal cutlets dry with a paper towel, season with salt and pepper and dredge in flour.

Heat the olive oil in a large pan, brown the veal pieces in the hot oil until golden for 5 minutes on each side. A couple of minutes into the cooking add the butter to the pan. This will add more flavour and colour to the veal. You might want to do the frying in batches to avoid overcrowding.

Then remove the veal from the pan and keep it warm in an oven preheated to the lowest temperature while you are making the sauce.

To the same pan add the chopped shallot and sauté over low heat for 2 minutes, add the minced garlic and let it cook over low heat for 30 seconds, then add 1 tbsp of flour and mix it in until it turns into a paste, cook for 1-2 minutes while stirring, pour in the dry sherry and let it bubble for a 2-3 minutes. Add the chicken stock, lemon juice, lemon slices, capers and parsley, turn up the heat and bring to a boil, as soon as it boils, lower the heat and simmer the sauce until it's reduced in volume for a few minutes. Return the veal back to the pan and spoon the sauce all over. Serve immediately.
Nutrition
Calories:
443
kcal
Carbohydrates:
12
g
Protein:
38
g
Fat:
24
g
Saturated Fat:
10
g
Polyunsaturated Fat:
2
g
Monounsaturated Fat:
10
g
Trans Fat:
0.5
g
Cholesterol:
164
mg
Sodium:
906
mg
Potassium:
767
mg
Fiber:
1
g
Sugar:
2
g
Vitamin A:
451
IU
Vitamin C:
17
mg
Calcium:
34
mg
Iron:
2
mg