These giant pasta shells stuffed with flavourful tomato pesto beef sauce are a one pot winner! No one will be able to resist this cozy pasta dish topped with melted mozzarella!
Serve this pasta bake with my Prosciutto Caprese Parcels as starters and Roasted Parmesan Broccoli for a delicious Italian inspired dinner!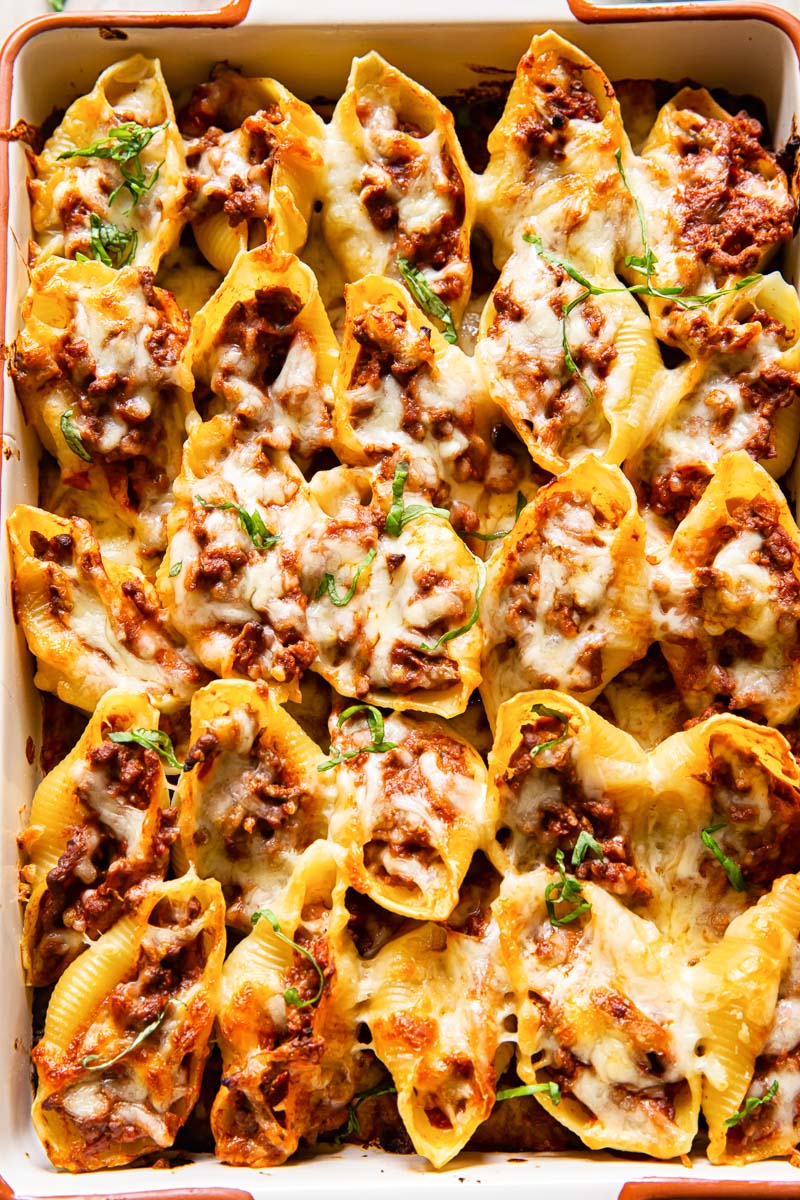 This pasta recipe is a one pot wonder, I tell ya! I make a lot of pasta dishes. 2-3 times a week. But this one is special. My kids were the most enthusiastic eaters and my husband declared it to be "most special pasta" ever.
Whoa! I have no idea what I did right and but I am guessing using giant pasta shells and stuffing them with a rich meat sauce flavoured with basil pesto did the trick. My daughter said it was like eating Italian tacos!
The meat sauce I used to stuff the shells might seem like a standard recipe but it has a secret ingredient that makes all the difference. Basil Pesto.
Who would have thought that simple store bought pesto could elevate a regular pasta bake to something AMAZING!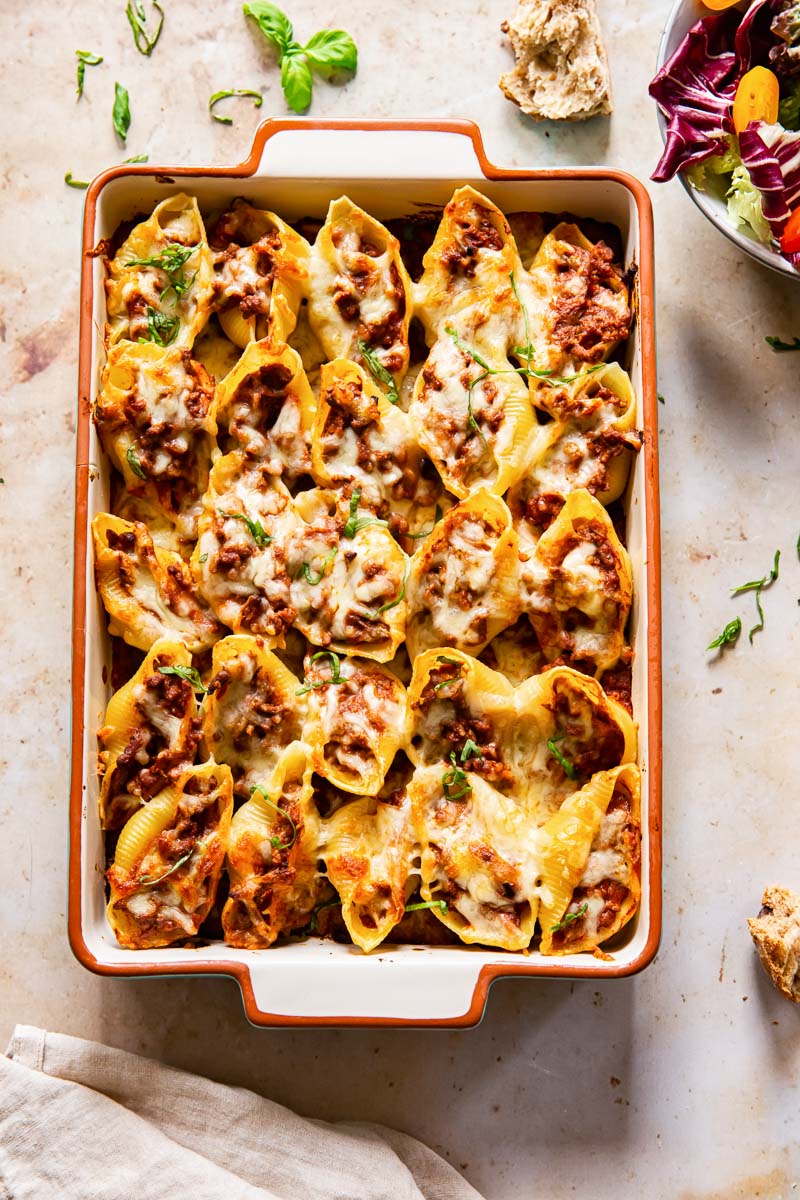 What pasta can I use for stuffing?
You are looking for giant pasta shells, sometimes called jumbo in the US or conchiglioni in Italian. They are quite a bit thicker as well, so absolutely perfect for holding your meat sauce without tearing.
If you can't find them, regular shells will also work but instead of stuffing them simply mix them with the sauce and top with mozzarella cheese. They will still taste delicious and will look like this.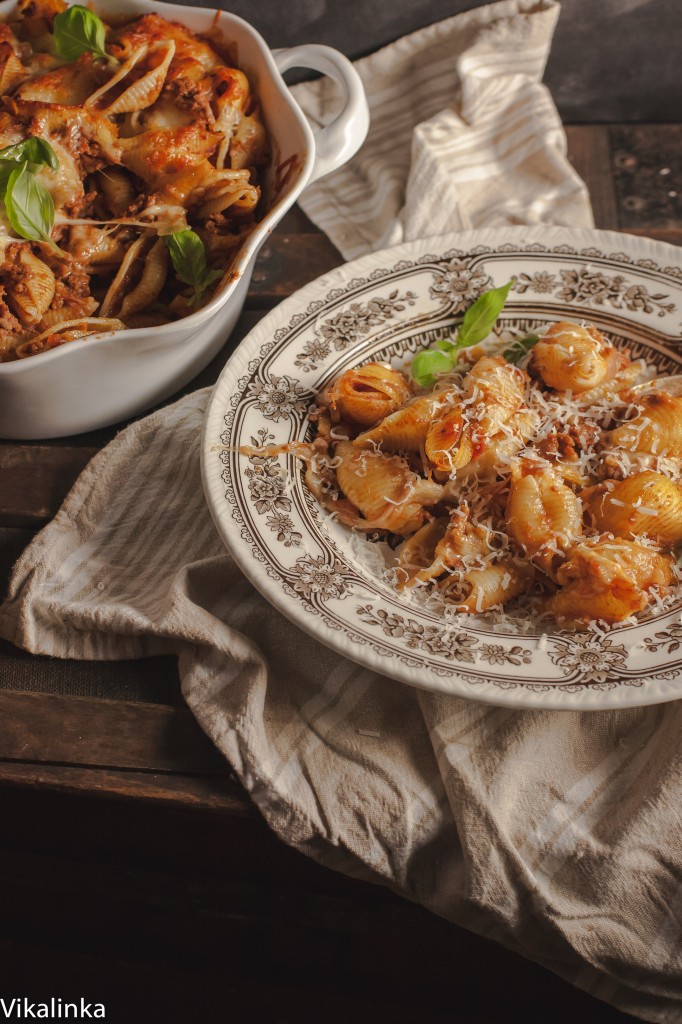 Stuffed pasta shells with ground beef
The premise for this recipe is not new. All we are doing is combining pasta with tomato beef sauce and bake it topped with mozzarella. Comfort food at its best.
However, the novelty of stuffed pasta plus the deliciousness of the tomato and ground beef sauce, that is made with the inclusion of basil pesto, begs this recipe to be made ASAP!
If you are hesitant about combining tomato sauce and basil pesto I understand. I was too…after all it's one or another, right? Fortunately I still decided to give it a go.
What I realised was that pesto infused the meat sauce with gorgeous basil flavour while the cheese and pine nuts gave it a more creamy and luscious texture. That is why this pasta bake is NOT ordinary!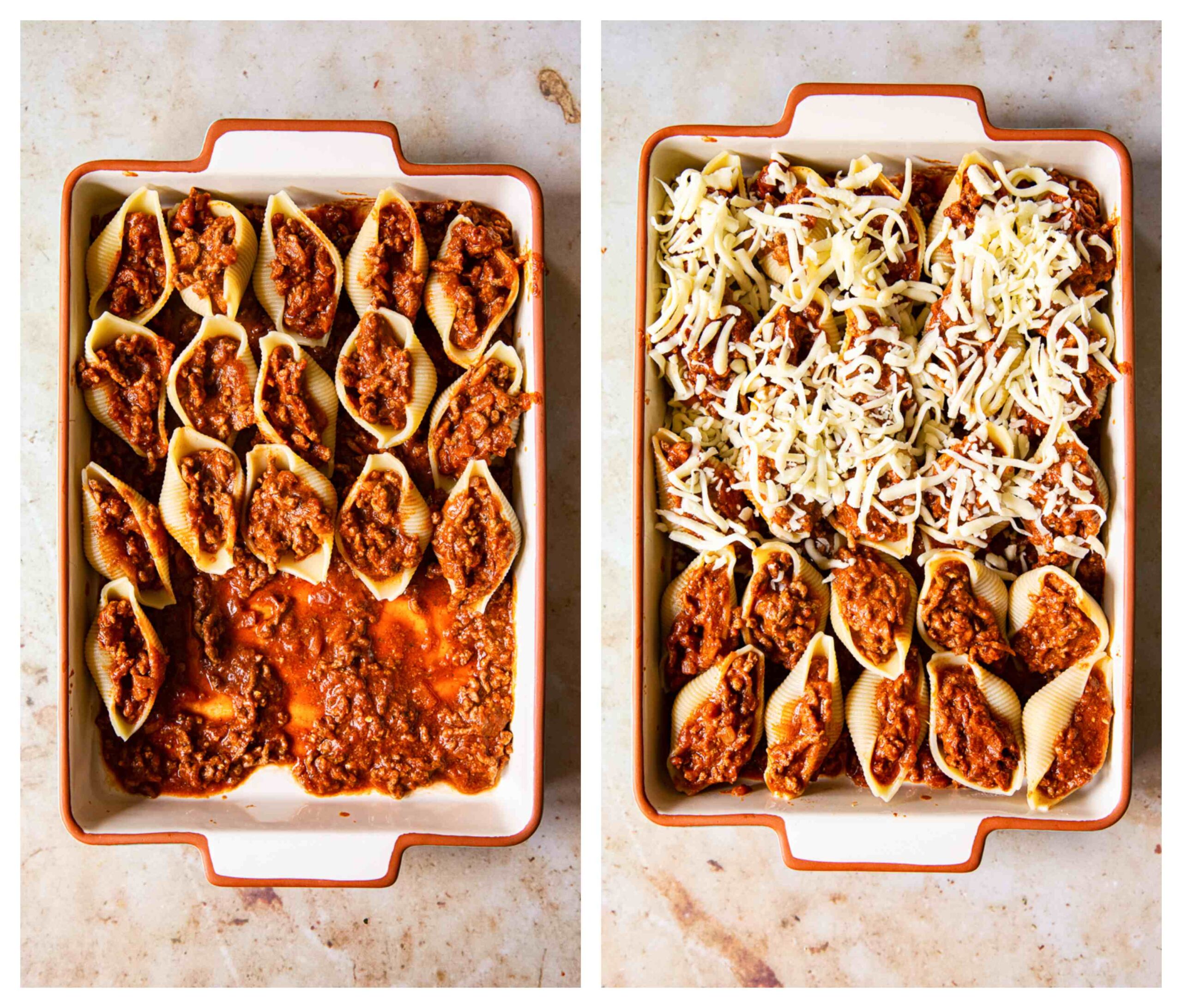 You know what else is great about this pasta dish? It's delicious and sophisticated enough for a dinner party. Just throw in some nice bread, olives, any antipasti you love, and a simple Caprese salad and your guests will be endlessly impressed.
I am not exaggerating in the least, they will feel like they've attended a nice Italian restaurant. Wouldn't you if you were served a bowl of this?
What is your favourite pasta dish? Let me know in comments!
This recipe was originally published 12/2014. Updated with a new recipe, photos and text and republished in 03/2020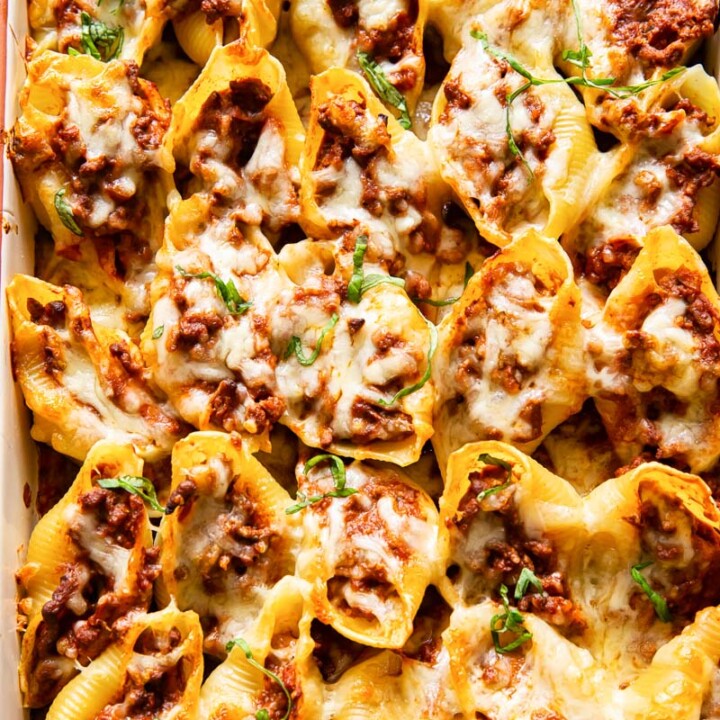 Stuffed Pasta Shells with Tomato and Pesto Meat Sauce
These giant pasta shells stuffed with flavourful tomato pesto beef sauce are a one pot winner! No one will be able to resist this cozy pasta dish topped with melted mozzarella!
Ingredients
1

tbsp

olive oil

½

onion

chopped

1

lbs

ground beef

extra-lean

1

tsp

dried oregano

500g/2cups

tomato passata/crushed tomatoes

1 ½

tsp

salt

3

tbsp

basil pesto

½

lbs

giant pasta shells

100g/1 cup

mozzarella

grated
Instructions
Heat the oven to 400F/200C. Cook chopped onion in olive oil over low heat for 5-7 minutes until soft but not coloured. Add ground beef and cook, stirring it the whole until no longer pink.

Add dried oregano, salt, tomato passata/crushed tomatoes and basil pesto. Bring to a boil and then turn the heat down and simmer for 20 minutes, stir one in a while to avoid burning. Take it off the heat and cool slightly.

While the sauce is simmering, cook the shells in a large pot according to package instructions. It's important to cook pasta 1-2 minutes less than package directions advise as it will be further cooked in the oven.

Drain pasta and rinse it with cold water, this will prevent pasta shells sticking to each other. Cool until room temperature.

To a 9X13 inch rectangular dish add 1 cup of the sauce, so it will cover the bottom of the pan. Then arrange the shells in rows in a single layer. Then fill the shells with the beef sauce, approximately two teaspoons per shell. (I was able to fit 25 shells in my pan). If there is any sauce leftover, spoon it over the pasta. Then sprinkle with grated mozzarella cheese, cover with tin foil and bake in the preheated oven for 10 minutes. Then uncover and cook for 15 minutes longer until the cheese is golden and pasta is hot and bubbly.
Nutrition
Calories:
694
kcal
Carbohydrates:
54
g
Protein:
35
g
Fat:
37
g
Saturated Fat:
13
g
Cholesterol:
101
mg
Sodium:
1379
mg
Potassium:
838
mg
Fiber:
5
g
Sugar:
8
g
Vitamin A:
665
IU
Vitamin C:
13
mg
Calcium:
226
mg
Iron:
5
mg