Old fashioned baked macaroni and cheese, topped with crispy and buttery herb and garlic breadcrumb topping. Classic recipe made easy!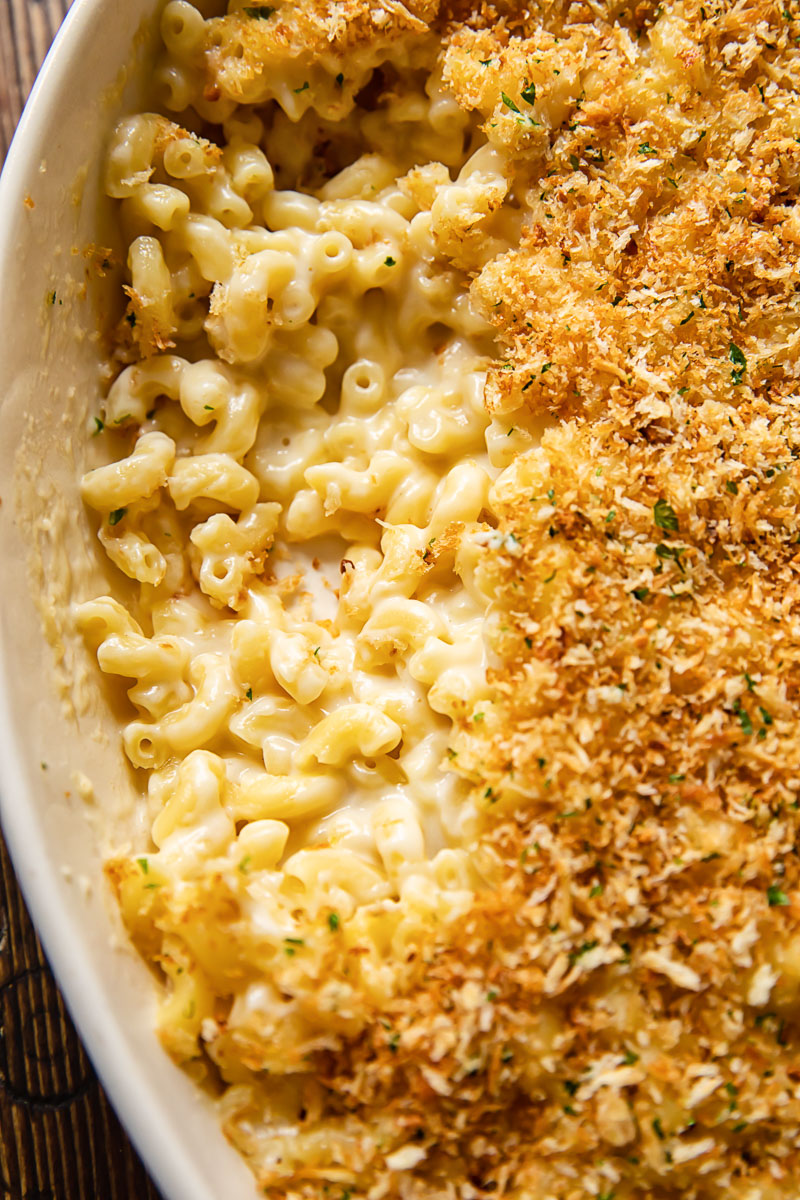 Creamy macaroni and cheese is in our family's top 5 dishes. My husband's always been a diehard fan and passed his passion on to the kids.
I don't make it too often but whenever I do, a mini celebration ensues. For a few brief moments, I feel like the woman of the hour.
Mac and Cheese Recipes
I've always resisted the classic recipe. Not sure why but most likely due to the fact I've been fed bad versions in the past. So I wrongly assumed that macaroni and cheese, made the traditional way, was bland, stodgy and not exciting enough to repeat.
So I tried to re-invent it by coming up with my own interpretations. The first one was Cheddar and Gruyere Mac and Cheese with Polish Kielbasa, which is actually pretty damn good.
I wanted to make a more sophisticated version of the classic macaroni and cheese with cut-up hotdogs, my husband loved so much. So I used funky shaped pasta, better (read "French") cheese and smoky sausage. Funny enough, it worked. My family and my readers fell in love with that creation.
This inspired me to go on and make Bacon and Brie Mac and Cheese, then Layered Italian Macaroni and Cheese. All good efforts but not exactly the thing people want when the craving for mac and cheese hits. They want pure, unadulterated, classic version. So here it is!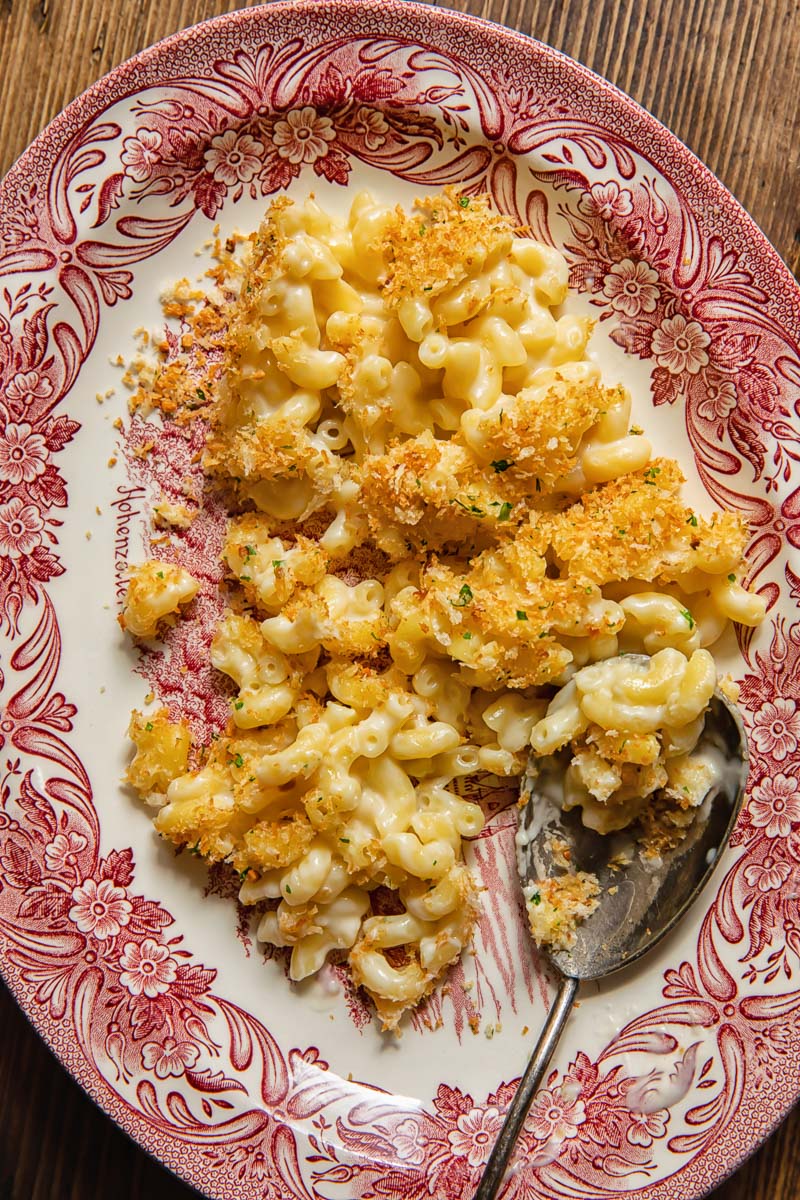 Old Fashioned Macaroni and Cheese
We all imagine the same picture when we hear the words old fashioned mac and cheese. Macaroni, practically swimming, in that creamy, cheesy sauce and topped with crispy breadcrumbs.
And that is exactly the recipe I am bringing to you today. Classic but with slightly better ingredients than they used in the 50s. Things move on and we need to embrace the progress.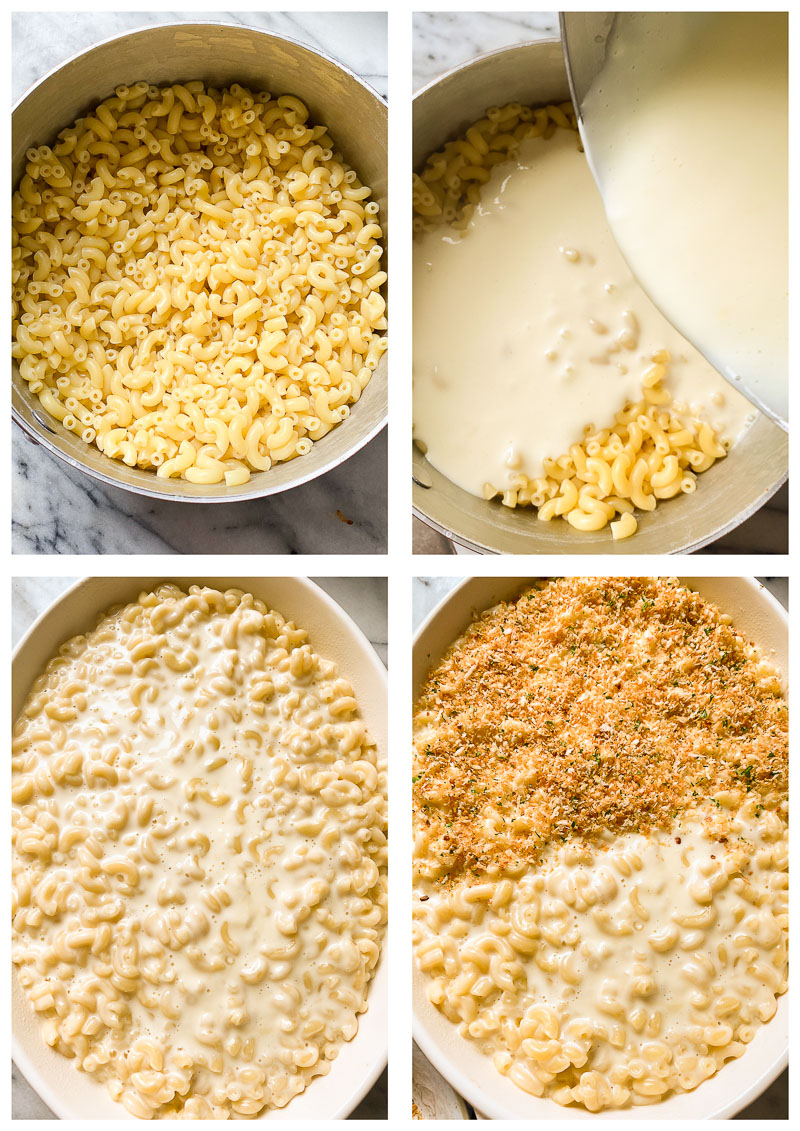 Recipe Tips and Notes
My biggest tip for baked macaroni and cheese is not to overbake it!! I put mine in the oven only for 10 minutes at 200C/400F. This allows the breadcrumb topping to crisp up but leaves the sauce rich and gooey! Baking it longer is unnecessary since all ingredients are hot and cooked already. It will only dry out your sauce.
My other important tip is to use good quality cheese, which you will grate yourself. I get it, pre-grated cheese is convenient but it will not produce smooth sauce. Due to an anti-caking agent they pack the cheese in, sauce made with pre-grated cheese comes out grainy and lacking in flavour.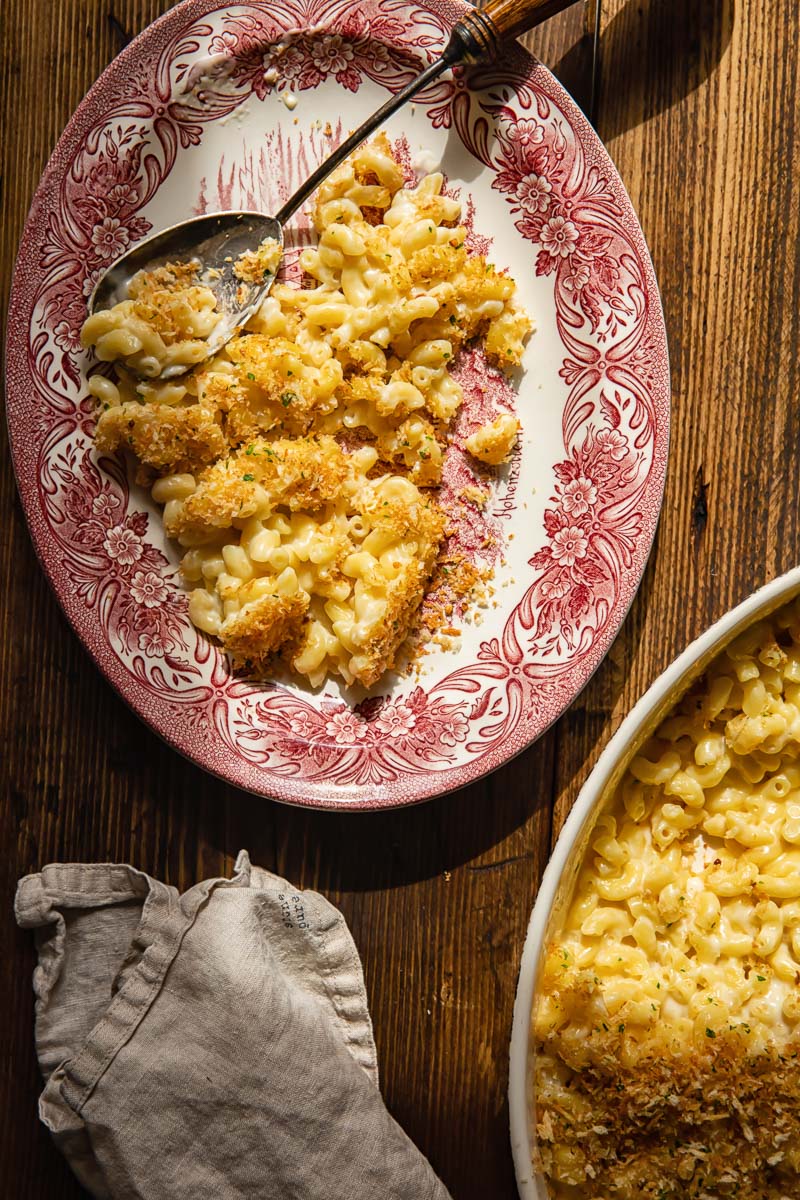 If you are a cheddar cheese purist, go ahead and use it but go for a good quality cheese with loads of flavour. I personally love a combination of medium to aged cheddar (they only sell white cheddar in the UK) and Gruyere. The latter gives the sauce sharpness, which is so nice to flavour a pound of bland macaroni!
Finally, my favourite breadcrumbs to use is Panko. Nothing can compare to them. Toppings made with Panko breadcrumbs are unparallel in texture. So light and crispy!
Favourite CREAMY Pasta Recipes: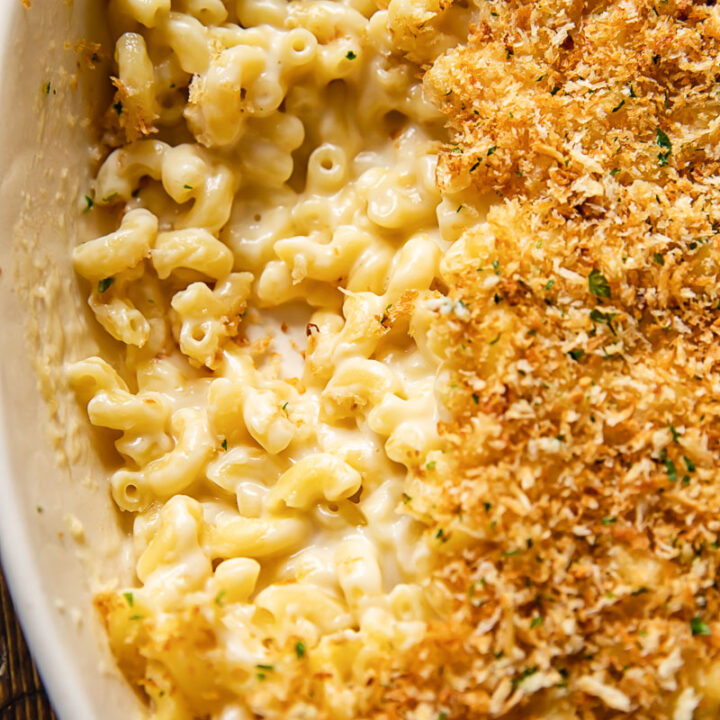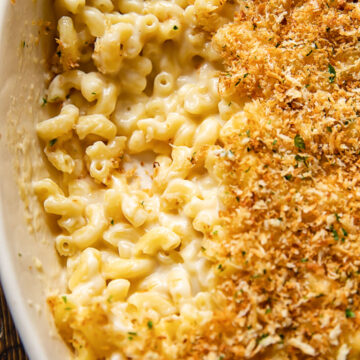 Baked Macaroni and Cheese with Breadcrumb Topping
Old fashioned baked macaroni and cheese topped with crispy and buttery herb and garlic breadcrumb topping.
Ingredients
1

lbs

macaroni

3

tbsp

butter

3

tbsp

flour

500ml/2 cups

whole milk

360g/3 cups (12 oz)

grated Cheddar cheese

or a mix of Cheddar and your favourite cheese

salt to taste

60g/1/2 cup

Panko breadcrumbs

1

tbsp

salted butter

1

clove

garlic

pressed or grated

1

tbsp

parsley

finely chopped
Instructions
Cook the macaroni in a large pot of salted water according to package instructions. Preheat the oven to 200C/400F.

Meanwhile, make the cheese sauce by melting the butter in a small saucepan over medium heat, blend in flour with a wire whisk. Continue cooking for 1-2 minutes while stirring the entire time. The mixture will turn yellow and start to smell pleasantly nutty. Now add the milk gradually while stirring to avoid lumps, allow the sauce to thicken for 5-7 minutes over medium heat. Stir in the grated cheese and allow it to melt and fully incorporate into the sauce. Add salt to taste. (Don't forget the salt!)

Make the breadcrumb topping by melting the butter in a frying pan, then add 1 clove of crushed garlic, sauté over low heat for 30 seconds, add breadcrumbs and chopped parsley, cook until the breadcrumbs are slightly toasted. Set aside till needed.

Drain the pasta, then return it to the pot and pour the cheese sauce over it, stir to coat. Turn out the macaroni and cheese into a buttered baking dish (at least 3.5-4 Quart/3.5-4 L capacity). Sprinkle the prepared breadcrumb topping all over and bake in the preheated oven for 10-15 minutes. (Baking it longer will only dry out the sauce!)
Nutrition
Calories:
700
kcal
Carbohydrates:
73
g
Protein:
28
g
Fat:
32
g
Saturated Fat:
18
g
Polyunsaturated Fat:
2
g
Monounsaturated Fat:
7
g
Trans Fat:
1
g
Cholesterol:
90
mg
Sodium:
949
mg
Potassium:
370
mg
Fiber:
3
g
Sugar:
7
g
Vitamin A:
1022
IU
Vitamin C:
1
mg
Calcium:
563
mg
Iron:
2
mg