This chicken pasta tossed in a creamy sauce with a touch of mustard is a delicious alternative to your beloved Chicken Fettuccine Alfredo.
If mustard is not your thing, take a look at our classic Creamy Pasta Sauce recipe.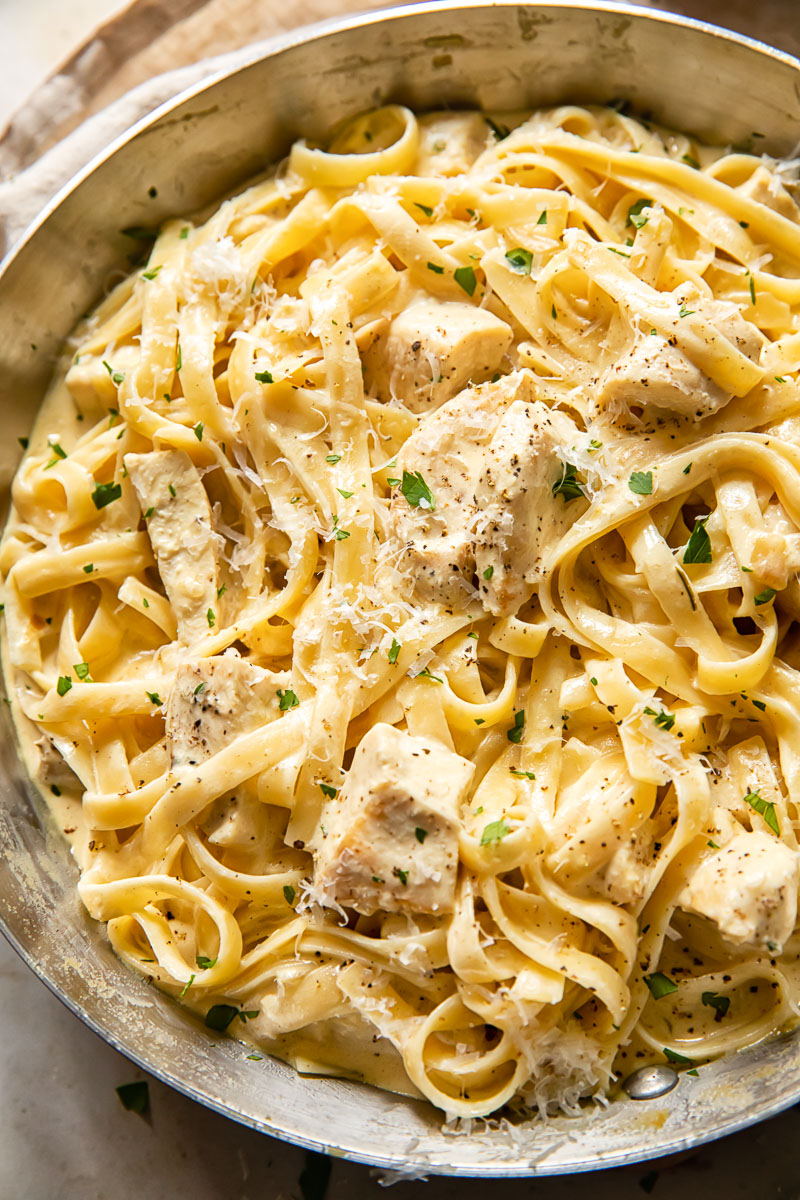 One of my recipes for chicken in wine and mustard sauce consistency gets rave reviews. The most common question I get asked about that recipe is what to pair the chicken with.
And while I recommend serving it with a potato mash or rice, I always thought that mixing the sauce with pasta would also work. The only way to know for sure is to test it, right? The recipe I am sharing to day is a delicious result of that test.
Chicken breasts tossed in a creamy white wine and mustard sauce, then mixed in with tagliatelle or fettuccine. This pasta recipe has a bit of an edge due to the mustard used. I personally loved how the Dijon mustard balances out the cream sauce!
Just don't expect it to taste like an Alfredo sauce. It looks similar but the taste is quite different!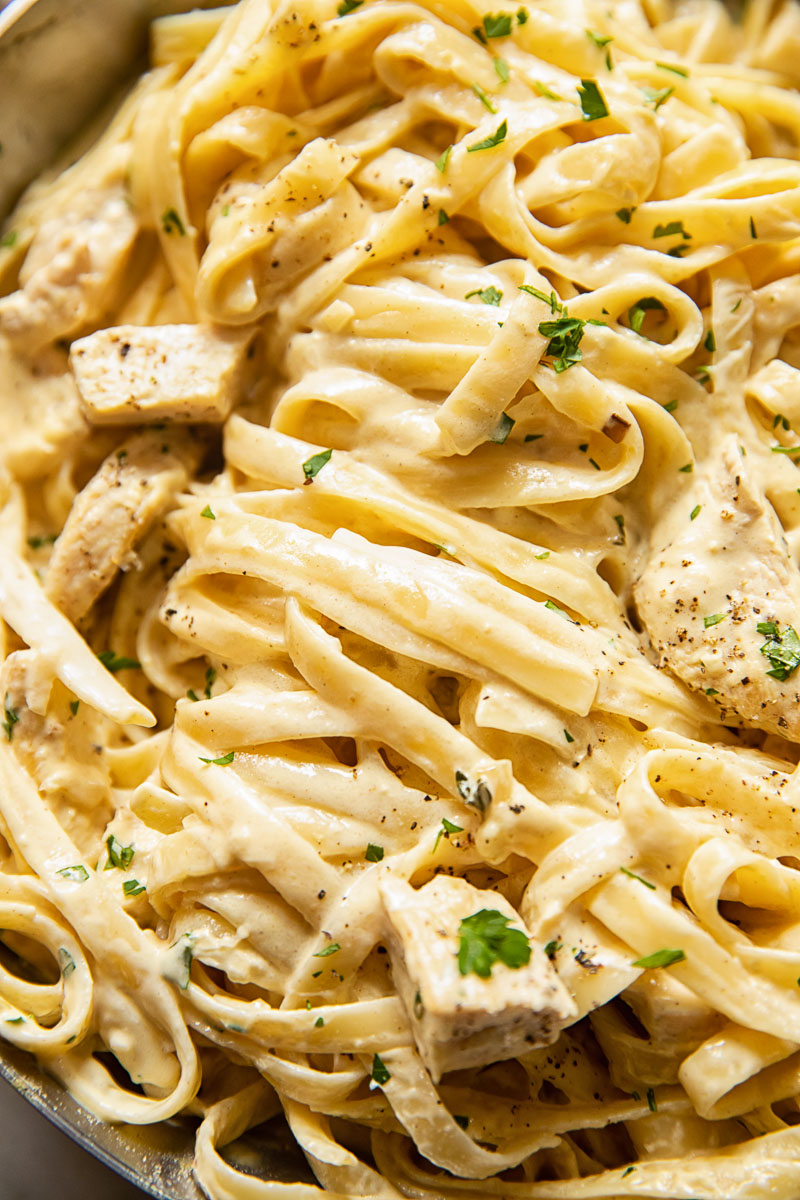 Creamy Mustard Pasta Sauce
The sauce itself is too delicious for words. It's so versatile! As I already mentioned, it works well with chicken. It is wonderful with salmon. And as it turns out it flavours the pasta brilliantly.
A mix of dry white wine, Dijon mustard and heavy cream come together beautifully and add an unexpected zing to the pasta. There is no cheese in this sauce.
The flavour comes from garlic, shallots and thyme, cooked in olive oil. The heavy cream is balanced out by the dry white wine and the tangy Dijon mustard. It might be an unusual flavour combination for pasta but it's a delicious one!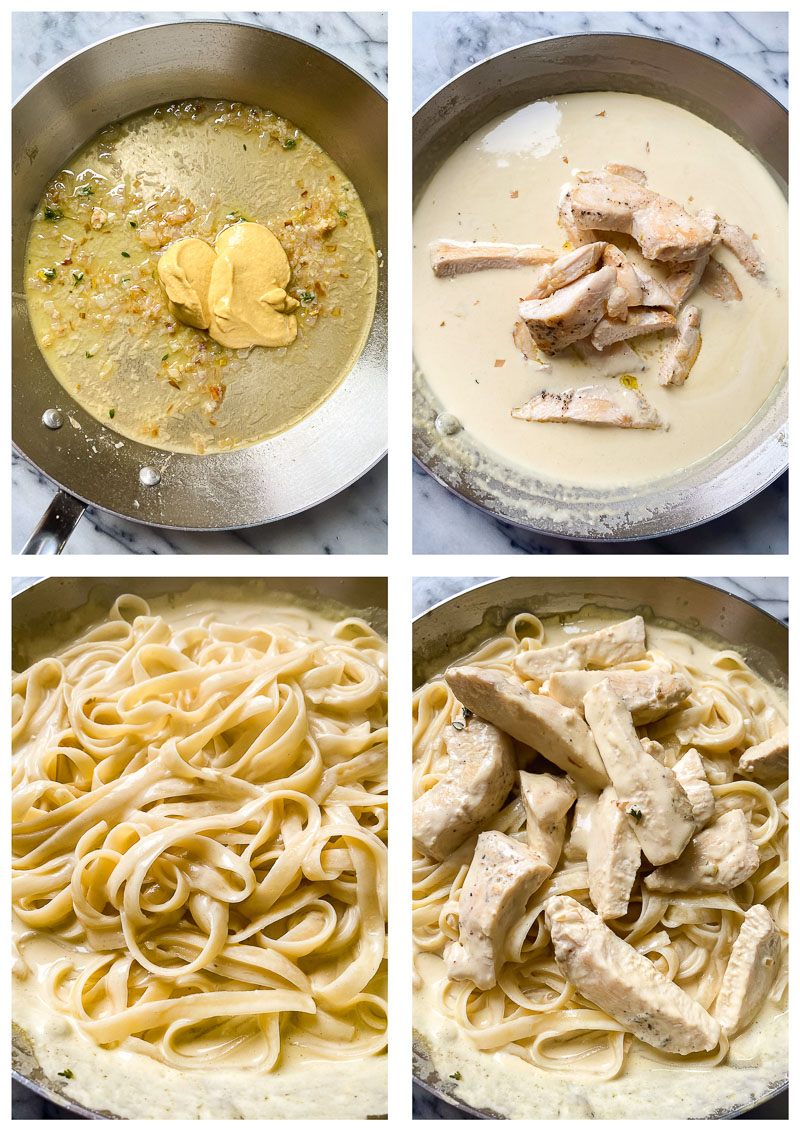 Recipe Tips and Notes
As I've already mentioned, mustard taste might be a bit much for some, so adjust the quantity according to your taste. I recommend anywhere between 1 tablespoon and 2 tablespoons but start on the conservative side.
I made this recipe with chicken breasts but salmon, shrimp or scallops would be wonderful too.
I also prefer using shallots for delicate cream sauces. They cook much faster, have a milder taste unlike onions, which need longer time and might still remain a bit crunchy by the end of the cooking time.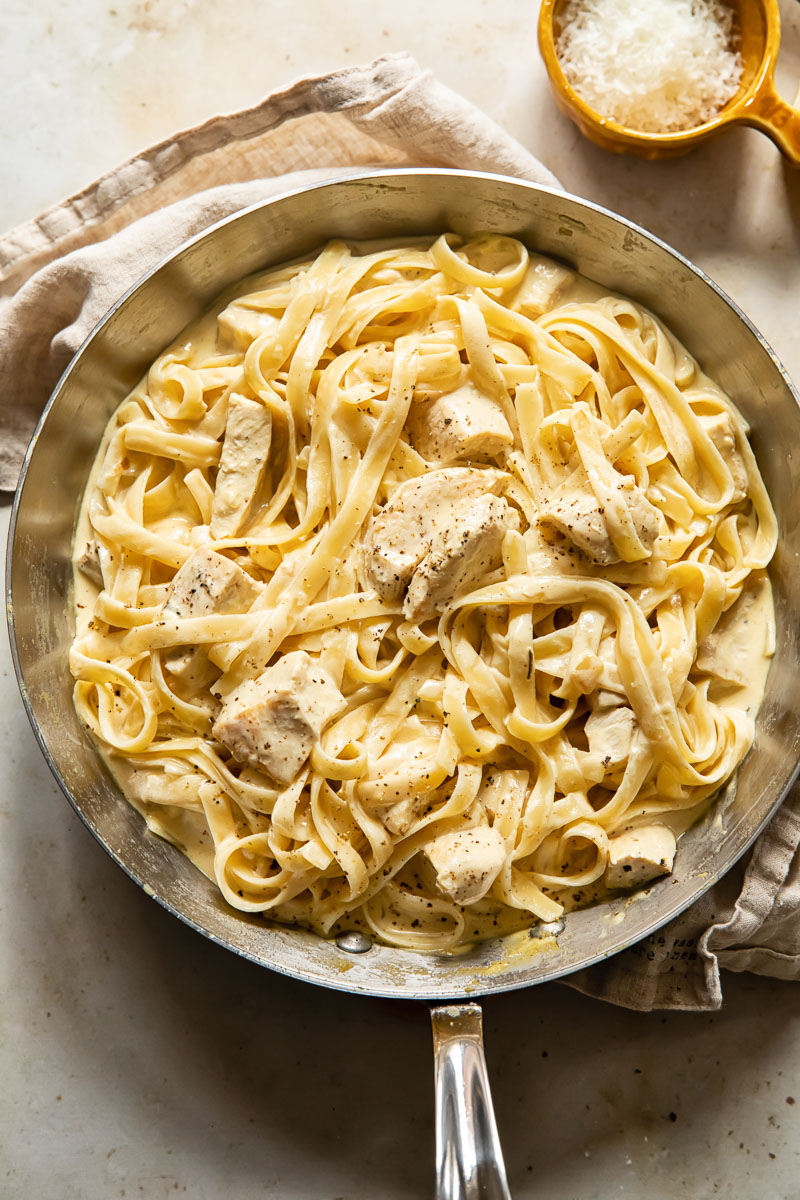 Dry white wine like Sauvignon Blanc, Chardonnay or Pinot Grigio are great in this chicken pasta. Or you can use dry Vermouth. It keeps in a cupboard for ages. If you don't use wine in your cooking regularly, it's a great option.
Finally, I always reserve some pasta water to add to the sauce later. Pasta keeps absorbing liquid as it sits, so it often needs a bit more right before serving as it starts to look dry all of a sudden. That's when you can stir in a splash of the cooking liquid to loosen the sauce.
Favourite Creamy Pasta Recipes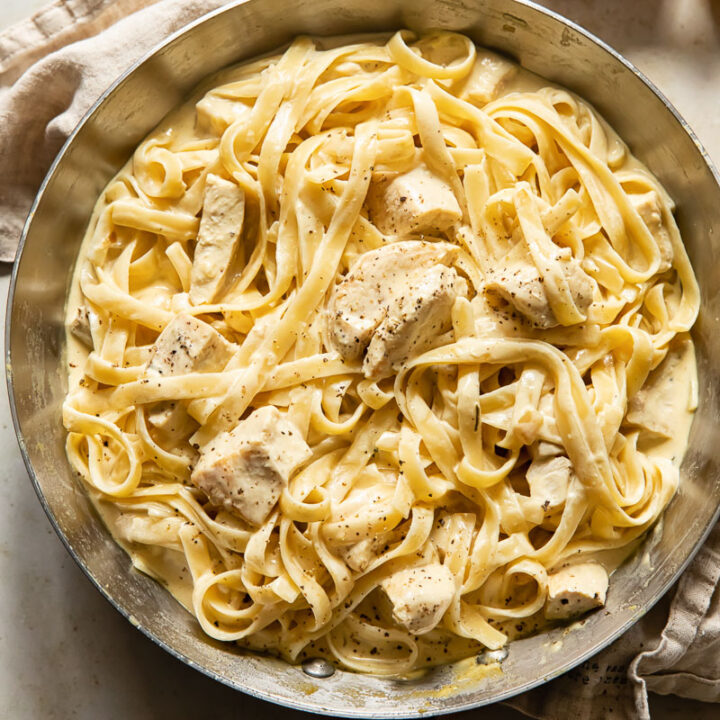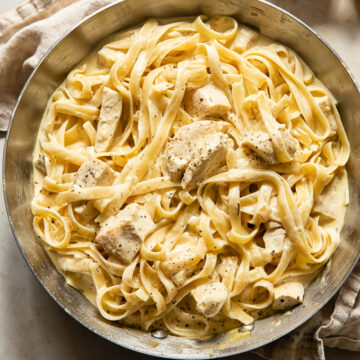 Creamy Mustard Chicken Pasta
This chicken pasta tossed in a creamy sauce with a touch of mustard is a delicious alternative to your beloved Fettuccine Alfredo.
Ingredients
1

tbsp

olive oil

2

chicken breasts

skinless and bonelss

salt and pepper

1

shallot

or ½ onion, chopped

2

clove

garlic

4

sprigs

thyme

or ½ tsp dried thyme

80ml/1/4 cup

dry white wine

such as Sauvignon Blanc

1

tbsp

Dijon mustard

175ml/2/3 cup

chicken stock

250ml/1 cup

double cream/heavy cream

salt to taste

1

lbs

pasta

such as fettuccine or tagliatelle
Instructions
Get the pasta cooking in a large pot of salted water according to package instructions. Meanwhile, slice the chicken breasts in bite-sized pieces, season with salt and pepper. Heat the olive oil in a large frying pan and brown the chicken on both sides for about 5-7 minutes. Remove to a plate.

To the same pan, add the chopped shallot and cook for 5 minutes over low heat, then add the minced garlic and thyme and cook for half a minute longer, then deglaze the pan with the white wine and let the wine reduce for 2-3 minutes.

Add the chicken stock to the pan together with the Dijon mustard and heavy cream, stir to combine and let it simmer for a couple of minutes, season with salt to taste. Bring the chicken back to the pan and coat with the sauce. Drain the pasta and reserve ½ cup of the pasta water. Bring the pasta to the pan and toss with the sauce, add a splash of pasta water if the pasta is getting too dry. Add a pinch of salt if needed. Serve topped with grated Parmesan cheese.
Nutrition
Calories:
559
kcal
Carbohydrates:
60
g
Protein:
28
g
Fat:
21
g
Saturated Fat:
11
g
Polyunsaturated Fat:
2
g
Monounsaturated Fat:
7
g
Trans Fat:
1
g
Cholesterol:
106
mg
Sodium:
1342
mg
Potassium:
544
mg
Fiber:
3
g
Sugar:
3
g
Vitamin A:
670
IU
Vitamin C:
3
mg
Calcium:
57
mg
Iron:
2
mg