Making your own Alfredo sauce is easy and requires less than 10 minutes! Use this method as the base for a huge variety of pasta recipes.
If you are after a lighter version, take a look at our Creamy Pasta Sauce Recipe.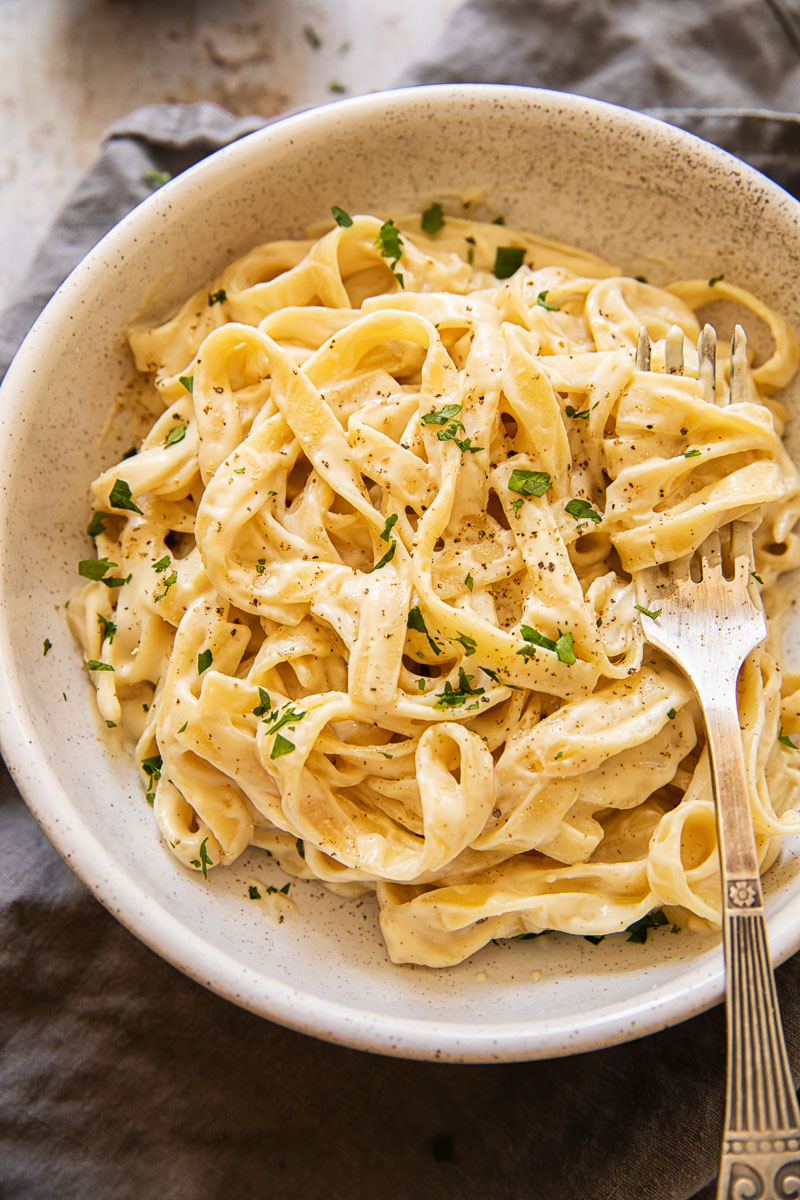 I still remember the days when I used to buy jarred Alfredo sauce thinking I could use shortcuts in the kitchen to get dinner on the table quicker.
Little did I know that homemade sauce takes almost as long to make from scratch as it is to heat up the store bought variety. All you need is 10 minutes! And good quality ingredients.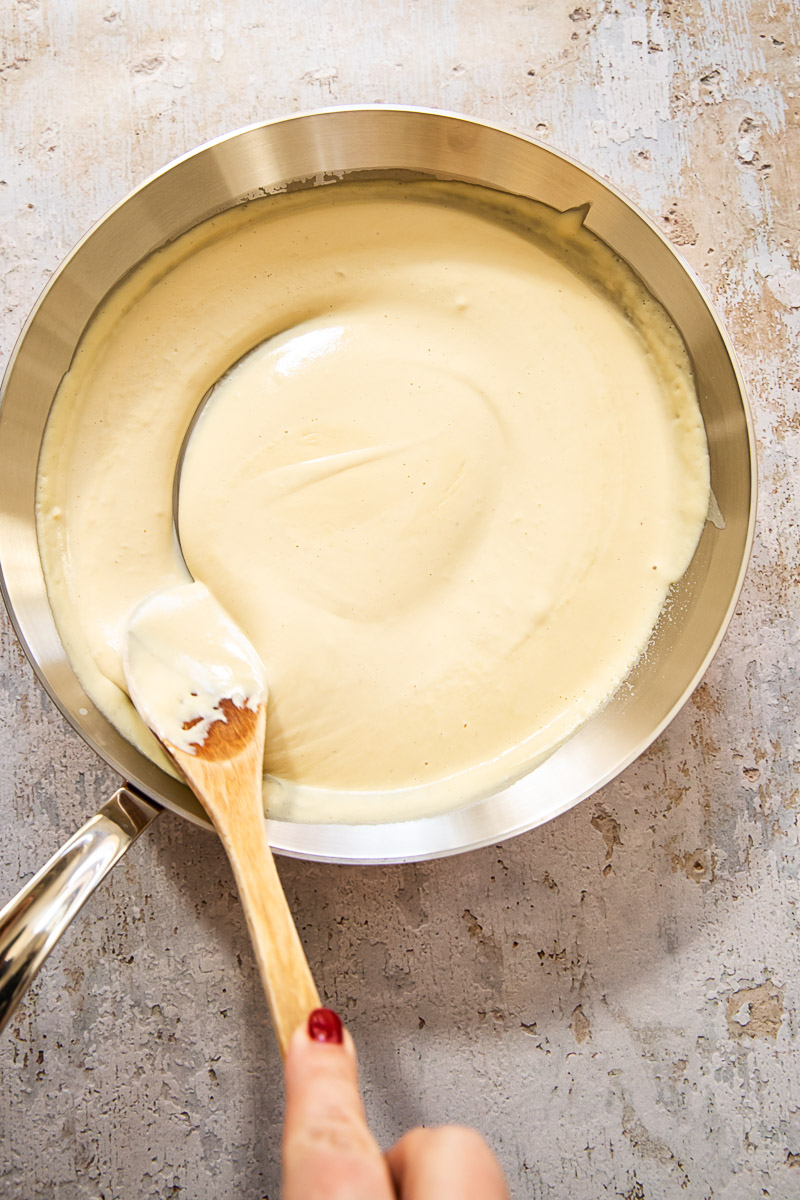 Three Ingredients
People put all sorts of things in their Alfredo sauce and it is their personal choice. I however believe that only 3 ingredients are truly needed for an amazing tasting cream sauce for your fettuccine.
Butter, heavy cream and freshly grated Parmesan cheese. Okay, 4 if you like to add a whisper of freshly grated nutmeg.
This of course, is the classic recipe. So if you are looking for an alternative way of making the sauce, take a look at this dairy free Vegan Alfredo Sauce from The Veg Connection.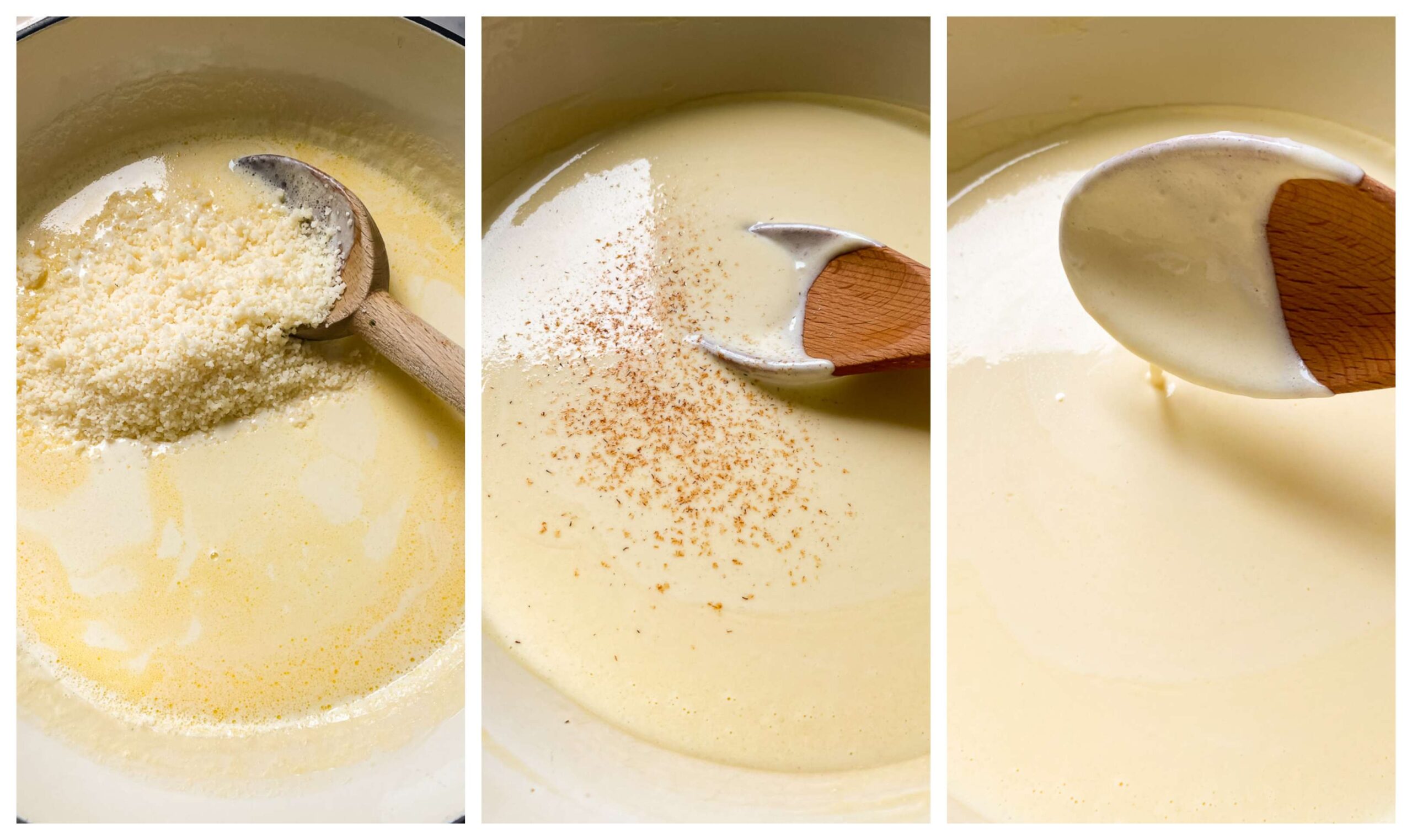 Recipe Tips and Notes
I am sure you noticed I use "freshly grated" quite often but I truly believe that fresh ingredients are where the flavour is at.
If you use fresh Parmesan cheese instead of pre-grated you will need less of it to get the flavour.
Grating your own Parmesan also improves the texture of the sauce. Pre-grated cheeses are packed with anti-caking ingredient mixed in to prevent the cheese clumping up. They are no doubt convenient but sauces made with pre-grated cheeses tend to be less smooth because of it.
Use heavy cream with at least 35% fat content for the right consistency. Using lower fat cream such as half and half or light cream will result in a thinner sauce.
Finally, my main tip would be to combine all ingredients at very low heat while stirring the sauce. This will allow the cheese to melt and incorporate slowly into the cream while creating a silky smooth sauce.
At the very end, grate the nutmeg over the sauce on a very fine grater. Just a few gratings will infuse the sauce with the most beautiful aroma without overpowering it. If you use pre-grated nutmeg, add a tiny pinch.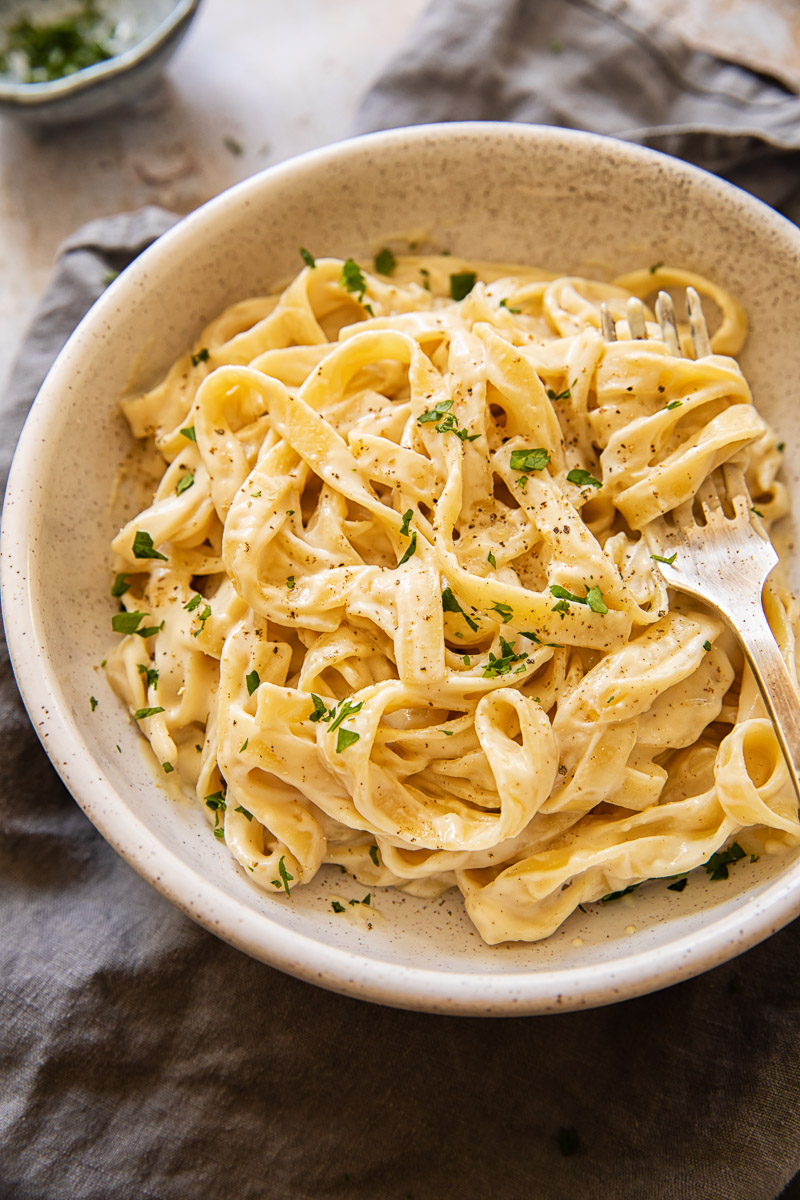 Serving Suggestions
The most famous and favourite pairing for this luscious sauce is fettuccine pasta. Of course, you can use any pasta you like or have on hand.
Since the cream sauce is quite rich I recommend to keep the rest of the dishes lighter. Lemon Garlic Green Beans with Parmesan or Roasted Broccoli with Sun-Dried Tomatoes and Chillies will be excellent side dishes. Both are inspired by Italian flavours, so they will pair well with your pasta course.
Favourite Pasta Recipes with Cream Sauces: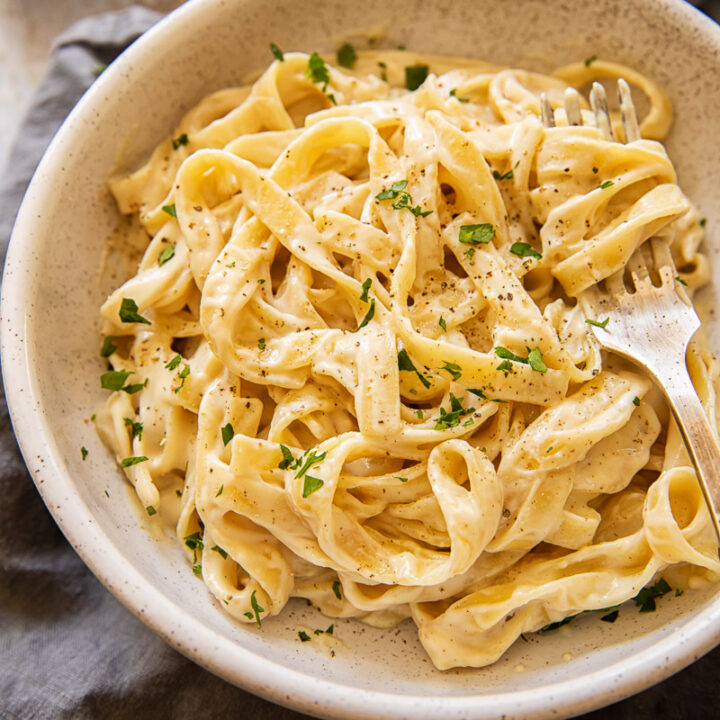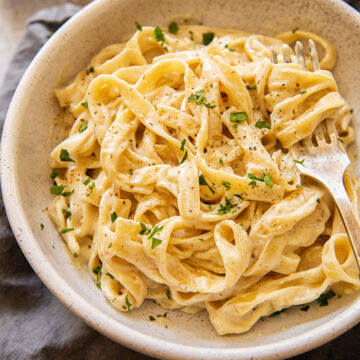 Homemade Alfredo Sauce
Making your own Alfredo sauce is easy and requires less than 10 minutes!
Ingredients
3

tbsp

butter

500ml/2 cups

double/heavy whipping cream

120g/1 ¼ cup

freshly grated Parmesan cheese

1

pinch

grated nutmeg

salt to taste
Instructions
In a saucepan or a deep pan, melt the butter over low heat, then add the heavy cream and warm it over low heat for 2-3 minutes.

Add the grated Parmesan cheese and continue heating the cream over low heat while stirring with a wooden spoon or a whisk until the cheese has melted and fully incorporated into it. Do not allow the sauce to come to a boil. It should only simmer very lightly. Finish it off with a few gratings of nutmeg, taste and add a pinch of salt if needed.
Nutrition
Calories:
417
kcal
Carbohydrates:
3
g
Protein:
9
g
Fat:
42
g
Saturated Fat:
26
g
Polyunsaturated Fat:
1
g
Monounsaturated Fat:
12
g
Trans Fat:
1
g
Cholesterol:
143
mg
Sodium:
790
mg
Potassium:
83
mg
Fiber:
1
g
Sugar:
1
g
Vitamin A:
1556
IU
Vitamin C:
1
mg
Calcium:
293
mg
Iron:
1
mg