This creamy tagliatelle, a bottle of great Chianti, someone you love are all you need for a lovely date night in!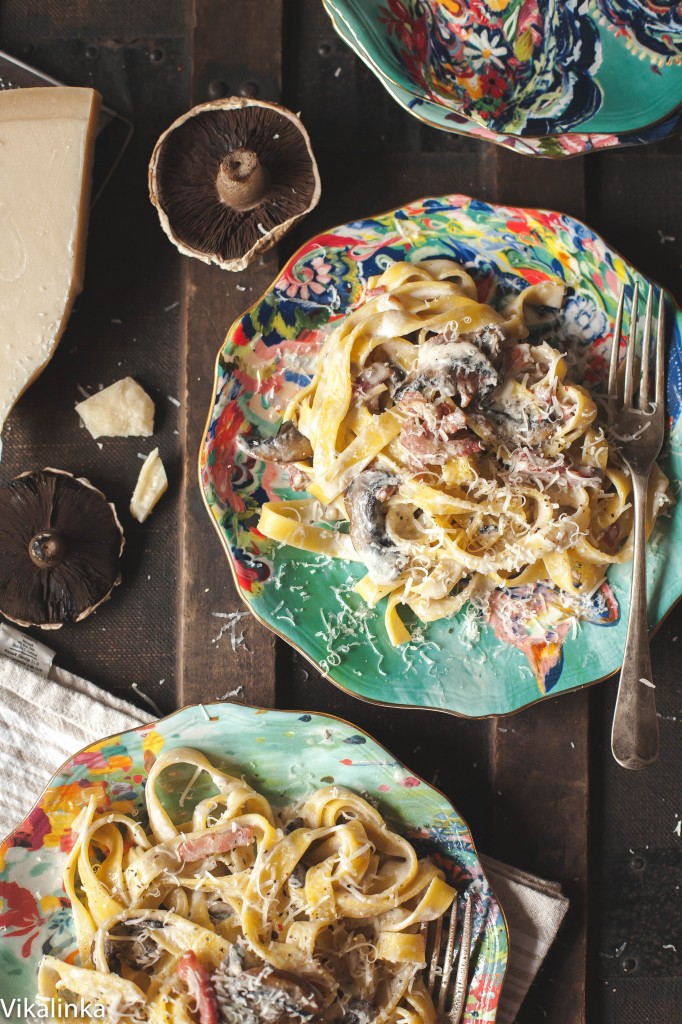 "Dates at home could be fun. Really we shouldn't feel like we are resorting to "the second best" because we are parents now and can't go on spontaneous adventures like our younger selves used to do!"
As hard as I tried I just couldn't convince myself in the truth of that statement. As I was feverishly running ideas through my head of what to do, turning to various websites and even attempting to enlist the help of my readers on Facebook. No such luck.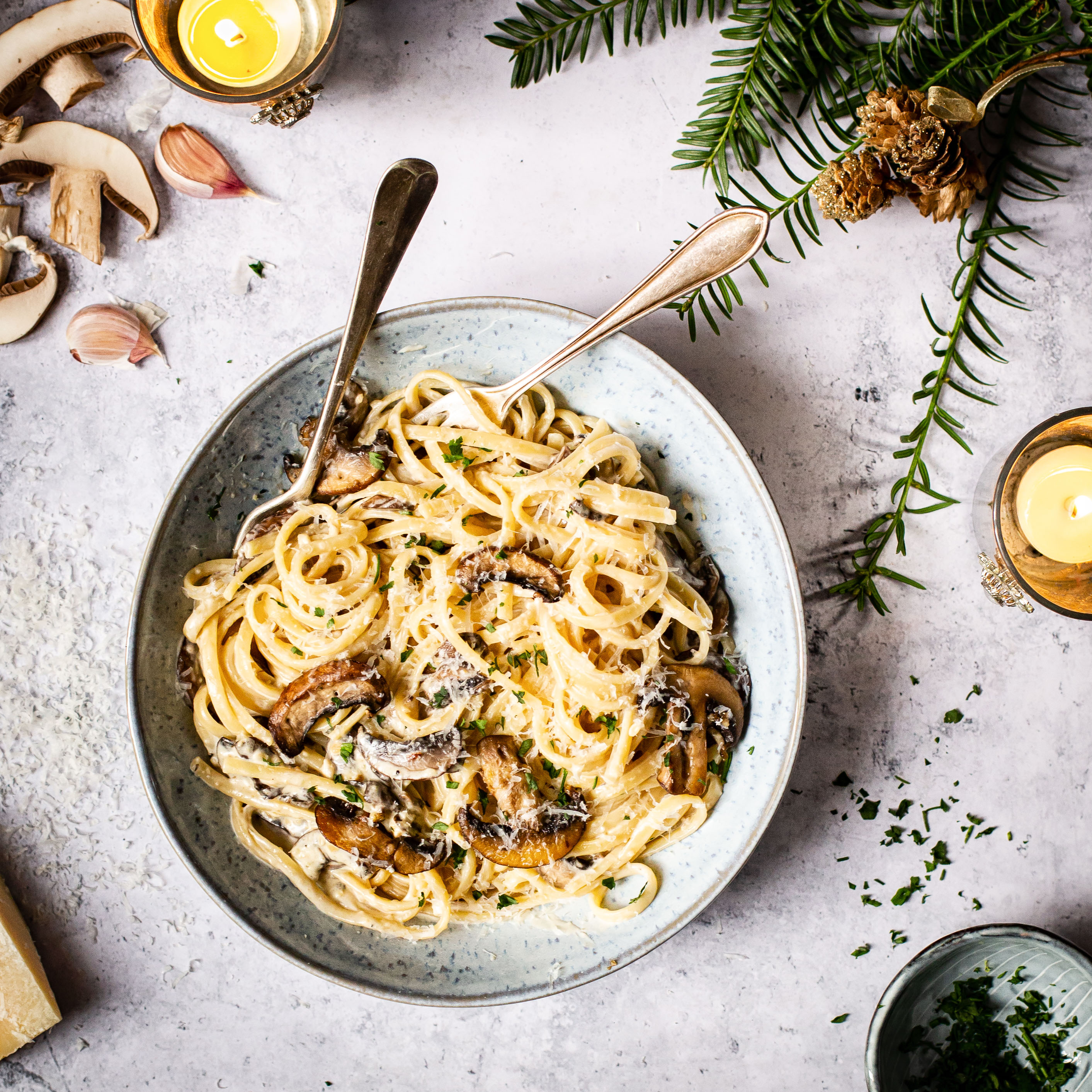 Then Brad came to the rescue and announced we are playing Black Jack using Starburst as chips for the lack of a better alternative.
I was down to my last chip 15 minutes into the game …apparently I am no Rain Man and card counting is not my forte, but then again one doesn't become an English teacher if in possession of mad maths skills.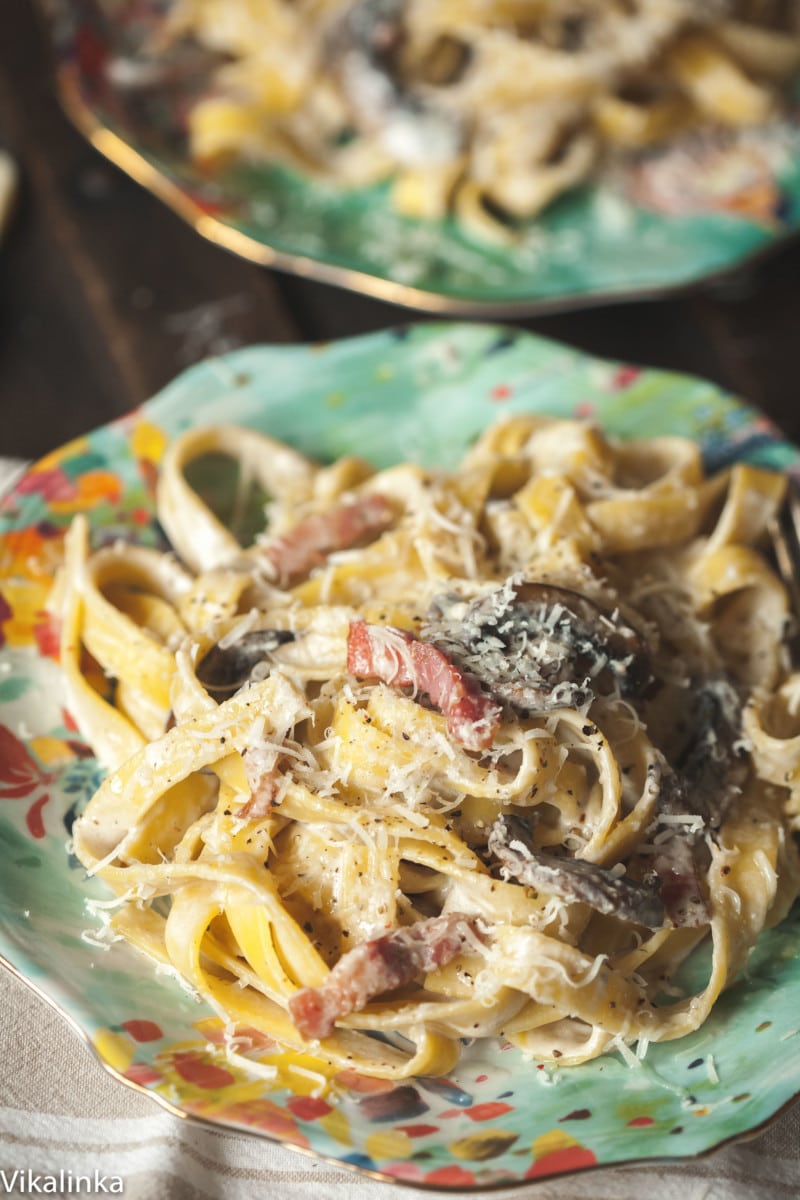 We finished the night talking about all kinds of things we want to do and places we want to travel. It took us a couple of minutes to recover from the shock of realisation that 10 years from now both of our kids will be gone for university. Gulp.
How does this happen so quickly? Life speeds up with every year. We absolutely have to pause and have these long talks to absorb every bit of it.
I take my earlier grumble back. Home dates could be just as fun…funner actually because, you know, great things are nearby and you don't have to take a train home.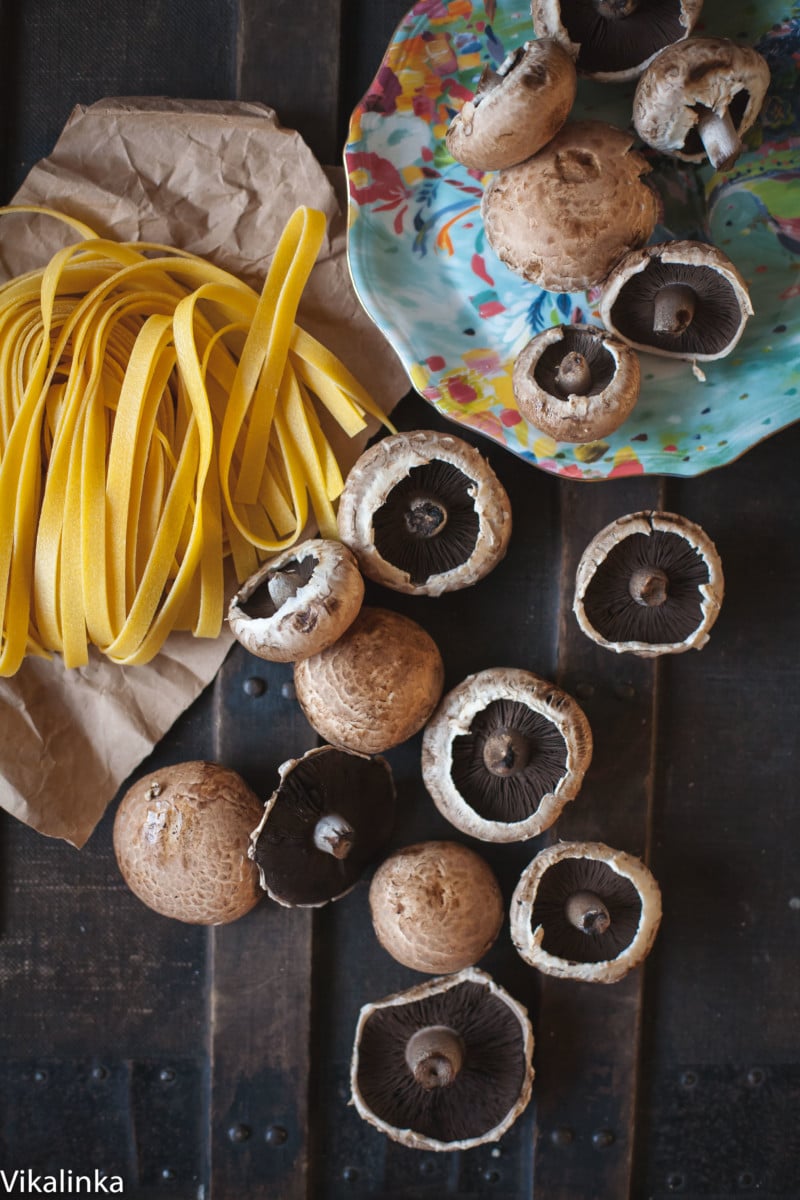 Special nights call for special food, right? But who wants to spend the evening getting hot and sweaty in the kitchen – unless it's your thing and I am not judging.
I want my date night food to be quick and easy but should preferably look and taste like it came from a Michelin star restaurant.
I've got you covered. This pasta cooked with bacon, portobello mushrooms and truffle oil is so straightforward, anyone can make it!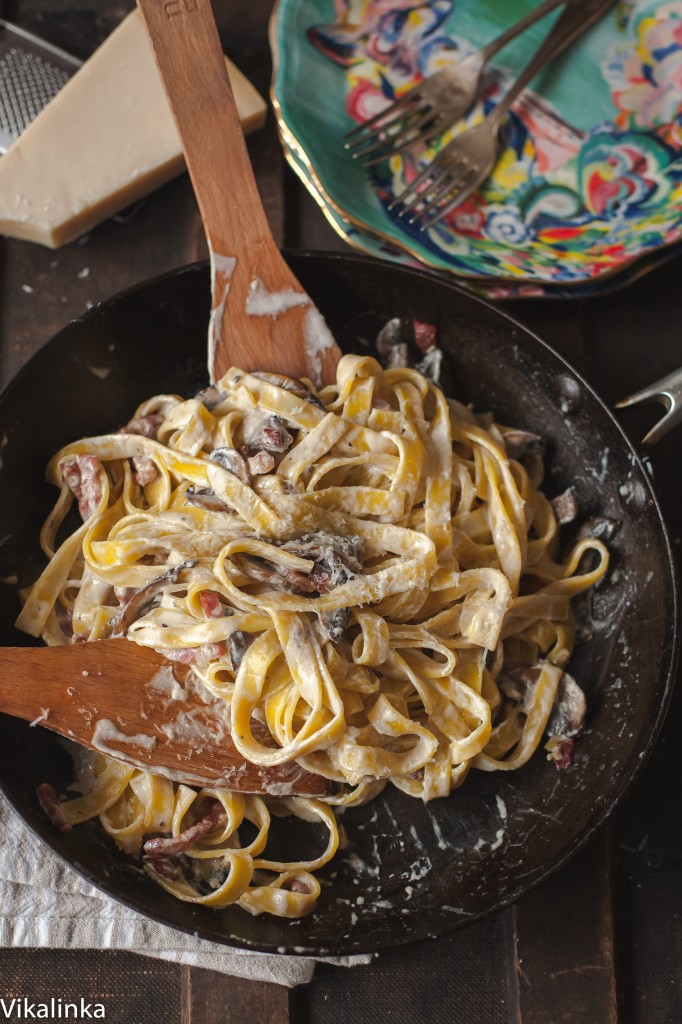 This tagliatelle dish is a beauty to behold. If you are an Italian food lover you could probably just close your eyes and imagine how enticing this is.
Fresh pasta tossed with cream, bacon, Portobello mushrooms and Parmesan can taste, but did I mention truffle oil?
It's an ingredient that's nearly impossible to describe if you've never had it before. After you have your first taste or sniff, it's a beautiful aroma you will recognise anywhere.
It's unmistakable. So earthy and luxurious. Just the thing to take your date night to the realm of magical.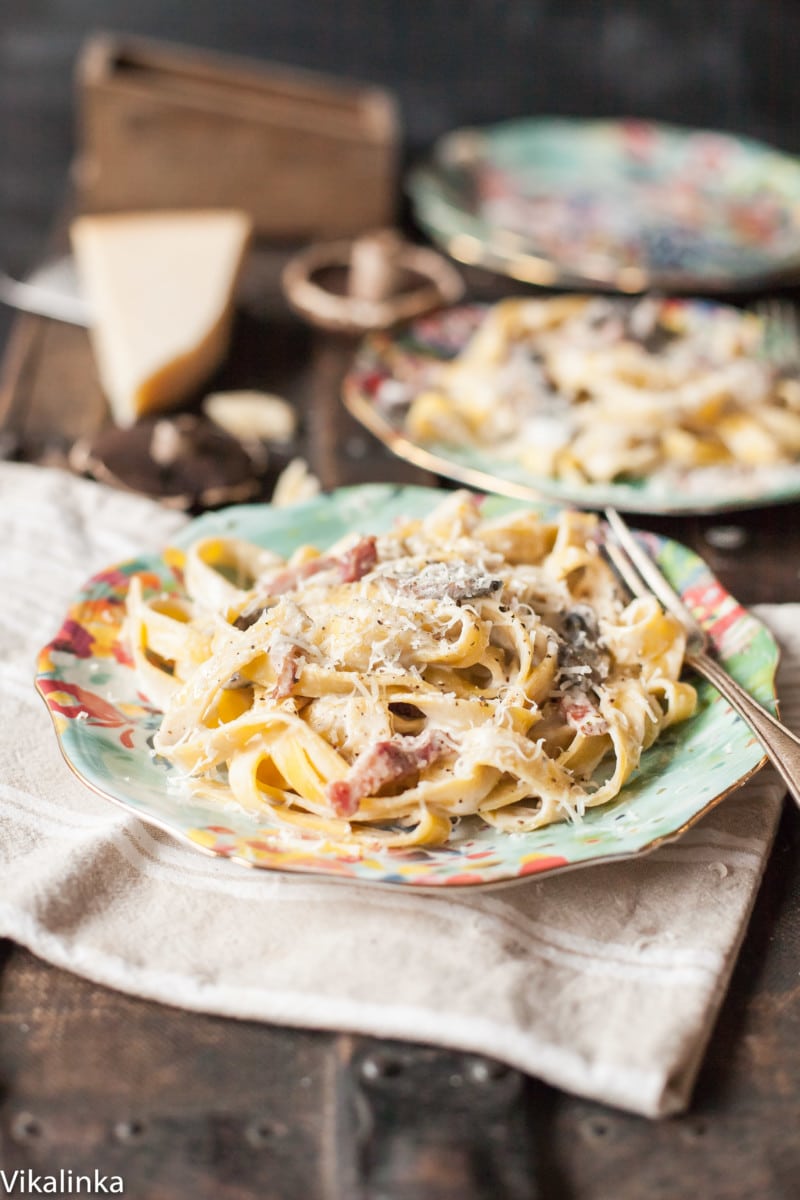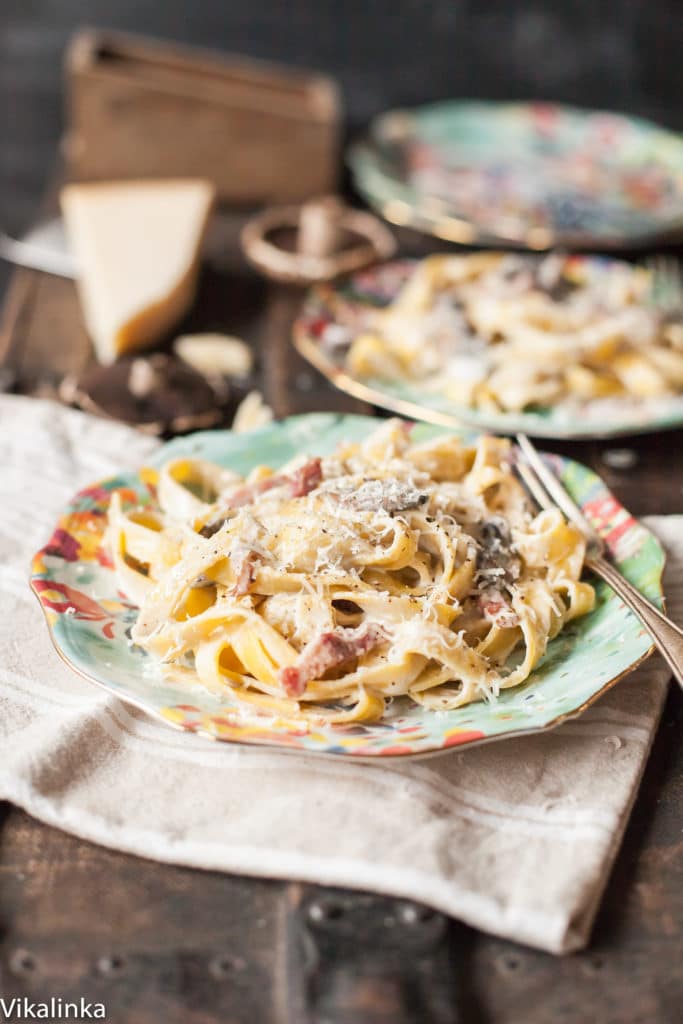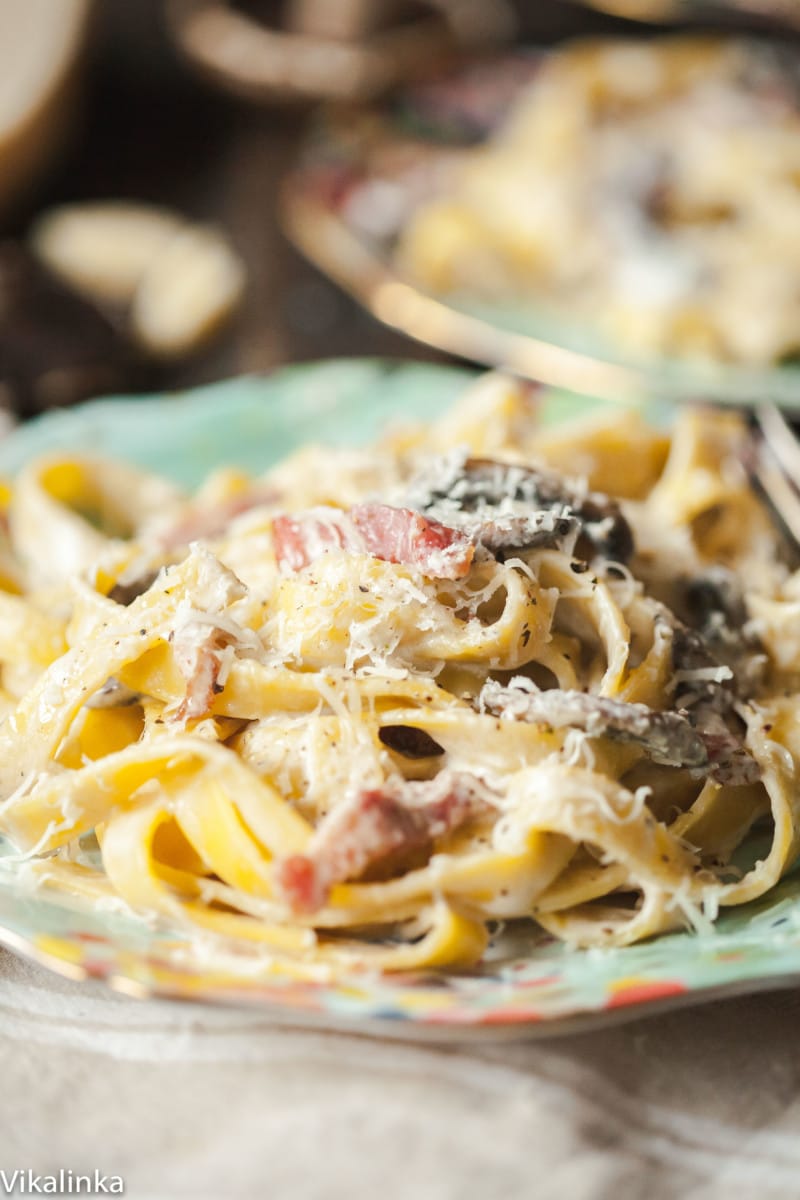 Ingredients
1

tbsp

olive oil

2-3

strips of bacon/pancetta

chopped

4-5

baby portobello mushrooms

sliced

200

gr

fresh or dried tagliatelle or linguine

1/3

cup/100 ml double cream/heavy cream

2

tbsp

freshly grated Parmesan cheese

2

tsp

truffle oil

salt

fresh ground pepper
Instructions
Cook pasta in salted water according to package directions. Note that fresh pasta only takes about 3 minutes to cook after the water boils.

While pasta is cooking cook chopped bacon over medium heat in 1 tbsp of olive oil until it renders fat, drain it if your bacon is too fatty.

Add sliced portobello mushrooms and cook for 5 minutes over medium heat, add salt and pepper.

Drain cooked pasta and reserve 1/2 cup of water you cooked pasta in. Do not rinse your pasta.

Take the pan with bacon and mushrooms off the heat.

To the pan add hot pasta, truffle oil, double/heavy cream and grated parmesan gently toss to coat.

Your pasta will absorb the sauce very quickly. Add reserved pasta water to loosen the sauce to a silky smooth consistency.

Add salt and pepper to taste.
Nutrition Facts
Creamy Tagliatelle with Bacon, Portobello Mushrooms and Truffle Oil
Amount Per Serving
Calories 789
Calories from Fat 378
% Daily Value*
Fat 42g65%
Cholesterol 86mg29%
Sodium 266mg12%
Potassium 916mg26%
Carbohydrates 83g28%
Protein 22g44%
Vitamin A 774IU15%
Calcium 118mg12%
Iron 2mg11%
* Percent Daily Values are based on a 2000 calorie diet.