This creamy tagliatelle pasta tossed with bacon, portobello mushrooms and drizzled with a touch of truffle oil is a real winner. Add a bottle of great wine plus someone you love and you've got yourself a lovely date night in!
Why not serve our Bruschetta as a delicious starter to your pasta! If you prefer a robust tomato sauce with your pasta, take a look at our Tagliatelle with Pancetta, Basil and Mozzarella.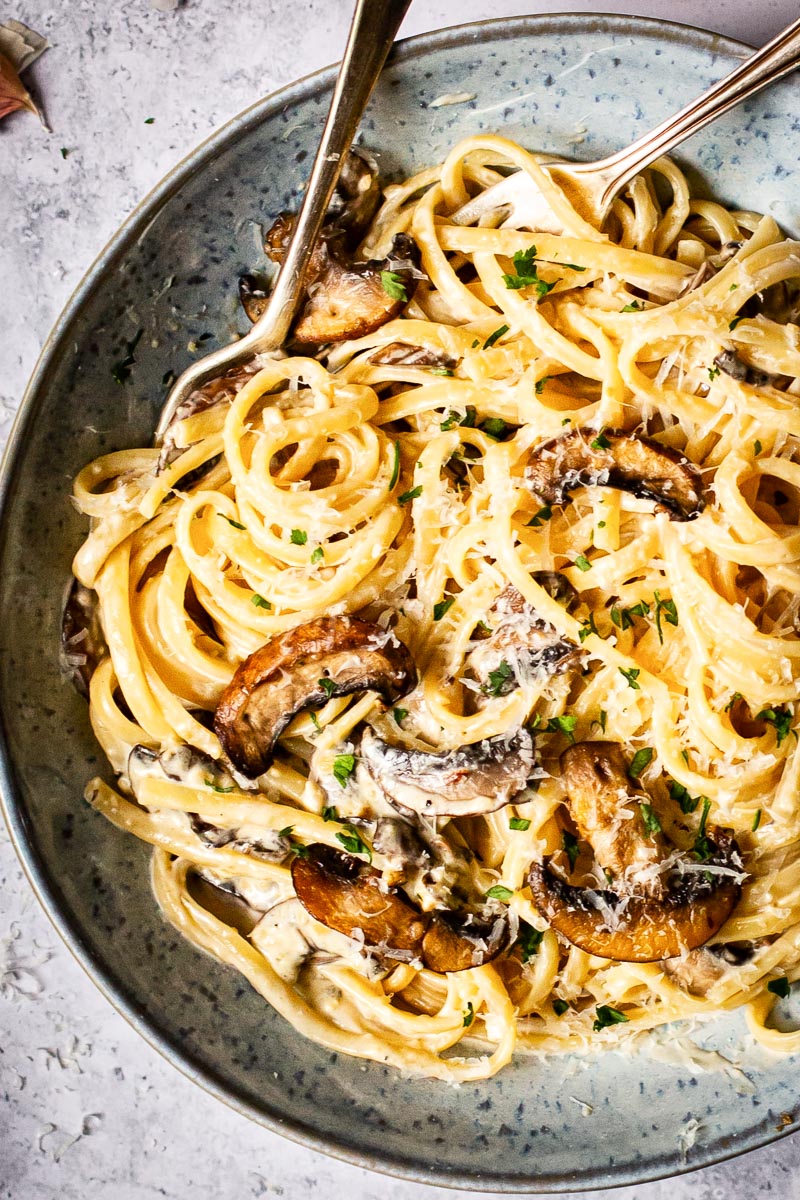 Over the years we've spent many date nights at home instead of going out, which is pretty typical for parents with young children.
And although we missed the excitement of leaving the house and joining the buzzy world for a night we made sure the food at home was always restaurant worthy.
This creamy pasta dish is something we prepare often. It combines the comfort and elegance in one simple recipe.
It's no surprise that variations of this recipe are peppered throughout this website. Pasta with pancetta and peas is one of them. Chicken and Bacon Pasta is another favourite. Or you can add a touch of tomatoes and have another tasty number in the form of Prawn Pasta with Tomato Cream Sauce.
And it all starts with this basic Pasta Cream Sauce. Once you master it, there is no stopping you.
My point is this recipe is very versatile. Add any ingredients you love and enjoy your Italian inspired dinner 20 minutes later. Yes, it's that simple.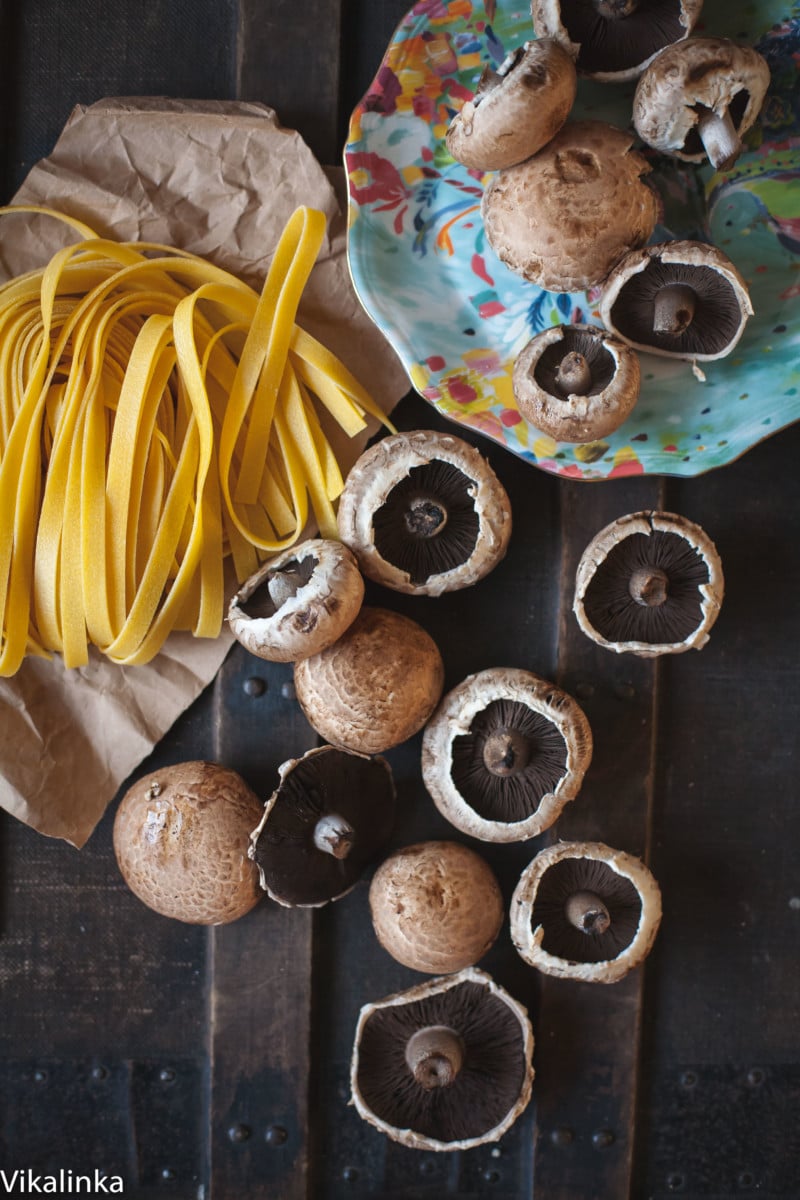 Special nights call for special food, right? I want my date night food to be quick and easy. But it should preferably look and taste like it came from a Michelin star restaurant.
Creamy Pasta Recipe
This pasta cooked with bacon, portobello mushrooms and truffle oil is so straightforward, anyone can make it!
Tagliatelle or fettuccine tossed with heavy cream, bacon, Portobello mushrooms and Parmesan cheese. You can also use linguine instead.
I used fresh pasta here but good quality dried pasta is just as good and will be a fair substitute. However if you are up to the challenge, here is a detailed tutorial on how to make fresh pasta at home.
Since it's a date night pasta dish I've skipped the garlic. But if garlic is something you cannot give up, go ahead and add 1 clove.
Instead of garlic flavour and to make it extra special I drizzled the dish with a couple of teaspoons of truffle oil. You can skip the oil if it's not your cup of tea.
Truffle oil is an ingredient impossible to describe if you've never had it before. After you have your first taste or a sniff, you will recognise its beautiful aroma anywhere.
Earthy and luxurious. Just the thing to take your date night intoto the realm of magical.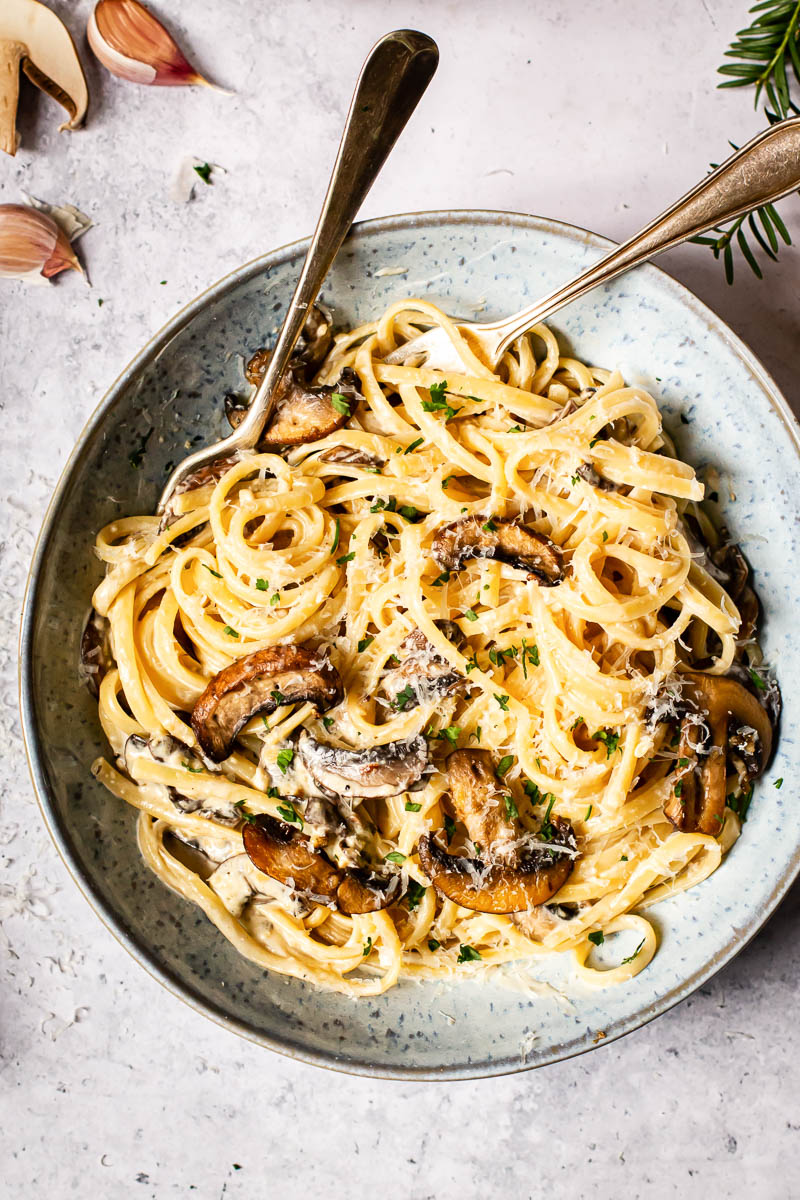 What Truffle Oil To Buy
There are two types of truffles oil. Black Truffle Oil and White Truffle Oil. Black tends to have a stronger, earthy flavour. This is the one I used in this recipe.
Whichever truffle you choose to buy, the main thing to watch out for whether or not it's real. There are many oil on the market that are fake. They are flavoured with a synthetic flavour of truffles concocted in a lab.
The best way to tell if you are buying the real thing is to look at the ingredient list. Avoid anything that lists "truffle flavour" or "truffle aroma".
The real truffle oil should have "truffle" in the ingredient list and better yet truffle bits floating at the bottom of the bottle.
It's important to mention that even real truffle oil has an expiration date, so if you don't use it often enough it will simple stop smelling like truffles. To avoid that, I buy a very small bottle.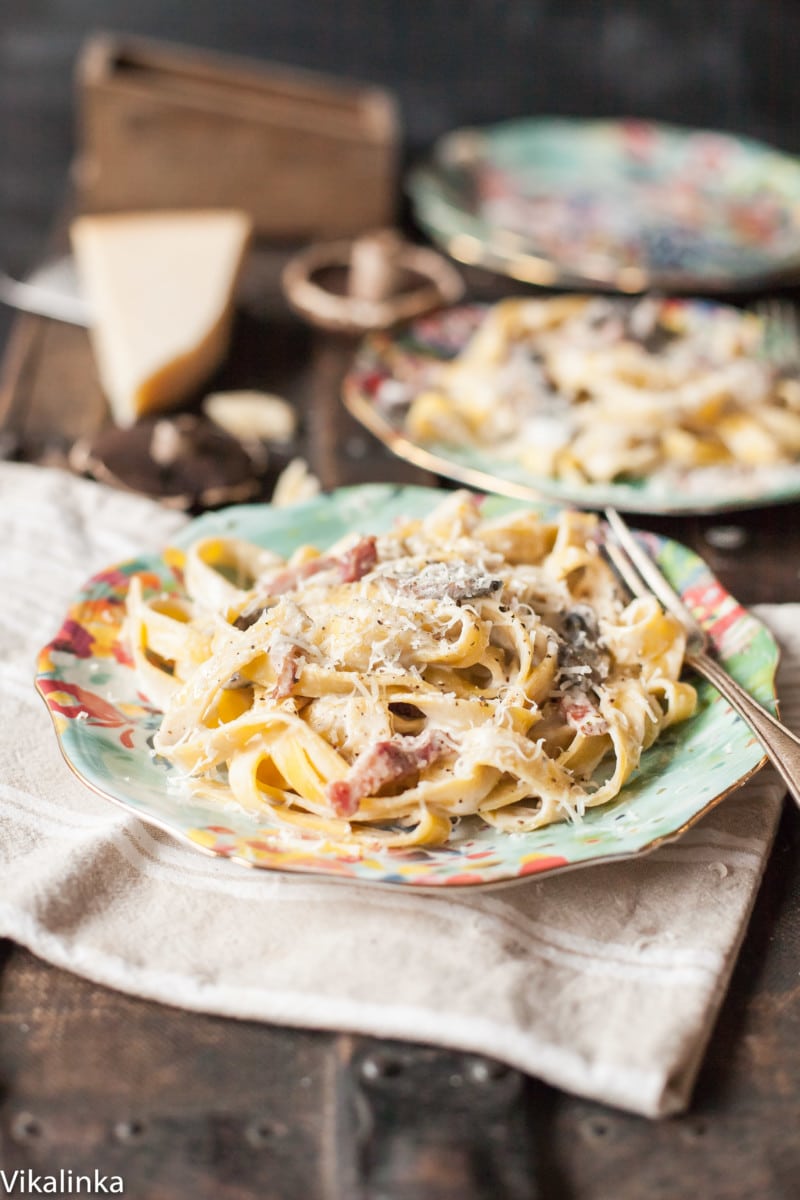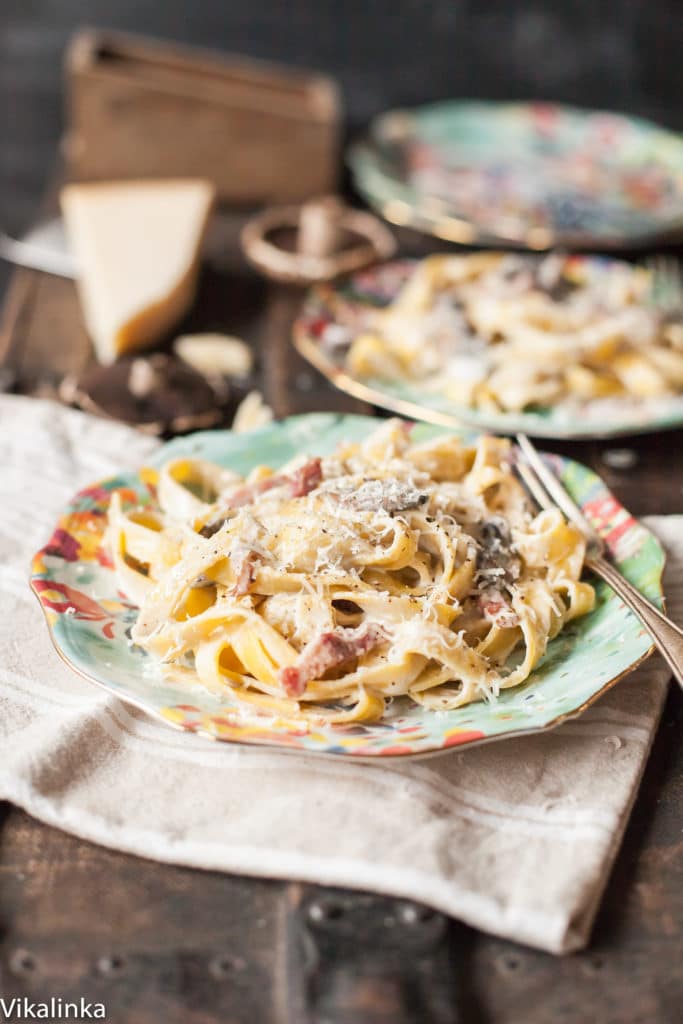 More Creamy Pasta Recipes to Try:
This recipe was originally published in 01/2015. Updated and republished in 02/2021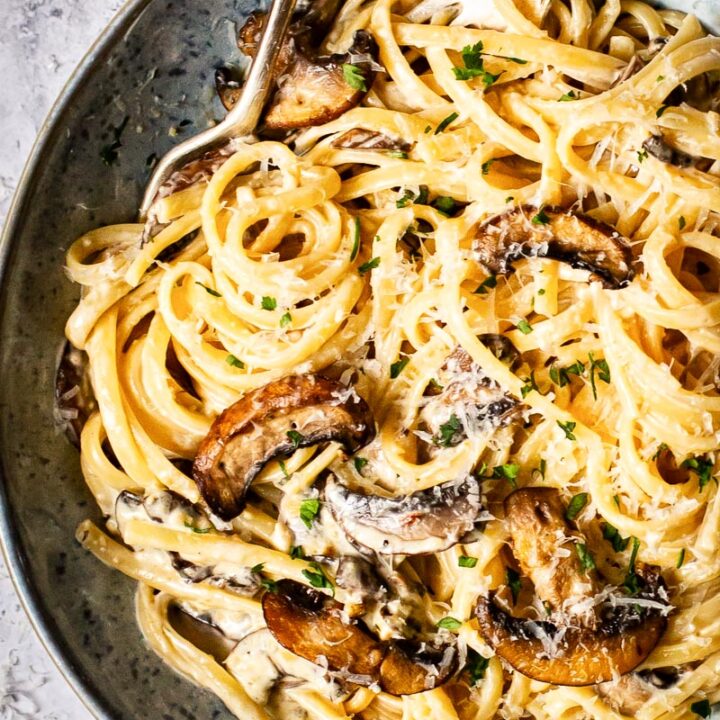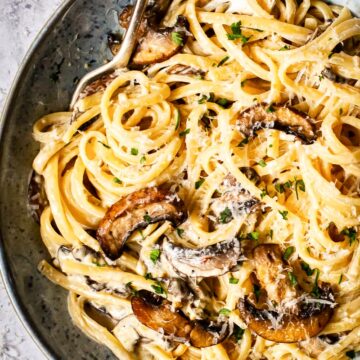 Creamy Tagliatelle with Bacon, Portobello Mushrooms and Truffle Oil
Pasta in cream sauce with bacon, mushrooms and truffle oil.
Ingredients
1

tbsp

olive oil

2-3

strips of bacon/pancetta

chopped

4-5

baby portobello mushrooms

sliced

1

clove

garlic

optional

200g/1/2 lbs

fresh or dried tagliatelle or linguine

100 ml/1/3 cup

double cream/heavy cream

2-3

tbsp

freshly grated Parmesan cheese

2

tsp

truffle oil

salt

fresh ground pepper
Instructions
Cook pasta in salted water according to package directions. Note that fresh pasta only takes about 3 minutes to cook after the water boils.

While pasta is cooking cook chopped bacon over medium heat in 1 tbsp of olive oil until it renders fat, drain it if your bacon is too fatty. Add sliced portobello mushrooms with salt and pepper and cook for 5 minutes over medium heat, then add minced garlic if using and cook for 30 seconds longer.

Drain cooked pasta and reserve ½ cup of water you cooked pasta in. Do not rinse your pasta.

Take the pan with bacon and mushrooms off the heat. To the pan add hot pasta, truffle oil, double/heavy cream and grated parmesan gently toss to coat.

Your pasta will absorb the sauce very quickly. Add reserved pasta water to loosen the sauce to a silky smooth consistency. Add salt and pepper to taste.
Notes
If you choose to omit the truffle oil, double the amount of Parmesan cheese.
Nutrition
Calories:
789
kcal
Carbohydrates:
83
g
Protein:
22
g
Fat:
42
g
Saturated Fat:
17
g
Cholesterol:
86
mg
Sodium:
266
mg
Potassium:
916
mg
Fiber:
5
g
Sugar:
7
g
Vitamin A:
774
IU
Calcium:
118
mg
Iron:
2
mg