If you are slightly bored with your usual mac and cheese recipe, try mine. You will love it!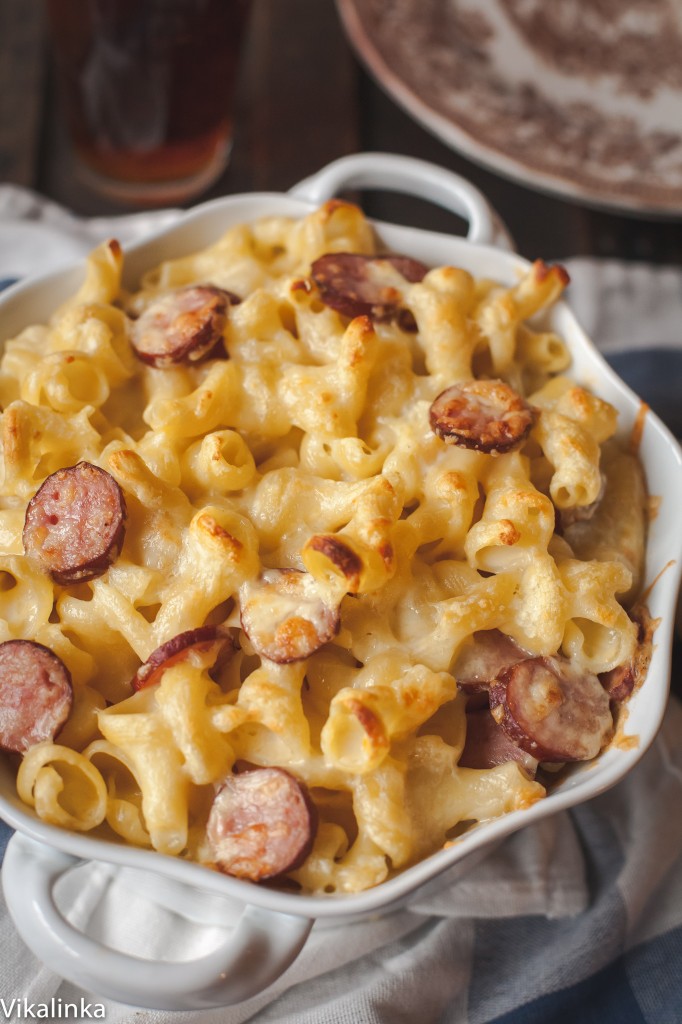 I woke up to the sound of rain, which immediately put me in the melancholy mood. Our Saturday was shaping up to be annoyingly busy with rides to kids' birthday party and weekly shopping list while I felt absolutely beat.
I guess gone are the days when I could be out 3 nights in a work week and bounce right back the next morning. I am not complaining…really…I've had so much fun this past week, but I was in a desperate need to recoup and maybe indulge in this creamy mac and cheese with smoky kielbasa rounds.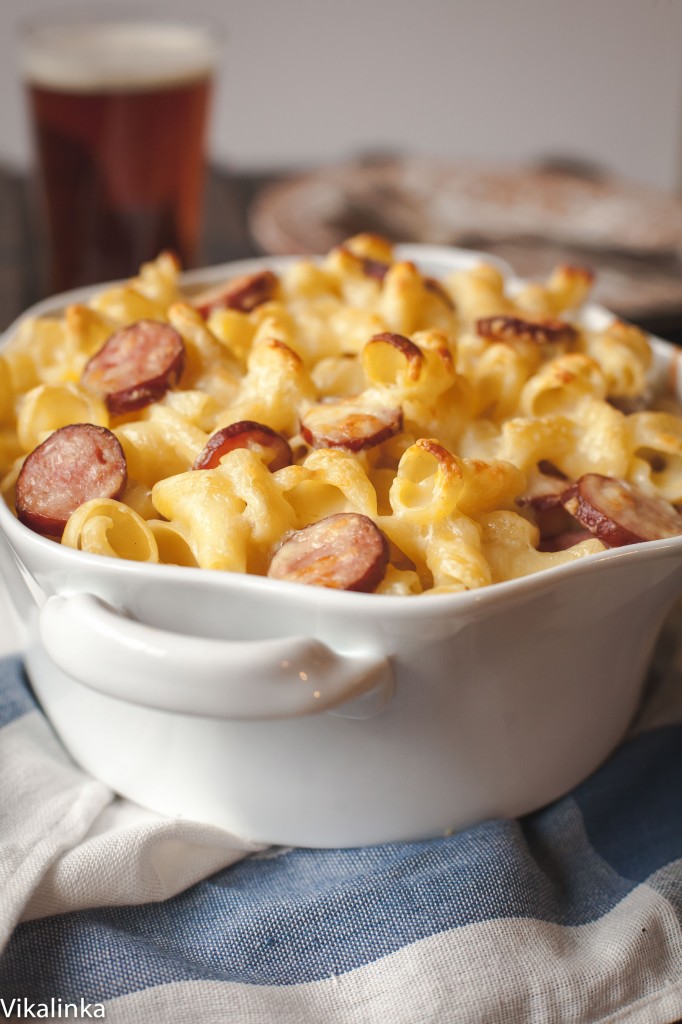 Mac and cheese was one of those dishes I had to learn how to make very early in our marriage. It was the most-requested-by-Brad dinner.
He loved mac and cheese so much that he'd be happy eating Kraft Dinner from the box daily, and that I just couldn't allow. So I tried to make my homemade version absolutely irresistible so he'd never want to turn to that awful macaroni in acid orange powder.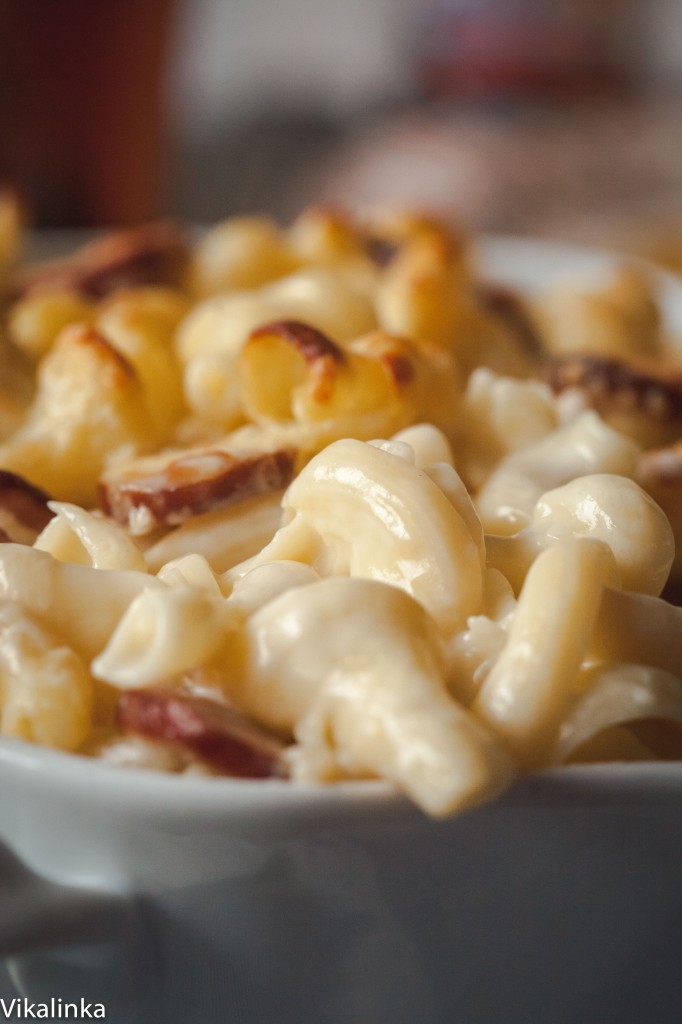 What cheese is best for Mac and Cheese?
This recipe is extremely simple and quite quick. You can experiment with any cheese you love. I usually use white cheddar (lucky for me no orange Cheddar is available in England) and whatever else I have in the fridge.
In this case it was Gruyere, which created an absolutely lovely combination-extreme creaminess of Cheddar went brilliantly with the sharp taste of Gruyere.
Delicious Add-Ons
Now let's talk Polish kielbasa or Ukrainian kovbasa or Russian kolbasa. Same but different and all over delicious. The word means 'sausage', in case you are not of Slavic descent, and is a staple in Eastern European cuisine.
Nowadays any big supermarket carry these smoky sausage links but if you truly want to experience its authentic deliciousness it's best to hunt down a Polish or a Ukrainian or a Russian shop and buy your kielbasa there.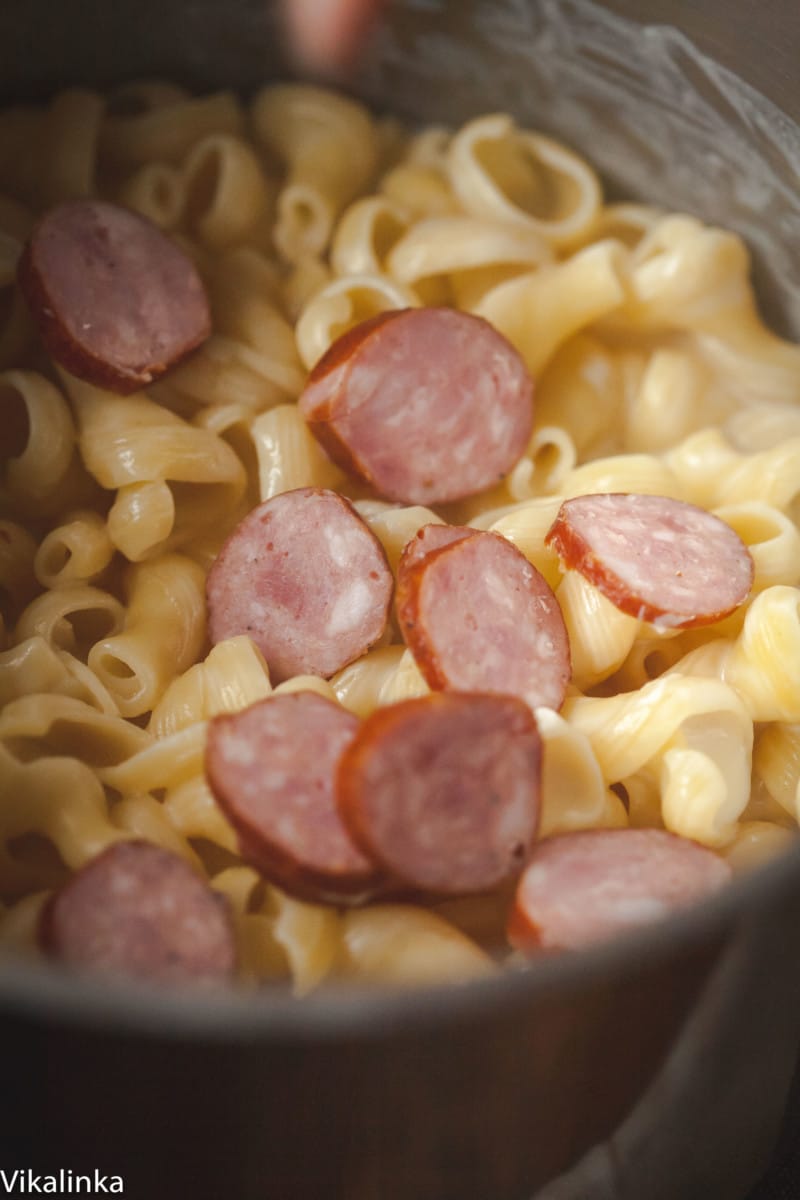 When you first mix your sliced kielbasa into the saucy pasta you will not get me overly enthusiastic. But pop the dish into the hot oven because that's where the magic begins.
Within 5 minutes the smoky aroma of the sausage will start wafting through your house, driving you mad until it's safely inside your belly.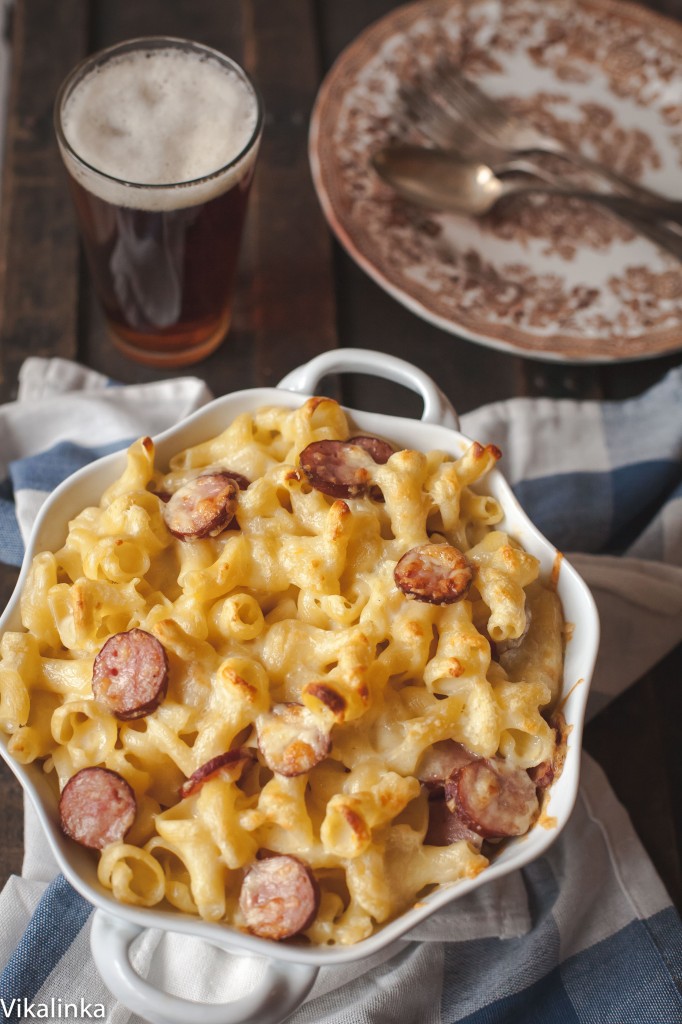 More Macaroni and Cheese Recipes: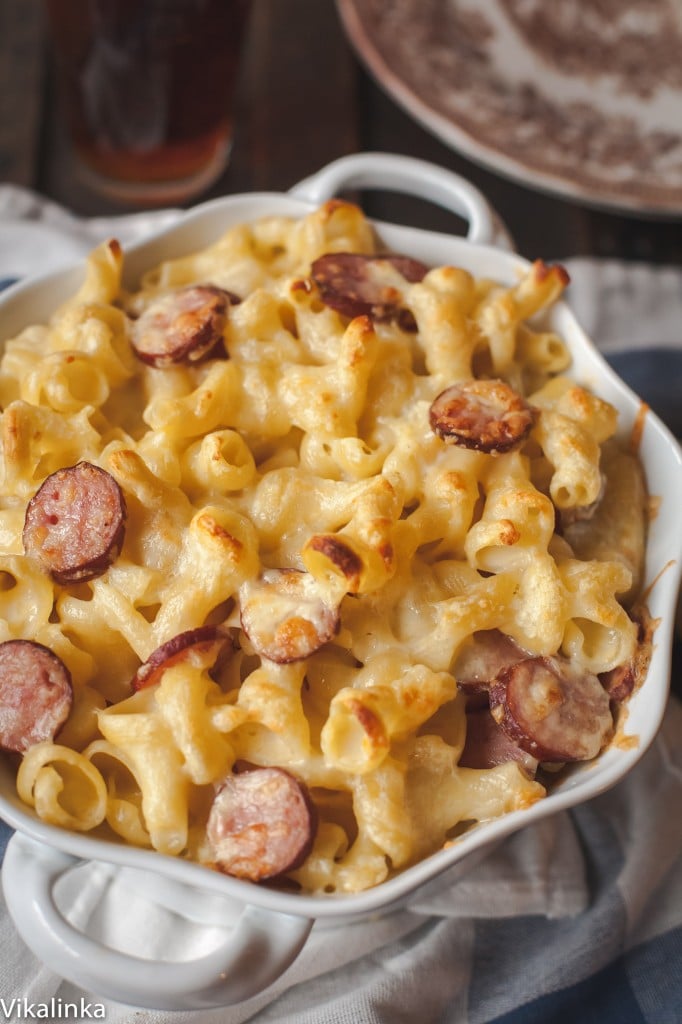 Ingredients
2

tbsp

butter

1

tbsp

flour

heaped

375ml/1 ½

cups

milk

2% or whole

200

g/2 cups

aged/mature cheddar

grated

200

g/2 cups

Gruyere

grated or other strong flavoured cheese

1

lbs

short pasta

150

g/5 oz

Polish smoked kielbasa

sliced
Instructions
Preheat the oven to 375F/190C.

Cook pasta in a large pot filled with salted water 3-4 minutes less than the package directs.

While pasta is cooking make the cheese sauce. Melt butter in a small saucepan over medium heat, blend in flour with a wire whisk.

Continue cooking for 2-3 minutes while stirring the entire time, then add milk and stir.

Cook the sauce for 5 minutes, it will gradually thicken, continue stirring with a wire whisk to avoid lumps.

When the sauce is the desired consistency take it off the heat and stir in both cheeses, reserve a combined ¼ cup of cheese.

The cheese should melt and completely incorporate into the sauce. Use your wire whisk to ensure the sauce is smooth and lump-free. (Don't walk away from the stove the entire time the cheese sauce is cooking as it can burn quickly and/or will go lumpy if left unattended.)

When your pasta is cooked drain but reserve ¼ cup of starchy water the pasta was cooking in.

Return the drained pasta into the same pot and add water and cheese sauce, gently toss to coat the pasta. It should be quite runny.

Mix in sliced kielbasa and transfer to a deep baking dish, sprinkle with the remaining ¼ cup of cheese.

Bake in the preheated oven for 30 minutes. The top should be golden by the end of the cooking time. If the pasta still looks pale at the end of the cooking time set your oven to broil and let the top crisp up for 2-3 minutes.

Serve with a simple green salad.
Nutrition Facts
Vintage Cheddar and Gruyere Mac and Cheese with Polish Kielbasa
Amount Per Serving
Calories 711
Calories from Fat 324
% Daily Value*
Fat 36g55%
Cholesterol 106mg35%
Sodium 603mg26%
Potassium 370mg11%
Carbohydrates 61g20%
Protein 34g68%
Vitamin A 870IU17%
Vitamin C 1mg1%
Calcium 667mg67%
Iron 2mg11%
* Percent Daily Values are based on a 2000 calorie diet.