If you are slightly bored with your usual mac and cheese recipe, try mine. You will love it! Creamy, sharp cheese with smoky sausage make this incredible comfort food!
I love creamy pasta recipes! Chorizo gnocchi takes cheesy, smokey flavours to the next level!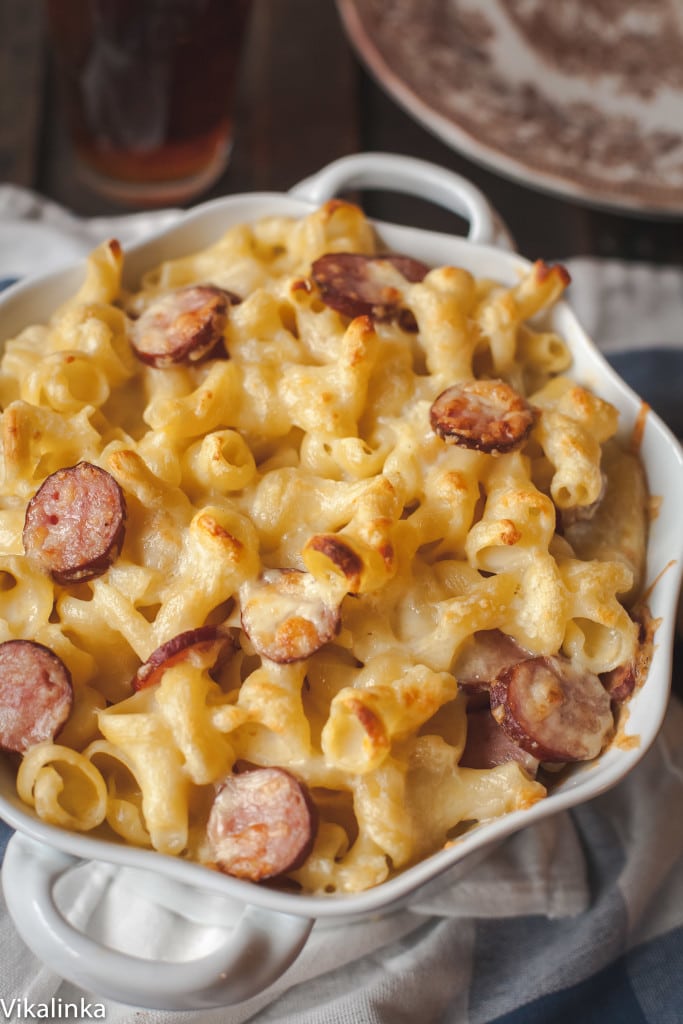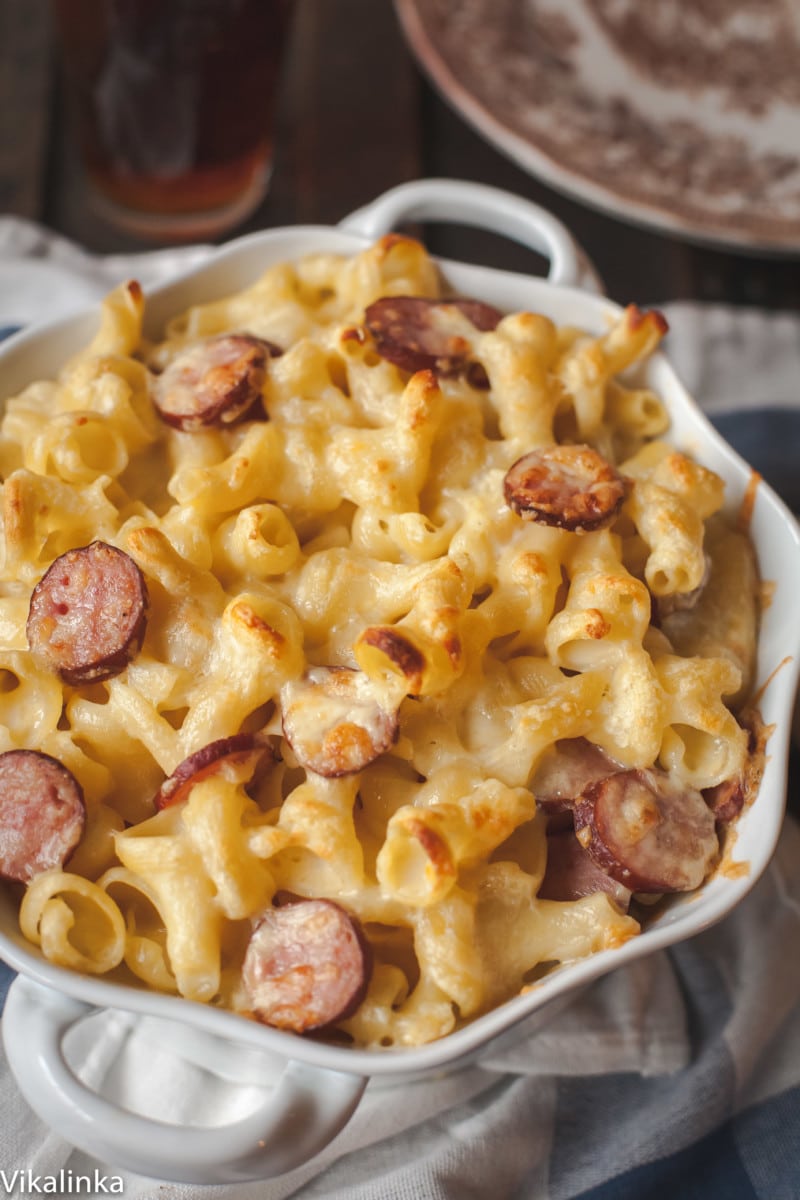 There are some days when only cheesy, creamy comfort food is going to work. A bit of an indulgence, perhaps, but always satisfying and good for the soul.
These are the days I reach for one of my trusty macaroni and cheese recipes. Although I would struggle to pick a favourite, this indulgent dish made with two varieties of legendary cheese might be it!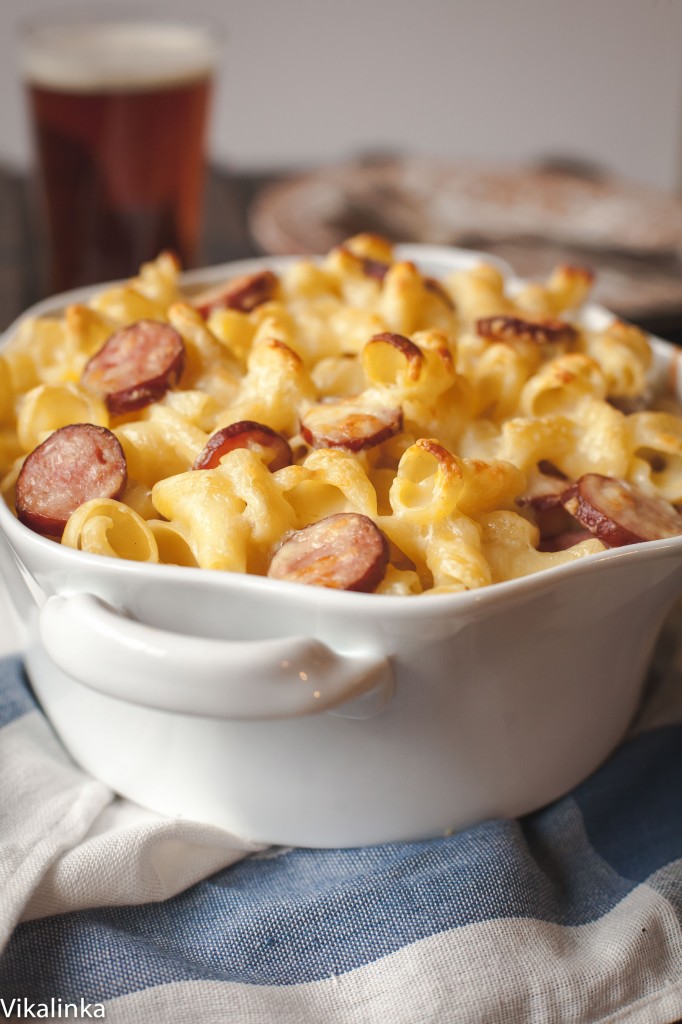 Mac and cheese is a dish I learned to make years ago. My husband grew up on the boxed variety so I knew I had to introduce him to the good stuff.
So I tried to make my homemade version absolutely irresistible so he'd never want to turn to that awful macaroni in acid orange powder.
The trick? Picking the perfect cheese and adding a little extra like smoky kielbasa rounds.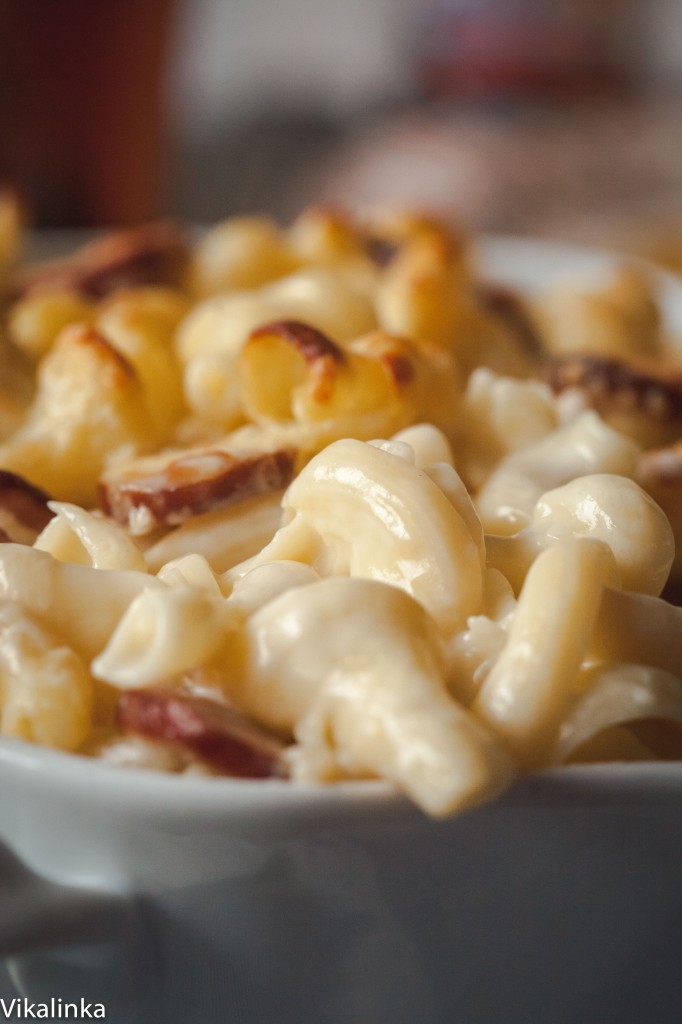 Choosing cheese
This recipe is extremely simple and quite quick. You can experiment with any cheese you love. I usually start with white cheddar (orange Cheddar is hard to find where I live) because of how well it melts.
In this case I've also added Gruyere, which created an absolutely lovely combination. It blends the extreme creaminess of Cheddar with the sharp taste of Gruyere to give you the best of both.
Delicious add-ons
Now let's talk Polish kielbasa (or Ukrainian kovbasa or Russian kolbasa). Same but different and all over delicious. The word means 'sausage' and it's a staple in Eastern European cuisine.
Nowadays any big supermarket carry these smoky sausage links. But if you truly want to experience, its authentic deliciousness it's best to hunt down an Eastern European shop and buy your kielbasa there.
When you first mix your sliced kielbasa into the saucy pasta you will not get me overly enthusiastic. But pop the dish into the hot oven because that's where the magic begins. Within 5 minutes the smoky aroma of the sausage will start wafting through your house.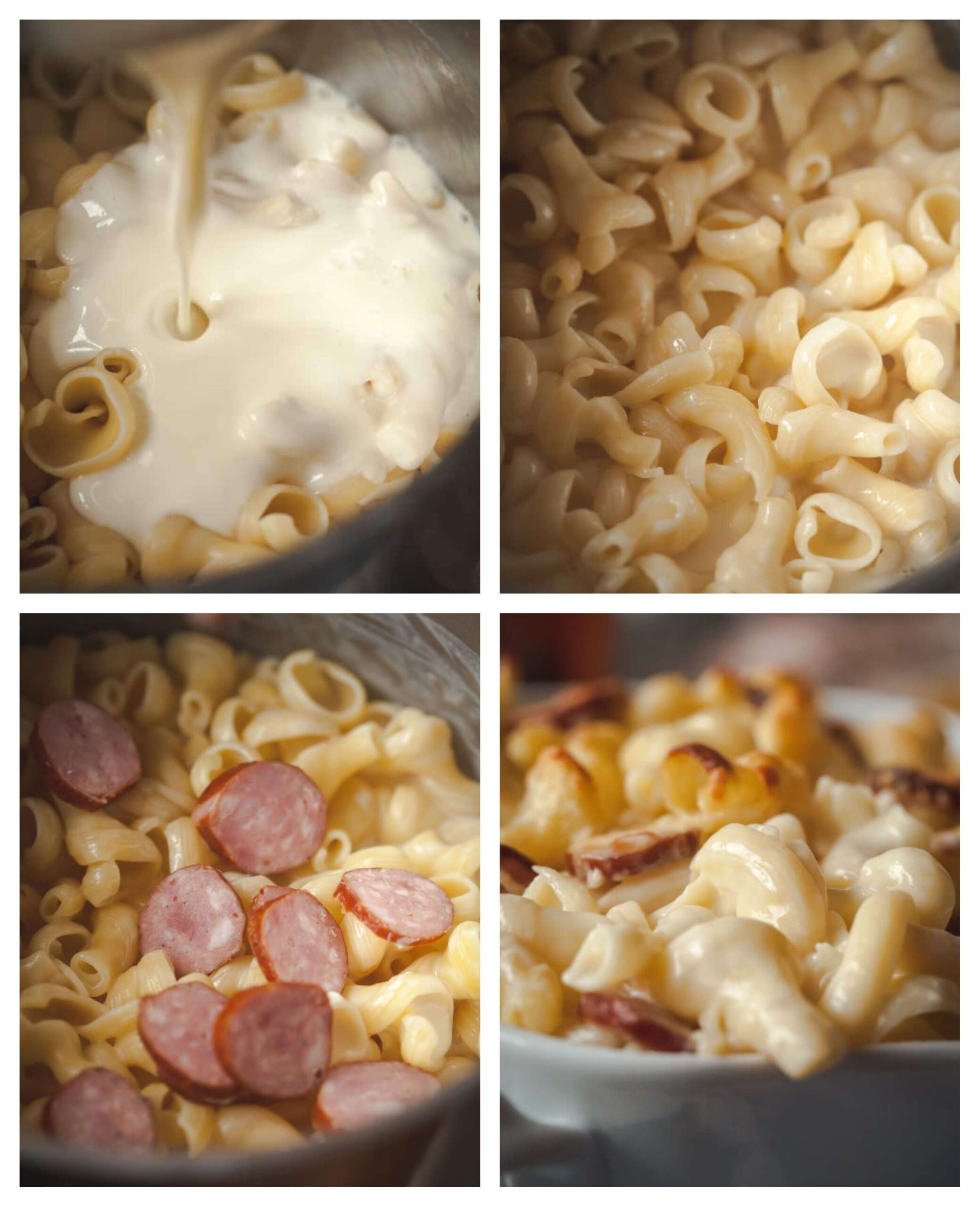 Recipe tips and tricks
Although macaroni is classic, almost any short pasta will work well for this recipe. Farfalle, penne, fusilli and many more will be worth trying.
Do not cook the pasta until completely done before combining it with the cheese sauce. It will finish cooking when it bakes.
The cheese sauce can burn easily or become lumpy if it is not given attention while on the stove. Do not leave it unattended and stir constantly.
Do grate your own cheese instead of relying on the pre-grated supermarket offerings. It is packed in anti-caking agent aka starch, which will make your sauce grainy. Using freshly grated cheese will result in a silky smooth sauce.
Reserving pasta water is a great way to add creaminess to pasta recipes. Reserve a portion before draining the pasta to add along with the cream sauce before baking.
A creamy pasta dish like this one will go well with a simple side salad. Take a look at my salad recipes to choose your favourite.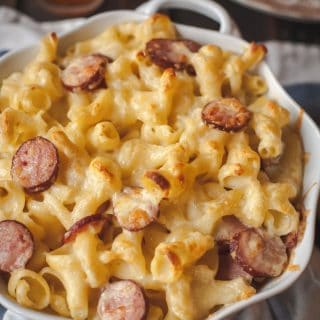 Vintage Cheddar and Gruyere Mac and Cheese with Polish Kielbasa
Baked Macaroni and Cheese with Cheddar, Gruyere and Polish Kielbasa.
Ingredients
2

tbsp

butter

1

tbsp

flour

heaped

375ml/1 ½

cups

milk

2% or whole

200

g/2 cups

aged/mature cheddar

grated

200

g/2 cups

Gruyere

grated or other strong flavoured cheese

1

lbs

short pasta

150

g/5 oz

Polish smoked kielbasa

sliced
Instructions
Preheat the oven to 375F/190C.

Cook pasta in a large pot filled with salted water 3-4 minutes less than the package directs.

While pasta is cooking make the cheese sauce. Melt butter in a small saucepan over medium heat, blend in flour with a wire whisk. Continue cooking for 2-3 minutes while stirring the entire time, then add milk and stir.

Cook the sauce for 5 minutes, it will gradually thicken, continue stirring with a wire whisk to avoid lumps. When the sauce is the desired consistency take it off the heat and stir in both cheeses, reserve a combined ¼ cup of cheese.

The cheese should melt and completely incorporate into the sauce. Use your wire whisk to ensure the sauce is smooth and lump-free. (Don't walk away from the stove the entire time the cheese sauce is cooking as it can burn quickly and/or will go lumpy if left unattended.)

When your pasta is cooked drain but reserve ¼ cup of starchy water the pasta was cooking in. Return the drained pasta into the same pot and add pasta water and cheese sauce, gently toss to coat the pasta. It should be quite runny. Mix in sliced kielbasa and transfer to a deep baking dish, sprinkle with the remaining ¼ cup of cheese.

Bake in the preheated oven for 30 minutes. The top should be golden by the end of the cooking time. If the pasta still looks pale at the end of the cooking time set your oven to broil and let the top crisp up for 2-3 minutes.
Nutrition
Calories:
711
kcal
Carbohydrates:
61
g
Protein:
34
g
Fat:
36
g
Saturated Fat:
20
g
Cholesterol:
106
mg
Sodium:
603
mg
Potassium:
370
mg
Fiber:
2
g
Sugar:
5
g
Vitamin A:
870
IU
Vitamin C:
1
mg
Calcium:
667
mg
Iron:
2
mg