This Brie and Bacon Macaroni and Cheese sounds very posh but in reality is easier to master than the classic recipe!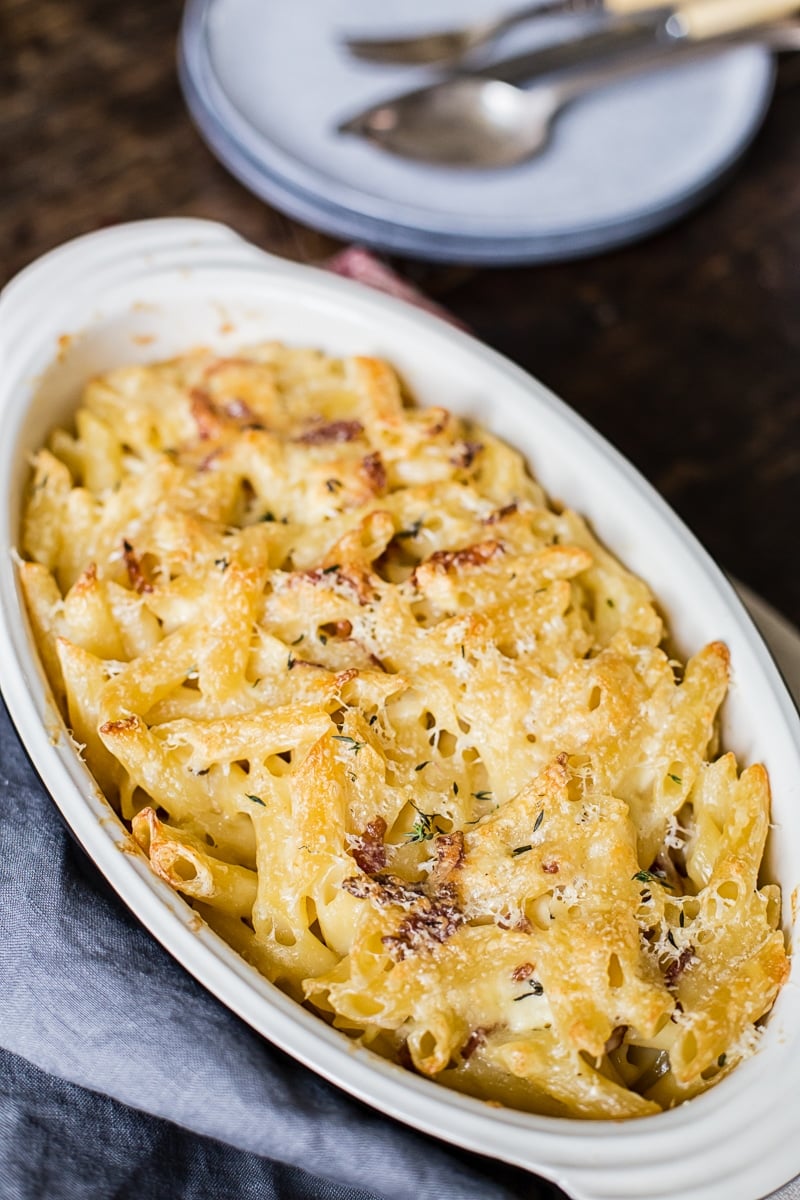 If you are anything like my family, you could always use another macaroni and cheese recipe, right? I don't actually make mac and cheese too often as I feel it's too indulgent to be a regular occurrence.
But when we went away for our holiday to Sweden a couple of months ago I cooked it twice in two weeks and my kids have not stopped talking about how much they "LOVE mac and cheese"!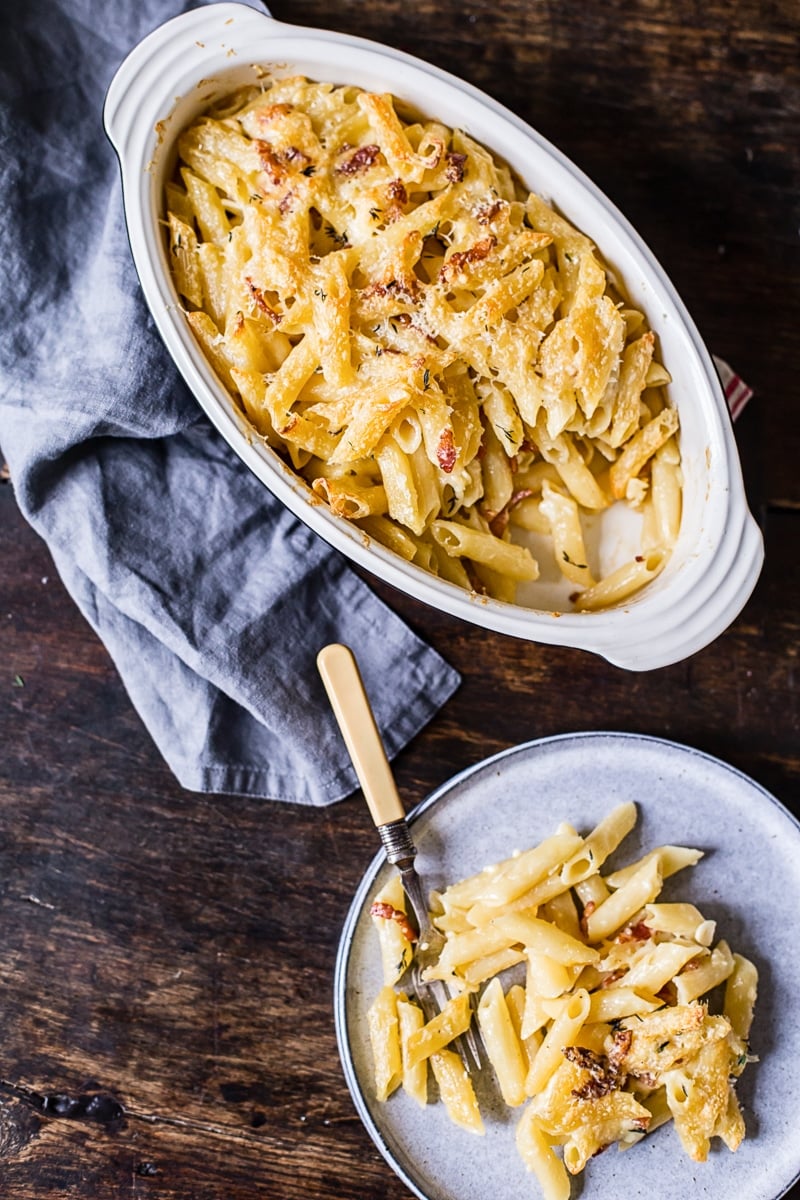 So in attempts to stay a forever favourite in their books, I decided to create another recipe; a variation on my usual macaroni and cheese. And once you see how easy this recipe is, you will love me for ever as well as it doesn't require making an actual cheese sauce.
This simple recipe for brie and bacon macaroni and cheese is based on mixing your pasta with melted and infused with garlic and thyme brie cheese. Adding bacon is optional but highly recommended!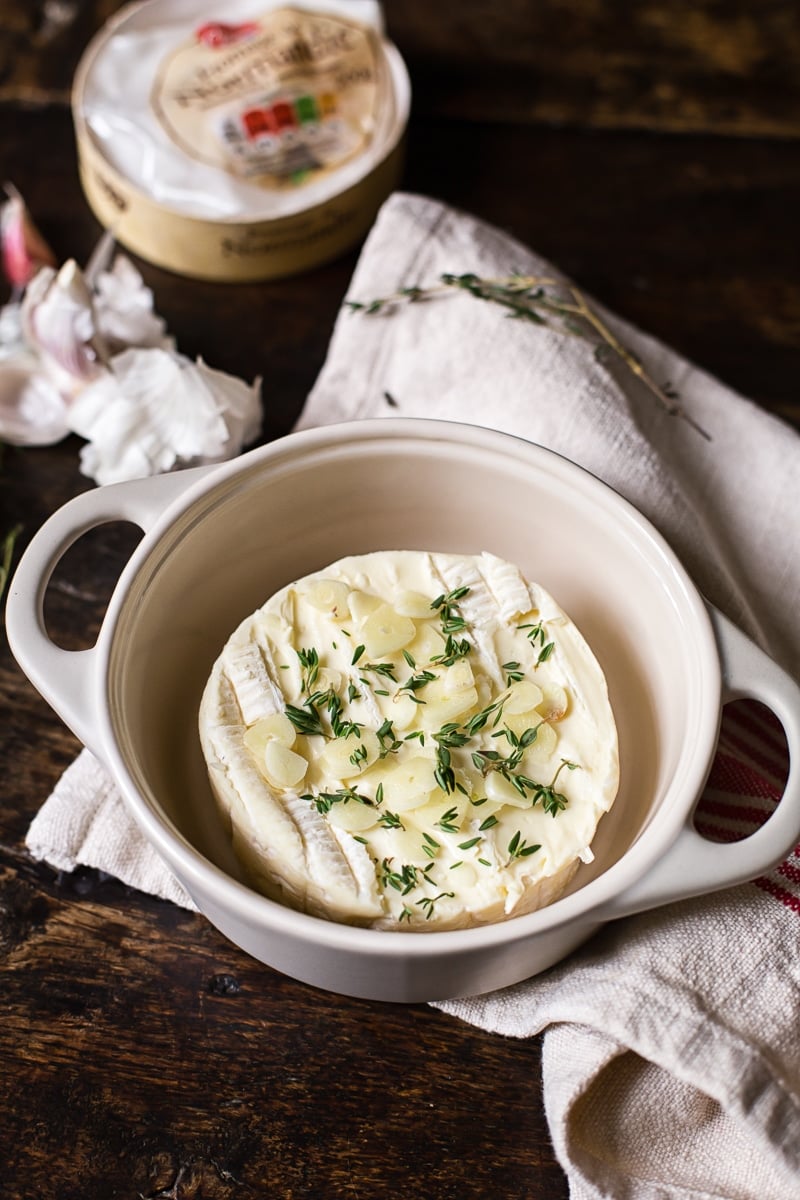 Another reason this brie and bacon macaroni and cheese is such a winner is due to a delicious flavour that comes with the brie cheese itself.
All that loving care and hundreds of years of experience that French cheesemakers put into it, goes into your humble macaroni and cheese and elevates it to an incredible height.
A little of thyme and garlic doesn't hurt either!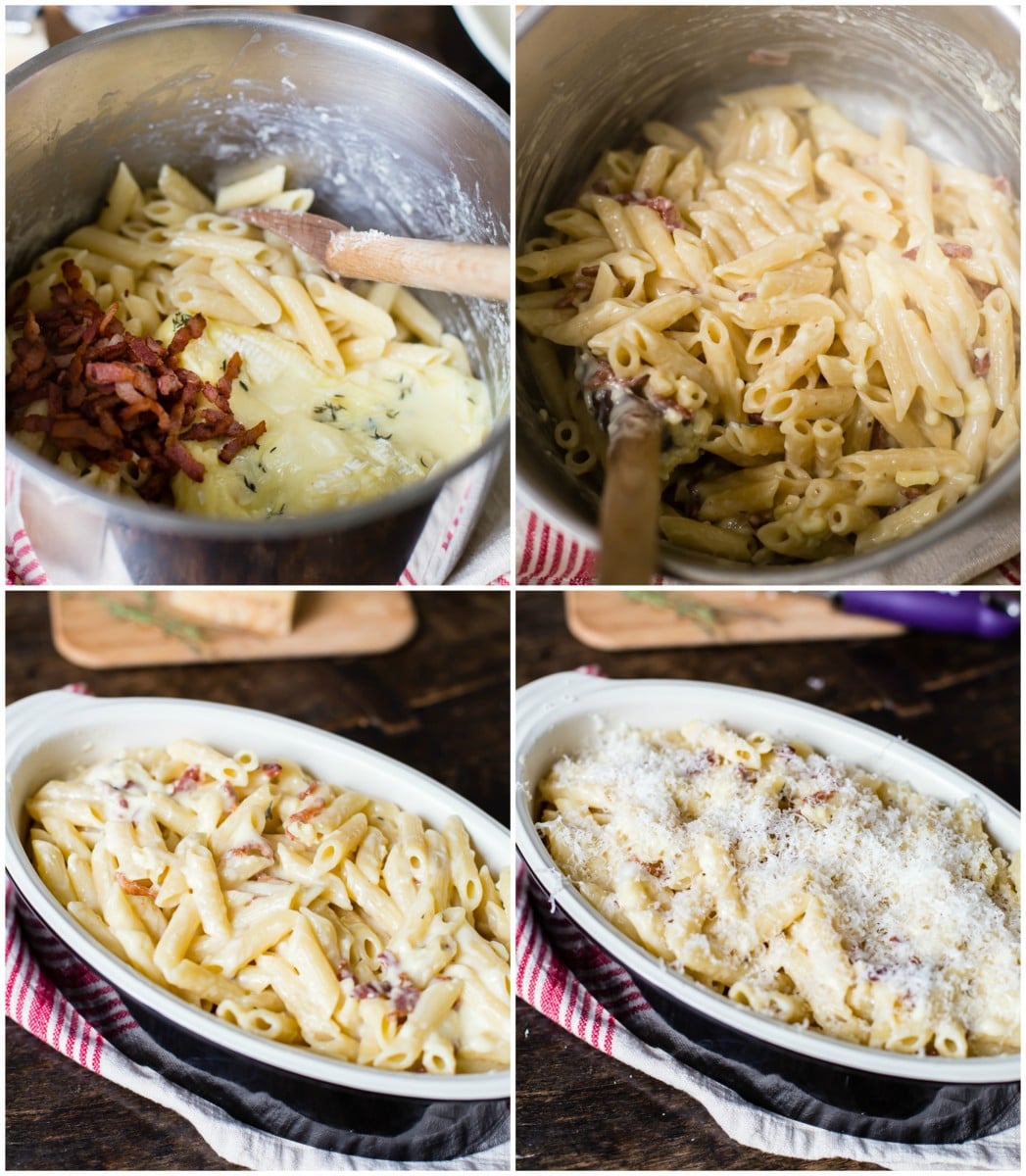 I've also added some bacon to mine for a little smoky taste and extra texture but that part is entirely up to you.
Skip the bacon and keep it vegetarian if you wish but by all means, make it and make it soon!!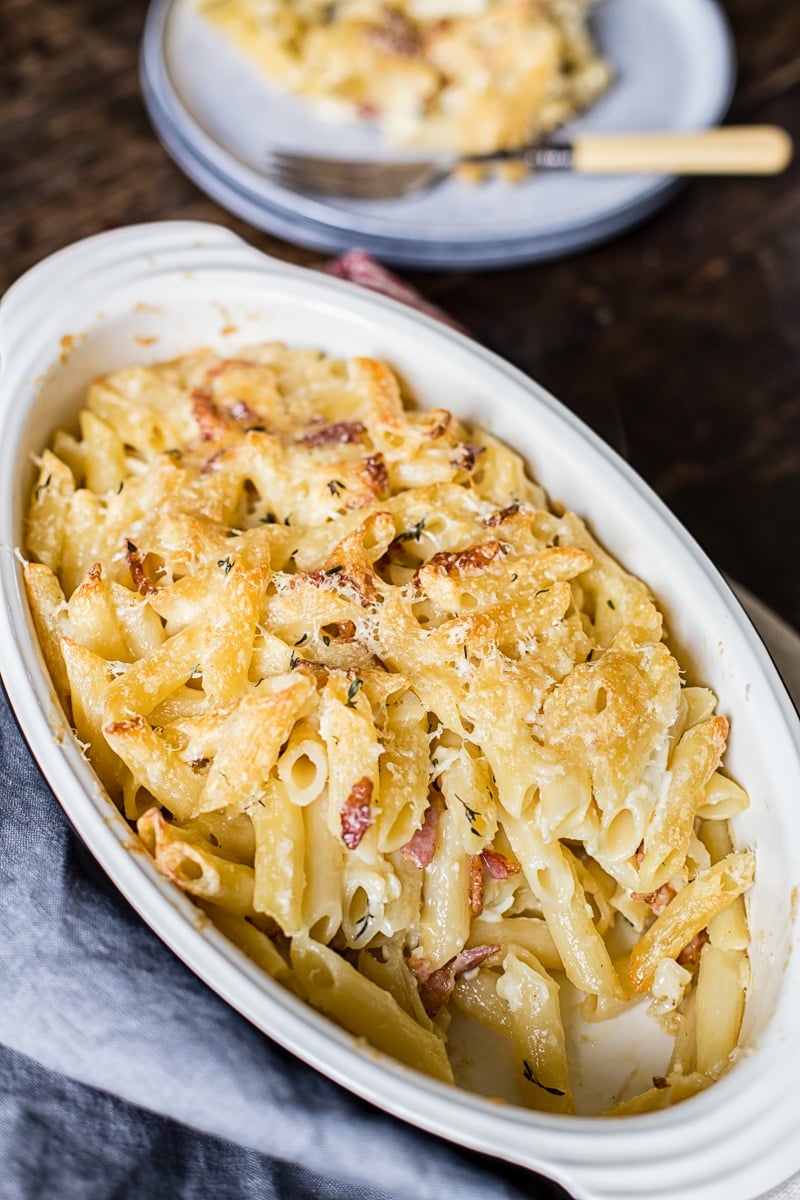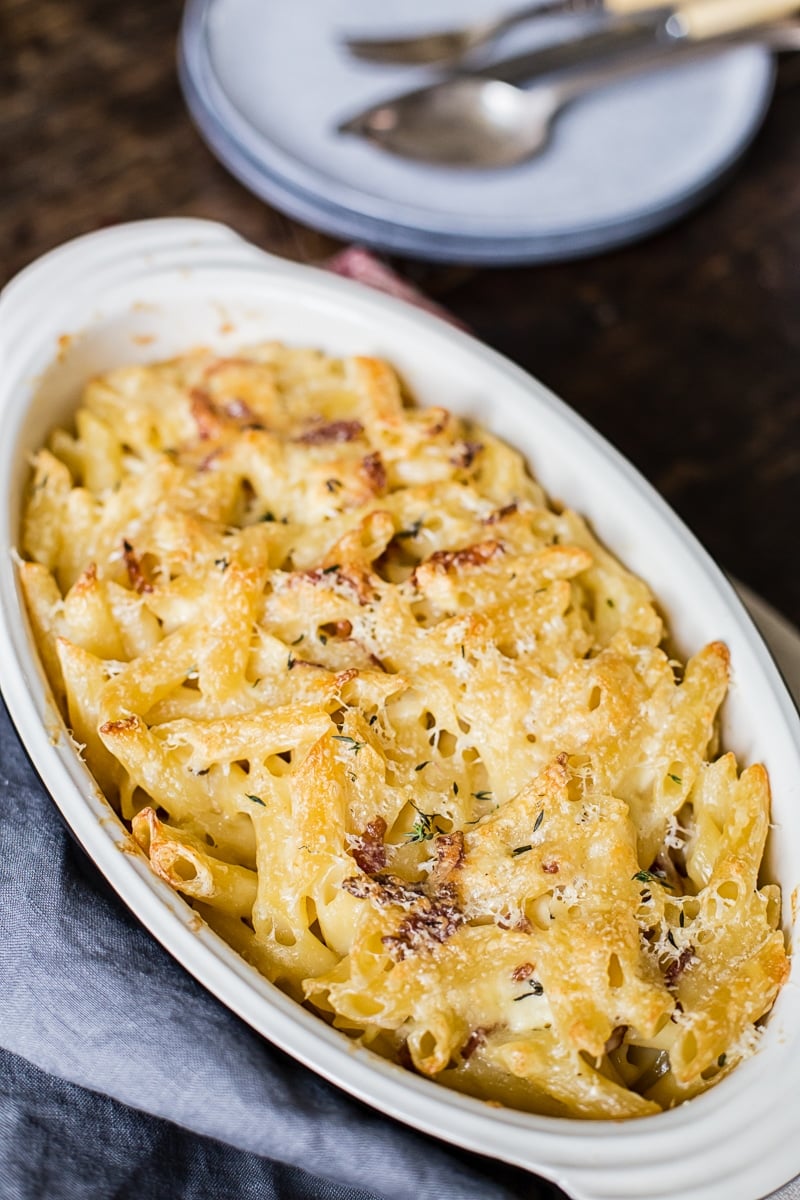 Ingredients
8

oz/250 gr brie cheese

2-3

sprigs thyme

leaves only

2

cloves

garlic

sliced

2

tbsp

butter

1

lbs

penne or any other short pasta

3

tbsp

fresh Parmesan cheese

grated

4

strips bacon

salt to taste
Instructions
Preheat the oven to 350F/180C.

Slice the top rind off your brie and lay sliced garlic and thyme leaves directly on it.

Put it in a small baking dish and bake in the oven for 25 minutes or until completely melted.

Meanwhile, cook pasta in a large pot of salted water according to package directions.

While the pasta is cooking, slice the bacon and fry it over medium heat, remove to a paper towel-lined plate to absorb some fat.

When pasta is cooked, take the pot off the heat and drain the water while reserving a cup for later use. Return pasta to the pot and mix in 2 tbsp. of grated parmesan cheese, 2 tbsp of butter, and salt and pepper. Then add a few splashes (½ cup) of reserved water to make it a bit runny. Cover with a lid and set aside.

When brie is completely melted pour it in the pasta with a bit more water if the sauce gets too thick to stir. You want pasta to be fluid not solid. Then stir in bacon pieces.

Pour the pasta into a buttered baking dish and sprinkle with remaining parmesan. Bake at 350F/180C for 20-30 minutes until macaroni and cheese is heated through and forms a golden crust on top.