Cheesy sausage pasta bake with arugula and fresh mozzarella, that holds all delicious flavours of lasagna without the fuss, and comes together in one pan in under an hour. Perfect for weeknight dinners!
For an tasty unbaked sausage pasta, try Italian Sausage Pasta with Mushrooms!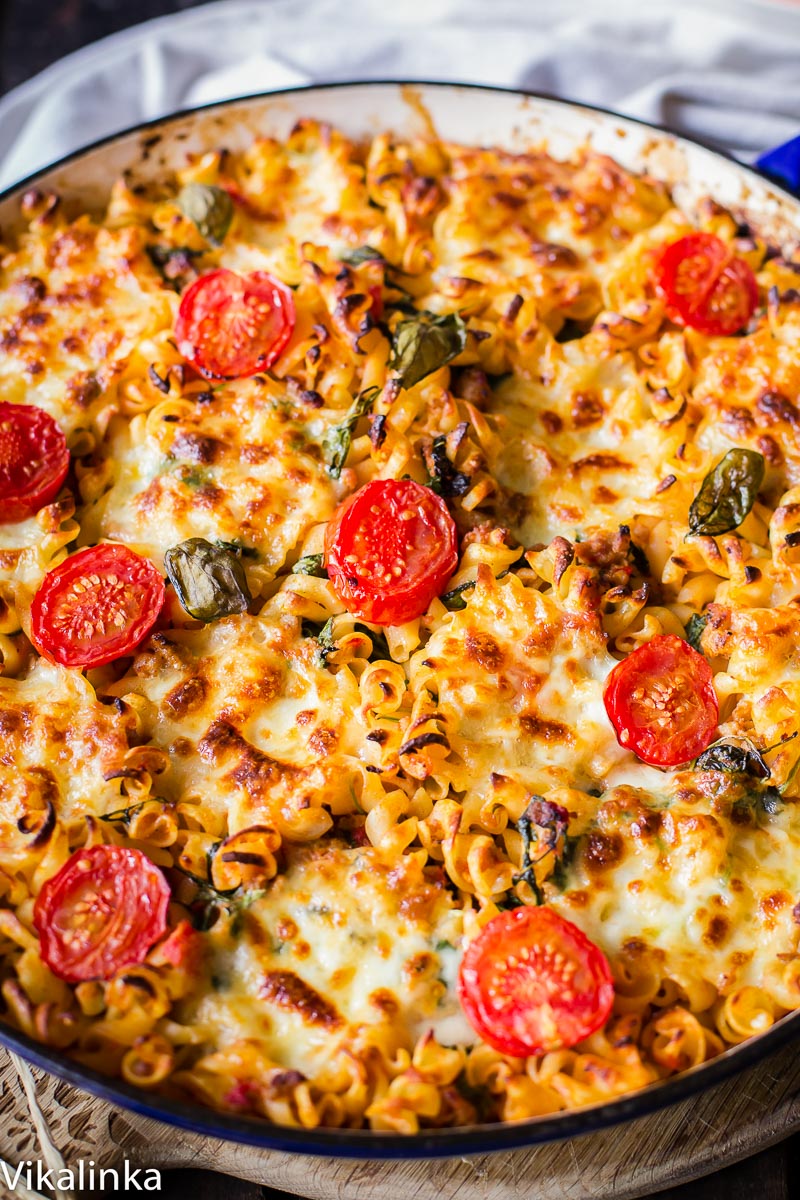 This post contains affiliate links. When you purchase through our links, we may earn a commission.
Whenever I need a dinner guaranteed to be a hit with everyone, I turn to this simple sausage pasta bake. This recipe has been on a regular rotation in our house for years and we never get tired of it.
During busy times I am so thankful for Italians and their invention of pasta, especially thick and chewy, smothered in melty mozzarella.
This pasta recipe is the definition of clever shortcuts in the kitchen, that produce comfort food. We are big lasagna fans but cooking it is a lengthy process. This cheesy sausage pasta delivers the flavours of the lasagna but significantly cuts down on the prep time.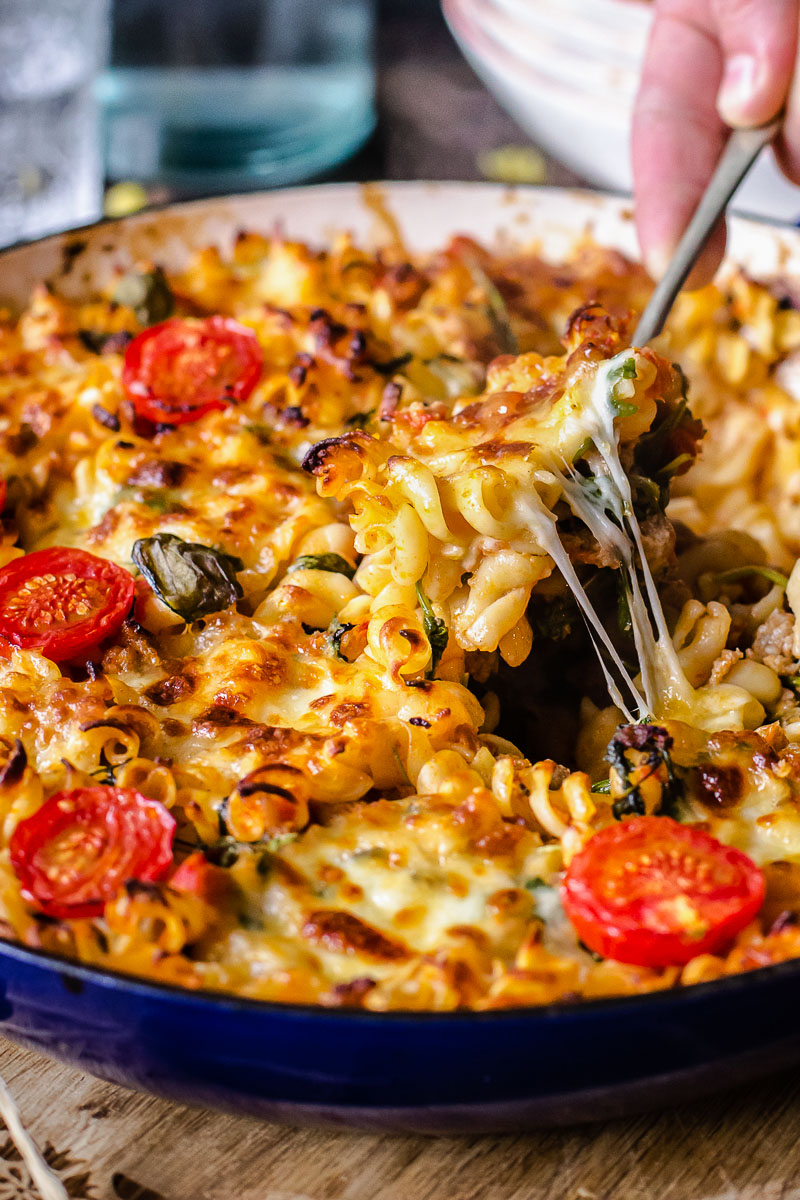 Ingredients
As I mentioned above, this baked sausage and arugula pasta is a quick and easy spin on lasagna. Same flavours, less fuss.
short pasta such as fusilli, penne or your favourite kind
good quality sausage
good quality canned tomatoes
garlic, basil and fennel seeds (the latter ingredient is optional but recommended)
arugula or spinach
fresh mozzarella balls or shredded mozzarella
a handful or cherry tomatoes cut in half
Making the best Italian sausage pasta
The real shortcut in my cheesy pasta bake recipe is the use of sausages instead of ground beef since they cook quicker and are infused with so much flavour already.
Lots of herbs and spices that were added by the manufacturer bring flavour to the entire dish in a short amount of time.
Another flavour maker in this baked sausage pasta is fennel seeds. To me, they are the embodiment of southern Italy. They add this little je ne sais quoi to the whole dish I wouldn't trade for anything.
Or to put it plainly, they add a touch of sweetness and infuse the tomato sauce with much fragrance.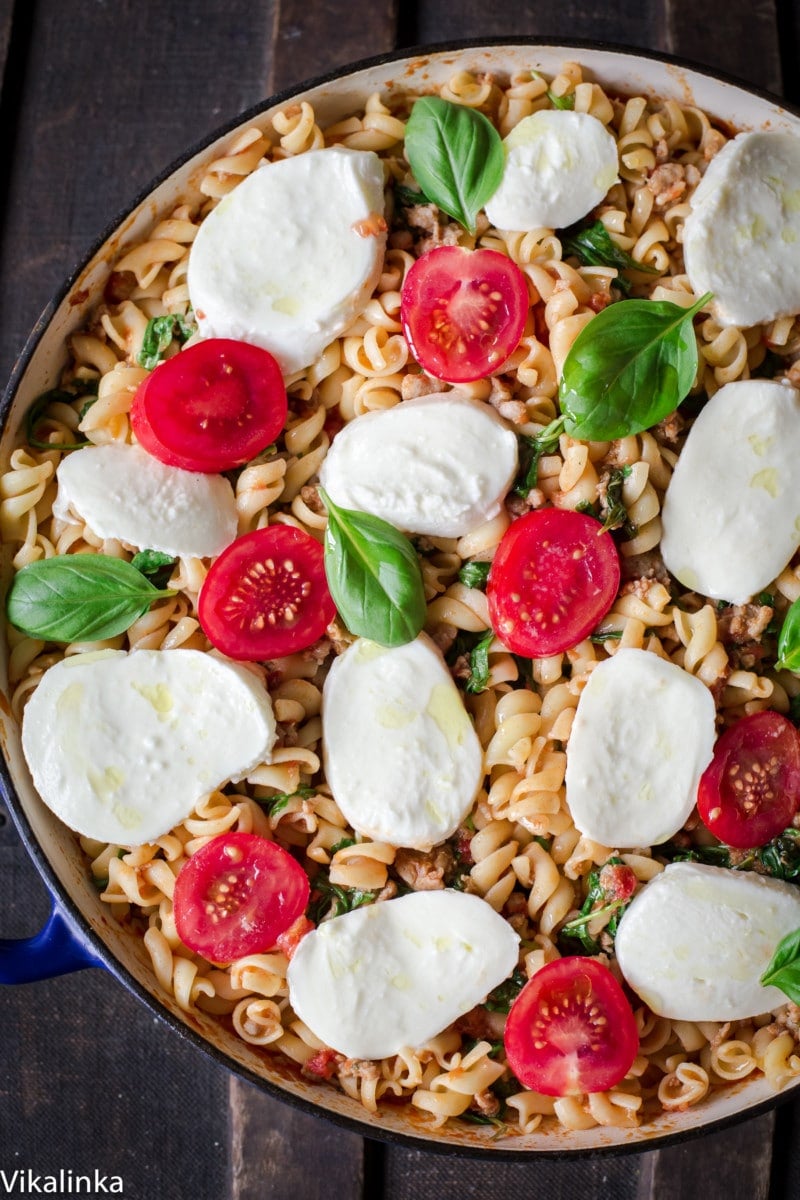 Adding sweet cherry tomatoes to the top your pasta casserole together with sliced fresh mozzarella and fresh basil leaves is not difficult or expensive to do but immediately turns this humble pasta bake into something special.
I've also tossed the pasta with fresh arugula/rocket before baking the pasta to balance out the sweetness of the tomato sauce with a touch of peppery taste. If you don't like arugula, spinach would be a great substitute.
Lastly, use the best quality canned tomatoes you can find. Ripe and canned tomatoes taste sweet while under ripe tomatoes will be acidic, which will negatively impact the overall taste of your pasta bake.
Recipe tips and notes
Choose the best quality sausages you can find because the flavour they carry will go a long way in this dish. Pretty much any sausage variety can be used in this recipe, but a well-spiced sausage like Italian or Cumberland are ideal.
When making a baked pasta dish, it is important to stop boiling the pasta before it is fully cooked. The pasta will keep cooking when it is baking and if boiled for the full length of time listed on the package, it'll end up overcooked and soggy. It's best to remove the pasta from the boiling water when it is slightly undercooked, which is usually 2 minutes less than per instructions. This is the best way to end up with perfectly cooked, el dente pasta bake.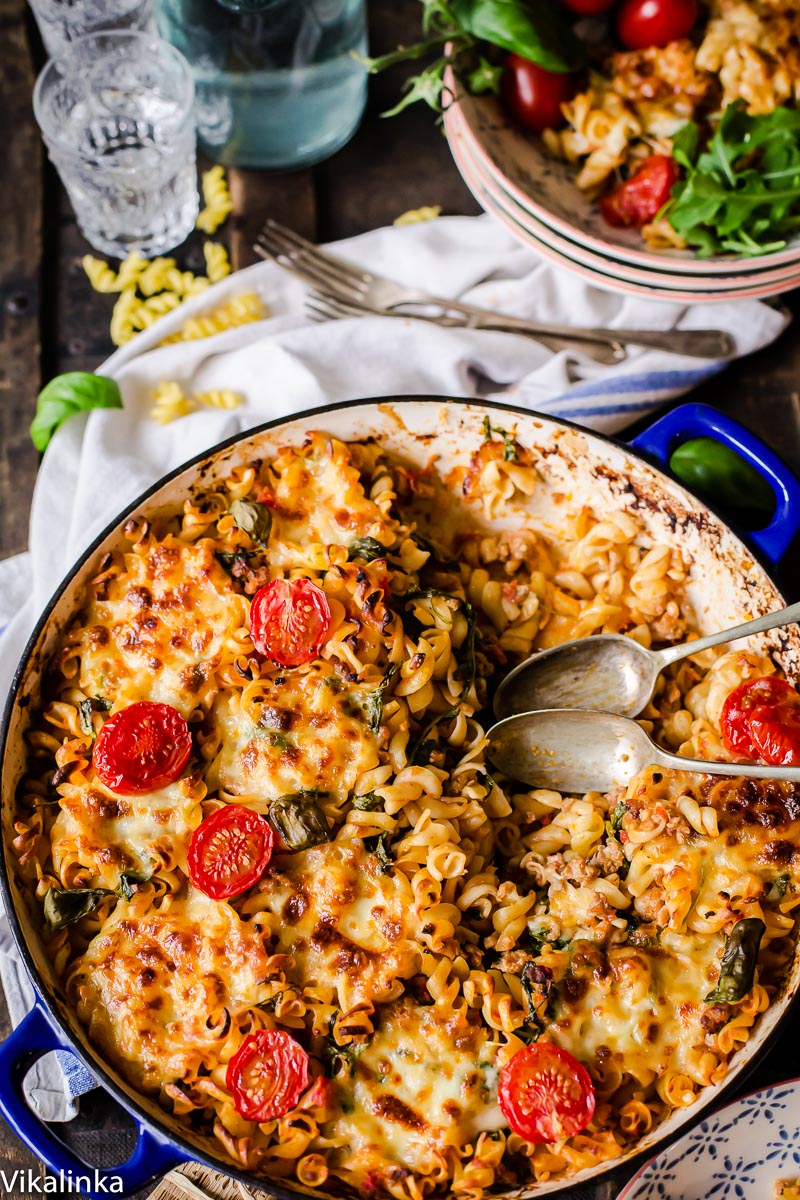 Storage and leftovers
Pretty much the only thing wrong with pasta is how it keeps as leftovers. This isn't to say that it won't taste good. In fact, letting the flavours sit together for a little longer can make them more intense!
But sitting in the fridge will do the pasta no favours. That extra time almost always results in soggy, overdone pasta noodles.
But sometimes it just can't be helped. If you do have leftovers, they can be stored in the fridge packed in an airtight container for 3-4 days.
Reheat the pasta in a microwave or, even better, baked in an oven. Place the baked pasta in an oven preheated to 180C/350F and covered with aluminium foil for 15-20 minutes.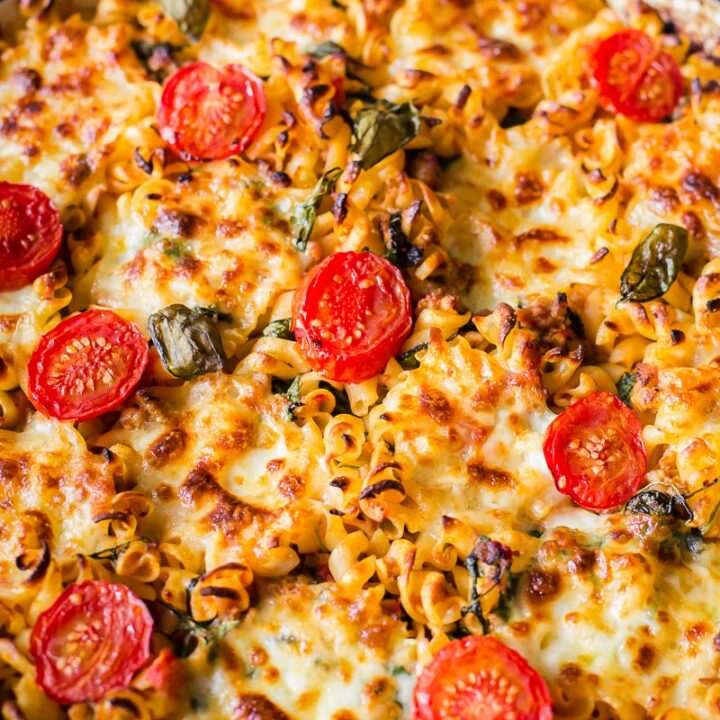 Sausage Pasta Bake
Baked sausage pasta dish that holds all the flavours of lasagna without the fuss!
Ingredients
2

tbsp

olive oil

divided

300

g/6 sausages

½

tsp

fennel seeds

3

cloves

of garlic

minced

7-8

fresh basil leaves, chopped or 1 tsp dried basil

400g/14oz

can of chopped tomatoes

500ml/2 cups

tomato passata/crushed tomatoes

1

lbs

short pasta such as fusilli or penne

60g/3cups

of arugula/rocket

2

balls of thickly sliced fresh mozzarella/8 oz shredded mozzarella

5-6

cherry tomatoes

halved

3-4

basil leaves
Instructions
Remove casing from sausages, heat a tablespoon of olive oil in a deep pan and cook sausage meat over medium heat while breaking it up in small chunks with a wooden spoon until no longer pink for 7-10 minutes. Add garlic, fennel seeds and basil, cook for 1-2 minutes.

Add canned diced tomatoes and tomato passata or crushed tomatoes, bring it to a boil and then turn the heat down and simmer for 10-15 minutes.

Preheat the oven to 375F/190C. While the sauce is simmering cook pasta according to package instructions minus 2 minutes. Pasta should be quite firm as it will be baked later.

Drain pasta and add to the sauce along with fresh arugula or spinach. Top with sliced mozzarella, halved cherry tomatoes and basil leaves. Drizzle with the remaining 1 tbsp of olive oil. Bake at 375F/19C for 20 minutes until piping hot and the cheese is melted and golden.
Nutrition
Calories:
514
kcal
Carbohydrates:
60
g
Protein:
18
g
Fat:
21
g
Saturated Fat:
5
g
Cholesterol:
36
mg
Sodium:
424
mg
Potassium:
491
mg
Fiber:
3
g
Sugar:
4
g
Vitamin A:
455
IU
Vitamin C:
11.7
mg
Calcium:
63
mg
Iron:
2.5
mg