A creamy, steamy bowl of comforting pasta, with a dose of Italian bada bing! Italian Sausage Pasta with Mushrooms is a midweek treat. Switching regular sausage for Italian-flavoured chicken sausage makes a for a lighter meat-based meal. It's ready in 20, so what are you waiting for?
And my Roasted Parmesan Broccoli with Sun-Dried Tomatoes makes a great side serving of greens with this creamy sausage pasta dish.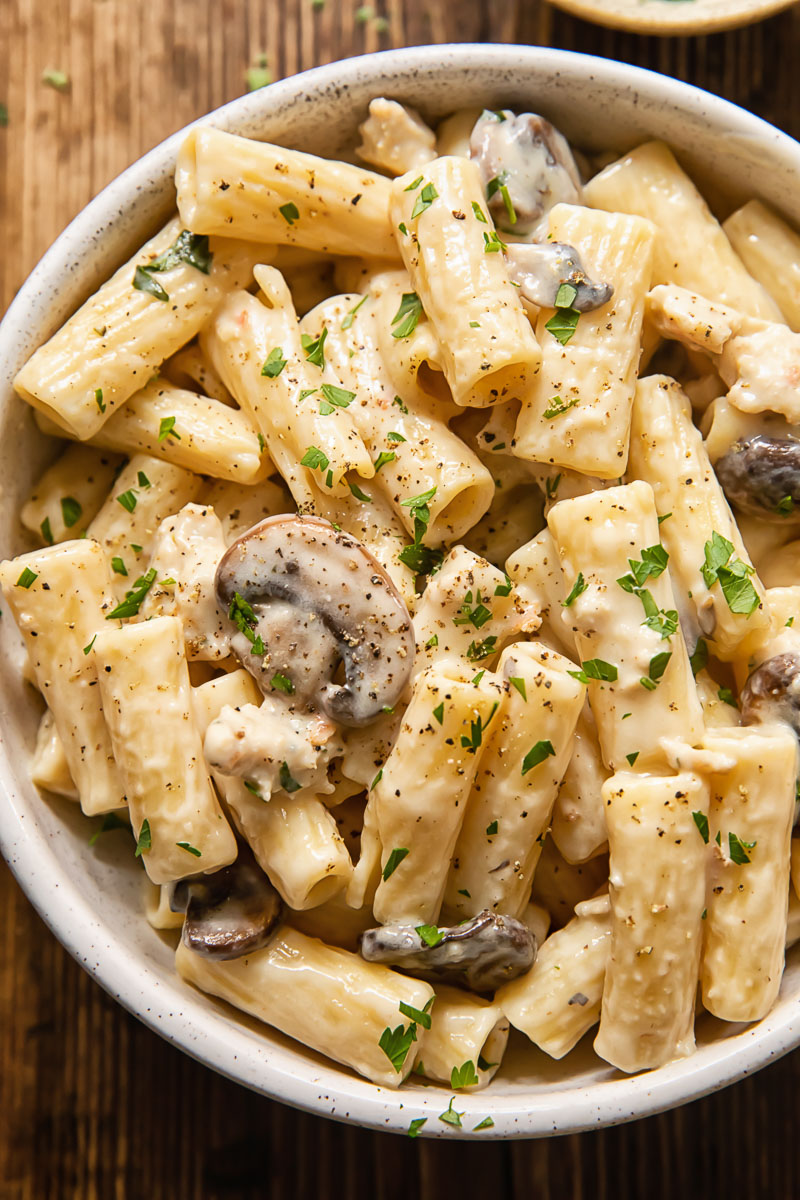 This post contains affiliate links. When you purchase through our links, we may earn a commission.
Sausage pasta recipes
If you're no stranger, you will know how much we love a pasta with sausage combo. They're filling and hearty, balance protein and carbs, quick and easy to prepare.
And even easier when you use a nifty little kitchen hack like readymade sausages, rather than mixing and flavouring your own sausage meat. On a weeknight, I certainly don't have time for that!
When you think of Italian sausage, a thick and porky one speckled with fennel comes to mind. You might have tried it already in either my Spicy Sausage Pasta with Ricotta recipe or my Sausage Pasta Bake with Mozzarella. But here, I'm mixing it up with an Italian flavoured chicken sausage.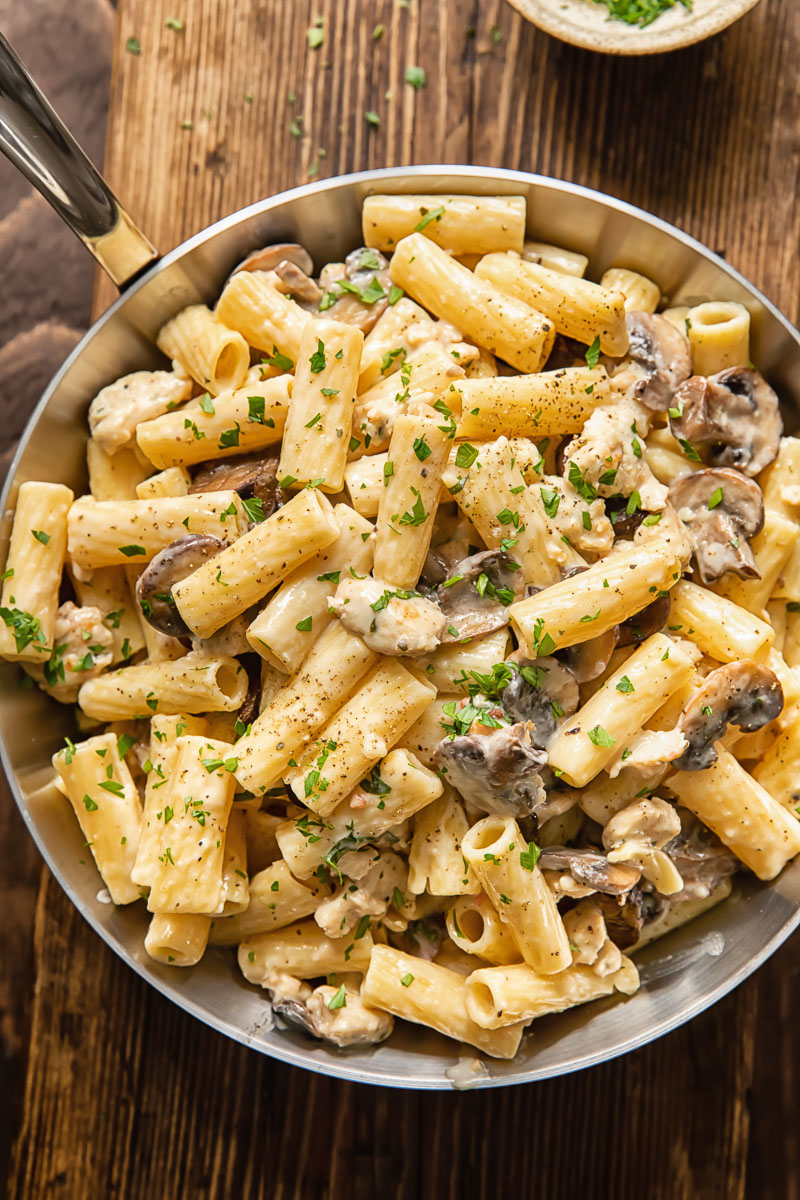 Creamy sauce
I usually make a tomato-based pasta sauce with a pork and fennel sausage, but to compliment the mozzarella in this chicken sausage, I'm going off script and making a cream-based one.
I've used heavy cream (US) or double cream (UK). But you can use light cream if that is your preference or are on a lower calorie diet.
A creamy pasta sauce doesn't have to be a stodgy, coma-inducing button-popper. Depending on the type of cream and cheese you use, it can be light and reasonably low cal.
An authentic Alfredo-style sauce, like my Creamy Pasta Sauce, should be smooth and silky and gently bind together the other ingredients.
In this case the sausage, the pasta, the mushrooms. Mushrooms and cream are truly a match made in food heaven.
There is nothing more satisfying than an earthy mouthful of mushroom in a classic cream sauce. If you are into this combination as much as me, I strongly suggest you take a look at my wildly popular Creamy Mushroom Marsala Sauce.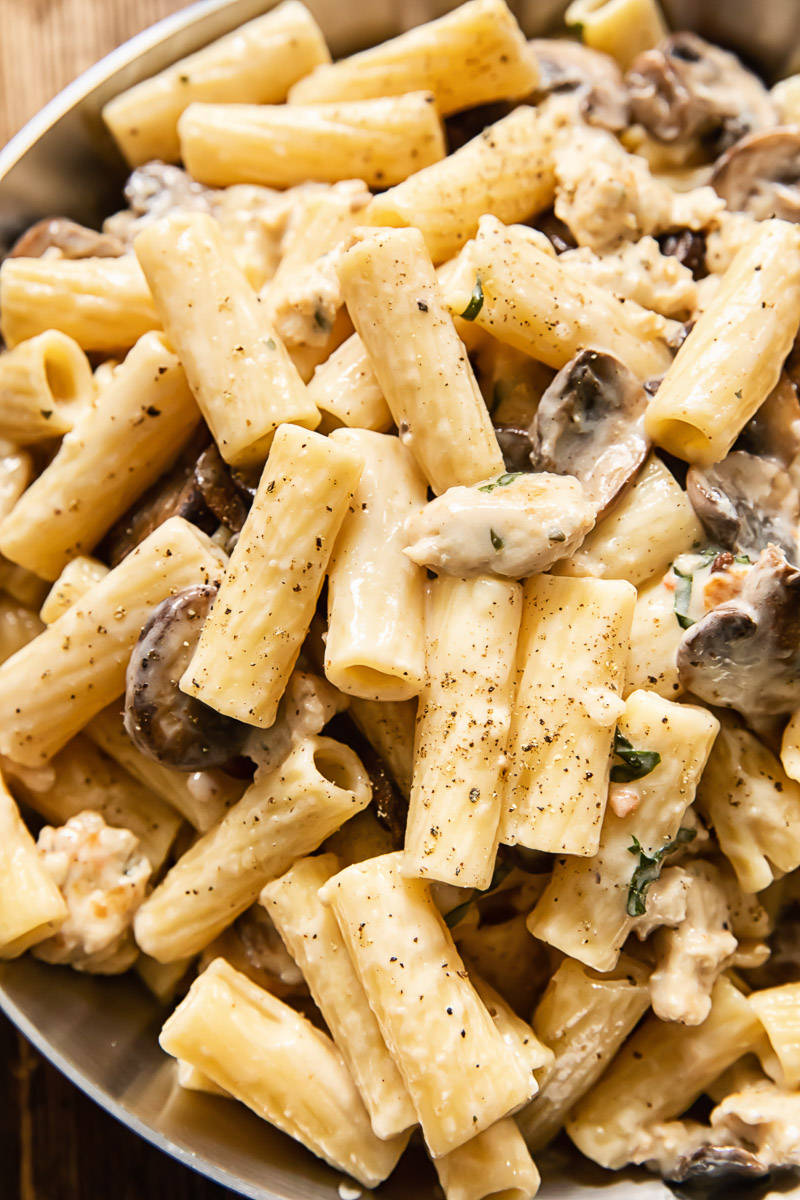 Recipe tips and notes
Italian flavoured sausages are easy to come buy in most supermarkets. Either chicken or pork work well in this dish.

Fry the mushrooms in the cooking fat from the sausages and some butter. This intensifies the flavour. The trick is to keep the heat high until they are a caramel brown, then add salt. Adding the salt too soon makes the mushrooms release water and leads to a diluted sauce and prevent them from browning.

I've used heavy cream (double cream in the UK) for my sauce. I like it rich and oozy. If you're more calorie conscious, you can use light cream or half and half (single cream in the UK). The result will be a lighter, thinner sauce. If you want to thicken it up, coat the mushrooms in a tablespoon of flour before adding the cream.

Again, to lighten the dish, you can half the amount of freshly grated parmesan. Don't worry- it will still taste delicious!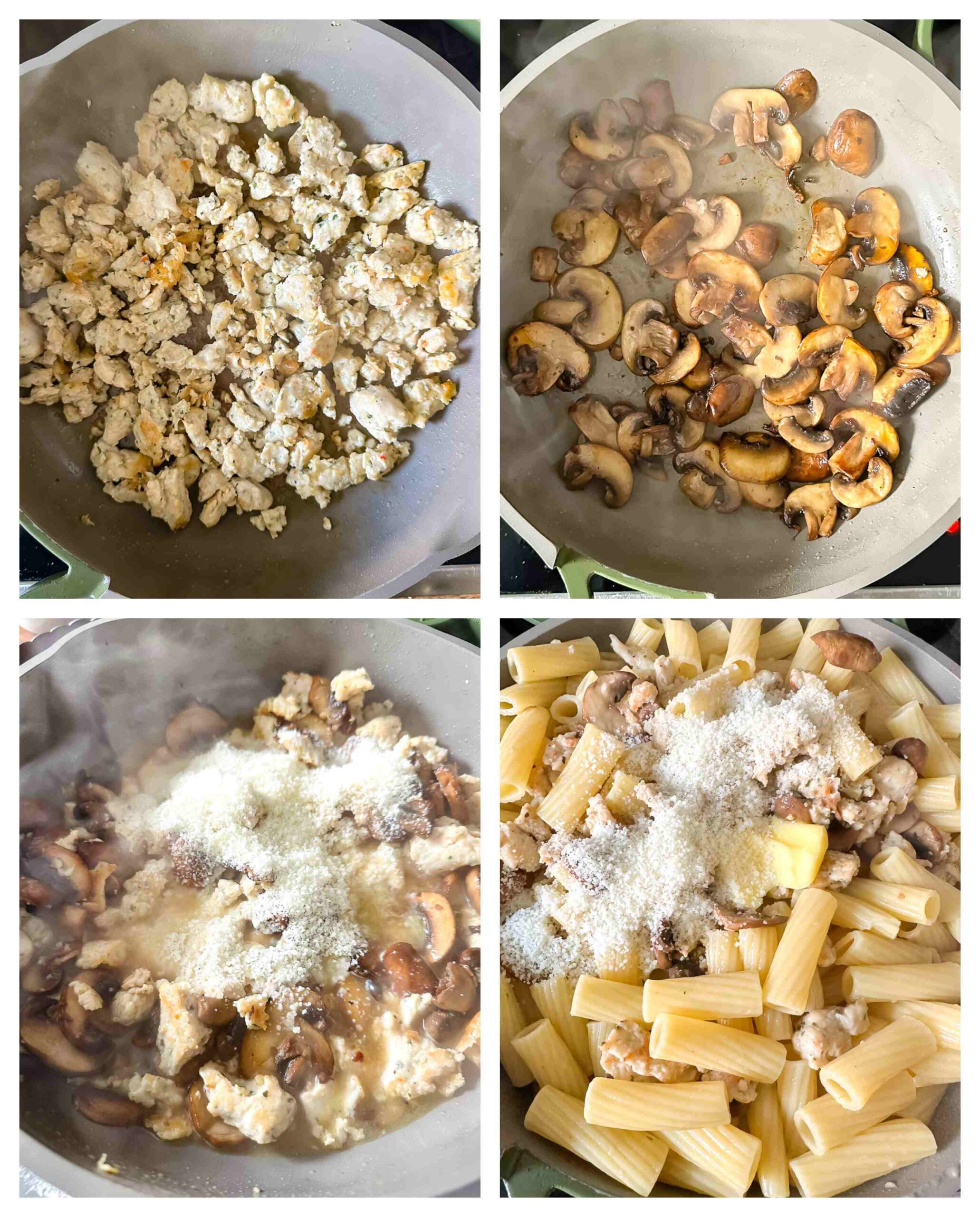 Storage and leftovers
Although I always make too much pasta, there are never any leftovers! But if your family are more restrained than mine, you can cover with cling film and the dish will keep in the fridge for 2-3 days.
To reheat, stick it on the stove top with a little water to loosen and heat gently. Make sure the sausage is piping hot.
Sauces containing cream don't freeze well. So either gobble up the lot on the day or refrigerate.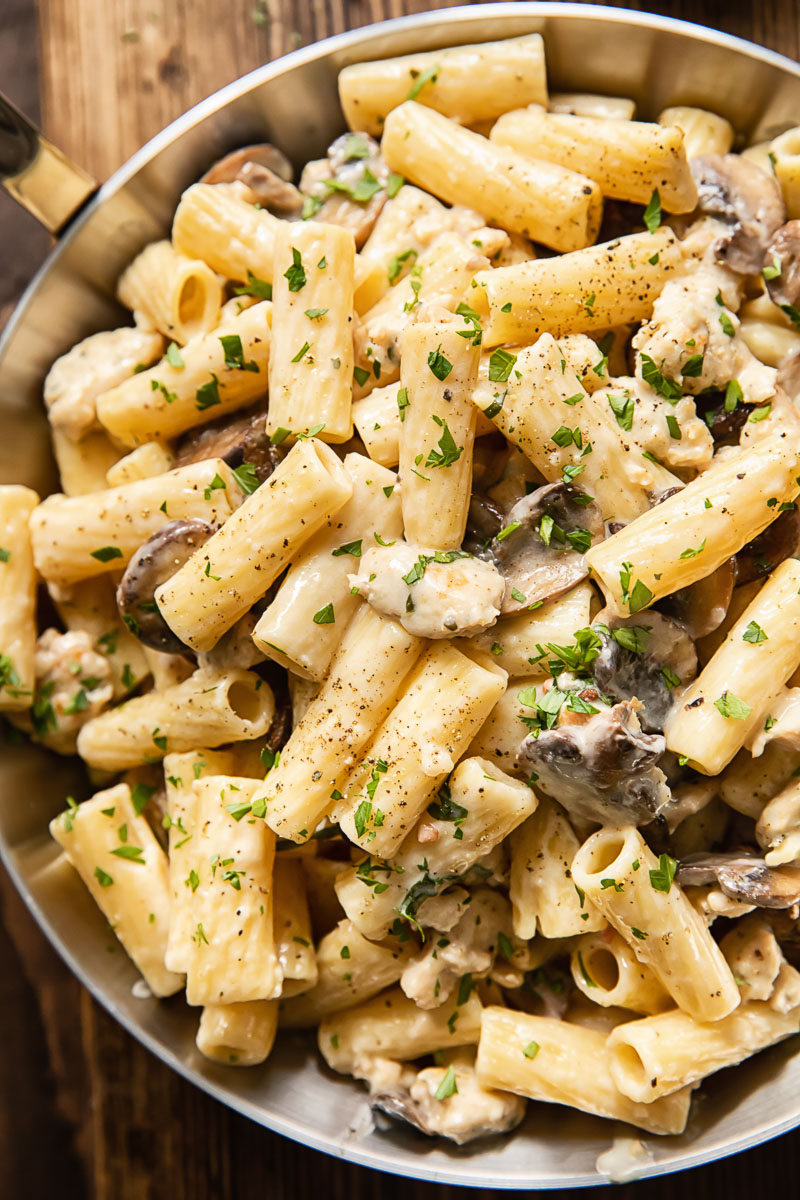 Most Popular Creamy Pasta Recipes to Try:
Or if you feel like browsing, take a look at our extensive Pasta Recipe Collection, where you can find a pasta dish to suit anyone's needs.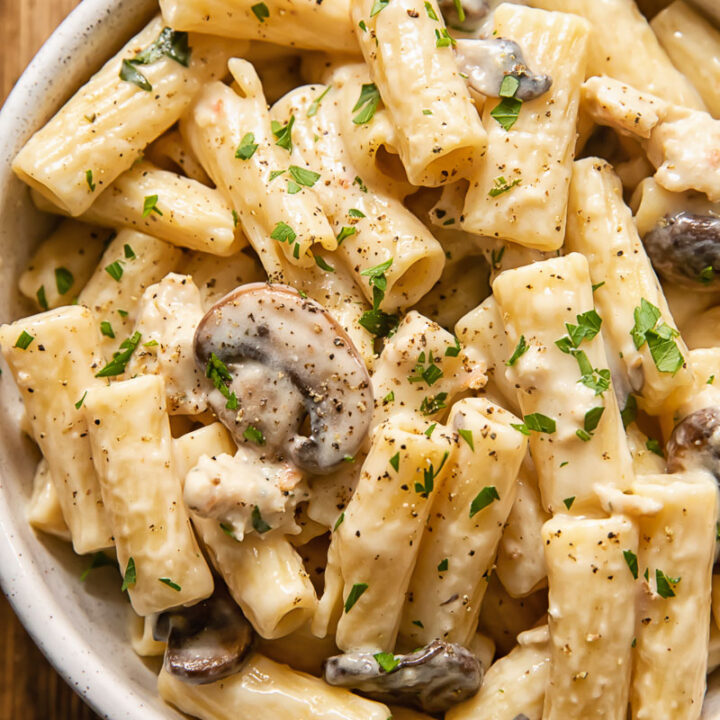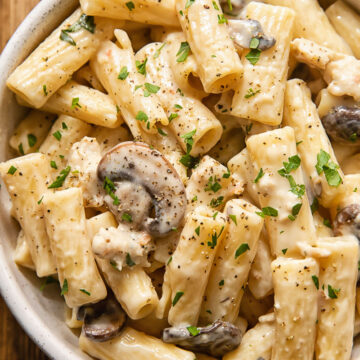 Italian Sausage Pasta with Mushrooms
Italian Sausage Pasta is a treat. Switching regular sausage for Italian-flavoured chicken sausage makes a for a lighter meat-based meal.
Ingredients
1 lbs

pasta

any shape

1

tbsp

olive oil

350g/12 oz

Italian sausage

I used chicken sausage

1

tbsp

butter

200g/2 cups

button mushrooms

sliced

salt and pepper to taste

80ml/1/2 cup

dry white wine

such as Chardonnay, Sauvignon Blanc or Pinot Grigio

375ml/1 ½ cup

double cream/heavy cream

100g/1 cup

Parmesan cheese

freshly grated
Instructions
Cook the pasta in a pot of salted boiling water according to package instructions.

Meanwhile, heat the olive oil in a large frying pan and add the chicken sausage, casing removed, break it up into chunks with a spatula, cook over medium heat until it's cooked all the way through, remove from the pan to a plate.

In the same pan, melt the butter and add the sliced mushrooms, fry them over medium high heat until golden, then season with salt and pepper. Deglaze the pan with the white wine, bring the heat down to medium and let it simmer until the wine is reduced in volume. Add the heavy cream, Parmesan cheese and stir to combine allowing the cheese to melt into the sauce. Then bring the sausage back to the pan and add salt to taste.

Drain the pasta and reserve ½ cup of the pasta water. Add the pasta to the sauce and toss to combine, season with more salt, otherwise the pasta might taste a bit bland. If the dish is a bit dry, add a splash to boiling water to loosen it, then sprinkle with fresh chopped parsley. Serve with additional Parmesan cheese.
Nutrition
Calories:
708
kcal
Carbohydrates:
63
g
Protein:
27
g
Fat:
38
g
Saturated Fat:
21
g
Polyunsaturated Fat:
3
g
Monounsaturated Fat:
11
g
Trans Fat:
0.1
g
Cholesterol:
118
mg
Sodium:
1235
mg
Potassium:
475
mg
Fiber:
3
g
Sugar:
7
g
Vitamin A:
1197
IU
Vitamin C:
19
mg
Calcium:
270
mg
Iron:
7
mg