The contrast of the spicy sausage pasta in tomato basil sauce and the mild creamy ricotta strike just the right balance in this easy recipe.
Take a look at our Sausage Pasta Bake if baked pasta with golden melty mozzarella on top is more your style!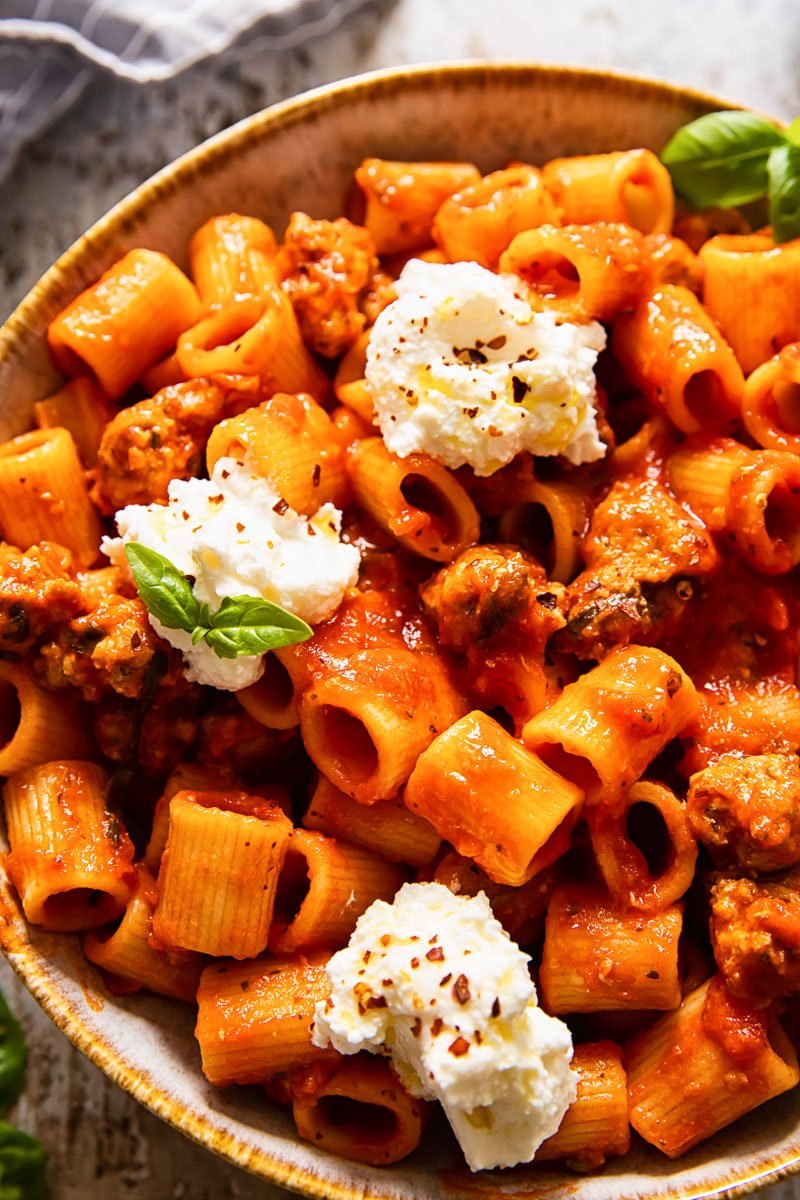 Quick and satisfying pasta dishes are my lifeline during a busy week. I rely on them to feed my family a healthy and varied diet because pasta could be made in so many ways!
Easy Pasta Dishes
I love that I could add a handful of vegetables and create something wholesome, which also happens to be very frugal. Tuna Noodle Casserole is such a good example of inexpensive dinners, that could be made in a flash. I use whole wheat pasta and add kale to my recipe for extra fibre and vitamins.
Pasta could also be made into a vegetarian main dish like this Creamy Orzo Pasta with Roasted Butternut Squash. It's a huge reader favourite and is loved by vegetarians and meat eaters alike.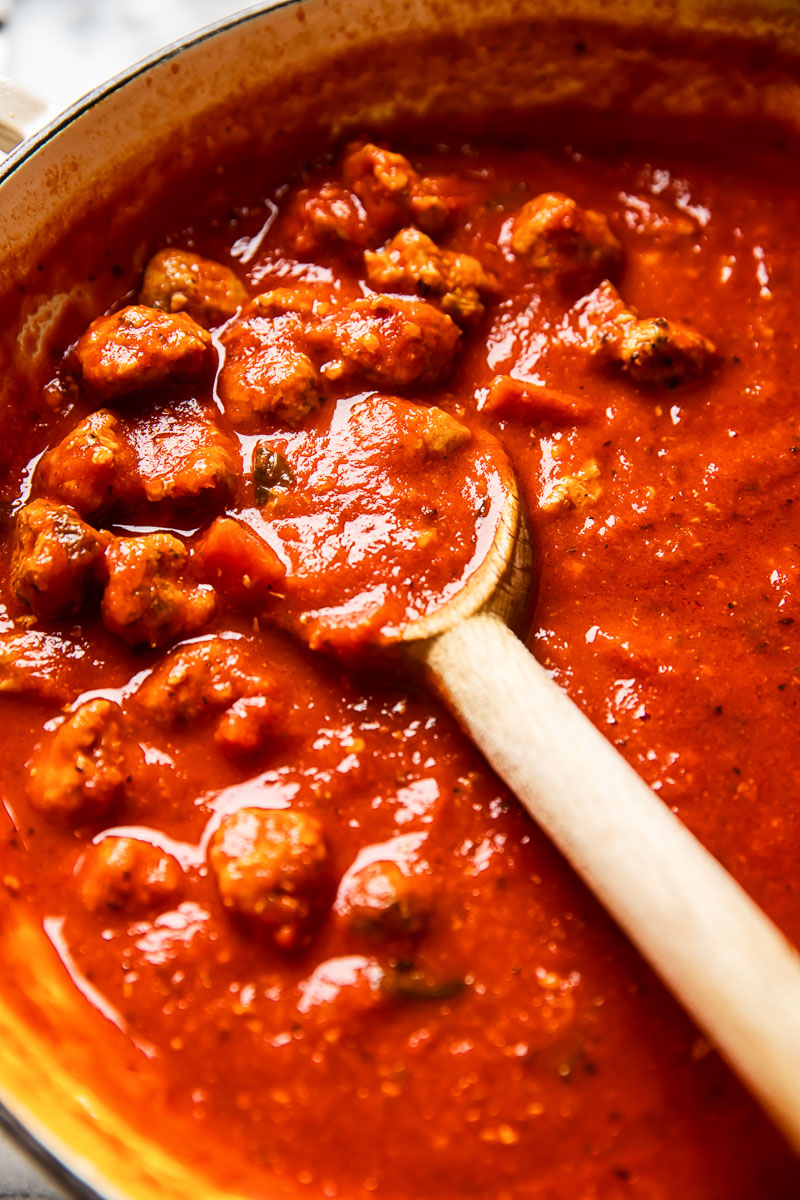 Spicy Sausage Pasta Sauce
The recipe I am sharing today has been our family's staple for at least a decade. Italian-flavoured sausage is cooked in a spicy tomato sauce, then tossed with pasta.
Let's talk about this mouthwatering sauce, which takes barely any time to make, and doesn't require expensive ingredients. The high quality ripe canned tomatoes give it a sweet taste with just a hint of spice from the chillies. While we might not associate spicy food with Italy, it has its rightful place in their cooking.
Spicy Italian sauces come from the South as a result of North African influence centuries ago. You can also see chillies being added to fresh pork sausages and salami in the South.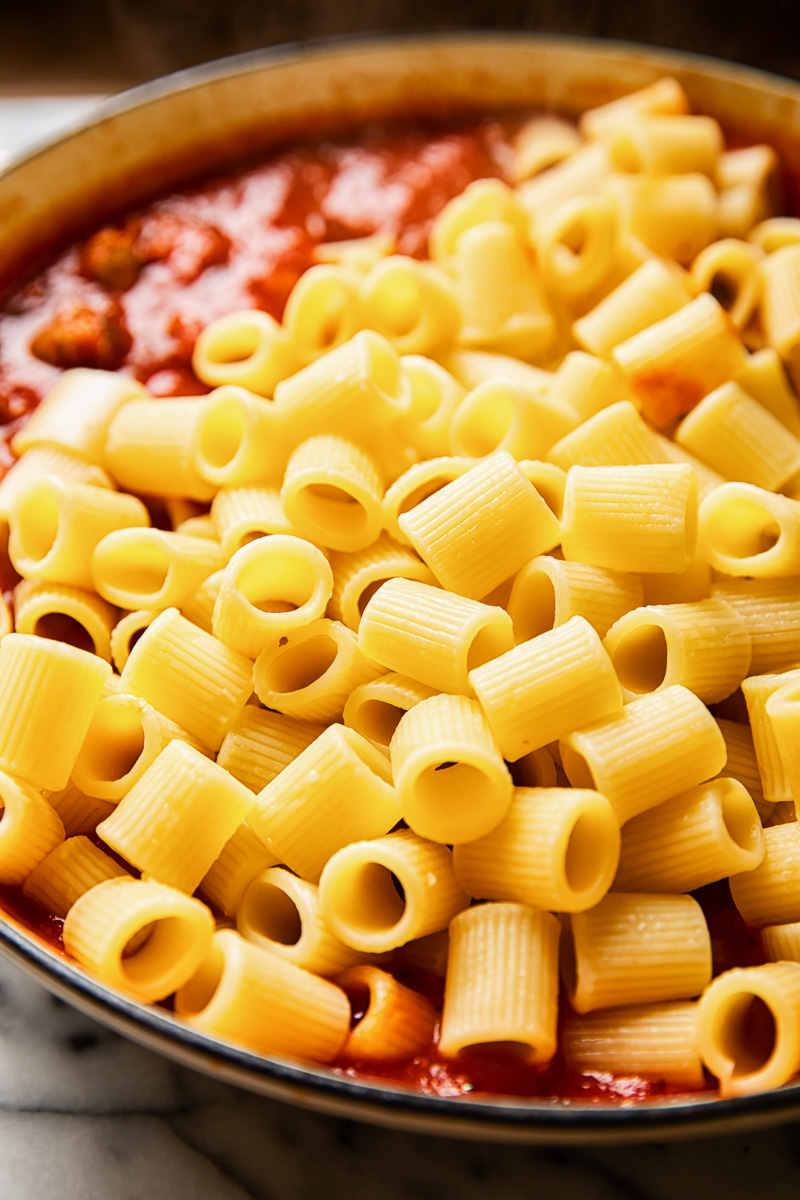 One of my secret ingredients for this sauce is fennel seeds. Another much loved Southern Italian ingredient. They add a touch of sweetness as well as a very mild liquorice taste.
If you hate the taste of liquorice like I do, I still urge to give fennel seeds a chance. They get balanced out by the rich flavours of the sausage and tomatoes, and do not overpower this dish in the slightest.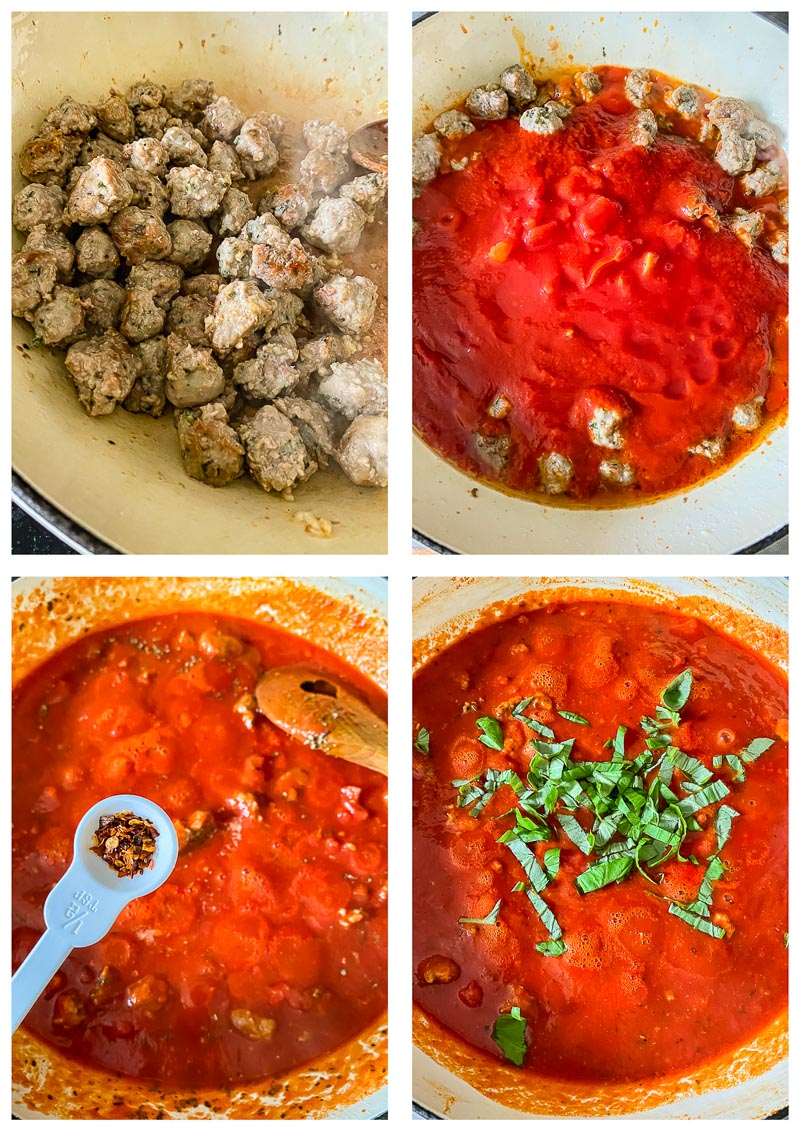 Recipe Tips and Notes
I recommend using thicker pasta shapes like rigatoni, penne or fusilli. They are able to stand up to this robust sausage tomato sauce. Tubular and ridged pasta like penne and rigatoni is also great for for holding onto the sauce.
Either buy Italian-flavoured sausage or plain sausage and add your own spices to it. The recipe below will guide you.
Take the sausages out of their casing and break them up into bite-sized pieces. The sauce will taste better with sausage chunks rather than sausage mince. They will resemble rough sausage meatballs this way.
Turn the heat up and get a good colour on the sausage, which means leaving them undisturbed on a pan for a few minutes before stirring. Caramelisation equals flavour!
Use higher quality canned tomatoes. I recommend buying whole canned tomatoes as they are usually of premium quality compared to the chopped ones. Just break them up with a wooden spoon or better yet use a potato masher.
Use fresh basil if possible for more flavour!
Dot the pasta with dollops of fresh ricotta right before serving and allow the people to mix it in on their own.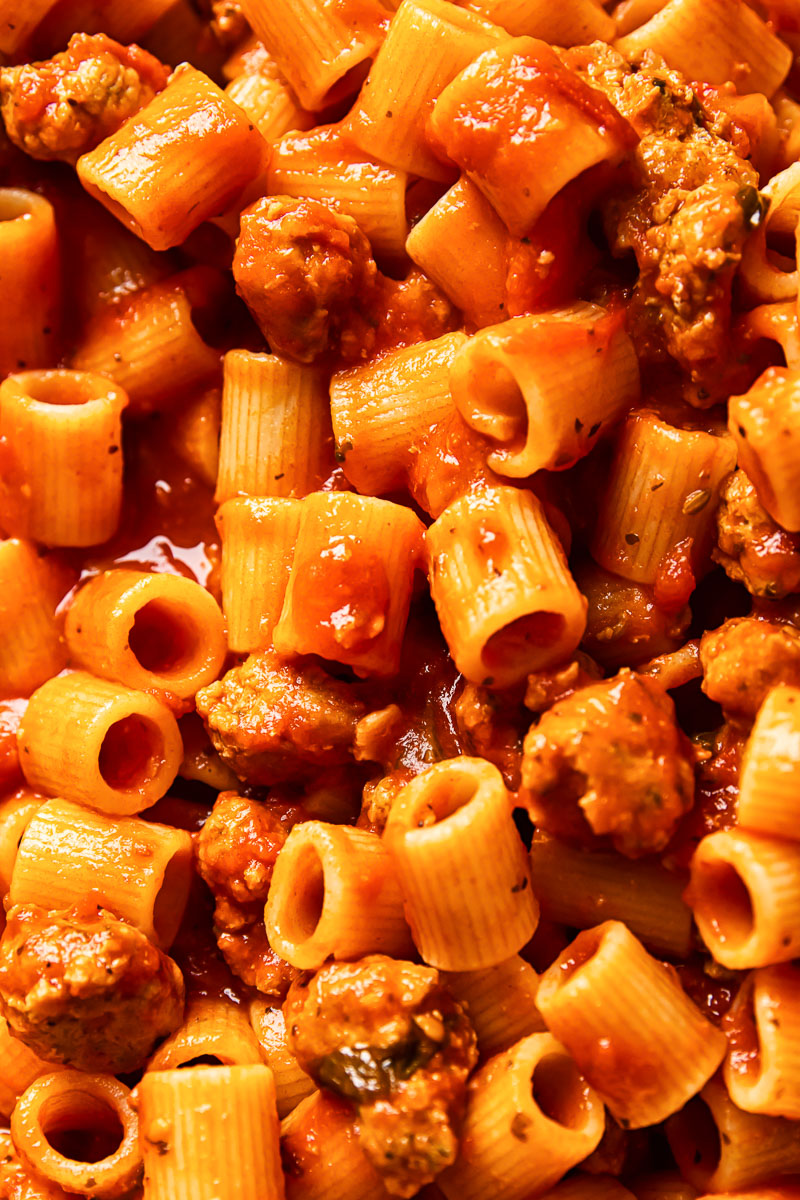 Serving Suggestions
This pasta recipe is wonderful as it is a one pan dish. Adding a simple side vegetable or a salad would make it a well-rounded meal. My personal favourites are Lemon Garlic Green Beans with Parmesan Cheese or Roasted Parmesan Broccoli.
If you prefer a salad, take a look at our Warm Zucchini Salad or explore our salad category for more ideas.
More Favourite Sausage Pasta Recipes: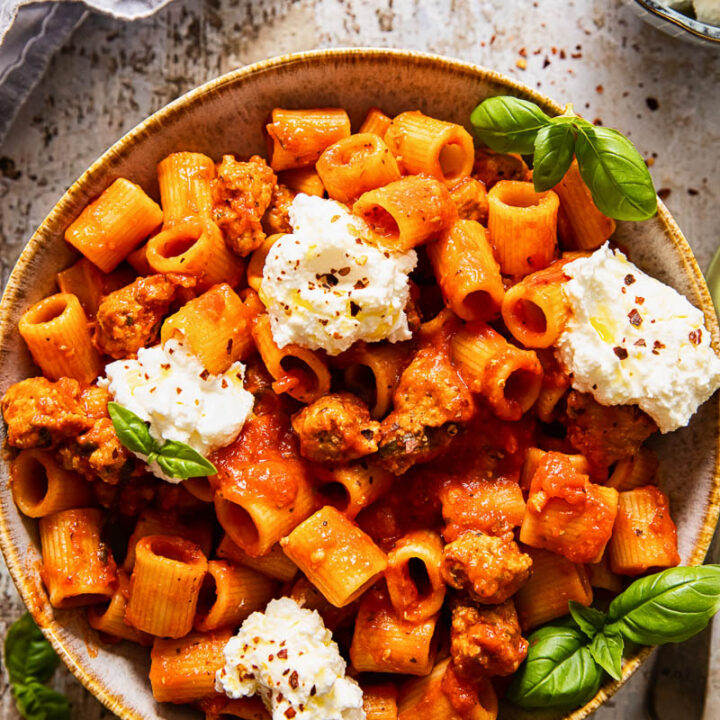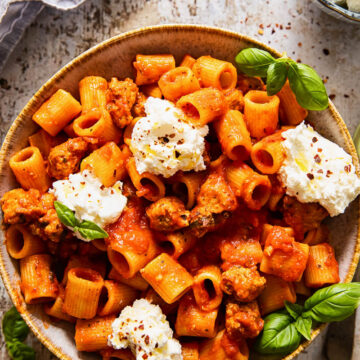 Spicy Sausage Pasta with Ricotta
The contrast of the spicy sausage pasta in tomato basil sauce and the mild creamy ricotta strike just the right balance in this easy recipe.
Ingredients
1

tbsp

olive oil

300g/6

sausages, Italian flavour or plain

½

tsp

fennel seeds

3

cloves

garlic

¼-1/2

tsp

chilli flakes or ½ fresh red chill, minced

7-8

fresh basil leaves or 1 tsp dried basil

400g/14 oz

canned tomatoes

whole or chopped

500ml/2 cups

tomato passata/crushed tomatoes

salt to taste

1

lbs

short pasta

rigatoni or penne

250g/1 cup

ricotta
Instructions
Remove sausages from their casing, heat a tablespoon of olive oil in a deep pan and cook sausage meat over medium heat while breaking it up in small chunks with a wooden spoon until no longer pink inside for 7-10 minutes. Add the garlic, fennel seeds and cook for 1-2 minutes.

Add canned tomatoes and tomato passata (or crushed tomatoes) along with the chilli flakes and fresh basil leaves, bring to a boil and then turn the heat down and simmer for 10-15 minutes. Season with salt to taste.

Meanwhile cook the pasta according to package directions. Drain the pasta and add to the sauce, toss to coat. Serve with dollops of ricotta cheese.
Nutrition
Calories:
577
kcal
Carbohydrates:
69
g
Protein:
25
g
Fat:
23
g
Saturated Fat:
8
g
Trans Fat:
1
g
Cholesterol:
57
mg
Sodium:
945
mg
Potassium:
788
mg
Fiber:
5
g
Sugar:
9
g
Vitamin A:
595
IU
Vitamin C:
15
mg
Calcium:
164
mg
Iron:
4
mg