This sausage meatball and pumpkin pasta is the creamiest pasta pasta dish you will make without using cream! Sausage in pasta dishes is always a win in my books!
How about Pumpkin Mousse Trifle for dessert?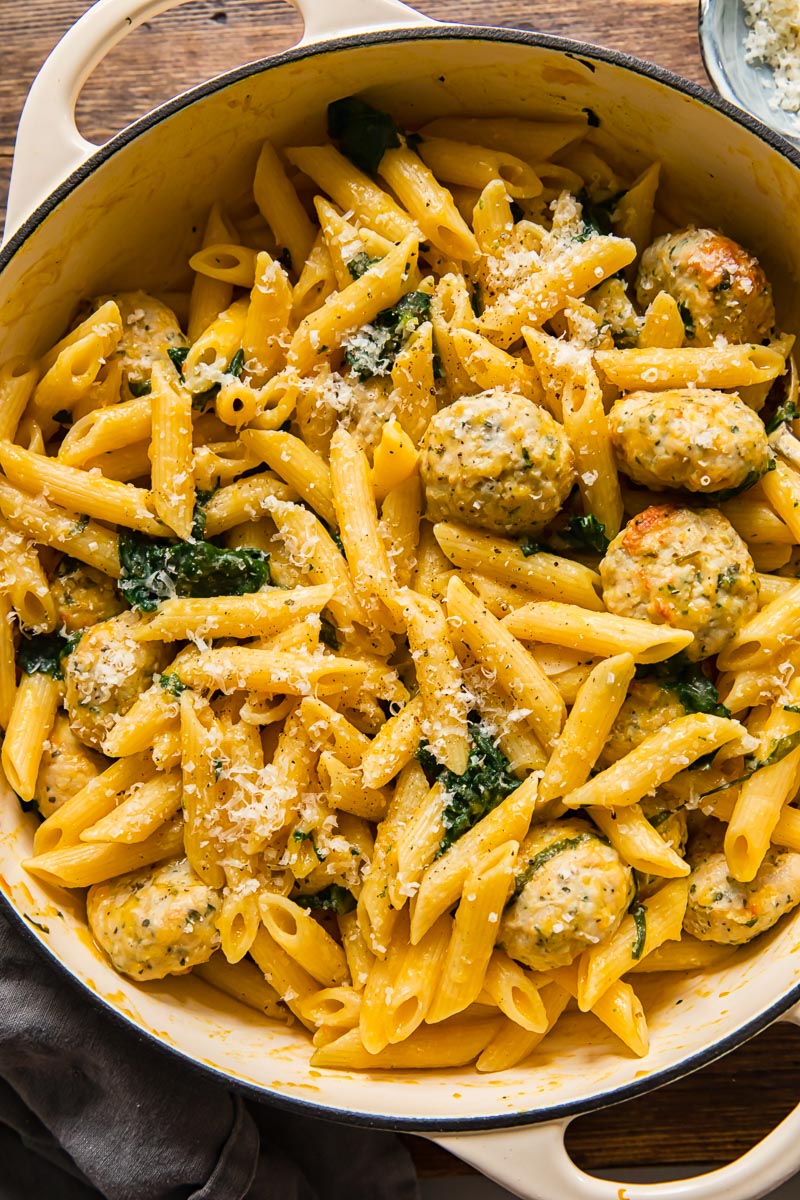 Lately I don't believe a week has passed without me using pumpkins, squashes or gourds in one form or another. We carved, roasted and blended them for so many different things!
My kids have always loved pumpkin but only in sweet things. But this savoury recipe with an amazingly nutritious vegetable like pumpkin was my first win.
This pasta recipe is a variation on my sausage pasta in tomato sauce, which is an absolute staple in our house. I wanted to use my homemade pumpkin puree as the base for the sauce instead of the usual canned tomatoes. It was a pretty bold move as I wasn't sure kids would approve.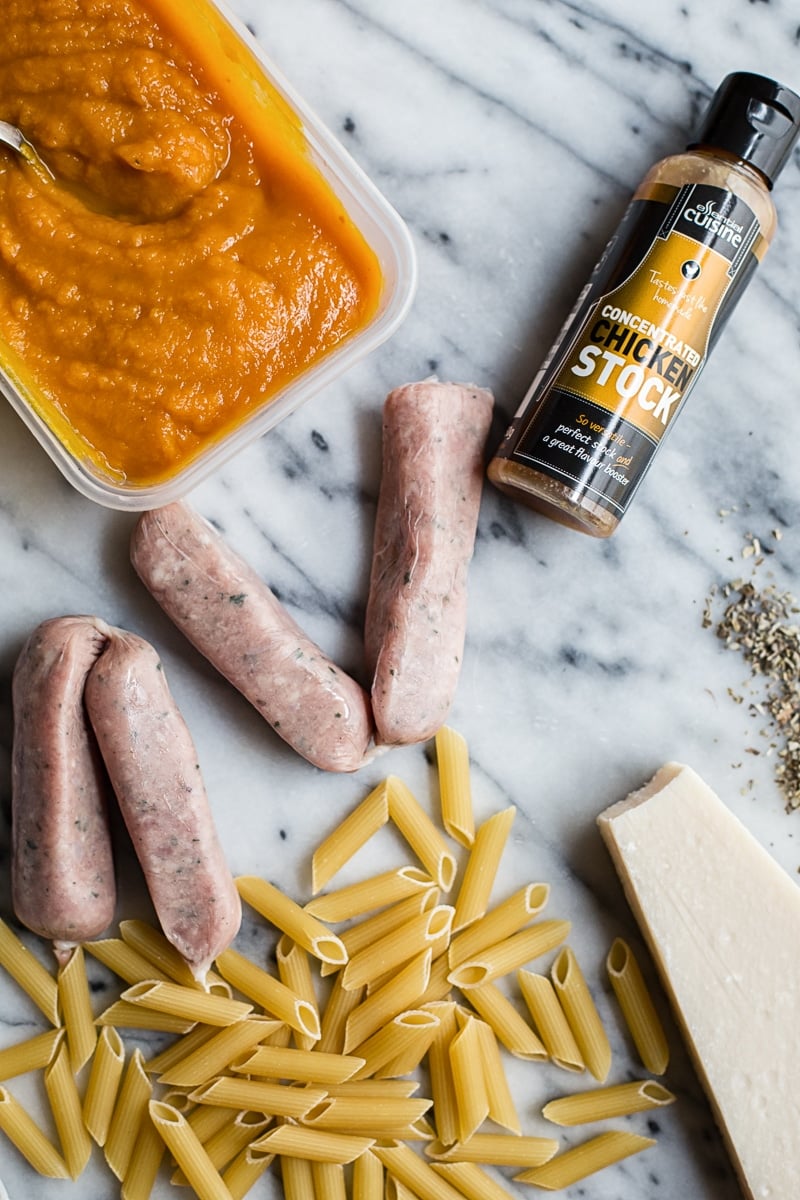 Creamy pasta
However, my kids go absolutely crazy for creamy pastas and they really love when I use flavourful sausage in pasta. I sort of tricked them into thinking that's what I made! And they FELL for it!
The joke is on them because I didn't use any cream at all. The sauce is a clever combination of chicken stock, pumpkin puree and a bit of Parmesan cheese. You would be fooled too because it tastes that great!
Since there is no cream used in the sauce I relied on the quality of stock for flavour. You can use your own but I didn't have any so used a concentrated chicken stock that was close enough.
Cream isn't needed here because the pumpkin purée adds so much creaminess. I have no idea why it isn't used more often for savoury recipes. It is so good!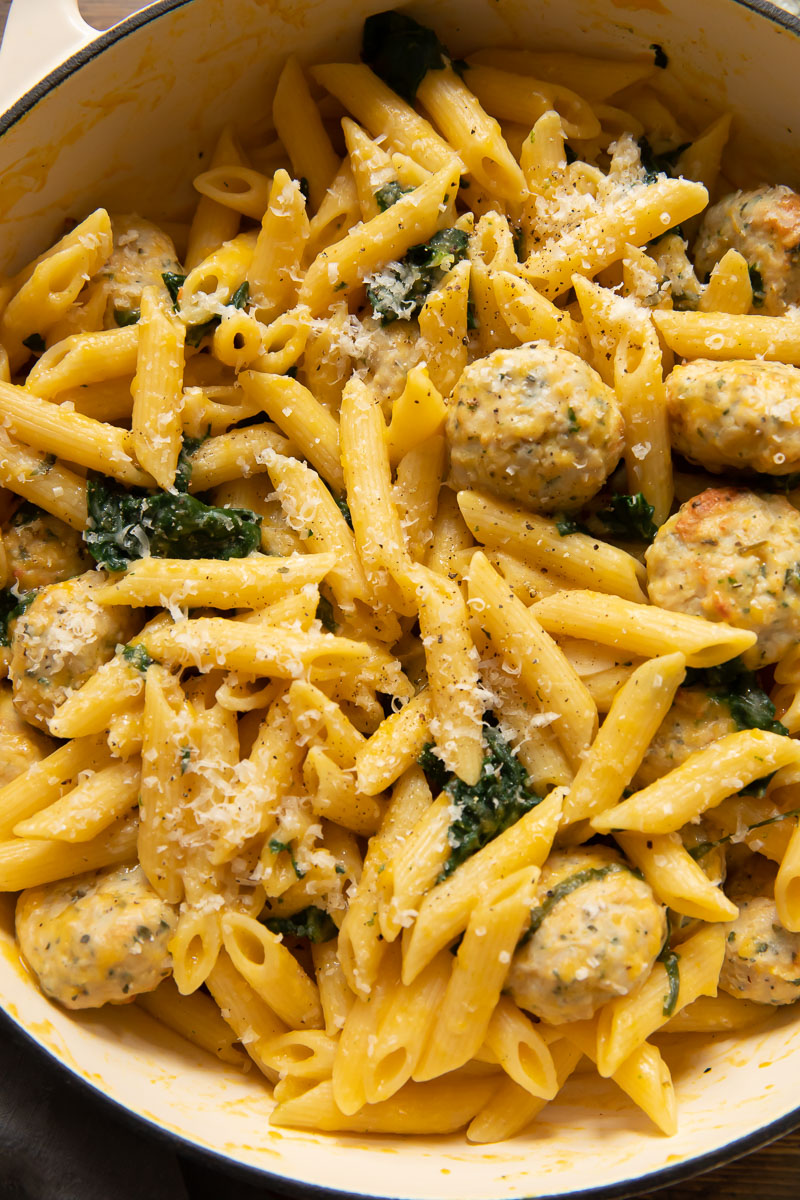 Sausage Meatballs
If you've been following me for a while and are familiar with my style of cooking, you would know that I am big on using real ingredients.
I am also a fan of making things fast. I love using sausages in pasta dishes. There are so many flavours to choose from in our supermarkets that would enhance your dish. But the best part is half of the task is already done for you!
Kids love meatballs but find store bought ones too bland, so I rolled meatballs out of sausages. Tons of flavour and it only took me about 5 minutes to form those rough meatballs.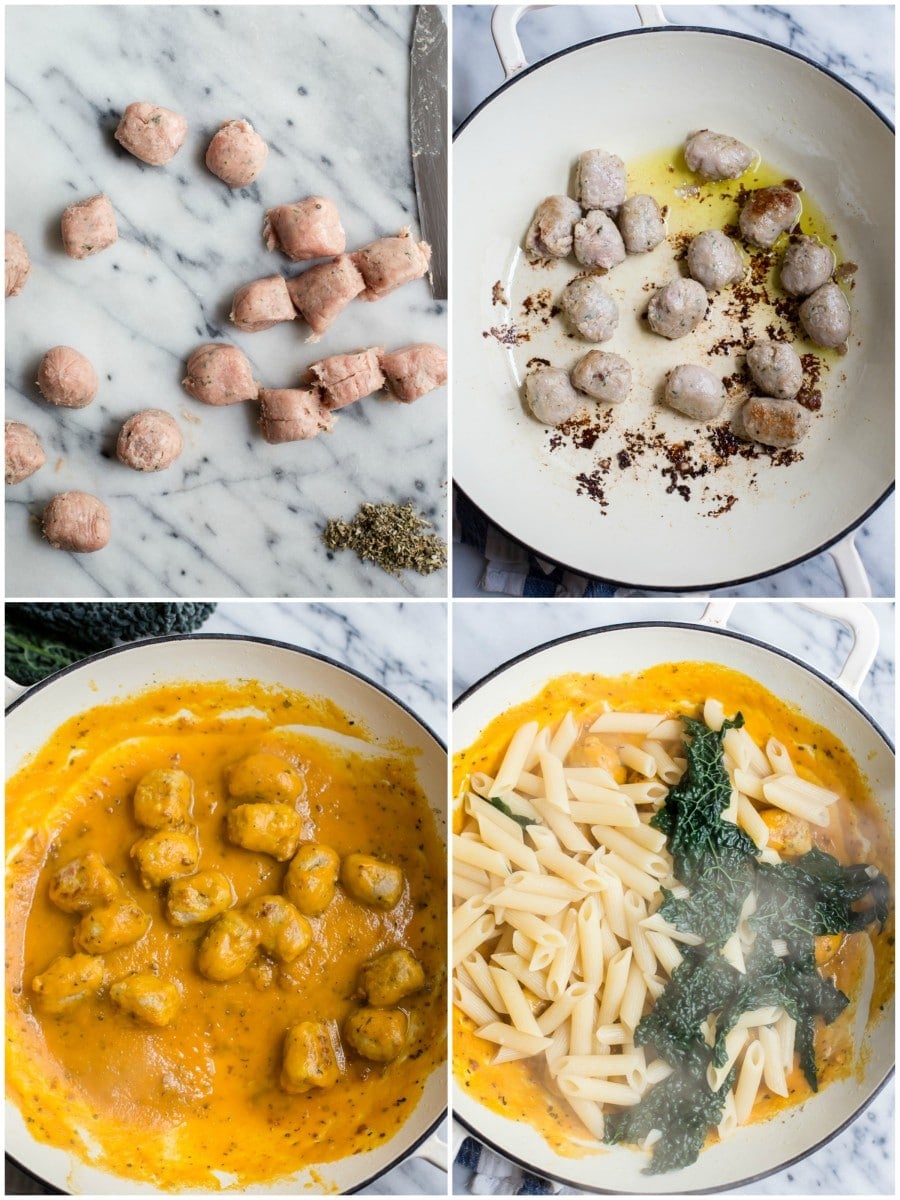 Who cares that they don't look perfectly round! All you have to do is to remove the sausage from its casing, cut each sausage into 4 pieces and quickly shape them into meatballs!
Your pasta dish will look cute, the children will be very pleased and you will truly feel like you are winning at life.
I've also added a little bit of cavolo nero to my pumpkin pasta for some extra fibre and vitamins. Feel free to substitute it with spinach if you don't like kale.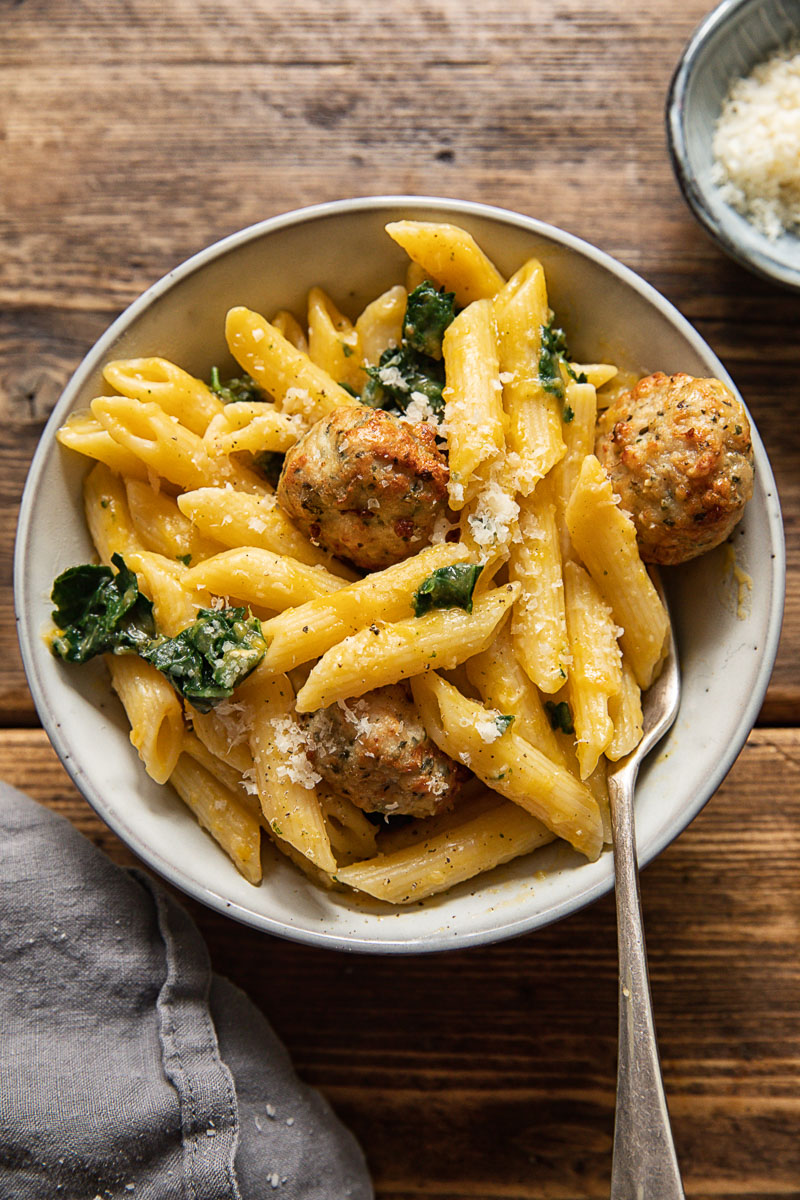 When I set out to create this recipe I was fairly certain that my husband and I would enjoy it but I wasn't so sure about the kids. They surprised me by announcing that they preferred this pumpkin pasta to the classic tomato one I make!
So there you have, a quick and flavourful pumpkin pasta that will rival any classic pasta, which was approved by all family members. I hope you give it a go and let me know what you think!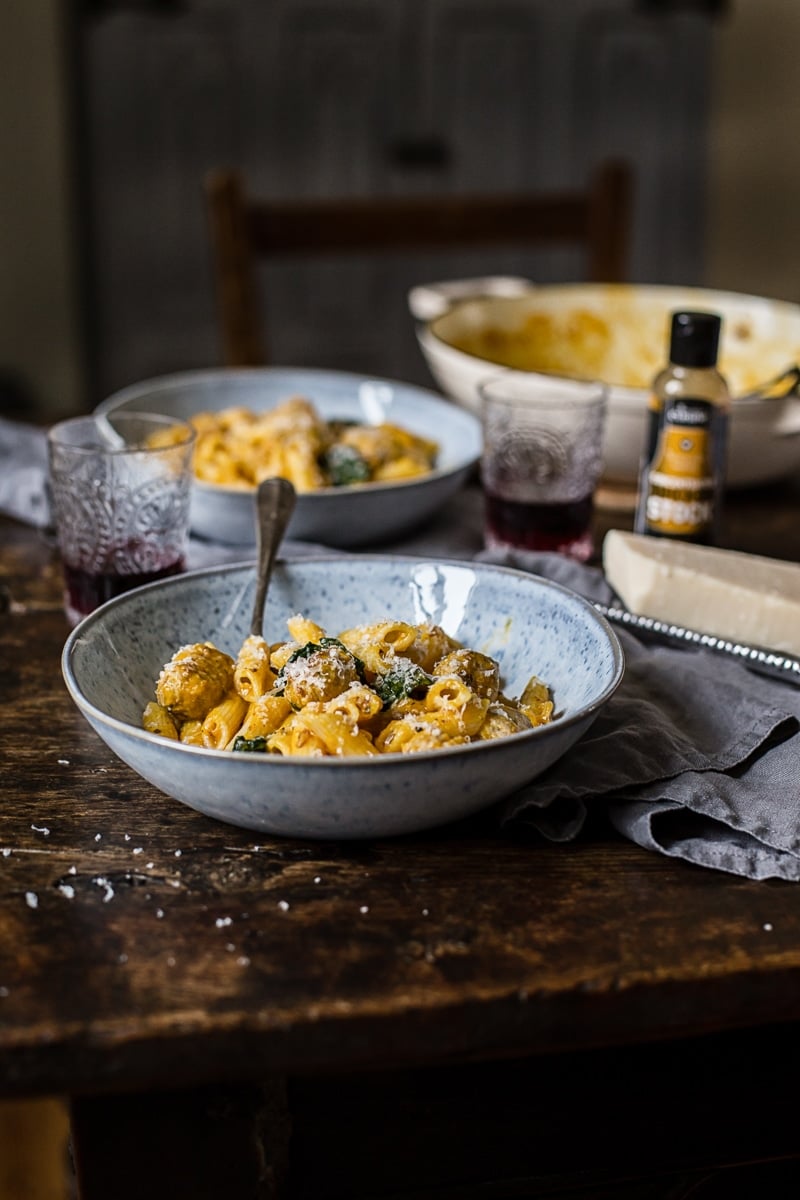 Recipe tips and tricks
Good quality sausages will have better taste. There is no need to buy premium sausages but get the best you can afford. Good sausages carry a lot of flavour, which means you don't need to add a lot of spices of your own.
If you want to infuse this dish with even more flavour, roast your pumpkin first then blend it. You can also use butternut squash instead of pumpkin.
I used penne for this pasta but any short pasta shape will work well.
It is important to properly salt the water before adding pasta. The pasta will absorb the salt as it cooks, resulting in a much more flavourful dish.
Using pasta water is a great way to add creaminess to a recipe because the water carries starch from the cooked pasta.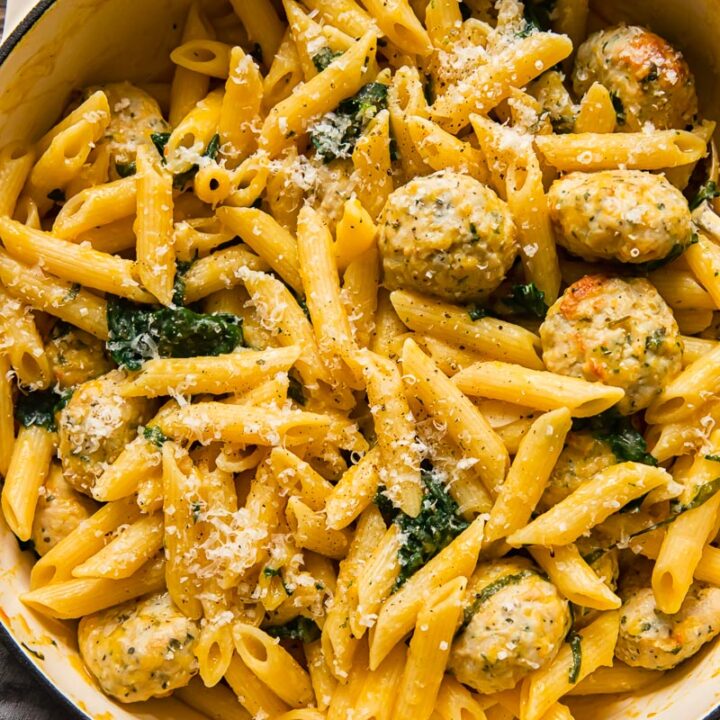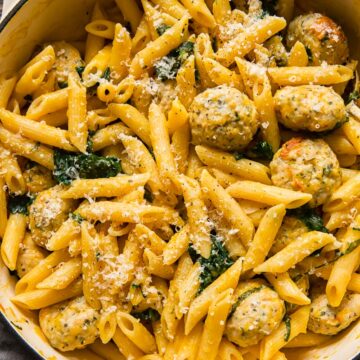 Sausage Meatball and Pumpkin Pasta
This sausage meatball and pumpkin pasta is the creamiest pasta you will ever make without even a drop of cream!
Ingredients
1

tbsp

olive oil

6

sausages

1

cup

/250ml chicken stock

1

cup

/250ml pumpkin puree

homemade or canned

2

cloves

garlic

1

tsp

dried sage

½

cup

/50g freshly grated Parmesan cheese

1

lbs

/450g penne or other short pasta

2

leaves

Cavolo Nero

optional, ribs removed and sliced

Salt

½

cup

/150ml reserved pasta water
Instructions
Bring a large pot of water to a boil, add salt and pasta and cook according to package directions. Add cavolo nero to the pot for the last 5 minutes of cooking.

Meanwhile remove sausage from casing, cut each sausage into 4 pieces, then shape into meatballs.

Cook sausage meatballs in a large and deep frying pan with 1 tbsp of olive oil over medium heat until brown all over for approximately 5 minutes, add minced garlic, sage and continue cooking over low heat for 1 minute longer.

To the same pan add chicken stock, pumpkin puree and bring to a boil, scrape the brown bits from the bottom of the pan to release them into the sauce. Once the sauce comes to a boil, lower the heat and add parmesan cheese, stir to combine. Taste and add salt and take it off the heat.

Drain the pasta and cavolo nero while reserving some pasta water and add both to the pan with the sausage meatballs and the pumpkin sauce, stir to combine, turn the heat back on and heat through. Add more pasta water if the sauce is too dry and salt if necessary.

Serve with additional Parmesan cheese.
Nutrition
Serving:
6
g
Calories:
616
kcal
Carbohydrates:
61
g
Protein:
26
g
Fat:
29
g
Saturated Fat:
9
g
Polyunsaturated Fat:
4
g
Monounsaturated Fat:
13
g
Trans Fat:
0.2
g
Cholesterol:
70
mg
Sodium:
752
mg
Potassium:
482
mg
Fiber:
3
g
Sugar:
3
g
Vitamin A:
2623
IU
Vitamin C:
5
mg
Calcium:
114
mg
Iron:
2
mg