What is this romantic sounding dish? Quite simply, bucatini cacio e pepe is pasta in a sharp cheese and black pepper sauce. It's a simple and elegant alternative to a tomato-based pasta recipe. And with all the ingredients at your fingertips and under 15 minutes to prepare, your family will be feasting like Romans in no time.
You might already know that Italians eat their pasta as a modest first course, rather than the gut-busting pasta proportions that we serve as a main. So I recommend following their lead, and this Roman pasta dish, with a second course of prosciutto wrapped creamy pesto chicken parcels.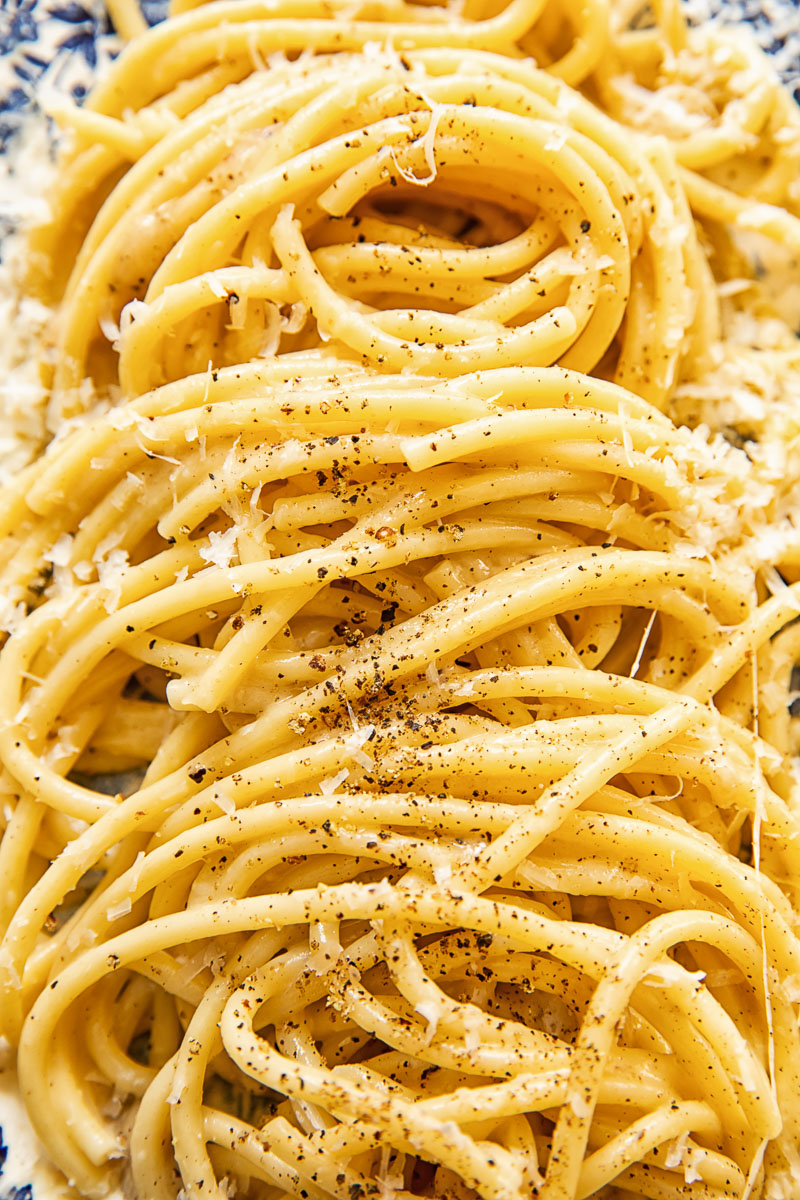 This post contains affiliate links. When you purchase through our links, we may earn a commission.
What is cacio e pepe?
Like many basic-ingredient dishes the world over, cacio e pepe probably came from humble, rustic beginnings. Think shepherds on Italian hillsides. Then, thanks to its easily-sourced ingredients and flavoursome nature, it rose to iconic status over the centuries.
The cacio e pepe recipe calls for just three ingredients:
Pasta (and its cooking water): Although most recipes call for pici,a thick spaghetti-like pasta, I use bucatini. As pici is hand-rolled it's not so readily available, but bucatini is and offers the same pleasing chew thanks to its similar girth. What's more, as bucatini is a tubular pasta, it has more surface area to soak up the unctuous sauce.
Black pepper: As the limelight is shared among only three ingredients, you need them all to shine as brightly. So, use fresh, coarsely ground black pepper.
Cheese: Pecorino Romano is the traditional cheese for this dish. And no, it is not the same as parmesan. To begin with, pecorino is a sheep's cheese (hello, shepherds!), while parmesan is from cows. The former is saltier and less grainy, which are both essentials for the flavour and the texture of the cacio e pepe sauce.
This unembellished, unadorned recipe has stood the test of time, and the elegantly simple sauce remains as salty, as peppery and as silky as those shepherds would have wanted it. I urge you to follow the instructions to the letter for a mouthful of Italian pasta like no other.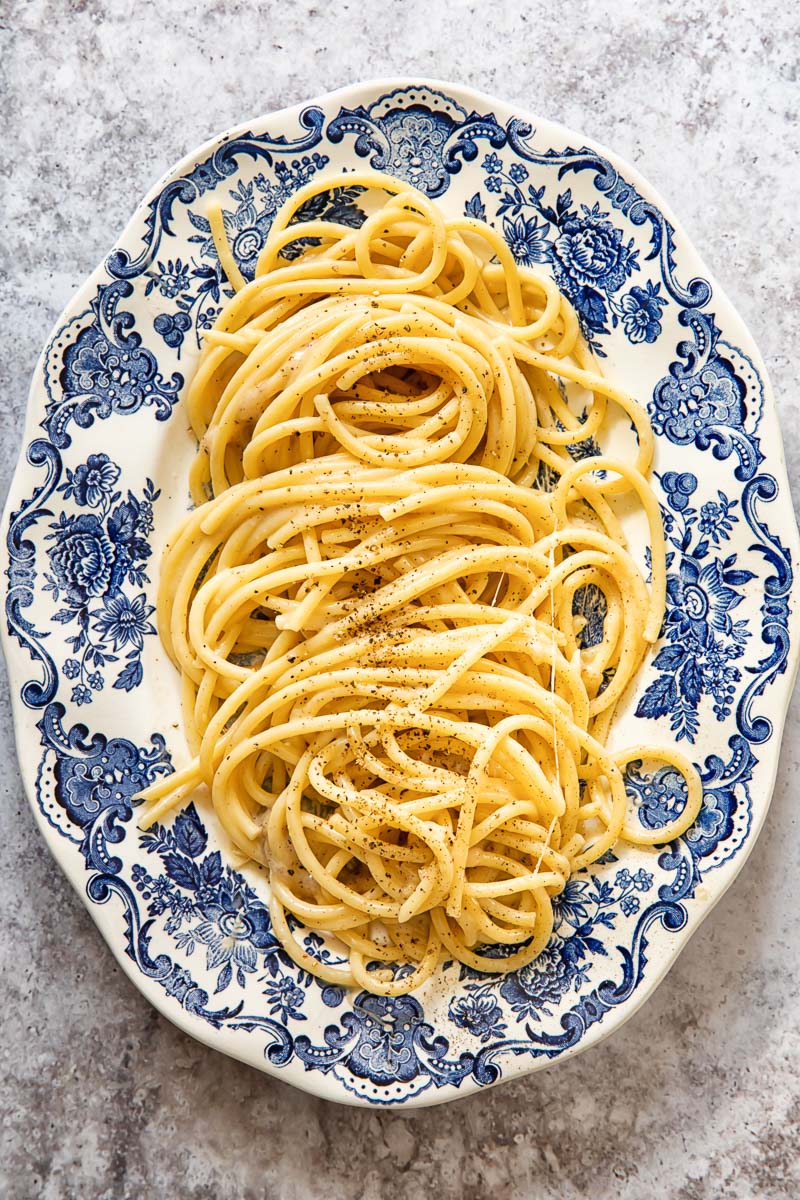 The sauce recipe
But…don't let the simplicity of the ingredients fool you. Cacio e pepe can be a tricky dish to get right first time.
So what's so tricky about it? Well, this isn't your standard one-pot wonder sauce. It's all about the marriage of pasta water and salty cheese. Who are reluctant partners. They need to be coaxed, introduced and gently warmed to one another until they combine as one smooth and slippery sauce.
The keys to mastering this are: 1) the cheese; a yielding, very finely grated fresh pecorino. 2) Warm, not hot, pasta water for combining with the cheese. 3) A comfortably heated bowl for introducing the two ingredients and relaxing them into one another.
Yes, they might seem like overly-exaggerated steps for such a simple sauce. But don't be tempted to cut corners. Take it from me!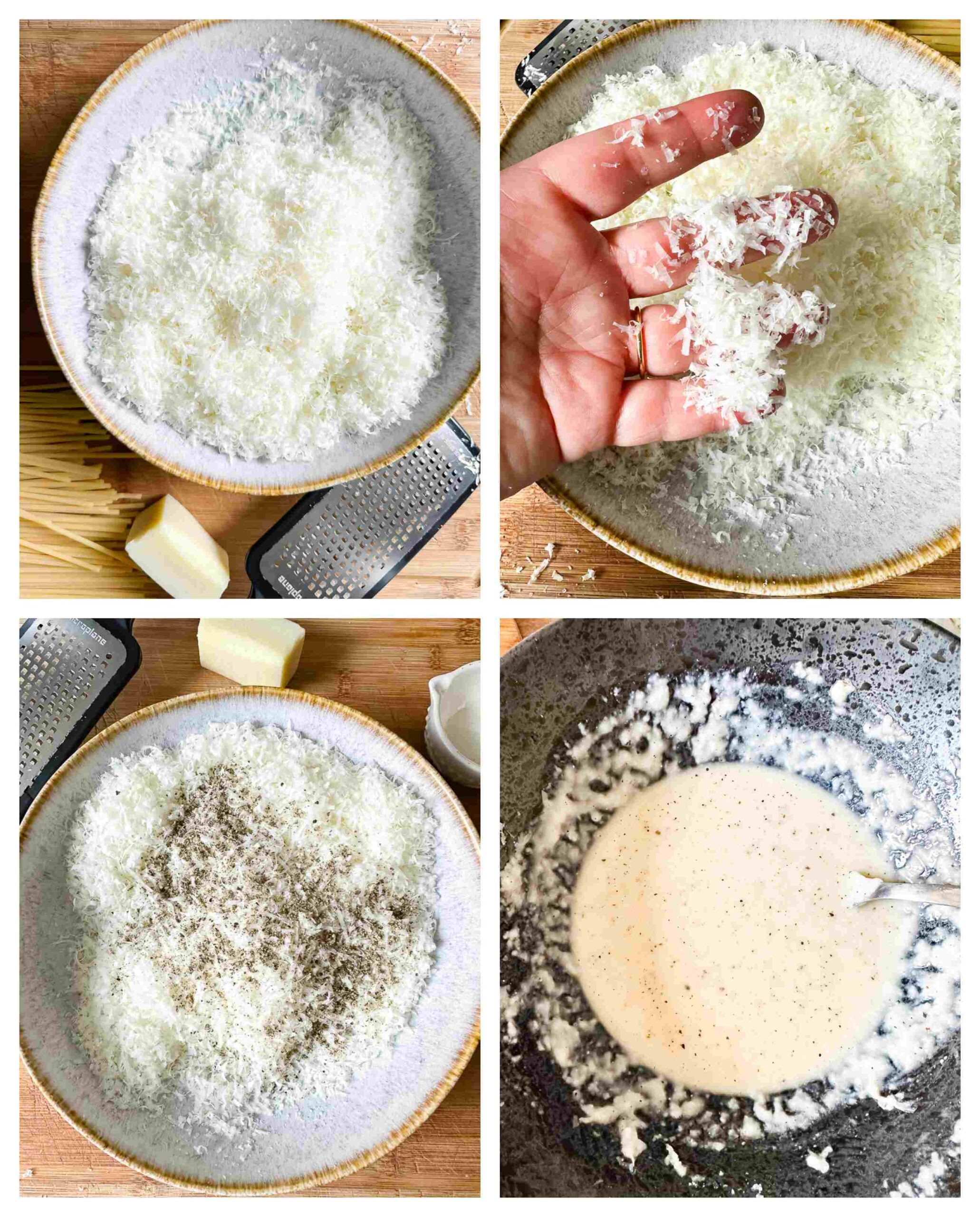 Recipe tips and notes
Simple ingredients do not equal a simple dish. I'm not too proud to admit that my first attempt was a failure. And my second not much better! But remember, Rome was not built in a day.

Did I mention the sauce is tricky? The water and cheese need some gentle persuading to become friends, and your task is to make sure the conditions are perfect for the match. First, the pasta water must be warm- not hot, this slowly melts the cheese. Second, the two ingredients must be introduced in a warm bowl, not a stove top pan. This ideal environment, and some gentle but continuous whisking, will encourage the two elements to merge and emulsify creating a pale and silken sauce.

If the result is milky water with globs of cheese in, I'm afraid you've forced the friendship and it's gone wrong. The texture may not be right, but I would eat it anyway! I ate mine with no shame. The shame would be to waste it!

1 teaspoon of pepper per two portions is to my taste. But if you prefer a more peppery kick, give it a few more grinds.

Pecorino Romano is the authentic cheese choice. It is favoured as it's finer than the large-grained Parmesan or Grana Padano and therefore melts more willingly, which is a huge advantage in this particular recipe.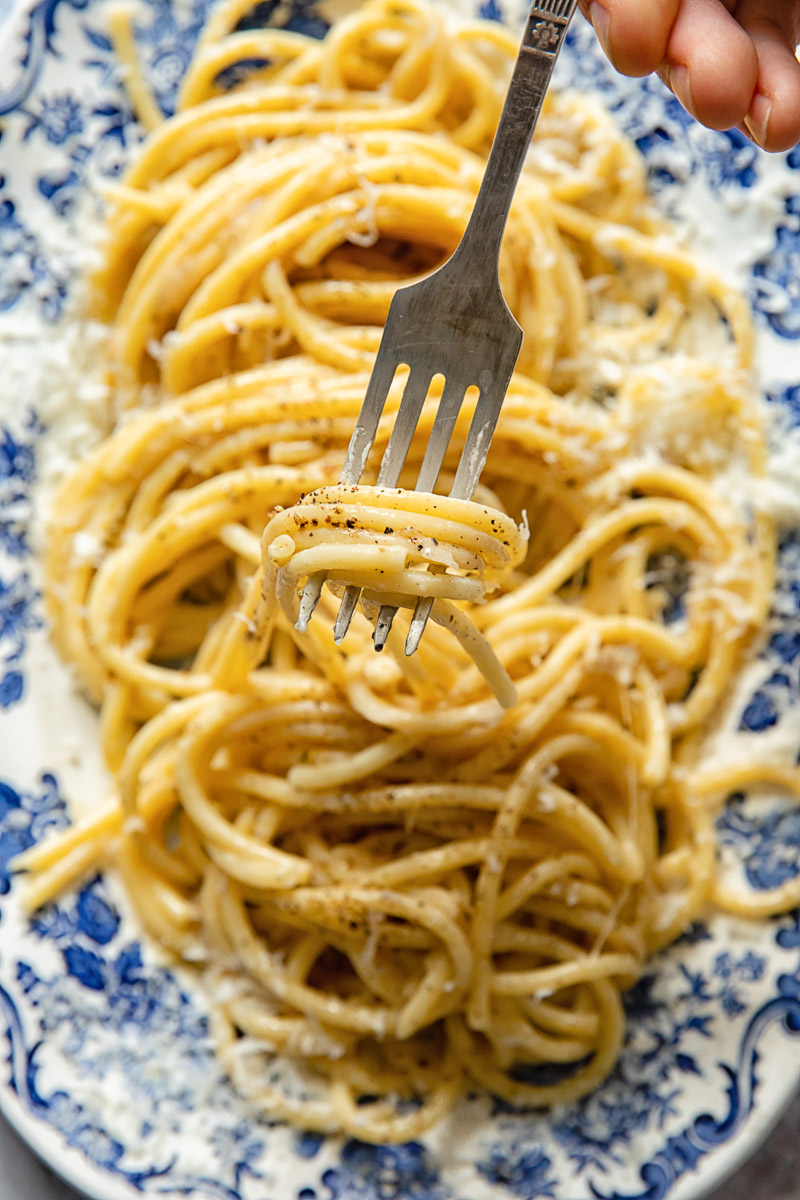 Storage and leftovers
This is a dish best eaten immediately! However, if you have belied your nationality and have leftovers, you can cover with cling film and refrigerate for up to 2 days.
To reheat add a splash of water and heat slowly on the hob or you are really into simplicity microwave for 40 seconds to 1 minute depending on your microwave.
Favourite Quick Pasta Recipes to Try: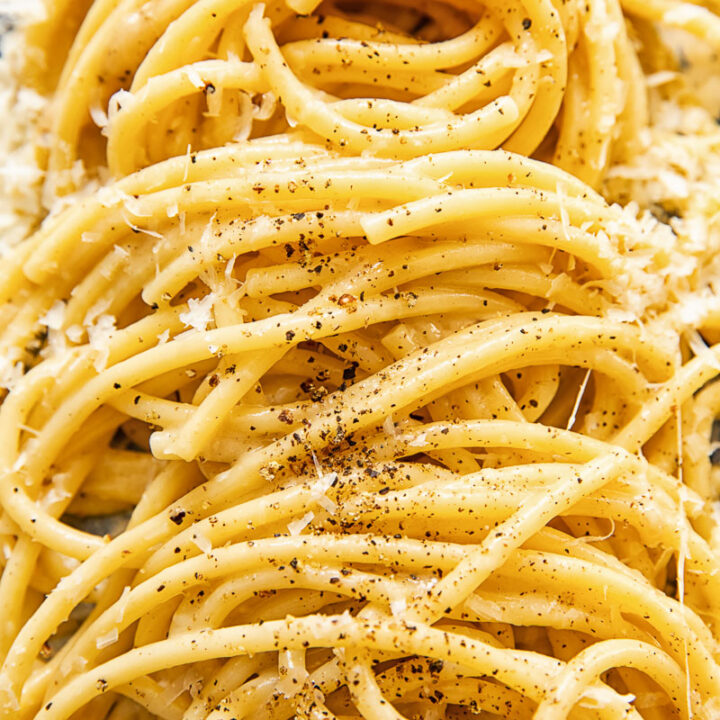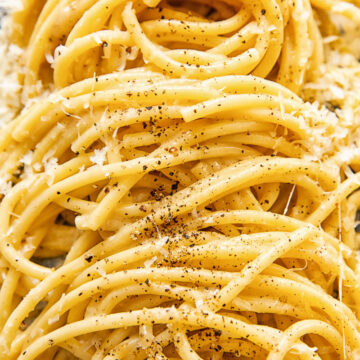 Bucatini Cacio e Pepe
Quite simply, bucatini cacio e pepe is pasta in a sharp cheese and black pepper sauce. Great alternative to a tomato-based pasta recipe.
Ingredients
200g/1/2 lbs

bucatini

or spaghetti

1

tsp

black pepper

freshly ground

80g/3/4 cup/3 oz

Pecorino Romano

or Parmigiano Reggiano

1

tbsp

butter

170ml/3/4 cup

hot pasta water
Instructions
Start cooking the pasta in a pot of boiling and salted water. Reduce the amount of water in the pot by about ⅓ of what you usually use to concentrate the starch, which will become a part of the sauce later. Cook the pasta according to package instructions.

Grate the cheese using the smallest grater holes, it needs to be extra fine to create a silky sauce. Do not use pre-grated cheese for this recipe. Grind and measure out the pepper.

Preheat a mixing bowl, so it's warm. You can use a low setting oven or microwave it for a minute, which is what I did. Add the cheese to it and the black pepper. Start gradually adding the hot pasta water to it a little bit at a time and mix it with a whisk until you get a smooth sauce, which looks a bit like béchamel, the cheese should completely incorporated into it. I added 170ml/3/4 cup of the warm pasta water in total.

Drain the pasta and add it to the sauce, start coating it gently using a pair of tongs or two large spoons until the sauce is coating every bucatini strand. Serve in warm bowls with extra grating of the cheese if desired.
Nutrition
Calories:
579
kcal
Carbohydrates:
77
g
Protein:
26
g
Fat:
18
g
Saturated Fat:
11
g
Polyunsaturated Fat:
1
g
Monounsaturated Fat:
5
g
Trans Fat:
0.2
g
Cholesterol:
57
mg
Sodium:
531
mg
Potassium:
272
mg
Fiber:
3
g
Sugar:
3
g
Vitamin A:
346
IU
Calcium:
453
mg
Iron:
2
mg