The colour of sunrise, saffron risotto is a gleaming plate of romance that can be served as a main dish or spectacular side. It's a comforting blend of creamy rice and aromatic saffron threads that is surprisingly simple to master. Let me show you how.
Once you've perfected the art, try your hand at this supremely special risotto recipe: truffle risotto with wild mushrooms.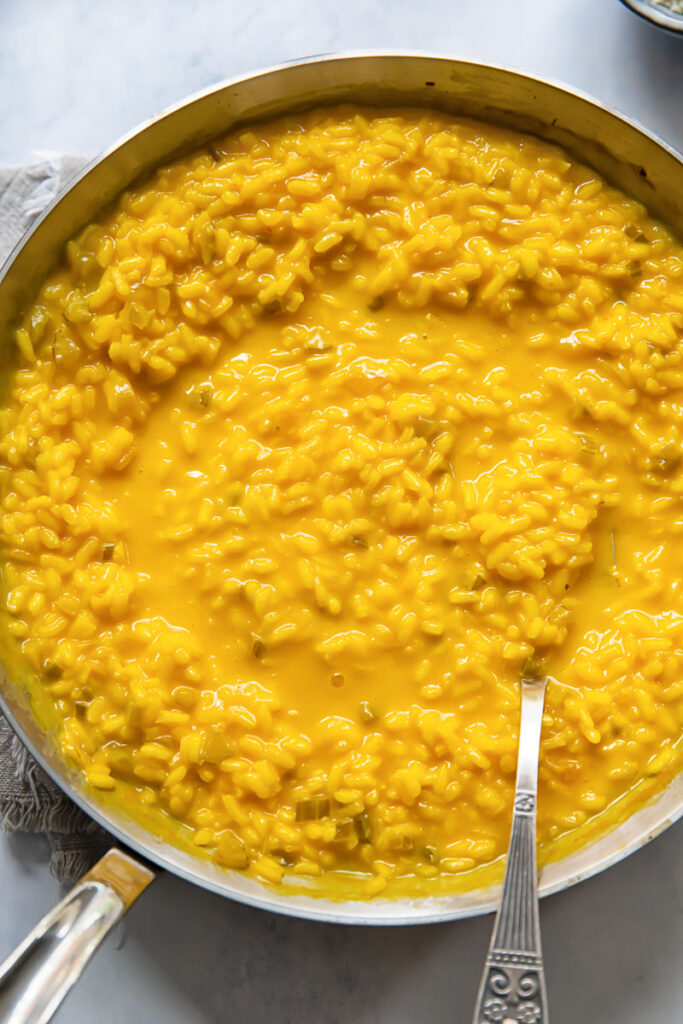 Whether you need a break from your staple pasta dishes or have a gluten-free guest, risotto is a go-to. Made with rice, stock and aromatics, the ingredients are simple and the technique comes with practise.
Risotto has a reputation for being tricky to pull off and it's true, it is a labour of love. But with time, patience and my help, you'll be serving up steaming bowl after bowl of this delicious and filling family favourite.
What is risotto?
Typically, a risotto is prepared on the stove top by adding small quantities of hot stock to rice and stirring until the liquid is absorbed- and repeating this process. Like I mentioned, time and patience. But that's as taxing as it gets! And at the end, you will be rewarded with a decadently rich and luscious rice dish.
Saffron risotto, or risotto alla Milanese, is prepared in the same way, but the finish is a glossy gold plateful of delicately flavoured rice. The thin, fiery-coloured saffron threads when cooked are both sweet and earthy, and the addition of sharp parmesan cheese gives the risotto a savoury edge making it the perfect partner for osso buco.
Interestingly, saffron risotto came about as the result of a prank. Perhaps with little to do in the way of fun in Northern Italy in the Middle Ages, some jokester glassmakers slipped a little of the saffron they were using to stain glass into a usually ghostly-white risotto at a wedding banquet. Presumably, the guests found it as palatable as it was amusing as gourmands around the world are still appreciating the joke today.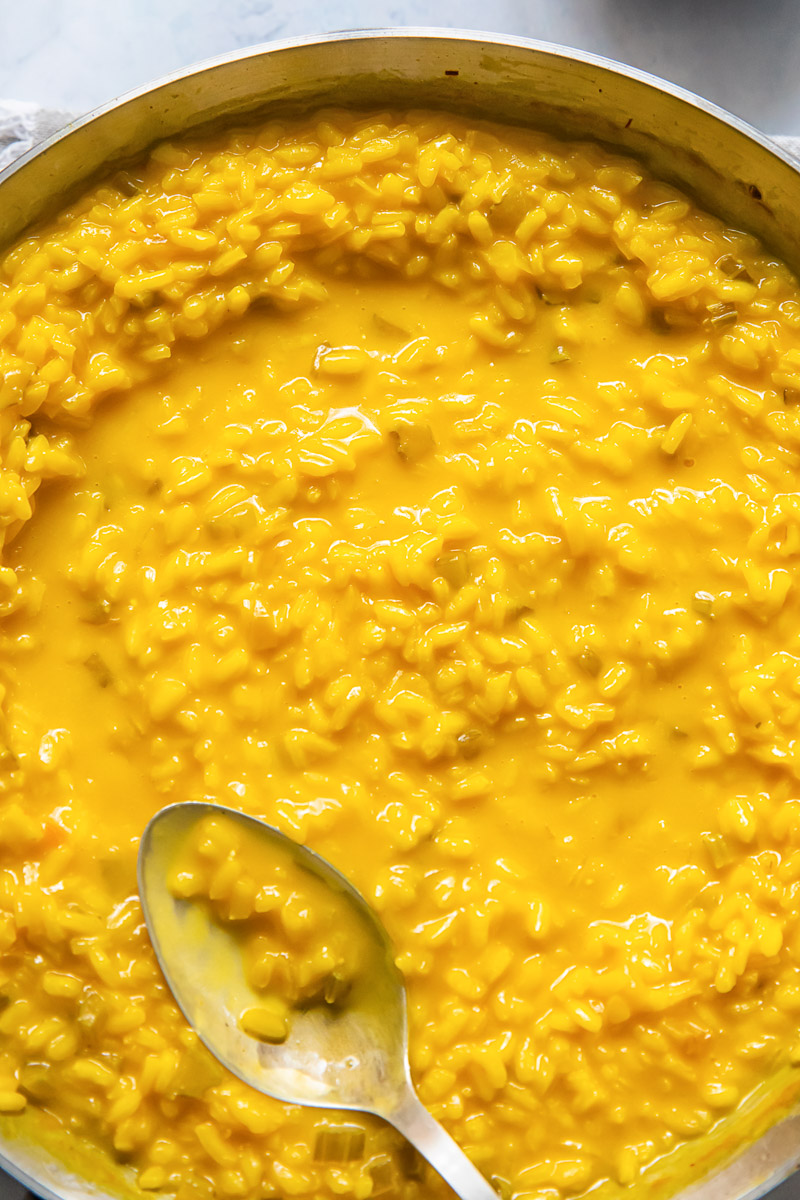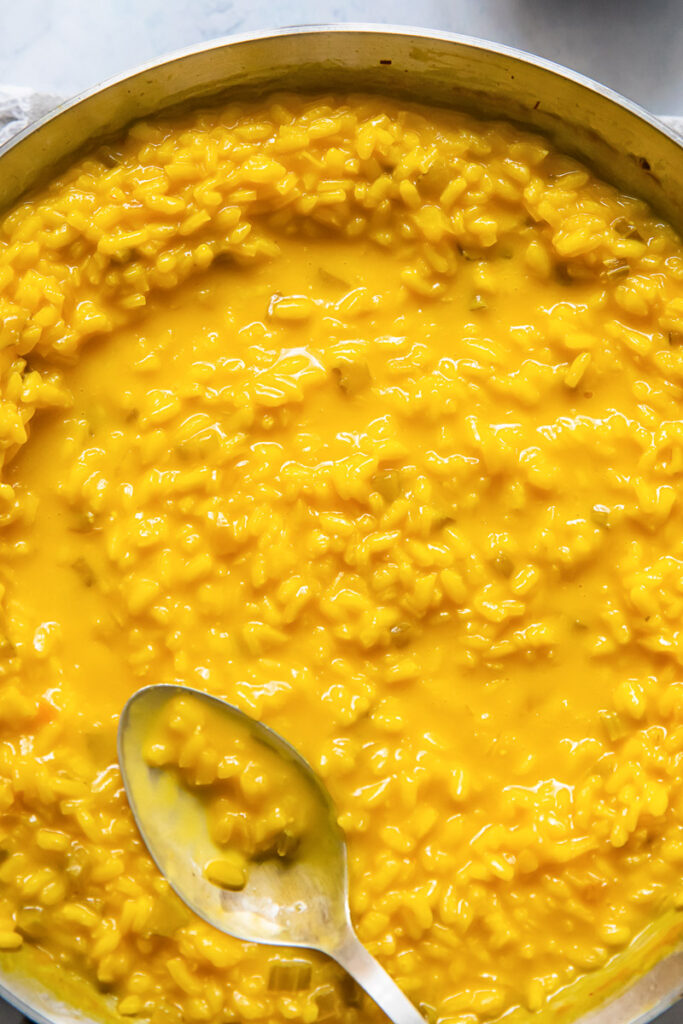 Risotto rice
The secret to a sleek, velvety sauce is in the starch so it is vital that you start with the right rice. You have a choice of two: arborio or carnaroli.
Arborio rice is inexpensive and easy to find making it the most popular choice. The short and stubby grains absorb liquid and exude an oozy sauce thanks to the high starch content. Carnaroli is less familiar and accessible but said to be higher quality. Its plumper grains have a higher starch content making for an even richer, creamier texture.
Standard store cupboard long grain rice varieties like basmati or jasmine will not yield the sought after creamy consistency and your hard work will be met with a thin sauce and chewy rice. Don't be tempted by convenience!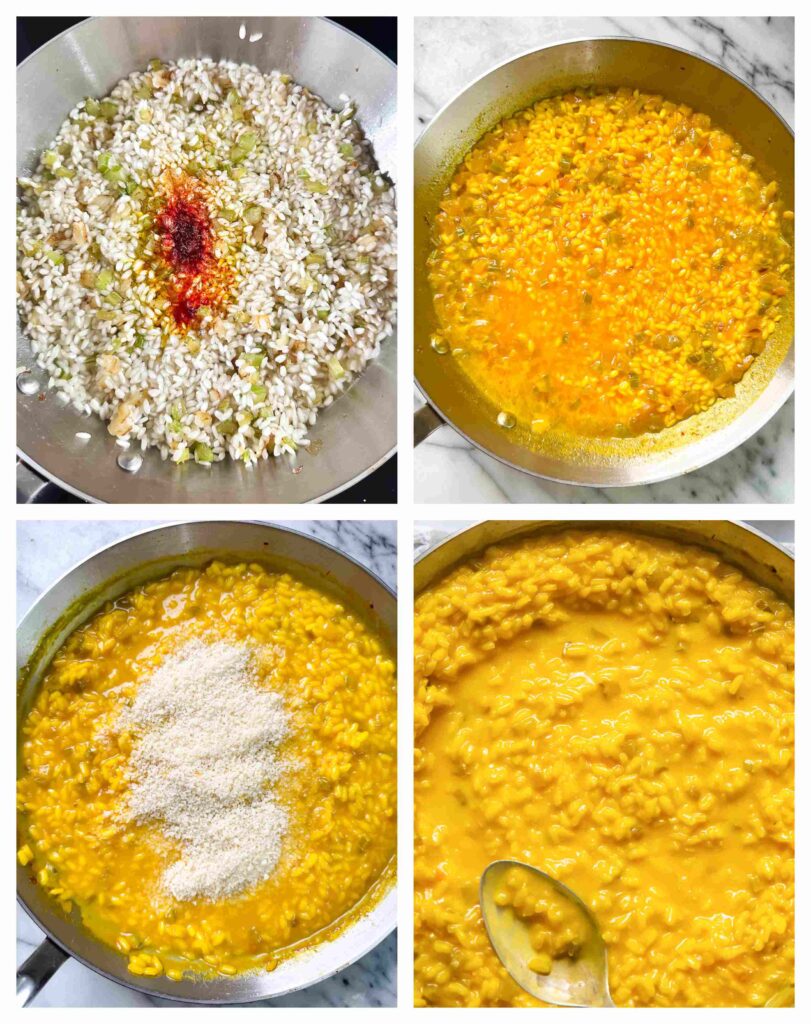 Recipe tips and notes
The trademark creamy texture is all down to rice. Get your rice right and you can't go wrong. A starchy rice like arborio or carnaroli are perfect, but sometimes the packet will just be helpfully labelled 'risotto rice'.

A touch of acidity really elevates any risotto, which is why I use a little white wine. However, if you cook with wine more than you drink it, it's worth investing in a bottle of Vermouth. It does the same trick but once opened it will last longer.

If you don't keep wine in the house, a tablespoon of white wine vinegar is the perfect substitute.

Risotto relies on retaining moisture, so you need to choose the right pan. I use a large, high-sided saucepan.

Rather than adding the saffron threads whole, crushing them in a mortar with a pestle will release optimum flavour and colour giving that gorgeous golden glow.

Still nervous? Let me walk you through how to make the perfect risotto with

this video

.

Or read my top risotto-making tips in

this article

.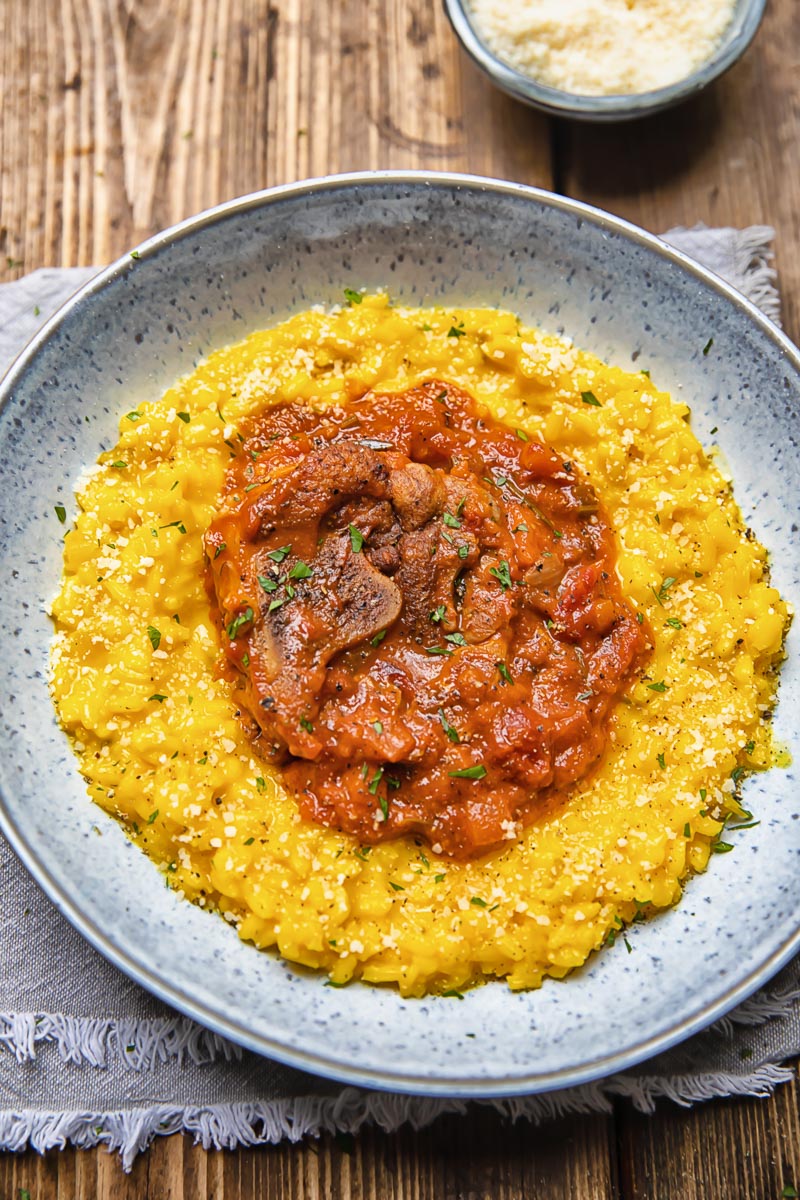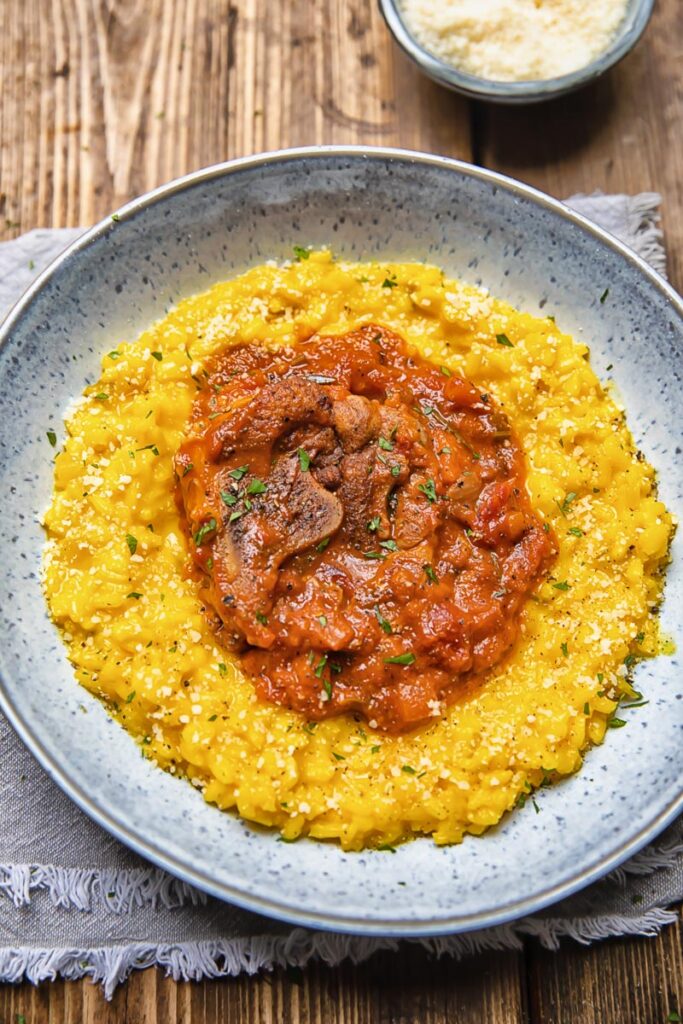 Serving suggestions
Saffron risotto is often served with osso buco, a dish from the Italian region of Lombardy made with veal, although I use pork. I also love it when served with a lovely steak, or tender veal piccata!
Creamy dishes like this one also do well when served with a fresh salad. Keep with the Italian theme by serving Caprese Salad as a side dish!
Storage and leftovers
Risotto is as filling as it is satisfying. I almost always find I've cooked more than anyone can eat. Fortunately, this saffron risotto will keep well if covered tightly and stored in the fridge.
Make sure you eat it within 3-4 days. Reheat on the hob with a splash of water to loosen if needed.
More risotto recipes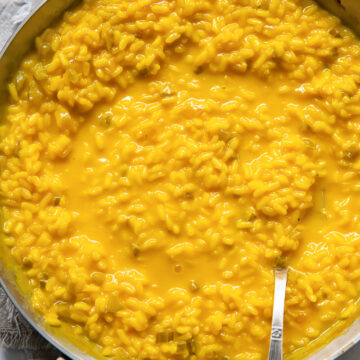 Saffron Risotto
It's a comforting blend of creamy risotto rice and aromatic saffron threads that is surprisingly simple to master.
Ingredients
2

tbsp

olive oil

extra virgin

1

large

shallot

or ½ onion diced

1

celery stalk

diced

300

g

/1.5 cups risotto rice

arborio or carnaroli

125

ml

/ ½ cup dry white wine

1

litre

/4 cups vegetable or chicken stock

½

tsp

saffron threads

salt to taste

50

g

/ ½ cup Parmesan cheese

1

tbsp

butter
Instructions
Heat one tablespoon of olive oil in a large deep pan or in a large saucepan, then add finely diced celery and shallot, saute over low heat for 10 minutes.

Once the celery and shallot are softened, add the rice and toast for a couple of minutes until every grain is evenly coated with oil. Pour in the white wine and simmer for a minute until nearly evaporated, then add the crushed saffron threads.

Pour in a quarter of the stock, so it is just above the rice level and stir, let everything simmer for a few minutes over medium heat. The water should be just above the rice when you first add it. Once you see the water going down add a bit more and stir. Repeat until all water is gone and the rice is cooked but still slightly chewy. Give it a quick stir every time you add more water or stock if using.

When the rice is cooked to your liking, stir in Parmesan cheese, a tablespoon of butter, stir one more time, cover with a lid and take it off the heat. Let it sit for 5 minutes, then uncover and serve.

Nutrition
Calories:
422
kcal
Carbohydrates:
65
g
Protein:
10
g
Fat:
11
g
Saturated Fat:
3
g
Polyunsaturated Fat:
1
g
Monounsaturated Fat:
6
g
Cholesterol:
9
mg
Sodium:
1779
mg
Potassium:
115
mg
Fiber:
2
g
Sugar:
3
g
Vitamin A:
631
IU
Vitamin C:
1
mg
Calcium:
156
mg
Iron:
3
mg