This chicken risotto recipe is a quick and easy comfort food dinner that the whole family can enjoy. Add the mushrooms if you are a fan or leave them out. Either way this risotto will leave you feeling satisfied but won't weigh you down.
If you are a risotto fan, why not to try this Spring Asparagus Risotto recipe.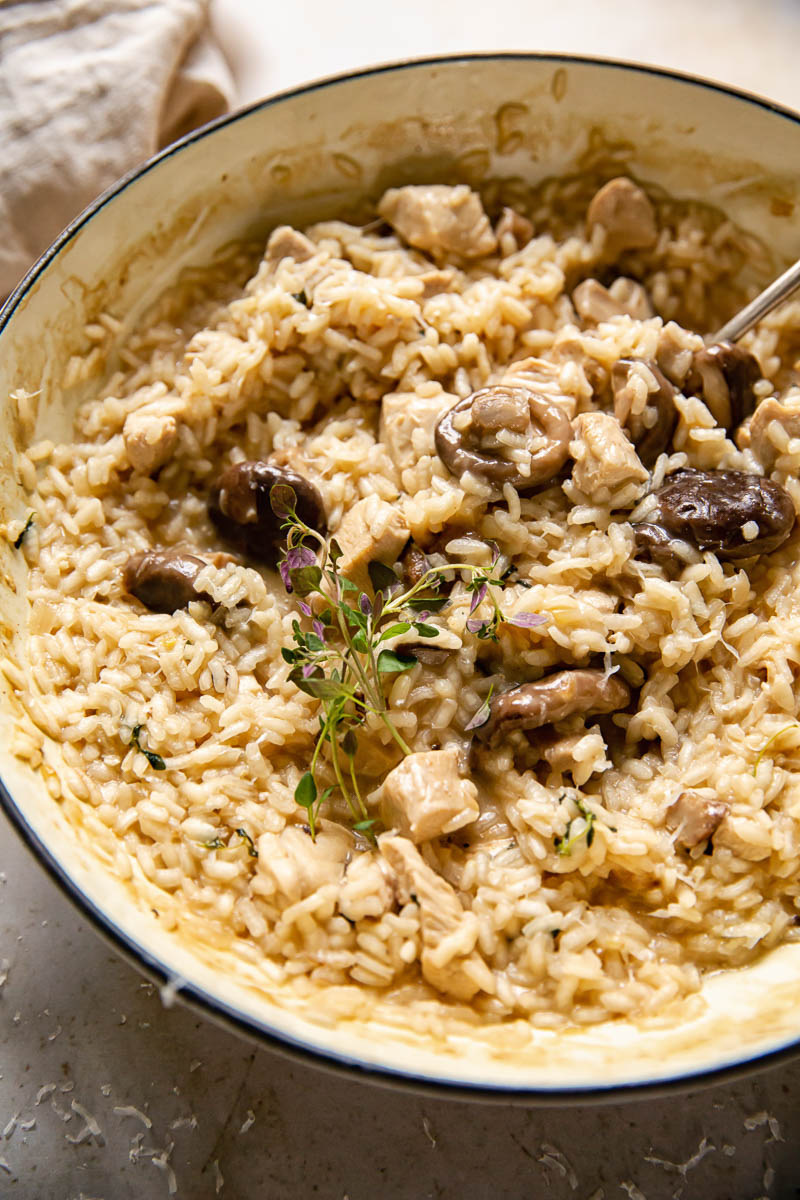 I didn't get rice at all until I spent a year in the Philippines, where I had to eat it for breakfast, lunch and dinner. Not an easy feat for a girl in her early 20s, raised on meat and potatoes. And lots of bread.
Until that experience all rice tasted the same, by which I mean bland. How wrong was I and how fortunate I am to have experienced rice eating in South East Asia, where I could truly taste it at its best.
I really think that year opened my eyes on food in general and taught me not to build my menu, and my life in general, on preconceived ideas.
The recipe for chicken risotto I am sharing today is far from Asian style of eating rice but what they have in common is using rice as the star of the show.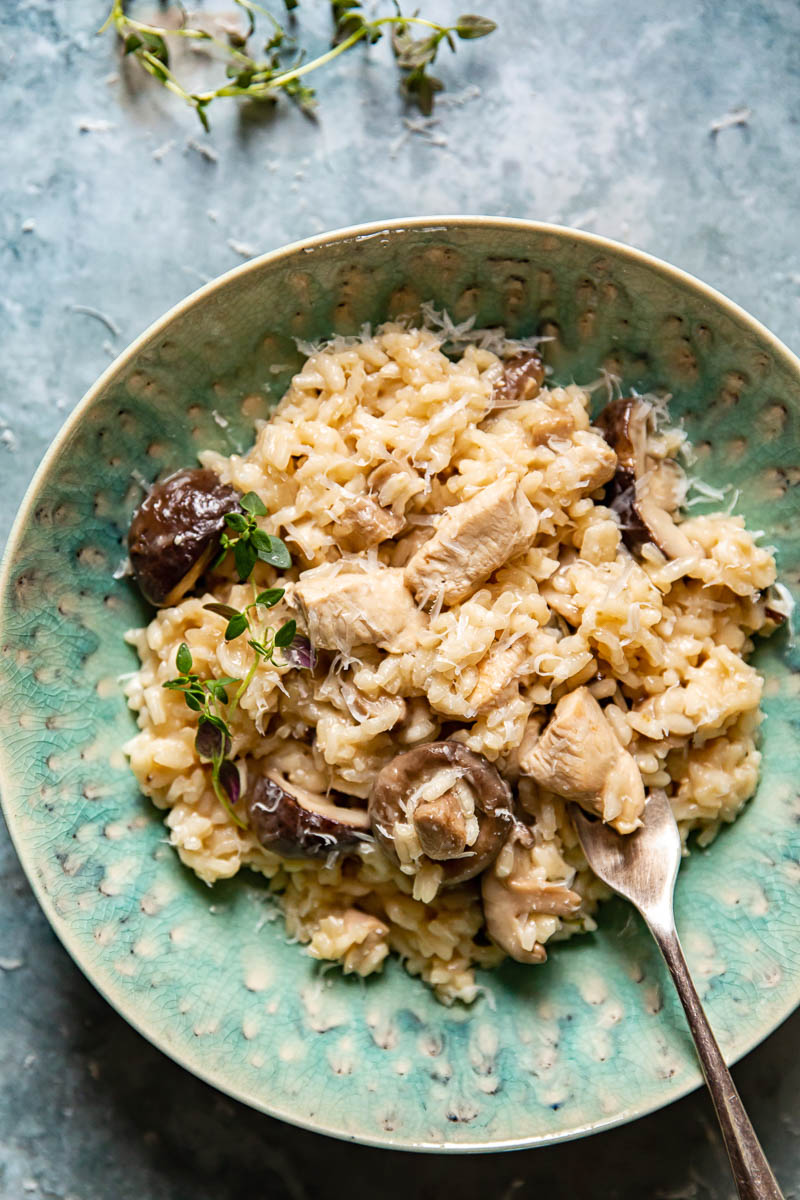 This risotto is not a side dish. Not an afterthought. It is truly a main course, that is delicious and satisfying in every way.
What is traditional risotto?
The main thing that sets this recipe apart from the more traditional risotto recipes is that it combines rice with a protein for a complete one pan dinner.
Traditionally Italian risottos are vegetarian with an exception of seafood risotto. The reason for it lies in the Italian way of eating. The meals consist of three courses.
Primi is always pasta or risotto and almost always vegetarian.
Secondi is where you get your meat and often potatoes.
Dolci is your dessert course.
We, however, are not Italians but often take inspiration from their delicious cuisine to create dishes that suit our lifestyle a little bit better.
That is why we usually combine meat and pasta or meat and risotto. It saves us time and works for our palate.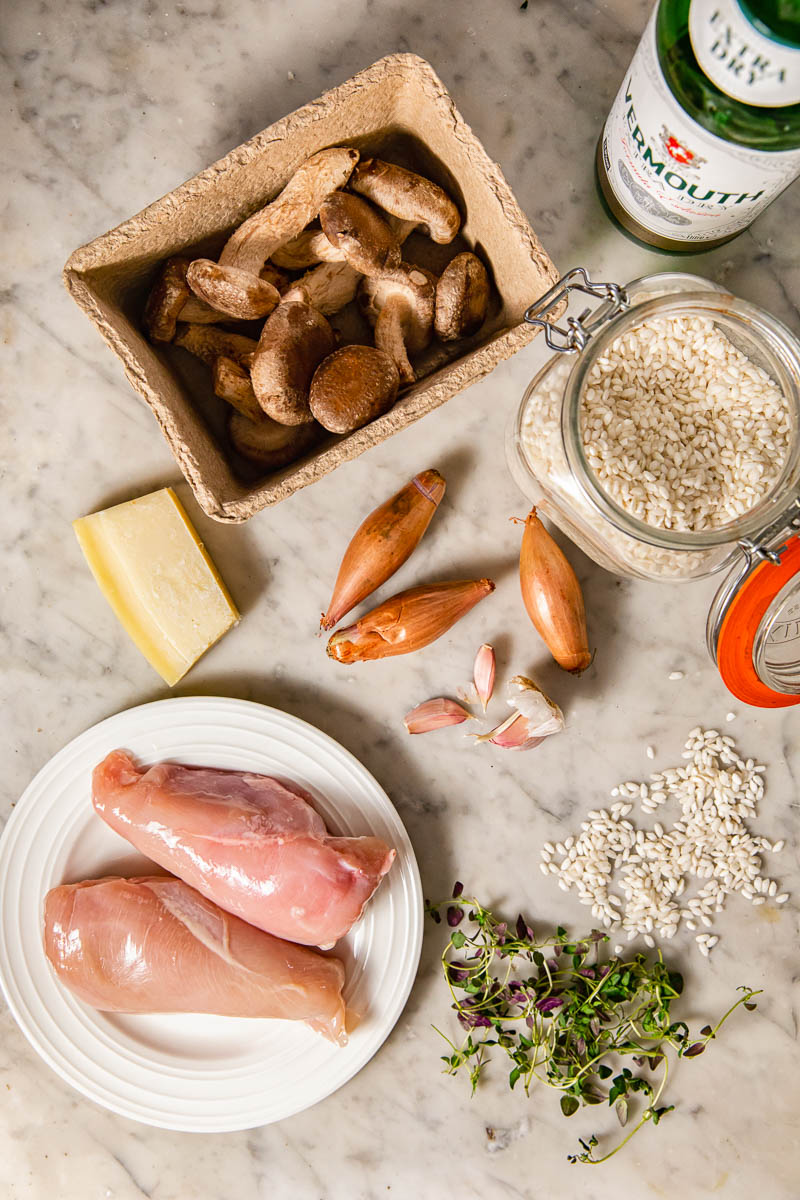 Recipe Tips and Notes
Creamy chicken risotto is extremely easy to make despite the myth that you have to be chained to a stove and stir it endlessly.
What is even more appealing is that a proper risotto requires very few ingredients. All you truly need is
arborio rice
olive oil
onion or shallots
dry white wine or Vermouth
good quality stock
Parmesan cheese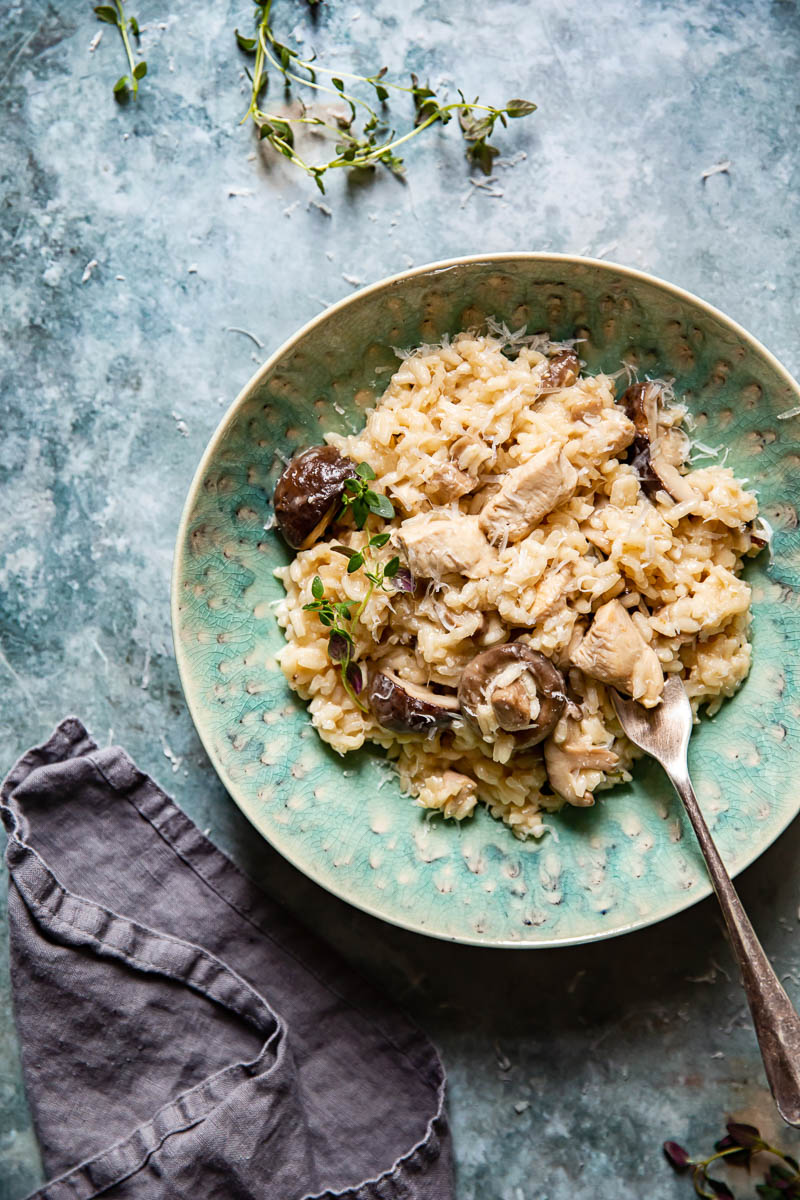 It's a common misconception that you have load risotto with cheese to achieve that creamy consistency it's famous for.
In reality all you need is a specific type of starchy rice that becomes creamy when cooked and stirred once in a while.
I rely on Parmesan for flavour, not for creaminess. This particular recipe for chicken risotto uses only 50g or ½ cup of freshly grated Parmesan cheese, that is spread among 4 portions.
So if you are watching what you eat, this recipe won't ruin your diet.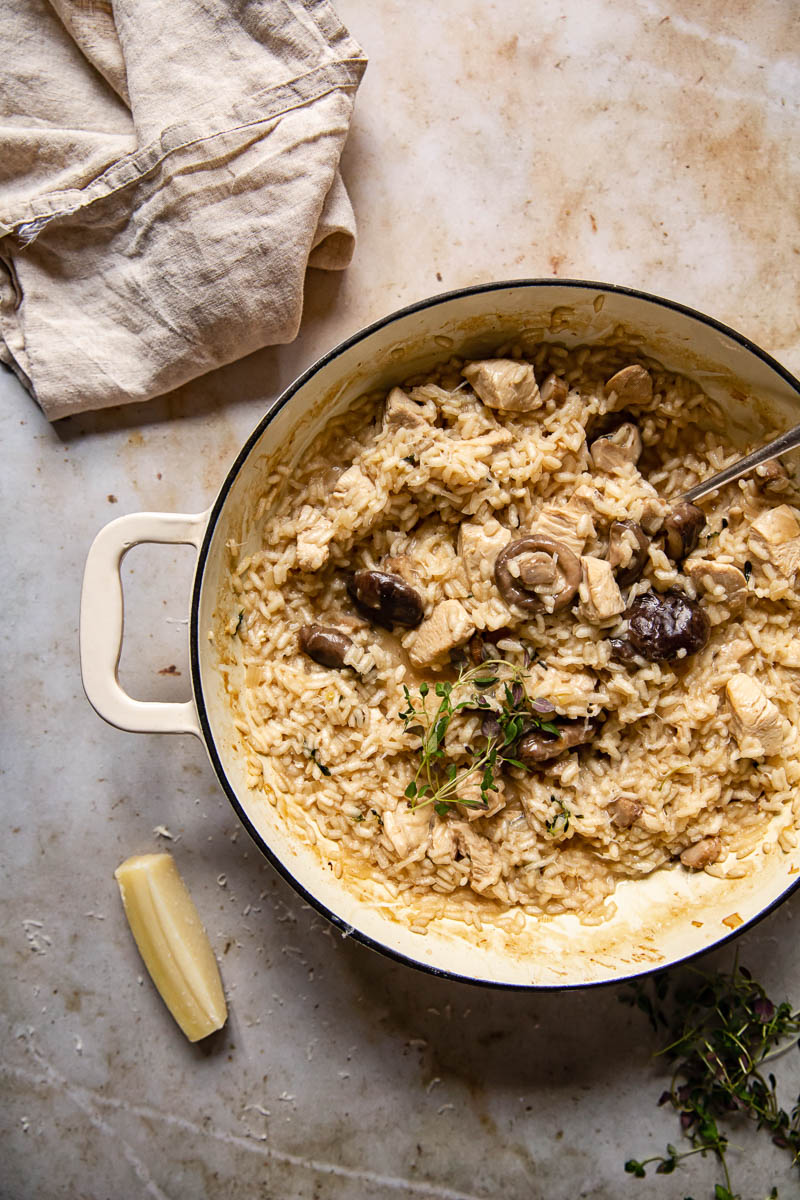 What rice to use
I usually buy arborio rice as it is readily available in most supermarkets. It is also very affordable. You can also buy Carnaroli, Vialone, etc. but they are more difficult to find.
To those basic ingredients you can add any flavour you like. For the chicken risotto with mushrooms and thyme I added two chicken breasts and a handful of shiitake mushrooms with fresh thyme.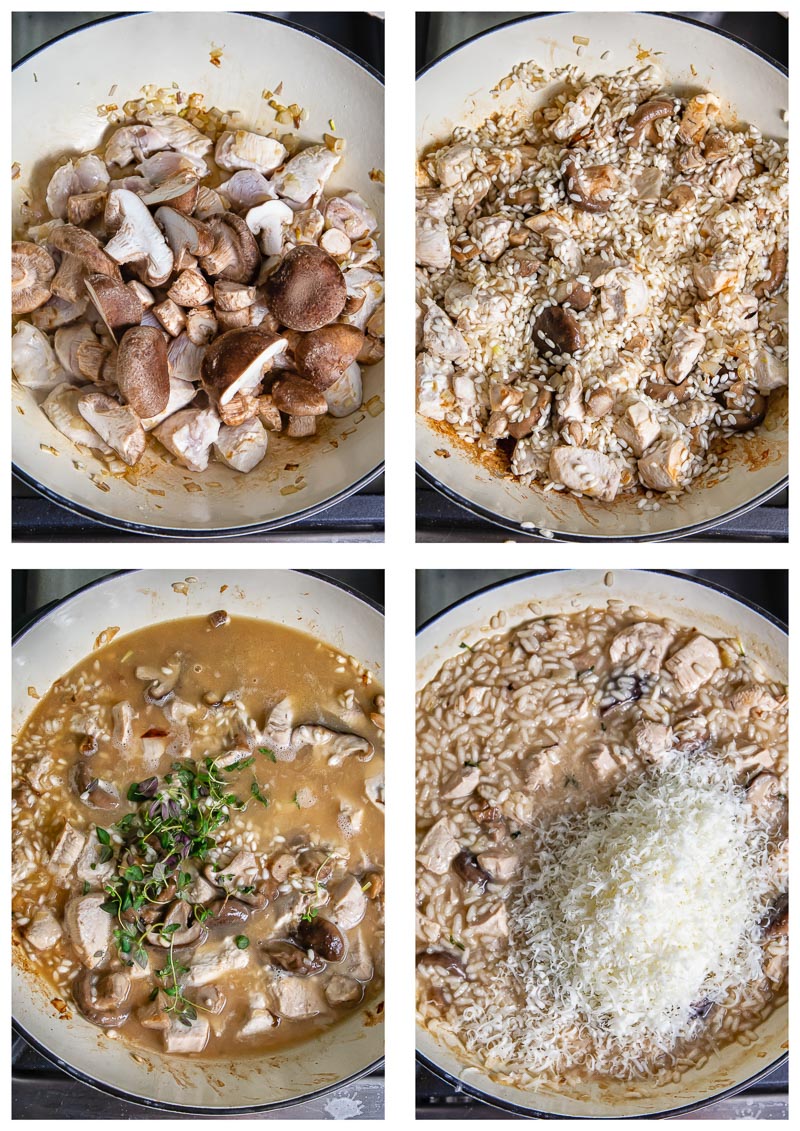 Suitable substitutions
I used skinless, boneless chicken breasts but skinless, boneless chicken thighs will work just as well.
You can omit mushrooms if you don't like them.
Artichokes would be a great substitute for mushrooms if you like to add a vegetable to your one pan dinner. Other vegetables like spinach, peas, even broccoli will also be a great substitute.
You can use Pecorino or Grana Padano cheese in place of Parmesan.
This particular recipe uses water instead of stock since both chicken and mushrooms add much flavour to the risotto. However, feel free to use chicken or vegetable stock if desired.
You can also use dried thyme instead of fresh thyme.
Favourite Risotto Recipes: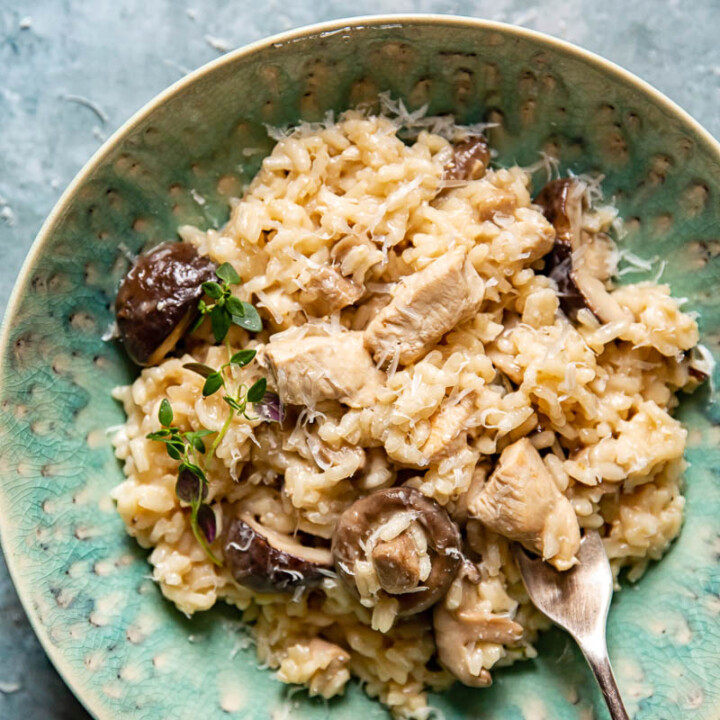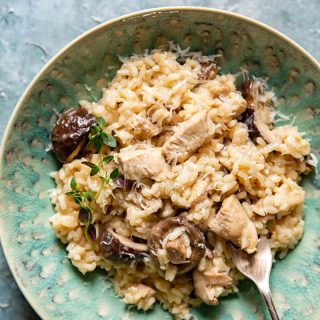 Chicken Risotto with Mushrooms and Thyme
One pan Chicken Risotto with Mushrooms and Thyme. Quick and easy comfort food dinner that is not too heavy!
Ingredients
1

tbsp

olive oil

3

shallots

or 1 onion, chopped

2

skinless, boneless chicken breasts

cubed

150g/5oz

mushrooms

2

cloves

garlic

300g/1.5 cups

Arborio rice

125ml/1/2 cup

dry white wine

or Vermouth

1 litre/4 cups

water

1

tbsp

fresh thyme leaves

1 tsp dried thyme

50g/1/2 cup

Parmesan cheese

salt to taste
Instructions
Chop the shallots and mince the garlic, cube the chicken breasts into bite-sized pieces. Cut mushrooms in half and leave the small ones whole. Take the thyme leaves off their stems and place all ingredients in front of you until needed.

Heat 1 tbsp of olive oil in a large and deep pan or a wide pot if you don't have a deep pan. Add shallots and saute over low heat for 1 minute, then add cut up chicken breasts with a pinch of salt and saute over medium heat until just sealed but not cooked all the way through. Then add mushrooms and cook while stirring for 2-3 minutes longer, then add minced garlic and give everything a quick stir.

Add arborio rice and saute while stirring until all rice is even coated with the olive oil for about 1 minute, then pout in white wine and start scraping down the bottom of the pan to release all the brown bit into the broth, let it simmer over low heat for 2-3 minutes. Then add ¼ of the water and thyme, stir and let it simmer for a few minutes over medium heat. The water should be just above the rice when you first add it. Once you see the water going down add a bit more and stir. Repeat until all water is gone and the rice is cooked but still slightly chewy. Give it a quick stir every time you add more water or stock if using.

Once the rice is cooked and the risotto is nice and creamy consistency, stir in grated Parmesan cheese, stir until melted, then taste it and season with salt. Cover with a lid and let it stand for 5 minutes. Serve with more grated Parmesan and black pepper.
Notes
If your rice is cooked but the risotto looks a bit dry, ad ¼ cup of water or stock and stir over very low heat.
Nutrition
Calories:
488
kcal
Carbohydrates:
69
g
Protein:
26
g
Fat:
9
g
Saturated Fat:
3
g
Cholesterol:
44
mg
Sodium:
859
mg
Potassium:
850
mg
Fiber:
4
g
Sugar:
4
g
Vitamin A:
200
IU
Vitamin C:
8.6
mg
Calcium:
175
mg
Iron:
4.8
mg