These Italian peppers stuffed with cheesy beef risotto and melted mozzarella are a flavour packed meal using the best of summer produce.
Serve these stuffed peppers with Basil Pesto Caprese Salad and our favourite Party Crostini for delicious and Italian inspired starters.
Stuffed Peppers
If you are a long time reader, you will know that food stuffed in other food is my thing. In my childhood stuffed peppers, prepared by my mother and grandmother, were my favourite dish. I also played with the traditional recipe to make it healthier and lighter and came up with my Herby and Healthy Stuffed Peppers.
I stuff cabbage, eggplant, pasta shells, crepes, you name it! Using the bounty of summer vegetables is absolutely perfect for it. It's healthy, delicious, resourceful and a creative way to use vegetables.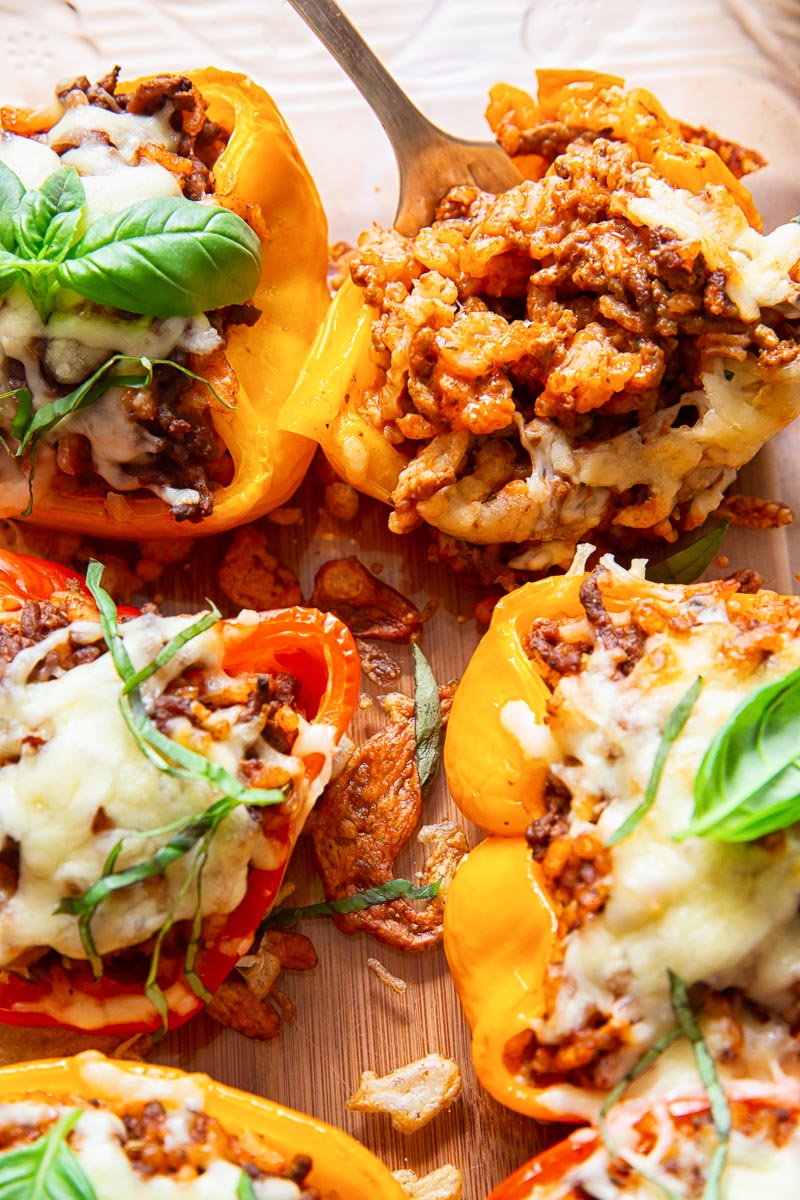 Filling for Italian Stuffed Peppers
What you choose to put inside your hollowed out bell peppers is entirely up to you. That's the best part because you can play with various ingredients and flavour profiles and will never get tired of the dish.
For this recipe I chose to go with Italian flavours. Sweet and tangy crushed tomatoes, garlic, basil, oregano and just a touch of fennel seeds evoke the flavours of Southern Italy.
The delicious stuffing is a cheesy beef risotto of sorts. And even though the filling itself is not too traditional, it is very tasty. Summer comfort food done right. Delicious but not heavy!
We are huge risotto fans, and that it why we have so many risotto recipes on the website. If I had to choose my favourite, it would be Butternut Squash Risotto with Sage or maybe Chicken Risotto with Mushrooms and Thyme.
However, the cheesy beefy risotto I prepared for these stuffed peppers just might take the crown. It's delicious as a stuffing but it could absolutely be eaten on its own! My family fought for the leftovers that didn't make it inside the peppers.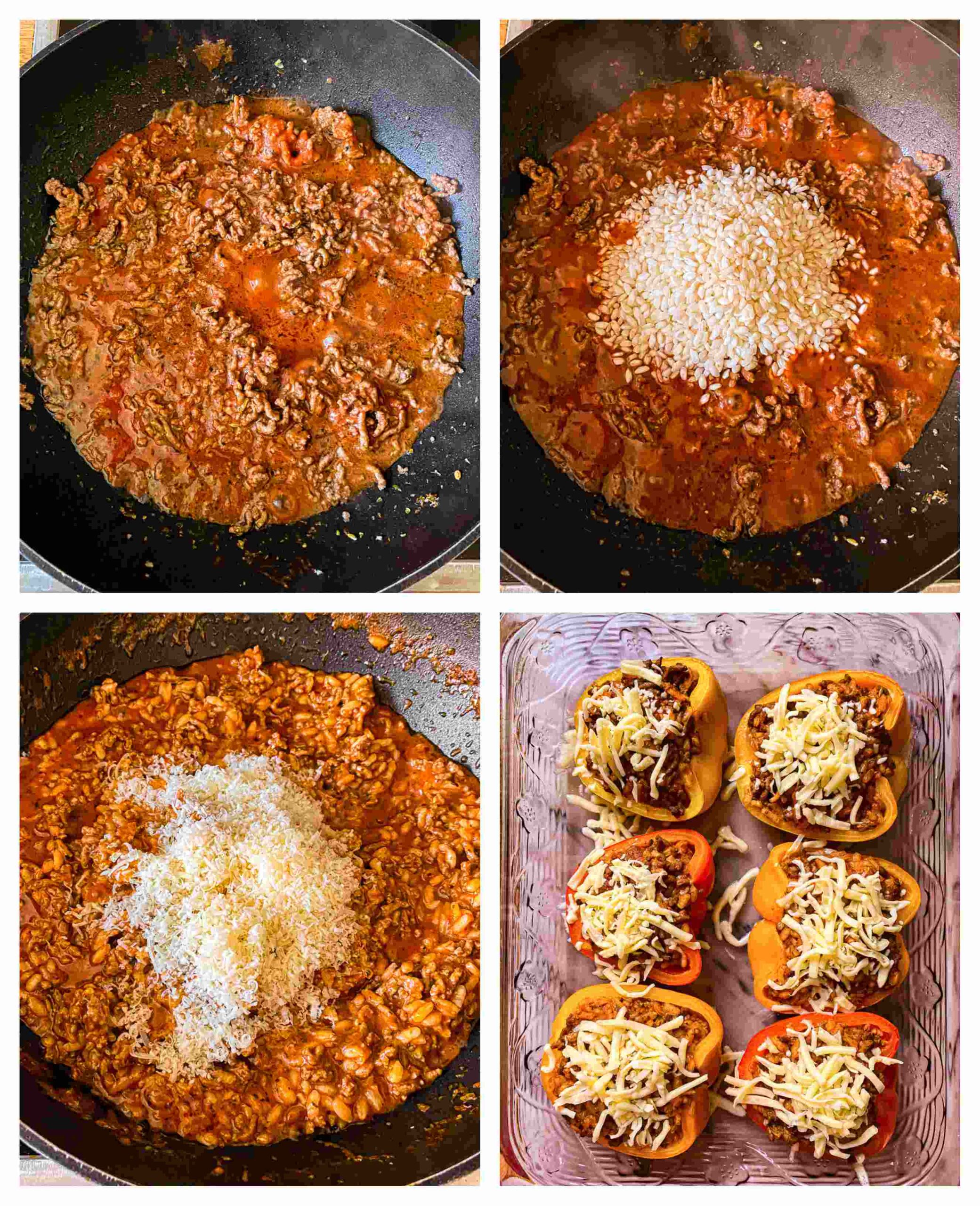 How to Make Them
There are two ways to cook stuffed peppers. You can cut the tops off, remove the seeds and membranes, stuff with a filling and cook in an oven or on a stove.
Or you can half the bell peppers lengthwise, hollow them out and then stuff them. I prefer the latter as it allows the peppers to cook faster! I also think they look prettier this way.
The first thing you have to do after preparing the peppers for stuffing is to cook the risotto.
Once the risotto is done, fill the peppers with it, put in a baking pan, cover with aluminum foil and cook for 40 minutes until nearly done.
Uncover the pepper, sprinkle with grated mozzarella cheese and cook a little longer until the cheese is melted.
What peppers are best for stuffing
Red, green and yellow peppers are all suitable for stuffing. They are also called bell peppers in North America. I prefer using a combination of colours as they all have a slightly difference taste, which I love.
Choose a pepper that is small to medium in size. Larger peppers are thicker, take longer to cook and require more stuffing, which might result in drier results.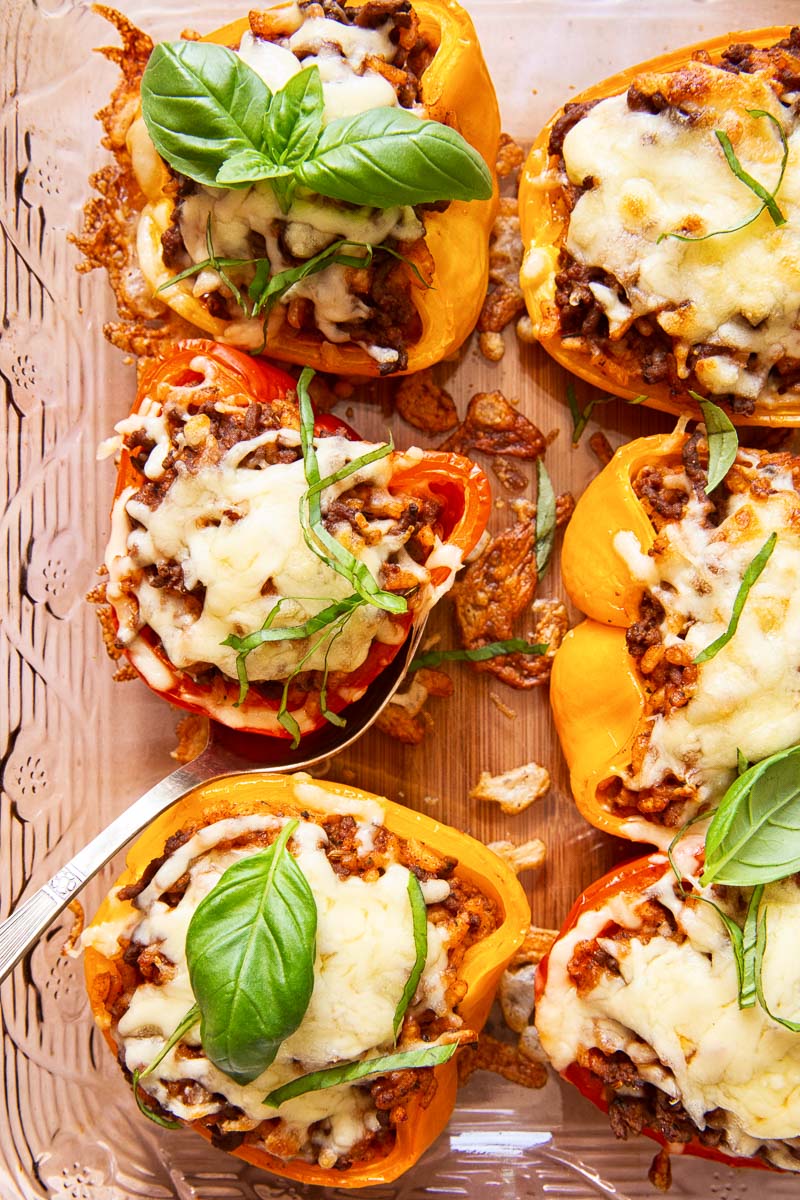 More Stuffed Vegetable Recipes to Try: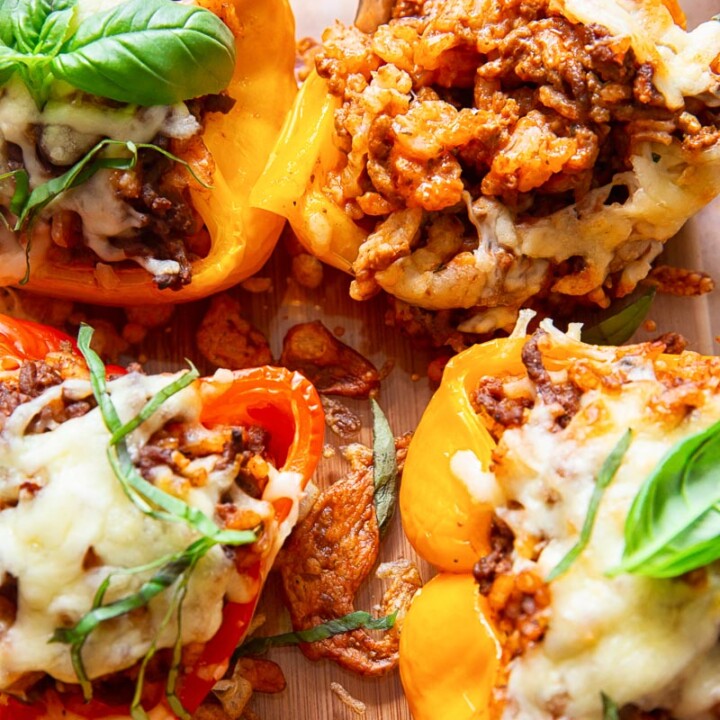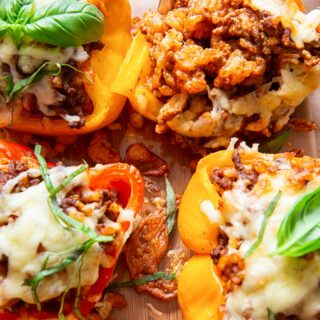 Italian Stuffed Peppers
These Italian peppers stuffed with cheesy beef risotto and melted mozzarella are a flavour packed meal using the best of summer produce.
Ingredients
4-5

red, yellow and green peppers

1

tbsp

olive oil

3

cloves

garlic

1

lbs

lean ground beef

1

tsp

dried oregano

1

tsp

dried basil

¼

tsp

fennel seeds

250ml/ 1 cup

tomato passata or crushed tomatoes

500ml/2 cups

water

salt to taste

150g/2/3 cup

arborio rice

65g/1/3 cup

Parmesan cheese

50g/1/2 cup

mozzarella cheese
Instructions
Cut the peppers in half lengthwise and remove the seeds and membranes, set aside. Preheat the oven to 200C/400F.

In a large and deep pan heat 1 tbsp of olive oil over medium heat and add minced garlic, cook for 30 seconds while stirring, then add the ground beef, dried oregano, dried basil, fennel seeds and a pinch of salt. Cook until the beef is no longer pink taking care to break up the beef with a spatula.

Add the tomato passata or crushed tomatoes and water, then stir. Add arborio rice, stir everything to combine, bring to a boil, lower the heat to low-medium and cover with a lid. Cook covered for 20 minutes, check occasionally and stir. At the end of 20 minutes stir in Parmesan cheese, then taste for seasoning and add salt if need. At this point the rice should be cooked al dente and the mixture will have absorbed about ⅔ of the liquid. It will still be loose and a little runny.

Fill the pepper halves with the beef risotto and arrange them in a baking pan, cover tightly with foil and bake at 200C/400F for 40 minutes. Then remove the foil and cover the peppers with grated mozzarella, return to the oven and cook for additional 15 minutes until the cheese is melted and the peppers are soft.
Nutrition
Calories:
483
kcal
Carbohydrates:
43
g
Protein:
38
g
Fat:
17
g
Saturated Fat:
7
g
Cholesterol:
91
mg
Sodium:
505
mg
Potassium:
883
mg
Fiber:
5
g
Sugar:
8
g
Vitamin A:
4067
IU
Vitamin C:
158
mg
Calcium:
310
mg
Iron:
6
mg