This harissa beef stuffed eggplant recipe is the one you want to try before the eggplant season is over. Delish!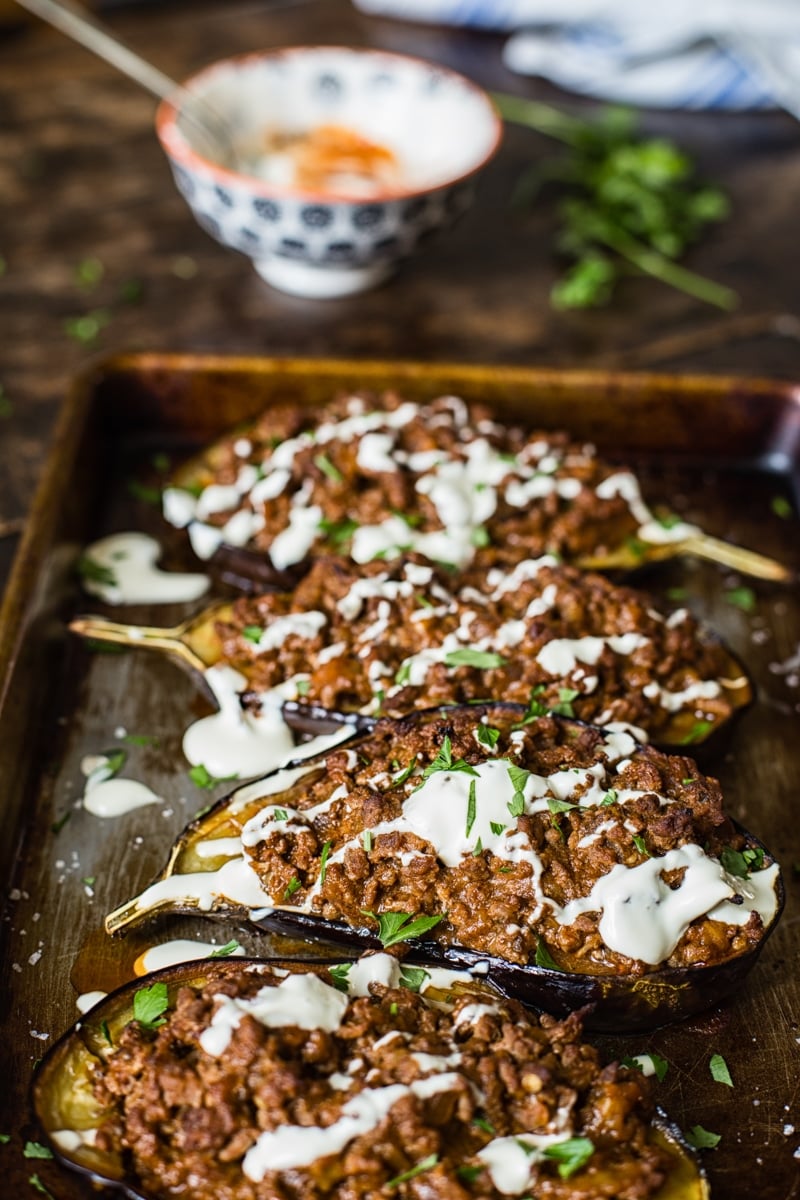 I love eggplant! The love affair started when I was a little girl and my mum would make fried eggplant and tomato stacks flavoured simply with salt, pepper, garlic and mayonnaise.
They always signaled the end of the summer and the beginning of harvest time for me. I don't think my dad and brother were as keen on those tasty snacks, so eating them together with my mum became our bonding time!
Sounds trivial but just think how many friends you've made by discovering you shared an affinity for a particular dish or ingredient! Food brings us together. It's a tremendous force!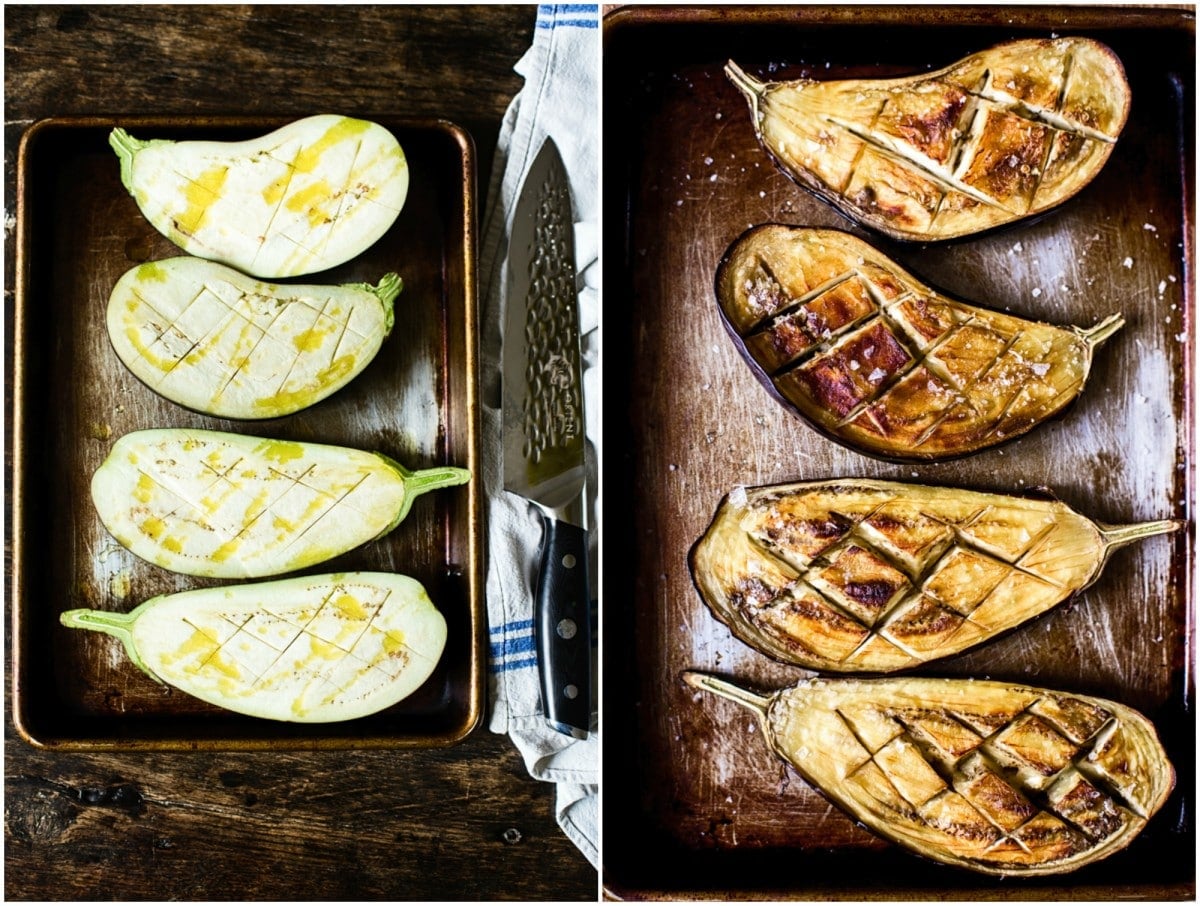 So this harissa beef stuffed eggplant is a slight spin on Julia's classic, as my husband calls it.
I started cooking this recipe shortly after our first child was born…ahem more than 13 years ago… in hopes to lose the baby weight. But the recipe is not just for those on a diet. It's a winner with everyone!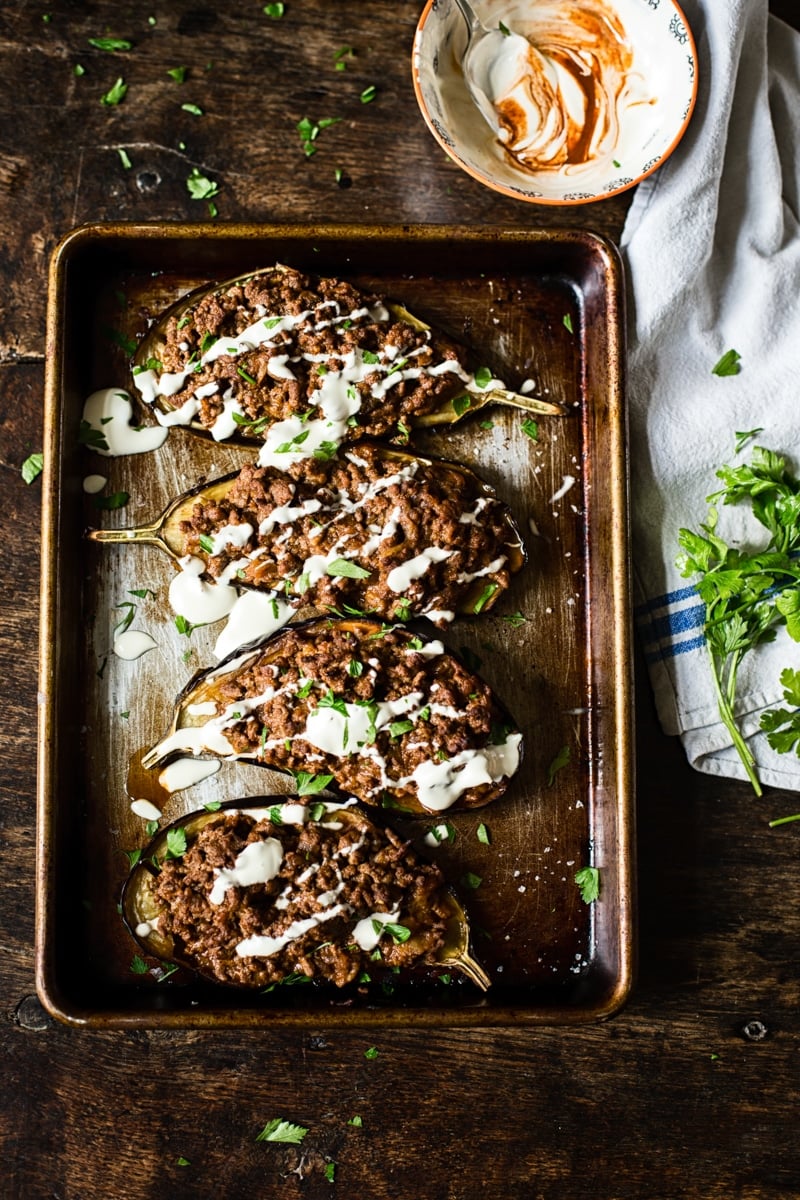 What flavours can I use in my beef stuffed eggplant?
I used to cook this beef stuffed eggplant recipe with Italian flavours of basil and oregano but this version is reminiscent of the flavours of North Africa with its aromatic cumin, cinnamon and spicy harissa.
This beef stuffed eggplant recipe combines the vibrancy of the late summer with its ripe eggplants and warmth and comfort of the autumn that come from cumin and cinnamon.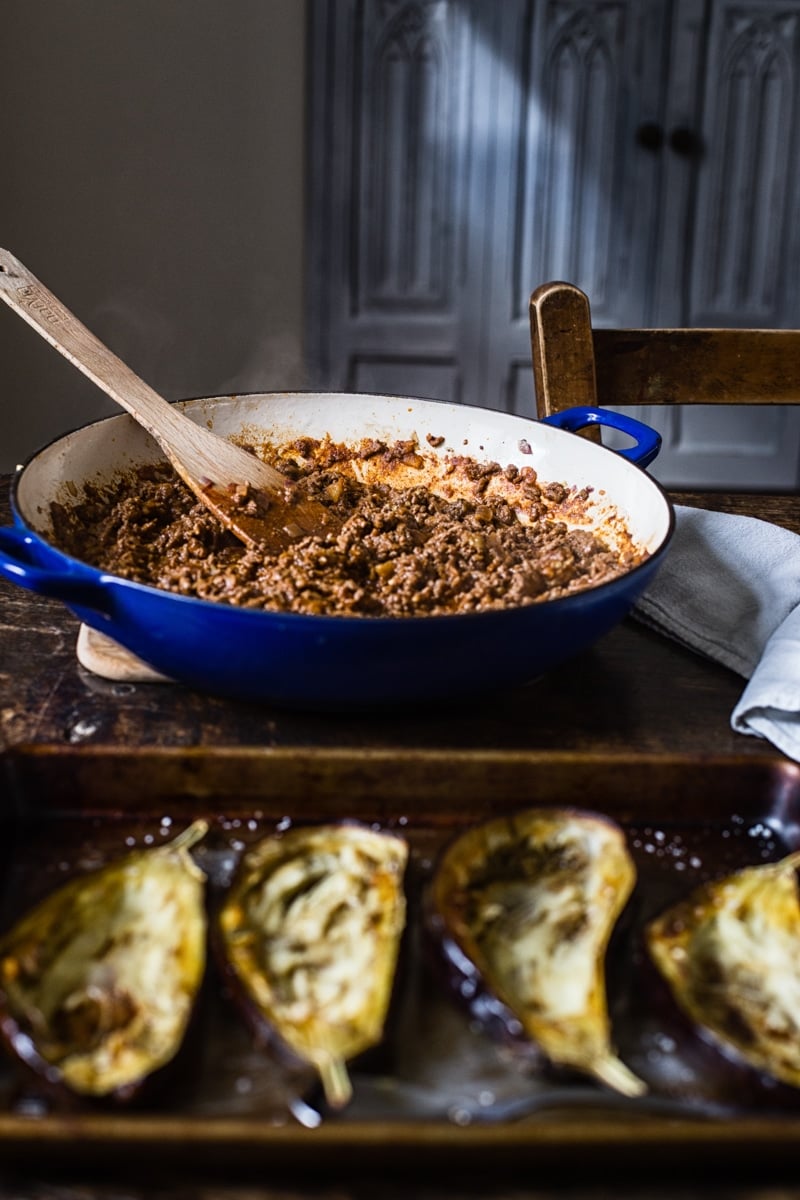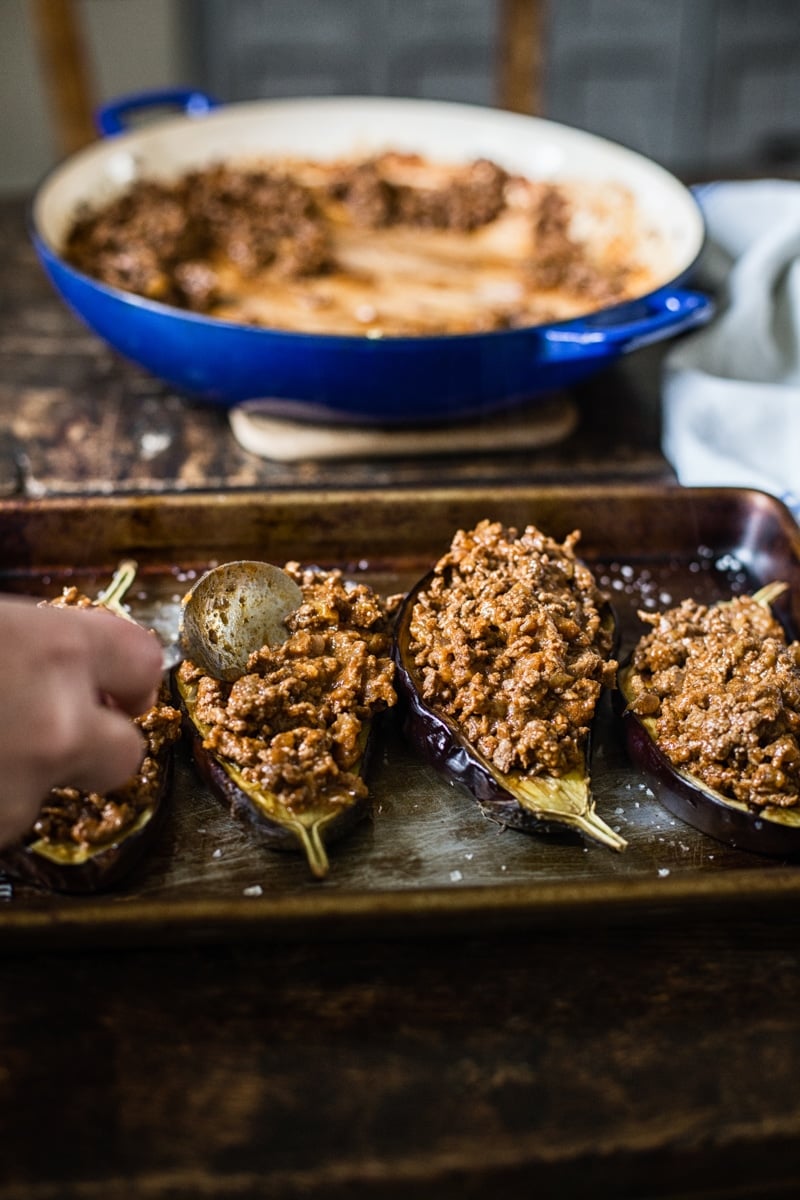 What other vegetables can I stuff?
If you are not a fan of eggplant you can use butternut squash or zucchini but I do hope you try eggplants. They sometimes have a reputation of being spongy and tasteless but that only happens if they are undercooked.
Yotam Ottolenghi's priceless advice on cooking eggplant to perfection:
Hot oven
Lots of oil
Although I feel the 'lots of oil' bit is tweakable, hot oven is a must. For this recipe I brushed each eggplant half with 2 teaspoons of olive oil and cooked them at 220C/440F for 30 minutes. They came out perfectly scoopable!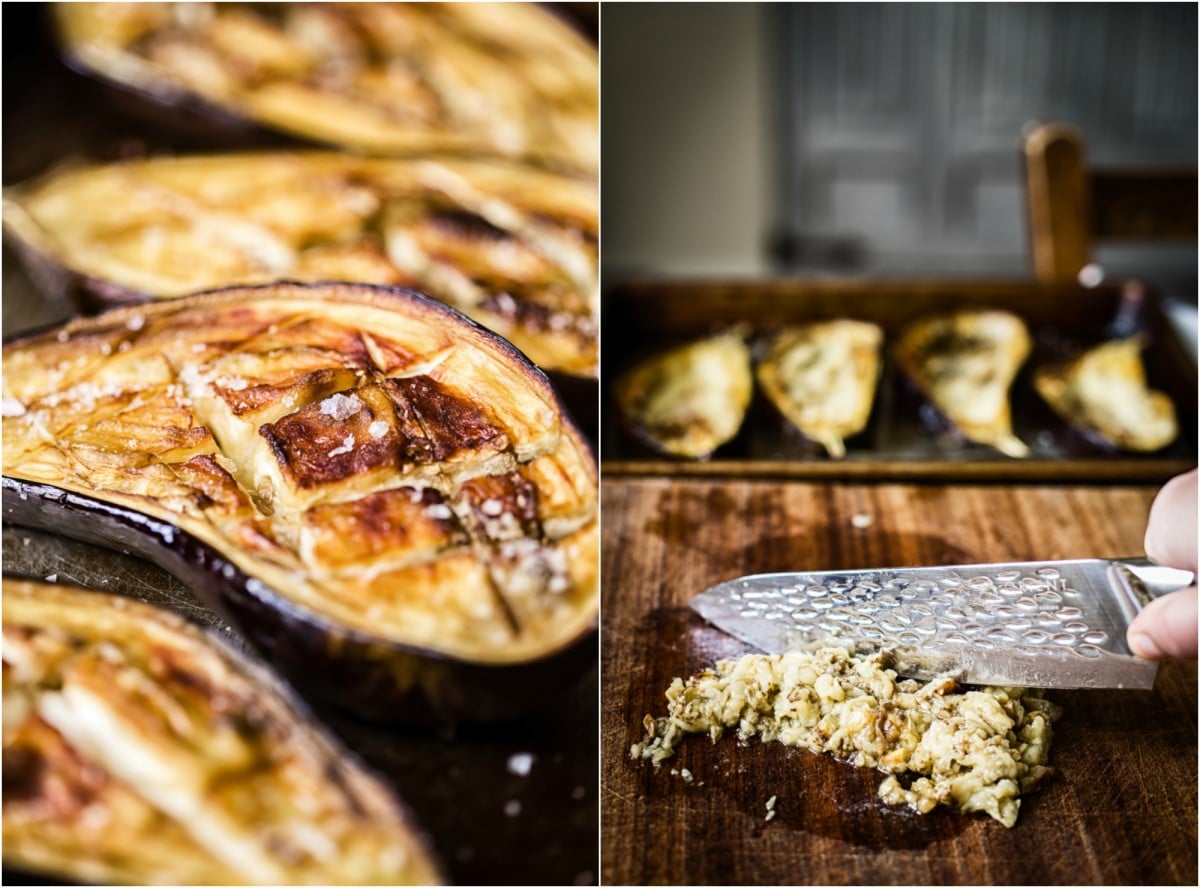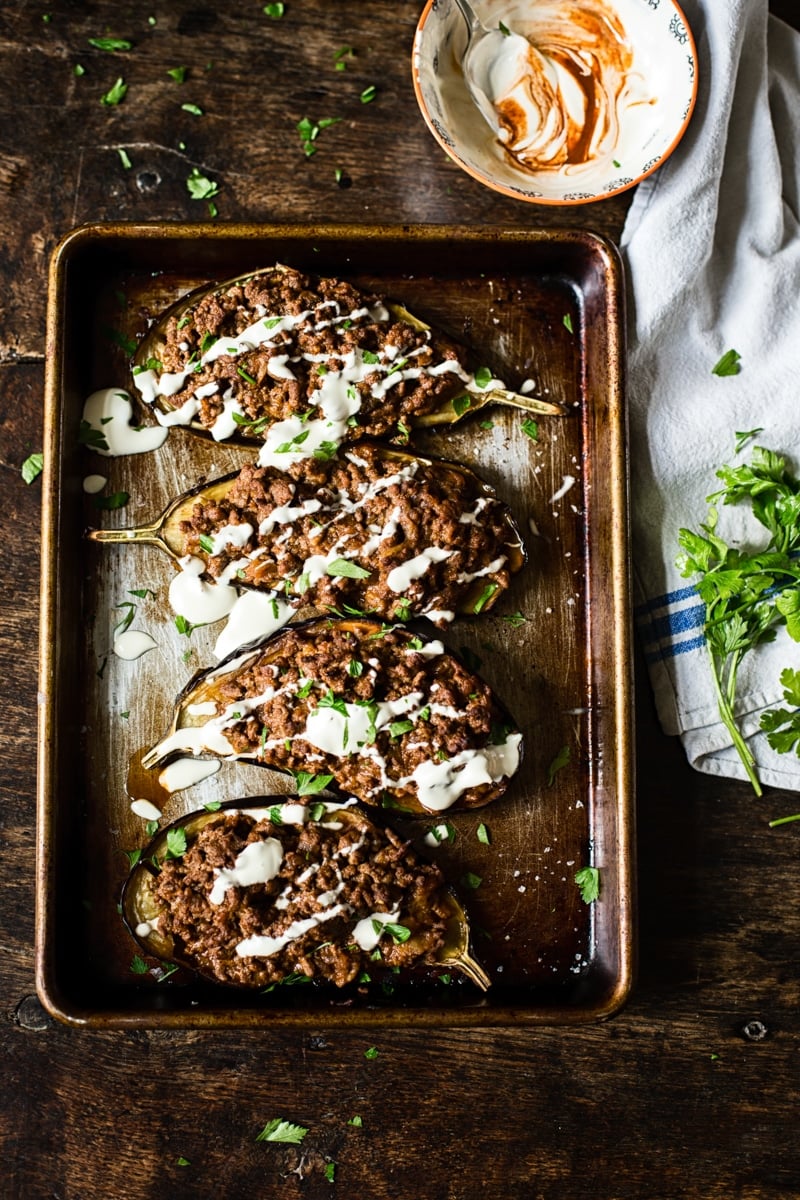 Ingredients
2

eggplant

medium

2

tbsp

olive oil

divided

1

onion

chopped

3

cloves

garlic

minced

1

lbs

extra lean ground beef

1

tbsp

cumin

¼

tsp

cinnamon

2

tbsp

tomato paste

1-2

tbsp

harissa paste

125

ml/ ½ cup stock or water

salt to taste

125

g/ ½ c plain yogurt

1

tbsp

parsley

chopped
Instructions
Preheat the oven to 220C/440F

Cut the eggplants lengthways through the stock, score the insides with a sharp knife and brush with 1tsp of olive oil each, salt and arrange on a baking sheet cut side up. Cook in the oven for 30 minutes until golden and the flesh is easily scoopable.

Meanwhile cook the beef filling. In a large pan heat the olive oil and cook the onion over low heat for 5-7 minutes, add garlic and cook for 1 minute longer without allowing the garlic to colour, otherwise it will taste bitter.

Add the beef and brown until no longer pink, then add cumin, cinnamon, tomato paste, 1 or 2 tbsp of harissa paste, depending on how spicy you like it. Stir everything together, then add stock or water. Salt the beef mixture last as harissa paste and stock will have various amounts of salt.

Bring the beef to a boil, then lower the heat and let it simmer for about 10 minutes until most of the liquid is cooked away but the mixture is not dry.

When the eggplants are cooked, let them cool slightly, and then remove the flesh. Cutting alongside the edge of the eggplant while leaving a 2 cm border makes it easier to do. Chop up the eggplant flesh and add it to the beef, stir to combine.

Stuff the eggplant with the beef mixture and cook in the oven at 180C/350F for 10 minutes.

Remove from the oven when piping hot. Drizzle with plain yogurt and sprinkle with chopped parsley before serving.

You can serve with additional yogurt sauce and a harissa paste swirled into. (If your harissa paste is too thick, thin it out with water.)
Nutrition Facts
Harissa Beef Stuffed Eggplant
Amount Per Serving
Calories 325
Calories from Fat 135
% Daily Value*
Fat 15g23%
Cholesterol 74mg25%
Sodium 795mg35%
Potassium 1142mg33%
Carbohydrates 21g7%
Protein 29g58%
Vitamin A 336IU7%
Vitamin C 12mg15%
Calcium 101mg10%
Iron 5mg28%
* Percent Daily Values are based on a 2000 calorie diet.