A bowlful of summer will be bursting out of your kitchen in the form of this Israeli salad with lemon garlic tahini dressing. Quenching cucumber, vivid tomatoes and peppers, grass green herbs and robust chickpeas make this a deliciously satisfying vegetarian delight.
If no meal is complete without meat, this Middle Eastern chopped salad sits harmoniously alongside my recipe for Chicken Musakhan. It's a lip-smacking, spiced type of chicken kebab fyi!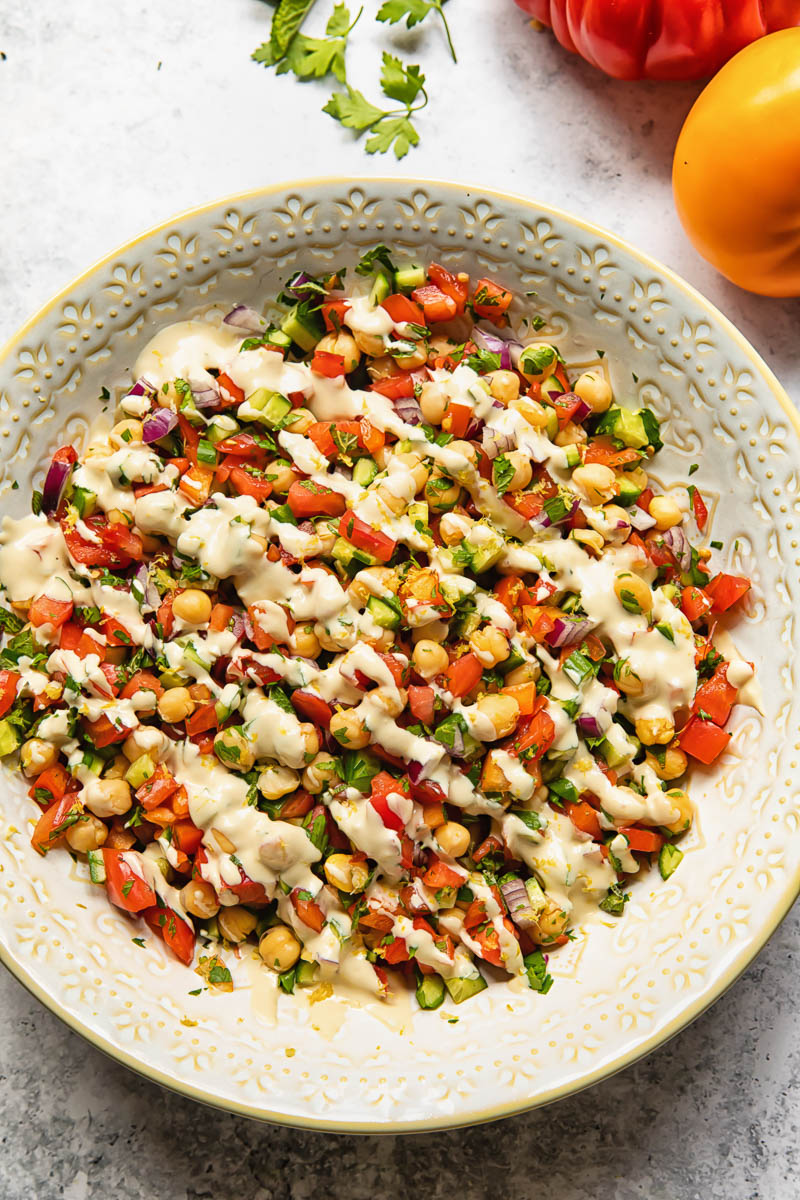 The weather in Israel is year-round warm! When I visited at the beginning of May it was a blue-skyed 30C/86F. It was a little unseasonable for the time of year, as average summer temperatures are usually around 26C/ 79F.
And winters don't tend to get very cold either, by my climactic standards anyway! They hover around 12.5C/ 55F. So it's easy to understand why fresh salads like this one, fattoush and couscous, and cool dips are Israeli staples.
What is Israeli salad?
You may have come across this salad under another name or with a regional twist. Sometimes known as Arab Salad, or Shepherd's Salad in Turkey, the basic elements of this Middle Eastern dish are the same: diced cucumber, tomatoes, onion and heaps of fresh herbs.
This thirst-quenching concoction is a hot weather life-saver!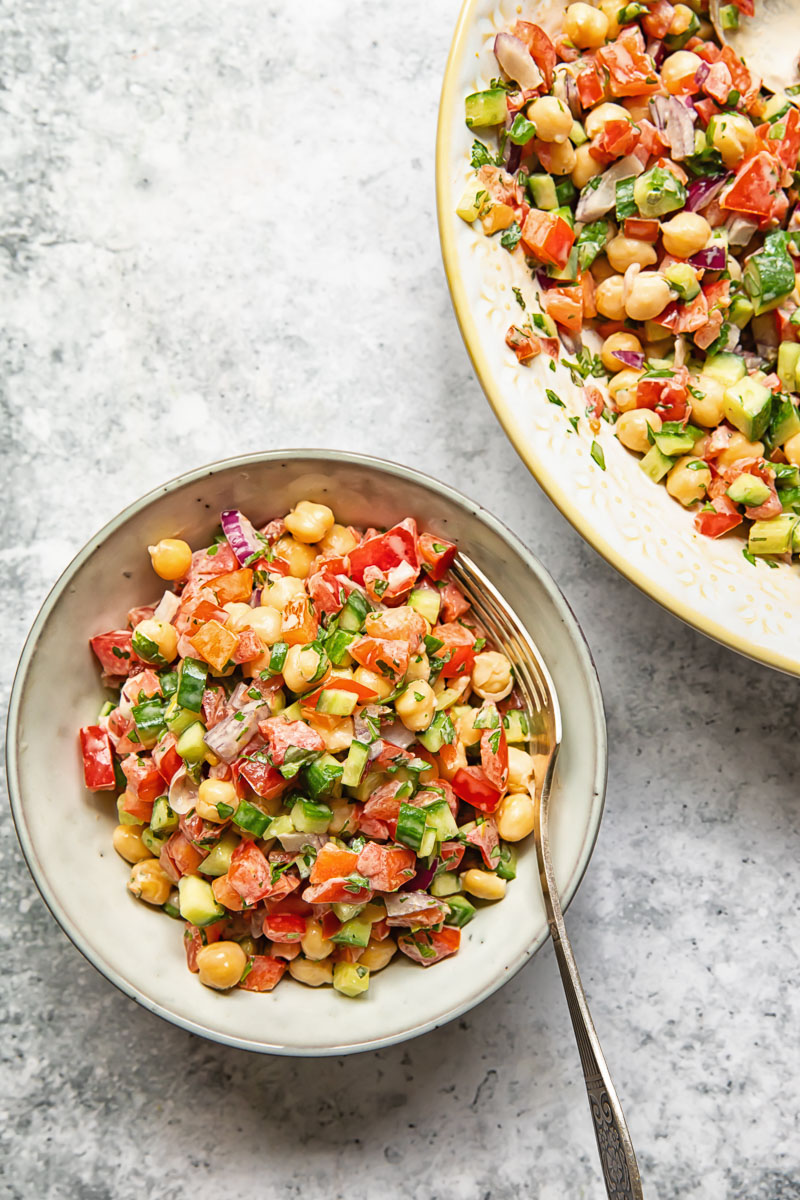 Ingredients and variations
For this cucumber and tomato based chopped salad, you really need the ripest, freshest and best ingredients you can get your hands on. Anything less will result in a flaccid, soggy salad soup. Let me talk you through how it works for me…
Cucumbers: I choose the Persian or Kirby variety. These are the short stubby ones! They have fewer seeds and firmer flesh than their longer cousins, and that is what gives them their exceptional crunch. If you have a Middle Eastern or Turkish grocers nearby, they are bound to sell them.
Tomatoes: It is Heirloom for me. These are pure-bred tomatoes with no intervention and are best eaten in their raw form. They come is a variety of eye-catching colours and their colour denotes their flavour.
The red are strong and robust, more acidic than sweet, which is how I want my salad to taste. If you prefer a sweeter tomato, the yellow or orange heirlooms are the ones.
Peppers: The sweetness of a red bell contrasts well against the tomato tang. And its crunch is unparalleled in the pepper world!
Onion: I use a red onion, they bring a purple pop of colour and are the best for eating raw. Pungent and spicy, they bring a slight heat to the dish.
Herbs: Flat leaf parsley and mint scream of the region. They are the essence of souks, salads and sun-baked days.
Chickpeas: The convenience of canned is fine here. They will be the perfect texture, not too hard and not too soft.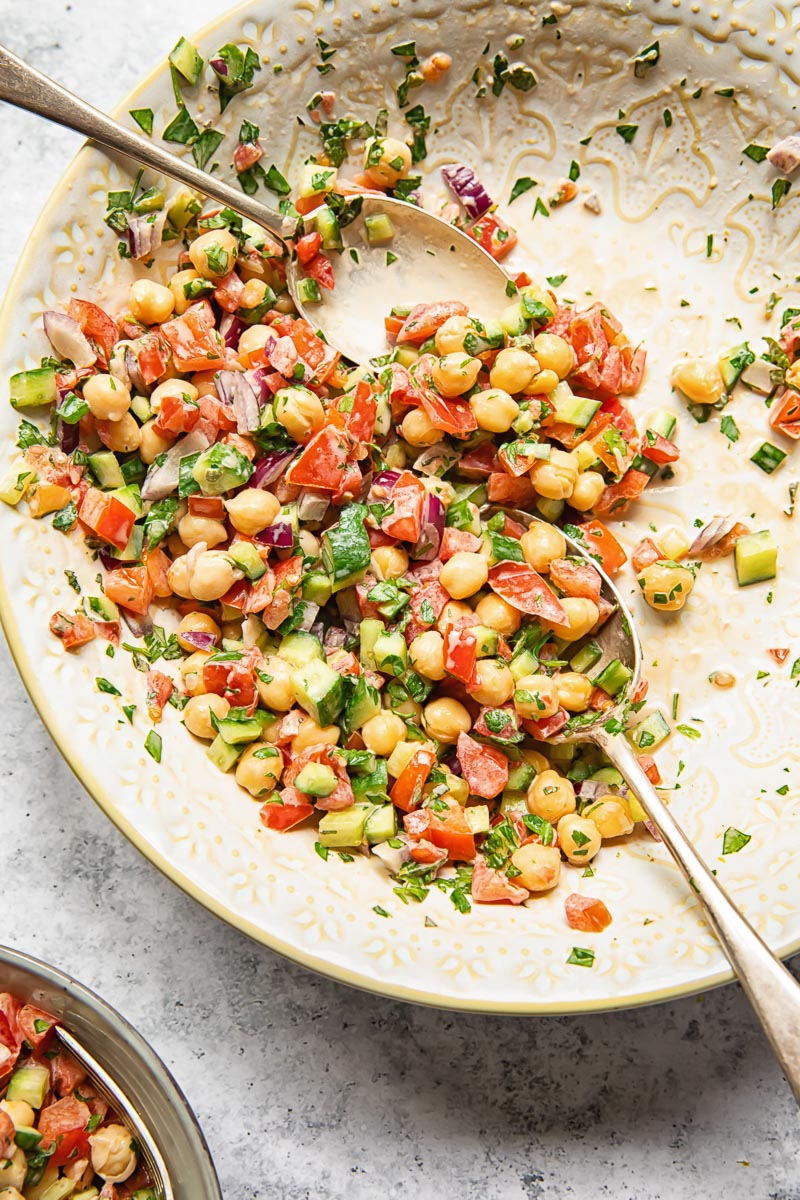 The Salad Dressing
Although the salad is often dressed simply with lemon juice and olive oil I bring in my beloved tahini dressing… Both nutty and earthy, sharp and tart, this creamy sauce is a blend of dressing heaven. I could swim in it. But also just drizzle it on my salad.
If you're feeling particularly wild and experimental, you can add feta, or other white cheese, as well as or in place of the chickpeas. Or if you like it spicy, chop up a Lombardi pepper and add it to the mix. These are the pickled green ones you find in kebabs.
For a Middle Eastern feast, serve with my easy flatbread, grilled meats and all the dips!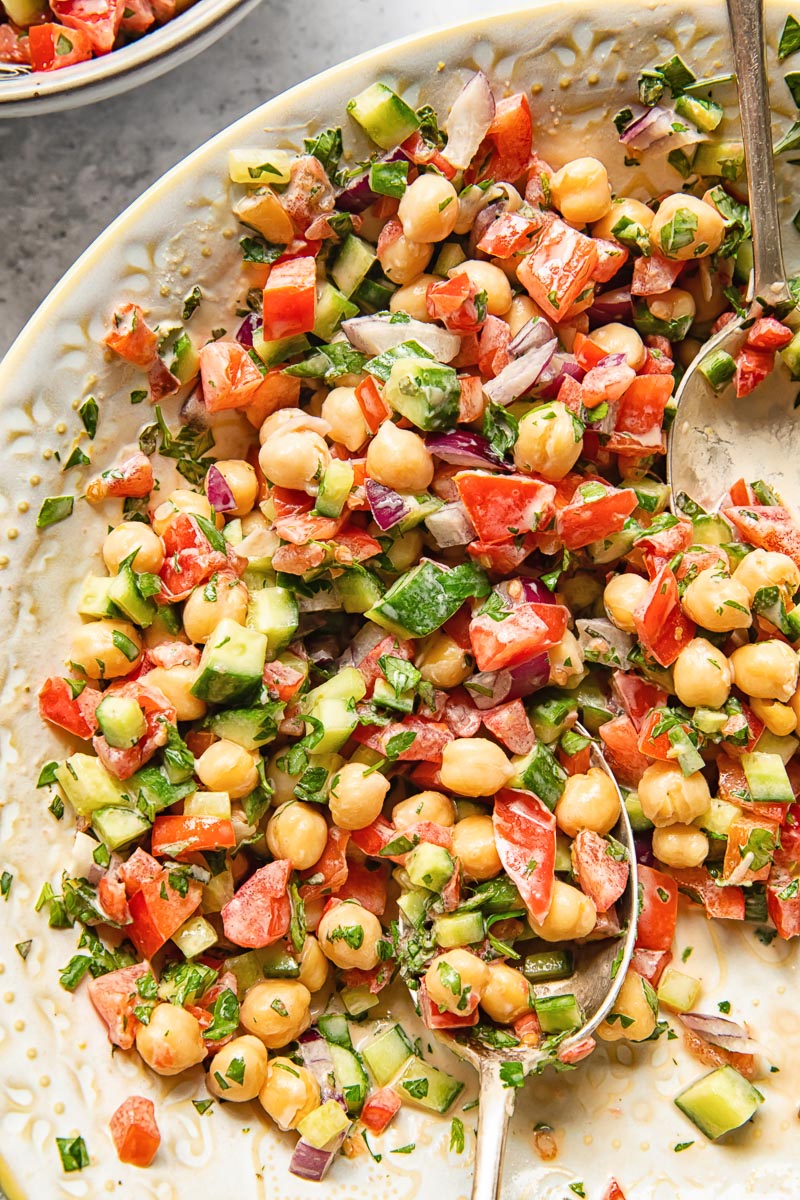 Recipe tips and notes
For a stand out salad you need stand out ingredients. Using the best quality available to you at peak ripeness will make a memorable, moreish meal.

Recipe traditionalists might raise an eyebrow at the addition of chickpeas. But for a family meal, I need my salad to go further and offer maximum nutrition. Man cannot live on heirloom tomatoes alone. Am I right?

If like me you like to break the culinary rules, you could even add a boiled egg. I was served that very version of this salad, with chickpeas and egg, in Tel Aviv, so I will argue its authenticity! And, I loved it, by the way.

Usually dressed with olive oil and lemon juice only, I cannot resist adding tahini and a little garlic. Tahini is literally my new favourite ingredient. You might know this is you caught my

hummus with za'atar roasted chickpea topping recipe

and have been using it to source your own tahini spread.

Once you've found a good quality one, the uses are endless. Besides tahini as salad dressing, this same sauce can be drizzled over

roasted carrots

, or other vegetables; slathered on bread for a sandwich; or even over a

chicken burger

! And that's just the savoury menu!
Storage and leftovers
This salad is all about the freshness, so it is best eaten on the day! However, any leftovers can go covered, undressed, in the fridge for up to 4 days. A squeeze of lemon will help it get to day 4, but the longer you leave it, the sadder and soggier it becomes.
The lemony dressing will last a little longer. Bear in mind that the garlic will infuse the sauce with time and will result in a sharper more potent version of itself. Which I quite like, but not everyone does!
Other salad recipes to try: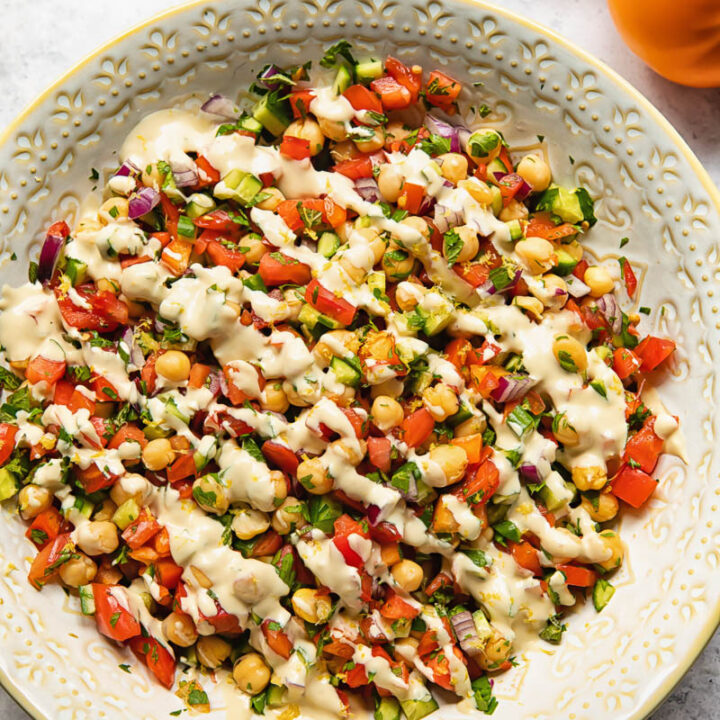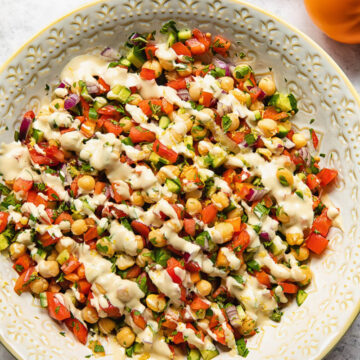 Israeli Salad with Lemon Garlic Tahini Dressing
Israeli Salad consists of cucumber, vivid tomatoes, peppers, green herbs and robust chickpeas to make this satisfying vegetarian delight.
Ingredients
4

Kirby/Persian cucumbers

diced

2

large tomatoes

deseeded and diced

1

red bell pepper

diced

1

small red onion or ½ onion

diced

1

tbsp

chopped parsley

½

tbsp

chopped mint

salt to taste

400g / 14oz

canned chickpeas

drained
For the tahini dressing
½

cup

This is an affiliate link.

tahini

1

lemon

zest and juice only

1

clove garlic

grated

water

salt to taste
Instructions
Dice the cucumbers, tomatoes, red bell pepper and red onion in equal-sized pieces. Take the parsley and mint leaves off their stalks and chop them up. Drain the canned chickpeas. Combine the diced vegetables, herbs and the canned chickpeas in a large mixing bowl.

In a medium bowl mix the tahini with the lemon zest and lemon juice, grate the garlic clove into it. The add enough water to make the dressing pourable consistency. The amount of water will depend on how thick or runny your tahini us. Start with 2 tablespoons of water and add more if needed. Salt to taste.

Drizzle the tahini dressing over the mixed vegetables and toss to coat evenly. Serve immediately.
Nutrition
Calories:
317
kcal
Carbohydrates:
32
g
Protein:
12
g
Fat:
18
g
Saturated Fat:
3
g
Polyunsaturated Fat:
8
g
Monounsaturated Fat:
6
g
Sodium:
1469
mg
Potassium:
667
mg
Fiber:
9
g
Sugar:
6
g
Vitamin A:
1656
IU
Vitamin C:
68
mg
Calcium:
114
mg
Iron:
3
mg