Delicious, versatile and good for you, hummus found its way on to my shopping list week in and week out. Until I started making my own. This hummus with roasted za'atar chickpea topping is so simple to make, all natural, is cheaper and at least 100% fresher and tastier than store-bought. Make it today and you won't look back!
Use this hummus recipe to make my Mediterranean salad with hummus and fried halloumi because summer salads are back!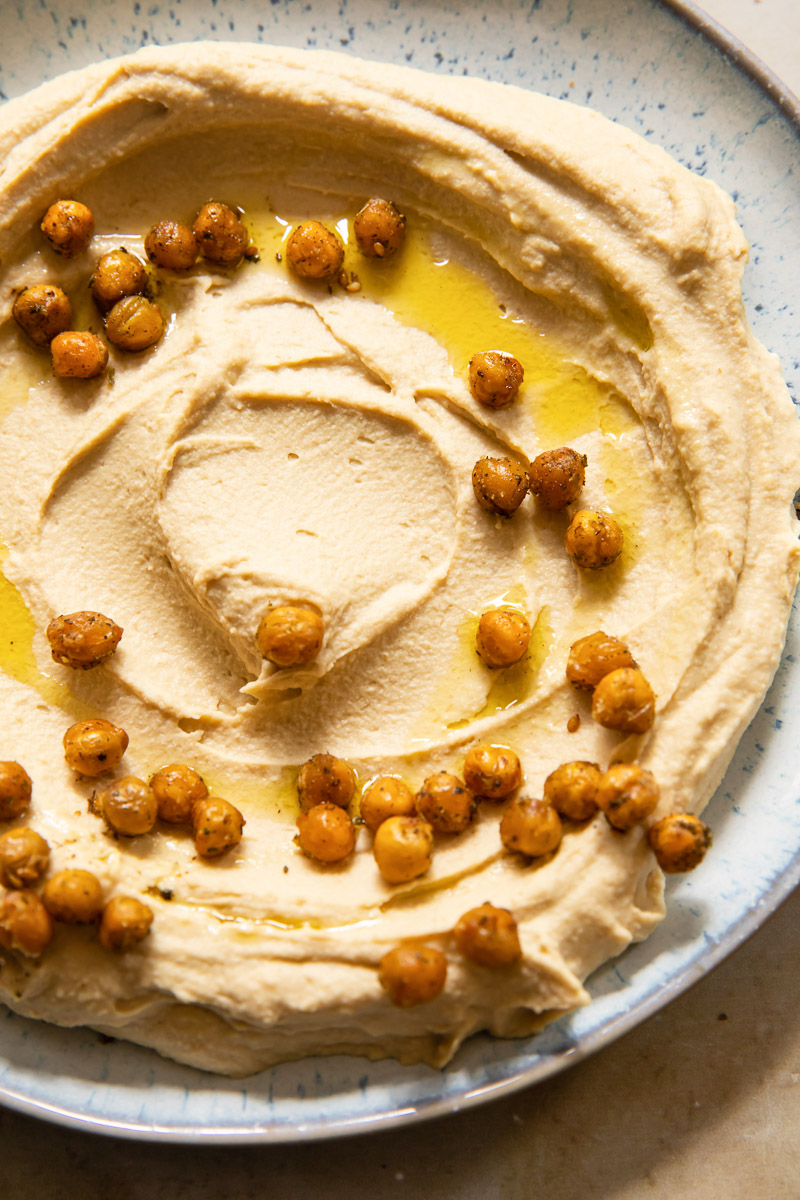 This post contains affiliate links. When you purchase through our links, we may earn a commission.
The mighty chickpea. A centuries old powerhouse of protein and flavour. Hummus is hands down my favourite chickpea recipe. My passion for which was recently rekindled on a trip to heartland of hummus, Israel.
Hummus and its origin
Who wouldn't want to claim this famed creamy legume-based spread? Either boasting having invented it, or producing the best in the world, most easterly Mediterranean countries and Middle Eastern regions will lay claim to hummus dip. But it's something of a geographical mystery.
A hazy history means there is no definitive evidence pointing to hummus' origins. The humble chickpea was first cultivated about 7500 years ago on lands that are now modern day Turkey, making it a pretty ancient pulse. But the first record of actual hummus dip wasn't until 13th century Egypt.
Personally, I can't imagine the existence of chickpeas without hummus for all those thousands of years in between. What were they dipping their carrot sticks in?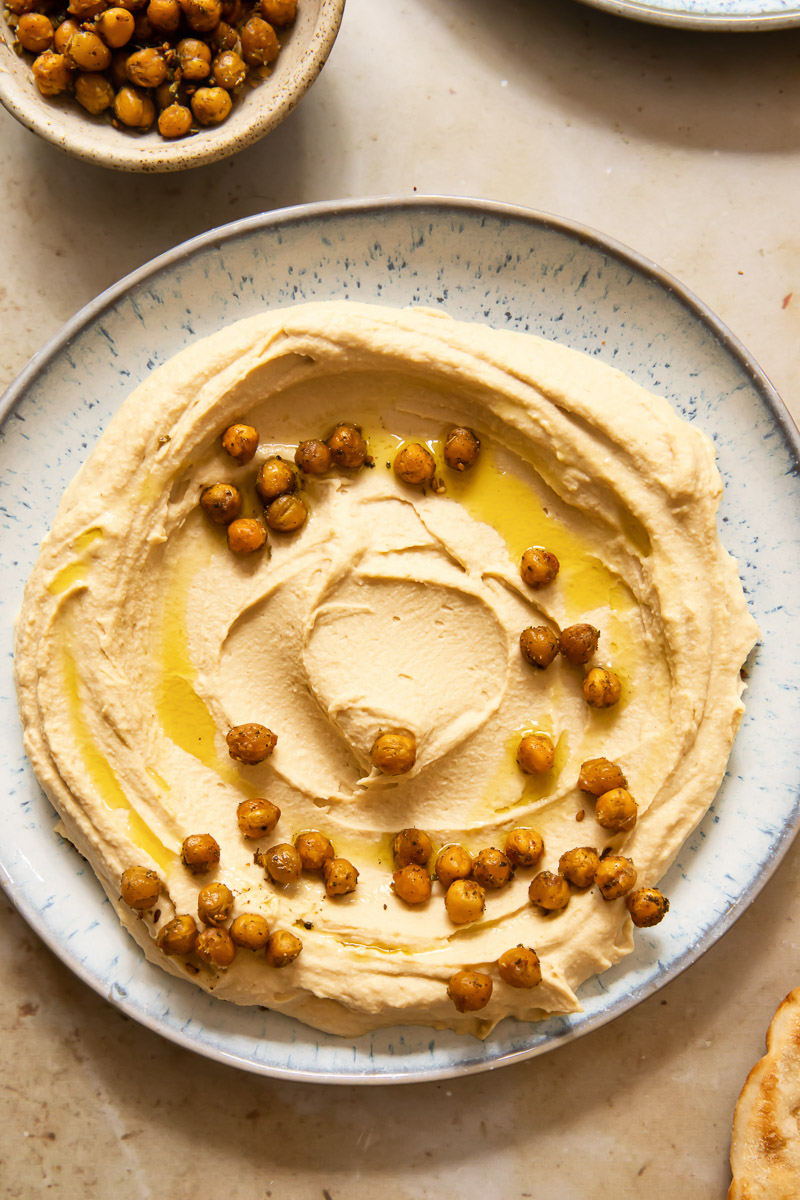 Is it easy to make at home?
It couldn't be simpler! The ingredients are all store cupboard staples; canned chick peas, cumin, garlic, lemon, olive oil and tahini. After cooking the chickpeas a little so they are tender, it all goes in the blender and you're done.
The hardest part is deciding how to eat it. Healthy homemade hummus makes for a quick snack; chips, or crudités, and dip, or as part of a bigger meal with a falafel salad bowl or chicken souvlaki.
What tahini to use
Tahini is a seed paste that can actually be used for so much more than just hummus; yoghurt dip, salad dressing, sauces, cookies, or even spread straight onto toast. With so many uses it is worth investing in a good quality jar. Here are a few tips:
If you have one nearby, buy from a Middle Eastern grocery. They will usually import from some of the regions that produce the best, i.e. Israel, Lebanon, Palestine.

Check the label for 100% sesame seeds. You don't want any salt, sugar, additives, preservatives. Neither do you want tahini

sauce,

which is loaded with other ingredients.

Check out the product in the jar. A paler spread, off white or cream-coloured, indicates a sweeter, nuttier seed type has been used. It should also be runny, pourable consistency. It's normal to have a layer of oil on top, it's seed oil that separates naturally. But there shouldn't be too much!
Other flavour-effecting factors are; the type of sesame seed (white humera are the premium), whether the seeds are ground hulled or unhulled (hulled is better as the product will be smoother), how long the seeds are roasted for, and how finely they are ground.
But this information is not easily ascertained from a jar inspection. However, if you're buying online you will have more intel and options.
All research aside, finding a tahini you like is all down to taste. Don't be afraid of a bit of trial and error. That's the fun part after all!
Recipe tips and notes
Most Middle Eastern recipes for classic hummus recommend using dried chickpeas. But I know that a whip-smooth hummus dip can be achieved using the convenient canned variety. Trust!

The trick is too cook them for 10 minutes first. They need to be soft enough to squash easily between your thumb and forefinger. A hard chickpea equals a grainy paste.

Be sure to use a

This is an affiliate link.

high quality tahini

(or

tahina

). The best tahini is pale, runny and sweet. Cheaper versions, that are widely sold in supermarkets, taste bitter and separate in the jar. You'll find a cement-like consistency near the bottom, a thin goo in the middle, and a pool of oil on top. If you can, go for a quality one as it makes such a difference to the finished dish.

A traditional Middle Eastern hummus is very tahini heavy. My husband finds it a bit overwhelming as it can be quite rich. But I love it! My recipe uses a proportion that satisfies both our palates and is somewhere in between.

My roasted za'atar chickpeas are an embellishment. Not only do they add colour and a touch of beauty, there's a pleasing bite to the otherwise smooth spread. Feel free to leave this step out for a more modest dish.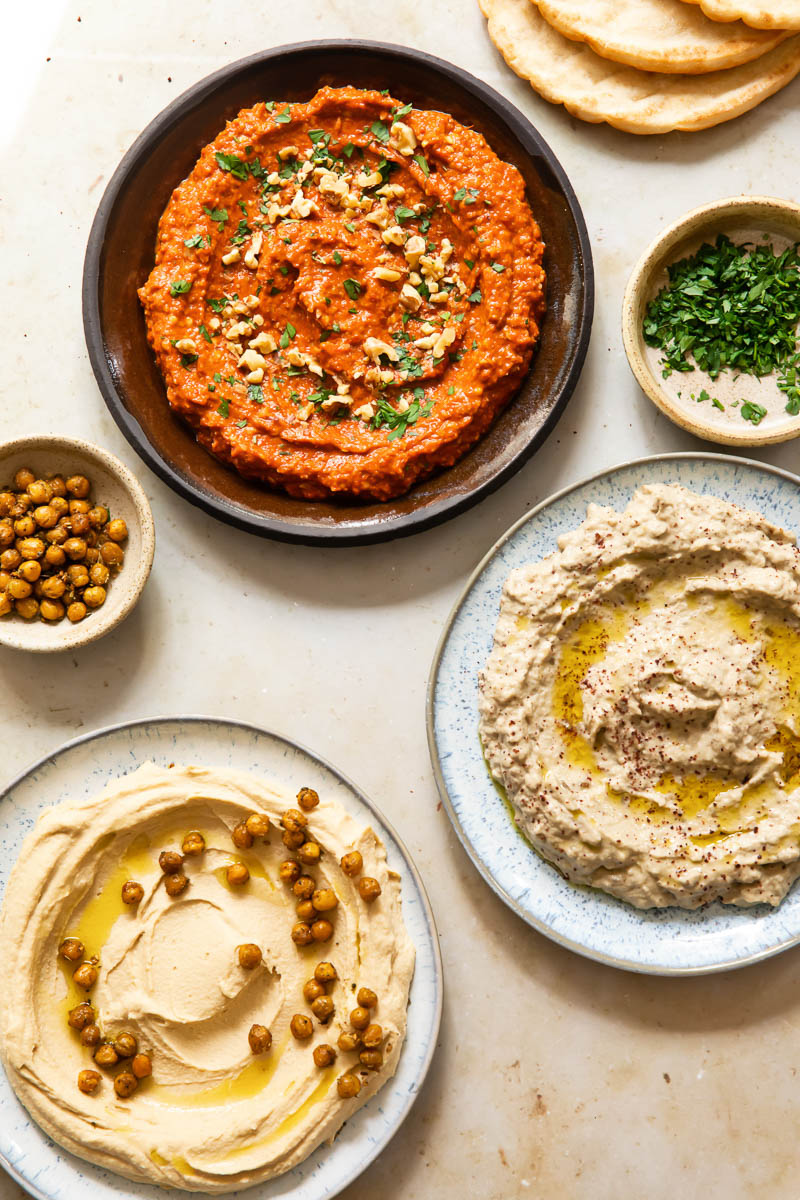 Storage and leftovers
My house is never without hummus! I always batch cook it and keep some in fridge and freeze the lion's share. It will still be at its best for 2-3 days in the fridge and up to 4 months in the freezer.
Remember to portion out the hummus before freezing and allow 24 hours to thoroughly thaw. If you find the thawed texture a bit grainy or thick, add a little olive oil. If it seems a little bland, refresh it with a little lemon juice.
Other Middle Eastern Recipes to Try: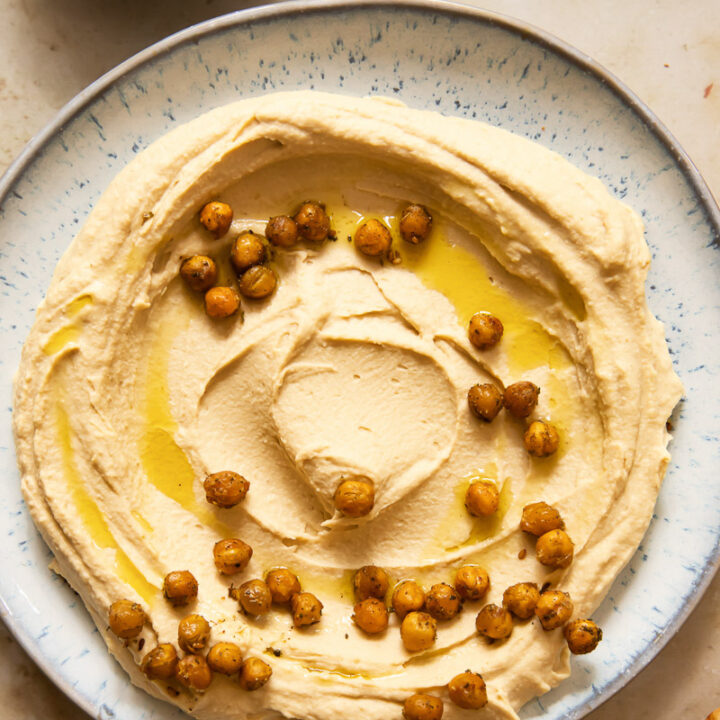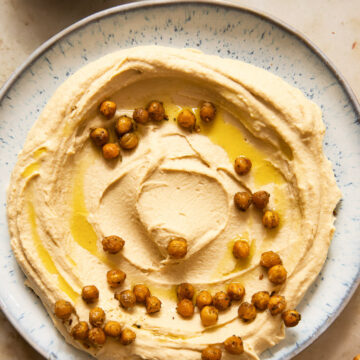 Classic Hummus with Za'atar Chickpea Topping
This hummus recipe is so simple to make, all natural, is cheaper and at least 100% fresher and tastier than store-bought.
Equipment
1

This is an affiliate link.

blender
Ingredients
2X400g/14oz

cans of chickpeas

3

tsp

ground cumin

2

cloves

garlic

½

tsp

salt

1

lemon, juice only

60g/1/4 cup

This is an affiliate link.

tahini

50ml/1/4 cup

olive oil
For Za'atar Chickpea Topping
100g/1/3 cup

canned chickpeas

½

tbsp

olive oil

salt

¼

tsp

garlic powder

¼

tsp

Za'atar seasoning
Instructions
Preheat the oven to 200C/400F. Measure out ⅓ cup of chickpeas, pat them dry with paper towel and arrange on a rimmed baking pan. Then drizzle with ½ tbsp of olive oil and sprinkle with the garlic powder and Za'atar, roast in the oven for 15 minutes. Cool and set aside. Keep in an airtight container till needed.

In a saucepan boil the rest of the canned chickpeas in their liquid for 10 minutes uncovered. Let them cool. The chickpeas should be very soft and have no resistance when squished between a thumb and a forefinger.

Add the cooled chickpeas with their cooking liquid, the cumin, garlic, salt, lemon juice, tahini and olive oil. Blend until very smooth. Serve topped with the roasted za'atar chickpea and flatbread.
Nutrition
Calories:
135
kcal
Carbohydrates:
12
g
Protein:
4
g
Fat:
9
g
Saturated Fat:
1
g
Polyunsaturated Fat:
2
g
Monounsaturated Fat:
5
g
Sodium:
125
mg
Potassium:
143
mg
Fiber:
3
g
Sugar:
2
g
Vitamin A:
21
IU
Vitamin C:
2
mg
Calcium:
33
mg
Iron:
2
mg